Irregular Warfare, Optics Are Very Important, B2 Bomber No Longer Stealth, Where's Durham – Ep. 2513
There is a difference between the blue states and the red states. People can now see the difference between unemployment. [CB] are now pushing the digital currency forward. The [CB] readies their great reset completely exposed, there is no cover story, people are seeing it all playout in real-time, in the end the people of the economic power. The [DS] is panicking, they are readying a [FF] to distract from the election fraud. The fake news is pushing every angle but it is not working. Durham is in the shadows, optics are very important. This is irregular warfare, everything is not what it seems. The clock is ticking down, nothing can stop this, nothing.
Watch The X22 Report On Video
---
Economy
Exactly one month ago, when we observed that with 23 – all republican – states announcing at least some form of early reduction in pandemic-related unemployment insurance benefits ahead of the September expiration at the federal level…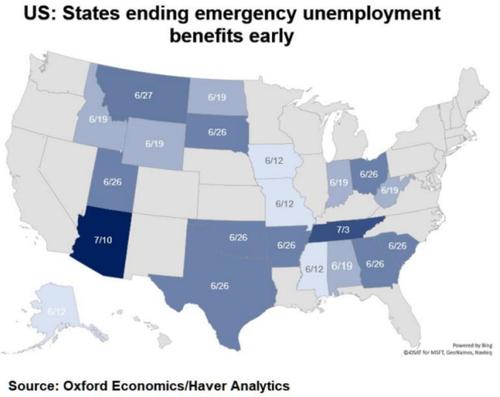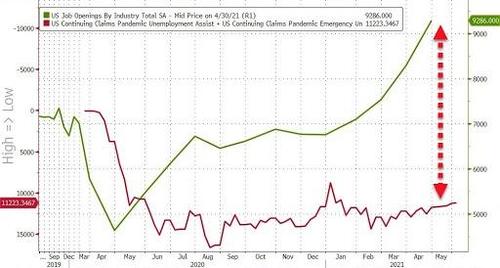 ...  we said that "since Democrats will likely not end UI benefits any time soon – or ever, if they could –  this sets up the US economy to become an epic real-time economic experiment, one where everyone can keep track of the unemployment across in Red states (most of which have ended their UI benefits), and blue states where claims will keep potential workers at home, pressuring unemployment rates."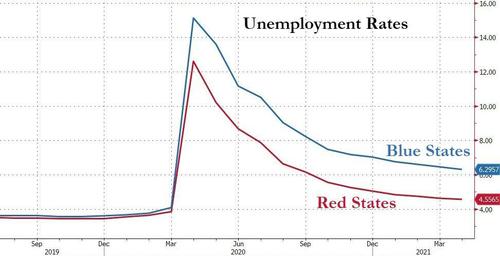 One month later the verdict is in, and as Morgan Stanley recaps over the weekend, "some states chose to end these benefits early – in about 10 states in the US, these benefits expired on June 19." So what did the bank find? That not only were Republican states right all along to end benefits early, but that the primary – and biggest – reason for the unprecedented shortage in workers has been Joe BIden's catastrophic socialist policy of having the government match or even surpass what the private sector is paying, to wit:
… the initial jobless claims and continuing jobless claims are declining faster in these 10 states, relative to the rest of the US (see Exhibit 17 and Exhibit 18), suggesting that an end of these benefits over the coming weeks in all other states could prove to be an important tailwind for labor supply,and ultimately higher payrolls.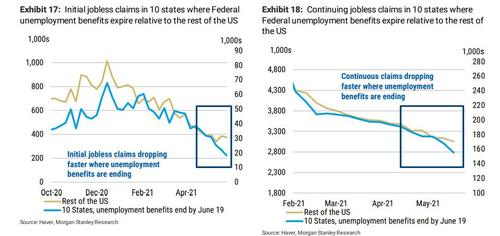 It's not just Morgan Stanley. On Sunday, the WSJ picked up on this and reported that "the number of unemployment-benefit recipients is falling at a faster rate in Missouri and 21 other states canceling enhanced and extended payments this month, suggesting that ending the aid could push more people to take jobs."
The number of workers paid benefits through regular state programs fell 13.8% by the week ended June 12 from mid-May—when many governors announced changes—in states saying that benefits would end in June, according to an analysis by Jefferies LLC economists. That compares with a 10% decline in states ending benefits in July, and a 5.7% decrease in states ending benefits in September. Workers on state programs would lose the $300 weekly federal enhancement but could continuing receiving the state benefits.
Source: zerohedge.com
Singapore, IMF, and World Bank Join Efforts to Create Central Bank Digital Currency
The rise of cryptocurrencies has prompted interest from central banks to create digital currencies. A recent survey conducted by the Bank for International Settlements revealed that almost every central bank has considered issuing a digital currency.
The Monetary Authority of Singapore (MAS), the International Monetary Fund, World Bank, and other supranational organisations have joined efforts to create a central bank digital currency (CBDC) for retail use. According to a statement posted on its website, the MAS and its partners have launched a competition that they deem will enhance payment efficiency and promote financial inclusion.
Source: sputniknews.com
NY Fed's Williams says major questions need to addressed as digital currencies emerge
  as new digital currencies are introduced, policymakers need to decide how the new technology would be regulated and how digital currencies would work alongside physical cash, Williams said during a panel organized by the Bank for International Settlements.
The Fed official was responding to a presentation from former Bank of England governor Mark Carney that urged central banks to consider digital currencies.
Source: reuters.com
Tedros: "A vaccine on its own will not end the pandemic. Surveillance will need to continue. People will still need to be tested…contacts will still need to be traced and quarantined."pic.twitter.com/UQ90XXsRPZ

— Michael P Senger (@MichaelPSenger) June 28, 2021
---
Political/Rights
 , a newly released report from the Reuters Institute for the Study of Journalism at Oxford has found something that would have been unthinkable just a few years ago. The United States ranked dead last in media trust among 49 countries with just 29% saying that they trusted the media.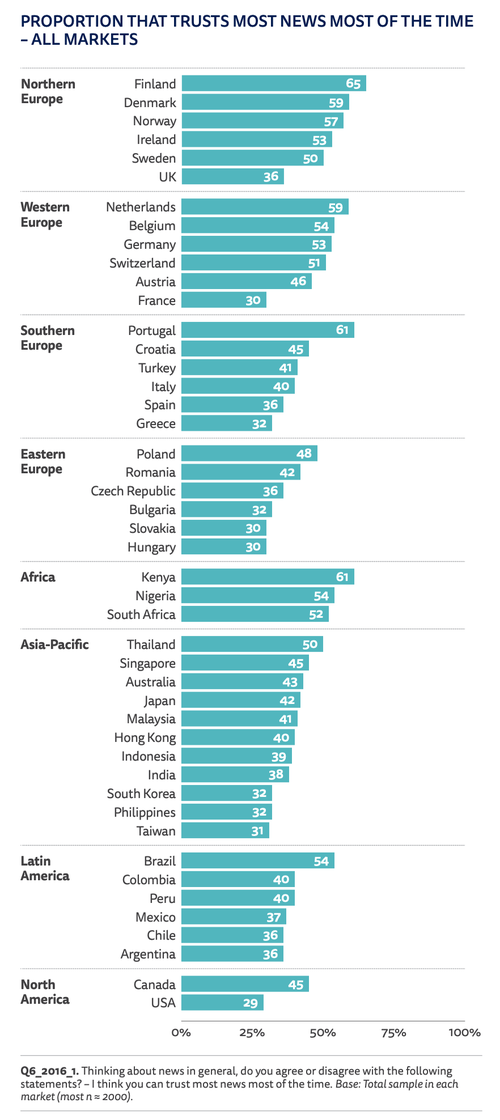 Source: zerohedge.com
The media gets mad we don't answer their questions so they can wrap what we say in their little bow of #FakeNews. Instead, we just post the truth on social media and bypass them. We don't need permission to talk to the American people.

— Wendy Rogers (@WendyRogersAZ) June 28, 2021
A poll release suggests 57 percent of Texan voters disapprove of President Joe Biden's handling of the border crisis after Vice President Kamala Harris traveled to the state on Friday to inspect the border 800 miles away from the crisis region.
The University of Texas/Texas Tribune poll also showed that among "Republican voters, 89% disapprove of Biden's handling of border issues. While 56% of Democrats said they approve of his policies, 18% disapproved."
Source: breitbart.com
 55 percent of Americans believe President Joe Biden should have continued former President Donald Trump's southern border policies.
The Harvard/Harris poll asked respondents if the "Biden administration should have undone all of the Trump administration executive orders on immigration, or should the Biden administration have left those Trump policies that made it more difficult to come into the country in place?"
Fifty-five percent said Biden should have continued Trump's southern border policies, while 45 percent disagreed.
The poll also asked, "Do you think the Biden Administration executive orders on immigration encourage or discourage illegal immigration?"
Sixty-eight percent said Biden's White House is encouraging illegal immigration, and only 32 percent said the administration is not.
Source: breitbart.com
---
Geopolitical/Police State
---
War
North Korean state TV airs comments about Kim Jong Un's "emaciated" condition – highly unusual in a country where public discussion of the leader's health and personal life has always been off-limitshttps://t.co/4MaSxeBzQH

📸 State media photo of Kim on June 18, 2021 pic.twitter.com/xxXt4NxtzT

— AFP News Agency (@AFP) June 28, 2021
---
False Flags
Over the past thousand years, influenza has killed hundreds of millions or billions of people. Bu the miracle virus COVID-19 made the flu disappear.https://t.co/SjGfIb2WLW pic.twitter.com/HjXzBjUOil

— Tony Heller (@Tony__Heller) June 27, 2021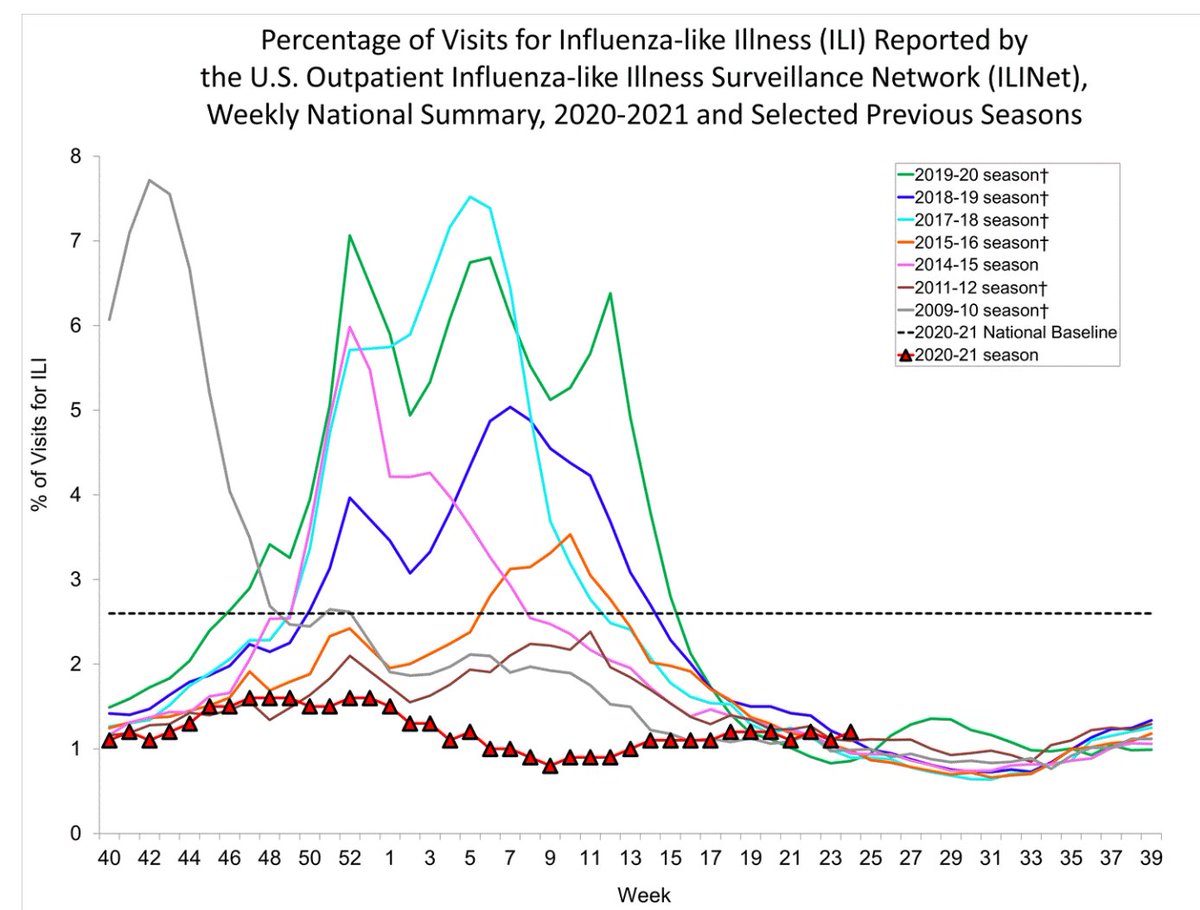 CDC coronavirus test kits were likely contaminated, federal review confirms
 The test kits for detecting the nation's earliest cases of the novel coronavirus failed because of "likely" contamination at the Centers for Disease Control and Prevention, whose scientists did not thoroughly check the kits despite "anomalies" during manufacturing, according to a new federal review.
The review, conducted by two Department of Health and Human Services lawyers, also said there was "time pressure" at the CDC to launch testing, and "lab practices that may have been insufficient to prevent the risk of contamination."
  the problem appeared to have occurred in late January within the CDC's headquarters in Atlanta. In general, HHS has defended the administration's efforts to counter the pandemic.
The three-page review also acknowledged that, after weeks of delay, the likely contamination ultimately prompted the CDC to jettison a problematic component of the test kit. The component was intended to detect coronavirus strains other than the one that causes covid-19, the disease that has killed more than 117,000 Americans.
Source:  .adn.com
Now do the number of cycles used, show the people that the majority never had covid. The narrative is falling apart. 
Coronavirus lockdowns hurt young people of color between the ages of 20-24 the most, according to a report from the Center for Economic and Policy Research (CEPR).
In the first three months of 2021, about 3.81 million people in that age bracket were not in work or school, a 740,000 (24 percent) increase compared to the same time last year, according to the report.
When broken down by race and ethnicity, the Not in Education, Employment, or Training (NEET) rate shows even greater disparities.
The NEET rate for all 20- to 24-year-olds increased from 14.7 percent to 18.3 percent between last year and this year. For black young people, the percentage grew from 20.9 percent to 24.8 percent. For Hispanics, it was 16.2 percent to 19.7 percent, and for white people, it was 12.8 percent to 15.9 percent.
"About one-in-four Black 20- to 24-year-olds were neither in school nor working during the first quarter of 2021 compared to about one-in-five Hispanics and one-in-six whites," the report states.
Source: breitbart.com
Outspoken race activist Gwen Berry took third in the US women's Olympic hammer throwing trials.
Then she turned her back on the US Flag as the National Anthem played during the medal's ceremony.
She said it was "a set-up."
And when the anthem was still playing she pulled her T-shirt up over her head. 
Gwen is a race activist known for her protests more than her career as an athlete. 
Source: thegatewaypundit.com
The Biden WH gives support to Gwen Berry turning her back on the national anthem during #TrackFieldTrials21. While Jen Psaki hasn't spoken to Biden about her, she said "pride" in America means "respecting" those who recognize when we "haven't lived up to our highest ideals" pic.twitter.com/OVgQXg3YAz

— Curtis Houck (@CurtisHouck) June 28, 2021
The Republican-majority Arizona House approved a bill that could mandate that school teachers share stories from people who fled communism as part of the curriculum.
The requirement is part of House Bill 2898 (pdf), which includes changes in laws governing K-12 education in the state. The language was inserted by Republican state Rep. Judy Burges and states that the measure will prepare students to be "civically responsible and knowledgeable adults."
Public schools will be required to teach "a comparative discussion of political ideologies, such as communism and totalitarianism, the conflict with the principles of freedom and democracy essential to the founding principles of the United States" among other changes, the bill's text states.
Arizona's Department of Education must also develop new civic education standards for school districts and charter schools to include, such as on the original intent of America's Founding Documents and principles of the United States, including the expectation that U.S. citizens will be responsible for preserving and defending "the blessings of liberty inherited from prior generations and secured by the United States Constitution."
Source: theepochtimes.com
A Harvard CAPS/Harris poll released last week found 61 percent of registered voters said children should not be taught America is "structurally racist."
The online survey of 2,006 registered voters was conducted between June 15-17.
The survey asked participants, "Do you believe that kids in elementary school should be taught that America is structurally racist and is dominated by white supremacy or should they not be taught this?"
In response, 39 percent said children "should be taught that America is structurally racist," and 61 percent answered children "should not be taught this."
Source: brietbart.com
BREAKING: Oakland City Council votes to defund their police department by another $18.4 million.

Homicides increased 314% in 2020 after a previous budget cut of $14.3 million.

— Breaking911 (@Breaking911) June 28, 2021
"Attorneys for BLM and the demonstrators now face the unpleasant choice of reframing their case, and thus acknowledging the falsity of their initial allegations, or risking sanctions for alleging facts without evidentiary support." https://t.co/KjjGfepH7A

— Ned Ryun (@nedryun) June 28, 2021
A federal judge on Monday dismissed all but two of the claims Black Lives Matter and several individual demonstrators brought against Donald Trump, William Barr, and others in the sprawling lawsuit filed after the clearing of Lafayette Square on June 1, 2020.
Attorneys for BLM and the demonstrators now face the unpleasant choice of reframing their case, and thus acknowledging the falsity of their initial allegations, or risking sanctions for alleging facts without evidentiary support.
---
Q
PANIC
Former VP Al Gore on his message to Donald Trump: "I would say please do the right thing. Acknowledge reality. Stop hurting this country. Stop undermining democracy." pic.twitter.com/uVeCOlWh5Y

— The Hill (@thehill) June 28, 2021
Responds
Reality is:

An exposed election algorithm deployed in 50 states in 2020

Forensic audits in AZ, WI

20 additional states visiting AZ audit to observe, document, and potentially export

PA, GA, and MI heating up

Official AZ forensic report in Aug

Impact if theft is exposed https://t.co/kvZdJ3aCOf

— BLUEPRINT 🇺🇸 (@BLUEPRINT_Q) June 28, 2021
 
** We want to make clear that we never reported that Senator Karen Fann would release a report this week.
We do not know where that rumor came from.
Source: thegatewaypundit.com
 
Texas Attorney General Ken Paxton announced this past weekend that there are still 500 election fraud cases that still need to be heard in court.
This comes as Governor Greg Abbott promised a new election integrity bill in the state as well as bail reform.
Here are a couple of the cases Via the Texas Attorney General's Office:
The Election Fraud Unit arrested and booked Monica Mendez into the Victoria County Jail on June 23, 2021, after a Victoria County Grand Jury returned an indictment against her on multiple counts of election fraud: 7 counts of Illegal Voting (a 2nd Degree Felony), 8 counts of Unlawfully Assisting Voter Voting Ballot by Mail (a 3rd Degree Felony), 8 counts of Unlawful Possession of Ballot (a State Jail Felony), and 8 counts of Election Fraud (a State Jail Felony).
The Texas Secretary of State referred the case to the Office of the Attorney General after allegations of illegal voting and other election code violations arose out of the 2018 Bloomington Water District Election.
Source: thegatewaypundit.com
Do you think that the DOJ under Trump should have exposed Election Fraud?
Do You Think Trump should have stayed in the WH using Military Force?
Do you think Trump should have used the military to arrest everyone?
Think of the optics. We were always told that the people had to take back the country.
The only way to take it back is to understand how the [DS]/fake news system works, how they manipulate, how they cheat.
The people needed to see it all and then take action, We are in the people taking action phase now.
Barr was stealth, Just like everyone else, Trump needed Barr for a specific purpose, to navigate thru Russian collusion and to distract from Durham.
This is irregular warfare. Look over there not over here
If you noticed Trump said (where's Durham?) again.
I wonder if something else is about to come out. Drip, Drip
Trump's lawyer claims the former president won't be charged in the Manhattan's DA's first indictment
They just said, 'When this indictment comes down, he won't be charged. Our investigation is ongoing,'" Ron Fischetti told Politico.