Trump Is 100% Insulated, Expect Fireworks, Justice Is Coming – Ep. 2512
[JB]/[CB] are having a very tough time pushing their agenda, they need to raise taxes, they need to bring down the economy, but the plan is not going well. The [CB] just tipped their hat, they now told the people why they want a CBDC. More countries are ready to move away from the [CB]. The [DS] is panicking they are preparing a [FF]. They have set the narrative that the Trump supporters will become violent because the plan failed. This is a setup. Trump just shot off the signal flare, during his rally he let everyone know what the [DS] has done to keep their power. Remember Trump is 100% insulated, fireworks are coming, see something say something, justice is coming.
Watch The X22 Report On Video
---
Economy
President Joe Biden issued a statement  fully reversing his tax and entitlement ultimatum on the bipartisan infrastructure deal.
The president's statement was a sharp reversal   that if he did not receive an additional tax and spend entitlement bill — passed with a slim majority using budget reconciliation, —he would not sign the deal he announced earlier with Senate moderate Republicans.
Source: breitbart.com
The Bank of England has called on ministers to decide whether a central bank digital currency should be "programmable", ultimately giving the issuer control over how it is spent by the recipient.
Tom Mutton, a director at the Bank of England, said during a conference on Monday that programming could become a key feature of any future central bank digital currency, in which the money would be programmed to be released only when something happened. "There could be some socially beneficial outcomes from that, preventing activity which is seen to be socially harmful in some way…"
Source:  investmentwatchblog.com
  Paraguay's first lady Silvana López Moreira traveled to Florida to accompany her family amid an ongoing search for her sister, who is missing after a condo building collapsed in a Miami suburb, a spokeswoman for her office said on Friday.
The South American country's foreign ministry said Sophia López Moreira, her husband Luis Pettengill and her three young children were among six Paraguayans missing since Thursday after the partial collapse of the 12-story building.
Source: reuters.com
Is Paraguay set to become the second country to make Bitcoin legal tender after El Salvador?
Following El Salvador's landmark vote to adopt Bitcoin as an official currency earlier this month, another domino in Latin America looks set to fall.
The Central American country made history when it voted to make Bitcoin legal tender on June 8, a decision that was applauded by politicians in a slew of Latin American countries, including Panama, Argentina and Brazil.
Lawmaker Carlos Rejala is now leading a bid to implement legislation to make Paraguay the second country to do so.
On Thursday, he announced on Twitter that he would be introducing a bill in the country's National Congress in July that would likely mirror El Salvador's new cryptocurrency law.
---
Political/Rights
Dianne Feinstein lists $41M Lake Tahoe estate
The housing market is hot and it's looking like Sen. Dianne Feinstein and her banker husband, Richard Blum, are taking advantage of it — listing their Lake Tahoe, California, estate for a whopping $41 million.
I
Source: nypost.com
The Texas Supreme Court ruled that Facebook can be held liable for sex trafficking recruitment.
Facebook argued that it should not be held liable because it is shielded by Section 230.
A recent report found most online recruitment in active sex trafficking cases in 2020 was on Facebook.
But the Texas Supreme Court said Section 230 doesn't mean Facebook can operate as a "lawless no-man's-land," as the Chronicle reported.
"Holding internet platforms accountable for the words or actions of their users is one thing, and the federal precedent uniformly dictates that section 230 does not allow it," the majority of the court said, per the Chronicle. "Holding internet platforms accountable for their own misdeeds is quite another thing. This is particularly the case for human trafficking."
Source: insider.com
Report: Emails Show Biden Campaign Demanding Facebook Censor Posts on Election Integrity
A number of emails   show that the Biden campaign repeatedly pressured Facebook to censor posts from the Trump campaign and its supporters about election integrity.
One post that the Biden campaign tried to have censored during the 2020 election was a video from Donald Trump Jr. in September 2020 calling for supporters to monitor early voting and counting boards.
Biden campaign officials tried to characterize the video as a call for violence, because Don Jr used the term "army" to refer to the volunteer effort, claims that were rebuffed by Facebook.
Source: breitbart.com
896
Q
!UW.yye1fxo
03/09/2018 06:20:45
 ID: 04b0ec
Archive Bread/Post Links: 599514 / 599627
Direct Link: 599627
Anonymous
03/09/2018 06:17:57
ID:3c9270
Archive Bread/Post Links: 599514 / 599614
Direct Link: 599614
"The National Security Agency has every single email, cell call, text, game chat and banking transaction for every traitor, every elite pedophile and every Wall Street criminal and every corrupt government official at the local, state and federal levels," he said  
"I will tell you with absolute certainty that the thing that Nancy Pelosi and Adam Schiff fear most is not jail, but us releasing their 10 most treasonous phone calls to their own public," he continued. "They will be torn limb from limb on their own streets."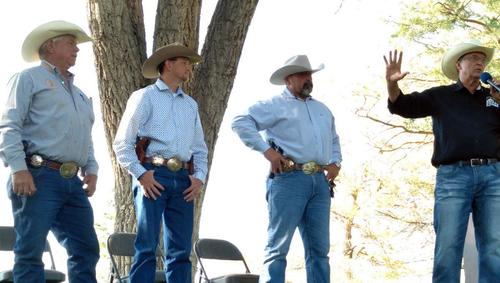 Source: zerohedge.com
Joe Biden is still paying contractors on the US southern border.
But they're not getting paid to finish the   border wall.
They're getting paid to sit and watch the steel beams to make sure no one steals them.
Source: thegatewaypundit.com
In the last two months, UNACCOMPANIED minors crossing the border:

•4500 children between ages 7-12
•4700 children between ages 13-14
•700 kids between ages 0-5

What kind of leadership okays policies that put our most vulnerable at risk? The time for action is past due..

— Burgess Owens (@BurgessOwens) June 26, 2021
Former senior advisor to President Trump and senior member of America First Lega 
During their discussion, Miller was asked about Kamala Harris's disastrous trip to the US Border on Friday.
Stephen Miller:  Let's just cut through all the nonsense and get to the heart of the issue.  Vice President Harris is not attempting to, trying to secure the border in any way shape or form.  Her objective and President Biden's objective is to destroy the border, to eliminate border security, and to facilitate the mass entry of illegal aliens.  This is simply proven by the fact that they dismantled every single policy President Trump had in place that stopped illegal immigration.
Truth.
Source: thegatewaypundit.com
---
Geopolitical/Police State
CLAIM: During his June 23, 2021, gun control speech President Joe Biden claimed the Second Amendment prohibited Americans from purchasing a cannon at the time it was ratified.
VERDICT: False.
Biden said, "The Second Amendment, from the day it was passed, limited the type of the people who could own a gun [and] what type of weapon you could own. You couldn't buy a cannon."
Biden's claim about not being allowed to purchase cannons is not new.  He made it on May 21, 2020, and it was, at that time, shown to be false by PolitiFact.
PolitiFact noted Biden comparing "assault weapons" to cannons, saying: "They have no rationale for being owned by individuals on the street. They should be outlawed… From the very beginning you weren't allowed to have certain weapons. You weren't allowed to own a cannon during the Revolutionary War as an individual."
Julie Anne Sweet, director of military studies at Baylor University, told PolitiFact: "It seems highly unlikely that there were restrictions on the private ownership [of cannons]."
Independent Institute's Dave Kopel told PolitiFact, "I am not aware of a ban on any arm in colonial America."
 
The Second Amendment did not forbid the purchase of a cannon.
 
Source:  breitbart.com
---
False Flags
Hey, did you know Pennsylvania voters on Tuesday slapped down @GovernorTomWolf and passed two constitutional amendments to ensure they will never again be locked down indefinitely on one politician's whim?

Probably not, since the elite media is pretending the vote didn't happen. pic.twitter.com/AaB8S9dzxd

— Alex Berenson (@AlexBerenson) May 20, 2021
This is a BIG deal, the first time voters anywhere have had a chance to respond directly to the lockdowns. (And you may have heard Pennsylvania is a blue state.)

But @nytimes – which found the space to report on the Pittsburgh mayoral primary – has said not one word about it.

— Alex Berenson (@AlexBerenson) May 20, 2021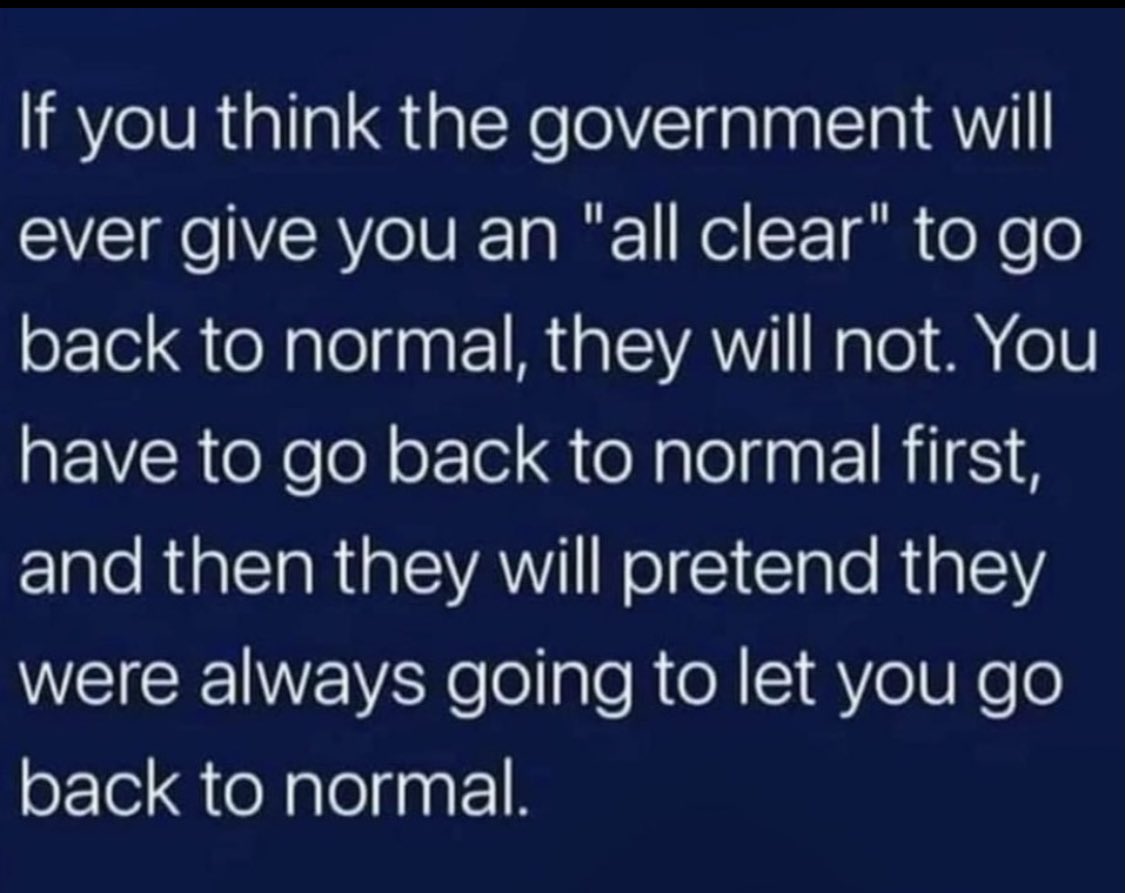 TAKE A LISTEN
3913
Q
!!Hs1Jq13jV6
04/08/2020 12:49:22
 ID: f4f117
Archive Bread/Post Links: 8722796 / 8722933
Direct Link: 8722933
The US Government has practiced race preference hiring for decades but that's not enough.
Joe Biden signed an executive order on Friday that mandates training that teaches federal employees that the US is racist and unredeemable. The order also pushes "equity" and urges federal departments to get away from merit in government performance.
The racist bill also preaches on "white privilege" and "male privilege"
Source: thegatewaypundit.com
"New York City saw 2,600 officers retire in 2020 compared with 1,509 the year before," The New York Times reported. "Resignations in Seattle increased to 123 from 34 and retirements to 96 from 43. Minneapolis, which had 912 uniformed officers in May 2019, is now down to 699. At the same time, many cities are contending with a rise in shootings and homicides."
HIRING: There was a 5% decrease in the hiring rate for the 2020-2021 period, compared to the previous year. America's largest police agencies, those which have more than 500 officers, experienced a 36% decrease in the hiring rate for the 2020-2021 period, compared to the previous year. Law enforcement agencies that had 250-499 officers experienced a 29% decrease in the hiring rate for the 2020-2021 period, compared to the previous year.
RESIGNATIONS: There was an 18% increase in the resignation rate for the 2020-2021 period, compared to the previous year.
RETIREMENTS: There was a 45% increase in the retirement rate for the 2020-2021 period, compared to the previous year.
Source: dailywire.com
---
Q
The Trump Organization is expected to be hit with criminal charges next week by  Manhattan DA Cy Vance's office.
The case is tied to tax-related conduct amid claims Trump Organization employees illegally 'received tax-free perks such as apartments and car leases.' according to NBC News.
These types of cases are almost never pursued, but the witch hunt of Trump and everyone connected to him never ends.
"It looks like they are going to come down with charges against the company, and that is completely outrageous," Ron Fischetti, an attorney for the Trumps,
 
"I've been practicing for over 50 years, and I've never seen a case like this."
Fischetti said that "the corporate office will plead not guilty and we will make an immediate motion to dismiss the case against the corporation."
Source: thegatewaypundit.com
The [DS] is going to try to change the narrative, think about the timing, do they really have anything on Trump , no, but that doesn't matter the Fake News will blast it out just like they did with Russian Collusion, Impeachment Hoax 1 and 2 and the fake insurrection, They know what is coming and they will not stop 
326
Q
!ITPb.qbhqo
12/10/2017 23:32:52
 ID: be6798
Archive Bread/Post Links: 69407 / 70088
Direct Link: 70088
Think about what they have been saying, Trump followers especially those who follow Q will become violent because the plan failed.
Will they the [DS] make a big production of an arrest, will the Fake news play it up
Will they try to make the people angry
Do they want the people out in the streets
Will they have people dressing up like Trump supporters
Will They try to use antifa to infiltrate and push violence
Don't fall for it, do not go out on the streets, this is a trap
The DOJ's complaint against Georgia is surreal…. pic.twitter.com/wlLpVb6U8q

— Margot Cleveland (@ProfMJCleveland) June 25, 2021

— Margot Cleveland (@ProfMJCleveland) June 25, 2021

— Margot Cleveland (@ProfMJCleveland) June 25, 2021

4/ So, basically, the DOJ is now litigating because legislators opposed to the legislation lost. pic.twitter.com/2luU2azJxm

— Margot Cleveland (@ProfMJCleveland) June 25, 2021

5/ OMgosh….Maybe the guy who called the law Jim Crow 2.0 wasn't invited for a reason??? pic.twitter.com/AbdFLOJyM1

— Margot Cleveland (@ProfMJCleveland) June 25, 2021

6/ And, sure, GA is responsible for some wacko white supremacist group that everyone denounced! pic.twitter.com/4df5g8H39g

— Margot Cleveland (@ProfMJCleveland) June 25, 2021

7/ WTFudge?? pic.twitter.com/KCsYNRGhXc

— Margot Cleveland (@ProfMJCleveland) June 25, 2021

8/ And finally the substantive claim: "with the PURPOSE of denying or abridging…" pic.twitter.com/FjB1bYPYbn

— Margot Cleveland (@ProfMJCleveland) June 25, 2021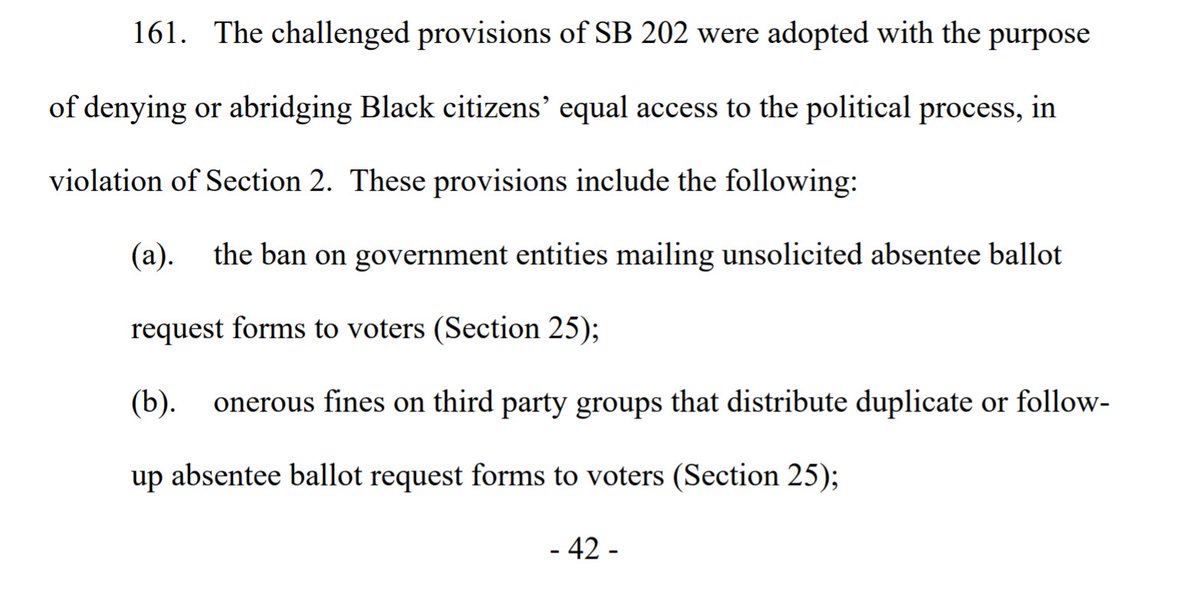 NEW: Web archive data show that video platform Rumble's terms of use were updated amid Trump's transition to the platform to include an explicit ban on hate speech, specifically content considered "hateful, anti-semitic, racist or threatening."
Judges appointed by former President Donald Trump are creating trouble for President Joe Biden's policies in the early months of the new administration.
Trump-appointed judges have ruled against the current president on policies related to immigration, COVID-19 relief and the environment, among others, Fox News reported.
Many of the court cases against Biden's policies have yet to be decided and decisions against Biden could be overturned by higher courts.
"Trump appointed a lot of judges — more than anyone in one term than Jimmy Carter, for whom Congress created 152 new judgeships to fill — and these folks aren't as deferential to executive power as past Republican-appointed judges might have been."
Trump appointed 226 judges to the federal bench in one term, according to Pew Research Center.
This number includes 54 federal appeals court judges.
Trump-appointed Judge Terry Doughty of the Western District of Louisiana ruled last week that Biden's order to "pause on new oil and gas leases," likely violates at least three federal laws, according to Fox News.
Source: westernjournal.com
Wheels up🛫OHIO! #MAGA🇺🇸🦅 https://t.co/b5Sr5PM7hs pic.twitter.com/6xD0B86tqH

— Dan Scavino🇺🇸🦅 (@DanScavino) June 26, 2021