It Has Begun, People Are Demanding Change, Do You See What's Happening – Episode 2226
The economic system is now starting to look like a V recovery, more and more people are going back to work and the first time jobless claims are dropping. June retails sales shot up by 7.5% surpassing the 5.2 percent expected. Homebuilder optimism explodes higher. The system is ready to push forward. The people did not have to pay interest on taxes, but the IRS has pay interest on returns. The [DS]/MSM narrative is falling apart. The Silent Majority is now speaking out, those who are tabulating the numbers are being questioned. People are now questioning the masks and Fauci says that he objects to a study to see if masks are effective. Trump and the patriots have goaded the [DS] into showing the people what they have planned.
Check Out The X22 Report Spotlight YouTube Channel X22Report Spotlight
Please check Newzsentinel.com for the latest news on the economic collapse. The Sentinel Alerts are updated throughout the day.
---
Current News – 07.16.2020
Watch The X22 Report On Video
---
Economy
An additional 1.3 million Americans filed first-time jobless claims for the week ending July 11, according to Department of Labor
Thursday's numbers are down only 10,000 from the week before,
Source: dailycaller.com
U.S. retail sales increased more than expected in June
The Commerce Department said  retail sales rose 7.5 percent last month, easily surpassing the 5.2 percent gain expected by economists.  Compared with a year ago, retail sales are 1.1 percent higher.
Excluding autos and parts, retail sales were above 7.3 percent, above the forecast 5.2 percent. Excluding sales at gasoline stations, retail sales rose 7.0 percent. Excluding both, sales were up 6.7 percent.
Stores that had been shut down because of anti-pandemic measures saw huge month-over-month jumps in sales. Furniture store sales jumped 32.5 percent compared with May but remain 3.5 below last year's level. Sales at electronic stores jumped 37.4 percent but were 12.7 percent below a year ago.
Sales at clothing stores soared 105.1 percent. These were 23.1 percent below the year-ago level.
Source: breitbart.com
US Homebuilders' Confidence index soared higher in July (to 72 from 58 last month), 
Measure of present single family sales rises to 79 vs 63 last month
Future single family sales gauge rises to 75 vs 68 last month
Prospective buyers traffic measure rises to 58 vs 43 last month
"New home demand is improving in lower density markets,

"Flight to the suburbs is real."
At the same time, the average rate on a 30-year fixed mortgage fell to 2.98%,
Source: zerohedge.com
In a world where interest doesn't really exist anymore, the IRS will surprisingly be paying quite a bit of it on most refunds issued after April 15 this year.
Even though the tax deadline was extended to July 15 this year, the IRS will be paying interest on any refunds issued after April 15, according to a decision made by the agency last week. It's the result of a "quirk in the tax code" combined with the unusual step taken this year of extending the filing deadline, according to the WSJ. 
In other words, if you chose to wait on filing this year, you're likely to be paid a penalty, instead of owing one. 
The agency hasn't estimated how many people will receive interest but it has processed about 11 million refunds between mid-April and mid-June already. Just as the agency would charge for you holding onto your payments too long, it technically owes interest for holding on to people's refunds too long.
And the interest is sizeable: 5% compounded daily for Q2 and 3% compounded daily starting on July 1. 
---
Political/Rights
NAPO has endorsed President Trump in his reelection campaign. Here is our endorsement letter which was issued following today's meeting. pic.twitter.com/mf6ZUTf10l

— NAPO (@NAPOpolice) July 15, 2020
I am pleased to announce that Bill Stepien has been promoted to the role of Trump Campaign Manager. Brad Parscale, who has been with me for a very long time and has led our tremendous digital and data strategies, will remain in that role, while being a Senior Advisor to the…

— Donald J. Trump (@realDonaldTrump) July 16, 2020
…campaign. Both were heavily involved in our historic 2016 win, and I look forward to having a big and very important second win together. This one should be a lot easier as our poll numbers are rising fast, the economy is getting better, vaccines and therapeutics will soon…

— Donald J. Trump (@realDonaldTrump) July 16, 2020
…be on the way, and Americans want safe streets and communities!

— Donald J. Trump (@realDonaldTrump) July 16, 2020
Chrissy Teigen, who has spent the last 4 years calling people she disagrees with "white supremacists" is upset because a mob is accusing her of pedophilia.

She has also deleted 28 thousand+ tweets of her referencing underage children inappropriately, in the process. pic.twitter.com/zc9gYM6qS8

— Candace Owens (@RealCandaceO) July 16, 2020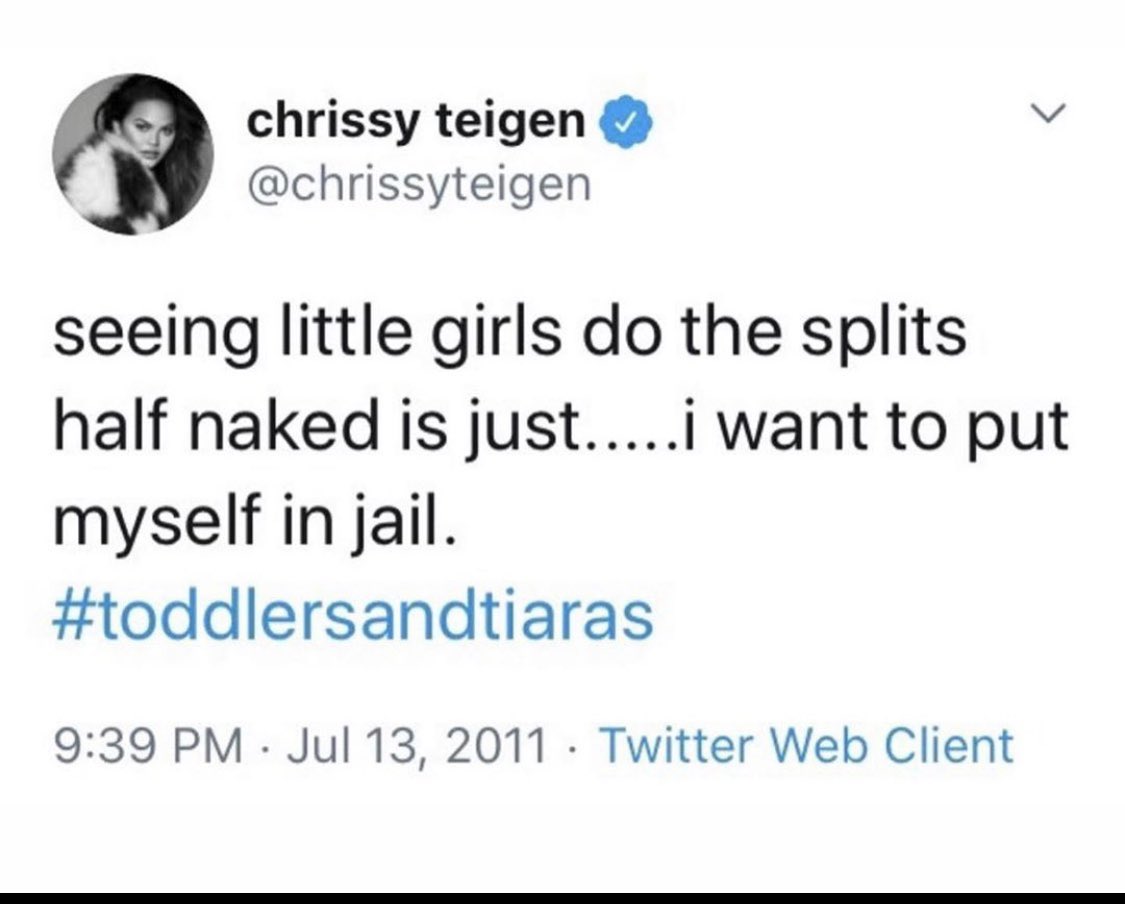 The truth of the Hollywood pedophilia is about to come out more vivid than ever. You know who you are and you're going straight to hell, it is just a matter of time.

— Antonio Sabáto Jr 🇺🇸 (@AntonioSabatoJr) July 16, 2020
We detected what we believe to be a coordinated social engineering attack by people who successfully targeted some of our employees with access to internal systems and tools.

— Twitter Support (@TwitterSupport) July 16, 2020
After a wave of account takeovers, screenshots of an internal Twitter user administration tool are being shared in the hacking underground
A Twitter insider was responsible for a wave of high profile account takeovers on Wednesday, according to leaked screenshots obtained by Motherboard and two sources who took over accounts.
The screenshots show details about the target user's account, such as whether it has been suspended, is permanently suspended, or has protected status.
One of the screenshots is a Twitter user posting images of the panel themselves. At the time of writing that account has been suspended.
Source: vice.com
 Twitter will soon be irrelevant if lowlifes are so easily able to hack into accounts.

— Donald J. Trump (@realDonaldTrump) February 21, 2013
Twitter employee COLLUDED with bitcoin scammers in takeover of high-profile accounts, hacker sources say
A Twitter insider "literally did all the work" for the bitcoin scammers who hijacked dozens of celebrities' accounts, sources claiming responsibility for the hack have claimed, saying the employee was paid to enable the takeover.
The massive attack on verified accounts belonging to high-profile figures was achieved using an internal Twitter tool, several sources claiming to be behind the hack told Motherboard on Wednesday. The sources supplied screenshots to back up the explosive claim that they were given access to the function by an insider. 
"We used a rep that literally done all the work for us," one source explained, while another said the hackers paid off the Twitter employee to give them access to the tool. They allegedly used that function to simultaneously seize control of dozens of accounts belonging to media personalities, politicians, corporations, and other big names, using the popular accounts to solicit bitcoin donations in a scam that amounted to the largest attack in Twitter history. 
Source: rt.com
---
Geopolitical/Police State
---
War
---
Cyber Attacks
---
False Flags
Hospitals! Trump is now telling you NOT to report #coronavirus data to the CDC. Tell him to GO TO HELL! Doesn't he understand people are dying?? Report! Report! Report!

— Maxine Waters (@RepMaxineWaters) July 16, 2020
The New York Times is being sued for $10 million for reporting during the COVID-19 pandemic that students at Liberty University were victims after university officials decided to reopen campus after a break.
 a 100-page suit filed in Virginia's Lynchburg Circuit Court, the university charged that New York Times reporter Elizabeth Williamson and photographer Julia Rendleman ignored "No Trespassing" signs to tour the campus when it was trying to keep away outsiders who might be infected with the coronavirus.
Liberty claims the Times falsely charged that students returning from spring break became infected with the coronavirus because the university remained open.
In fact, no student, staffer, or faculty member on campus became infected, Bedard reported.The complaint says: "None of this was true. There was never an on-campus student diagnosed with COVID-19. The only actual 'viral' element of this narrative that existed was the intense 'viral' internet attention it generated for the New York Times' website and for those paying to advertise on that website."
"It is the second embarrassment for the New York Times in two days. On Tuesday, prominent opinion writer Bari Weiss quit and ripped the paper in a public letter saying that the paper's coverage is driven by 'clicks' and Twitter," Bedard reported.
The state conducted health inspections and found everything at the school in order.
Source: wnd.com
Why is Dr. Fauci doing modeling photoshoots for fashion magazine covers in the middle of a global pandemic?

By the way, where is his face mask?

Is this appropriate behavior from America's "top medical expert"?

The world is laughing at us right now because of this. pic.twitter.com/WH3uZW0eyt

— Dr. David Samadi (@drdavidsamadi) July 16, 2020
The State of Texas today had to remove 3,484 cases from its Covid-19 positive case count, because the San Antonio Health Department was reporting "probable" cases for people never actually tested, as "confirmed" positive cases.- TDHS
What other departments make this same mistake? pic.twitter.com/wYhGWhHl5w

— Steve Eagar (@steveeagar) July 16, 2020
Alabama became the latest state to issue an order requiring residents to wear a mask in public.
Republican Alabama Gov. Kay Ivey made the announcement at a press conference Wednesday, saying she did so with the support of the medical and business communities.
More than 20 states and Washington D.C. now require residents to wear masks in public
Source: dailycaller.com
Dr. Anthony Fauci said  he opposes conducting a controlled study on the effectiveness of masks to prevent the spread of the coronavirus.
Fauci discussed the idea during a conversation with students of Georgetown University's Institute of Politics and Public Service.
One student asked if it is possible to do a study in the midst of a pandemic about the effectiveness of wearing masks.
"What kind of studies can we do right now in the middle of the pandemic about masks and transmission of the disease?" the student asked. "Or are we just relying on anecdotal evidence because we are not able to do those kind of studies right now?"
Fauci said there are enough "meta-analyses" of existing data showing the efficacy of masks.
"Right now, I'm convinced enough in the summation and totality of the data that has been analyzed by meta-analysis that I'm convinced that the benefit of wearing a mask clearly is there and is better than not wearing a mask," he said:
Source: breitbart.com
A public meeting in Utah about a mask policy for schoolchildren was abruptly adjourned when people without masks packed the room.

"This is the exact opposite of what we need to be doing," Utah County Commissioner Tanner Ainge said of the meeting in Provo. https://t.co/dKxBPYTYZy pic.twitter.com/c5rKnoNQ5R

— NBC News (@NBCNews) July 16, 2020