It's Time, The Silent Majority No More, We The People, A Beacon Of Hope When Flown – Episode 2231
Trump and the patriots wanted to add the payroll tax cuts in the phase 4 stimulus package, the Ds and Rs decided to bypass this and left it out. In the long run which is going to help the people, one time stimulus or a payroll tax cut? Trump is now taking the economy transition to the next step. The [DS]/MSM believe they control the narrative, they do not, the silent majority is watching and observing, the pandemic response, the riots and the corrupt politicians actions. A judge ordered [GM] files be revealed. Trump pivots on masks and traps the [DS]. Mayors are exposed and the CDC corrects the number of cases and deaths after hospitals were ordered to send the data to DC. It's time to fly the flag, it's time show who the silent majority is, it's time We The People take the control back.
Check Out The X22 Report Spotlight YouTube Channel X22Report Spotlight
Please check Newzsentinel.com for the latest news on the economic collapse. The Sentinel Alerts are updated throughout the day.
---
Current News – 07.23.2020
Watch The X22 Report On Video
---
Economy
President Donald Trump's administration failed to get a payroll tax cut into the Phase 4 CARES Act o  with Treasury Secretary Steve Mnuchin saying it may be included in a fifth stimulus.
The announcement comes just months after Trump said in May that there would be no phase 4 bill without his tax cut. Mnuchin said part of the problem with a payroll tax cut is it takes time for Americans to feel the benefit. He stated Americans need relief as soon as possible.  
The running draft of the CARES Act will instead include $16 billion in additional funding for virus testing, and providing unemployment relief at 70 percent wage replacement.
Democratic House Speaker Nancy Pelosi had shot down Trump's push to include a payroll tax cut in May, saying she believed it would be unrelated to the coronavirus. 
"
Source: dailycaller.com
The Democrats have stated strongly that they won't approve a Payroll Tax Cut (too bad!). It would be great for workers. The Republicans, therefore, didn't want to ask for it. Dems, as usual, are hurting the working men and women of our Country!

— Donald J. Trump (@realDonaldTrump) July 23, 2020
---
Political/Rights
Former Congressman Charged with Ballot Stuffing, Bribery, and Obstruction
A former U.S. Congressman was charged  in an indictment unsealed today, with conspiring to violate voting rights by fraudulently stuffing the ballot boxes for specific candidates in the 2014, 2015, and 2016 primary elections, bribery of an election official, falsification of records, voting more than once in federal elections, and obstruction of justice.
Michael "Ozzie" Myers, 77, of Philadelphia, Pennsylvania, is charged with conspiring with and bribing the former Judge of Elections for the 39th Ward, 36th Division, Domenick J. Demuro.   Demuro, who pleaded guilty previously in federal court in Philadelphia, was responsible for overseeing the entire election process and all voter activities of his division in accord with federal and state election laws.
"
This case is being investigated by the FBI with assistance from the Pennsylvania State Police.   
Source: justice.gov
SHEER GENIUS!!!#TheGreatAwakening https://t.co/9Q1qkOE7kt pic.twitter.com/iNt6HevWOJ
— Patriot Politics Research ☦🇺🇸🐸 (@Mile_Voli_Disk0) July 22, 2020
>>4280189
Will voter fraud be exposed before January?
>>4280236
No.
2019 push Voter ID based on verifiable intel (fraud).
2020+ safeguarded.
Q
[HRC] changed her twitter profile pic, why the change
Kemp signs human trafficking, foster care bills
Gov. Brian Kemp signed bills  aimed at cracking down on human trafficking in Georgia and improving the state's foster care system.
"
House Bill 823 and House Bill 911 were part of Georgia First Lady Marty Kemp's initiative to target human trafficking and better protect foster children.
Source: savannahnow.com
Now the media went crazy over Trump saying the following "I wish her well", her was referring to Ghislaine Maxwell, Kaleigh explains what the president was talking about. 
BOOM:

Kaliegh said

"What the president was noting is that the last person who was charged in [Epstein's] case ended up dead in a jail cell, and the president wants justice to be served for the victims in this case, and he prefers this to play out in a courtroom" https://t.co/35Zj7PNGOj

— Julian's Rum 🥃 (@JuliansRum) July 23, 2020
This confirms what Julians Rum was talking about in a previous tweet
Remember when Comey said "I wish Andy well"?
Q showed us that this was actually [their] code for death threat.
When POTUS said "I wish her well" it's possible he was mocking [them] with their own code, ie:
"I know y'all wanna off Maxwell. But ya can't." https://t.co/3LUR6H4QJC pic.twitter.com/pkLNcdViB8
— Julian's Rum 🥃 (@JuliansRum) July 21, 2020
A federal judge in Manhattan  approved the unsealing of documents from a civil lawsuit against Ghislaine Maxwell —
Over Maxwell's objections, U.S. District Judge Loretta Preska in Manhattan said the presumption the public has a right to access large portions of the more than 80 documents at issue outweighed Maxwell's arguments for keeping them under wraps, including that they could prove embarrassing.
[…]

Preska also said personal identifying information contained in the documents, as well as the names of many "non-parties," will be redacted. If the documents are released, they are likely to shed more light on Maxwell's dealings with Epstein, as well as Epstein's own conduct. They include flight logs from Epstein's private jets, deposition testimony in 2016 in which Maxwell's lawyers said she was asked "intrusive" questions about her sex life, and police reports from Palm Beach, Florida, where Epstein had a home.
The records are a part of a lawsuit brought by Epstein accuser Virginia Giuffre
Source: breitbart.com
Q

 

!!mG7VJxZNCI

 

ID: 38cc52

 No.7150840

https://twitter.com/SeanCordicon/status/1153737540702285825
Targets ('models') made to fill out an extensive background report?
Targets ('models') asked in detail re: family?
Targets ('models') generally 'green lit' based on 'loner' 'insecurity' 'depressed' P_eval?
Targets ('models') generally 'green lit' based on 'humble' 'poorer' family background?
[prevent possible 'legal' retaliation]
THE SPIDER-WEB CONNECTS THOSE MOST TRUSTED, THOSE MOST RICH, THOSE MOST POWERFUL, …………..
SAFE?
FREE?
Highest Level Security + MAX Protect
Q
---
Geopolitical/Police State
TECH CRUNCH: Twitter admits hackers accessed DMs of dozens of high-profile accounts
— Josh Caplan (@joshdcaplan) July 23, 2020
T

he U.S. government believes that a Chinese researcher who was charged by the Justice Department with visa fraud for concealing her ties to the Chinese military is currently hiding out in China's consulate in San Francisco.
Tang Juan was interviewed by the FBI on June 20 about her concealing her ties to the People's Liberation Army while she was a researcher at the University of California, Davis, and the FBI executed a search of her home and her electronics media showing further evidence she'd hidden her ties to the PLA when applying for a visa. Court documents show that the bureau "assesses that, at some point following the search and interview … Tang went to the Chinese Consulate in San Francisco, where the FBI assesses she has remained."
The FBI's assessment that the Chinese consulate in San Francisco has been harboring a fugitive from U.S. authorities was revealed in a seven-page detention memo related to another Chinese national — Chen Song, an active-duty PLA military scientist who was arrested for allegedly committing visa fraud as a researcher at Stanford University — dated July 20 and authored by the U.S. Attorney's Office for the Northern District of California. The FBI memo argued that "as the Tang case demonstrates, the Chinese consulate in San Francisco provides a potential safe harbor for a PLA official intent on avoiding prosecution in the United States."
Source: washingtonexaminer.com
---
War
Trump recently announced he would bring home most US troops from Afghanistan after 19 years and thousands of troops from Germany that have been there for decades.
Liz Cheney has allegedly been working behind the scene to thwart President Trump's agenda.
President Trump tweeted this out
Liz Cheney is only upset because I have been actively getting our great and beautiful Country out of the ridiculous and costly Endless Wars. I am also making our so-called allies pay tens of billions of dollars in delinquent military costs. They must, at least, treat us fairly!!!

— Donald J. Trump (@realDonaldTrump) July 23, 2020
Rep. Matt Gaetz and Senator Rand Paul both spoke out against Liz Cheney in the past week.
Gaetz called on Cheney to step down from her leadership position.
Source: thegatewaypundit.com
---
Cyber Attacks
---
False Flags
Yale Epidemiologist Says Hydroxychloroquine Could Save 100,000 Lives 
Dr. Harvey Risch, an epidemiology professor at Yale School of Public Health, said that he thinks hydroxychloroquine could save 75,000 to 100,000 lives if the drug is widely used to treat coronavirus.
"
Source: bongino.com
We all saw the motorcycle accident with COVID on the death certificate. A rarity? Not really.

The CDC reports that 3,721 death certificates in the COVID count also list "intentional and unintentional injury, poisoning and other adverse events."https://t.co/tEdPgzMiNX

— Phil Kerpen (@kerpen) July 23, 2020
So now that Trump has said hospitals need to report numbers to WH instead of the CDC, the CDC just came out & said they made another "mistake" in FL; And they've also been counting Pneumonia & Flu as Covid– dropping their # from approx 90,000 to 11,000.
So many "mistakes," huh?

— DeAnna Lorraine 🇺🇸 (@DeAnna4Congress) July 22, 2020
Portland Mayor Ted Wheeler is entering the protest crowd right now. People are already confronting him. pic.twitter.com/H7uJSGYlma

— Mike Baker (@ByMikeBaker) July 23, 2020
But @tedwheeler says he has it all under control and the feds are unnecessary. https://t.co/5FAySqf5Uu

— John Cardillo (@johncardillo) July 23, 2020
The mayor of Portland literally standing against the Federal government with a violent mob AG suing the Feds in legal defense of the mob They are going to the Federal courthouse. They are initiating the conflict If they stop going to Federal property then its over, they refuse
Recently watched failed RINO Tom Ridge, former head of Homeland Security, trying to justify his sudden love of the Radical Left Mayor of Portland, who last night was booed & shouted out of existence by the agitators & anarchists. Love watching pathetic Never Trumpers squirm!

— Donald J. Trump (@realDonaldTrump) July 23, 2020
I recognize a lot of the so-called "moms" as the same antifa women who dressed in black as recent as a couple days ago. They just put on a yellow shirt now for optics. Most of these people aren't mothers & many don't even identify as female. #PortlandRiots pic.twitter.com/UPffcao0fv

— Andy Ngô (@MrAndyNgo) July 22, 2020
Chicago Mayor tells citizens to call 911 on federal agents if they "see something that doesn't look right"
"If we see any steps out of line…with DHS or Border Patrol, we are not going to hesitate to take the President to court…" pic.twitter.com/99xxAsd6BP
NYC is now the worst place to do business, retailers say
 Shake Shack, which runs 162 restaurants in 20 states, reporting that its Big Apple stores will "take a longer period of time to fully recover than other parts of the country."
The burger chain made the statement on July 7 as it reported that NYC same-store sales for the week of July 1 had fallen 58 percent compared to a year earlier — the steepest decline among all its regions. Sales in the chain's Northeast and Southeast stores, by contrast, fell just 24 percent and 32 percent, respectively.
Source: nypost.com
Sen. Joni Ernst (R-IA) urged President Donald Trump   to ensure states and cities do not use federal funds to promote anarchy or anarchist jurisdictions across American cities.
Ernst, along with 29 of her colleagues in the House and the Senate, called on Office of Management and Budget Director Russ Vought to use his authority to prevent federal funding for states and cities that allow for the creation of autonomous zones.
Source: breitbart.com
This afternoon I was made aware of concerns within the community that federal agents may be authorized to use live ammunition on demonstrators this evening.

— Mayor Ted Wheeler (@tedwheeler) July 23, 2020
Q

 

!!mG7VJxZNCI

 

ID: 5ea56b

 No.7139394

quote-never-interfere-with-an-enemy-in-the-process-of-destroying-himself-napoleon-bonaparte-142-52-09.jp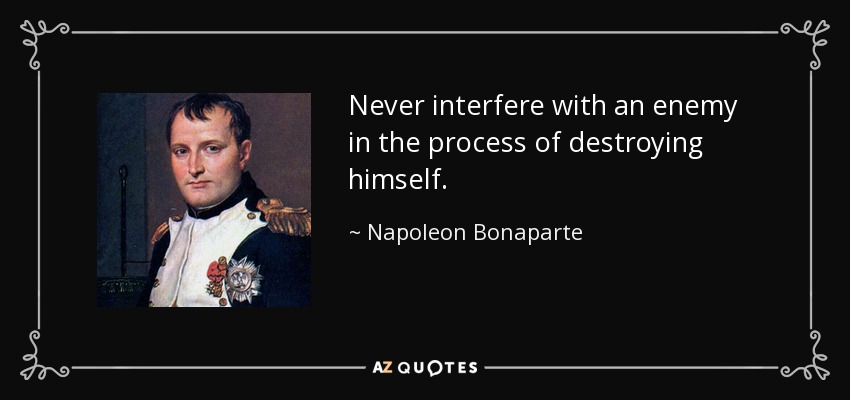 These people are stupid.
Enjoy the show!
Q
Q

 

!!mG7VJxZNCI

 

ID: 5ea56b

 No.713945

6dfaf6a744ae31edf73f3bb5caa59e7436cedc55e597cfde41a38f5807a0a981.jp

>>7139394
>>7139437
f768deaef22da979abcfb73c9175b54d71fcf891666c5449c1969c07c3cc8920.png
There was a time when our children stood at attention, and with pride, put their hand on their heart, and in one UNITED voice, recited the PLEDGE OF ALLEGIANCE.
There was a time when STRENGTH and HONOR meant something.
There was a time when standing for our FLAG meant something. It's Time to show the meaning of the flag
There was a time when our history (heritage) was taught with PRIDE and RESPECT.
There was a time when respect was given to those who serve(d), bled, and died to protect and defend our FREEDOM.
There was a time when we were GRATEFUL.
There was a time when our ACCOMPLISHMENTS meant something.
There was a time when these UNITED STATES OF AMERICA, ONE NATION UNDER GOD, was UNITED.
There was a time when these UNITED STATES OF AMERICA, ONE NATION UNDER GOD, was UNITED UNDER THE AMERICAN FLAG.
A FLAG THAT WAS CARRIED IN BATTLE BY BRAVE PATRIOTS AS A SYMBOL OF FREEDOM & JUSTICE FOR ALL NO MATTER RACE, RELIGION, OR BACKGROUND.
A BEACON OF HOPE WHEN FLOWN.
A MARK OF RESPECT TO THEIR MEMORY TO THOSE WHO WILLFULLY SACRIFICED THEIR LIVES TO DEFEND.
There was a time when, WE, THE PEOPLE, decided our future.
There was a time when, WE, THE PEOPLE, had a voice.
There was a time when, WE, THE PEOPLE, were UNITED and STRONG.
There was a time when the media was free from political bias [and corruption].
There was a time when our elected leaders stood their ground, dug in, and defended those they represented.
How many Men and Women in uniform are currently serving on the frontlines abroad only to look back in horror to see the homeland on fire?
What does the word 'Patriot' mean to you?
LAND OF THE FREE.
HOME OF THE BRAVE.
Now is not the time to be complacent.
Will you answer the call?
"Freedom is never more than one generation away from extinction. We didn't pass it to our children in the bloodstream. It must be fought for, protected, and handed on for them to do the same, or one day we will spend our sunset years telling our children and our children's children what it was once like in the United States where men were free." – Reagan
Q