Keystone Is The Start, Gettysburg Was the Turning Point Of The War, Watch PA – Ep. 2338
Trump's economy continues to improve, he sent a message to the [CB]/[DS] yesterday and today we see the V recoveries taking shape. Durable goods orders jump, real estate up, unemployment down and wages of government workers decline and private workers increase. [JB] releases the information that a lot money is going to be needed to send to the states. The [DS]/MSM are now trapped. The patriots are making their move, it all begins in PA, the keystone. [E] fraud is now being produced and public hearing are now happening. The keystone is the center stone that holds it all together. We need to go back to the beginning to understand the end, this was never just about a 4 year election, it was returning the country back to the people.
Watch The X22 Report On Video
🌿 Get My Favorite Turmeric Extract For 51% Today!
😍 Get 51% Off by Clicking Here ➡️http://agewithx22.com

---
😀Invest In Your Health, Purify & Ionize Your Indoor Air:😀
http://www.amazingcleanair.com

---
---
---
Economy
  wages and salaries for government workers declined by 2.2% compared to last October, the biggest decline on record.
A closer look at recent trends reveals that this is a purely a government worker feature, with wages for private sector employees rebounding soundly from their post-covid crash lows and fast approaching pre-crisis levels.
Source: zerohedge.com
The former vice president said measures to enable the safe reopening of schools would carry a hefty price tag, referring to estimates of between $150 and $200 billion for the year, saying, "it takes a lot of money to get them back."
"We know that we have to change everything, from the ventilation systems in schools," Biden said, adding, "we have to make sure … everyone from sanitary workers, right through to the bus drivers, they have to be clued in, they have to be protected. They need the PPE. They need the gear. They need the ability to have smaller modules of classes."
Source: theepochtimes.com
---
Political/Rights
Majority of Republicans say they would vote Trump in 2024, poll | Just The News https://t.co/WlL75IBHuH

— John Solomon (@jsolomonReports) November 25, 2020
Responded
But 2020 is a long way from over! https://t.co/usdkMvGMhK

— Donald J. Trump (@realDonaldTrump) November 25, 2020
Update:

In Wisconsin, one type of absentee ballot does not require ID: "indefinitely confined." (Covid does not create this status).

Below are the abs ballots this election and the year the voter initially claimed this status, which is indefinite.

— Matt Braynard (@MattBraynard) November 20, 2020
Year of Initial Request / Number of Voters
2010 / 1216
2011 / 881
2012 / 3298
2013 / 626
2014 / 3112
2015 / 972
2016 / 8989
2017 / 2547
2018 / 14178
2019 / 4890
2020 / 169282

— Matt Braynard (@MattBraynard) November 20, 2020
Update:

– Sample of the postal facilities (USPS, FedEx, UPS) addresses disguised as apartments, etc. in Georgia.

I will release the full dataset for GA and PA with the package that includes the survey toplines, etc. pic.twitter.com/ifXe0SPKBk

— Matt Braynard (@MattBraynard) November 24, 2020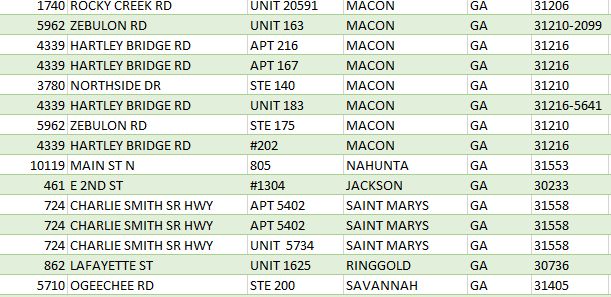 It looks like a lot of people were pretending to be residents of Georgia. That's more E-V-I-D-E-N-C-E.
Why isn't the @GASecofState Brad Raffensperger, a so-called Republican, allowing us to look at signatures on envelopes for verification? We will find tens of thousands of fraudulent and illegal votes…

— Donald J. Trump (@realDonaldTrump) November 25, 2020
…This could also be very helpful to @SenDavidPerdue and @SenatorLoeffler. Why is he afraid of Stacey Abrams? We don't need the ballots — we only need the signed envelopes!

— Donald J. Trump (@realDonaldTrump) November 25, 2020
Trump retweeted
In GA, they threw away the envelops with the signatures that the ballots came in, then commingled the mail-in ballots with the day-of ballots so there was no way to tell them apart.

— LORI HENDRY (@Lrihendry) November 24, 2020
It is time for GA Governor @BrianKempGA to order a full audit of votes allegedly cast in 11/3 election & special session of state legislature.

Evidence of fraud is overwhelming. @GaSecofState should resign.@KLoeffler & @sendavidperdue MUST immediately make same demands. https://t.co/Hv5OZ39obk

— Lin Wood (@LLinWood) November 25, 2020
They lied about the pipe burst. #Georgia #ElectionFraud @LLinWood @abigailcfrye @realDonaldTrump @RichforGA https://t.co/FbtoOSPGhq

— Sidney Powell 🇺🇸⭐⭐⭐ (@SidneyPowell1) November 24, 2020
Mainstream & socialist media are propaganda arms of 3rd party bad actors who want to overthrow duly-elected President. They are Masters of Deceit.

They claim @realDonaldTrump lost & will now attempt a coup.

Translation:

Trump won & Biden & his Comrades will now attempt a coup. pic.twitter.com/nw4WIC7Wrl

— Lin Wood (@LLinWood) November 25, 2020
Crazy thing is, if this is true, then why hasn't Kamala Harris, the first female Vice President in US history, not resigned from the Senate?
If she and Joe won, wouldn't she resign from the Senate and get a head start on her new job as Vice President?  Hmmm….

Source: thegatewaypundit.com
---
Geopolitical/Police State
Facebook changed its algorithm to prioritize specific news outlets — those deemed authoritative by FB — after the election https://t.co/qMnLNOdDBH pic.twitter.com/75IkiQ0PGm

— Peter J. Hasson (@peterjhasson) November 24, 2020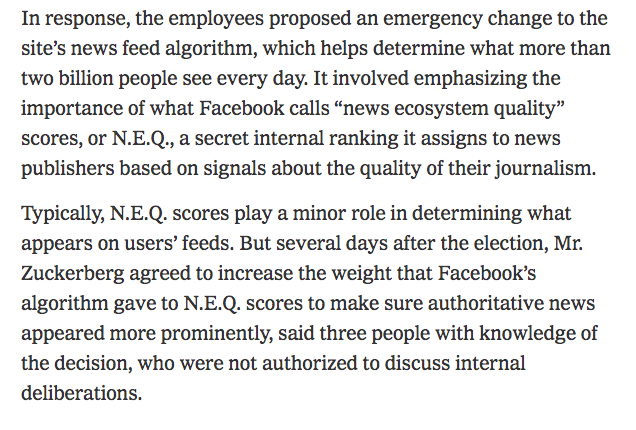 This confirms what I've heard anecdotally from conservative publishers: that their FB reach was throttled after the election

— Peter J. Hasson (@peterjhasson) November 24, 2020
  Department of Defense Cyber Warfare Program? It Tracks Systems and aquires evidence of nefarious activities and crimes committed by The Deep State!
 The "Kraken" is  a Department of Defense-run cyber warfare program that tracks and hacks various other systems to acquire evidence of nefarious actions by the deep state!President Trump and the loyal patriots in the Military and Space Command now have all the evidence of voter fraud and election related treason. This will be used against the enemies of America! 
Sidney Powell declared that, "an algorithm was plugged in to steal votes from President Trump during the election" – which is exactly what the truth bearing media has been warning about for over a decade.
Source: marshall.com
KRAKEN is DOD cyber warfare program.
Who knew? 🤣😂🤣@realDonaldTrump @LLinWood @abigailcfrye @JosephJFlynn1 @jbinnall @MariaBartiromo @LouDobbs https://t.co/R1TABU35DI

— Sidney Powell 🇺🇸⭐⭐⭐ (@SidneyPowell1) November 25, 2020
BREAKING: Trump pardons former national security adviser Mike Flynn
It is my Great Honor to announce that General Michael T. Flynn has been granted a Full Pardon. Congratulations to @GenFlynn and his wonderful family, I know you will now have a truly fantastic Thanksgiving!

— Donald J. Trump (@realDonaldTrump) November 25, 2020
---
False Flags
Message from an expert: "In just one week, we've had 4 major peer-reviewed studies refuting masks, asymptomatic transmission, pre-symptomatic transmission and PCR tests . House of cards is falling."

— Denis Rancourt (@denisrancourt) November 24, 2020
---
Q
A Trump campaign lawsuit in Nevada filed last week challenging the election results has been given the go ahead for depositions by the Carson City court where the case was filed November 17. The suit seeks to have Trump declared the winner or that no electors be awarded due to fraud and irregularities. A hearing was set for December 3rd. 
Source: thegatewaypundit.com
🚨🚨🚨NEW: PENNSYLVANIA, ARIZONA, MICHIGAN LEGISLATURES TO HOLD PUBLIC HEARINGS ON 2020 ELECTION

Trump Legal Team Statement pic.twitter.com/T0Cy0VfI0G

— Jenna Ellis (@JennaEllisEsq) November 24, 2020
Today RG was testifying in the public hearing with many witnesses.
WATCH: Crowd gasps after finding out that a mysterious spike of votes in Pennsylvania had 600,000 votes for Biden and only 3,200 for @realDonaldTrump pic.twitter.com/Sa1n3jpyhf

— Team Trump (@TeamTrump) November 25, 2020

TAKE A LISTEN TO RG 

HOLY CRAP! PA legislator says they never voted on the
D o m i n i o n system… it was MANDATED by the governor.

— Cari Kelemen (@KelemenCari) November 25, 2020

Trump drop in on the gettyburg public hearing via phone TAKE A LISTEN

NEWS: Pennsylvania judge blocks state from certifying election results in presidential and all other races.@EpochTimes

Source: https://t.co/KD2QqGFCPj pic.twitter.com/sP7hecZnjr

— Ivan Pentchoukov (@IvanPentchoukov) November 25, 2020

BREAKING: Judge Blocks Certification of Pennsylvania Election Results@EpochTimes https://t.co/zksFq8xCzB

— Ivan Pentchoukov (@IvanPentchoukov) November 25, 2020

PA certified the presidential and vice-presidential elections yesterday. In an emergency brief filed before midnight last night, the Republican plaintiffs pointed out that there was no need to act so fast. PA certified on Dec. 12 in 2016.

Source: https://t.co/ER64ufXmcC pic.twitter.com/Q73XhBvyay

— Ivan Pentchoukov (@IvanPentchoukov) November 25, 2020

Simple plan: Hold hearings in key states. Prove election fraud was significant enough to affect the outcome. Ask the legislatures to do the right thing.

262
Q !ITPb.qbhqo 12/05/2017 00:45:56 ID: cc0116
Archive Bread/Post Links: 34884 / 35166
Direct Link: 35166

---

Pennsylvania's nickname is "The Keystone State" because it was the middle colony of the original thirteen colonies, and because Pennsylvania has held a key position in the economic, social, and political development of the United States.Politically, Pennsylvania played a vital role in holding together the states of the newly formed Union.

A keystone is a wedge-shaped piece at the crown of an arch that locks the other pieces in place; it is a stone on which the associated stones depend for support. Geographically, Pennsylvania's central location along the arch of the 13 original states calls to mind a keystone. Politically, Pennsylvania played a vital role in holding together the states of the newly formed Union.

Three of our most treasured documents are associated with Pennsylvania: the Declaration of independence and the United States Constitution (both executed in Philadelphia), and Lincoln's Gettysburg Address.

Pennsylvania's state song mentions the state nickname in the second verse: "Birthplace of a mighty nation, Keystone of the land." A keystone is also featured on the U.S. Mint's Pennsylvania quarter.

Gettysburg Was the Turning Point of the War

The Battle of Gettysburg fought on July 1–3, 1863, was the turning point of the Civil War for one main reason: Robert E. Lee's plan to invade the North and force an immediate end to the war failed.

What Lee (1807–1870) hoped to do was cross the Potomac River from Virginia, pass through the border state of Maryland, and begin waging an offensive war on Union soil, in Pennsylvania. After gathering food and much-needed clothing in the prosperous region of southern Pennsylvania, Lee could threaten cities such as Harrisburg, Pennsylvania or Baltimore, Maryland. If the proper circumstances had presented themselves, Lee's army could even seize the greatest prize of all, Washington, D.C.

Had the plan succeeded to its greatest extent, Lee's Army of Northern Virginia might have surrounded, or even conquered, the nation's capital. The federal government could have been disabled, and high government officials, including even President Abraham Lincoln (1809–1865), might have been captured.

The United States would have been forced to accept peace with the Confederate States of America. The existence of a pro-slavery nation in North America would have been made permanent—at least for a while.

The collision of two great armies at Gettysburg put an end to that audacious plan. After three days of intense fighting, Lee was forced to withdraw and lead his badly battered army back through western Maryland and into Virginia.

No major Confederate invasions of the North would be mounted after that point. The war would continue for nearly more two years, but after Gettysburg, it would be fought on southern ground.

Flashback

In addition to winning the Electoral College in a landslide, I won the popular vote if you deduct the millions of people who voted illegally

— Donald J. Trump (@realDonaldTrump) November 27, 2016

Lets go back to when Trump was first running, listen to it very carefully, it makes a lot more sense now doesn't