USSS Have Known Along, The Movement Is Far From Over, Castle Rock – Ep. 2558
Watch The X22 Report On Video
The [CB]/[JB] economy that they tried to bump up with stimulus, child credits is now failing. This tactic will only last for a short period of time and now the people can see that [JB] plan was not a plan. The economy is doing exactly what Trump said it was going to do, implode. The [DS] is now preparing for the AZ forensic audit fall out. The patriots have prepared for this moment and the [DS] is now falling right into the trap. Those woke Generals that are being paraded around on TV have no idea what is happening. Trump lets everyone know that the movement is far from over, that the fight has just begun. Devolution is about to go down, the clock is ticking and everything is in place, Operation Castle Rock ready to go. The military caught it all, the trap is ready to be sprung.
---
Economy
Last week we warned that the US economy was facing a "sudden negative change" as consumer spending was set to collapse, and we even warned that the retail sales data this week would be atrocious.
  
  Well, with the bulk of Biden's trillions now spent, there was a modest bounce in household spending when the welfare president started sending out child tax credit. However, while CTC recipients did spend in excess of others for 2 weeks after they got the check, they then fell below for the following two weeks as they spent the entire stimulus and then hunkered down more than non-recipient households until the next child tax credit.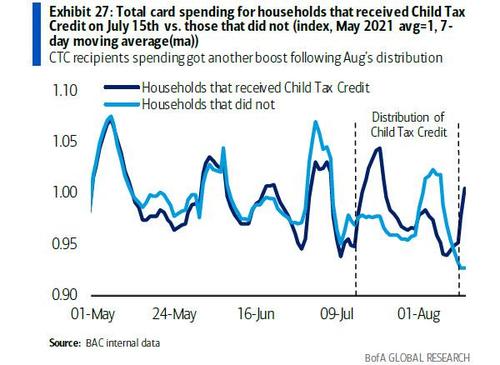 One can't help but dread what happens to the US economy – and society – when one day the stimmies, the universal basic income, the emergency benefits and so on, finally come to an end.
Source: zerohedge.com
---
Political/Rights
Swedish PM to step down in November ahead of 2022 elections
Swedish Prime Minister Stefan Lofven caught many off guard on Sunday, saying he would resign in November ahead of a general election in September 2022 to give his successor a chance to improve the Social Democrats' standing in the polls.
Source: reuters.com
---
War
Call Afghanistan what it is: The worst hostage crisis in American history
On Nov. 4, 1979, militants seized the U.S. Embassy in Tehran, taking more than 60 American hostages. It was hell for the captured Americans, and Jimmy Carter's inability to extricate them helped doom him to a one-term presidency.
The way things are shaping up in Kabul, that national humiliation is being recreated on a far, far bigger scale — it is no hyperbole to say that it is starting to look like America's worst hostage crisis.
Source: nypost.com
Defense Secretary Lloyd Austin contradicted Joe Biden and said Americans trying to get to Kabul airport have been "beaten" by the Taliban.
According to multiple reports, Americans stuck in Afghanistan were beaten throughout the night.
One American woman was beaten twice even though she was carrying a US passport.
According to sources on the ground, Americans are being beaten and injured by Taliban terrorists and stopped from boarding planes.
 Secretary Austin confirmed these reports to House members during a briefing call on Friday, according to Politico and CNN.
Source: thegatewaypundit.com
  the Biden administration warned Americans trapped in Afghanistan of potential security threats and not to travel to the Kabul Airport.
  potential ISIS threat against Americans.
The UK, France and Germany knew they had to move quickly to extract their countrymen so they sent special forces to rescue their citizens trapped outside of Kabul airport a few days ago.
Source: thegatewaypundit.com
A State Department spokesperson told The Hill that people evacuated from Afghanistan by the US will not be charged "reimbursement" fees.

Upon filling out an application for "Afghanistan evacuation" on the State Department's website, here's what I found. pic.twitter.com/BP4FjPLLpe

— Michael Austin (@mikeswriting) August 20, 2021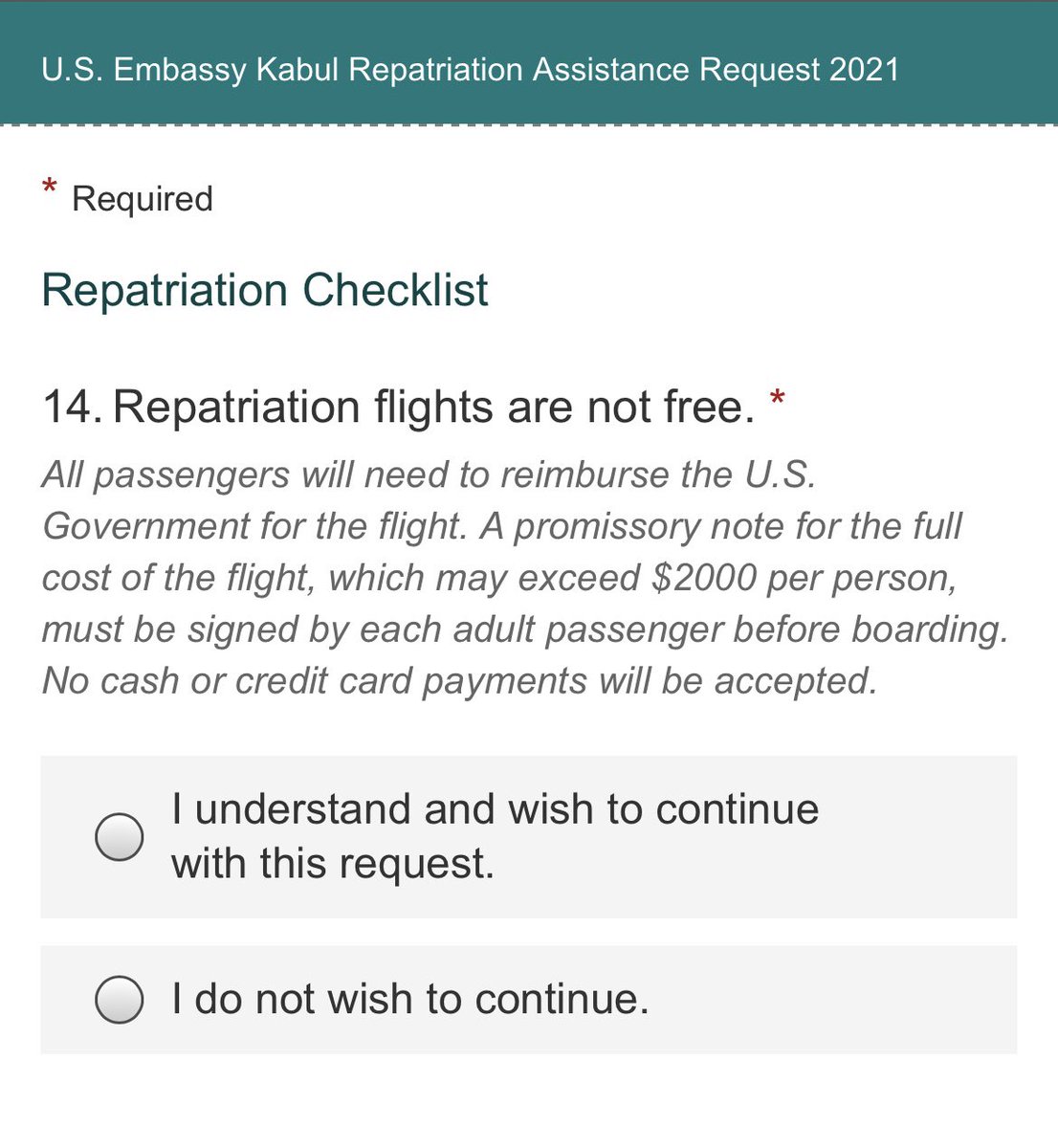 A majority of U.S. voters believe the U.S. is headed in the wrong direction, a Reuters/Ipsos survey released this week found.
A majority of respondents, 59 percent, said the country is headed on the "wrong track,"
Source: breitbart.com
---
Cyber Attacks
---
False Flags
Republican Texas Gov. Greg Abbott announced Saturday that his latest COVID-19 test results came back negative, just four days after testing positive for the virus.
"I am now testing negative for COVID. I am told my infection was brief and mild because of the vaccination that I received," the governor said. "So I encourage others who have not yet received the vaccination to consider getting one. My wife [Cecilia] also continues to test negative."
Source: dailycaller.com
It's all kicking off in Melbourne Australia protest today.. Citizens of Melbourne break through the police barriers and are chased by mounted police.. pic.twitter.com/32WZOD8HTK

— Gillian McKeith (@GillianMcKeith) August 21, 2021
TAKE A LISTEN
---
Q
🚨BREAKING, thread:

The State Department has been hit by a cyber attack, and notifications of a possible serious breach were made by the Department of Defense Cyber Command.

— Jacqui Heinrich (@JacquiHeinrich) August 21, 2021
It is unclear when the breach was discovered, but it is believed to have happened a couple weeks ago.

A source familiar tells Fox the State Department's ongoing mission to evacuate Americans and allied refugees in Afghanistan "have not been affected".

— Jacqui Heinrich (@JacquiHeinrich) August 21, 2021
The extent of the breach, investigation into the suspected entity behind it, efforts taken to mitigate it, and any ongoing risk to operations remains unclear.

A DoS spox tells me:

— Jacqui Heinrich (@JacquiHeinrich) August 21, 2021
"The Department takes seriously its responsibility to safeguard its information and continuously takes steps to ensure information is protected. For security reasons, we are not in a position to discuss the nature or scope of any alleged cybersecurity incidents at this time."

— Jacqui Heinrich (@JacquiHeinrich) August 21, 2021
Notably, a Senate Homeland Security committee report this month rated State Department's overall information security a 'D', the lowest possible rating in the model, calling it ineffective in 4 of 5 function areashttps://t.co/FqOnxeaimr pic.twitter.com/ALqq94l1hd

— Jacqui Heinrich (@JacquiHeinrich) August 21, 2021
Rep. Marjorie Taylor Greene (R-GA) has introduced three impeachment resolutions against Joe Biden.
They are for his failures in Afghanistan, violation of immigration laws that have caused a border crisis and usurping of Congressional power.
1: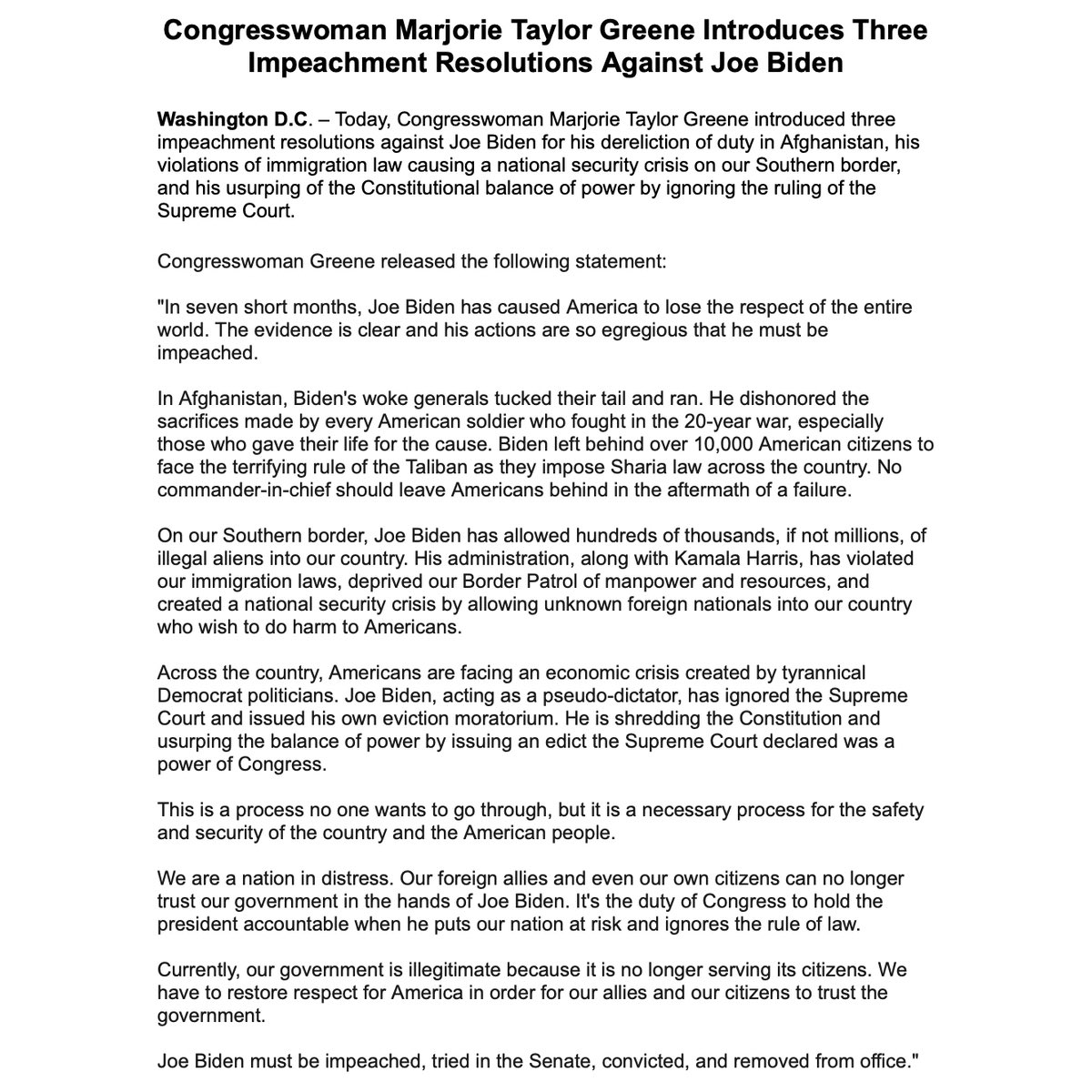 2: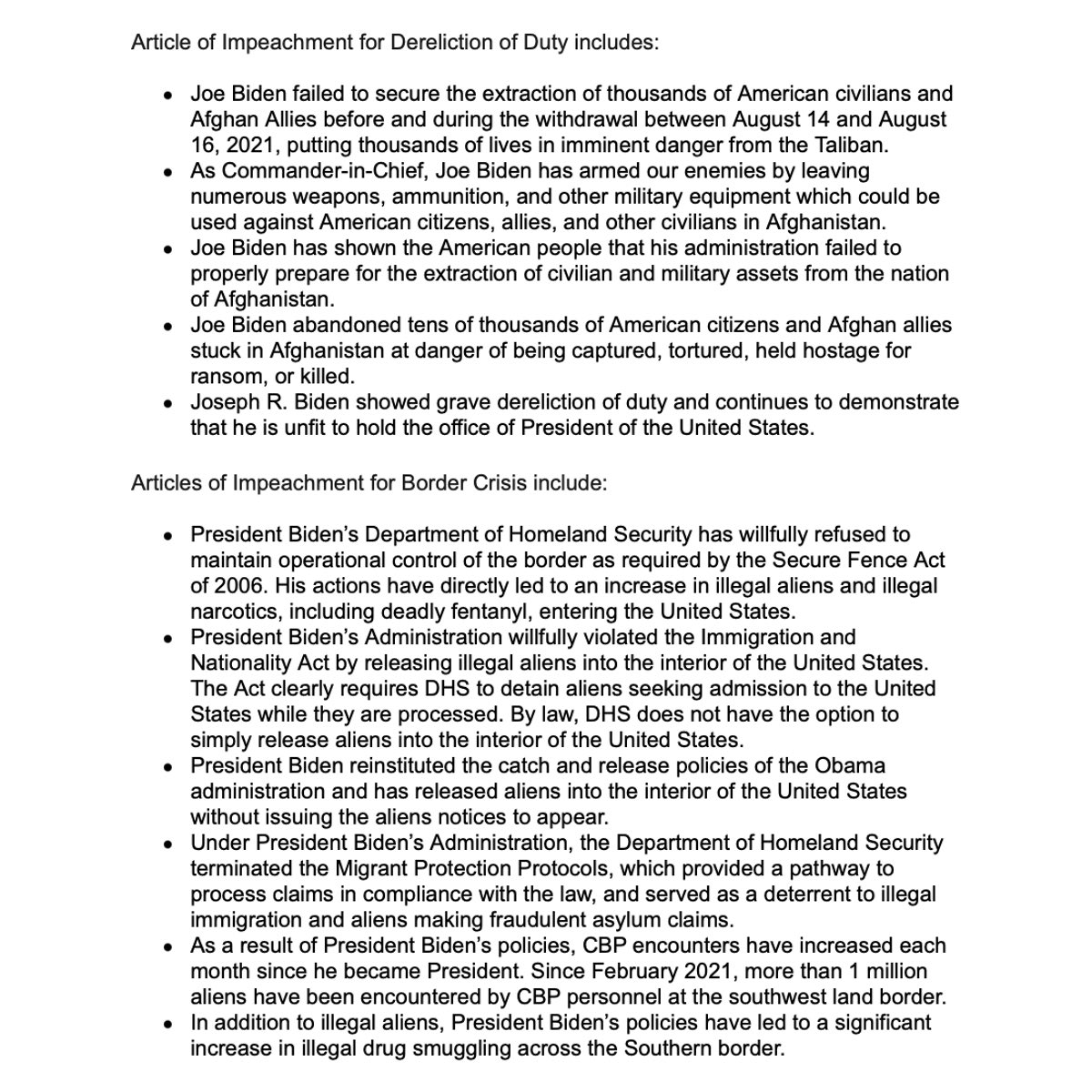 3: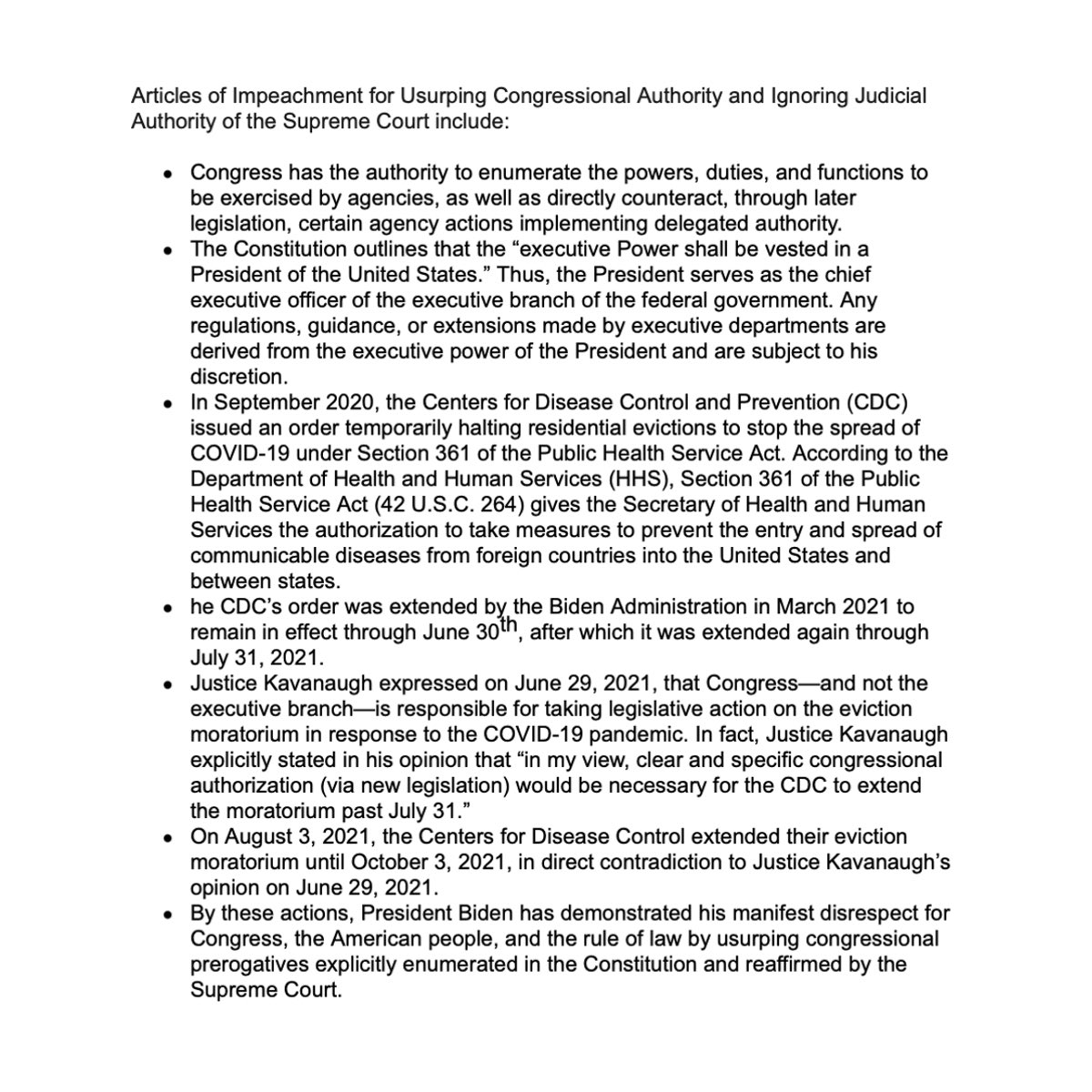 Source: thegatewaypundit.com
Q

 

!!mG7VJxZNCI

 

ID: 0365ff

 No.4381420

[D] Day, Patriots.
We will have our Country back!
Q+
8/21/2021 Cullman, Alabama#TrumpRally #MAGA🇺🇸🦅 pic.twitter.com/RwgokYCR8O

— Dan Scavino🇺🇸🦅 (@DanScavino) August 22, 2021
TAKE A LISTEN
Trump hitting Biden hard during the rally
1.) Biden/DS failures
2.) His honor of the true Military Gens
3.) Freedom of choice w/ Jab
4.)
"10 times more than I NEED to win." He didn't say "needed" – talking about Wisconsin voter told.
Who uses the opium from the poppys? China….to ship herioin and Fentanyl into the US.
5.) Biden is a puppet, foreign control
And then he talked about the Generals
TAKE LISTEN
 During the rally Trump repeated that the speech he gave was the best speech he has ever given. was this a message to listen to it again,
TAKE A LISTEN
It appears he was sending a message to our military that they would soon be defending our Republic against all enemies, foreign & domestic.
4510
Q
!!Hs1Jq13jV6
06/24/2020 13:06:33
 ID: f4ac89
Archive Bread/Post Links: 9730851 / 9731054
Direct Link: 9731054
---
---
4705
Q
!!Hs1Jq13jV6
09/14/2020 18:20:58
 ID: 316381
Archive Bread/Post Links: 10647437 / 10647825
Direct Link: 10647825
---
The Joint Chiefs of Staff is the body of the most senior uniformed leaders within the United States Department of Defense. Their primary function is to serve as advisers to the President of the United States, the Secretary of Defense, the Homeland Security Council and the National Security Council on military matters. The Joint Chiefs of Staff consists of a chairman (CJCS), a vice chairman (VJCS), and the service chiefs of the Army, Marine Corps, Navy, Air Force, Space Force, and the chief of the National Guard Bureau. Each of the individual service chiefs, outside their JCS obligations, work directly under the secretaries of their respective military departments, e.g. the secretary of the Army, the secretary of the Navy, and the secretary of the Air Force.
The Joint Chiefs of Staff are nowhere within the Chain of Command.
521
Q
!UW.yye1fxo
01/13/2018 22:18:18
 ID:
Archive Bread/Post Links: 1 / 9
Direct Link: 9
As part of their advisory role, the Joint Chiefs of Staff create what is called the Joint Doctrine:
 We know that President Trump started using the Military for surveillance activities no later than June 1st, 2020 and he didn't invoke the Insurrection Act to do so—at least not that we know of. I firmly believe his justification for involving the Military came from Joint Publication 3-27 — Homeland Defense (HD).
 Chain of Command
In order to fully understand how Devolution would be enacted through the military, it's important to understand the Chain of Command within our Department of Defense. Everything starts at the top with our President; the Commander-in-Chief of our armed forces. From there, the Chain of Command goes to the Secretary of Defense and then to the Combatant Commanders.
Combatant Command and Combatant Commanders
Combatant Commands (COCOMs), also known as a unified combatant commands, are the highest possible echelon of military command and are overseen by what's called the Unified Command Plan (UCP). Each UCP sets forth basic guidance to all unified Combatant Commanders by:
Establishing their missions, responsibilities, and force structure.
Delineating the general geographical area of responsibility for geographic Combatant Commanders.
Specifies functional responsibilities for functional combatant commanders.
What are the Combatant Commands and who are the Combatant Commanders?
There are 11 COCOMs in total; each falling into a category designated as geographical or functional.
Seven of the COCOMs are designated as geographical, meaning they are responsible for all operations, etc., within a clearly defined actual location on or above the Earth — such as "Africa" or "Space." 
U.S. Indo-Pacific Command
Four of the COCOMs are designated as functional, meaning they are responsible for a clearly defined specific type of operation, etc., but across all geographical and spatial lines — for example, "cyber" or "special operations." Operating worldwide across geographic boundaries allows the functional COCOMs to provide unique capabilities to the geographic COCOMs. The Combatant Commanders of the functional COCOMs are listed below along with the dates they took office:
U.S. Special Operations Command
U.S. Cyber Command – General Nakasone is also head of the NSA
U.S. Transportation Command
To assume the rank of a Combatant Commander, the four-star general is recommended by the Secretary of Defense, nominated for appointment by the President of the United States, confirmed by the Senate and commissioned— at the President's order— by the Secretary of Defense. Of the 11 current Combatant Commanders, 10 of them were installed during Trump's presidency. The only one who has been installed during Biden's "presidency" is Admiral John C. Aquilino, Commander of the U.S. Indo-Pacific Command. It took me a moment to reconcile one of the commanders having been installed with Biden in office, 
Knowing Admiral Aquilino oversaw General Charles Flynn's promotion is important. The Secretary of the Army is in charge of promoting the Commander of the U.S. Army Pacific Command, but I can't imagine he would promote somebody if the Combatant Commander wouldn't agree with it. We know the Flynn family is full of patriots so I'm sold here that Admiral Aquilino is a patriot as well.
Why Understanding the Organizational Structure of COCOMs Matters
I believe the Combatant Commanders play an integral role in Devolution. These are the commanders of our armed forces— the very people Secretary of Defense Chris Miller would have briefed 
Think of it in terms of running a business. Chris Miller would be the CEO and the Combatant Commanders would be the heads of their respective departments. If the business needs to implement major changes, the CEO wouldn't broadcast their plans immediately to every employee from every department, would they? Instead, the CEO would privately inform the heads of each department.
Think about that for a moment. Nobody outside of the Combatant Commanders would need to know.
This means any "woke" garbage appearing to come from our military doesn't matter. Outside of the Combatant Commanders, nobody knows Devolution is happening, and it will remain that way until the operation reaches the next phase.
If that sounds difficult to swallow, read the following paragraph and focus on the highlighted parts:
Election Security
May 8, 2018 – The military took key initiative at defending our United States elections by elevating Cybercom to Combatant Command.
June 18, 2018 – President Trump directs the DoD to "immediately begin the process to establish Space Force as the 6th branch of the armed forces." I point this out because I believe the Space Force played a complimentary role.  
July 23, 2018 – General Paul Nakasone (the head of the National Security Agency and U.S. Cyber Command) confirmed that he has set up a task force to counter Russian cyberthreats to the United States.
That article is so important for multiple reasons:
It discusses Russia meddling in the 2016 U.S. presidential election by breaching multiple political organizations, although at that time it was considered as "operating under the threshold level of war" because during the 2016 election, "election systems" were not yet in the category of critical infrastructure.
Nakasone said a cyberattack from another government on U.S. critical infrastructure would cross the threshold into war, "and we would certainly respond." In 2017, they classified "election systems" as critical infrastructure.
  General Nakasone is essentially saying that since "election systems" are now classified as critical infrastructure, a cyberattack on election systems moving forward would cross the threshold into war. Reminder that the entire Devolution theory is based on the United States being at war, allowing Trump to exercise specific war powers:
General Nakasone tells us in July of 2018 that they anticipate our adversaries will "try to penetrate such things as our critical infrastructure." They were very clearly preparing for any foreign interference in our elections.
August 16, 2018 – The Wall Street Journal published an article titled "Trump, Seeking to Relax Rules on U.S. Cyberattacks, Reverses Obama Directive". The article is behind a paywall but I'll post screenshots of some of the highlights.
By removing some of the obstacles in PPD-20, Trump allowed the military to respond directly to election interference without having to cut through "red tape." Not only did he elevate CyberCom to a COCOM to protect election infrastructure and eliminate the "middle men" in the military's chain of command itself,  but in PPD-20, he also untied their hands by eliminating the unnecessary layers of federal agencies required to approve any plan of action.
July 23, 2019 – General Nakasone announced that the NSA would was creating a Cybersecurity Directorate to better protect the country against cyberthreats from foreign adversaries.
September 7, 2019 – The NSA prepares to defend 2020 elections, drawing lessons from 2018.
December 20, 2019 – The United States Space Force is officially the 6th branch of the United States Armed Forces.
February 10, 2020 – The Department of Defense published an article titled "DOD Has Enduring Role in Election Defense."
It's important to remember  the military also has a pulse on how many in those agencies have been corrupted. Knowing that is key. Remember that Dong Jingwei brought with him terabytes of data which included information on who was working for the CCP within our government and federal agencies. The military would know who they can share information with and whether they can share information at all. I suspect they didn't share much information with corrupted agencies. Specific details about actual interference in our election would be highly classified, hence the "at the right classification level" comment from above.
Jan 30, 2020 – US Cyber Command, NSA team to keep elections secure
August 8, 2020 – For 2020 Election, Threat is Bigger than Russia > U.S. Department of Defense > Defense Department News
December 9, 2020 – Director of National Intelligence John Ratcliffe announces Space Force will become the 18th member of the U.S. Intelligence community. Remember this is just three days prior to Ratcliffe joining president Trump in attending the Army – Navy football game. If you remember, from Devolution Part 8, the Army – Navy football game on December 12th is when I theorized that DNI Ratcliffe presented President Trump with the evidence of foreign interference.
"There is no strategic-level cyber capability without space". Creating Space Force was necessary to give Cybercom and the NSA the maximum capabilities required to defend our election infrastructure. As usual, Trump and or military were forward-thinking as early as 2018 when they started the process to create Space Force.
Closing
Considering the information I have listed above, a very clear picture emerges. One can easily see that the military, through Cybercom and the NSA (both headed up by General Nakasone), was well-positioned and highly prepared to address any foreign interference in our election. There should be little doubt that if China did interfere in our November 3rd election— as many people, including Trump, have hinted at— the military caught them doing it. The only question that remains is what did they do with that information?
General Nakasone said himself that a "cyberattack from another government on U.S. critical infrastructure would cross the threshold into war" and our election systems are in the category of critical infrastructure.
We are at a critical moment in our country's history and its very survival hangs in the balance. The Arizona forensic audit report is to be released in the coming week and once the audit exposes that the election was stolen from Trump, we will be facing a constitutional crisis; a crisis that I believe has already been met and defeated by Trump and the military.
4413
Q
!!Hs1Jq13jV6
06/04/2020 19:02:12
 ID: 5d646d
Archive Bread/Post Links: 9472457 / 9472818
Direct Link: 9472818
---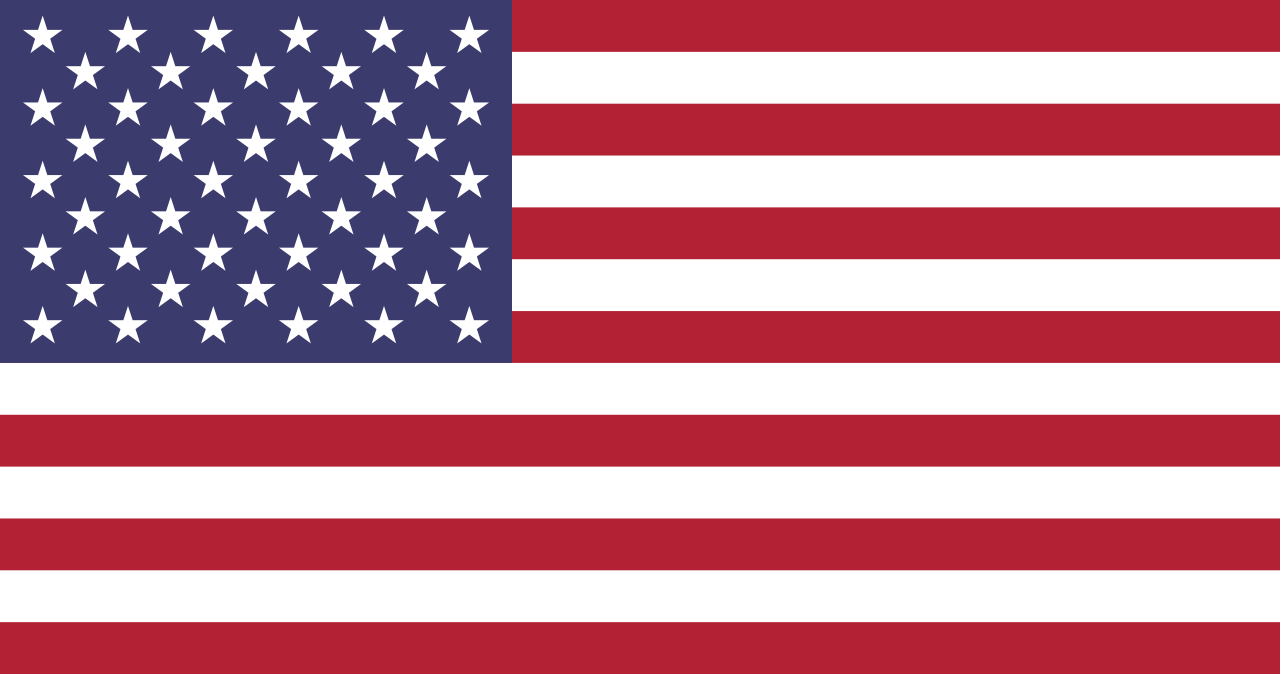 Image Name:
f768deaef22da979abcfb73c9175b54d71fcf891666c5449c1969c07c3cc8920.png
Filename:
f768deaef22da979abcfb73c9175b54d71fcf891666c5449c1969c07c3cc8920.png
Q

 

!!Hs1Jq13jV6

 

ID: 866b8a

 No.9473673

EAM LOYALISTS:
RED1: POTUS twitter removal
RED2: Central communications blackout [continental US]
RED3: CLAS movement PELOSI or PENCE
RED4: Movement of MIL assets [10th Mountain_1st Marine_CPSD_Marine_QVIR] to central locations under guise of citizen riot control.
RED5: NAT MIL COM CEN
RED6: SEC OF DEF _instruct1
USSS
CASTLE_ROCK
Q
311
Q
!ITPb.qbhqo
12/09/2017 13:41:15
 ID: 571cae
What was the USSS codename for Hussein?
412th TEC strengthens readiness during Operation Castle Rock amid COVID-19
Soldiers of the 412th Theater Engineer Command (TEC), Vicksburg, Mississippi, successfully completed Operation Castle Rock at Camp Shelby Joint Forces Training Center, Aug. 11-29, 2020.During the training exercise, staff were presented with unexpected, impromptu scenarios that tested military problem solving and decision-making skills. Operation Castle Rock fit squarely into one of the main mission elements of the U.S. Army Reserve: increasing critical engineer capabilities in order to modernize and maintain expeditionary combat power, with an emphasis on COVID-19 countermeasures. 
Source:  usar.army.mil
MISSION: 
The 412 Theater Engineer Command provides trained and ready forces in support of global operations and provides policies, guidance, resourcing and administrative support as an Operational Command over assigned AR units.
On order, the 412th TEC mobilizes and deploys to a theater of operations as the senior engineer headquarters to provide mission command of assigned or attached units in support of the Army Service Component Command's assured mobility, protection, logistics, and infrastructure development lines of operation.
LINEAGE:
"BUILD TO SERVE"
With much of the Army's engineering capability in the Army Reserve, the ability of the 412th Theater Engineer Commands to respond rapidly, sometimes within 24 hours, is vital to success of the Total Force as it provides theater-level engineer support to combatant commander during contingency operations. The 412th TEC maintains mission command of engineering forces at the theater level as a deployable command post, with three brigades and 96 assigned units throughout the eastern United States.
Definition of "Contingency Operation"