Message Received, New Narrative Coming, Think [MB] – Ep. 2688
Watch The X22 Report On Video
The people are fighting back in Canada and Trudeau is retreating and hiding because he is losing the narrative. People see that this is not helping the economy. GDP shoots up to 6.9%, it's not what you think.Pending home sales collapse. The Great Reset is being pushed using Russia. The [DS] is panicking, they know they are losing and now they forced a SC Justice out. They accelerated their plan and it doesn't work they are done for. Senate was the key. Scavino sent a message, change of narrative coming, think MB. Will the new narrative bring in Obama into everything that is going on. It is starting to seem like it is. The [DS] is preparing to fight back.
---
Economy
The Canadian 'Freedom Convoy' of truckers, pushing back against COVID mandates, forced vaccinations and government regulations, began late last week and has gained incredible support from the public.  It is very challenging to put the scale of this grassroots effort into an adequate context.
The fundraiser for the effort now exceeds $5.5 million dollars and still climbing.  It is now estimated that over 50,000 vehicles are participating in the convoy effort, and the Canadian Dept of Transportation is doing everything possible to stop, block and impede the assemblies.
Every federal truck stop and DOT weigh station has been opened, and every truck is being required to go through the DOT checks.   This is not accidental.  The movement has now evolved into a conflict of the average Canadian, represented by the truckers, -vs- the oppressive government, represented by the activated federal agencies of Prime Minister Justin Trudeau.  It really has become an incredible example of THE PEOPLE -vs- GOVERNMENT.
Source: theconservativetreehouse.com
https://twitter.com/DefiantLs/status/1486544380303446021?s=20

Source: redstate.com

Now Trudeau is self isolating because he came in contact with someone that has covid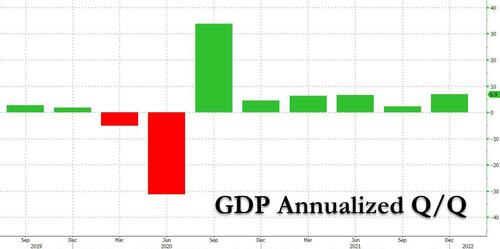 Change in private inventories added a whopping 4.90% to GDP, up from 2.2% in Q3, a huge increase which accounted for over 70% of the bottom line 6.9% GDP print.  
In other words, the inventory restocking process is now running red hot – even if many won't notice it on the shelves of their favorite retailer – and in future quarters will likely lead to further declines in GDP, which is a problem for a Fed preparing to hike "5 or 6" times in 2022.
Source: zerohedge.com
Over 70% of this growth, per the Commerce Department's GDP tables, comes from inventory stockpiling. Not a good sign given that "unanticipated buildups in inventories may signal future cutbacks in production." Who said that? The Biden admin…last month. https://t.co/88K8oCnLU9 https://t.co/JSBsaiMdiw pic.twitter.com/d6DCmGxD5E

— Sean Davis (@seanmdav) January 27, 2022
Pending home sales defied predictions of a rebound at year-end, falling by 3.9 percent compared with a downwardly revised November estimate, data from the National Association of Realtors showed Thursday.
Compared with a year ago, pending home sales fell 6.9 percent. Sales were down by 10 percent or more in both the Northeast and the West. Sales fell in the Midwest and the South, as well.
Source: breitbart.com
The Federal Reserve signaled on Jan. 26 that it will likely raise U.S. interest rates in March for the first time in more than three years in an effort to tighten monetary policy.
---
Political/Rights
In July 2019, Solomon filed an initial open, public records request under Missouri's Sunshine Law for all records of contacts between Gardner's office and Soros, the Safety and Justice PAC, the Missouri Workforce Housing Association, and several other groups and individuals.
The suit seeks information on contacts with those named from Jan. 6, 2017 through July 3, 2019.
Gardner initially ignored the request, then claimed the requested documents were exempt from the state's sunshine provision, refusing to disclose them.
The Missouri Court of Appeals, Eastern District, ruled Tuesday that St. Louis' top prosecutor must hand over records concerning her bungled prosecution of former Gov. Eric Greitens to Just the News CEO and Editor in Chief John Solomon, who filed an open-records request for the documents.
Judge Christopher McGraugh ordered the office of St. Louis Circuit Attorney Kimberly Gardner, one of the nation's first prosecutors bankrolled by liberal megadonor George Soros, to produce every document requested by Solomon.
The trial court ruled in favor of Solomon in 2020, finding Gardner's office purposefully violated the Sunshine Law. According to the judgment, Gardner's office had to search for and provide to Solomon all the public records he requested within 30 days.
Solomon was also awarded a civil penalty of $5,000 and reasonable attorney's fees and other costs associated with the lawsuit.
Now, Gardner's office must provide to Solomon "a list that identifies every document responsive to [his] Sunshine Law request" and to the court "a copy of every document responsive" to his request.
Source: justthenews.com
EXCLUSIVE: I was given audio of DHS Sec Mayorkas' meeting with Border Patrol agents in the Yuma Sector today. It did not go well. One agent turned his back on Mayorkas.

Mayorkas admitted the border is the worse it's been in over 20 years, "if not ever." https://t.co/hAdryUWeke

— Julio Rosas (@Julio_Rosas11) January 26, 2022
---
Geopolitical/Police State
Spotify: "We've removed over 20,000 podcast episodes related to COVID-19 since the start of the pandemic."

It only looks like they're standing for free speech by keeping Joe Rogan on the platform. They're censoring people all over the place.

— Seth Dillon (@SethDillon) January 27, 2022
Bye Bye, Hey Hey
Neil Young is gone today
It's better to boycott
Than to just obey
Bye Bye, Hey Hey

Seeya @Neilyoung

Even though Ohio is one of the greatest protest songs of all time, free speech is kinda important also.

— Senator Rand Paul (@RandPaul) January 27, 2022
California city becomes first to demand gun owners pay liability insurance and an annual fee
San Jose, California, became the first city in the United States to impose restrictions on gun owners demanding they purchase liability insurance and pay an annual fee.
The new law was spearheaded by San Jose Mayor Sam Liccardo, who cited a study claiming that residents of San Jose collectively paid $442 million per year because of gun violence in the city.
Under the new ordnance, gun owners would need to keep proof of insurance and proof of fee payment with their gun at all times. They would be required to be able to provide documentation to police officers when requested.
Source: theblaze.com
ALERT: Dozens of guns have been stolen from freight trains that have been looted in Los Angeles, the city's police chief has said.https://t.co/0HB090gPXZ

— Insider Paper (@TheInsiderPaper) January 27, 2022
---
War
"A U.S. State Department official claimed that intelligence shows 'every indication' Russia will use military force in Ukraine by mid-February," Fox News reported.
Source: beckernews.com
What is SWIFT and why it might be the weapon Russia fears most
US lawmakers have suggested in recent weeks that Russia could be removed from SWIFT, a high security network that connect thousands of financial institutions around the world.
Source: cnn.com
North Korea launches two projectiles in sixth test this month, South Korea says
Nuclear-armed North Korea fired what appeared to be two short-range ballistic missiles into the sea off its east coast, South Korea's military said on Thursday, in what would be the sixth round of missile tests this month.
---
False Flags
The Canadian Province of Quebec has officially banned unvaccinated individuals over 12 years old from shopping at big box stores, including Walmart and Costco, unless they are accompanied by a "health warden" that will supervise their every move and only allow them to purchase extremely limited goods such as food or medicine.
The dystopian segregation policy went into effect yesterday and applies to any retail stores that are over 1500 square meters.
Even though the mandate explicitly excludes "grocery stores and pharmacies," the Quebec government went ahead and included Walmart and Costco anyway after claiming that it does not consider groceries as Walmart and Costco's "principal activity."
Source: thegatewaypundit.com
 Sweden has decided against recommending COVID vaccines for kids aged 5-11, the Health Agency said on Thursday, arguing that the benefits did not outweigh the risks.
Source: reuters.com
Florida Governor Ron DeSantis and State Health Officials Directly Call the White House and FDA Liars During Monoclonal Treatment Fight
Keep an eye on this story folks; there's something else here.
The FDA decision to block COVID-19 treatment options is very sketchy, and I sense that Florida Governor Ron DeSantis knows the science will not support the Biden administration.  This story -when exposed- has the potential to bring down the Biden administration, big time… DeSantis senses it.
Earlier today, Florida Governor Ron DeSantis held a roundtable press conference with physicians, clinicians and other health officials in Florida to denounce the Biden FDA decision to revoke monoclonal antibody treatments as a therapeutic option. 
Source: theconservativetreehouse.com
I haven't confirmed this, but this is possibly the study that led to shutting down antibody treatments.

You might notice something about its authors.

(Would be helpful if the FDA or NIH would answer my queries) pic.twitter.com/EUYjlUUelo

— Pete D'Abrosca (@pdabrosca) January 27, 2022
---
Q
Joe Biden's Department of Justice has said that a man who killed someone during the Black Lives Matter riots in 2020 should get a lesser sentence because he was "caught up in the fury" when he burned down a pawn shop.
Of course, the move is especially heinous when you consider the harsh charges that January 6 protesters are facing for much less.
Source: thegatewaypundit.com
Biden administration moves to boost cybersecurity of water systems
The Biden administration  announced a new plan to secure U.S. water systems from cyberattacks, part of a broader effort to defend elements of domestic critical infrastructure from digital threats.
The White House and Environmental Protection Agency (EPA) announced a new "action plan" for the water sector that aims to encourage water utilities to adopt technology that helps detect cyber threats to industrial control systems, or ICS, early on. The administration intends to implement the plan over 100 days, according to the White House.
The administration is also trying to boost information sharing about cyber threats between owners and operators of water utilities and the federal government.
Source: thehill.com
Justice Breyer  y officially announced his retirement from the Supreme Court  
Justice Breyer said he plans to retire at the end of the current SCOTUS term (June/July).
Source: thegatewaypundit.com
Biden is going to pick a black women
Imagine being the Supreme Court nominee for Biden where your qualification is your skin color and gender.

Black women should be furious that Biden doesn't see them as actually qualified.

— Richard Grenell (@RichardGrenell) January 27, 2022
Sen. Joe Manchin (D-WV) on   said he will not rubber-stamp President Joe Biden's Supreme Court nominee to replace Justice Stephen Breyer.
"I take my Constitutional responsibility to advise and consent on a nominee to the Supreme Court very seriously," Manchin said. "I look forward to meeting with and evaluating the qualifications of President Biden's nominee to fill this Supreme Court vacancy."
White House Press Secretary wouldn't directly confirm that Biden was selecting Vice President Kamala Harris to fill the Supreme Court vacancy 
But what Psaki did is narrow down the field to one that would include Kamala Harris. Watch:
.
Kamala Harris's approval ratings have collapsed to roughly the same abysmal point as Biden's (CBS/YouGov had them each at a 44 percent approval rating, while 56 percent of respondents disapproved). Her prospects of becoming president have faded fast. The Supreme Court could be her way out… setting the stage for Hillary Clinton.
Harris would first need to be confirmed as Supreme Court Justice, prompting her resignation .Next, Hillary Clinton would need to be nominated for vice president and confirmed by both houses of Congress.
The 25th Amendment to the Constitution, which was passed in 1967. Section 2 states:
"Whenever there is a vacancy in the office of the Vice President, the President shall nominate a Vice President who shall take office upon confirmation by a majority vote of both Houses of Congress."
Source: beckernews.com
In @PunchbowlNews Midday: The White House will nominate a judge for the Supreme Court, a source tells me. The nominee isn't going to be someone who is not currently a judge.

— Jake Sherman (@JakeSherman) January 26, 2022
Press Sec. Jen Psaki warns Republicans about playing "games" with Biden's Supreme Court pick pic.twitter.com/1VFbOYbDAo

— Breaking911 (@Breaking911) January 27, 2022
— Dan Scavino Jr.🇺🇸🦅 (@DanScavino) January 27, 2022
Q

 

!xowAT4Z3VQ

 

ID: 3e4934

 No.1140780

Screenshot_20180421-234357.jpg

Screenshot_20180421-234432.jpg
— Dan Scavino Jr.🇺🇸🦅 (@DanScavino) January 27, 2022
Q

 

!UW.yye1fxo

 

ID: 26e3a8

 No.678119

Iran next [].
RT days after.
RT Kenya.
No coincidences.
Track.
Important.
MB.
BOOM!!!!!!!!!!!!
Q