We Are About To Witness A Birth Of A New Nation,Everything Is About To Change – Ep. 2689
Watch The X22 Report On Video
Consumer sentiment is falling, people are now fearing inflation, they see it coming. Buttigieg says the supply chain issues are fixed, but there is still a shipping backlog. [JB] trying to convince people of no inflation, but people can see the truth. The states are now leading the way, they are pushing an alternative currency. Trump and the patriots have all the leverage, they have the [DS] exactly where they want them. The entire plan is now coming into focus, truth social, taking back the house and senate, Durham and crimes against humanity, its all about to come out. What we are witnessing is a birth of a new nation, the world is now seeing this and the people are coming together, the cure is literally spreading world wide.
---
Economy
Consumer Sentiment Falls on Covid and Inflation Fears
 data from the University of Michigan showed  
Sentiment fell 4.8 percent In January to a reading of 67.2 percent. There were declines in both the current conditions gauge and the index of consumer expectations.
Source: breitbart.com
 Shipping backlogs at American ports continued, and spread, even as Secretary of Transportation Pete Buttigieg declared victory earlier this month, with import volumes dropping at West Coast ports — and beyond.
As of Friday, there were still over 100 vessels waiting to enter the ports of Los Angeles and Long Beach, near record levels.
Source: breitbart.com
The same people who told us to appreciate saving $0.16 on our July 4th BBQs last summer are now taking the official position there is no massive food inflation.  [DATA HERE]
 
"USDA, Economic Research Service (ERS) researchers project that prices for food-at-home, or food purchased typically from grocery stores or other food stores, will increase between 1.5 and 2.5 percent in 2022, lower than the 3.5-percent increase that occurred in both 2020 and 2021.  according to the Dept of Agriculture, "Retail food prices increased by a mere 3.5 percent in 2021, equal to the rate in 2020."
3.5% ?
You just cannot make this up.
Beef has doubled in price.  Bacon has gone up by 30% in the last quarter.  Milk has gone up by 40% in the past two months. Fish, eggs and poultry are between 30 to 60% higher than a year ago.  Fresh fruits and vegetables still rising in price.  Food producers have announced price increases in products from 8% to 60% in the next few months.  Beverages and sports drinks are rising 20% beginning in March.  Kraft Foods announced processed meat (lunchmeat) price increases up to 30% in a few weeks.  However, according to the USDA, these are not the droids you are looking for.
Source: theconservativetreehouse.com
The slate of bills was introduced by @SenatorHarkins

Source: The bill pic.twitter.com/ToJtkT8LhP

— Dennis Porter (@Dennis_Porter_) January 30, 2022
Source: The bill. pic.twitter.com/rpRTI109Kj

— Dennis Porter (@Dennis_Porter_) January 28, 2022
The Texas governor race is a race to see who can be the most pro-Bitcoin. #BTC

— Wendy Rogers (@WendyRogersAZ) January 29, 2022
---
Political/Rights
DEAL #1: BOHAI HARVEST RST
Payout: estimated $20 million
DEAL #2: BURNHAM ASSET MANAGEMENT
Payout: $5 million
Hunter Biden had another company called Burnham Asset Management. According to court documents filed by disgruntled investors, Harvest Global wired Burnham $5 million.
The purpose of this payment is unclear, but it may have been intended as an investment in Hunter's business.
DEAL #3: HUNTER TEAMS UP WITH CHINA'S 'DRAGON HEAD'
Payout: $188,000+
Hunter Biden had co-founded a firm called Rosemont Realty, and as early as 2011, he was looking for a Chinese buyer.
Rosemont Realty owns commercial buildings around the United States.
What is Gemini? The company is controlled by something then called Sino-Ocean Land, which was also chaired by the head of China Ocean Shipping Corporation (COSCO).
DEAL #4: CEFC CHINA ENERGY
Payout: $6 million
Ye Jianming, a wealthy Chinese businessman and the head of CEFC China Energy, provided $6 million to the Biden family, according to a Senate investigation into Hunter's activities.
In early 2017, one month after his father left office as vice president, Hunter Biden worked for Ye as a counselor and adviser, and Joe Biden's brother James received some of the funds that Ye transferred to Hunter.
DEAL #5: CEFC's PATRICK HO
Payout: $1 million
Hunter Biden received even more money in his relationship with CEFC and Ye Jianming.
In 2017, one of Ye Jianming's "top lieutenants," Patrick Ho, was arrested on bribery charges by the FBI for offering money to African officials in exchange for energy deals.
Source: nypost.com
Biden Announces New Role for Kamala Harris and the Supreme Court
 Biden also announced that Vice President Kamala Harris will be advising him on the selection process for a nominee, putting to rest speculation Harris would be chosen to fill the vacancy.
https://twitter.com/ABCPolitics/status/1487792829128654855?s=20
In a new filing, Durham's team says the DOJ Inspector General was slow to fork over evidence pertaining to the Trump-Alfa Bank investigation
Special counsel John Durham and his legal team say they're just learning about a March 2017 meeting between Justice Department watchdog Michael Horowitz and former Hillary Clinton campaign Michael Sussmann – indicted last year for allegedly lying to the FBI while pushing now-discredited claims about the Trump Organization.
Durham's team said Tuesday in a court filing they learned only a week ago about the meeting between Justice Department Inspector General Michael Horowitz and Sussmann, who made the claims in 2016 about communications between a Russia bank and the Trump organization.
"The OIG had not previously informed the Special Counsel's Office of this meeting with the defendant," the filing by Durham's legal team states.
Sussmann, a former partner at the Perkins Coie law firm, has pleaded not guilty to the charges.
Source: justthenews.com
Durham Court Filing Reveals DOJ Inspector General Horowitz Withheld Key Evidence From Special Counsel

Horowitz also failed to disclose that he was in possession of 2 cellphones used by former FBI general counsel James Baker

New from @HansMahncke & myselfhttps://t.co/ZlDHMtJChb

— Jeff Carlson (@themarketswork) January 28, 2022
The Evidence Thus Far.
Here is what we know so far.
Grand Jury Testimony. The following witnesses (some identified by name; others given general descriptions in Durham's filings) have testified before a grand jury. The Government's Discovery Update in the Sussmann case, filed 1/25/2022, provides some of this information at pages 6-7.
Former FBI General Counsel James Baker.
A former FBI Assistant Director for Counter Intelligence. We are confident this is Bill Priestap, to whom Baker relayed the Alfa Bank materials after it was provided by Michael Sussmann. See Baker's 10/3/2018 House testimony at page 100.
Peter Strzok (likely). The 1/25/22 Sussmann filing by Durham states there has been grand jury testimony by "A former FBI Deputy Assistant Director for Counterintelligence." We conclude this is probably Peter Strzok. Baker testified that he might have contacted "Pete Strzok or Bill Priestap" after receiving the documents from Sussmann.  See Baker's 10/3/2018 House testimony at page 99. Strzok wrote that he had a "minor role" in these events. We asked Strzok about this; he hasn't responded.
Daniel Jones (likely). Back in October 2020, Dexter Filkins with the New Yorker reported that Durham had "asked" Jones to give testimony before a grand jury. Jones is a former staffer for Diane Feinstein who, per the Daily Caller, secured $50 million in funding to investigate, with Fusion GPS and Steele Russian interference with the 2016 election.
Charles Dolan (likely). Dolan is the Clinton ally "source" of Steele primary subsource Igor Danchenko. We conclude he has testified before a grand jury based on statements within the Danchenko indictment (such as Dolan stating the Clinton Campaign did not direct his interactions with Danchenko and other Russian nationals).
An FBI Special Agent who served as case agent for the FBI's Alfa Bank investigation. Identity currently unknown.
An FBI Headquarters Supervisory Special Agent assigned to the Alfa Bank investigation. Identity currently unknown.
Two former employees of DARPA (identified as Agency-1 in the Sussmann indictment). This NYT article explains DARPA's relationship with Georgia Tech, and how Georgia Tech researchers worked with Rodney Joffe.
Eight current and former employees of the CIA (identified as "Agency-2" in the Sussmann indictment.) This would likely include Caroline Krass, a John Brennan ally who was the CIA General Counsel at the time.
Eight current and former employees of Neustar (identified as "Internet Company-1" in the Sussmann indictment).
Four current employees of Packet Forensics, LLC and VOSTROM Holdings Inc. (Likely "Internet Company-2" and "Internet Company-3" in the Sussmann indictment.)
The former chairman of Perkins Coie.
A former employee of the Clinton Campaign.
Four current and former employees of Georgia Tech.
An employee of Rodney Joffe.
Some observations about the grand jury testimony:
First, by no means is that a comprehensive list. Durham's scope covers more that what some of these witnesses can offer – such as whether he continues to look into the activities and investigations of the team working for Special Counsel Mueller.
Second, the testimony of Peter Strzok and Bill Priestap is obviously significant. The subject matter of that testimony is the relevant question. Was it limited to the Alfa Bank allegations, or did Durham dig deeper?
Interviews.   Some of these people have also testified before a grand jury. These include:
Durham's interview with Steven Schrage – who previously worked under Stefan Halper. This includes Durham's review of records and recordings relating to Halper (confirmed here at Matt Taibbi's Substack).
Baker, Strzok, and Priestap.
More than 24 current and former FBI employees. This would likely include testimony from FBI Agent William Barnett, who believed Mueller's focus on Flynn was "used as a means to 'get Trump.'"
Joseph Mifsud. Recall Barr and Durham's trip to Italy.
A former chairman of Perkins Coie.
A former employee of the Clinton Campaign.
Current and former employees of DARPA and the CIA.
A February 12, 2021 interview with Georgia Tech researcher Angelos Keromytis. Confirmed through a FOIA by RyanM.
Current and former employees of Neustar, Packet Forensics, LLC and VOSTROM Holdings Inc. One employee of Rodney Joffe.
Charles Dolan.
Documents/Evidence/Grand Jury Subpoenas for Records. Then we get to the documents Durham possesses. While this is not an exclusive list, court filings confirm he has the following records (or records from the following persons/entities):
The Clinton Campaign. Grand jury subpoenas for documents were issued to the Clinton Campaign as recently as September 2021. Source: CNN. Durham already possesses at least some Clinton Campaign records. Recall that Durham has stated the Clinton Campaign and "multiple former employees of that campaign" are in "matters before the Special Counsel."
Hillary for America. In the January 25, 2022 filing in the Sussmann case, Durham cites to having received documents from "a political organization." We believe this is Hillary for America, which helped pay for the Steele dossiers.
Perkins Coie. Durham already has Perkins Coie billing records, notes, and e-mails. The e-mails include correspondence with Fusion GPS and the Clinton Campaign.
Neustar, Packet Forensics, LLC, and VOSTROM Holdings Inc.
Georgia Tech.
Baker's two phones (previously in possession of OIG).
A public relations firm that advised Perkins Coie about Sussmann's meeting with Baker.
Phone logs for Baker and Priestap. Likely Peter Strzok phone logs as well. Phone logs from eight current or former FBI employees. Phone logs between Sussmann and FBI personnel.
Nearly 400 e-mails between Perkins Coie and the FBI.
FBI/CIA notes regarding the Sussmann 2016 and 2017 meetings with the agencies' general counsel.
Internal FBI e-mails and messages. The Sussmann filing states Durham has these relevant to Sussmann, lending a credible belief that Durham directed the FBI to produce internal messages/e-mails relating to his other areas of inquiry.
Records/documents/evidence collected by IG Horowitz in his review of the Carter Page FISAs.
Records/documents/evidence relating to the OIG matter presented by Sussmann and Joffe.
FBI Inspection Division Materials. Durham has requested, but not yet received, "the interview reports and associated documents for a number of current and former FBI personnel who were interviewed by the Inspection Division" relating to Crossfire Hurricane.
All FISA records relating to Danchenko's "Russian Sub-Srouce-1," identified as Olga Galkina. Chuck Ross reported: "The IG report indicates that the FBI had Section 702 coverage on Galkina, which would have allowed the agency to surveil her communications."
But wait, there's more.
Durham is reportedly looking into the FBI's investigation of the Clinton Foundation and into the investigation run Special Counsel Mueller – which may include their representations to various courts and the destruction of evidence/government property by Andrew Weissmann, et al (the phone wiping controversy). Whether those areas of inquiry produced anything of note remains to be seen.
Finally, all of what we described likely encompasses millions of pages of documents. Durham will produce over half a million pages of documents in the Sussmann case alone 
Source:  technofog.substack.com
2983
Q
!!mG7VJxZNCI
03/06/2019 12:00:12
 ID: 2908c7
Archive Bread/Post Links: 5537685 / 5538237
Direct Link: 5538237
---
War
WATCH: Ukrainian President Zelensky says regarding the Russian threat and call with Biden yesterday, "I'm the president of Ukraine and I'm based here and I think I know the details better here."pic.twitter.com/cnFxbt6u5c

— Election Wizard 🇺🇸 (@ElectionWiz) January 28, 2022
Flashback
Maybe Zelensky will #ReleaseTheTranscript🤷‍♂️

— Dan Scavino Jr.🇺🇸🦅 (@DanScavino) January 28, 2022
---
False Flags
Last living signer of Canadian constitutional charter of rights sues government over COVID travel ban
The last living drafter and signatory of the Canadian Charter of Rights and Freedoms, which is the highest law of the land, is suing the Canadian federal government over its travel ban for the unvaccinated.
Former Newfoundland and Labrador Premier Brian Peckford, 79, is the main applicant in a case brought against the federal government by the Calgary-based Justice Centre for Constitutional Freedoms, according to a press release.
"It is becoming more obvious that being vaccinated does not stop people from getting Covid and does not stop them from spreading it," the former premier said in a statement. "The government has not shown that the policy makes flying safer—it simply discriminates."
Canadian Prime Minister Justin Trudeau rolled out one of the world's strictest COVID-19 vaccine mandates last fall. By Oct. 30, employees in all federally regulated industries were required to be vaccinated or face termination. Anyone aged 12 and over who wished to travel by plane, train or ship was also ordered to be vaccinated.
"When I heard Prime Minister Trudeau call the unvaccinated 'racists,' 'misogynists, 'anti-science' and 'extremist,' and his musing, 'do we tolerate these people?' it became clear he is sowing divisions and advancing his vendetta against a specific group of Canadians," Peckford continued, referencing a resurfaced interview with Trudeau from September 2021.
"This is completely against the democratic and Canadian values I love about this country," he said.
"The federal travel ban has segregated me from other Canadians. It's discriminatory, violates my Charter rights and that's why I am fighting the travel ban," Peckford added.
Source: foxnews.com
Canada's 'Freedom Convoy' of up to 50,000 truckers begins to arrive in Ottawa ahead of a weekend of protests against the vaccine requirements to cross the US-Canada border
A convoy of 50,000 trucks, stretching over 40 miles long, has arrived in the Canadian capital, Ottawa
The convoy set out from British Columbia on Sunday and was cheered by hundreds of Canadians as it made its 2,000-mile journey to protest vaccine mandates
Since mid January, Canada and the United States have imposed a COVID-19 vaccine mandate for foreign truck drivers crossing the border between the two countries
Canadian drivers are unable to enter the U.S. unless they are vaccinated, and U.S. drivers are unable to enter Canada 
  
Flashback
While many of us are working from home, there are others who aren't able to do that – like the truck drivers who are working day and night to make sure our shelves are stocked. So when you can, please #ThankATrucker for everything they're doing and help them however you can.

— Justin Trudeau (@JustinTrudeau) April 1, 2020
#TruckersForFreedom2022 pic.twitter.com/NiUcsUms72

— Dan Scavino Jr.🇺🇸🦅 (@DanScavino) January 30, 2022
#TruckersForFreedom2022🇺🇸🇨🇦 pic.twitter.com/9SNfRBSR8I

— Dan Scavino Jr.🇺🇸🦅 (@DanScavino) January 30, 2022
Q

 

!xowAT4Z3VQ

 

ID: 4faef7

 No.924224

Anonymous

 

ID: 8d9ba6

 No.924151


>>924039
I stand ready to deploy, engage, and destroy the enemies of the United States of America in close combat!WWG1WGA
>>924151
Your trust & faith in us is enough.
You elected us to do the heavy lifting.
Enjoy the show.
BIRTH of a NEW NATION.
NEW WORLD.
Q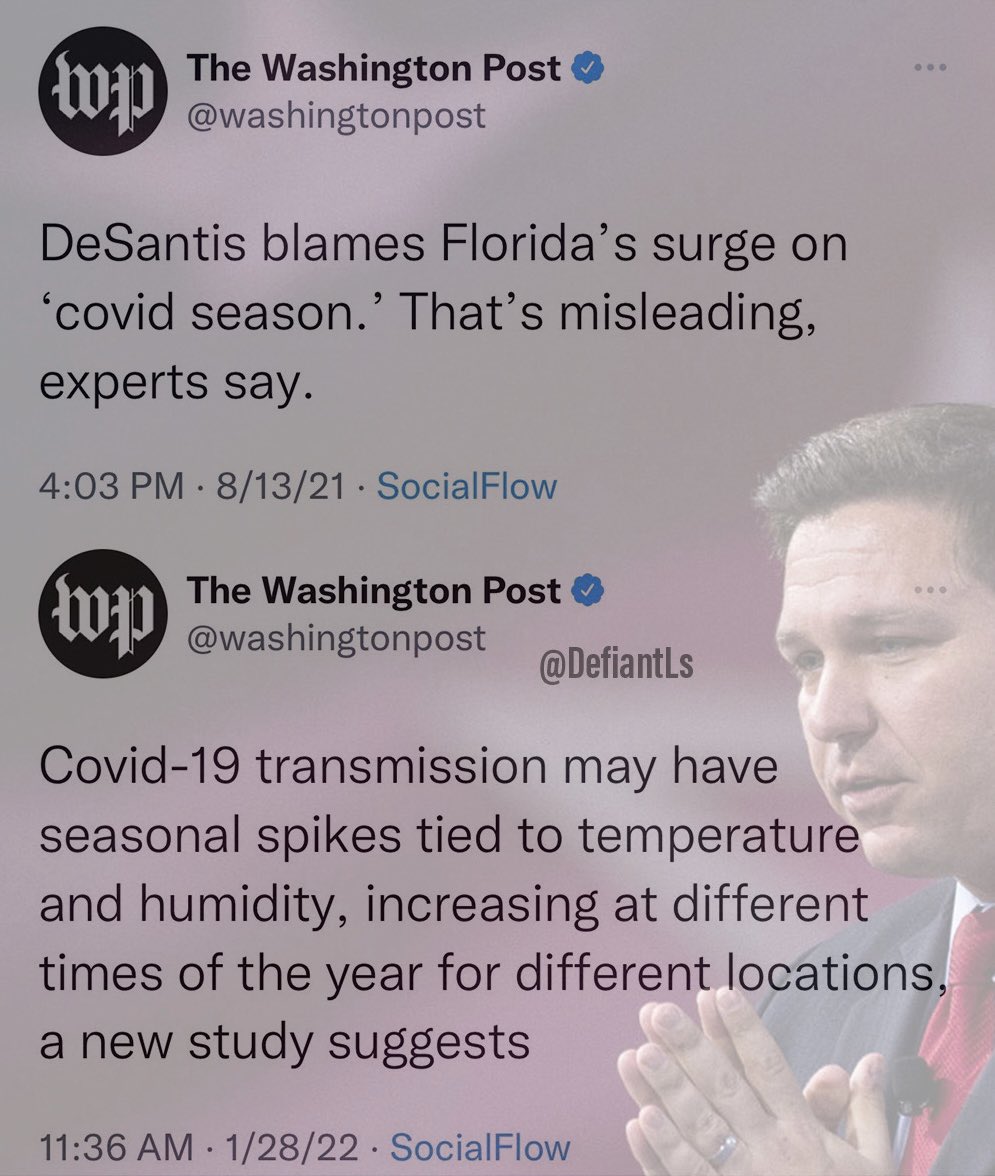 Just days before the FDA was set to release over 12,000 documents related to the experimental Covid-19 vaccines, Pfizer asked a federal court to allow it to intervene before any information is released to the public.
Unsurprisingly, the FDA wholeheartedly agreed, asking the court to allow the vaccine maker to 'help' curate the documents, which would also buy the agency more time to release the much anticipated, and likely damning, data.
Conflict of interest? What's that?
Despite the court order, the FDA and Pfizer are scrambling to prevent any more documents from ever seeing the light of day.
 , Pittman stays the course and forces the FDA to stick with the timeline that's in place, 
If all goes according to plan, Jan 31st should be the beginning of the end of this pandemic.
Source: thegatewaypundit.com
#FidelisAdMortem🙏 #NYPD💙 pic.twitter.com/c7eKsMCxL1

— Dan Scavino Jr.🇺🇸🦅 (@DanScavino) January 28, 2022
---
Q
Trump raises pardons for Jan. 6 rioters if reelected
 
At Saturday's rally in Conroe, Tex., Trump said, "If I run, and if I win, we will treat those people from Jan. 6 fairly."
"And if it requires pardons, we will give them pardons," he continued. "Because they are being treated so unfairly."
Source: thehill.com
Georgia's elections controversy is being taken to new levels with the revelation that a 25,000-word "secret report" on its voting systems vulnerabilities may soon be released.
The security flaws in Georgia's election system was uncovered by a professor who specializes in election integrity. A judge may soon make the findings public.
"The vulnerability was first alleged in sealed court documents in July by Alex Halderman, a computer science professor at the University of Michigan," the Atlanta Journal Constitution reported. "As an expert for plaintiffs in the election security lawsuit, Halderman gained access to Georgia voting equipment for 12 weeks and produced a 25,000-word secret report."
"Halderman found that malicious software could be installed on voting touchscreens so that votes are changed in QR codes printed on paper ballots, which are then scanned to record votes, according to court documents," the report continued. "QR codes aren't readable by the human eye, and voters have no way to know whether they match the printed text of their choices."
"The vulnerability could be exploited by someone with physical access to a voting touchscreen, such as a voter in a polling place, or by an attacker who used election management system computers," the report added, citing Halderman. "A hacker in a polling place could only target one touchscreen at a time, limiting the number of votes that could be changed, but an attack on election management systems could have a broader impact."
Source: beckernews.com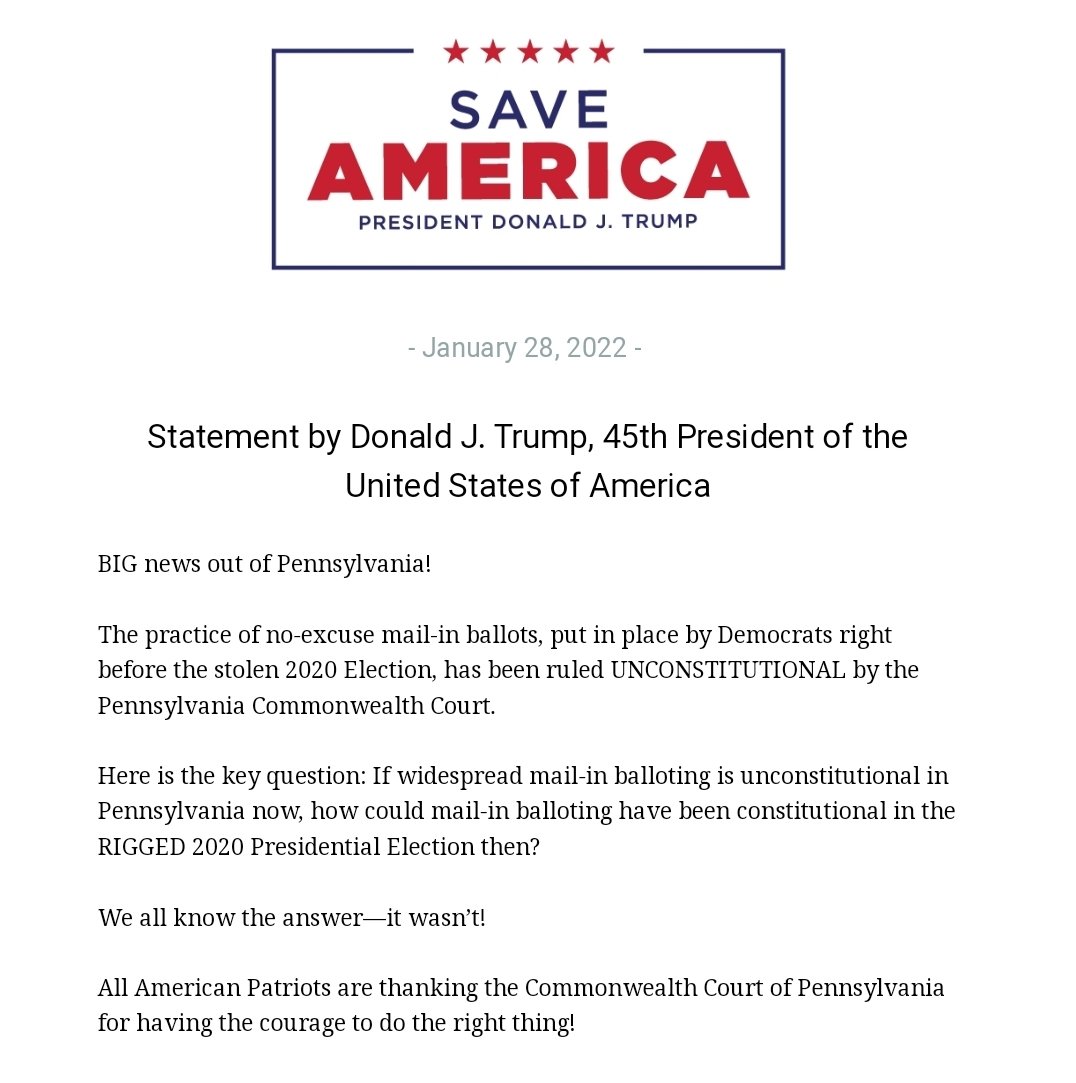 As cyberattack threats rise, expert reveals 'nightmare scenario'
UNBELIEVABLE!!! #TrumpRally pic.twitter.com/u4ASi2eenx

— Dan Scavino Jr.🇺🇸🦅 (@DanScavino) January 30, 2022