Messages Are Being Sent,It's Almost Time,[T -2] And Counting,Time To Bring The Heat – Episode 2116
Podcast: Download (Duration: 38:28 — 39.7MB)
 The [CB] is now pushing the idea that no matter what the Fed does it will not help the economy. Lowering the rates, pushing stimulus will not help, we heard this before the last time around when the MSM was pushing a recession. The opposite happened and it will happen this time. The economy is getting ready to heat up, everything is now in place, it's going to be a hot spring/summer. The [DS] is getting ready to push their event even harder, after that the [DS] will be low on ammunition, this is when the spring/summer bring the heat. [JS] did not get his case dismissed.  KH endorses JB. Articles now appear to show MO might enter the race. Crowdstrike distances themselves from the Russian hack of the DNC server. Messages are being sent, the heat is coming, [T -2] and counting.
Check Out The X22 Report Spotlight YouTube Channel X22Report Spotlight
Please check Newzsentinel.com for the latest news on the economic collapse. The Sentinel Alerts are updated throughout the day.
---
Current News – 03.08.2020
Watch The X22 Report On Video
---
Economy
Boston Fed President: Quantitative easing may not work as well next time
"[T]here would be little room for the Federal Reserve to lower rates through large purchases of long-term Treasury securities, like it did to make conditions more accommodative in and after the Great Recession, if a recession occurred in this rate environment," Rosengren said at a conference in New York
Source: finance.yahoo.com
As questions swirl about the Fed's independence Fed Chair Powell has been busy trying to explain his reason for the  "emergency" 50bps rate cut.
  central banks across the globe can now lower their rates or do additional stimulus without damaging the delicate balance in the relationship in the value of one major currency to another. This is a delicate balance they have long held in check to stabilize the financial system and add credence to the myth no major currency can fail.
Source: zerohedge.com
---
Political/Rights
Smollett's lawyers had filed an emergency petition claiming that Cook County Circuit Judge Michael Toomin overstepped his authority and erred when appointed Webb to investigate the case
 the Illinois Supreme Court rejected the former "Empire" star's request to throw out charges accusing him of staging a racist hate crime hoax in Chicago, after Cook County special prosecutor Dan Webb slapped him with a six-count indictment last month.
Source: zerohedge.com
Sen. Kamala Harris onthrew her support behind former Vice President Joe Biden,  
KH said she would do everything in her power to help elect Biden.
Recorded 7 days ago, with hostage-tape production values, Harris frames endorsement of Biden in terms of civil rights–same subject she attacked him on during campaign. https://t.co/mg8FbOCMal

— Byron York (@ByronYork) March 8, 2020
We have now learned for sure that the Democrats don't want anything to do with Crazy Bernie. Rigged? First @amyklobuchar & @PeteButtigieg quit the race & come out for Sleepy Joe BEFORE Super Tuesday. Pocahontas says NO & quits race AFTER ELECTION, thereby depriving Bernie of at..

— Donald J. Trump (@realDonaldTrump) March 8, 2020
…..least 5 States & the Nomination. Did the DNC & Dems tell Elizabeth Warren to wait? If so, they were deadly, the race would have been over, & Bernie would have won. Dirty double dealing? Nobody knows for sure, & history will be the judge. But I say, here we go AGAIN, Bernie!

— Donald J. Trump (@realDonaldTrump) March 8, 2020
American politics is a Ponzi scheme and that's how Michelle Obama could become the next US president
 a February poll by Stanford's Hoover Institution asked over 1,500 California residents who they would like to see as Vice President on the Democratic ticket. Michelle Obama attracted 31 percent support, far ahead of Kamala Harris (19 percent) and Amy Klobuchar (18 percent).
It should be mentioned that Michele Obama has commented in the past that there is "zero chance" she would ever run for president but, then again, Donald Trump also denied presidential ambitions before deciding to run. 
Source: rt.com
Hunter Biden's papers missing, suit says
Alexis Lunden Roberts is again asking a state judge to find him in contempt of court, arguing that HB continues to defy court orders in a paternity and child support case.

Filing calls listing of finances tardy

Alexis Lunden Roberts of Independence County alleges that Biden has not supplied her with a copy of his 2017 and 2018 personal tax returns, nor with the rest of a long list of other items.
Source: arkansasonline.com
BREAKING EXCLUSIVE: Crowdstrike and Their PR Firm Now Distance Themselves from Russia's Link to Wikileaks
For more than three years of the mainstream media (MSM) promoted the biggest fraud in US history – that the Russians hacked the DNC's emails and gave the emails they hacked to WikiLeaks who then leaked the emails before the 2016 election.
Now, suddenly the firm at the center of this fraud, Crowdstrike, is taking a step back from their previous actions related to the entire sham.
Source: thegatewaypundit.com
"So if Crowdstrike now claims they didn't confirm that Russians gave emails to WikiLeaks, then who the hell did?"

— Rasmussen Reports (@Rasmussen_Poll) March 6, 2020
BREAKING EXCLUSIVE: We Caught the Mueller Team in Massive Lie – Roger Stone Was Right! 
So  the entire Russia collusion lie, Crowdstrike, is now backpedaling.
An that  brings us to Roger Stone, the last American indicted by the Mueller gang.
On January 23, 2019, Stone was indicted for a number of frivolous crimes where he was accused of lying to Congress.
In his case, Stone claimed that the DNC servers in 2016 were never examined by Crowdstrike and asked for proof that this was the case, because it was pertinent to his case.  Stone was indicted for lying to Congress about Russians hacking the DNC and sending the hacked emails to WikiLeaks:
It was also uncovered in the Roger Stone case that CrowdStrike gave the US government three "draft reports" on the so-called hack by Russia which were full of redactions and the FBI just took their word for it.  The FBI never inspected the DNC servers.  It was also reported that the DOJ never received the unredacted copies of Crowdstrike's reports:
Source: thegatewaypundit.com
DC appeals court judge to retire, handing Trump key vacancy
Judge Thomas Griffith announced plans to retire from the U.S. Court of Appeals for the D.C. Circuit, handing President Trump his third vacancy on the influential bench.
Griffith is set to retire in September, just two months ahead of the 2020 election,  
Source: thehill.com
You barely hear about it, but under @realDonaldTrump:

1st Black Military Service Chief
1st Indian-American Cabinet Member
1st Openly Gay Cabinet Member
1st Female CIA Director
1st Black Female General In Marines
1st Female Border Patrol Chief

…and the list goes on!

— Ronna McDaniel (@GOPChairwoman) March 7, 2020
---
Geopolitical/Police State
Saudi Authorities Widen Security Crackdown After Detaining Two Rivals to Crown Prince
Saudi Arabian Crown Prince Mohammed bin Salman has embarked on a broad security crackdown by rounding up royal rivals, government officials and military officers in an effort to quash potential challenges to his power, Saudi royals and advisers familiar with the matter said Saturday.Members of the Saudi royal court have told allies that they detained two princes and their supporters because they were plotting a palace coup largely aimed at arresting the rise of Prince Mohammed,  
Source: wsj.com
---
False Flags
JUST IN: Trump administration overrode CDC recommendation that elderly, at-risk populations not fly: AP https://t.co/gBr6HSqghr pic.twitter.com/hqXQRtMF05

— The Hill (@thehill) March 8, 2020
Responded
Nope, not true. @AP reporting off one unnamed individual. https://t.co/YQodmFN9dZ

— Katie Miller (@VPPressSec) March 8, 2020
We have a perfectly coordinated and fine tuned plan at the White House for our attack on CoronaVirus. We moved VERY early to close borders to certain areas, which was a Godsend. V.P. is doing a great job. The Fake News Media is doing everything possible to make us look bad. Sad!

— Donald J. Trump (@realDonaldTrump) March 8, 2020
NY Governor Cuomo Complains: Only Getting $35 Million From Coronovirus Emergency Funds – Breakdown of Spending…
Earlier today New York State Governor Andrew Cuomo complains to the media about only getting $35 million in initial emergency funding for Coronavirus impacts.  
.
Summary (Rough Math):
♦♦ Approx. $5 billion appropriated on U.S. programs (federal and state).  Around $2.5 billion of that amount the administration requested for federal response (CDC and NIH) and state grants (CDC).  However, around $3 billion more was added by congress to fund private health sector response groups.
♦♦ Approx. $3 billion was appropriated in foreign aid (non Americans).  None of this was requested by the administration.  All of the foreign aid funds were appropriated solely by congress for various State Department "global initiatives."  (sketchy funds)
♦♦ Approx. $500 Million General Administrative expenses. (All pork)
Source: theconservativetreehouse.com
Drugmaker Moderna Delivers First Experimental Coronavirus Vaccine for Human Testing
Clinical trial is expected to start in April,
Drugmaker Moderna Inc. has shipped the first batch of its rapidly developed coronavirus vaccine to U.S. government researchers, who will launch the first human tests  
Moderna on Monday sent vaccine vials from its Norwood, Mass., manufacturing plant to the National Institute of Allergy and Infectious Diseases in Bethesda, Md., the company said. The institute expects by the end of April to start a clinical trial of about 20 to 25
Source: wsj.com
It's going to be a very hot [spring/summer].
Q
---
Q
BREAKING: President Trump Announces Loyalist Rep. Mark Meadows Will Be His New White House Chief of Staff
President Trump announced that Rep. Mark Meadows, the founder of the House Freedom Caucus, will be his new White House Chief of Staff.
President Trump thanked Acting Chief of Staff for serving as the current WH Chief of Staff.
I am pleased to announce that Congressman Mark Meadows will become White House Chief of Staff. I have long known and worked with Mark, and the relationship is a very good one….

— Donald J. Trump (@realDonaldTrump) March 7, 2020
….I want to thank Acting Chief Mick Mulvaney for having served the Administration so well. He will become the United States Special Envoy for Northern Ireland. Thank you!

— Donald J. Trump (@realDonaldTrump) March 7, 2020
Source: thegatewaypundit.com
.@SecPompeo: The United States is not a party to the @IntlCrimCourt, and we will take all necessary measures to protect our citizens from this renegade, unlawful, so-called court. https://t.co/d39cdE8KmH pic.twitter.com/ZqkwxpomMI

— Department of State (@StateDept) March 6, 2020
Those responsible for the downing of Malaysia Airlines Flight #MH17 that tragically claimed 298 innocent lives must be held accountable. The U.S. has confidence in the Dutch legal system and calls on all States to cooperate fully with the ongoing investigation into this tragedy.

— Secretary Pompeo (@SecPompeo) March 8, 2020
— Dan Scavino (@DanScavino) March 8, 2020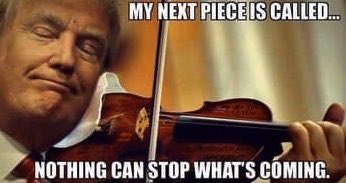 How is this for a #Qproof
Q mentions "Nothing Can Stop What's Coming" in 10 drops

Today @DanScavino tweets that in a meme with @POTUS #QAnon #MAGA #WWG1WGA pic.twitter.com/0zju5ag6xw

— stormypatriotjoe⭐️⭐️⭐️ (@stormypatriot21) March 8, 2020
'A TOTAL LEGEND': How Dan Scavino Became One Of Trump's Most Important Advisers
Scavino, 44, has been a critical component of President Donald Trump's success dating back to the launch of Trump's presidential campaign in 2015 all the way through to today, where he serves in a top post in the administration, and has an office just outside the Oval Office.
Scavino, who avoids the spotlight and avoids talking to the media, has been described by multiple senior White House officials as Trump's most trusted adviser, not including Trump's own family. The officials indicated that Scavino's sense of justice, loyalty to the president, and selfless nature were all key factors in his becoming a member of Trump's inner and most trusted circle.
Source: dailywire.com
>>8200590

They fear an awake public. Each Q Proof proves our strength too. Thank you, Q and Q+!
---
Uncensored