MI, No Such Agency Are The Key, Trump & The People Are The Stone, Unity Is Strength – Ep. 2534
The people can now see very clearly [JB//[CB] economic policies will not help the country they will make it worse. With the red and blue states taken different approaches to the pandemic, people can now see which states are prosperous and which are not, the division is growing. The people will take back control of the creation of currency. The patriots pre-planned and allowed the [DS] complete the crime. Once they complete the crime the world need to see their true agenda and the people are seeing this. Trump and the patriots setup during his 4 years, everything was put into place and carefully executed. The [DS]/fake news/big tech believed they had the upperhand, Trump and the patriots knew they would take the bait. During and after Trumps presidency his mission was to bring the people together and wake up the rest. The key is MI, Military, No such agency, the stone is the people, this is what is needed to keep the country together it is called the keystone. Unity is strength.
Watch The X22 Report On Video
---
Economy
Biden: Our multi trillion dollar spending bills "will reduce inflation, reduce inflation, reduce inflation" pic.twitter.com/NcKVVaBxxZ

— Tom Elliott (@tomselliott) July 22, 2021
Responded
Yes yes.

And if you max out your credit card you can actually reduce your debt, reduce your debt, reduce your debt…

I give you the @JoeBiden school of economics everybody! 🤡 https://t.co/1n8J73ShiD

— Sean Parnell (@SeanParnellUSA) July 22, 2021
, the total number of claims plunged by over 1.2 million last week (driven by a plunge in pandemic specific aid as states began shutting off the handouts)…

source: zerohedge.com
… in hopes of unclogging labor supply and easing the unprecedented labor shortage gripping America which has manifested in record numbers of job openings which nobody wants due to Uncle Sam's generous weekly benefits…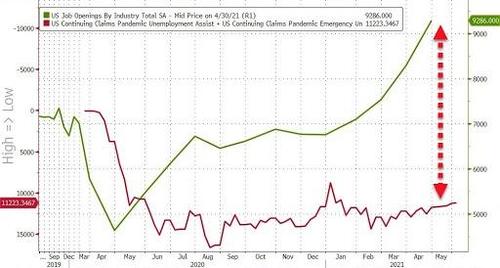 ... since Democrats will likely not end UI benefits any time soon – or ever, if they could –  this sets up the US economy to become an epic real-time economic experiment, one where everyone can keep track of the unemployment across in Red states (most of which have ended their UI benefits), and blue states where claims will keep potential workers at home, pressuring unemployment rates."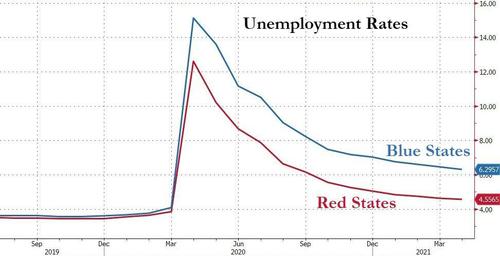 Well, one month ago the early verdict was in and as Morgan Stanley found at the end of June, not only were Republican states right all along to end benefits early, but that the primary – and biggest – reason for the unprecedented shortage in workers has been Joe BIden's catastrophic socialist policy of having the government match or even surpass what the private sector is paying, to wit:
Source: zerohedge.com
---
Political/Rights
Lets compare, Trumps rally while Biden is President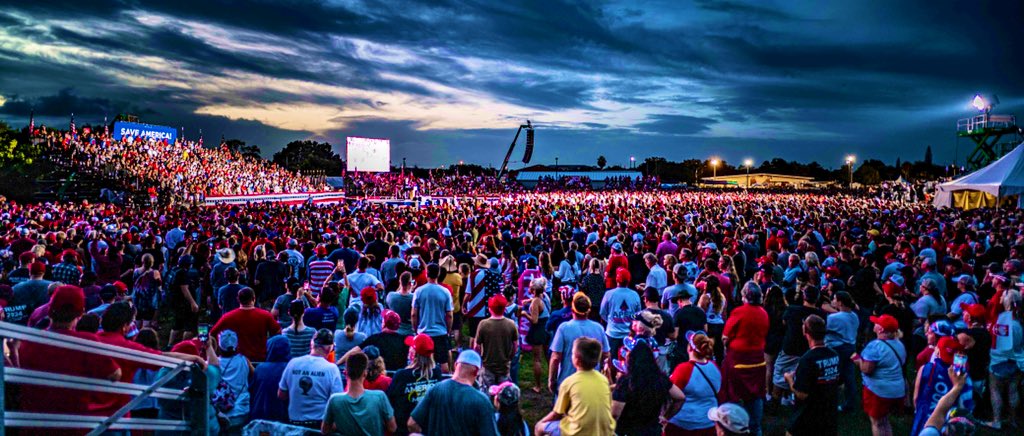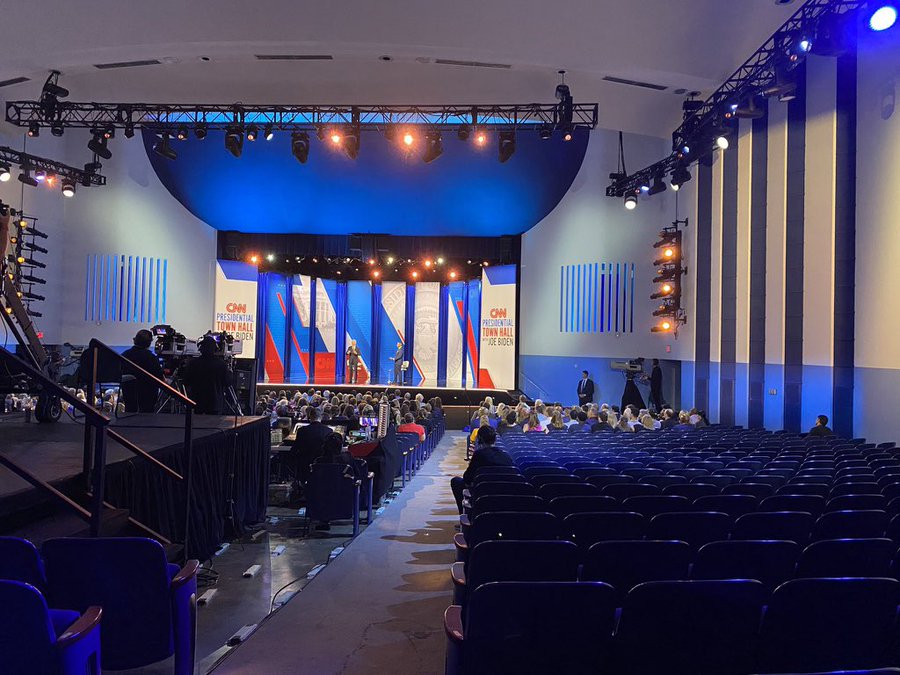 Source: thegatewaypundit.com
Joseph Goebbels famously said: "If you tell a lie big enough and keep repeating it, people will eventually come to believe it."
 Don Lemon asked Joe Biden why Republicans accuse anti-cop Democrats of being anti-cop 
Don Lemon: How do you respond to Republicans who try to paint you and your party of being anti-police?

Joe Biden: They're lying. (Crowd cheer)
Source: thegatewaypundit.com
Then
PRES. BIDEN: "You're not gonna get COVID if you have these vaccinations."
Is The White House planning on having this removed from social media for spreading misinformation? There are plenty of examples of vaccinated people who have still gotten COVID!
FOLLOW THE SCIENCE!!!! https://t.co/UwBtf4C85v

— Donald Trump Jr. (@DonaldJTrumpJr) July 22, 2021
First son Hunter Biden is expected to meet with prospective buyers at shows carrying his artwork later this year in New York and Los Angeles, raising new ethical concerns about influence peddling tied to the sales, according to a report.
Source: nypost.com
WH assured America that those who bought Hunter's artwork would remain anonymous to help ensure the sales wouldn't be tied to peddling influcence. 
---
False Flags
WATCH: Large demonstration in the French Caribbean island of Martinique. Protesters are marching in opposition to President Macron's vaccine passport. pic.twitter.com/oYXrDwLl7J

— Election Wizard (@ElectionWiz) July 21, 2021
Boris's vaccine passports on the brink of collapse: Labour could join Tory rebels in voting against plan because 'a negative test is worth more than being double-jabbed', party source reveals
Lbour signalled it could join Tory rebels and vote against vaccine passports 
Government announced proof of double vaccine will be a 'condition of entry' to nightclubs and other busy venues from September
Senior Labour source said ministers should require a negative test instead  
Source: dailymail.co.uk
Its official! (Again)
Larry Elder will be on the ballot in California's recall election that is set to take place on September 14th.
  a Sacramento Superior Court Judge ruled in favor of Elder in his lawsuit against California's Secretary of State for disqualifying him from the upcoming recall election over a petty "redaction issue" with his tax returns. The court mandated that he be added back onto the ballot and be allowed to run against  Gavin Newsom. 
  the judge ruled that the election law that Elder was alleged to have broken "did not even apply" to a recall election and even if it had, his campaign had "substantially complied" with all of the requests that were given by the state.
Source: thegatewaypundit.com
4076
Q
!!Hs1Jq13jV6
05/02/2020 18:34:06
 ID: 768ebf
Archive Bread/Post Links: 9003719 / 9004278
Direct Link: 9004278
4120
Q
!!Hs1Jq13jV6
05/06/2020 11:34:29
 ID: e506e9
Archive Bread/Post Links: 9050355 / 9050743
Direct Link: 9050743
Rand Paul's Criminal Referral for Dr. Fauci Has Officially Been Delivered
Republican Senator Rand Paul has officially referred Dr. Anthony Fauci to the Department of Justice for criminal investigation and prosecution. Paul delivered the referral, written in a letter, to Attorney General Merrick Garland Wednesday afternoon and is alleging Fauci lied to Congress about funding dangerous gain-of-function research.
Source: townhall.com
---
Q
Read this about the Witmer scam.
Gee this sounds AWFULLY FAMILIAR pic.twitter.com/9aODz0RL0E

— Julie Kelly 🇺🇸 (@julie_kelly2) July 21, 2021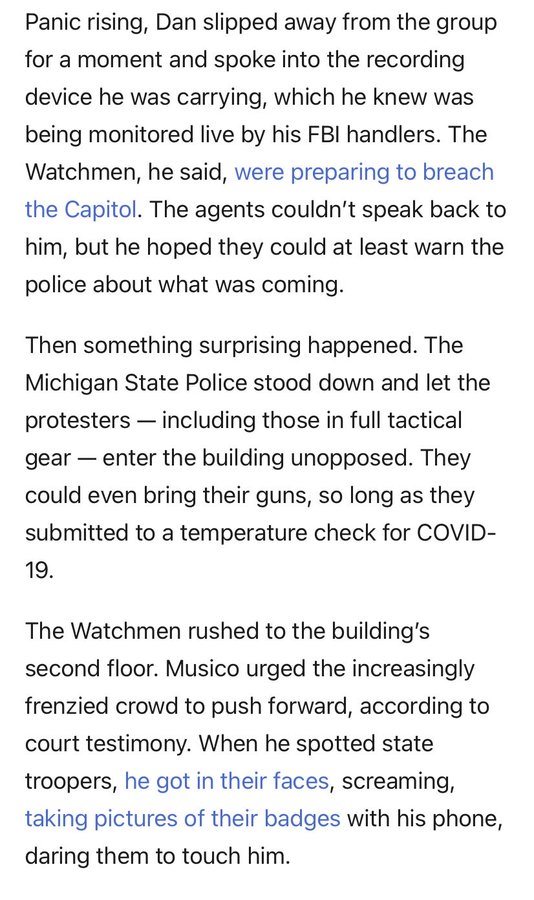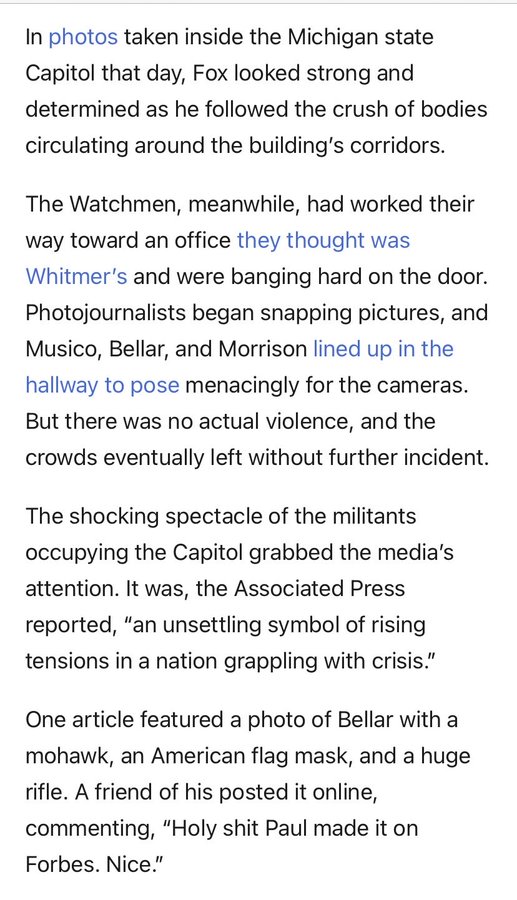 FBI tells police to stand down and let them into building. They're dressed in militia gear. They search for Whitmer. Photographers on stand by for pics.

— Julie Kelly 🇺🇸 (@julie_kelly2) July 21, 2021
Was this the trial run for Jan 6
Garland Favorito of VoterGA.org, leading the case in Fulton County, GA to inspect the approximately 140,000 mail-in ballots during the Nov 3rd election, has filed a motion to immediately begin the inspection of the ballots that Henry County Judge Amero unsealed weeks ago.
Statement by Donald J. Trump, 45th President of the United States of America
Republican Arizona State Senator Paul Boyer, a RINO if there ever was one, is doing everything in his power to hold up the damning Forensic Audit of Maricopa County which has been taking place over the last 90 days. The people of Arizona are demanding it. Boyer has been nothing but trouble, and nobody knows why. All we demand is Voter Integrity! He is being primaried by a strong and highly respected challenger, former Arizona State Representative Anthony Kern.
 , the Elections Assistance Commission (EAC) is being sued for updating its policy and allowing voting machines to include Internet access.  These policy changes were discussed in private with voting machine companies and silently passed by the EAC without required public debate.
 
But now Stark is back in the news.  This time he is suing the EAC, where he is a Board member.  Stark and the organization, Free Speech for People, are suing the EAC for updating voting machine guidelines that allow them to have access to the Internet.
The complaint also shares that the EAC passed the new guidelines after holding secret meetings with the voting machine manufacturers.  Then the EAC passed updated guidelines which allow the voting machine companies to include Internet access in their machines.
Below is the entire case.
Source: thegatewaypundit.com
Statement by Donald J. Trump, 45th President of the United States of America
07/21/21
Republicans must take seriously the effort by Democrats to completely change America through the Reconciliation Process. Democrats are now suggesting that budget reconciliation can be used to pass Mail-In Ballot legislation as well as trying to include Amnesty in their infrastructure package. The infrastructure package has little to do with infrastructure as we know it, bridges, roads, tunnels, etc., but is a dramatic expansion of Government that will cost much more than the $3.5 trillion being discussed. Don't let this happen!
If Amnesty is included in the infrastructure package, there will be a run on our Southern Border the likes of which we have never seen before. It will be a signal that says "come to America now, because you will soon be a citizen." Providing Amnesty to illegal aliens, in the history of what already is considered the greatest Border catastrophe, will result in disaster beyond our gravest nightmares. No country can pay this price. Will lead to ruination!
Any effort to dictate national Mail-In Voting will be a disaster for our Country and for conservatism. There will never be a Republican elected to high office again. I urge every Republican to fight this and deny Democrats a quorum if that is what it takes to make sure that the Democrats can't use reconciliation.
Republicans must push back for the sake of our Country and, far less importantly, the sake of the Republican Party!
The Pandemic Was The Cover,MI & No Such Agency Are The Key,POTUS & Patriots Are The Stone- Ep. 2407    feb 17, 2021
Red Button Pushed, Plot Twist Coming, Military, Devolution The Only Way Forward – Ep. 2424    march 10, 2021
The concept of Devolution is fundamental and part of the government's top-secret continuity of government plans.  Remember Newsweek article from 2020. While the report presents Devolution in the context of the pandemic, it still provides enough detail to prove that Devolution exists and was a topic explored by Trump.
Now Think of the strategy of Andrew Jackson, using the people to back him in the Presidential Race
The election of 1824 and 1828.
The election of 1828 was arguably one of the most significant in United States history, ushering in the era of political campaigns and paving the way for the solidification of political parties. The previous election, of 1824, had seen John Quincy Adams become president although his opponent Andrew Jackson had earned the most electoral votes. Because no candidate won a majority of the electoral vote, however, that election was decided by the House of Representatives in Adams's favour after fellow candidate and Speaker of the House Henry Clay (who finished fourth) threw his support behind Adams. Adams subsequently appointed Clay his secretary of state, giving merit to rumours of a "corrupt bargain" in the eyes of Jackson supporters. During the contested election of 1824, followers of Henry Clay and John Quincy Adams began calling themselves National Republicans, and backers of Andrew Jackson emerged as Democratic Republicans. By the election of 1828, the Jacksonians had become known simply as the Democrats. Unlike previous elections, in which the parties' congressional delegations would generally gather to nominate a candidate (this had failed to coalesce support around a single candidate among the Democratic-Republicans in 1824), this election was the first in which a majority of states held conventions to endorse a candidate.
By 1828 selection of presidential electors was being decided by the voters in all but two states, and public opinion was becoming more important than ever before. Jackson's supporters established pro-Jackson newspapers and helped to distribute information and election material. Both sides organized rallies, parades, and other public events to promote their chosen candidate.
  In the end, with 178 electoral votes to Adams's 83, Jackson became the first president to gain office by a direct appeal to the mass of voters rather than through the support of a recognized political organization.
When Jackson arrived in Washington for his inauguration he refused to pay the customary courtesy call on the outgoing president. And John Quincy Adams reciprocated by refusing to attend the inauguration of Jackson.
271
Q
!ITPb.qbhqo
12/05/2017 16:06:49
 ID: 7cfe10
Anonymous 12/05/2017 16:05:45 ID:47c6e4
UPS, FedEx, Amazon, Costco, 911 services and airlines were all hit by the outage.
Content delivery company Akamai Technologies released a statement on Thursday:
"We are aware of an emerging issue with the Edge DNS service. We are actively investigating the issue. If you have questions or are experiencing impact due to this issue, please contact Akamai Technical Support. In the interest of time, we are providing you the most current information available, which is subject to changes, corrections, and updates." the company said.
More than 32,000 websites went down around 11 am ET. Everything is backup, but was this a test
Source: thegatewaypundit.com
Q

 

!!Hs1Jq13jV6

 

ID: 866b8a

 No.9473673

EAM LOYALISTS:
RED1: POTUS twitter removal
RED2: Central communications blackout
[continental US]
RED3: CLAS movement PELOSI or PENCE
RED4: Movement of MIL assets
[10th Mountain_1st Marine_CPSD_Marine_QVIR]
to central locations under guise of citizen riot control.
RED5: NAT MIL COM CEN
RED6: SEC OF DEF _instruct1,
Counter measure (devolution)
USSS
CASTLE_ROCK
Q