Military Was The Key, [DS] Events Failed, Public Awakening – Episode 2270
The BREXIT talks are back on, Boris sets the dates. The economy is recovering, more jobs are coming back online and the unemployment is dropping. The middle east is now realizing that the days of becoming very wealthy via the petro dollar is coming to and end. The riots and the virus event has now failed. the people are no longer believing and it has backfired on the [DS]. The coverup on the Russian collusion hoax is falling apart. The military was the key, it was the only way. Trump traps the corrupt politicians and the MSM to become anti-vaxxers, why is this necessary, to push therapeutics.  The [DS] moves forward with their agenda, power plants explode, CA power problems and other states experience the same thing.
Check Out The X22 Report Spotlight YouTube Channel X22Report Spotlight
Please check Newzsentinel.com for the latest news on the economic collapse. The Sentinel Alerts are updated throughout the day.
---
Current News – 09.07.2020
Watch The X22 Report On Video
---
Economy
 UK Prime Minister Boris Johnson has reportedly delivered an ultimatum to the EU and its top negotiatiors that if there's no final Brexit trade deal in place by the European Council meeting on Oct. 15, then Britain will simply move ahead with plans to exit the transition period with a trading arrangement on "Australian" (read: bare bones WTO) terms.
Source: zerohedge.com
10.6 Million Jobs Created In Just 4 Months, A Record!!!

— Donald J. Trump (@realDonaldTrump) September 7, 2020
One of the World's Richest Petrostates Is Running Out of Cash
When Kuwait's then-Finance Minister Anas Al-Saleh warned in 2016 that it was time to cut spending and prepare for life after oil, he was ridiculed by a population raised on a seemingly endless flow of petrodollars. Four years on, one of the world's richest countries is struggling to make ends meet as a sharp decline in energy prices raises profound questions over how Gulf Arab states are run. 
Saudi Arabia is curbing benefits and imposing taxes. Bahrain and Oman, where reserves are less plentiful, are borrowing and seeking support from wealthier neighbors. The UAE diversified with the rise of Dubai as a logistics and finance hub.
Source: bloomberg.com
---
Political/Rights
There Never Was a "Woods File" Underpinning The Carter Page FISA Application – Here's How We Know…
The 'Woods File' is the mandatory FBI evidence file that contains the documentary proof to verify all statements against U.S. persons that are contained in any FISA application. Remember, this is a secret court, the FISA applications result in secret Title-1 surveillance and wiretaps against U.S. persons, outside fourth amendment protections.
  However, in the case of the "missing" or "reconstructed" Woods file used to gain a Title-1 FISA surveillance warrant against U.S. person Carter Page, the overwhelming evidence shows there never was one. The Special Counsel manufactured the appearance of one ex post facto in 2018.
when the office of inspector general announced on March 28, 2018, that he was going to review all four of the Carter Page FISA applications; no doubt the office of the special counsel, Andrew Weissmann; who was previously the DOJ-NSD FARA targeting coordinator; moved swiftly to create the appearance of a Woods File where none previously existed. That led to the Woods Procedure justification as stated by the IG.
There never was a Woods File.  The FBI and DOJ relied upon the Chris Steele Dossier as the evidence to support the FISA application.  
Source: theconservativetreehouse.com
The extradition hearing for WikiLeaks founder Julian Assange is set to resume in London Today,  
The US has indicted Assange on 17 counts of espionage and one count of conspiring with a source to violate the Computer Fraud and Abuse Act.
Source: zerohedge.com
Q

 

!CbboFOtcZs

 

ID: 22318c

 No.1704013

JulianAssange_Smile.gif

Q is this man free? Is he safe? If he isn't, can you help him? He is a hero.
DbMqigAU8AADwtA.jpg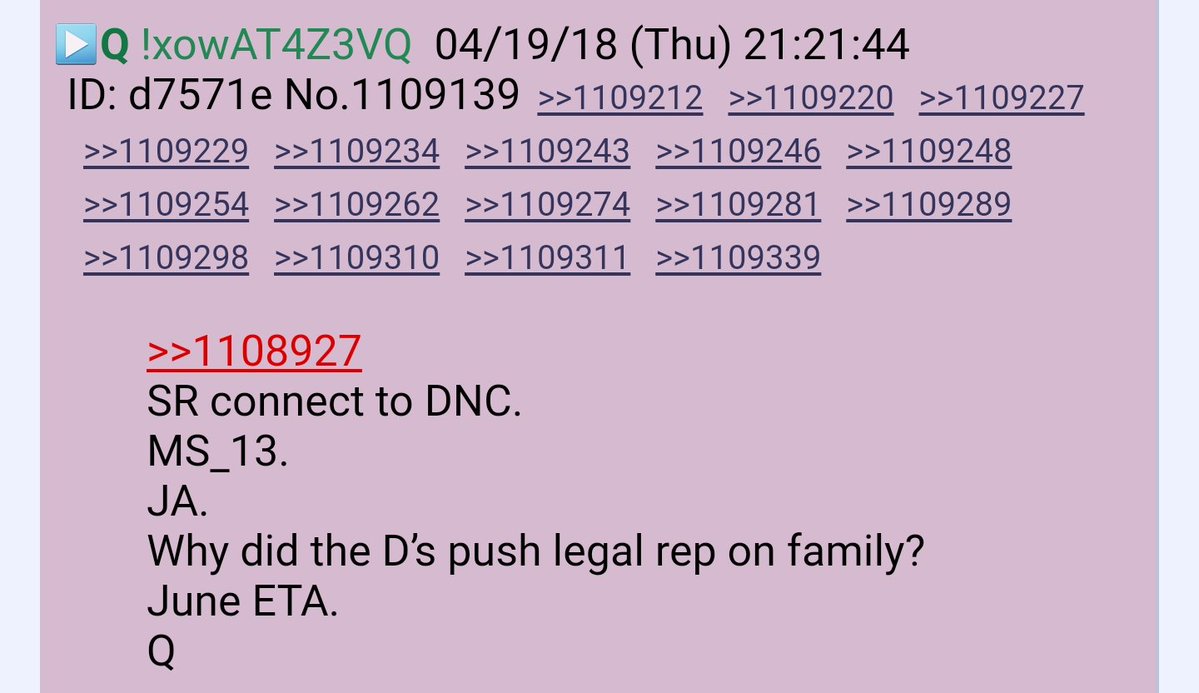 >>1703935
What recent news came out re: SR/JA/WL lawsuit?
Back in the news.
The 'server' brings down the house.
Q
Jake Tapper personally intervened in a tight congressional race and told @SeanParnellUSA not to challenge a vulnerable Democrat. Instead, Tapper urged Parnell to primary a Republican in a safe GOP district and leave Tapper's Democrat friend alone. https://t.co/2IDSVlB0AG

— Sean Davis (@seanmdav) September 6, 2020
FB social experiment or desperation? #TheMoreYouKnow pic.twitter.com/HQHt2LSqVo

— Karli 🇺🇸 (@KarluskaP) September 7, 2020
This is total PANIC.
FB paying people to log off until Nov 3
  Source: washingtonexaminer.com
The number of ballots that get rejected is projected to soar this fall as millions more U.S. voters will cast ballots by mail. The number in some key presidential battleground states could prove pivotal in a tight race. By @AP_Christina @fbajak. https://t.co/qg6lMtyAKm

— The Associated Press (@AP) September 7, 2020
Michigan Secretary of State Jocelyn Benson said  that it could take up to a week to count all of Michigan's absentee ballots for November's election.

"We should be prepared for this to be closer to an election week, as opposed to an Election Day," she said on NBC's "Meet the Press." "The bottom line is we are not going to have the full results and a counting of all of our ballots on election night."
Source: thegatewaypundit.com
California will count ballots that arrive as late as 17 days after Election Day. https://t.co/UpVlmfmaSc

— Tom Fitton (@TomFitton) September 7, 2020
---
Geopolitical/Police State
---
War
So how did two outlets "confirm" the Fake News CNN had run earlier in the day? "All that happened," Greenwald explained, "was that the same sources which anonymously whispered these unverified, false claims to CNN then went and repeated the same unverified, false claims to other outlets, which then claimed that they 'independently confirmed' the story even though they had done nothing of the sort."
source: thefederalist.com
Why are anonymous statements inadmissible in court,  because they're unreliable and unjust and consequence free, you can't verify the information. Same goes with the media, using anonymous source and statements you can verify the information, therefore it is unreliable and unjust. 
Why was the story pushed out to the public
They are  laying the groundwork for a civil war
 
It started with the military brass quietly indicating that the troops should not follow a presidential order. They were bolstered by many former generals— 
The former United States Senator (for 26 years) and Vice President (for eight) has not once, not twice, but thrice confidently asserted that the military will "escort [Trump] from the White House with great dispatch" should the president refuse to leave. Another former Vice President, Al Gore, publicly agreed.
The Cover-Up in Plain Sight
  They need to plant the idea in the public mind, now, that their unlawful and illegitimate removal of President Trump from office will somehow be his fault.
The second part of the plan is either to produce enough harvested ballots—lawfully or not—to tip close states, or else dispute the results in close states and insist, no matter what the tally says, that Biden won them.
The third piece is to get the [DS]  propaganda machine ready for war.
 
Source: zerohedge.com
The military is on Trump's side, the [DS] is now trying to divide the military and trying to push military support away from Trump  
As they say to drag Trump from office they need the support of the military, do they have it no, but they are trying to convince the public that Trump and the military are at odds, this has failed before it has begun.   
Bobby Henline: "I don't know what Real Donald Trump said, but I am sure he didn't call me a loser. I didn't hear him call me a loser, so this has got to stop. Stop using my image. FOX News call me, somebody."
Bobby posted this on TikTok:
And Bobby's friend Topher backed him up. Occupy Democrats and the liberal media is using his image to trash President Trump in one of their disgusting smears.
Bobby wants it to stop.
Source: thegatewaypundit.com
What does .@realDonaldTrump really think of the troops you might ask. Well, I'll show you. pic.twitter.com/c5foMvXMC6

— JadedKushner – Supernatural Wisdom-PARODY (@JarradKushner) September 6, 2020
Nov 01, 2017 1:41:54 AM EDT
Think about it logically.
The only way is the
MILITARY
.
Fully controlled. Save & spread (once 11.3 verifies as 1st marker).
Biggest advanced drop on Pol.
Jun 04, 2020 7:02:12 PM EDT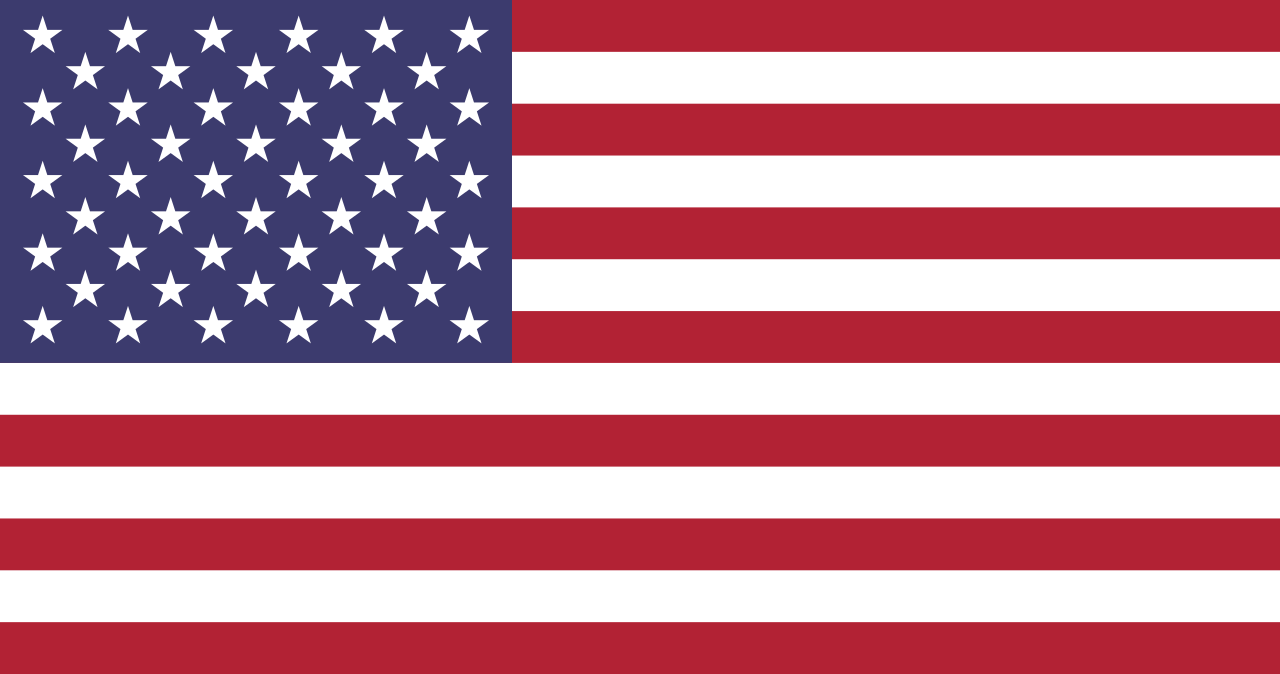 f768deaef22da979abcfb73c9175b54d71fcf891666c5449c1969c07c3cc8920.png
Sources are telling Dan
#Bongino
that they are genuinely concerned that some upper level people in our military are openly talking about defying the President of the United States. "That's got a name. That's called a mutiny."
Those loyal to our Constitutional Republic and our Command Structure.
Those loyal to the Office of the President and the will of the people.
Those who swore an
OATH
to protect and defend against all enemies foreign and domestic.
Those good people who serve proudly for America.
CASTLE_ROCK.
FOR GOD AND COUNTRY.
Q
Jun 06, 2020 3:18:13 PM EDT
READ: The UCMJ (Uniform Code of Military Justice) is the legal foundation for the military justice system and lists offenses. +100 Articles. Article 2 and Article 88 posted here
#MyHighlighter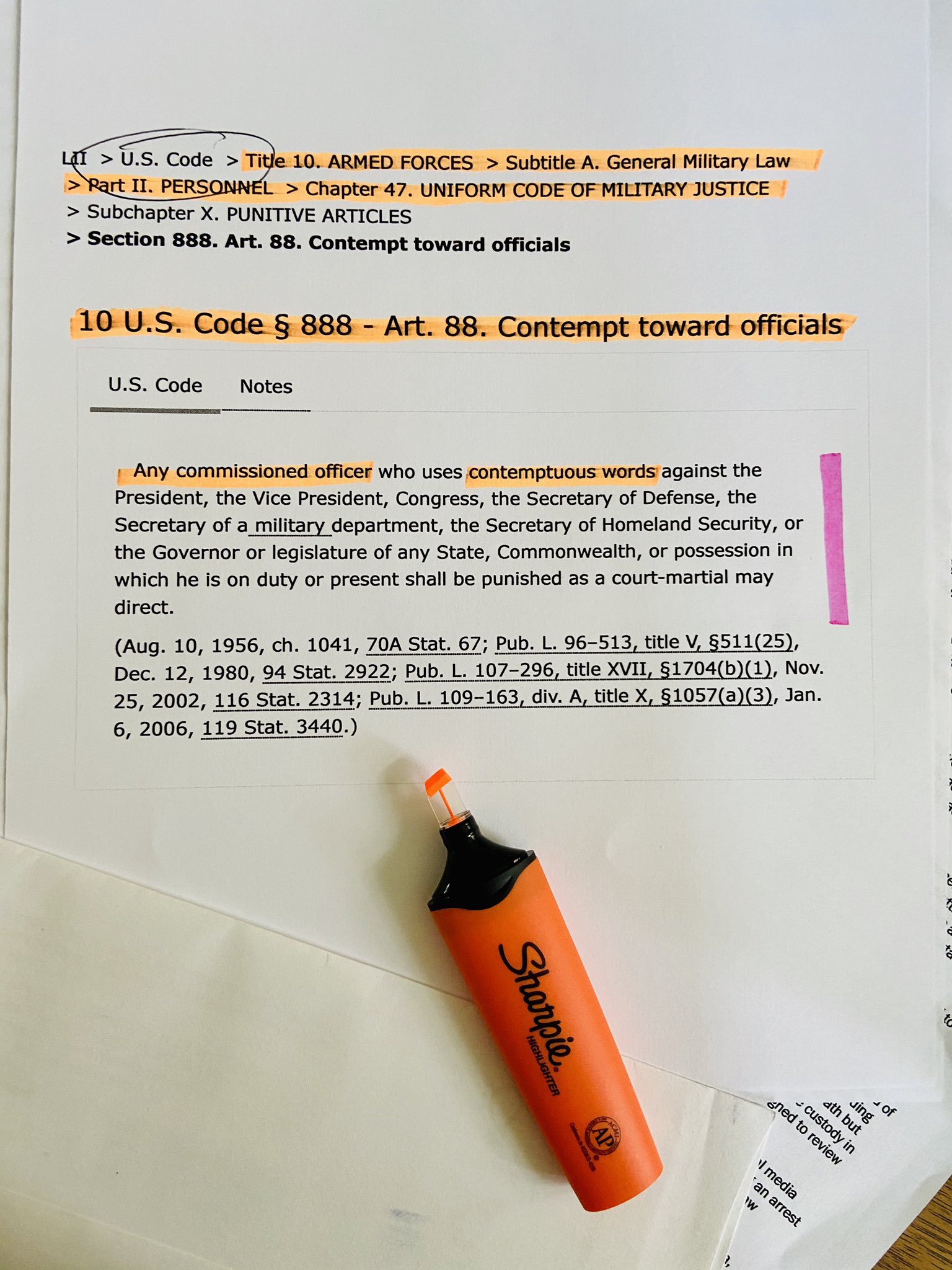 Q
Jun 29, 2020 7:17:42 PM EDT
Loyalists_critical. A counter-attack to the 1st [law and order] strike _prepared and ready in an effort to change the narrative _prevent [blind] mass public awareness re: coord effort to remove [sitting] US POTUS _covertly disrupt CoC _regional comm as needed.
Media plans to disregard [re_label as political attack _AG election interference] and inject script.
Some commanding officers [EOs] may provide [CLAS 1-99] that do not reflect those [1-99] of the POTUS or the AG of United States.
Appropriate action should be taken.
Remember your mission.
Infiltration not invasion.
Defend and protect at all costs.
Q
---
Cyber Attacks
---
False Flags
San Francisco gym owners livid after discovering gyms in government buildings have been opened for months https://t.co/5PvsR39vEJ

— Rasmussen Reports (@Rasmussen_Poll) September 7, 2020
Coronavirus rising in 22 U.S. states https://t.co/4bOZyhbRLL pic.twitter.com/dd0eQoIpKa

— Reuters U.S. News (@ReutersUS) September 7, 2020
Figured it out yet? It's glaringly obvious now.

CCP allowed infected citizens to fly out of China around the world. The first US #COVID19 case arrived in Seattle the same day fake articles of impeachment were pushed to Senate following an unexplainable multi-week stall.

THREAD

— BLUEPRINT 🇺🇲 (@BLUEPRINT_Q) September 6, 2020
Trump is acting like he's so pro-vaccine that his typically pro-vaccine political opponents are now going anti-vaxx just to attack him.

DJT making people question vaccines and Democrats all in one. Masterful reverse psychology. The Art of War.

— Jordan Sather (@Jordan_Sather_) September 7, 2020
---
Q
Current power outages in Los Angeles. This is future they want for the rest of America pic.twitter.com/eFiZ5RBJ3t

— Jon Nicosia (@NewsPolitics) September 7, 2020
The Department of Energy (DOE) announced  it will use its authority to intervene in the management of the California power grid, which is struggling under the excessive heat currently in the state.
While media reports are claiming President Donald Trump is conducting some kind of power grab, California officials requested the assistance:
Source: breitbart.com
#Smyrna, #Cobb, #Georgia: Photos of the explosion and Location of McDonough Utility Plant, we will tweet exactly what is at this plant in a second pic.twitter.com/l3Xx7x1xJm

— TheScoop Independent Journalism (@TheScoopUSA) September 7, 2020
BREAKING: Powerful xplosion(s) reported in #Smyrna, Cobb County #Georgia. Over 5,000 homes report power issues—power plant is suspect for explosion(s).
I live in IN. My power just went out for 4 seconds.

— Alessa (@AlessaAndreadis) September 7, 2020
Q

 

!!mG7VJxZNCI

 

ID: 089200

 No.4280699

Q – Should we be prepping for some kind of shutdown?
>>4280617
No.
Reports of 'power grid' attacks (6 mo prep) should be disregarded.
While attacks do occur, we are safeguarded by a 'Black Eye'.
Q