"My Philosophy, If You Catch Someone Stealing,Go After Him Hard, Stealing Is The Worst" – Ep. 2517
The economy is now reversing, the Biden admin say they created 3 million jobs, its the same jobs, the people just went back to work after the pandemic. The unemployment increased to 5.9.  The WH is trying to convince everyone inflation is controlled, big fail. It's happening people in SF want to leave. The elite say the quite part out loud, they want a Chinese financial system. Fed makes their move, fed coin.  The [DS] has now been trapped in the biggest sting operation. They are now trying to distract the public, they just made the worst move, going after Trump's financial records, boomerang. Trump from the art of the deal, "My philosophy has always been that if you ever catch someone stealing , you have to go after him very hard, even if it costs you ten times more than he stole. Stealing is the worst. The pieces are in place, the facts are dripping out, the people are being prepared, what happens next will be easier to accept.
Watch The X22 Report On Video
---
Economy
A survey conducted by the San Francisco Chamber of Commerce also cited how residents abhor seeing many openly injecting and taking drugs on public — further reinforcing thoughts of San Franciscans to exit the city.
"New polling released by the San Francisco Chamber of Commerce shows that eight out of ten of San Franciscans consider crime to have worsened in recent years. The results were consistent across gender, age, ethnicity, party affiliation, and neighborhood, and homeownership status," the Chamber said.
Homelessness crisis cited in San Francisco

"For the second year in a row, 70% of residents feel that the quality of life in San Francisco has declined.  
Source: thegatewaypundit.com
The White House published a  video  celebrating American's apparent financial savings on their 4th of July cookouts compared to last year by a whopping 16 cents.
The post scrolls through prices of typical tailgate items — baked beans, ground beef, ice cream — and shows each, according to the Farm Bureau, down by a small percent last year with an average savings of 16 cents. That may be true for select products in the snapshot of time the White House is referencing, a single weekend this year compared to last year when supply chains were volatile in the throes of the pandemic, but Americans feel the pain elsewhere.
Despite the White House's best effort to cover its inflationary crisis with the celebration of 16 cents of savings, gas prices this weekend have soared to a seven-year high back to when Joe Biden was vice president. In that respect, Biden has brought the return to normal promised, where the more than 40 million Americans preparing to hit the road will pay an average of $3.09 a gallon.
This time last year, the national average gas prices were at $2.17 a gallon, according to AAA. On the same weekend the year preceding the pandemic, they were $2.75 a gallon.
Americans, who are facing higher prices on everything under the new administration dishing out "stimulus" checks, are also feeling inflationary pain elsewhere in the grocery store and beyond. Overall consumer prices rose 5 percent in May as inflation hits a 13-year high. Restaurants and supermarkets are charging higher prices, with grocery prices remaining higher than pre-pandemic levels, according to the Federal Reserve.
Prices for raw materials like lumber and materials needed to make cars have doubled since April last year, while the housing market has run so hot it's rendered homes unaffordable for lower- and middle-class Americans.
Source: thefederalist.com
Joe Biden's economic agenda is driving inflation to record highs, making your Fourth of July gathering more expensive. pic.twitter.com/kDHLrpQiXV

— America Rising (@AmericaRising) July 2, 2021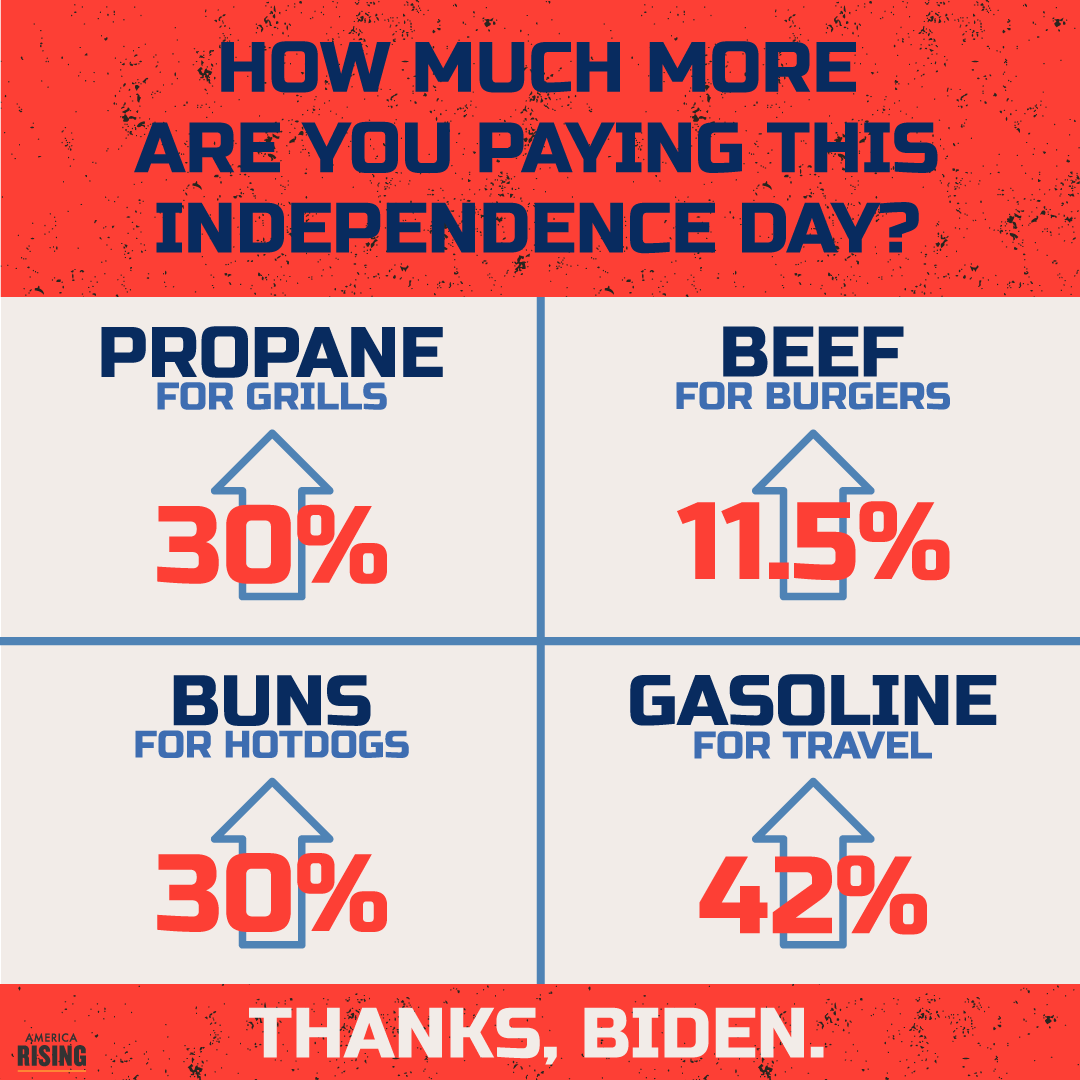 The quite part was said out loud again
HOLY SHIT!

This is real and it's terrifying.

This is who American oligarchs really are. pic.twitter.com/tlI9V5we3Q

— John Cardillo (@johncardillo) July 2, 2021
You've likely heard of Bitcoin, and maybe even Dogecoin—but what about "Fedcoin"? Read more about the world of central bank digital currencies https://t.co/iNOv8varRF pic.twitter.com/KHCAInAy77

— St. Louis Fed (@stlouisfed) July 1, 2021
---
Political/Rights
  Rep. Lauren Boebert (R-CO)  discussed her recent trip to the U.S.-Mexico border with former President Donald Trump.
Boebert took a shot at Vice President Kamala Harris for her recent trip, which the congresswoman pointed out was to the wrong part of the border, saying she only stopped "to refuel her jet on her way to California." She described what she saw at the border as "absolutely devastating" and a result of President Joe Biden and his administration's policies.
Source: breitbart.com
Arecent operation conducted by Homeland Security Investigations resulted in the rescue of 31 victims of human trafficking, including adults and children, and the arrests of 82 individuals. 
The youngest of those rescued in the operation was 4 years old.
The operation  took place June 17-26, 2021, in Wichita, Kansas; Independence, Missouri; and Kansas City, Missouri.
Source: justhenews.com
EXCLUSIVE: Judge rules to unseal dozens of documents about Ghislaine Maxwell's personal affairs, including those that reveal her and Jeffrey Epstein's relationship with the Clintons
Judge Loretta Preska ruled  that dozens of documents about Ghislaine Maxwell's personal affairs should be unsealed in the next two weeks 
The judge said that unsealing the documents would not impact Maxwell's right to a fair trial in November as her lawyers have claimed
Among the documents will be Maxwell's efforts to quash requests from Virginia Roberts Giuffre to obtain her financial records
Giuffre's lawyers demanded documents from Maxwell, including 'funding received from the Clinton Global Initiative and the Clinton Foundation'
Clinton flew on Epstein's plane dozens of times and photographs show the former president with the financier and Maxwell  
A judge has ruled that dozens more documents about Ghislaine Maxwell's personal affairs should be made public, including some that could reveal more about her finances and her relationship to the Clintons.
Source: dailymail.co.uk
Q

 

!!mG7VJxZNCI

 

ID: 077a26

 No.6972669

Re: BC/RC Epstein Plane Pic
Did the FBI/DOJ interview RC?
When did 'public awareness' grow across social media?
[CLAS 1-99]
What age is RC in picture?
Under the age of 18?
[15]
Who posted the picture?
RC?
Who posted 'internal security cam' pics (Temple)(IG)?
Untouchable mindset by all involved?
Blackmail?
Power?
Top-down protection?
Plane + Temple + XYZ pics = witness?
Witness+[CLAS 1-99]?
Why did RC start/form a modeling/talent agency?
Why was RC / Epstein & the [M]-Temple highlighted in the past?
Dark to LIGHT.
These people are sick.
Q
Q

 

!!mG7VJxZNCI

 

ID: c43132

 No.6975974

https://www.youtube.com/watch?v=LNue92Gta3s&feature=youtu.be
Welcome to Epstein Island.
Ask yourself, is this normal?
What does a 'Temple' typically symbolize?
What does an 'OWL' symbolize (dark religion)?
Tunnels underneath?
How many channels captured on RC's pic?
Rooms indicate size.
Hallways shown?
[CLAS 1-99]
Symbolism will be their downfall.
These people are EVIL.
Q
Q

 

!!mG7VJxZNCI

 

ID: c43132

 No.6976179

c1c5563527f5e86ee18b7aae126b2410949a515b7f57bf8a3adb356bdb155b15.png

>>6975974
16 Channels [4×4]
>>6976144
Note "2013" on the bottom.
Date.
Important.
Q
---
Geopolitical/Police State
The California Secretary of State's office pressured YouTube to remove Judicial Watch's videos on election integrity.
Conservative watchdog group Judicial Watch received 165 pages of new documents showing the California Secretary of State directly emailing YouTube to remove Tom Fitton's videos on election integrity.
The video titled "ELECTION INTEGRITY CRISIS — Dirty Voter Rolls, Ballot Harvesting & Mail-in-Voting Risks!" was removed three days after California government officials made the request.
Judicial Watch reported:
In an email exchange beginning on September 24, 2020, Social Media Coordinator Akilah Jones of the California Secretary of State's office contacts [email protected] and copies four Google employees with the subject line, "REPORT VIDEO: **ELECTION INTEGRITY CRISIS** Dirty Voter Rolls, Ballot Harvesting & Mail-in-Voting Risks!"

Jones' email falsely characterizes Judicial Watch video in her email:

Hi YouTube Reporting Team,

I am reporting the following video because it misleads community members about elections or other civic processes and misrepresents the safety and security of mail-in ballots.

Thank you for your time and attention on this matter.


All the best, Akilah.

The next day, on September 25, 2020, Andrea Holtermann, a Google employee, replies to Jones:

Hi Akilah,

Thanks for reaching out.  We will look into this and get back to you as soon as we can.

Best,

On September 27, 2020, Google/YouTube confirms it censored the video:

          Hi Akilah,

Circling back on this. Thank you for raising this content to our attention, this has been removed from the platform for violating our policies. Please do not hesitate to reach out if there are any other questions or concerns you may have.

Best,
Source: thegatewaypundit.com
---
War
Biden says NO plan for imminent withdrawal of remaining troops in Afghanistan, despite earlier reports
Following multiple reports indicating that a full withdrawal of US troops from Afghanistan was imminent, President Joe Biden said there is no immediate scheme for the remaining troops to leave, but insisted plans are "on track."
Major news outlets had reported earlier on Friday that troops leaving the Bagram Air Base, one of the largest military sites in Afghanistan, would be followed by a full withdrawal within days.
However, Biden dismissed those reports while speaking to reporters at the White House. Asked if a full withdrawal was taking place in the next few days, the president said "no." 
 
Source: rt.com
---
False Flags
POLL: American Voters' Concerns Over Crime Rises to Four Year High, Will Be Major Issue in Midterms
A new survey released by the Washington Post and ABC News shows American voters' worries over rising crime rates reaching a four-year high in June, with many ranking the issue a "very serious problem" in the USA.
59% of those asked say crime is either an "extremely" or "very serious" problem, up from 10% last year.
Source: hannity.com
I wonder if this is why Jen Psaki is pushing the fake propaganda about how the Ds have nothing to do with defunding the police, is she trying to convince the public because of what the polls are showing
A judge ordered the city of Minneapolis to hire more police officers after finding the city's reduction of its police force violated its charter.
The order, issued by Hennepin County District Court Judge Jamie L. Anderson, commands the Minneapolis City Council and Mayor Jacob Frey to "fund a police force of at least 0.0017 employees per resident," or around 730 officers.
The order was issued in response to a lawsuit filed in August 2020 by the Upper Midwest Law Center on behalf of eight Minneapolis residents, arguing that city officials had failed to fulfill their duties by shrinking the police force. Petitioners successfully demonstrated a causal relationship between fewer police officers and the increase in Minneapolis's crime rate, according to the order.
Source: dailycaller.com
---
Q
Sen. Doug Mastriano, a rising force in Pennsylvania's ultra-conservative circles who has talked of his desire to bring an Arizona-style audit to Pennsylvania, led a private briefing Wednesday for Republican senators on his plan.
Source: apnews.com
Dr. Kandiss Taylor released a report yesterday identifying over 168,000 ballots in Cobb County, Georgia, missing required chain of custody documentation. 
this new report out of Cobb County finds that the Elections Director had data drives with election data taken to a separate location, and printed tabulation tapes from a different machine.
This reportedly violated the standard procedure and chain of custody.
In a press release from Dr. Kandiss Taylor yesterday, Taylor, a candidate for governor, claims that there is sufficient evidence of process violations and malfeasance that would be adequate to place in doubt the results of the presidential election.  Taylor writes:
 Most precincts attach a printed hardcopy of these tapes, at the end of the day, to the door of precincts to show voters, in an act of transparency, how many votes were cast in each precinct.  This is proper procedure for all voting precincts.  The Protective Counter is comparable to an odometer by keeping track of how many ballots were scanned since the machine went into action. It cannot be reset nor rolled back for auditing purposes
.  In doing this, the vote was flawed and did not protect the chain of custody of the ballots. The cards, which contained the ballot information and your vote totals, were haphazardly and, without chain of custody, mishandled with no proof of security or time-stamp.Cobb County had 174,979 Early Advance votes.  Only 6,057 early advanced votes were processed correctly.  The result of this action is that 168,922 early advanced votes have no chain of custody, violated the vote security of the citizens of Cobb County, and therefore put into question the validity of the Cobb County votes."
168,922 early advanced votes have no chain of custody in Cobb County alone. 
Source: thegatewaypundit.com
Hobbs has been frantically losing it over this audit since the very beginning because she knows what is coming.
Recently she convinced the County to scrap the corrupted machines that were used in 2020 but now she's pushing lies about the ballot total because she knows it will not add up.
Hobbs certified the 2020 election for Arizona.  She had a responsibility to report accurate and fraud-free results.  She must be scared to see what the real results are in Maricopa County.
Source: thegatewaypundit.com
The pill must be easy to swallow, the people are no longer believing the fake news/big tech/DS
"How likely is it that cheating affected the outcome of the 2020 presidential election?"

Very or Somewhat Likely-
White – 51%
Black – 49%
Oth Non-White – 56%
Dem – 30% 🧐
Unaffil – 51%
GOP – 74%
All Voters – 51%

— Rasmussen Reports (@Rasmussen_Poll) July 2, 2021
Judicial Watch Statement on 'Petty' NY Indictments of President Trump's Company and Employee
 Judicial Watch President Tom Fitton made the following statement regarding the charges brought in New York against former President Donald Trump's company and its chief financial officer, Allen Weisselberg:

The petty charges against President Trump's company and employee arise from political animus against Trump by Democratic New York politicians. Hillary Clinton, Barack Obama, Joe Biden, James Comey, Robert Mueller – and now Cy Vance and Letitia James – all abused power to target, harass and violate the civil rights of President Trump. These new charges are another affront to the rule of law and an obvious attempt to hamper any potential challenge by Trump to Joe Biden. 
Source: judicialwatch.comvv
NY AG Liaison tells WH that Trump is "Clean" and said charging him with anything would be like building a "paper bridge over a volcano" nearly impossible, and if done it would "crumble in a matter of no time," per WH official

— Jack Posobiec (@JackPosobiec) July 1, 2021
So they looked into Trump tax returns, his family returns, his companies returns and found nothing, this remind of post 3383
3383
Q
!!mG7VJxZNCI
07/08/2019 23:36:13
 ID: 3a3d46
Archive Bread/Post Links: 6961828 / 6961951
Direct Link: 6961951
Image Name:
DpARa2LU8AEQt_g.jpg
Filename:
1e9805e60274e4725c0c878d3e0fa6e798f80edd9e291c06bc34fb1fb4821f57.jpg
The case against Allen Weisselburg is another example that the NY justice system is an instrument of Democrat persecution of its enemies.

It ignores record increases in homicide and shootings, and prioritizes a 15 year old tax case that doesn't even involve an IRS federal charge

— Rudy W. Giuliani (@RudyGiuliani) July 2, 2021
No one in the corrupt media will point out how indicative it is that this case is bull…. that there's no federal charge.

If this were anything but prosecutorial extortion, the IRS would have referred this for criminal prosecution 15 years ago, or joined this case now.

— Rudy W. Giuliani (@RudyGiuliani) July 2, 2021
Facebook users started receiving notifications   in a new campaign to "provide resources and support to people on Facebook who may have engaged with or were exposed to extremist content or may know someone who is at risk."
The Big Tech giant is sending out two notifications to certain users. One asks, "Are you concerned that someone you know is becoming an extremist?"
The other notification reads, "You may have been exposed to harmful extremist content recently." The message continues, "Violent groups try to manipulate your anger and disappointment. You can take action now to protect yourself and others."
The new initiative is being carried out via a partnership between Facebook and "Life After Hate," an organization Facebook says, "provides support to anyone who wants to leave hate behind and solve problems in nonviolent ways."
This, however, is not what "Life After Hate" says on their website, which reads: "'Life After Hate' is committed to helping people leave the violent far-right to connect with humanity and lead compassionate lives." The group asserts that "Today, far-right extremism and white supremacy are the greatest domestic terror threats facing the United States."
"Life After Hate," which "partners with [tech companies] to identify and defuse potentially violent extremists online" received a $400,000 federal grant from the Obama administration, but had it rescinded under the Trump administration. Additionally, according to "Life After Hate's" website, race hustler and former football quarterback Colin Kaepernick donated $50,000 to the organization in 2017.
Another big question is if Facebook is trying to curb "extremism," why are they partnering with a group that solely focuses on "far-right violence."  are also surveilling and combating left-wing extremism. 
Source: thefederalist.com
Facebook is now asking Americans to let them know if anyone they know is an 'extremist' – Why are they mirroring the tactics of Nazi Germany?
 
 Source: thegatewaypundit.com
The California Public Utilities Commission (CPUC) and the California Energy Commission (CEC) called on the state's electric grid operator in a statement Thursday to provide additional energy resources through the summer amid soaring electricity demand.
"We are now in a circumstance, when the state of California, the fifth-largest economy on the planet, now goes begging — hat in hand — to the world, to ship us all the electricity they can because we are running out of it," he said.
Source: dailycaller.com
Its in the 80 in LA, 70s in San diego