New Evidence Gathered In Rome, Get Ready For The Knock Out Punch – Episode 2034
Podcast: Download (Duration: 44:38 — 45.2MB)
Trump boxes in Pelosi on the USMCA. The USMCA is need for the overall plan for the US and to bringdown the [CB]. The US has become energy independent, this is needed once the US breaks free fo the petro dollar. This is not a trade war, it is a war on the [CB]. The [DS] is pushing the fake impeachment forward, they have no place to go but forward, they will try to use other tactics to save themselves but it will fail. Hunter baby case wants his financial information exposed, Hunter trying to hide it. FISA, Declass and criminal investigations coming. Barr and Durham found additional evidence out in Rome. The MSM/DS is now spinning what is coming, they are using words like debunked and unfounded without showing evidence. The corruption, the swamp is about to be exposed.
Check Out The X22 Report Spotlight YouTube Channel X22Report Spotlight
Please check Newzsentinel.com for the latest news on the economic collapse. The Sentinel Alerts are updated throughout the day. If you haven't already, go to "The People" and join the community of people who are helping each through the economic collapse.
---
Current News – 12.01.2019
Watch The X22 Report On Video
---
Economy
President Trump Challenges Nancy Pelosi NOT To Pass USMCA….
Trump has now trapped Pelosi into signing the USMCA,  Robert Lighthizer and Mexican Trade Minister  have  agreed to set up a trilateral trade and labor dispute panel,   Trump has now cornered Pelosi 
A year ago today, @RealDonaldTrump signed the #USMCA trade agreement with Canadian and Mexican leaders.

USMCA:
✅ More + Better American Jobs
✅ +$68.2 B Economic Boost
✅ Higher wages

This is a major win for American workers. Tell House Democrats to get it done! 🇺🇸 https://t.co/OZZJB18nD2 pic.twitter.com/ZKBYb7D7LK

— Ivanka Trump (@IvankaTrump) November 30, 2019
Nancy Pelosi won't put it up for a vote. Has delayed it for 6 months. See you in #2020! https://t.co/lOrWm9u10r

— Donald J. Trump (@realDonaldTrump) November 30, 2019
Having lost her labor defense shield (well played by Lighthizer/Seade), Pelosi is now either going to stand her party against the majority of Americans as President Trump pummels them over it… Or she puts the USMCA up for ratification (Trump wins) and it looks like she takes a knee….  Boom
---
Political/Rights
The fired journo, Jessica Kwong, wrote in an article entitled "How is Trump Spending Thanksgiving? Tweeting, Golfing and More," that the president "has been spending his Thanksgiving holidays at his Mar-a-Lago resort in Palm Beach, Florida."
The golfing claim comes later in the article, as Kwong notes that Trump played golf on Thanksgiving Eve "from mid-morning to mid-afternoon." The headline, of course, suggests Trump golfed on Thanksgiving.
After Trump popped up in Afghanistan, Kwong and Newsweek took heat over Twitter for refusing to edit the article or delete the viral tweet promoting the lie.
 Kwong caved by deleting her tweet, and Newsweek edited the article – at first with no mention of the edit, and then an editors note only after virtually the entire piece had been rewritten.
Source: zerohedge.com
Hunter Biden Wants Financial Records Kept Secret in Child Support Suit: Report
Former Vice President Joe Biden's son Hunter Biden reportedly wants all of his financial records kept secret.
Hunter Biden  requested a Protective Order for his financial records in the Arkansas Circuit Court of Independence,  arguing that his financial information would be used "maliciously" by media outlets if it was made public.
Disclosures of financial info would cause Biden "undue prejudice, annoyance, embarrassment, and/or oppression."
Biden said in a statement in the filing that he hasn't been able to complete an affidavit of his financial situation—which was required by the court—because he hasn't had a job since May and because he's incurred "significant debts" partially stemming from his April 2017 divorce to Kathleen Biden. Those debts are still being calculated.
If the order is granted, any documents dealing with the finances of Biden or the mother of his child, Lunden Alexis Roberts, would be destroyed after being filed under seal and any digital copies would need to be placed under encryption.
 "
Source: thegatewaypundit.com
Judiciary Republican calls for panel to expand list of impeachment witnesses
Democrats are Cornered – Their Only Way Out of the Schiff Sham is to Censure or Something Similar – If Move Forward on Impeachment They are Toast
  the only way the Dems can save face  without totally destroying their party and their chances for 2020, is to do some sort of censure on the President.
Here are four reasons the Democrats' Schiff Sham impeachment may be the end of the Democrat Party –
1. The first reason is simple. The Democrats have no case. President Trump did nothing wrong. Their efforts to tie him to a crime didn't work. President Trump is innocent and they know it. 
2. The Democrats have no idea what will be uncovered or what will be presented in a Senate hearing and they have no control over the Republicans who are in charge of the Senate.  The Senate Hearings are a huge wild card.
 Trump   wants a hearing. He said he is innocent. They have no case and he would like the Senate to bring in Adam Schiff himself among others. The President would like to see the whistleblower testify.
3. The IG's FISA report is coming out in a week
This is  the beginning of the parade of material on the greatest political scandal in US history. Former Reagan Attorney General Ed Meese believes that the FISA scandal is Obama's Watergate – 
4. US Attorney Durham has a criminal investigation ongoing now  
John Durham is acting on behalf of AG Barr who wants to get to the bottom of the Russia collusion scandal. Why was candidate and President Trump spied on? Was it legit? If not, were crimes committed? If so, by whom?
Source: thegatewaypundit.com
Adam Schiff Gives Democrats Only 24 Hours to Sign Impeachment Report
House Intelligence Committee chairman Rep. Adam Schiff (D-CA) is giving members of his committee just 24 hours to read and sign off on his report recommending articles of impeachment against President Donald Trump.
  House Judiciary Committee chairman Rep. Jerry Nadler has previewed the report, and suggested it will include claims of "collusion" with Russia — as well as Ukraine, Russia's enemy.
  Schiff will provide the full report to committee members on Monday, who must sign off on Tuesday in time for the first hearing in Nadler's committee on Wednesday,
Source: breitbart.com
Rep. Ratcliffe Reveals Why Schiff is Withholding Transcripts of ICIG Michael Atkinson's Closed-Door Testimony
Now, Adam Schiff (D-CA) still won't release transcript of Intel Community Inspector General Michael Atkinson's October 4 closed-door testimony even though he has released 15 other witness transcripts.
Atkinson testified for over 8 hours, so why won't Schiff released the transcripts?
Congressman John Ratcliffe (R-TX) a member of the House Intelligence committee, revealed why Schiff is hiding the transcripts.
Investigative reporter Paul Sperry this week asked,
DEVELOPING: Why is Schiff still withholding transcript of ICIG Michael Atkinson's Oct 4 closed-door testimony which lasted 8+ hours? He's released 15 witness transcripts but is still hiding Atkinson's. Also, what's Atkinson's connection to Obama officials including David Laufman?

— Paul Sperry (@paulsperry_) November 30, 2019
Congressman Ratcliffe responded to Paul Sperry, 
I know why @paulsperry_ It's because I asked IG Atkinson about his "investigation" into the contacts between Schiff's staff and the person who later became the whistleblower. The transcript is classified "secret" so Schiff can prevent you from seeing the answers to my questions

— John Ratcliffe (@RepRatcliffe) November 30, 2019
The IG Report Will Release December 9th, But What About The "Declassification List"?…
There has been a great deal of discussion about the pending release of the DOJ Inspector General report on potential FISA abuses on December 9th, but lets now forget about the  declassification material since AG Bill Barr was granted authority on May 23rd, 2019.
 many people have forgotten about the material congress asked President Trump to declassify a year-and-a-half ago. 
  Trump authorized AG Bill Barr to declassify the material six months ago on May 23rd.
This was the original list from congress in the summer of 2018:
All versions of the Carter Page FISA applications (DOJ) (FBI) (ODNI).
All of the Bruce Ohr 302's filled out by the FBI. (FBI) (ODNI) [Without redactions]
All of Bruce Ohr's emails (FBI) (DOJ) (CIA) (ODNI). All supportive documents and material provided by Bruce Ohr to the FBI. (FBI) [Without redactions]
All relevant documents pertaining to the supportive material within the FISA application. (FBI) (DOJ-NSD ) (DoS) (CIA) (DNI) (NSA) (ODNI);
All intelligence documents that were presented to the Gang of Eight in 2016 that pertain to the FISA application used against U.S. person Carter Page; including all intelligence documents that may not have been presented to the FISA Court. (CIA) (FBI) (DOJ) (ODNI) (DoS) (NSA)  Presumably this would include the recently revealed State Dept Kavalac email; and the FBI transcripts from wiretaps of George Papadopoulos (also listed in Carter Page FISA). [AKA 'Bucket Five']
All unredacted text messages and email content between Lisa Page and Peter Strzok on all devices. (FBI) (DOJ) (DOJ-NSD) (ODNI)
The originating CIA "EC" or two-page electronic communication from former CIA Director John Brennan to FBI Director James Comey that started Operation Crossfire Hurricane in July 2016. (CIA) (FBI) (ODNI) 
Source: theconservativetreehouse.com
Corrupt DOJ and Mueller Attorney Van Grack Committed Many False and Fraudulent Activities in Efforts to Indict General Flynn
  DOJ Attorney Brandon Van Grack was involved in numerous corrupt and fraudulent activities in efforts to indict General Michael Flynn.
 
Van Grack was one of the lawyers on Mueller's team that handled the Flynn investigation, set-up and guilty plea.
He is overseeing Flynn's case in court.
 
The corrupt history of Flynn prosecutor Brandon Van Grack – from the Special Counsel's Office to the prosecution of Flynn.

[THREAD]

— Techno Fog (@Techno_Fog) November 30, 2019
As a member of Team Mueller, Van Grack was involved in improperly obtaining Trump Transition Team emails/comms from GSA – including privileged materials.

He hid the extent of the intrusion from Trump Transition Team lawyers. pic.twitter.com/KIvXrQdm2M

— Techno Fog (@Techno_Fog) November 30, 2019
Source: thegatewaypundit.com
An individual has claimed that he set up encrypted servers for JE and that  he had a vast archive of incriminating evidence against powerful men stored on overseas servers, including several years worth of the financier's communications and financial records which allegedly showed he had vast amounts of Bitcoin and cash in the Middle East and Bangkok, and hundreds of millions of dollars' worth of gold, silver and diamonds.
Going by the pseudonym Patrick Kessler, self-described 'hacker' said he had "thousands of hours of footage from hidden cameras" from Epstein's multiple properties, which included former Israeli Prime Minister Ehud Barak, lawyer Alan Dershowitz, and Prince Andrew,
Source: zerohedge.com
Leonardo DiCaprio Denies Brazilian President Bolsonaro's Claim He Financed Amazon Fires
Last week, Bolsonaro accused the World Wildlife Fund (to which DiCaprio is a major donor) of paying volunteer firefighters for photos that the organization would use to help solicit donations.
"[WWF] makes a campaign against Brazil, it contacts Leonardo DiCaprio, he donates $500,000," he said in a Facebook live broadcast. "A part of that went to the people that were setting fires. Leonardo DiCaprio, you are contributing to the fire in the Amazon; that won't do."
The Brazilian leader later doubled down on his claim, mockingly telling reporters: "Now Leonardo DiCaprio is a cool guy, right? Giving money to burn the Amazon."
The claim drew a response from DiCaprio, who wrote on Instagram that he "did not fund the organizations targeted," but did not mention Bolsonaro directly.
The WWF also denied accusations that they had paid firefighters for photos. "WWF Brazil rejects the attacks on its partners and the lies involving its name, including a series of lie-based social media attacks such as the purchase of photographs linked to a donation from the actor Leonardo DiCaprio," the organization's Brazilian office said in a statement.
Source: breitbart.com
 So Anons did some digging, when looking at Brazilian American Diplomacy – Extradition Convention and Protocol
Anons believe that Bolsonaro is looking to have DiCaprio extradicted to Brazil to face charges for Arson
Law source: https://avalon.law.yale.edu/19th_century/brazil04.asp
---
False Flags
An FBI search warrant described the property in Macon County, Alabama, as a "makeshift military-style obstacle course,"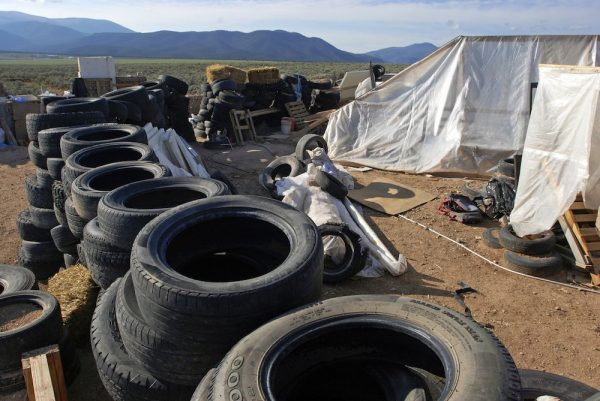 Source: theepochtimes.com
The MSM/[DS] players are going to be using the words
Debunked and unfounded, with out offering evidence. They will continue to use these words, why, because they are trying to steer the people away from certain stories, so by hearing the these words they are hoping will not look into them any further, but these are the stories that have facts, evidence backing them up.
The swamp loves investigating corruption, except for their own.@realDonaldTrump has absolutely nothing to hide. But do Democrats?

— Rudy Giuliani (@RudyGiuliani) November 29, 2019