[No Name] Involvement Confirmed, Durham And The American Revolution – Episode 2055
Podcast: Download (Duration: 41:07 — 41.4MB)
The Trump economy is hitting all time new records, the NASDAQ hit 9000 for the first time, Holiday sales are up, why, Trump and the patriots put more money back into the pockets of the people, boosted confidence with the market which enabled people to spend money. Trump is continuing the pressure on China and big money is being moved out of the country. FOIA were released and they reveal that the amount of gold in Fort Knox might not be what we think it is. The [DS] is trapped, they are trying to figure their way out of this fake impeachment, each direction they go is a dead end. The plan has failed, the patriots are getting ready to strike. [No Name] confirmed to be involved in the Steele Dossier. Durham has a double meaning, think taking the country back.
Check Out The X22 Report Spotlight YouTube Channel X22Report Spotlight
Please check Newzsentinel.com for the latest news on the economic collapse. The Sentinel Alerts are updated throughout the day.
---
Current News – 12.26.2019
Watch The X22 Report On Video
---
Economy
Total Holiday Sales +3.4% Year-Over-Year, Biggest Holiday Sales in U.S. Retail History…
  middle-class Americans spent more this holiday shopping season than any year before it.  Despite losing a week due to the late Thanksgiving holiday, total Christmas sales growth was +3.4 percent year-over-year.
2019 HOLIDAY RETAIL SALES WERE UP 3.4% FROM LAST YEAR, THE BIGGEST NUMBER IN U.S. HISTORY. CONGRATULATIONS AMERICA!

— Donald J. Trump (@realDonaldTrump) December 25, 2019
Total Holiday Sales an outcome  higher wages and more disposable income…  
Keep in mind U.S. GDP growth is driven by consumer spending.  A whopping 3.4% gain year-over-year is tens of billions more in economic activity. 
Source: theconservativetreehouse.com
China is fighting "abnormal" cash flows.
 
Money was leaving the country at a record clip earlier this year through unauthorized channels, according to analysts. That's bad news for China, which needs to keep financial reserves high to maintain confidence in its markets.
Why the Flight?
Investors fear another devaluation. And that's a reasonable fear. State Owned Enterprises (SOEs) are imploding with unpayable debt.
 
"The problem with capital outflows lies in the so-called impossible trinity: a country with open capital markets can choose to have a fixed exchange rate or independent monetary policy, but not both."
"As debt continues to rise, these inconsistencies become more extreme, so what can Beijing do? It turns out that the only way to maintain the exchange rate while increasing control of domestic monetary policy is to increase capital controls."
China has artificial GDP goals to meet. The more it tries to meet those goals, the more bad debt it will create.
And the more bad debt China creates, the more capital flight pressure rises.
 
Source: zerohedge.com
 I have obtained  documents from the US Treasury through FOIA requests, which expose another falsehood that puts the auditor in an even more peculiar position. In conflict with the audit protocol, the permanent seals of the vault compartments have been broken, time and again. In addition, the auditor has lied about these events, and when confronted, it's unable to explain its actions.
Introduction
The US official gold reserves are the largest globally at 8,134 metric tonnes (owned by the US Treasury). Although this gold does not back the US dollar at a fixed parity as it did before 1971, it does provide essential support as a final backstop to the dollar and thus credibility to the present world reserve currency.
The majority of the gold is located at the US Mint depository at Fort Knox. Smaller amounts are stored at US Mint depositories in Denver and West Point. Aggregated this metal is referred to as Deep Storage gold and is captured within 42 sealed vault compartments. The remainder is at the Federal Reserve Bank of New York.
When the audits commenced in 1974, the protocol designed was simple (page 534). The following excerpt is from the first auditing committee:
In performing the audit, the gold bars are physically moved from one vault compartment to another. During this operations [sic], the melt numbers and the number of bars in each melt are verified with an inventory listing, and one in fifty melts is randomly selected for weighing and test assay.
The current auditor of the US monetary gold is the Department of the Treasury's Office of Inspector General (OIG). Representing the OIG, Eric M. Thorson attended the congressional hearing for the Gold Transparency Act (not enacted) that was initiated by Ron Paul in 2011. Mr. Thorson's testimony at the hearing serves as the official statement by the government on the audits. Having weighed his words carefully, Thorson spoke under oath:
… 100 percent of the U.S. Government's gold reserves in the custody of the Mint has been inventoried and audited. … I can say that without any hesitation, because I have observed the gold and the security of the gold reserves myself.

… the Committee for Continuing Audit of the U.S. Government-owned Gold [The Committee that started the audits] performed annual audits of Treasury's gold reserves from 1974[*] to 1986. … by 1986, 97 percent of the Government-owned gold held by the Mint had been audited and placed under joint seal. So once you have done that, and that seal remains unbroken, then I am not sure what other benefit there would be to going back into it at that point. …

Since 1993, when we [OIG] assumed responsibility for the audit, my office has continued to directly observe the inventory and test the gold. In fact, my auditors signed the official joint seals … placed on those compartments, inventoried and tested in their presence. At the end of Fiscal Year of 2008, all 42 compartments had been audited by … the Committee for Continuing Audit of the U.S. Government-owned Gold, or my office, and placed under official joint seals.
Thus, in summary:
From 1974 until 1986, 97 percent of the gold at the Mint had been verified by the Committee for Continuing Audit.
In 1993 the OIG became responsible for the audits, and by 2008 all compartments had been verified and sealed.
The conclusions we derive from Thorson's testimony:
From 1987 until 1992, there were no audits.
From 1993 until 2008, the remaining 3 percent of the gold was verified.
Thorson doesn't mention anything about vault compartments having been re-opened.
The Problem
First of all, the OIG did not assume responsibility for the audits since 1993, but since 1982 as disclosed in one of the few documents that survived the 1980s (page 2).
Effective October 1, 1982, the Internal Audit Staffs of BGFO and the United States Mint [Committee for Continuing Audit] were reorganized under the Department of the Treasury, Office of the Inspector General [OIG].
For some reason, starting in 1983, "re-audits" were performed over 1,929 tonnes "in accordance with the plan approved by the Treasurer." However, in 1983, both depositories had already been fully audited, while West Point had not. Why were these compartments re-opened when the protocol stated that, "these actions" (physical verification) "having once been performed … will not have to be repeated as long as the assets verified remain under an unimpaired joint seal"? The OIG can't explain this to, and neither can it explain  what "the plan approved by the Treasurer" was.
Conclusion
Altogether, the vast majority of Deep Storage vault compartments have been re-opened for dubious reasons.
Under oath, the auditor, Thorson, carefully avoided the subject of "re-opening" compartments.
In another written statement, the same auditor lied about the subject of "re-opening" compartments.
Source: zerohedge.com
---
Political/Rights
The [DS] knows they do not have a candidate to beat Trump in 2020, they have tried to find something that they can use against Trump, it has all failed, now they are left with this fake impeachment, which they know will not go anywhere in the Senate, this is why they are trying to find something,but this will fail, it seems that some candidates are preparing to enter the race if Trump and be hurt enough, they keep sending message, we also know that Barr and Durham are closing in on the [DS] and something very interesting happened on this day, we will be talking about this a little later in this report, but first Keven Spacey' accusers mysteriously are continually dying, 
Why do Kevin Spacey's accusers keep dying?
A third alleged victim of actor Kevin Spacey has died.
Danish author Ari Behn committed suicide 
Ari Behn, a former member of Norway's royal family who was one of Kevin Spacey's sexual assault accusers, died by suicide 
 
Behn, who would have been about 30 when the molestation occurred, is just the latest alleged victim to die.
 
In May, a woman who accused Spacey of sexual harassment — apparently of one of her patients — died after being hit by a car.
 
Source: thenewamerican.com
Harvey Weinstein Loses Bid to Toss Sex Trafficking Claim
A federal judge on Thursday denied Harvey Weinstein's motion to dismiss a sex trafficking claim filed by a woman who alleges she was raped by the producer.
several Weinstein accusers have accused Weinstein of violating the federal sex trafficking statute, by effectively offering to exchange movie roles for sex. Weinstein's attorneys have sought to throw those charges out, claiming that scenario is not what Congress had in mind when it wrote the statute.
Source: variety
Now we know that the [DS] is struggling to regain the narrative, regain control, some are already projecting, take for instances HRC, he tweeted out a pic of her and Bill Clinton in the Whitehouse,
A merry Christmas to all, and to all a good night! pic.twitter.com/FOcMKZM87x

— Hillary Clinton (@HillaryClinton) December 24, 2019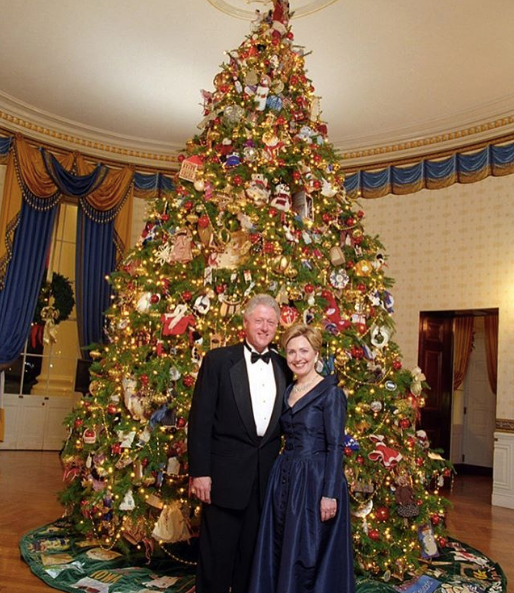 why would she use this pic, if you look closer you can see the IOWA
The 2020 Iowa Caucuses will be held on February 3rd, 2020. We are proud to be First in the Nation once again and we are excited to be a part of the presidential selection process. . The Iowa caucuses are a closed caucus, with the state awarding 49 delegates, of which 41 are pledged delegates allocated on the basis of the results of the caucuses
Now we know that the [DS] is trying to do the following
get the grand jury information
get don mcgahn testiomony
get trumps tax returns
This will not happen, they voted for the two articles of impeachment, by pressuring individuals, now they are trying to find the crime or blackmail individuals in the senate.
Everything we're seeing from Speaker Pelosi and Senator Schumer suggests that they're in real doubt about the evidence they've brought forth so far not being good enough, and are very, very urgently seeking a way to find some more evidence. The only way to make this work is to..

— Donald J. Trump (@realDonaldTrump) December 24, 2019
….mount some kind of public pressure to demand witnesses, but McConnell has the votes and he can run this trial anyway he wants to. @brithume @foxandfriends

— Donald J. Trump (@realDonaldTrump) December 24, 2019
"Look, the House is supposed to do all of this work on witnesses and documents BEFORE they send the articles over to the Senate, not to call in new witnesses, go through new documents – that work is supposed to be done in the House." @KatiePavlich @foxandfriends

— Donald J. Trump (@realDonaldTrump) December 26, 2019
Why should Crazy Nancy Pelosi, just because she has a slight majority in the House, be allowed to Impeach the President of the United States? Got ZERO Republican votes, there was no crime, the call with Ukraine was perfect, with "no pressure." She said it must be "bipartisan…

— Donald J. Trump (@realDonaldTrump) December 26, 2019
…& overwhelming," but this Scam Impeachment was neither. Also, very unfair with no Due Process, proper representation, or witnesses. Now Pelosi is demanding everything the Republicans weren't allowed to have in the House. Dems want to run majority Republican Senate. Hypocrites!

— Donald J. Trump (@realDonaldTrump) December 26, 2019
The [DS] plan has failed from the beginning, The patriots are always one step ahead, lets go back to post 
HRC CAMP PAY>
DNC PAY>
CLAS: 1-4 PAY>
STEELE>
PODESTA>
HOLDER RELAY SPEC RUSSIA>
CLAS: 1-9>
US SEN NO NAME>
US SEN CLAS-1>
US SEN CLAS-2>
 
Q
DUBNPg9WAAAjvTj.jpg
 All of this has been verified by the The IG report,  McCain aid obtained the Steele reports directly from Fusion GPS co-founder Glenn Simpson, meaning that when McCain transferred the anti-Trump charges to Comey he had to have known that the material originated with a firm that specializes in controversial opposition tactics.
From the report , on December 9, 2016, Senator John McCain provided Corney with a collection of 16 Steele election reports, 5 of which Steele had not given the FBI. McCain had obtained these reports from a staff member at the McCain Institute. The McCain Institute staff member had met with Steele and later acquired the reports from Simpson.
The unnamed McCain staff member is known to be David J. Kramer, who also infamously provided BuzzFeed with the Steele dossier.
BuzzFeed published Steele's full dossier on January 10, 2017 setting off a firestorm of news media coverage about the document.
Source: breitbart.com
Judicial Watch Sues CIA and DOJ Communications of Eric Ciaramella
Judicial Watch announced  that it filed Freedom of Information Act (FOIA) lawsuits against both the DOJ and CIA for communications of CIA employee Eric Ciaramella, who reportedly worked on Ukraine issues while on detail to both the Obama and Trump White Houses.
The lawsuit against the DOJ was filed after it failed to respond to November 2019 FOIA requests seeking communications between Ciaramella and former FBI agent Peter Strzok, former FBI Attorney Lisa Page, former FBI Deputy Director Andrew McCabe, and/or the Special Counsel's Office (Judicial Watch v. U.S. Department of Justice (No. 1:19-cv-03809)).
Ciaramella's name appears in Special Counsel Robert Mueller's report on the 2016 presidential election, in reference to two emails Ciaramella sent to then-Chief of Staff John Kelly and other officials, describing a meeting between President Trump, Russian foreign Minister Sergey Lavrov and Foreign Minister Sergey Kislyak:
Source: judicialwatch.com
After being a reliable ally to President Trump's judicial nominees in 2017 and 2018, Susan Collins is suddenly opposing some of Trump's court picks
Collins' steadfast approval for the president's court picks weakened in 2019  
Source: newsthud.com
---
Geopolitical/Police State
An impatient demand for the world to work harder to counter "climate change" will top the agenda at the World Economic Forum (WEF) annual meeting next month in Davos, Switzerland.
Organizers expect some 3,000 corporate and government representatives to fly in from around the world to broach climate issues at the luxury ski resort, with a squadron of some 1700 private jets providing transport for the bulk of the attendees.
Source: breitbart.com
---
War
  it looks like Kim Jong Un's promised "Christmas gift" —   never arrived. or maybe this was the gift, no missile test , a softening of tensions and willingness to back down in the hope that nuclear talks would warm in this holiday season headed into 2020.
Source: zerohedge.com
'I don't want any officers' — Trump held private meetings with enlisted troops to candidly discuss the war in Afghanistan
The meetings were intended for candid discussions about the war in Afghanistan, which was nearing its sixteenth-year at the time, with US troops who served on the front lines.
One of the first groups of Afghanistan veterans to speak with Trump were U.S. Navy SEALs who spoke critically of the war."It's unwinnable. NATO's a joke. Nobody knows what they're doing," the SEALs told Trump
Source: taskandpurpose.com
---
Q
One hour before sunrise on December 26th, 1776, George Washington crossed the Delaware River, using DURHAM boats, in a surprise attack against the Hessian forces, in a major turning point of the Revolutionary War.

DURHAM BOATS!!!#QANON pic.twitter.com/viDEFpbzun

— ENoCH (@elenochle) December 26, 2019
2019, Trump leads a surprise attack on Hussein's forces lead by a Durham probe…

— ENoCH (@elenochle) December 26, 2019