Once The [News Unlocks] Can The Puzzle [Full Picture] Be Put Together, Panic In DC – Ep. 2334
The [CB]/[DS] continue to push their agenda of the Great Reset. The MSM is pretending it is not happening. The leaders, the [CB]s are now projecting on how the economy is going to collapse because of the virus. Trump the patriots began to counter the reset. This is phase 1, the patriots are in control. The [DS]/MSM are now losing the narrative, the news is getting out that there was voter fraud, censorship will be pushed harder now. Dark Winter is being used to control the people, keep people from talking about the elections, keep them controlled, the virus is virtually non existent, its only the cases and the fake MSM that is now keeping it alive. When the news unlocks the people will be able to see the picture very clearly. The MSM/[DS] will try to stop this.
Watch The X22 Report On Video
---
Economy
To get the virus under control, we need to pay people to stay home.

— Alexandria Ocasio-Cortez (@AOC) November 19, 2020
Fed's Kaplan says double-dip recession is a possibility
Dallas Fed President Rob Kaplan said Thursday the economy was slowing and a double-dip recession is possible given the renewed strength of the coronavirus and people slowing down their activity.
"We will have to see what the fourth quarter looks like. It is possible we could have negative growth if this resurgence [of COVID-19] gets bad enough and mobility falls off enough," Kaplan said, in an interview on Bloomberg Television.
"The next couple of quarters are going to be very challenging," Kaplan added.
Source: marketwatch.com
   "Treasury Secretary Mnuchin upset the markets yesterday when he announced that a number of the Fed's special lending facilities should be terminated by the end of the year."
In a letter to Fed Chairman Powell, Mnuchin said that the programs have clearly achieved their objectives. Credit markets have been rehabilitated and banks have the lending capacity to meet the borrowing needs of their corporate, municipal and non-profit clients. However, the Fed does not agree with Mnuchin's decision and said in a statement that the Fed would prefer that the full suite of emergency facilities established during the coronavirus pandemic continue to serve their important role as a backstop for our still-strained and vulnerable economy.
Moreover, she adds, terminating the programs on Dec. 31 means they may be tougher to restart under the new Biden Administration 20 days later. New funds will need Congressional authorization,
Source: zerohedge.com
means that the Fed will be required to do more, either in the form or more outright QE or expanded duration of existing debt monetization.
---
Political/Rights
Breaking NYT: Two separate New York State fraud investigations into Trump and his businesses, one criminal and one civil, have expanded to include tax write-offs on millions of dollars in consulting fees, some of which appear to have gone to Ivanka Trump. https://t.co/wu5jbMv2ia

— Kyle Griffin (@kylegriffin1) November 20, 2020
If Trump actually lost they wouldn't be doing this.
Chaos erupts as VP Pence walks away from the podium
pic.twitter.com/01U4TaIwW6

— Daily Caller (@DailyCaller) November 19, 2020
TAKE A LISTEN
MSM Screaming, Who Has The Power, Who Is Panicking
— Mitt Romney (@MittRomney) November 20, 2020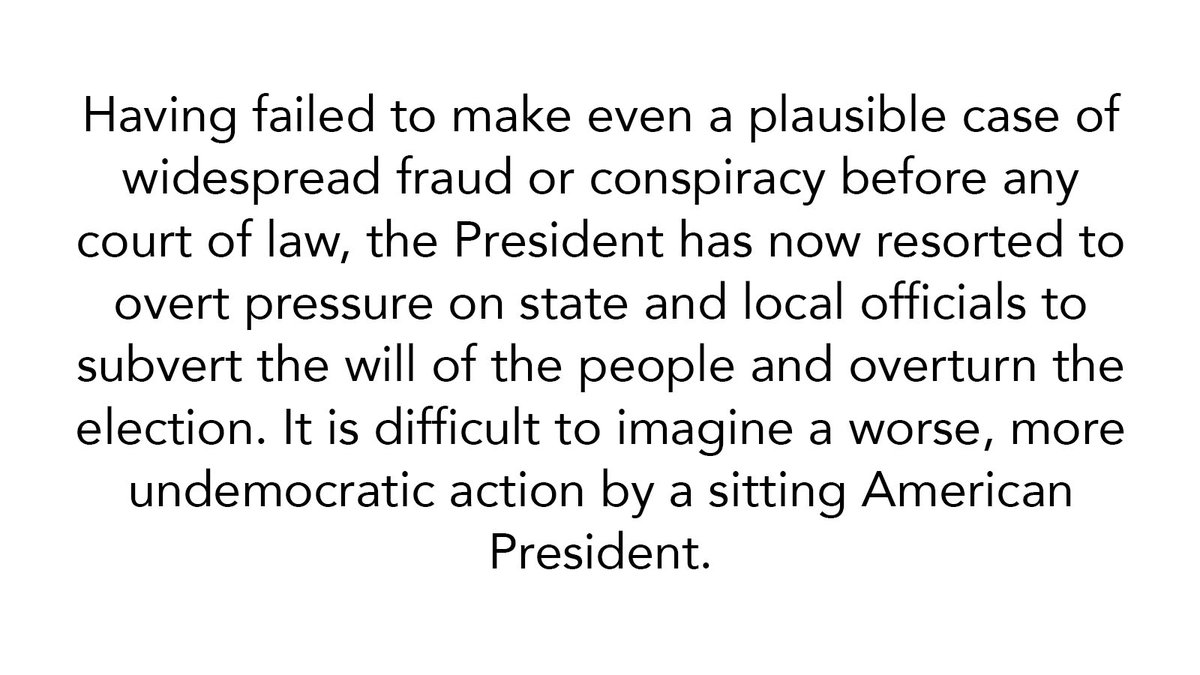 A sitting United States senator does not know how our legal system or the U.S. Constitution works.

— Jenna Ellis (@JennaEllisEsq) November 20, 2020
Michigan election official leaning toward audit, delay in vote certification
One of the two Republicans on the four-member Michigan Board of State Canvassers on said he is leaning toward calling for a delay in the certification of the state's election results until an official audit has been completed.
"I do think with all of the potential problems, if any of them are true, an audit is appropriate," Norman Shinkle  
"If Dominion was fudging votes, that's a serious problem," he said. "If it's true. I don't know. I have to be convinced of it. That's why the audit makes sense."
Source: thehill.com
.@SidneyPowell1 "No I didn't get angry with the request to provide evidence. In fact I sent an affidavit to Tucker that I had not even attached to a pleading yet…but he was very insulting, demanding & rude & I told him not to contact me again…" https://t.co/KhGID5YKMN

— TheSharpEdge (@TheSharpEdge1) November 20, 2020
FBI agents on Thursday arrested Cincinnati Democrat City Councilman P.G. Sittenfeld for accepting bribes in exchange for votes.
Fox19 reported:
Charges unveiled against Sittenfeld in his 20-page indictment allege he schemed to funnel money from developers into a political action committee (PAC) that he secretly controlled, court records show.

The "developers" were really undercover FBI agents who handed a total of $40,000 in Sittenfeld checks on three different occasions, according to the indictment.
Source: thegatewaypundit.com
Yesterday Trump retweeted the WI chart of votes coming in at 3:32 am
Here. We. Go.@realDonaldTrump tweeted our WI chart but now let's go to Michigan. The key momentum shift happened on Wednesday morning at 6:31AM.

A batch of nearly 150K votes came in.
96% went for Biden pic.twitter.com/KXJLeExdud

— Justin Hart (@justin_hart) November 19, 2020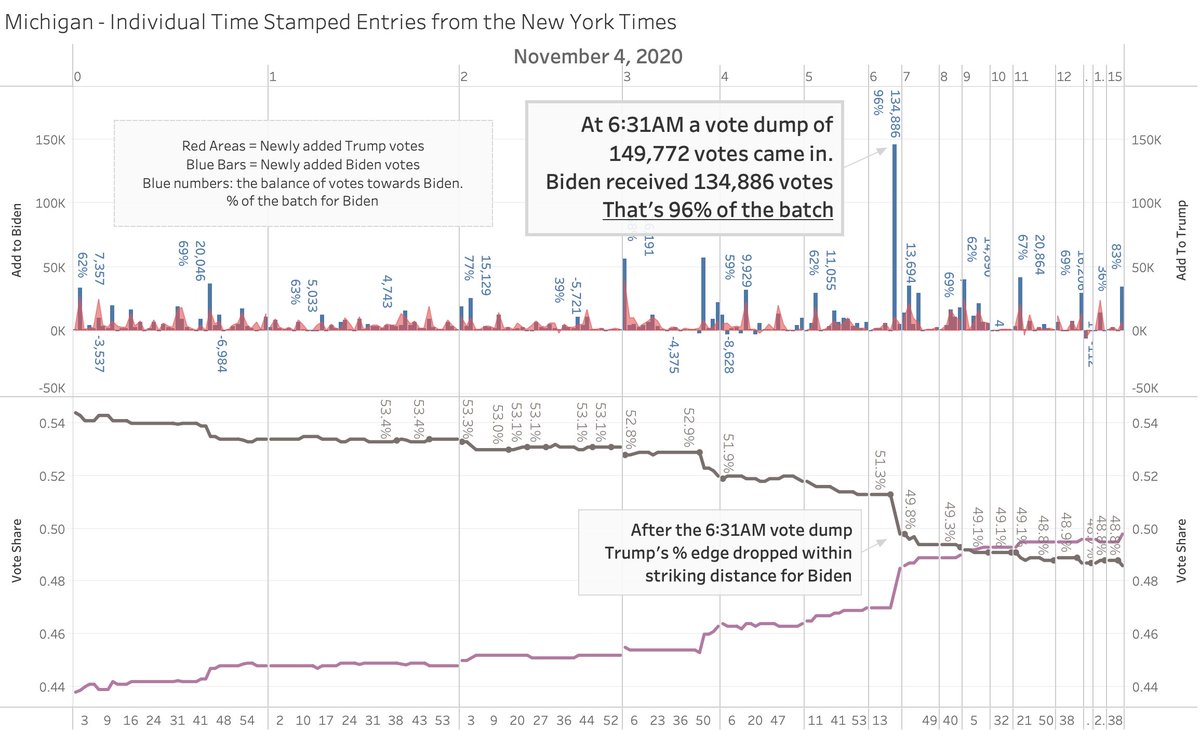 Here's another view of the Michigan data.
The arching lines are the total cumulative vote adding up for the candidates Tues-Weds.

Notice the normal jump when a batch comes in for 57% Biden and the ABNORMAL jump when in comes in 96% for Biden at that 6:31 AM mark. pic.twitter.com/j9nWycj8XU

— Justin Hart (@justin_hart) November 19, 2020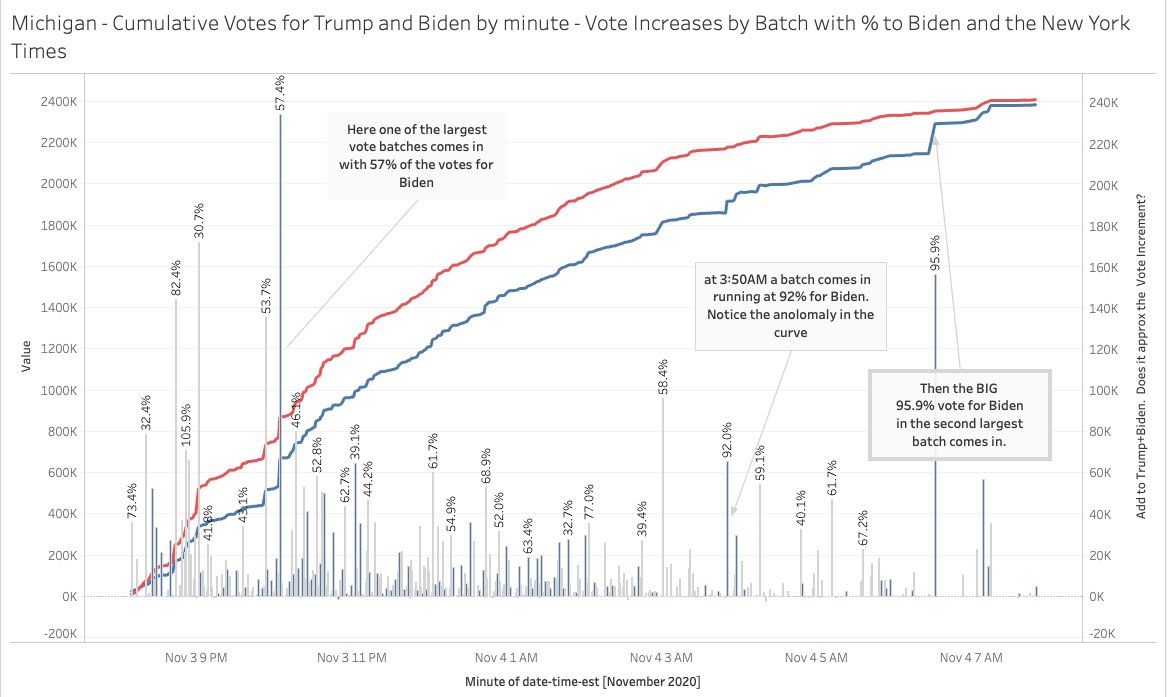 Will use these charts in court case. The Election was a HOAX. Thank you Justin! https://t.co/9Ue7ysDIVb

— Donald J. Trump (@realDonaldTrump) November 20, 2020
Last week Rep. Louie Gohmert told Chris Salcedo that people on the ground in Germany report that Scytl, which hosted  elections data improperly through Spain, was raided by a large US ARMY force and their servers were seized in Frankfurt.
 
  The US government, once they determined that this Dominion server was involved in switching votes, then the intelligence community began a search for the server and discovered that the server was in Germany. In order to get access to that server and have it available for use in a legal manner they had to have the State Department work in tandem with the Department of Justice. They had to request that the government of Germany cooperate in allowing this seizure of this server.

The appropriate documents required to affect that kind of seizure were put in place, signed off on, and it appears there was also US military support in this operation. The US military was not in the lead. But this helps explain why Esper was fired and Miller and Kash Patel were put in place — so that the military would not interfere with the operation in any way.

During the press conference yesterday a reporter asked SP a question
Reporter Emerald Robinson: There were reports that a piece of hardware possibly a server was picked up in Germany. Is that true and is it related to this?

Attorney Sidney Powell: That is true. It is somehow related to this. But I do not know if good guys got it or bad guys got it.
Source: thegatewaypundit.com
Dominion Voting Systems backed out from testifying before a Pennsylvania House Committee on Friday.
Source: thegatewaypundit.com
While the campaign will not sue election software manufacturing companies, "the suits will be against the election officials to invalidate the results of the election and force it to the legislatures and the Electoral College and then the Congress if necessary," said Powell,
Powell was likely referring to Article One, Article Two, and the 12th Amendment of the U.S. Constitution about contested or contingent elections.
Source: theepochtimes.com
Sidney Powell puts state election officials on notice: "The suits will be against the election officials to invalidate the results of the election and force it to the legislatures and the Electoral College and then the Congress if necessary."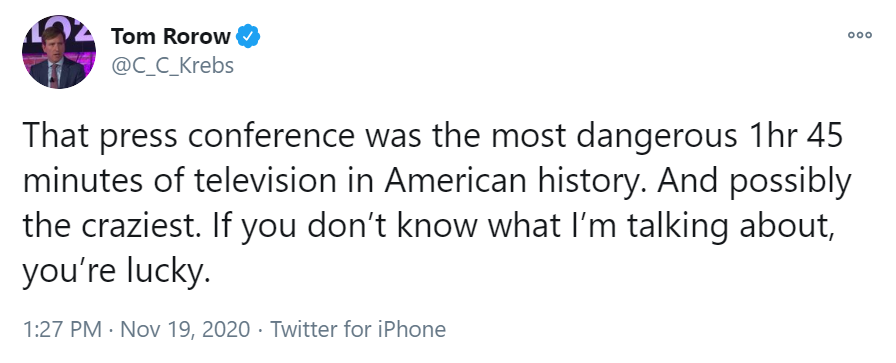 ---
War
.@brhodes: "Mike Pompeo seems to be looking out not just for complicating the Biden presidency but his own political interests-These things seem designed to appeal to some American voters rather than addressing pressing national interests of the United States." #AMRstaff

— Andrea Mitchell (@mitchellreports) November 19, 2020
FACT CHECK: the real reason @brhodes is so upset is because we brokered peace in the Middle East. He gave pallets of cash to terrorist regimes in the Middle East. Our approach worked. His didn't.

Good foreign policy doesn't complicate anything. https://t.co/SdPG3nDcxl

— Mike Pompeo (@mikepompeo) November 19, 2020
---
False Flags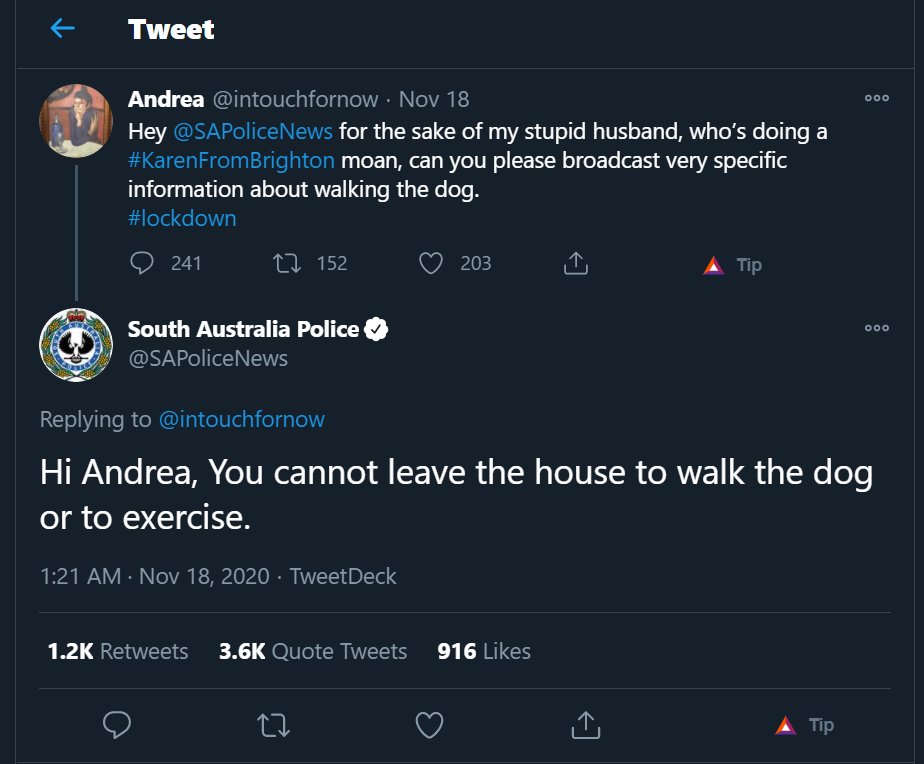 Due to the rise in #COVID19 cases, CA is issuing a limited Stay at Home Order.

Non-essential work and gatherings must stop from 10pm-5am in counties in the purple tier.

This will take effect at 10pm on Saturday and remain for 1 month.

Together–we can flatten the curve again.

— Gavin Newsom (@GavinNewsom) November 19, 2020
There is no curve, there is no spoon
Statement from @OCSheriffBarnes on the limited Stay at Home Order issued by Governor Newsom. pic.twitter.com/qDnYS4fk6U

— OC Sheriff, CA (@OCSheriff) November 20, 2020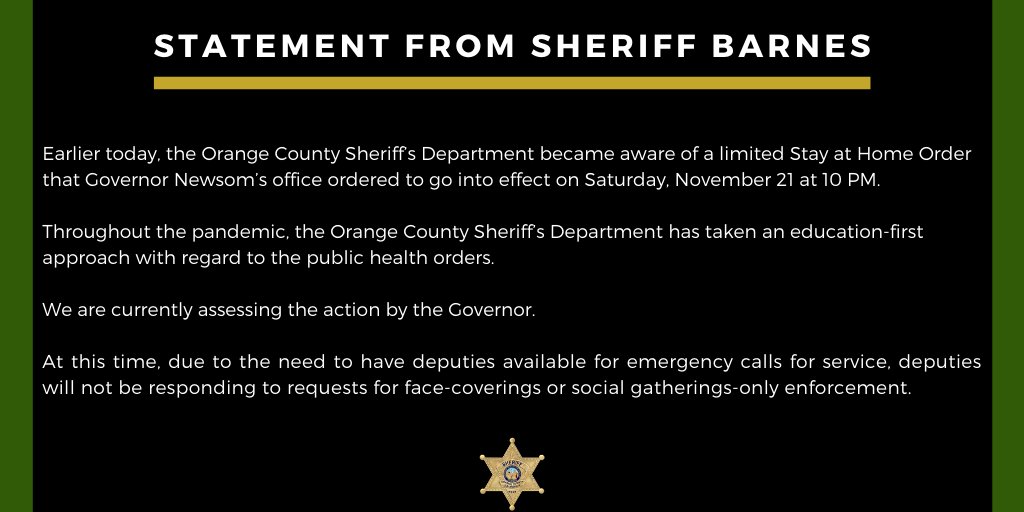 IT BEGINS:  Sacramento and El Dorado County Sheriffs Will Not Enforce Gavin Newsom's Curfew Order
This is taking place outside of Governor Cuomo's house in New York. pic.twitter.com/cHKXstypGb

— President-Elect 𝐖Δ𝐑ᵗ𝐈๓𝕖gเᖇˡ (@WarTimeGirl) November 18, 2020
Twitter locked out Judicial Watch boss Tom Fitton on Wednesday for a completely accurate tweet about the efficacy of face masks.
Tom Fitton was citing a massive Danish study published this week confirming face masks do not work and may be dangerous.
Twitter will not let Tom Fitton back on the platform unless he deletes his accurate tweet (screenshot below).
Source: thegatewaypundit.com
@justin_hart There will be no lockdowns other than those done by certain Democrat governors!

— Donald J. Trump (@realDonaldTrump) November 20, 2020
---
Q
Q

 

!!mG7VJxZNCI

 

ID: 000000

 No.7358338

All assets [F + D] being deployed.
[Some] who once supported POTUS [sleepers] have/will turn [puppets & puppet masters].
Control of narrative = control of public opinion
Control of public opinion = power
EVERYTHING IS AT STAKE.
OLD GUARD POWER STRUCTURE BEING DESTROYED.
WASHINGTON CIVIL WAR [CONTROL THE NARRATIVE].
PREV EXPOSURE OF TRUTH.
[SELF PRESERVATION]
FIGHTING FOR SURVIVAL.
INFORMATION WARFARE.
Q
Puzzle 'pieces' coming together?
Fasten your seatbelts.#NCSWIC pic.twitter.com/rD7NCDu6ag

— Patriot Politics Research ☦🇺🇸 (@Mile_Voli_Disk0) November 20, 2020