Operation [DS] Sting Is Active, Patriots Ready To Clean Out These Old Institutions – Ep. 2845
Podcast: Download (Duration: 1:03:12 — 27.7MB)
Watch The X22 Report On Video
Trump was right again, the [CB]/D's just passed the inflation bill that will accelerate inflation, this will bring the country into a depression and cause a crisis like we have never seen before. The [CB] agenda is about to implode on itself. Never interfere with an enemy while they are in the process of destroying themselves. The [DS] sting operation is active and the [DS] is doing exactly what the patriots want. The storm is coming and building. The movement is working, Trump has now shown the people that they do not need the fake news, big tech to win an election, they need the people. The offensive pieces are now in position and the patriots are about to play their hand.
---
Economy
Climate "science" and the media have been lying about typhoons.
And virtually everything else. pic.twitter.com/GLrj3QuOEH

— DonKeiller (@KeillerDon) August 7, 2022
Madagascar… people are protesting against power cuts and soaring prices… 75% of the population live below the poverty line (less than $1.90 per day)… they own nothing and they are not happy…

Governments cannot afford to subsidize energy and are raising prices.

— Wall Street Silver (@WallStreetSilv) August 7, 2022
Seen on C-SPAN2:

Senate Democratic bill passes – @VP Harris casts tie-breaking votehttps://t.co/AgQV1owqof pic.twitter.com/iEeAtzyaKw

— CSPAN (@cspan) August 7, 2022
, according to the Congressional Budget Office (CBO). just 11,000 EVs will be able to be purchased using the provision
The CBO estimated that the EV tax credits in a $430 billion climate and energy bill would cost taxpayers $85 million in 2023, equivalent to 11,000 vehicles receiving the $7,500 credit, according to its budgetary analysis of the bill. By 2030, the tax credit will also only impact the federal budget by $1.3 billion, equal to 1% of the total cost of the number of cars sold in the U.S. in 2021. 
The average number of electric vehicles sold in the U.S. was roughly 607,000, according to Statista.
Source: dailycaller.com
Here let me fix this for you:
Record high inflation
Record high rents
Record low labor market participation
Record low approval ratings
Record high credit card usage
85%+ think US going wrong directionHumiliating/deadly Afghan withdrawal
Border invasion
Violent crime plaguing cities
Illegitimate election in 2020
Record MAGA Backlash in midterms
Economist @StephenMoore said it best:

The Inflation Reduction Act will "reduce inflation" the same way the Affordable Care Act made healthcare more "affordable."

— Donald Trump Jr. (@DonaldJTrumpJr) August 8, 2022
Ah weird. It's not the inflation act anymore. pic.twitter.com/6vhLI5lqLC

— Stephen L. Miller (@redsteeze) August 7, 2022
Lmao they just used your taxes to increase your taxes so they could hire 87,000 IRS agents to rifle further through your taxes in case you owe more taxes.

It's a kleptocracy. pic.twitter.com/UXY3pp5ZFc

— Raheem J. Kassam (@RaheemKassam) August 8, 2022
The reconciliation package would also double the current IRS workforce by hiring an additional 87,000 employees to the bureau's staff of 78,661 employees.  At 165,661 employees, the IRS  is poised to become larger than the Pentagon, State Department, FBI and Border Patrol combined total employees of 158,779.
Source: thegatewaypundit.com
Mitch McConnell got played like a fiddle with the vote today by the Senate Democrats. First he gave them the fake Infrastructure Bill, then Guns, never used the Debt Ceiling for negotiating purposes (gave it away for NOTHING!), and now this. Mitch doesn't have a clue – he is sooo bad for the Republican Party!
  the Fed is so data-dependent that it now react to preliminary econ data prints, then the latest data out of the NY Fed's monthly Consumer Expectations survey would suggest a rate cut may be on deck.
 NY Fed released its latest Consumer Expectations survey which showed a record drop in short-, medium- and longer-term inflation expectations: specifically, inflation expectations at the 1-year horizon decreased to 6.22% in July – the lowest since February – from the previous month's 6.78%, the biggest monthly drop on record as expectations about year-ahead price increases for gas and food fell sharply. At the same time, median three-year-ahead inflation expectations also declined, from 3.62% to 3.18%, lowest since April 2021.
"Both decreases were broad based across income groups, but largest among respondents with annual household incomes under $50k and respondents with no more than a high school education," the report noted.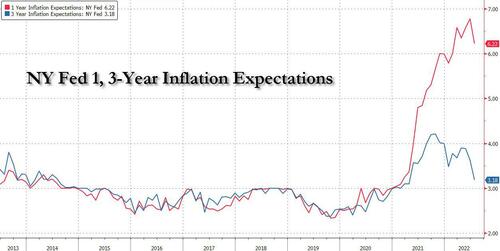 while this survey clearly is meant to serve political means (i.e., collapsing gas price expectations), it fails to be even remotely coherent, with most respondents expecting unemployment to fall further. Newsflash: that means no recession, it also means gas prices soar from here.
 , the media will be happy to pump the headline that "inflation expectations" are collapsing for one simple reason: it makes both Biden and the Fed look good.
Source: theconservativetreehouse.com
---
Political/Rights
A man I know just informed me that his son, a very good student at West Point, is leaving because the school has gone Radical Left and WOKE. He has already picked a very good University!
New York Times reporter Maggie Haberman is using pictures of toilet bowls to promote her new anti-Trump book.
Liberal reporters are so desperate to pin any crime on Trump (and sell books) that they are now posting pictures of a toilets used by Trump to prove he flushed Oval Office documents.
Recall, NY Times reporter Maggie Haberman earlier this year claimed Trump was destroying documents by flushing the records down a toilet.
"
Trump denied he flushed the documents and called Maggie Haberman's reporting 'fake news' to Fox & Friends co-host Will Cain in February.
"Yeah it's fake news and she's a fake writer. She got a Pulitzer Prize for Russia, Russia, Russia, and then they found out it was a hoax.
Source: thegatewaypundit.com
Senator Richard 'Da Nang Dick' Blumenthal (D-CT) and Senator Lindsey Graham (R-SC) Sunday morning appeared on CNN's "State of the Union" to discuss Biden's massive spending bill.
Lindsey Graham laughed as Senator Blumenthal mocked Americans rightfully concerned about a new army of 87,000 IRS agents.
"The idea that there's gonna be this army of IRS agents descending on the average American is just preposterous," Blumenthal said as Lindsey Graham laughed and nodded in agreement.
WATCH:
The IRS also has a history of targeting conservative groups.
Lois Lerner, the controversial director of the tax-exempt organizations division at the Internal Revenue Service, has a long sordid history of targeting conservatives.
Conservative watchdog group, Judicial Watch obtained IRS documents in 2018 revealing backstabber Senator John McCain's former staff director urged the IRS, including the corrupt Lois Lerner to engage in "financially ruinous" targeting of conservative Tea Party groups.
And they did.
The IRS Conservative Targeting Scandal involved:
Source: thegatewaypundit.com
The Fake News made it almost impossible to find this. They scrubbed it. And look who found it, Donald Trump.
The Sanctimonious "Da Nang" Dick. They thought there would be no copies left, and there was one. This is nothing compared to others. If this was a Republican, he would have been gone years ago, and his tapes would have been broadcast all over the world.
Vote for @LeoraLevyCT!
FBI Director Christopher Wray said during a Thursday Senate Judiciary Committee hearing that payments from China and other countries to Americans like Hunter Biden could be part of a "malign foreign influence" campaign.
Committee ranking member Chuck Grassley of Iowa and former Senate Homeland Security Committee chairman Ron Johnson of Wisconsin have been conducting an investigation of Hunter Biden's international business dealings. The sole surviving son of President Joe Biden previously sat on the board of a Ukrainian energy company, drawing a six-figure salary, and more recently conducted natural gas deals with his uncle Jim Biden and a Chinese Communist Party-controlled entity.
Grassley asked Wray whether or not Hunter Biden's drawn salary could constitute an intelligence risk, an assessment with which Wray agreed. Grassley did not name Hunter Biden directly, referring to him as a "politically-exposed person."
Source: dailycaller.com
New York City Mayor Eric Adams (D) had a negative reaction to Texas Gov. Greg Abbott (R) busing illegal immigrants to so-called sanctuary cities on the East Coast, calling the action "horrific" as dozens of mostly single adult males arrived in New York City from Texas over the weekend.
"In addition to Washington, D.C., New York City is the ideal destination for these migrants, who can receive the abundance of city services and housing that Mayor Eric Adams has boasted about within the sanctuary city," Abbott said in an August 5 statement.

 

"I hope he follows through on his promise of welcoming all migrants with open arms so that our overrun and overwhelmed border towns can find relief," he added.

 
Source: breitbart.com
---
Geopolitical/Police State
 Elon Musk challenged the CEO of Twitter to a debate where the CEO proves that Twitter has less than 5% fake or spam daily users.
2/ When @elonmusk requested more information about spam and fake accounts; Twitter provided a vague response.

Then provided outdated data;
Then offered a fake data set (not real "firehose");
Then provided a cleaned data set where they already suspended the malicious accounts;

— Andrea Stroppa (@Andst7) August 5, 2022
I hereby challenge @paraga to a public debate about the Twitter bot percentage.

Let him prove to the public that Twitter has <5% fake or spam daily users!

— Elon Musk (@elonmusk) August 6, 2022
Others have asked where is the SEC on this?  Are they investigating Twitter's numbers?  This is very serious stuff.  Investors have potentially been bamboozled by fake reporting.
Others have asked why Twitter has taken 3 months to provide the data that Elon Musk requested.
Source: thegatewaypundit.com

---
False Flags
In late 2021, a surge in insurance claims had indicated a mysterious spike in deaths among young adults ages 18-49 years old that could not be entirely explained by the Covid pandemic.
Insurance companies were reporting an "overwhelming" and "unexplained" increase in claims for 18-49 year-olds, according to a KUSI report. KUSI interviewed Dr. Kelly Victory, who explained the concerning rates of increase in reported myocardial infarction, Bell's palsy, and certain neurological conditions.
"This information became available to me or on my radar… following a hearing with Senator Ron Johnson, who was looking at sort of what he calls a second opinion on the entire response to the COVID pandemic," Dr. Victory said. "The medical data was released by three career military physicians who got the information from the military database that collects what we call ICD codes, which are diagnosis codes. And these physicians had a feeling, they believed based on their own observation, that they were seeing a significant uptick in certain conditions."
"So, they actually went back and called the database from the military on certain conditions over a five year period from 2016 through 2020," she continued. "So they looked at 2016, '17, '18, '19, and '20 at the prevalence of certain conditions, including things like heart attack, blood clots, to the long miscarriages, those sorts of things. And they compared it to the incidents of those same things in the calendar year 2021, and saw an alarming increase in certain things. For example, they saw a 270% increase in myocardial infarction in 2021, a 300% increase in incidence of Bell's palsy and of certain neurologic complaints."
According to one insurance company, there was a 40% increase in deaths among young adults from pre-pandemic levels, despite the prevalence of Covid vaccinations that were supposed to drastically reduce overall mortality rates.
Source: beckernews.com
---
Q
A new book by New York Times writer Peter Baker and The New Yorker's Susan Glasser claims President Trump wanted his generals to be loyal like Nazi generals.
And the leftist authors of the upcoming book 'The Divider: Trump in The White House' claim General Milley wrote a resignation letter to Trump but never turned it in.
Milley is coming up on the one year anniversary of the historic surrender to the Taliban next week.
He should have been gone a LONG TIME ago.
The Daily Mail reported:
source: thegatewaypundit.com
I love how it says "the Constitution offered no practical guide to a general dealing with a rogue President."

Sure it did. Article II Section II makes the President Commander-in-Chief.

Milley should genuinely be court-martialed over this crap https://t.co/R3m04EkNNg

— Will Chamberlain (@willchamberlain) August 8, 2022
I wonder how acceptable it would be for random officers under Milley who disagreed with his trans nonsense to "fight" Milley instead of obeying his orders

— Will Chamberlain (@willchamberlain) August 8, 2022
'Dark Brandon' is the Biden White House's cringetastic effort to win back the "Let's Go Brandon"  One more problem: it's extremely 'Third Reich' in nature.

Source: nationalpulse.com
So Biden's Deputy White House Press Secretary, @Andrewjbates46, is posting literal Nazi memes on Twitter and our corrupt media is completely silent about it.

I'm sure that if this was a Trump WH staffer, the media would treat it the exact same way and totally ignore it 🙄🙄🙄 https://t.co/FlgrWlVzNC

— Donald Trump Jr. (@DonaldJTrumpJr) August 8, 2022
Why won't the criminals on the Unselect Committee discuss the massive evidence concerning the Fraud and Irregularities having to do with the 2020 Presidential Election, the reason people came to Washington in the first place? Why won't they discuss the 10,000 to 20,000 soldiers that I recommended, but weren't used? Why won't they talk about the fraudulent Russia, Russia, Russia Hoax, headed up by most of the same people who are now on the Unselect Committee? It's all a big SCAM!
It's probably been pointed out that if you account for the odd spacing in #Trump's last (and odd) post there are 17 missing spaces.
 comms (117% ) aimed at signaling assurance to Anons that everything is under control.