Panic Message Sent, Major Operation Remove/Replace Active, Enemies Removed – Episode 2066
Podcast: Download (Duration: 41:32 — 41.4MB)
EU sends a warning to the BJ, trade deal will happen when we say it will happen. The UK parliament finally finish the BREXIT deal, it is now approved. Trump continues to let the American people that the economy is doing well and about to take off. The USMCA is now going to change the way the US does business, watch what happens next. The [DS] is panicking, the MSM is now asking more questions about the fake impeachment. NP is trapped and she can't make her next move. The patriots have now pushed operation replace and remove, Iran is in the process of flipping, the [DS] is on the run and they are panicking. HRC sends out an emergency message to the [DS] players.
Check Out The X22 Report Spotlight YouTube Channel X22Report Spotlight
Please check Newzsentinel.com for the latest news on the economic collapse. The Sentinel Alerts are updated throughout the day.
---
Current News – 01.09.2020
Watch The X22 Report On Video
---
Economy
  new European Commission President Ursula von der Leyen warned that it will be "basically impossible" for the UK to negotiate the entirety of a hoped-for trade deal with the European Union, increasing the likelihood that the trade relationship between the two former partners will revert to WTO rules at the end of this year.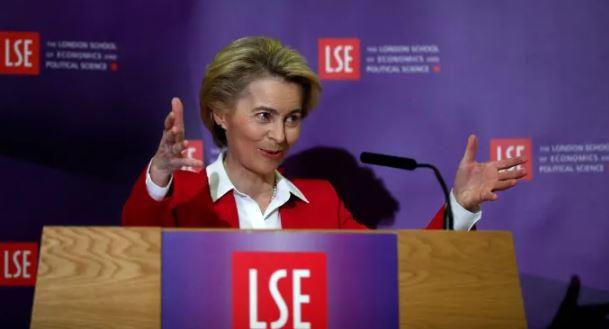 If negotiations continue along the current track, the EU will need to reexamine "every single aspect of our new partnership". She added that "I want to be very honest about what lies ahead of us," suggesting that she didn't want the UK to be unpleasantly surprised if the negotiations stall out early.
  
Source: zerohedge.com
British MPs finally approve Brexit deal
Britain's parliament finally approved Brexit , allowing it to become the first country to leave the European Union by the end of this month .
The Brexit deal covers separation issues such as EU citizens' rights and Britain's financial settlement, and sets out an 11-month transition period in which to agree a wider partnership.
Brussels warns the current deadline of December 31 this year is extremely tight, and has given London the option to ask for more time.
But Mr. Johnson insists there will be no extension of the transition period, saying that Britain must be free of EU rules as soon as possible.
 Source: thehindu.com
STOCK MARKET AT ALL-TIME HIGH! HOW ARE YOUR 401K'S DOING? 70%, 80%, 90% up? Only 50% up! What are you doing wrong?

— Donald J. Trump (@realDonaldTrump) January 9, 2020
USMCA Outcome – GM and Ford Shock Over 1,500 Temp Auto Workers with Full-Time Promotions…
One of the key sectors gaining benefit from the USMCA trade agreement is the auto sector.  Rules on steel and aluminum smelting/origination, and rules on part origination from North America are key aspects to the trade agreement that shifts focus from the import of Asian manufactured parts for assembly to manufacturing in North America.
Essentially, seventy-five percent of the component parts for the auto industry must be manufactured in North America.  This shift directly puts U.S. auto-workers at the forefront for job gains & stops the process of using manufactured parts from China, Asia or the EU.
The goal of the agreement was/is to make manufacturing investment in North America the main consideration for auto-manufacturers who want access to the U.S. market.  Today, as a direct result of future investment considerations, General Motors and Ford unexpectedly surprise 1,500 auto-workers with the announcement their jobs have gone from part-time to full-time status.  Great news for these families:
How will this change. A story out of Detroit Free Press
Humphrey, 27, has been a part-time temporary worker at GM's Flint Assembly in Michigan for the last three years. On Sunday morning, he and about 250 of his co-workers crowded into UAW Local 598's union hall. Most thought they were there for a routine meeting.
But when the local's president stepped to the mic, the room listened in awed silence.

"He said, 'As of tomorrow, you guys are full-time seniority employees of GM,' " Humphrey said. "There was a gasp in the room for a few seconds. Some of us thought he misspoke. Then, we had to say, 'No, we heard him right!' It was amazing."

On Monday, GM made about 930 temporary workers permanent full-time employees at 30 of its 52 UAW-represented facilities in the United States. There are more to come in the months ahead, it said.

Ford Motor Co. also moved 592 temps to permanent full-time on Monday, the UAW said, and will do more conversions of temps next month. But Fiat Chrysler Automobiles is still working to implement its temporary worker conversions, said the UAW. (read more)
Promises made, and promises kept…
 
Key Achievement: Increasing Regional Value Content Rule
This deal encourages United States manufacturing and regional economic growth by requiring that 75 percent of auto content be made in North America.
The rules will:
Help to incentivize up to billions annually
Help to preserve and re-shore vehicle and parts production in the United States.
Transform supply chains to use more United States content, especially content that is key to future automobile production and high-paying jobs.
 
This deal uses trade rules to drive higher wages by requiring that 40-45 percent of auto content be made by workers earning at least $16 per hour.
The rules will:
The new rules will help ensure that only producers using sufficient and significant North American parts and materials receive preferential tariff benefits. (USMCA Website)
Source: theconservativetreehouse.com
---
Political/Rights
A Cook County judge has ordered Google to turn over Jussie Smollett's emails, photos, location data and private messages for an entire year as part of the special prosecutor's investigation 
Two sweeping search warrants,  provide the first public glimpse at the direction of the probe by special prosecutor Dan Webb more than four months into the investigation. 
The warrants, filed last month in Circuit Court, sought a trove of documentation from Smollett and his manager's Google accounts — not just emails but also drafted and deleted messages; any files in their Google Drive cloud storage services; any Google Voice texts, calls and contacts; search and web browsing history; and location data.
Investigators sought a full year's data — from November 2018 to November 2019 — even though the key events in the controversy took place between late January and late March 2019. Authorities could be looking for any incriminating remarks from Smollett or his manager, especially in the months after State's Attorney Kim Foxx's office abruptly dismissed disorderly conduct charges against the then-"Empire" actor just weeks after his indictment. Smollett, who is African American and openly gay, has declared the dismissal a vindication of his claims that he was the victim of a racist and homophobic attack.
The search warrants make clear that Chicago police are assisting in Webb's investigation.
Source: chicagotribune.com
Speaker of the House Nancy Pelosi addressed the press Thursday for the first time in 2020, saying she would not move forward with the articles of impeachment against President Donald Trump until she sees what the Senate trial will look like.
"Now, in terms of impeachment, you keep asking me the same question, I keep giving you the same answer, as I said right from the start, we need to see the arena in which we're sending our managers, is that too much to ask?" The Speaker also said she would not hold on to the articles "indefinitely" when asked.
WATCH:
Source: dailycaller.com
Mitch McConnell Invites Nancy Pelosi to Sit on a Pinecone: "There will be no haggling with the House over Senate procedure"…
Senate Majority Leader Mitch McConnell delivered some bad news to Speaker Pelosi from the floor of the upper-chamber:
…"There will be no haggling with the House over Senate procedure. We will not cede our authority to try this impeachment. The House Democrats' turn is over. The Senate has made its decision."…
.
 .
'A majority of the Senate has decided that the first phase of an impeachment trial should track closely with the unanimous bipartisan precedent that all 100 senators supported for the first phase of the Clinton trial back in 1999.
'There will be no haggling with the House over Senate procedure. We will not cede our authority to try this impeachment. The House Democrats' turn is over. The Senate has made its decision.
'The 1999 precedent does not guarantee witnesses or foreclose witnesses. Let me say that again: it neither guarantees witnesses nor forecloses witnesses. It leaves those determinations until later in the trial where they belong.
'I fully expect the parties will raise questions about witnesses at the appropriate time. I would remind my friends on the other side: I strongly suspect that not all the potential witnesses would be people the Democrats are eager to hear from.
Source: theconservativetreehouse.com
Breaking News: The Fifth Circuit Court of Appeals just reversed a lower court decision & gave us the go ahead to build one of the largest sections of the desperately needed Southern Border Wall, Four Billion Dollars. Entire Wall is under construction or getting ready to start!

— Donald J. Trump (@realDonaldTrump) January 9, 2020
BILL Clinton poses side-by-side with suspected pimp Ghislaine Maxwell – as the pair board pedophile Jeffrey Epstein's notorious private jet.
The former US President is seen smiling on the steps of the plane – dubbed the Lolita Express – next to Maxwell, in astonishing pictures exclusively obtained by The Sun.
I
Chauntae, now 40, told The Sun: "It's clear that Epstein was using this private jet and his wealth to get close to rich and powerful people.
  
Source: the-sun.com
---
Geopolitical/Police State
Voting machine vendors to testify on election security
The CEOs of the three biggest U.S. voting equipment manufacturers will testify before the House Administration Committee  marking the first election security hearing of 2020.
The hearing, which is to be focused on the status of election security, will represent the first time that top executives from the three companies have testified together before Congress.
The presidents and CEOs of Dominion Voting Systems, Hart InterCivic and Election Systems and Software (ES&S) are all scheduled to appear

 

These three companies are estimated to control more

  

90 percent of the voting equipment market in the U.S., according to a report put out by the University of Pennsylvania's Wharton Public Policy Initiative.
A 2019 report on findings from the annual DEF CON Voting Village, where hackers attempt to break into voting machines, found new vulnerabilities. The report said participants "were able to find new ways" to compromise "every one of the devices in the room in ways that could alter stored vote tallies, change ballots displayed to voters, or alter the internal software that controls the machines."
Machines tested included those built by ES&S and Dominion Voting Systems, which said they had worked to improve the security of their equipment.

 

Tom Burt, the president and CEO of ES&S, which has the largest share of the voting equipment market, will underline steps his company has taken to boost election security in his testimony, including asking Congress to pass legislation requiring a paper record for every vote cast.
"If Congress can pass legislation that requires a paper record for every voter and establishes a mandated security testing program for the people making voting machines, the general public's faith in the process of casting a ballot can be restored," Burt will say. "That's not just a good thing, it's essential to the future of America."
Source: thehill.com
Q

 

!!mG7VJxZNCI

 

ID: cb3473

 No.5311412

---
War
Precisely what Qassem Suleimani discussed with Mahdi al-Muhandis:https://t.co/QEHMJCi4pO https://t.co/ozye1xxUxr pic.twitter.com/YnLXZWuF2m

— David Shor (@DYShor) January 7, 2020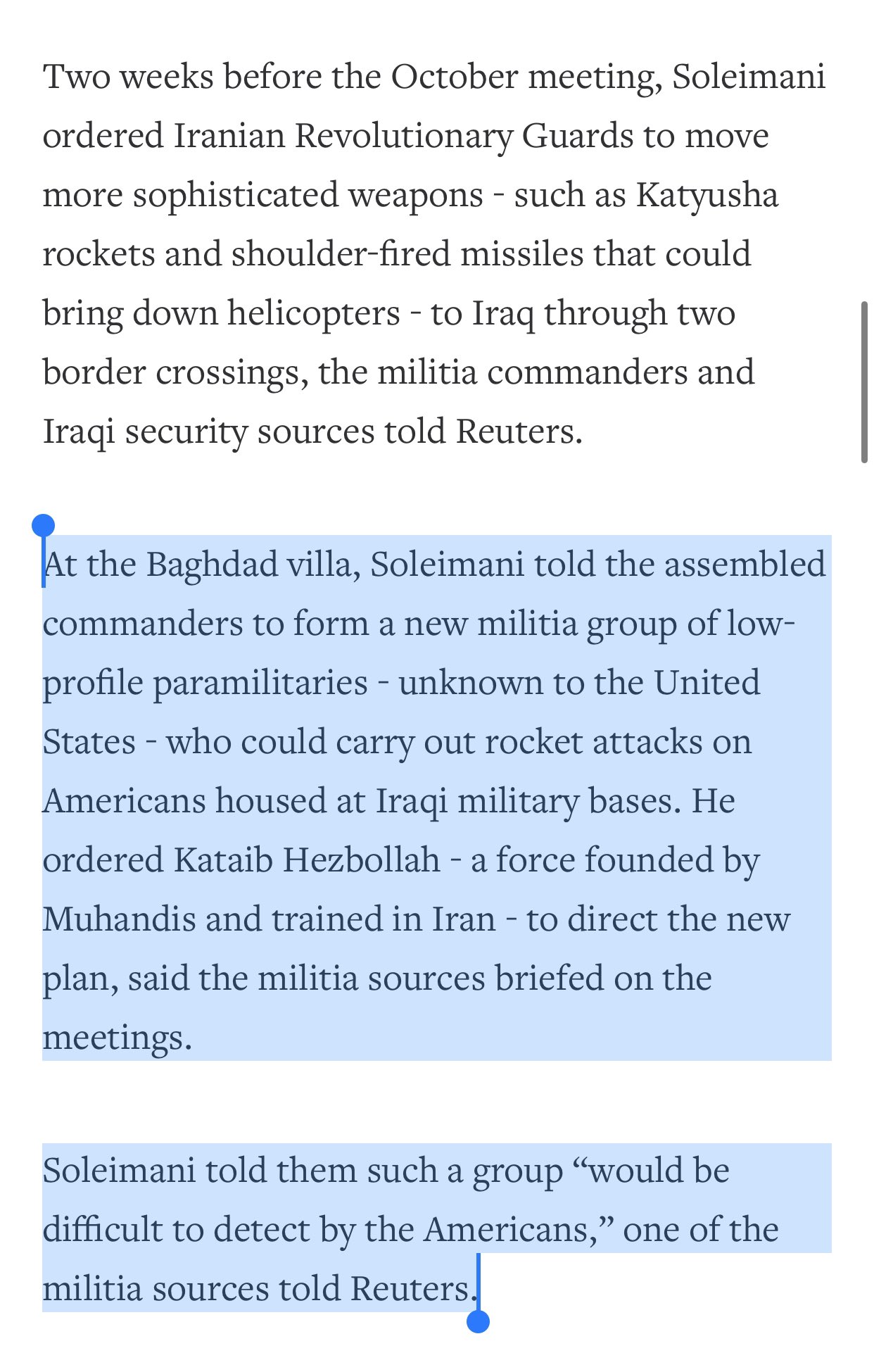 Hope that all House Republicans will vote against Crazy Nancy Pelosi's War Powers Resolution. Also, remember her "speed & rush" in getting the Impeachment Hoax voted on & done. Well, she never sent the Articles to the Senate. Just another Democrat fraud. Presidential Harassment!

— Donald J. Trump (@realDonaldTrump) January 9, 2020
'Authorization for Use of Military Force Against Terrorists' Provides President Trump Legal Justification for Soleimani Strike
There is ample evidence that supports the President's actions in the bombing of Iranian leader Qasam Soleimani last week.  One argument suggests that the President has this right as a result of the 'Authorization for Use of Military Force Against Terrorists' Law that was initiated on September 18, 2001, shortly after the 9-11 attacks on the World Trade Centers and the Pentagon.
This law states that:
In general the law states that the President is authorized to use all necessary and appropriate force against those nations, organizations, or persons he determines planned, authorized, committed, or aided the terrorist attacks that occurred on September 11, 2001, or harbored such organizations or persons, in order to prevent any future acts of international terrorism against the United States by such nations, organizations or persons.
 
Source: thegatewaypundit.com
63 Canadians among dead after Ukrainian plane crash in Iran, airline says
Cause of crash unknown; Canada expects to have role in investigation, Trudeau says
Source:  cbc.ca
The Iranian report suggests that a sudden emergency struck the Boeing 737 operated by Ukrainian International Airlines , First Iran said it was mechanical, then a fire, now we evidence is being brought forward to suggest that a missile hit the plane
Source: apnews.com
IRANIAN MISSILE SYSTEM SHOT DOWN UKRAINE FLIGHT, PROBABLY BY MISTAKE, SOURCES SAY
the Ukrainian flight that crashed just outside the Iranian capital of Tehran was struck by an anti-aircraft missile system, a Pentagon official, a senior U.S. intelligence official and an Iraqi intelligence official told Newsweek.
Source: newsweek.com
Developing: Local Iranian Claims to Take Photo of Missile Part Near Ukrainian Passenger Plane Crash Site in Tehran
The first footage was released this morning at the crash site of the Ukrainian plane 
Al Hadath Dubai News reported a missile took down the Ukrainian flight.
Iran will not give black box from crashed Ukrainian airliner, they are now saying they are damaged
A local took this image (L) near the PS752 crash site, clearly showing the control segment of a TOR M1 missile.
 
Source: thegatewaypundit.com
Then we had someone film the explosion,
#BREAKING
New, unconfirmed video on Telegram claiming to show the moment when Ukrainian Int'l Airlines flight #PS752 was shot down early Wednesday morning, January 8, over a town west of the Iranian capital of Tehran. pic.twitter.com/FNtq5P7zpj

— Heshmat Alavi (@HeshmatAlavi) January 9, 2020

My question why was the camera pointing exactly at the plane at the exact moment, did they know that this was going to happen? 
So lets follow the white rabbit down the rabbit hole
#Breaking
The source just told me that 34 more commanders by the IRGC's intelligence organisation have been arrested.
"All of them were loyal to Qasem Soleimani", the source says.

This source is preparing to leave Iran.
This is turning into something very different. https://t.co/QqyWCEdlVJ

— Raman Ghavami (@Raman_Ghavami) January 8, 2020
Julians Rum breaks it down,
1. "Why did Soros' son have several meetings with Canadian PM and how is that related to Clinton's?"

"U1 Funnel >> Canada >> X"

"Clearance/pathway to complete the U1 deal? Why is the Canadian PM so important?"

Why is this relevant today, anons? You're about to find out. pic.twitter.com/mPTAqcXMTD

— Julian's Rum 🥃 (@JuliansRum) January 9, 2020
Summary:

The plane crash that killed 63 "Canadians" was really undercover clowns getting the fuck out of dodge after Trump threatened their black ops sites.

Canada was the middleman in the U1 deal. The Uranium didn't stay in Russia. It went to Iran (WW3).

Trudeau = screwed https://t.co/HmW7UgTe7S

— Julian's Rum 🥃 (@JuliansRum) January 9, 2020
Watch Trudeau, he must be panicking , We should keep an eye on Canada, see which members of parliament are resigning, which professors and CEOs,
---
Q
"The Supreme Art of war is to subdue the enemy without fighting." — Sun Tzu

— Donald J. Trump (@realDonaldTrump) July 17, 2012