Panic Sets In For Brennan, Schiff In Trouble, This Is Just The Warmup – Episode 1986
Podcast: Download (Duration: 42:14 — 43.4MB)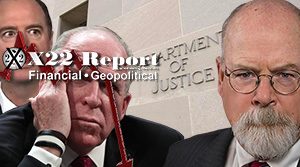 Ex Mayor in China hording 13 tons of gold bars, it was stashed in the basement. Trump and the patriots have won big against the EU, the WTO has handed the Trump Administration the ability to go after the EU and the EU cannot retaliate. The Fed is ready to cut rates again, the current economic conditions will explain why the cut is needed. The BIS hits the panic button, the BIS wants these rate cuts stopped, it will expose it all. The [DS] have just exposed everything, the lying, cheating and their agenda. More and more evidence is produced that JB & HB profited in Ukraine and China. Volker testified today and it was a nothing burger. The call to have AS resign it getting stronger and stronger. Brennan panics, JD wants to interview him, the main target is always last in an investigation. Flynn's attorney is building the case to free Flynn, she has more evidence up her sleeve so stay tuned. Trump and the patriots are pushing the information out to the public, the public is hearing, Ukraine, China and other countries, corruption, treason and crimes, the MSM is trying to defend it all but it is failing. It's only a matter of time.
Check Out The X22 Report Spotlight YouTube Channel X22Report Spotlight
Please check Newzsentinel.com for the latest news on the economic collapse. The Sentinel Alerts are updated throughout the day. If you haven't already, go to "The People" and join the community of people who are helping each through the economic collapse.
---
Current News – 10.03.2019
Watch The X22 Report On Video
---
Economy
Cops in China find 13 tons of gold stashed in ex-mayor's cellar
Chinese authorities found more than 13 tons of gold stashed away in the basement of a former mayor's home during a corruption investigation, according to news reports.
Police found the loot — worth hundreds of millions of dollars — in a secret cellar in the home of Zhang Qi, a onetime high ranking communist party official and former mayor of Danzhou,
Source: nypost.com
Massive $7.5 Billion U.S. Award From WTO in Airbus Subsidy Case – Sets Stage for Countervailing Duties Against EU…
 The Trump administration via U.S. Trade Rep Robert Lighthizer and Commerce Secretary Wilbur Ross won a massive $7.5 billion award as an outcome of the World Trade Organization agreeing with the U.S. against the EU and Airbus subsidies.  The WTO arbitrators decision is final and cannot be appealed.
This win sets the stage for President Trump to deploy $7.5 billion in countervailing duties against products from the EU.  Keep in mind, a final WTO ruling means the EU cannot retaliate against any WTO-authorized countermeasures.  The downstream ramifications are very significant. Think about it: at 25% the U.S. could tariff $30 billion in EU goods.
 The award of $7.5 billion annually is by far the largest award in WTO history—nearly twice the largest previous award.  The Arbitrator calculated this amount based on WTO findings that EU launch aid for Airbus is causing significant lost sales of Boeing large civil aircraft, as well as impeding exports of Boeing large aircraft to the EU, Australia, China, Korea, Singapore, and UAE markets.  Under WTO rules, the Arbitrator's decision is final and not subject to appeal.
The United States today has requested that the WTO schedule a meeting on October 14 to approve a U.S. request for authorization to take countermeasures against the EU.  Pursuant to WTO rules, the WTO will provide this authorization automatically at that meeting. The EU is not allowed to retaliate against WTO-authorized countermeasures.

The tariffs will be applied to a range of imports from EU Member States, with the bulk of the tariffs being applied to imports from France, Germany, Spain, and the United Kingdom – the four countries responsible for the illegal subsidies.
By putting tariffs on foreign imports he has counterbalanced the never-ending Marshal Plan trade program and demanded renegotiation(s).  Trump's goal is reciprocity; 
No-one, ever, could take on all these interests. Think about it… The EU, Asia, World Bank, International Monetary Fund, China, Russia, U.S. Chamber of Commerce, Iran, U.S. Congress, Wall Street, the Big Club, Lobbyists, Hollywood, Corporate Media (foreign and domestic),  …. All of these financial interests are aligned against Main Street USA and against President Trump.
Source: theconservativetreehouse.com
The U.S. won a $7.5 Billion award from the World Trade Organization against the European Union, who has for many years treated the USA very badly on Trade due to Tariffs, Trade Barriers, and more. This case going on for years, a nice victory!

— Donald J. Trump (@realDonaldTrump) October 3, 2019
Federal Reserve's Official Balance Sheet Up Almost $100 Billion Dollars Since Early Sept 2019!
ISM's gauge of service-sector activity in September was 52.6, below economist forecasts for 55, and the lowest since 2016. The reading was still above 50, however, indicating expansion the Federal Reserve is expected to lower interest rates at its October meeting, with the markets pricing in a 92% chance of a cut, and another cut in December. 
Source: barrons.com
The BIS is now panicking about low interest rates.
Low & Negative Interest Rates Get Broadsided by the BIS 
Prolonged low interest rates are having significant negative effects on banks' core business and role in the economy, the Bank of International Settlements (BIS) warned  , just weeks after the ECB reduced its policy rate deeper into the negative territory 
According to the BIS paper, which is based on a sample of all major international banks over a 22-year period from 1994 to 2015, if the benchmark interest rate falls from 3% to 0%, the average net interest margin declines from 1.42% to 1.31% of total exposure. That's in the short term. The long-term effect is many times larger owing to the high auto-correlation of the net interest margin. Banks' average interest income falls from around 60% of total income to around 40%.
This is just one of the problems highlighted by the BIS study. Another major concern is that many banks, in their desperate quest for profits, opt to shift their focus away from lending to their customers toward trading activities, which can generate higher yields and fee-based income. It also tends to boost stock, bond and real estate markets, as well as stimulate demand for professional portfolio management services.
In the short term, trading in stocks, bonds, derivatives and other financial instruments may allow banks to offset their declining profits on their interest spread. If the benchmark interest rate decreases from 3 to 0%, trading profits as a proportion of total income increase from 2.5% to 3.2%. But it also opens them up to greater risk, especially if they chase yields offered by more speculative financial products such as Collateralized Loan Obligations (CLOs) backed by corporate junk-rated leveraged loans.
Source: wolfstreet.com
---
Political/Rights
The [DS] is now on life support, the boomerang is headed right for them, their entire plan has failed. Impeachment will not be able to move forward, Pelosi lies on TV that Schiff didn't make the phone call up that he repeated what Trump said, [play] Volker testifying in front of congress another flop, the hunters are closing in and the hunted have no place to hide, the MSM is doing their best to protest Biden they are saying that there is no evidence, John Solomn hits back
Solomon pushes back:
Let's start with something that's important about this. There is a media narrative that is false. How do we know it's false? Because the documents I possess show it's false. So let's start with one of my favorites – this was Katy Tur on Friday night and many others across the weekend said "there is no evidence that the Ukraine Embassy was ever asked for help – to help the Democratic National Committee. In fact, Katy Tur called it Russian propaganda."
"I have a statement from the Ukrainian Embassy in Washington. On the record, from their sitting Ambassador in Washington, that in fact Alexandra Chalupa – the DNC contractor, came to the Ukraine embassy in spring 2016 and asked for help in finding dirt on Donald Trump in the hopes of staging a Congressional hearing to hurt Donald Trump in the fall election of 2016. That is the Ukraine Embassy's on the record statement."

In addition, they state that Ms. Chalupa also asked for the Ukraine President to visit the United States and spend time with an investigative reporter trying to turn up dirt on Donald Trump and Paul Manafort. What did the Embassy do? They say they recognized this request for what it was; an improper request to influence the election, and they refused to cooperate with Ms. Chalupa."
Source: zerohedge.com
So then we found out the IG called a urgent meeting, this had to do with Ukraine
Biden is freaking out because more and more evidence is piling up and he sees there is no way out of this,
He said "There is zero, zero, zero evidence of any assertion being made,"   "Look, the issue is this president of the United States engaged in something apparently that is close to, well, engaged in activity which at minimum gives, a lot of running room for the Russian and Ukraine and I think we should just focus on he's the issue."
"Nobody has ever asserted that I did anything wrong except he and what's that fella's name, Rudy 'Hudy'… Giuliani.
Biden has claimed that the prosecutor was fired not because of his family ties, but rather because he was corrupt.
Source: washingtonexaminer.com
Now the DS/Ds are doing what they do best they call individuals in to get to the bottom of what is really going and they hope that they will be able to get information out of these people that will help their agenda, today they had Former Special Envoy Kurt Volker testify as part of the House's impeachment inquiry.
NEW: per a source with knowledge of ongoing #Volker interview:
"The information provided by Amb. Volker so far does nothing to advance @RepAdamSchiff theory of the case. Volker's testimony seems to be a disappointing event –and likely a setback–for the #impeachment effort."

— Brooke Singman (@brookefoxnews) October 3, 2019
So Adam Schiff is now at the center of the whistleblower complaint, the spotlight has not been turned on Biden and Schiff, Schiff is in trouble, we come to find out that 
  Schiff (D-CA) did not notify Republicans on the committee of an intelligence official who came to one of his aides with concerns about President Trump before filing an official whistleblower complaint, according to the top Republican on the committee.
Rep. Devin Nunes (R-CA) said in a statement:
We learn from the press today that Chm Schiff had prior knowledge and involvement in the [whistleblower] complaint. He withheld this info from the American people and even from the Intel Cmte. In light of this news, it's hard to view impeachment as anything aside from an orchestrated farce.
Rep. Elise Stefanik (NY), confirmed Schiff kept the information from Republicans and called upon him to step down. She tweeted:
Transparency to the American public is critical to our democracy. Transparency among our colleagues in Congress is also critical to effectively conducting committee work. House Intel rank and file Members had access to whistblower complaint from 4-6:30 pm on Wed September 25th.

— Elise Stefanik (@EliseStefanik) September 27, 2019

🚨 🚨IMPT question – when did Adam Schiff have access to the complaint or any related information? The letter to Schiff and Burr was dated August 12th. Did Schiff have ANY access earlier than Committee & if yes, why did he not immediately share this with his Committee? 🚨🚨

— Elise Stefanik (@EliseStefanik) September 27, 2019
Fred Fleitz, former CIA analyst and chief of staff to the National Security Council, said Schiff broke committee rules in hiding that information from Republicans.
"Under @HouseIntelComm rules, any classified info brought to the committee from outside sources MUST BE SHARED WITH BOTH SIDES. Schiff broke committee rules by not telling committee GOP members about this,"
Source: breitbart.com
RG tweeted out the following
Schiff must be suspended. There must be an independent investigation. Is NYT correct that Schiff concealed knowing about whistleblower before he submitted hearsay complaint. Did Congressional staff meet with him? If true shows all may be individually liable. Suit more likely.

— Rudy Giuliani (@RudyGiuliani) October 3, 2019
Then Rep Elise Stefanik took it a step further
I just signed on to the Resolution to Condemn and Censure Adam Schiff for manufacturing false dialogue between @POTUS and President Zelensky during a House Intelligence Committee hearing. He has made a mockery of our Committee and should step down as Chairman.

— Rep. Elise Stefanik (@RepStefanik) October 2, 2019
John Kennedy to Introduce Bill Stopping Immediate Family of US Officials From 'Profiting' in Ukraine
Senator John Kennedy (R-La.)   introduce a bill that would prevent the immediate family of U.S. officials from "profiting" in Ukraine.
 The law should be for government employees that they cannot have personal dealing with any country while in office, they cannot have business dealings, they cannot be put on boards or start companies etc
Source: truepundit.com
Then we have Kevin McCarthy who said we need to suspend the impeachment inquiry
BREAKING: House Minority Leader Kevin McCarthy Calls For Pelosi to Suspend Impeachment Inquiry
House Minority Leader Kevin McCarthy  called on Speaker Pelosi to suspend the impeachment investigation into President Trump until she can establish "transparent and equitable rules and procedures."
Speaker Pelosi launched an impeachment inquiry into President Trump based on hearsay and gossip,and   she still has not held a full impeachment vote in the House.
Even worse, House Democrats haven't even named a specific crime committed by President Trump.
McCarthy said the following"Unfortunately, you have given no clear indication as to how your impeachment inquiry will proceed — including whether key historical precedents or basic standards of due process will be observed,"
"In addition, the swiftness and recklessness with which you have proceeded has already resulted in committee chairs attempting to limit minority participation in scheduled interviews, calling into question the integrity of such an inquiry,"
Source: thegatewaypundit.com
Now we have been hearing alot about Ukraine so Trump decided to push the envelope he now brought in China and other countries into the mix. 
***Take Listen To Trump and what he said about Biden***
Oops! Crooked Hillary Slams Trump for Calling on China to Investigate Bidens… Forgets She Called on China to Release His Tax Returns in May (VIDEO).
Hillary Clinton jumped in on the controversy with a  tweet.
Someone should inform the president that impeachable offenses committed on national television still count. https://t.co/ABObD2Ie4S

— Hillary Clinton (@HillaryClinton) October 3, 2019
Source: thegatewaypundit.com
And then we have Brennan, he revealed that John Durham will be interviewing him, this is interesting, he is the master mind of it all, and he is the target, it must mean that the investigation is wrapping up
BREAKING: Former CIA Director John Brennan Reveals He will be Interviewed by US Attorney John Durham in Coming Days (VIDEO)
Brennan said he just doesn't understand why there is an active investigation on the Obama administration's spying on the opposition candidate in the 2016 election.
  I don't understand the predication of this worldwide effort to try to uncover dirt… that would discredit that investigation in 2016."
Source: thegatewaypundit.com
Lets move on to Flynn
IT'S TRUE: New Evidence Shows Mueller Gang Threatened Gen. Flynn's Son, Forced General to Sacrifice Himself or See His Son Destroyed
**** Update October 3, 2017
According to a report at the Epoch Times yesterday:
Lt. Gen. Michael Flynn's lawyer, Sidney Powell, wrote a letter to Attorney General William Barr in early June outlining her belief that the government targeted Flynn for "concocted and political purposes" in order to "take out" President Donald Trump.She informed Barr that she intended to demand production of a large volume of evidence and suggested "a just resolution" to the Flynn case "if the evidence shows what we believe to be true." She also made several requests, including for Barr to replace the prosecution team on the case and to determine "when, how, and on what basis the first investigation of General Flynn began."
In the piece was a link to Sidney Powell's letter to Barr.  One important piece related to the Mueller gang's actions with General Flynn's son:
Source: thegatewaypundit.com
Sidney Powell tweeted
You're assuming facts not in evidence 😊
Stay tuned.
Prosecutors are terrified Judge Sullivan will give defense evidence we know they are hiding that shows they never had anything & knew it#Comey #McCabe orchestrated ambush
#Strzok #Pientka no original 302? Factual basis? pic.twitter.com/g2LAQFRvqu

— Sidney Powell 🇺🇸⭐⭐⭐ (@SidneyPowell1) October 3, 2019
Lets talk about Ed Buck, you know the Big political Donor, he is friends wit the  HRC, Now
Federal Grand Jury Indicts Ed Buck in 2 Overdose Deaths at His West Hollywood Home
 Ed Buck was indicted   by a federal grand jury for two overdose deaths in his West Hollywood apartment and charged with providing methamphetamine to three other men, one of whom survived two overdoses.
The indictment returned in U.S. District Court charged Buck with distributing meth resulting in the deaths of Timothy Dean in January and Gemmel Moore in 2017. Buck had previously been charged in Moore's death after his arrest last month.
Buck, 65,  has given hundreds of thousands of dollars to Democratic causes,  I wonder if he is going to make any deals, will he talk…. I hope he doesn't get epsteined.
Source: ktla.com
Lets talk about the Border, The MSM is really pushing out Fake news, this is coming from ABC news.
Frustrated with a record number of people seeking asylum at the U.S.-Mexico border this spring, President Donald Trump at one point asked in a private meeting with close aides whether the U.S. could shoot migrants below the waist to slow them down.
Sources interviewed by ABC News say Trump's aides discouraged the idea of shooting unarmed migrants and it was never acted upon. But Trump remained focused on the idea, bringing it up again in the private Oval Office meeting in March 2019, when the number of undocumented migrants arriving at the border topped 100,000 for that month alone.
Source: abcnews.go.com
Fake News, just like the snakes and gators in the moat. The Media is deranged, they have lost their minds! https://t.co/rk26SXj4il

— Donald J. Trump (@realDonaldTrump) October 3, 2019