Patriots Have It All, Red October Declass, At What Stage Do You Play The Trump Card – Episode 2299
The [CB] are now realizing their plan is now falling apart. The event is not working and the people of countries are starting to realize its making the economy worse and they are to blame. The [DS]/MSM are now trapped, the patriots have always had everything, they have the recordings, the documentation, the emails, the question is why did they wait until now to declass. At what stage of the game do you play the Trump card to maximum effect, right before the election. The [DS]/MSM are panicking, they are feeling the pain and there is nothing they can do to stop this.
Check Out The X22 Report Spotlight YouTube Channel X22Report Spotlight
Please check Newzsentinel.com for the latest news on the economic collapse. The Sentinel Alerts are updated throughout the day.
---
Current News – 10.11.2020
Watch The X22 Report On Video
---
Economy
---
Political/Rights
 The Commission on Presidential Debates has canceled the October 15th debate due to MAGA and Winning.
BREAKING: Biden's Debate Moderator Who Claimed He Was Hacked, Claimed He Was Hacked Twice in the Past As Well
But what Scully didn't share is that he claimed his Twitter account was hacked back in 2012 and 2013 as well:
Source:  cuzzblue.com
I was honored to receive the first ever Presidential Endorsement from the Florida Police Chiefs Association. Thank you, I will NEVER let you down! @FloridaChiefs #LESM pic.twitter.com/R2RauC59a5

— Donald J. Trump (@realDonaldTrump) October 10, 2020
#Durham This morning, @LindseyGrahamSC went further on recent Comey testimony about Sept 2016 CIA investigative referral to FBI over alleged 3rd party discussion of HRC approved plan "concerning candidate Trump + Russian hackers." Graham told @MariaBartiromo, "Comey said that https://t.co/28GsjAivkM

— Catherine Herridge (@CBS_Herridge) October 11, 2020
didn't ring a bell. But when you look at the source documents, it went directly to him. So if we can prove, he actually knew about this request
and did nothing, then he could be charged with perjury. He said he didn't know anything about all the problems with the dossier. That

— Catherine Herridge (@CBS_Herridge) October 11, 2020
the subsource was a (suspected) Russian agent. If we can find somebody, no that's not true. I briefed him. He's in trouble. If the Clinton Foundation used money to pay for this smear campaign, they're in trouble. Anybody who hides evidence from the court, that alters evidence,

— Catherine Herridge (@CBS_Herridge) October 11, 2020
they're in trouble. That's what Durham is looking at. It's one thing for abuse of power is generally not a crime. Political smears are generally not a crime. But the activity I outlined is a crime and we'll see where this goes." @CBSNews

— Catherine Herridge (@CBS_Herridge) October 11, 2020
Documents reveal that General Flynn was entrapped! @EveningEdit @FoxNews
— Donald J. Trump (@realDonaldTrump) October 9, 2020
I wonder where the original 302 is 
Check it out 👇👇👇nice catch @TABYTCHI they are working on #coup 3.0 😉 https://t.co/BaxpMuw5Ew

— Sara A. Carter (@SaraCarterDC) October 11, 2020
Rick Wilson from @ProjectLincoln dinning with Peter Strzok pic.twitter.com/2DX32eZuxc

— Taylor Day (@TABYTCHI) October 10, 2020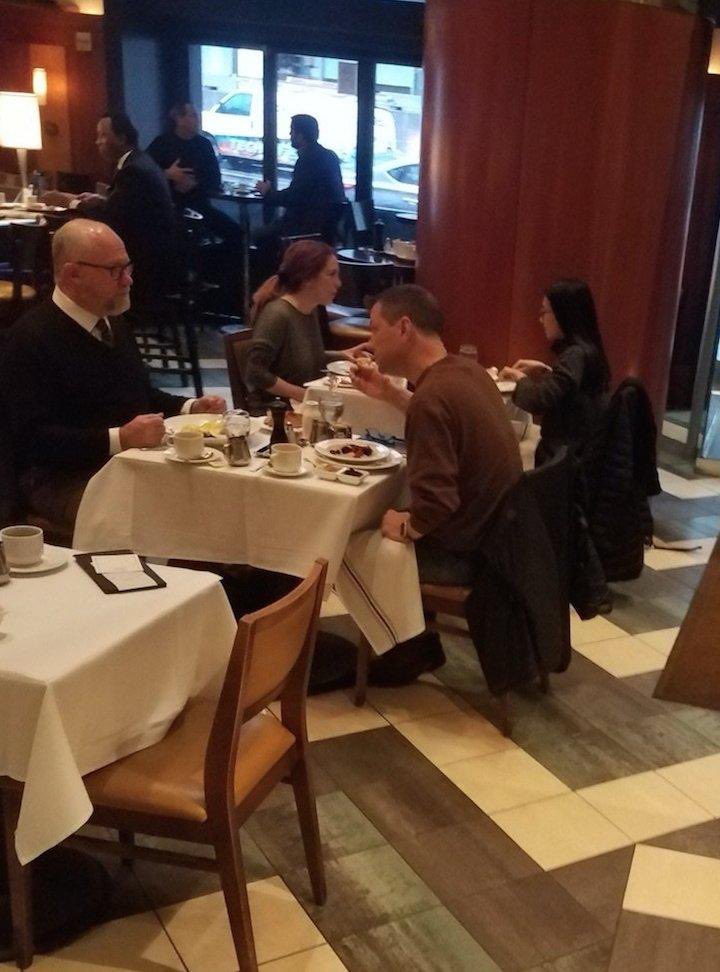 Joe Biden said voters "don't deserve" to know whether he will pack the Supreme Court if he and vice-presidential candidate Kamala Harris are elected in just a few weeks.
Source: thefederalist.com
Take A LISTEN
FDR's own party told him you cannot PACK the United States Supreme Court, it would permanently destroy the Court. @judgejeanine @tedcruz But now the Radical Left Democrats are pushing Biden to do this. He has zero chance against them!

— Donald J. Trump (@realDonaldTrump) October 11, 2020
6,145 absentee ballots must be replaced in Newaygo County, after state error
  Thousands of absentee ballots that were mailed out to voters in Newaygo County must be replaced, after a candidate was left off,  According to Newaygo County Clerk Jason VanderStelt, 6,145 absentee ballots mailed out to voters did not include the candidate for the 78th District Court Judge race. He said that candidate had not been included in the list of candidates provided by the state.
 "Absolutely not," VanderStelt said when asked whether any ballots would be entirely invalidated.
Source:  mlive.com 
Nearly 50,000 voters in Ohio's largest county received absentee ballots with incorrect information, election officials said
Franklin County elections officials said new ballots for 49,669 voters would be ready to mail within three days, FOX News reported.
"We want to make it clear that every voter who received an inaccurate ballot will receive a corrected ballot," the election board said in a news release. "Stringent tracking measures are in place to guarantee that a voter can only cast one vote."
Source: dailycaller.com
German journalist living in the US (with no US voting rights) received multiple ballots in the mail.

This is outrageous. https://t.co/xPCcl9ctQm

— Richard Grenell (@RichardGrenell) October 11, 2020
---
Geopolitical/Police State
---
War
The Taliban has denied endorsing Donald Trump after reports emerged claiming the Afghan militant group had said it hoped the US president would be re-elected.
North Korea held a rare predawn military parade on Saturday,
While much of Kim's speech has yet to be translated, The Guardian says Kim told the audience he was grateful "not a single person" in the county has contracted COVID-19.
 "There was a sign that North Korea conducted a military parade this morning at Kim Il Sung Square, mobilizing large scale equipment and personnel," it said in a statement.
 
"Edited footage shown on state television showed an ICBM on a transporter vehicle with at least 22 wheels, larger than anything previously displayed by the nuclear-armed country. It was the first time since 2018 that North Korea has shown ICBMs at a military parade," Reuters said.
---
False Flags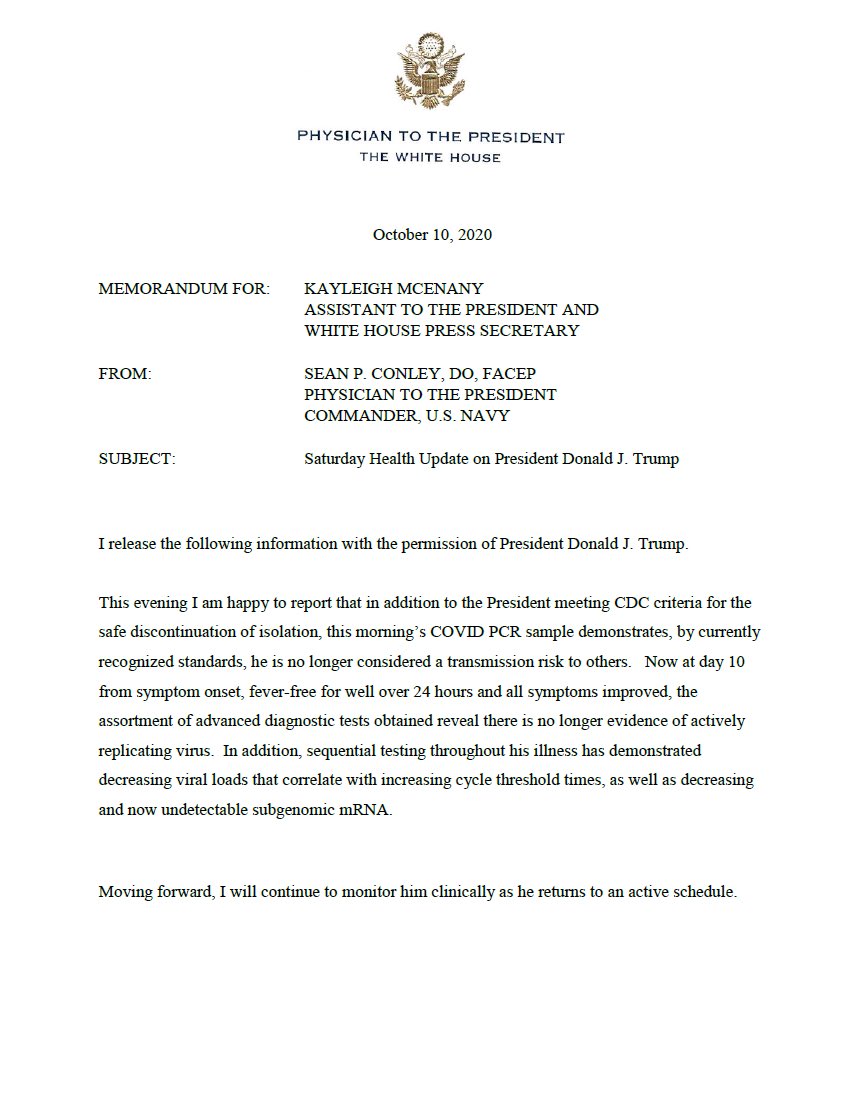 President Donald Trump said  that he was "medication-free" after being treated for the coronavirus for the past week.
Source: breitbart.com
A total and complete sign off from White House Doctors yesterday. That means I can't get it (immune), and can't give it. Very nice to know!!!

— Donald J. Trump (@realDonaldTrump) October 11, 2020
The UK's envoy to the World Health Organisation (W.H.O.) has condemned mass coronavirus lockdowns, slamming the "ghastly global catastrophe" caused by crashing the world economy.
Dr. David Nabarro from the W.H.O. appealed to world leaders on Saturday, telling them to stop "using lockdowns as your primary control method" of the coronavirus.
He claimed that the only thing lockdowns achieved was poverty – with no mention of the potential lives saved.
This is in direct contrast to W.H.O. chief Tedros Adhanom Ghebreyesus who as far back as April gave his full support to lockdowns, and even warned against lifting them too soon, 
Source: breitbart.com
This chart shows areas with the highest number of daily cases/100k in the past two weeks.

19 of the 20 areas with the highest COVID-19 cases have a mandatory mask mandate. pic.twitter.com/JDKm7LSyXT

— Dr. Simone Gold (@drsimonegold) October 10, 2020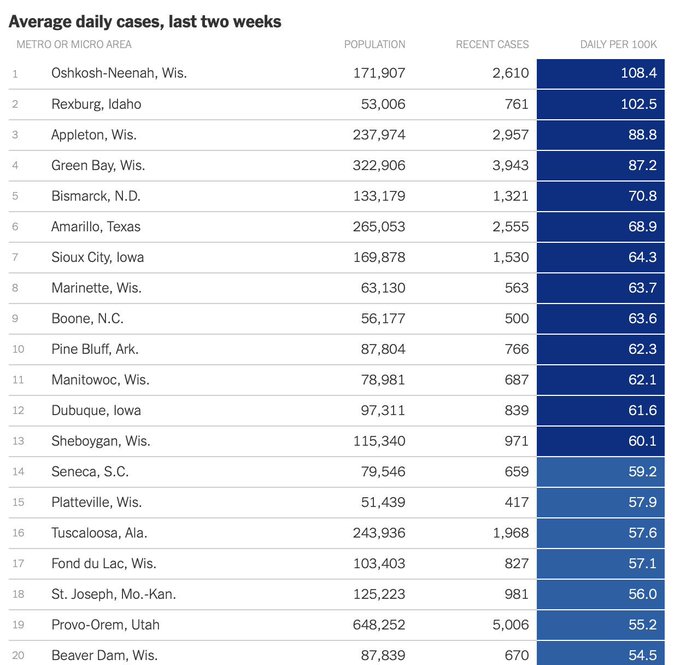 No cases of COVID-19 can be traced back to Arizona gyms.

No cases of COVID-19 can be traced back to Arizona bars.

And yet Arizona public health officials have relentlessly picked on these industries in a desperate attempt to stop a virus that did what a virus naturally does. pic.twitter.com/3QltuzKtYP

— Rep Andy Biggs (@RepAndyBiggsAZ) October 10, 2020
"After Yelp announced plans to place alerts on businesses accused of 'racist behavior,' an Antifa group responsible for organizing the violent Portland riots is now compiling a blacklist of pro-police and anti-Black Lives Matter companies." https://t.co/4MwNwO7sAk

— Andy Ngô (@MrAndyNgo) October 10, 2020
One Dead After Leftist BLM-Antifa Groups Clash With Patriot Rally In Denver
The Denver Police later said the shooter was not Antifa but was a bodyguard for a local news reporter.
The private security guard for local station 9News who shot and killed a Trump supporter on Saturday has previously bragged about being confrontational with conservatives.
Matthew Dolloff has been arrested for the shooting of veteran Lee Keltner as leftist militants held a counter "protest" to a pro-Trump rally in Denver on Saturday.
Dolloff has far left posts on his social media going back nearly a decade, and in 2016 he bragged about calling a Trump supporting stranger a racist to their face.
"Ran into a Trump supporter with a Trump Button on their shirt. Told them i like their im a racist button. They had nothing to say," Dolloff wrote, with the hashtag #F-ckTrump.
The Denver Police claimed in a statement on Saturday evening that the shooter was not aligned with Antifa, but many are now questioning if that claim is true.
Antifa celebrated in the street at the news of a Trump supporter being shot.
Thousands met in a peaceful event in Washington DC today to support our police and walk away from the Democrat party.
Thousands are marching in Washington DC with Candice Owens and those who left the Democrat party and are now supporting President Trump:
Thousands joined in and supported the police and those who are walking away from the Democrat Party in a truly peaceful event in Washington DC.
---
Q
  Nancy Pelosi announced an investigation into President Donald Trump's mental and physical health on Friday — less than 4 weeks until the presidential election.
Nancy Pelosi: This is not about Pres. Trump. He will face the judgment of the voters. But he shows the need to create a process for future presidents… a president's fitness for office must be determined by science and facts'
It's just too bad Nancy Pelosi didn't read the US Constitution  y!
If Pelosi would have read the US Constitution she would know that the Vice President has to sign off on their coup plot.
 
Trump Campaign Senior Legal Adviser and Constitutional Attorney Jenna Ellis broke the bad news to Nancy after her stunt.
Source: thegatewaypundit.com
Hillary Clinton said she didn't know what the 'C' markings in emails stood for
Hillary Clinton told investigators that she wasn't aware that a "C" marking in emails she received on her private server indicated that the information was classified at the "confidential" level, according to documents that the FBI released on Friday.The State Department determined that one email chain contained information that is classified at the "confidential" level, according to the documents.
But the emails apparently didn't contain any header or footer markings indicating that some information in the message was classified.
Clinton Foundation [+Soros, journalist(s) dir, Africa, SA, SAPs, China, Russia, U1, Hussein dir, Benghazi, MB, CIA assets, crimes against humanity, ……] [route _Huma cc > Weiner backup]?
Nothing is ever truly deleted.
Threats, blackmail, and bribes.
Q
I'm old enough to remember when Hillary Clinton lied directly to Mike Pompeo about her emails.pic.twitter.com/CYs1lfOT5u

— Mike (@FuctupMike) October 9, 2020
TAKE A LISTEN
It doesn't get much clearer than this. pic.twitter.com/qDOVclxTIi

— Stephen Coughlin (@S_Coughlin_DC) October 10, 2020
.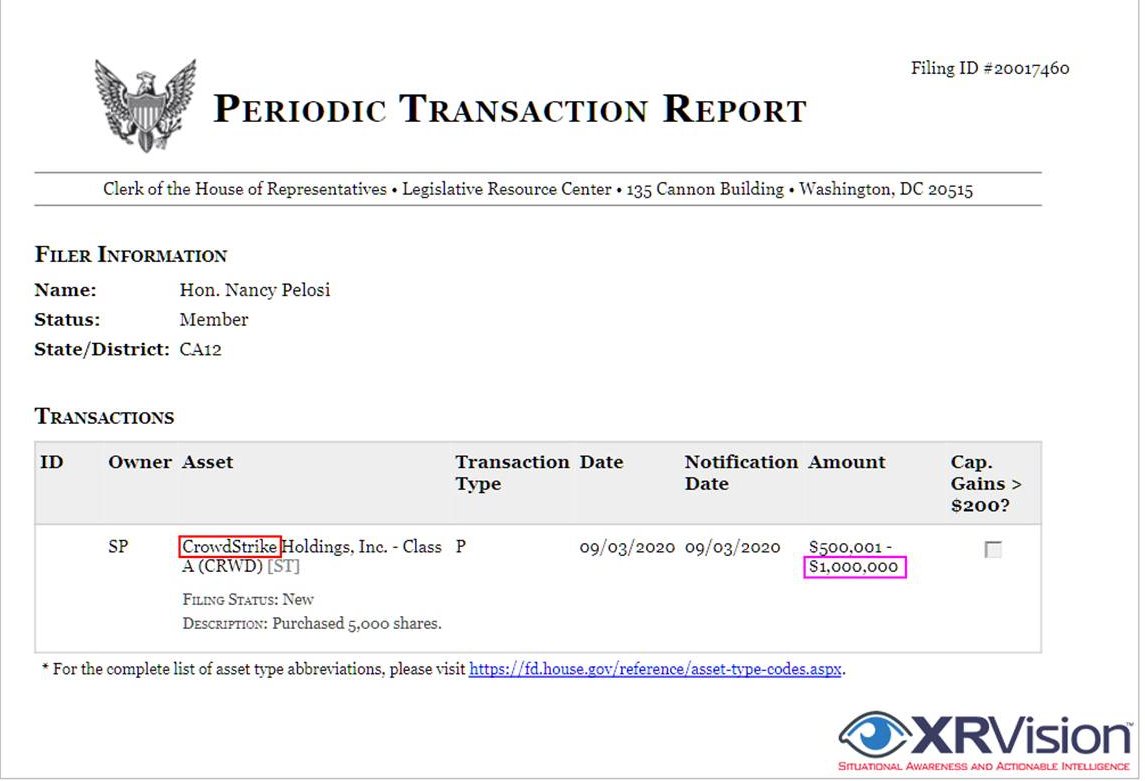 If the Declas comes in drips, I expect Soros/Antifa/MSM-related emails first.

That's all that would be required to nullify the coming violent chaos artificially created by Soros.

The trick is: how do you get the MSM to cover it, especially if they're involved?

Digital warriors https://t.co/x9w7XvlHf5

— Julian's Rum 🥃 (@JuliansRum) October 10, 2020
We are witnessing  a carefully timed October rollout of declassified evidence, this information has been held back for a certain reason, they had, they could have released it long ago, why now, PAIN
They went after Trump, his family his children… Did you really think this was going to end well for the [DS]
Why is Trump declassing now right before the election, people are now paying attention, people are concerned about the election"
Did you think Trump mentioned HRC emails and Pompeo just to mention it, they had them the entire time, they were waiting for the right moment to use them, this has been planned from the beginning.  Look what Trump tweeted out.
— Donald J. Trump (@realDonaldTrump) October 9, 2020
https://www.trumpcardthemovie.com/
Q

 

!!mG7VJxZNCI

 

ID: ca665a

 No.5483687

At what stage in the game do you play the TRUMP card?
Q