Patriots Maneuver Barr Into Position, The Second Act Begins, [I]ndictments – Episode 2096
Podcast: Download (Duration: 41:54 — 43.4MB)
The patriots economy is doing incredible, using all their weapons against them, Trump and the patriots were able to make the stock market hit all time new records. The [CB] have now made their move, they are now trying to force out Trump's nominee, the MSM is using anonymous sources to say that Trump's pick is going to be withdrawn. Patriots are ready to counter. The patriots have now boxed in the [DS]/D's. They D's are getting ready to push impeachment 2.0 on Trump, this time it has to do with RS and Barr. This will fail, Trump and the patriots are exposing the corruption. Flynn changes his background on twitter. Trump tweets outs drain the swamp again. Indictments are coming, Barr is now in position.
Check Out The X22 Report Spotlight YouTube Channel X22Report Spotlight
Please check Newzsentinel.com for the latest news on the economic collapse. The Sentinel Alerts are updated throughout the day.
---
Current News – 02.13.2020
Watch The X22 Report On Video
---
Economy
ANOTHER RECORD HIGH: DOW Reaches New All-Time High – Up Over 60% and 11,000 Points Since 2016 Election
The greatest stock market rally ever in US History continues – Sets new all-time highs again today!
 
President Trump's first year in office (2017) saw the most all-time stock market closing highs (71). The most all-time highs in a year prior to 2017 was 69 in 1995.
Prior to 2016, no year in the DOW's more than 100-year history ever saw the DOW increase by more than 3,500 points. In 2017 the DOW increased nearly 5,000 points for a record. In 2019 the DOW was up more than 5,000 points (5,210) breaking the 2017 record!
Since President Trump was elected President the DOW tied the record for the most all-time closing highs in a row. In January of 1987 President Reagan saw the DOW increase to new all-time highs a record 12 days in a row. In February of 2017, President Trump matched Reagan's record.
The DOW reached its fastest 500 point increase between major milestones under President Trump. In January of 2018 the DOW surpassed 26,000 and six days later the DOW surpassed 26,500. Under President Trump the DOW has seen the fastest 1,000; 2,000; 3,000; 4,000; 5,000; 6,000; 7,000, 8,000 and 9,000 point increases in DOW history. No similar records occurred at any time in history.
source: thegatewaypundit.com
Republicans expect Trump to withdraw controversial Fed nominee
Senate Republican sources expect President Trump to withdraw his nomination of Judy Shelton to serve on the Federal Reserve  
The White House has not made a final decision since Trump would first need to sign off on the reversal, but Republican sources say it would be "desirable" for her to withdraw from consideration and that her nomination is "trending" in that direction.
 Source: thehill.com
---
Political/Rights
Harvard, Yale under investigation for failing to report foreign funding
The Education Department has launched a probe into Harvard and Yale, after it claims to have discovered that U.S. universities have failed to report billions of dollars in funding from foreign countries such as China.
The U.S. universities were described by in Education Department documents as "multi-billion dollar, multi-national enterprises using opaque foundations, foreign campuses, and other sophisticated legal structures to generate revenue, 
Both universities reportedly received letters from the Education Department on Feb. 11, in which they were asked to turn over any and all documentation pertaining to gifts and donations received from foreign donors in countries including China, Iran, Qatar, Russia and Saudi Arabia.
If the institutions refuse to hand over the documents, the Education Department can send its request to the Justice Department to pursue either civil or criminal action.
Source: thehill.com
The foreperson on Roger Stone's jury ran for Congress as a Democrat in 2012, . 
Tomeka Hart revealed her role on the jury in a Facebook post defending four prosecutors who quit the Stone case in protest over a revision to the Trump confidante's recommended prison sentence. 
Hart's social media activity shows she closely followed the special counsel's Russia investigation, and frequently posted negative stories about President Donald Trump.
Her Twitter feed shows dozens of references to Trump, many of them links to negative stories about the Republican. In a Twitter post on Aug. 19, 2017, Hart quoted a tweet referring to Trump as the "#KlanPresident," in an apparent reference to the KKK.
Source: dailycaller.com
What really matters today is the crisis at the Justice Department. "This is not normal and it is not right, and it is dangerous territory for the rule of law." https://t.co/JVUaD2Wt2v

— James Comey (@Comey) February 13, 2020
Mr. President, a couple minor corrections: (1) I have never committed a crime, which is an important pre-req for jail in most countries, still including ours; and (2) there's just one book, but I think there is a movie coming and I hope you get to see it. pic.twitter.com/T1E94bRG51

— James Comey (@Comey) February 13, 2020
Obama Intervened, Repeatedly, in Ongoing Trials and Investigations
Few of the critics who are treating President Donald Trump's comments on Roger Stone's sentencing — widely viewed as unduly harsh — as an attack on the rule of law showed such strong concerns when then-President Barack Obama weighed in, repeatedly, on ongoing trials or investigations.
In 2015, President Obama told CBS news that former Secretary of State Hillary Clinton's use of an unsecured private email server for her official communications may have been a "mistake," but added: "I don't think it posed a national security problem."
The New York Times reported that FBI officials: "saw an instance of the president trying to influence the outcome of a continuing investigation — and not for the first time." The officials recalled Obama's comments in 2012 defending then-CIA director David Petraeus, who was under investigation for sharing classified information with a journalist with whom he was having an affair.
In 2013, a Navy judge ruled that President Obama had exerted "unlawful command influence" by harsh comments about the punishment he expected the military would mete out against those accused of sexual harassment. Obama had told a press conference in 2012: "If we find out somebody's engaging in this, they've got to be held accountable — prosecuted, stripped of their positions, court martialed, fired, dishonorably discharged. Period."
As a result, the Navy judge ruled out dishonorable discharge as a potential punishment in ongoing cases. Later, the conviction of a Marine staff sergeant was thrown out because of the possible influence of Obama's words.
Source: breitbart.com
YouTube removed a video clip of Kentucky Republican Sen. Rand Paul reading the question Chief Justice John Roberts suppressed during the Senate impeachment trial naming   the whistleblower  "It is a chilling and disturbing day in America when giant web companies such as YouTube decide to censure speech," Paul told  . "Now, even protected speech, such as that of a senator on the Senate floor, can be blocked from  getting to the American people. This is dangerous and politically biased. Nowhere in my speech did I accuse anyone of being a whistleblower, nor do I know the whistleblower's identity."
Source: thefederalist.com
"That's going to be up to the military, we'll have to see, but if you look at what happened, they're going to certainly, I would imagine, take a look at that," Trump said in response to a follow-up question about what he meant when he said, "the military can handle him." Source: politico.com
Excellent News – HJC Chairman Jerry Nadler Demands Testimony From AG Bill Barr – Scheduled Hearing March 31st…
 The House Judiciary Committee is demanding testimony from U.S. Attorney General Bill Barr and specifically identifying three issues they wish to target.   AG Bill Barr has agreed to testify to their concerns on

Tuesday March 31st, 2020.  [cloud pdf Here

]
Chairman Nadler says in his letter: "we have repeatedly warned you and your predecessors that the misuse of our criminal justice system for political purposes is both dangerous to our democracy and unacceptable to the House Judiciary Committee."  Oh my!
The HJC goes on to say: "In your tenure as Attorney General, you have engaged in a pattern of conduct in legal matters relating to the President that raises significant concerns for this Committee. In the past week alone, you have taken steps that raise grave questions about your leadership of the Department of Justice."…  Oh dear!
So what are the three pressing issues that Chairman Nadler says "are enough to require our immediate attention"?
[SOURCE]
The ongoing developments following the removal of U.S. Attorney Jessie Liu, who oversaw the prosecutions of President Trump's deputy campaign chairman Rick Gates, President Trump's former national security advisor Michael Flynn, and President Trump's longtime political adviser Roger Stone.
See?  The HJC and Lawfare staff are clueless.  First, AG Barr previously slobbered all over Jessie Liu; he couldn't praise her enough.  Barr had zero conversation with President Trump about withdrawing the nomination, and only gained an understanding of the Liu concerns independent from President Trump.
The Lawfare crew has no idea what they are walking into if they start down the path of asking about why Jessie Liu was: (a) removed; and (b) had her nomination withdrawn.  For all intents and purposes AG Barr is an ally of Ms. Liu, and it only highlights the independence of his office that President Trump's action is independent.
The creation of a new "process" by which President Trump's personal attorney Rudy Giuliani can feed the Department of Justice information, through you, about the President's political rivals.
The "process" of receiving information on possible criminal conduct is open to anyone and everyone to report, including all Americans.  Obviously the HJC and Democrats writ large are worried about their financial schemes to exploit wealth and sell influence may be hampered by any corruption investigation of Ukraine…. but more importantly, they are seeking to find out how much their own activity is exposed.
I cannot think of a single bullet-point easier for Barr to have fun with than a committee that is verklempt about the U.S. Department of Justice allowing people to report possible criminal activity.  The entire framework of their argument is silly and fraught with pretzel logic.  That's the purpose of the justice system, to allow people a process to rectify criminal activity.
Secondly, didn't the same House Committee just spend months complaining about Giuliani operating independent investigations?… and not following the "established processes and norms"?   Now they don't want Giuliani to be allowed to contact the DOJ and engage in long established processes and norms?  Their argument is circular.
 
  why March 31st?
  Why postpone for two months?  The likely answer is John Durham will be finished…. drops of information therein will take place…. the hearing is pre-scheduled… etc.
The HJC has just boxed themselves in to holding a hearing…. Think about it.
Now AG Bill Barr has a target date and two months to coordinate releasing the information gathered from within John Durham's investigation.  Release the Durham information a week prior to March 31st and the HJC is trapped into a holding a hearing about topics they don't want to see public.
 
Source: theconservativetreehouse.com
Have you noticed unhinged Democrats & media attacking AG Barr more & more lately? It's because he's an existential threat to the Swamp Creatures who've run roughshod over our Govt & our country for far too long. Raise your hand if you back Barr in his war against The Swamp. 🙋🏻‍♂️

— Donald Trump Jr. (@DonaldJTrumpJr) February 13, 2020
Report: Hope Hicks Returning to Trump White House
Former White House Communications Director Hope Hicks will return to work for President Donald Trump at the White House,
Source: breitbart.com
When I terminated John Kelly, which I couldn't do fast enough, he knew full well that he was way over his head. Being Chief of Staff just wasn't for him. He came in with a bang, went out with a whimper, but like so many X's, he misses the action & just can't keep his mouth shut,.

— Donald J. Trump (@realDonaldTrump) February 13, 2020
….which he actually has a military and legal obligation to do. His incredible wife, Karen, who I have a lot of respect for, once pulled me aside & said strongly that "John respects you greatly. When we are no longer here, he will only speak well of you." Wrong!

— Donald J. Trump (@realDonaldTrump) February 13, 2020
---
Geopolitical/Police State
Virginia House passes bill to award electoral votes to whoever wins the popular vote
The Democratic-led Virginia House of Delegates has passed legislation that seeks to award the state's electoral votes to the presidential candidate that wins the national popular vote in an election.
The measure, also known as House Bill 177, passed the legislative chamber in a 51-46 vote on Tuesday after clearing the body's Privileges and Elections Committee in a vote last week.
If the legislation is passed by the Senate, where Democrats also hold control, and signed into law by the governor, Virginia would subsequently be entered into the National Popular Vote Interstate Compact."Under the compact, Virginia agrees to award its electoral votes to the presidential ticket that receives the most popular votes in all 50 states and the District of Columbia," a bill summary states. "The compact goes into effect when states cumulatively possessing a majority of the electoral votes have joined the compact."
"
Source: thehill.com
Virginia lawmakers passed legislation in both chambers of the state legislature that would allow illegal aliens to obtain driver's licenses 
Amid a rush before the end of the Virginia General Assembly's "crossover" deadline Tuesday, lawmakers in both the state Senate and the House of Delegates passed separate bills allowing undocumented immigrants to legally drive on the state's roadways. HB 1211 and SB 34 both passed their respective chambers Tuesday, the last day legislation could cross over to the other chamber for consideration.
State senators passed SB 34 by a margin of 22-18. The Senate version, which Democratic state Sen. Scott Surovell introduced, permits illegal aliens living in the state to obtain a standard driver's license, but with certain conditions. The undocumented applicants must prove they've filed an income tax return, and the cards would also include text stating that it's not a valid form of ID for federal, voting or public benefit purposes.
Source: dailycaller.com
---
War
US, Taliban Negotiate Proposed Seven-Day 'Reduction in Violence'
The United States and the Taliban have reached an agreement on a proposed pact that centers around reducing violence in Afghanistan, U.S. Secretary of Defense Mark Esper said on Thursday.
"The United States and the Taliban have negotiated a proposal for a 7 day reduction in violence. I'm here today consulting with allies about this proposal and we've had a series of productive bilateral and collective meetings about the path forward," Esper said during a press conference in Brussels.
Source: theepochtimes.com
---
Q
"Deven Nunes predicts that more examples of Mueller team misconduct will be revealed in coming weeks." @seanhannity @FoxNews

— Donald J. Trump (@realDonaldTrump) February 13, 2020
Q 

!UW.yye1fxo

 

ID: 479712

 No.360885


Think image drop.
Think OP.
Think United.
When does a bird sing?
Everything has meaning.
[I]
Q
— Praying Medic (@prayingmedic) February 13, 2020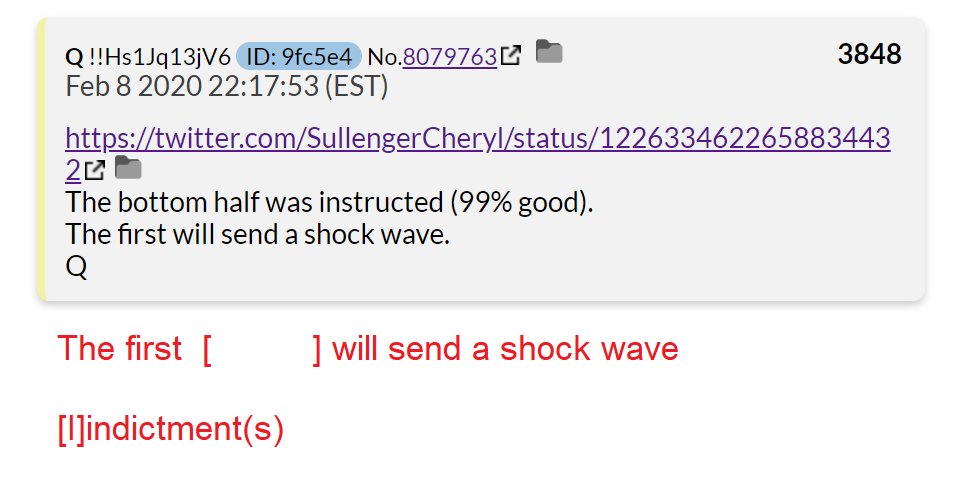 Q

 

!!mG7VJxZNCI

 

ID: 254408

 No.5272816


DnU4TYOXsAA_XYI.jpg

DnoC9BfW4AAwKt5.jpg

Review time.
Q
"Does anyone think it's out of the question that Pres. Trump might order the FBI to investigate Hillary Clinton, Joe Biden or anybody else?" Sen. Chuck Schumer asks. "That is third world behavior—not American behavior."

https://

abcn.ws/2wa1jGl

"Far-right conspiratorial writer who has no credibility…." –

[CS]

PANIC IN DC!

Q
81ecd413a6257b9282949a61ea7edc87a710fcfa7cd3f480431facc458bf8de7.jpg

Democrats call on Barr to resign. REALLY? Bill Barr is fighting to hold the FBI accountable for lying to the FISA Court SEVENTEEN times

Q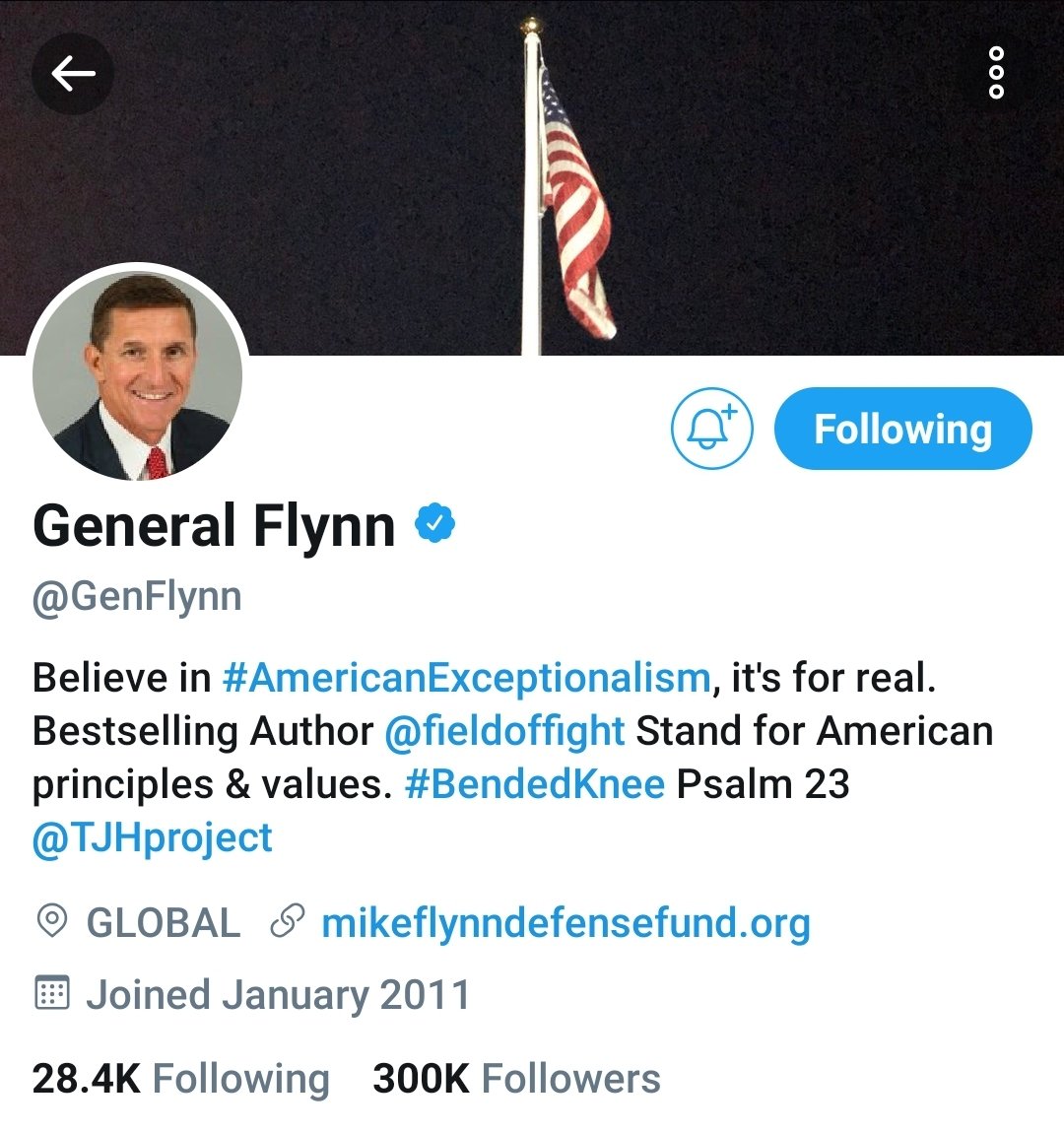 DRAIN THE SWAMP! We want bad people out of our government!

— Donald J. Trump (@realDonaldTrump) February 13, 2020
---
Uncensored