Patriots Must Play Every Card In The Deck, When Do You Play The Trump Card? – Ep. 2587
Watch The X22 Report On Video
The Biden administration is in trouble, they are now issuing memo to show the people that people support the Biden administration infrastructure plan. The Fed Presidents are now resigning, structure change is coming. The [CB] is moving their plan forward, but what happens when the playbook is known. The [DS] is preparing for zero day, they know the pattern of fraud is going to be revealed and they will everything in the power to stop it. The [DS] lied about the OSHA rules, there are none, business do not have to follow what the administration is saying. The pandemic is crumbling apart right in front of them and they know they will need to push fear to get the people to do what they want. Gov shutdown is coming and they say it will effect covid care. Trump puts out a statement letting the patriots know they have to play all the cards in the deck, before the Trump card can be played.
---
Economy
The White House on Monday circulated a memo ahead of a critical week on Capitol Hill for President Biden's legislative agenda that highlighted public support in polling for Biden's economic package.
"As we enter the final phase of legislative negotiations over the President's economic package – the evidence is overwhelming that the wind is at our backs and the public is eager for both of these packages to become law," the memo states.
Source:msn.com
Pelosi had a signed deal with moderate Democrats last month to bring the $1.2 trillion bill to the floor, but far-left "lawmakers have vowed not to support the infrastructure bill until Congress acts on the $3.5 trillion" package, increasing taxes and Medicare, Medicaid, and Obamacare funding
With the $3.5 trillion package not yet ready for a vote due to party infighting, moderate House Democrats are attempting to pass the $1.2 trillion bill without the $3.5 trillion package. The Senate passed the $1.2 trillion bill last month.
Source: zerohedge.com
My Build Back Better Agenda costs zero dollars.

Instead of wasting money on tax breaks, loopholes, and tax evasion for big corporations and the wealthy, we can make a once-in-a-generation investment in working America.

And it adds zero dollars to the national debt.

— President Biden (@POTUS) September 26, 2021
Responds
The claim that a bill that costs 3.5 TRILLION FREAKING DOLLARS "costs zero dollars" is legit insane. https://t.co/NwmVcPckN4

— Sean Davis (@seanmdav) September 27, 2021
Eric Rosengren, the president and chief executive of the Federal Reserve Bank of Boston, announced on Monday that he would retire nearly a year earlier than planned.
Rosengren was one of two Fed presidents whose financial activity in 2020 has come under fire in recent weeks. Rosengren held stakes in and traded shares of real estate investment trust at a time when the Fed was intervening in markets, including the market for mortgage securities, to stave off the effects of the pandemic. In addition, Rosengren disclosed he had traded individual stocks, including shares of Pfizer and AT&T.
Dallas Fed President Robert Kaplan also disclosed that he had traded millions of dollars of stocks.
Source: breitbart.com
1194
Q
!xowAT4Z3VQ
04/19/2018 22:16:41
 ID: d7571e
Archive Bread/Post Links: 1108585 / 1108971
Direct Link: 1108971
Gas prices in the UK could trigger food shortages within weeks
Source: cnn.com
Nearly one-third of British Petroleum's (BP) stations in the United Kingdom are almost out of fuel, as the oil company is seeing an increase in demand.
BP told The Hill in a statement that supply chain delays, triggered by a shortage of qualified drivers, are causing the company to experience "supply issues" at some of its facilities in the UK.
Source: thehill.com
In an interview w/ @NewYorker, the author of "How to Blow up a Pipeline," Andreas Malm, calls for eco activists to embrace violence: "I am in favor of destroying machines, property … and I think property can be destroyed in all manner of ways … such as blowing up a pipeline" pic.twitter.com/VFr8q4q9u9

— Tom Elliott (@tomselliott) September 27, 2021
---
Political/Rights
Forestry student-turned-shaman, 30, faces nine years in jail for 'starting California's Fawn Fire' that has burned 8,500 acres and destroyed 41 homes: DA suspects she could be 'serial arsonist'
Alexandra Souverneva, 30, of Palo Alto, has been charged with felony arson to wildland and is suspected of starting the Fawn fire – she was seen to be carrying CO2 canisters and a cigarette lighter
Workers saw her acting strangely and trespassing in Shasta County where the Fawn Fire sparked Wednesday
Souverneva was seen walking out of brush, telling firefighters she was dehydrated
The 30-year-old was arrested Friday and booked into jail after being taken for evaluation and treatment
Evacuations have been ordered as the Fawn Fire continues to rage, threatening about 2,000 structures
It has so far scorched more than 13 square miles (34 square kilometers) of heavy timber in rugged terrain

 
Source: dailymail.co.uk
4718
Q
!!Hs1Jq13jV6
09/16/2020 12:52:26
 ID: 338ebd
Archive Bread/Post Links: 10668220 / 10668478
Direct Link: 10668478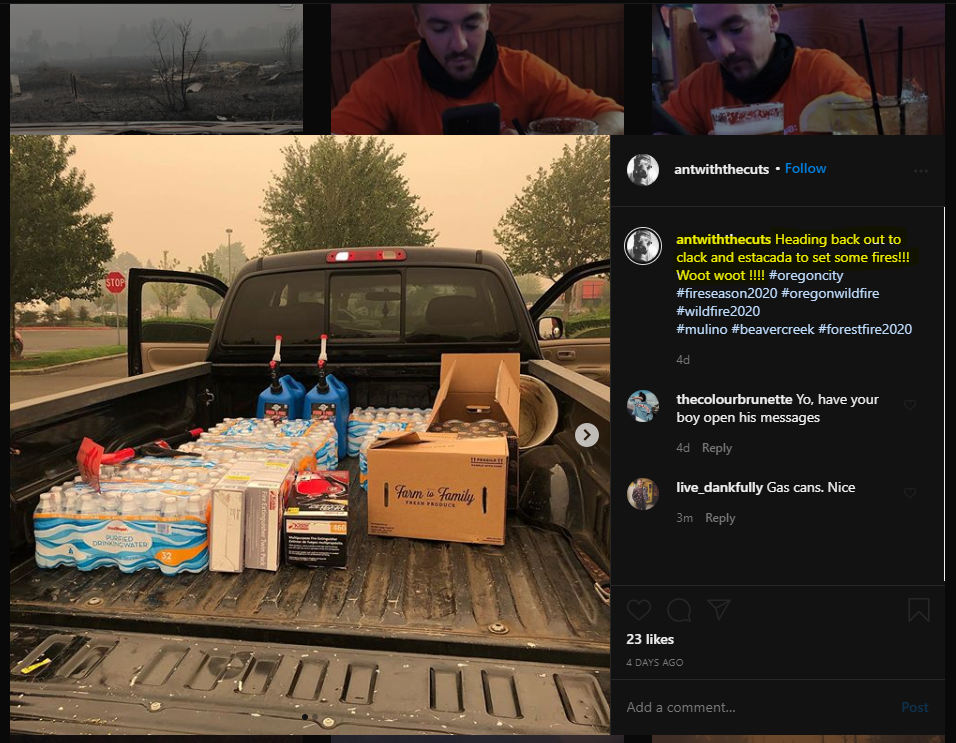 Image Name:
ClipboardImage.png
Filename:
1dfb277053d6b8ac92507b05ed9d3dc638bce4284900ddda280c43a05a9ffc17.png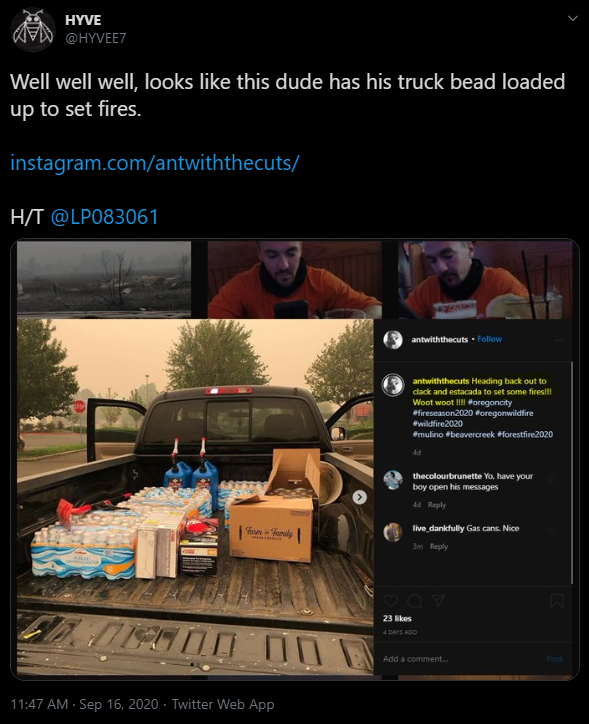 Image Name:
ClipboardImage.png
Filename:
5f8a8ef2cdbfce802f0a675de5ce48c8902c82109ed850e348024fcbb69eef42.png
 Secretary Mayorkas admits at least 12,000 illegal aliens from Haiti have been disbursed into the U.S. mainland.  T
Source: theconservativetreehouse.com
ALERT: Pelosi is racing to pass the 2,465 page budget reconciliation bill that includes mass amnesty for illegals & abolishes annual green card caps to allow for unlimited future migration. Most drastic immigration rewrite in over half a century. Page 898: https://t.co/1CK89p0lZs https://t.co/2tBNaTsS5j

— Stephen Miller (@StephenM) September 27, 2021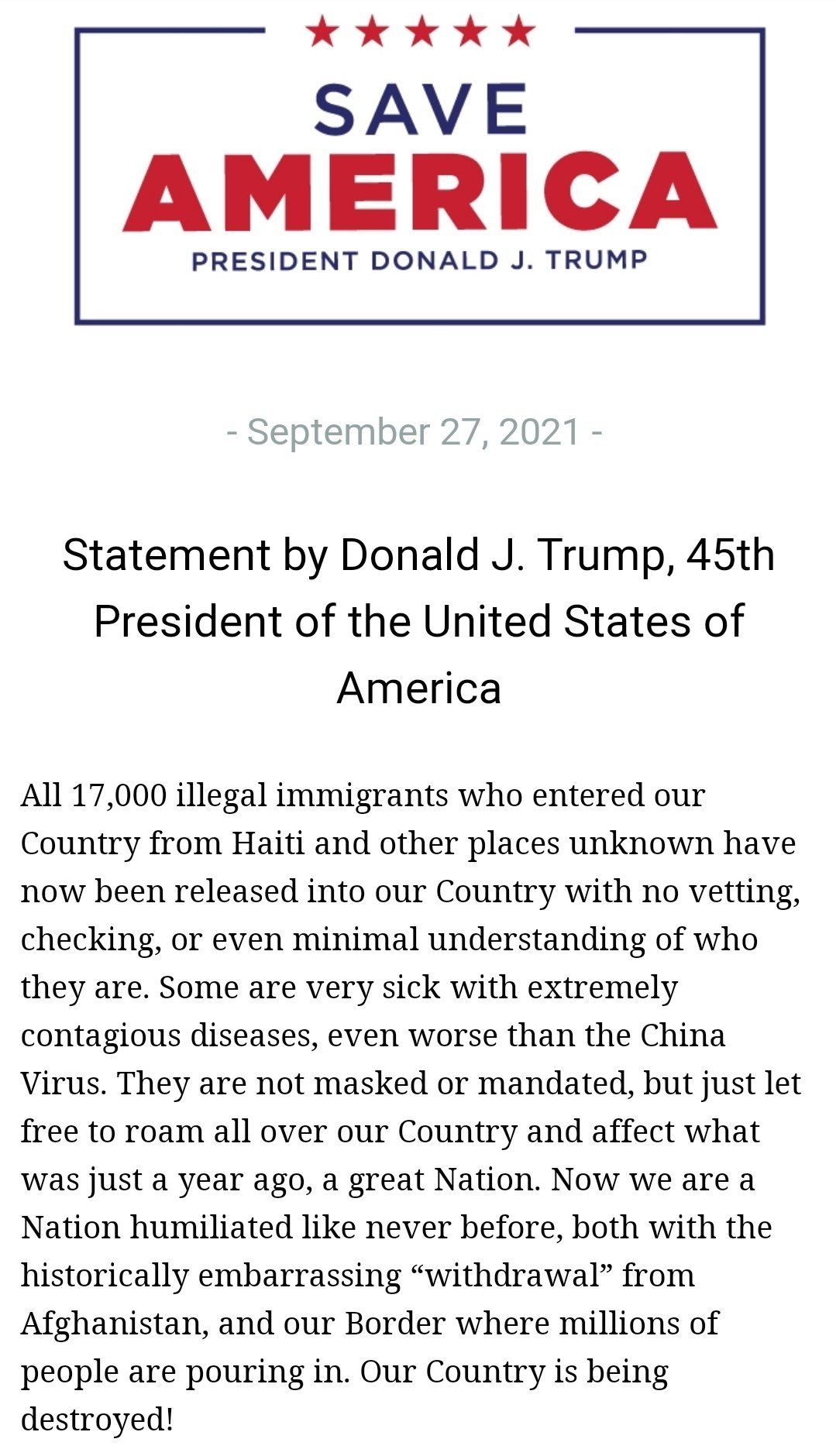 ---
Geopolitical/Police State
I am authorizing @FLSecofState and the Florida Department of State to open an investigation into Facebook's alleged election interference through its whitelisting program.

Floridians deserve to know how much Big Tech has influenced our elections. pic.twitter.com/rmGmZ6BK6T

— Ron DeSantis (@GovRonDeSantis) September 27, 2021
🚨NEVER TRUST THE ANTI-GUN MEDIA

Guns are used defensively 2 million times per year. @JohnRLottJr found that America's five largest newspapers published a combined total of 10 of these stories this year. Yet, these newspapers had a total of 2,764 stories of criminal activity. pic.twitter.com/3027I99VJB

— NRA (@NRA) September 23, 2021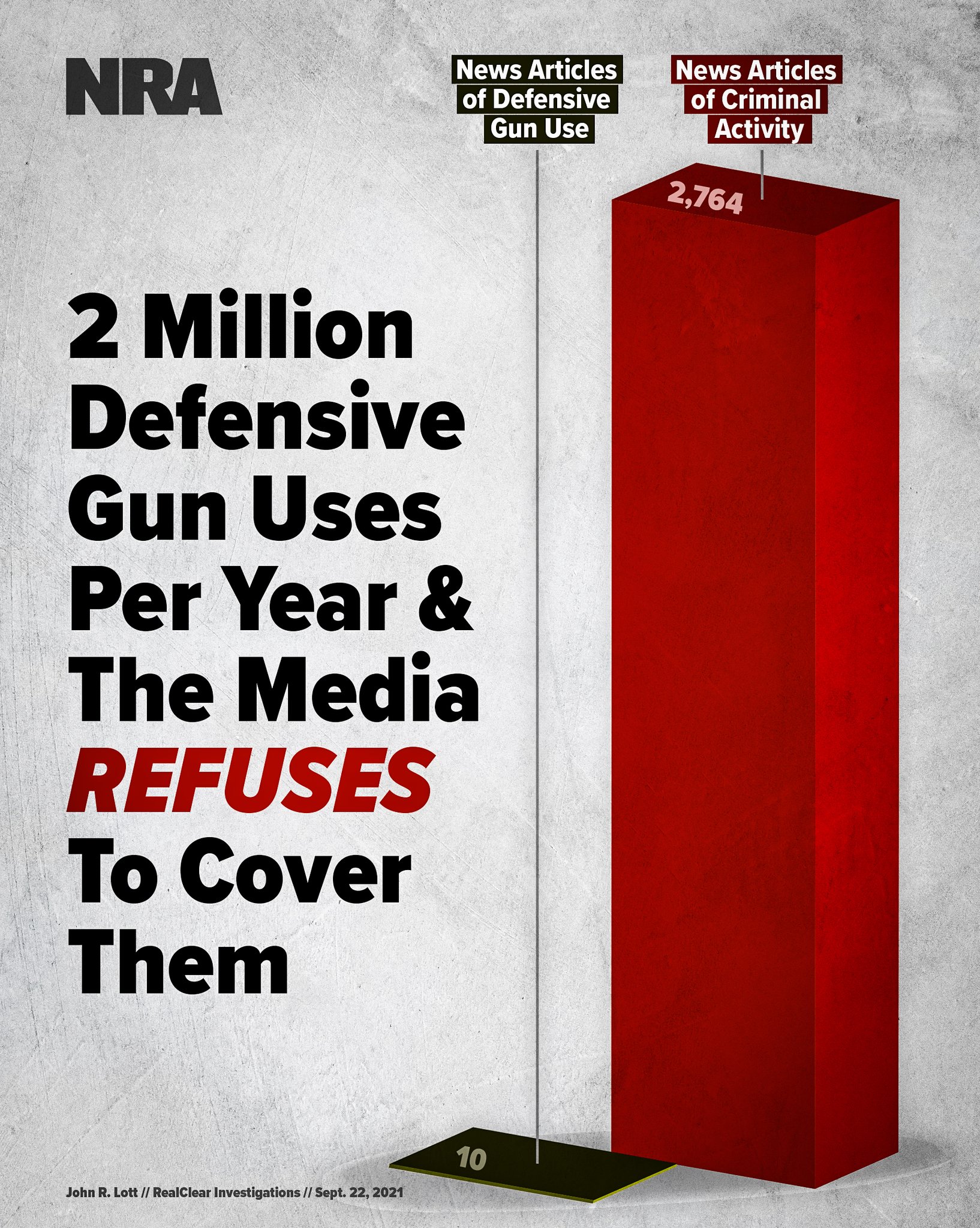 ---
War
The House  passed a measure that would require young women to register for Selective Service — the agency that handles military drafts — for the first time.
According to reports, if the provision makes it through the Senate and becomes part of the FY 2022 National Defense Authorization Act, it will become mandatory for young women between the ages of 18 and 26 to sign up for the draft, just like men between those ages have been required to do for decades.
Only 38 Democrats and 75 Republicans voted against the legislation.
 
Source:  washingtonpresstoday.com
---
False Flags
— Orwell & Goode (@OrwellNGoode) September 27, 2021
This is total BS.
We're just gonna file this in 'things that never happened.'
Kamala Harris  was set to make an appearance on "The View" to discuss abortion and immigration.
Two the hosts from "The View" tested positive for Covid so Harris' interview was cut short.
Ana Navarro and Sunny Hostin – both fully vaccinated for Covid – apparently got 'breakthrough' cases of the China virus and were told to leave the studio.
Now Joy Behar is claiming Hostin and Navarro got 'false positive' Covid-19 tests 
Source: thegatewaypundit.com
Now, another hip-hop/pop music icon has also made a statement against the establishment's overwhelming suppression of information.
On Friday, Rihanna was photographed on her way to the recording studio in NYC and she was wearing a very important warning.
The billionaire singer was seen sporting a white t-shirt with the ominous slogan "Think, while it's still legal," a
Source: thegatewaypundit.com
    A New York state healthcare provider operating a week ago without issue is now forced to stop offering healthcare services today. Why? Simply because the government has mandated a vaccine requirement that many workers within the industry are uncomfortable with.
The issue is not just a shortage of doctors and nurses.  Everyone including: janitors, cafeteria staff, administrators, phone operators, clerical staff, coders, IT staff, receptionists and customer service staff within the healthcare industry are impacted.  If they didn't take the jab, they're fired.
Yet, somewhere in the twisted logic and ideological worldview seemingly devoid of commonsense, the proponents claim it's for the benefit of public health to enact policies that shut-down services providing for the public health.  Take this example:
( 
.
Source: theconservativetreehouse.com
Checks notes:… **ahem** Jennifer Psaki just admitted the White House has no idea when, or even if, OSHA can ever generate legally enforceable rules needed for a nationwide vaccine mandate.

I'll look for video. It was in first 10 mins of presser.

— TheLastRefuge (@TheLastRefuge2) September 27, 2021
Video at 13:45 promptedhttps://t.co/xtaDwYwyS2

— TheLastRefuge (@TheLastRefuge2) September 27, 2021
Biden to get booster COVID-19 shot on camera to lobby support for rollout
President Joe Biden  received his third coronavirus vaccine on camera  
Source: washingtonexaminer.com
Biden said "you're not gonna get COVID if u have these vaccinations."

Fauci said shots are "almost 100%" effective at preventing severe disease.

CDC's Walensky said "vaccinated people do not carry the virus" & "don't get sick"

What happened?https://t.co/4xK1pC2odG

— Jordan Schachtel @ dossier.substack.com (@JordanSchachtel) September 27, 2021
Pfizer CEO Dr. Albert Bourla said  that he believed "the most likely scenario is annual revaccination" against the coronavirus.
Source: breitbart.com
You can't call COVID the most deadly pandemic to ever be known to mankind while simultaneously having an open border with zero health protocols.

— Amy Phan West (@amyphanwest) September 26, 2021
Over 200 Business Owners File Federal Class Action Lawsuit Againt NYC Mayor: 'This Will Be The First Domino' To #EndCovidTyranny Nationwide
Business owners in New York City are banding together to end COVID tyranny and fight back the government-sanctioned segregation ushered in by unconstitutional vaccine mandates and in a class-action federal lawsuit that will likely be litigated in the Supreme Court.
Members of the Independent Restaurant Owners Association Rescue,  a group comprised of over 200 business owners that formed at the start of the "pandemic" in March 2020, are suing New York City Mayor De Blasio and the city over the decree, in a lawsuit their attorney contends will be the first domino towards ending covid tyranny nationwide.
 
Source: thegatewaypundit.com
Legal experts say protests against vaccine mandates are being fueled by a pseudo legal ideology that has ties to white supremacy and extremist groups. https://t.co/1RFJaBz9qN

— CBC News (@CBCNews) September 25, 2021
Uttar Pradesh COVID cases now effectively ZERO given population of 241 million, massive testing, 5% vax. Rivals the historic eradications of smallpox & polio with vaccines, except those were celebrated in all the papers and all the streets… while UP's IVM strategy.. not a peep pic.twitter.com/upBwllf4N3

— Pierre Kory, MD MPA (@PierreKory) September 26, 2021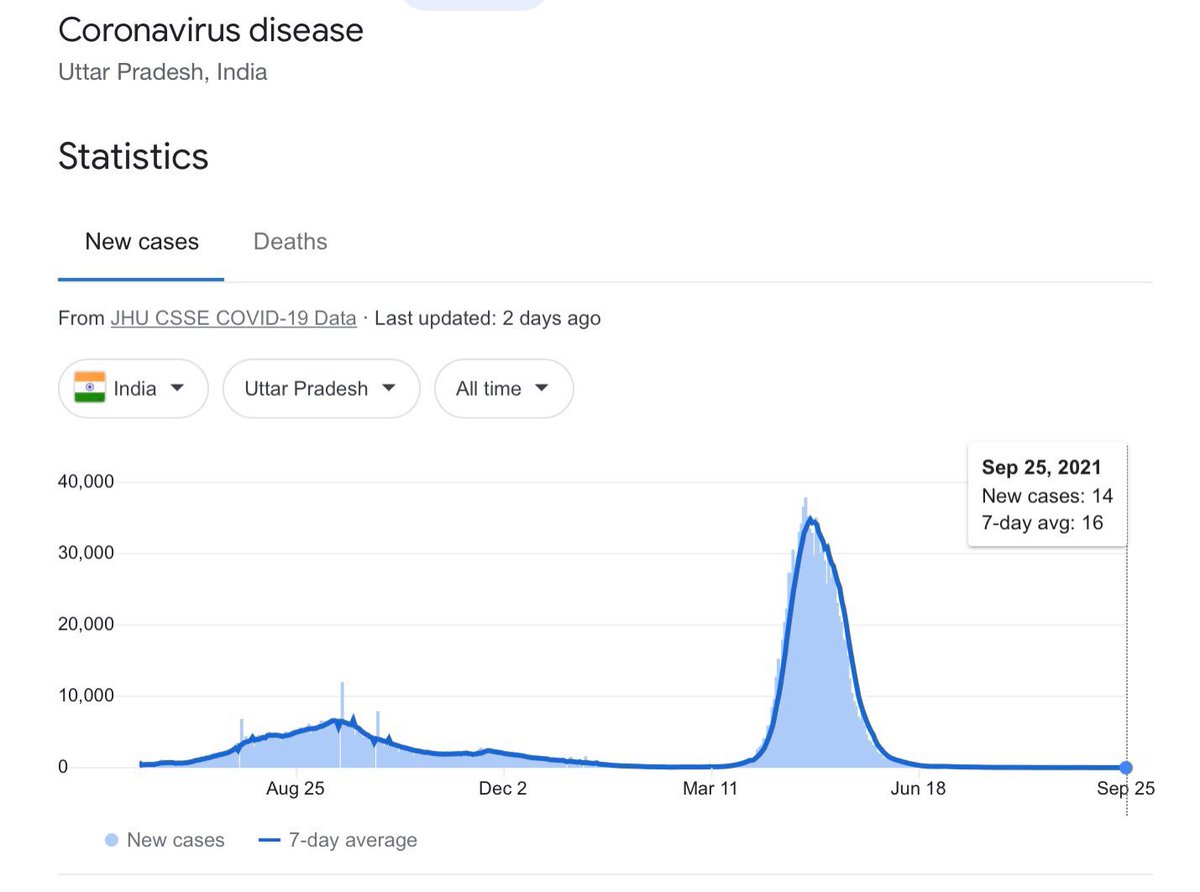 The same people who told you the Wuhan Lab Leak was a conspiracy theory are the same people who told you Hunter Biden's laptop was a disinformation campaign are the same people who tell you Biden has the legal right to force you into getting the new vaccines.

— Emerald Robinson ✝️ (@EmeraldRobinson) September 27, 2021
Over 3,000 Doctors and Scientists Sign Declaration Accusing COVID Policy-Makers of 'Crimes Against Humanity'
A"Physicians' Declaration" produced by an international alliance of physicians and medical scientists strongly condemns the global strategy to treat COVID, accusing policy-makers of potential "crimes against humanity" for preventing physicians from providing life-saving treatments for their patients and suppressing open scientific discussion.
The document states that "one size fits all" treatment recommendations have resulted in needless illness and death.
Dr. Robert Malone, architect of the mRNA vaccine platform, read the Rome Declaration at the summit.
---
Q
According to the initial Cyber Ninja Report released to the media y,  the day before the Arizona Senate report was made public, there was real concern about provisional ballots.
On page 2 of the early Cyber Ninja report:
There were substantial statistically significant anomalies identified in the ratio of hand-folded ballots, on- demand printed ballots, as well as a statistically significant increase in provisional ballot rejections for a mail-in ballot already being cast, suggestive of mail-in ballots being cast for voters without their knowledge.
Then on Friday the Cyber Ninja Report revealed that 58,550 voters appeared on election day to vote who had reportedly already received a mail-in ballot , page 59:
5.7.1 Real-Time Provisional Ballots

The Arizona Secretary of State Elections Procedures Manual identifies circumstances that require the issuance of a Provisional Ballot. If a voter appears in the e-pollbook or signature roster as having received an early ballot by mail, but the voter wants to vote in person on Election Day, that voter must be issued a Provisional Ballot. However, Maricopa County reported 58,550 voters who had received mail ballots but were issued standard ballots on Election Day. The County identifies these as "real-time Provisional Ballots." There is no mention of real-time provisional in the AZ Elections Procedures Manual. In fact, the EPM specifically addresses this circumstance and is clear that such voters must be issued a Provisional ballot.
These 58,550 voters turned up on election day and were told they already voted by mail-in ballot without their knowledge. The language was watered down in the final report.
Arizona was not the only state in 2020 that illicit acts with provisional ballots.
In Michigan, leftist operatives taught poll workers how to cheat with provisional ballots.
Source: thegatewaypundit.com
I support this petition and sign it now that I've had a chance to review it. I don't sign petitions at rallies where people ambush me. Doesn't matter who or what it is. I will always thoughtfully read it over first.
Well well well, a few more subpoenas that were apparently issued on Sept 22. Some familiar names for this corner!! Follow along for some additional info… 1/x https://t.co/nhofpIlV9j

— walkafyre (@walkafyre) September 27, 2021

White House warns government shutdown could hurt fight against COVID
The White House warned   that the looming government shutdown could hamper efforts to combat the COVID-19 pandemic.
Congress has only a few days to pass a fiscal-year spending deal, and with Republicans and Democrats at loggerheads, some public health measures could be affected, said White House press secretary Jen Psaki. 
"It is never a good thing for the government to shut down, and that is why we are doing everything we can to prevent that from happening," Psaki opened in response to a question from CNN's Kaitlan Collins on the subject.
 
Psaki acknowledged that many public health operations would continue even in the event of a shutdown, but said that "having services shut down [and] staffing cut in some agencies is not in the interests of addressing any crisis we face, including the pandemic."
Source: washingtonexaminer.com
Local media in China – which is highly dependent on coal for power – said the cause was a surge in coal prices leading to short supply. As shown in the chart below, Chinese thermal coal futures have more than doubled in price in the past year.
There are several reasons for the surge in thermal coal, among them already extremely tight energy supply globally (that's already seen chaos engulf markets in Europe); the sharp economic rebound from COVID lockdowns that has boosted demand from households and businesses; a warm summer which led to extreme air condition consumption across China; the escalating trade spat with Australia which had depressed the coal trade and Chinese power companies ramping up power purchases to ensure winter coal supply. Then there is Beijing's pursuit of curbing carbon emissions – Xi Jinping wants to ensure blue skies at the Winter Olympics in Beijing next February, showing the international community that he's serious about de-carbonizing the economy – that has led to artificial bottlenecks in the coal supply chain.
Whatever the reason, it's just getting started: as BBC reported, one power company said it expected the power cuts to last until spring next year, and that unexpected outages would become "the new normal." Its post, however, was later deleted.
Source: zerohedge.com
In an interview w/ @NewYorker, the author of "How to Blow up a Pipeline," Andreas Malm, calls for eco activists to embrace violence: "I am in favor of destroying machines, property … and I think property can be destroyed in all manner of ways … such as blowing up a pipeline" pic.twitter.com/VFr8q4q9u9

— Tom Elliott (@tomselliott) September 27, 2021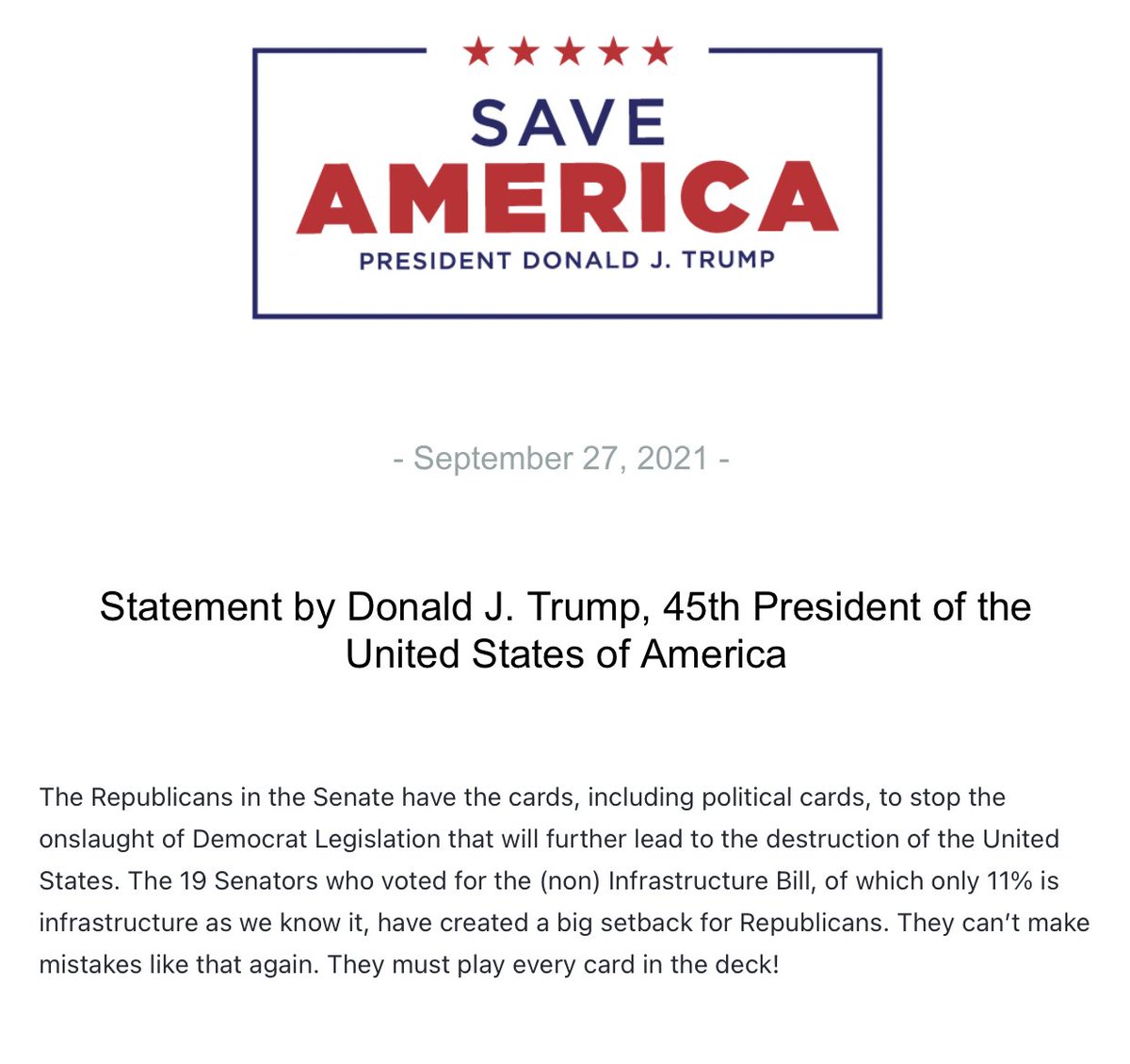 "They must play every card in the deck!" 
2936
Q
!!mG7VJxZNCI
03/03/2019 13:52:38
 ID: ca665a
Archive Bread/Post Links: 5483508 / 5483687
Direct Link: 5483687