People Awake Is The [DS] Greatest Fear, Biden Is Falling Into Every Trap Trump Set – Ep. 2959
Podcast: Download (Duration: 1:04:21 — 29.0MB)
Watch The X22 Report On Video
People are beginning to learn that going Green is not what it seems. There are now reports of slave labor mining cobalt. Pending homes imploded. Trump set everything in motion 5 years ago, everything is about change. Rand Paul says that the currency is now being destroyed. The [DS] is panicking, the people are waking up and this is their greatest fear. This is why they have been censoring and trying to control the narrative. Trump has set many traps for Biden and the puppet masters and it seems they fall into every single time. The reason for the traps is expose their agenda and show the people the truth. This is the biggest sting operation we have ever seen. We are in an information war and the patriots are winning.
---
Economy
Cobalt is a mined mineral needed for all rechargeable batteries including phones, pads, laptops and Electric Vehicles (EV's). According to Siddharth Kara, an author and expert on modern-day slavery, human trafficking and child labor, approximately 72% of all the cobalt mined globally comes from the Congo.
Source: theconservativetreehouse.com
Existing home sales crashed but new home sales rebounded in November, which leaves today's pending home sales as the deciding vote for just how apparently dismal the US housing market really is.. and the decision is – the housing market is in trouble as pending home sales tumbled 4.0% MoM (vs -1.0% exp) and October's drop was revised even deeper…
That is the 6th straight month of pending home sales declines (and 12th of the last 13 months).
On a year-over-year basis, pending home sales collapsed 38.60%, the largest annual drop ever.
"There are approximately two months of lag time between mortgage rates and home sales," Lawrence Yun, NAR's chief economist, said in a statement.

"With mortgage rates falling throughout December, home-buying activity should inevitably rebound in the coming months and help economic growth."
Pending sales fell in all four regions in the month, led by the Northeast and Midwest.
Outside of the COVID-Lockdown collapse, this is the lowest pending home sales index level ever…
pending home sales are often looked to as a leading indicator of existing-home purchases given properties typically go under contract a month or two before they're sold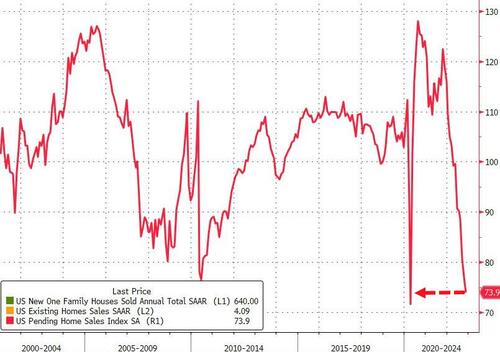 Source: zerohedge.com
Five years in, Opportunity Zones are boosting communities

Call it the tax cut that wasn't.
www.washingtonexaminer.com
Five years in, Opportunity Zones are boosting communities
When the Opportunity Zone tax incentive was signed into law under the Tax Cuts and Jobs Act of 2017, critics were quick to label it "just another tax cut for the rich." But on the fifth anniversary of its passage, a different picture has emerged: instead of concentrating benefits on the rich, opportunity zones are attracting investments into low-income communities across the nation.
There are over 8,700 Opportunity Zones across the country, designated by governors both Republican and Democrat, as the most economically distressed areas in their state. Under the legislation, tax benefits were granted to investors funding projects within these designated census tracts.
Since the inception of the program, these low- to moderate–income communities have attracted over an estimated $100 billion in investment capital, bringing forth new real estate development, small and large businesses, and infrastructure revitalization.
According to Novogradac's Opportunity Zone Resource Center, Qualified Opportunity Funds targeting multiple investment areas, including a mix of residential, hospitality, and commercial, continue to dominate the Opportunity Zone landscape. These have raised more than $20 billion in equity in their tracked qualified opportunity funds. Residential developments alone report nearly a $6 billion increase in equity, the highest total raised by Qualified Opportunity Funds targeting one singular investment area.
Take Washington, D.C.'s Ward 7 and 8 neighborhoods, for example. Known to local residents as "east of the river," these areas have been plagued by high poverty rates, violence, and homelessness for decades. However, since receiving an Opportunity Zone designation, Wards 7 and 8 have secured more than $600 million in investments, bringing 700 new jobs and over 1,300 new affordable housing units.
Source: washingtonexaminer.com
There's A Massive Red Flag That Could Spell Disaster For Americans' Pension Plans
U.S. government pension funds currently have the lowest cash holdings since the 2008 financial crisis, and corporate pensions' cash holdings are barely above the 13-year low they hit in 2021, which could spell disaster in the event of a financial crisis.
"The insolvency of many pension funds, which was caused by making promises that could never be paid, will eventually rear its head in a financial crisis — it is just a question of when the music will stop and who will be left without a seat," E.J. Antoni, research fellow for regional economics at The Heritage Foundation, told the DCNF.
Some funds are now pushing to build up their cash on hand in anticipation of a rocky 2023, which will likely include another rate hike from the Federal
Source: dailycaller.com
"We're going to destroy our currency"

– Rand Paul 🚨

🔊sound …😲 pic.twitter.com/DvP06mgFs4

— Wall Street Silver (@WallStreetSilv) December 27, 2022
---
Political/Rights
  Sam Bankman-Fried's criminal case was reassigned to Bill Clinton-appointed District Judge Lewis Kaplan, recently known for handling a Epstein-linked sexual abuse lawsuit against Britain's Prince Andrew, and defamation lawsuits against Donald Trump, and is also known for presiding over a number of federal racketeering cases involving Mafia members. In April 2010, Kaplan was assigned to preside over the cases of 14 Gambino crime family members arrested on charges, among others, of racketeering, racketeering conspiracy, witness tampering (in the 1992 trial of John Gotti), and sex trafficking of a minor.
Source: zerohedge.com
We wouldnt even have to do anything, theyd eat him alive- they being the limousine libs in cali who will never allow a white man to be senator, haha. Beautifully ironic- the continued plummet of watermelonhead
Schiff: 'I'm Giving Serious Consideration' to Running for U.S. Senate

Representative Adam Schiff (D-CA) said Saturday on KTTA's "The Issue Is" that he is seriously considering running for U.S. Senate. | Clips

www.breitbart.com
If the left wants Rep.-Elect George Santos to resign for lying on his resume, then I demand the resignation of:

Lying Adam Schiff
Brother Marrying Ilhan Omar
Fang Fang Swalwell
Liz "Pocahontas" Warren
Wet Market Fauci
The Border is Secure Mayorkas

Should I go on?

— Charlie Kirk (@charliekirk11) December 27, 2022
PHOENIX, ARIZONA – Most Republicans who support Kevin McCarthy for speaker of the House "benefit" from special interest money, Republican Florida Rep. Matt Gaetz told the Daily Caller.
Gaetz has made clear that he will not be voting for McCarthy for speaker,
  
"I'm not voting for Kevin McCarthy, because I think he's just a shill of the establishment. I think that Kevin McCarthy is little more than a vessel through which lobbyists and special interests operate," Gaetz said.
"The reason most of my Republican colleagues are supporting him is because they benefit from the redistribution of lobbyist and special interest money through McCarthy to their campaign accounts," he added. "The bottom line is, that's not going to work anymore.
Gaetz said that the House needs someone like Republican Ohio Rep. Jim Jordan, coinciding with his recent tweets calling for Jordan to seek the speakership.
Corrupt and Criminal Speaker Pelosi to Release President Trump's Tax Records for No Legal Reason or Constitutional Right on Friday
 
Instead, Pelosi will illegally for no reason release President Trump's tax records to the public.  This is totally against the Constitution.  But then again, everything Pelosi did was unconstitutional.
Pelosi's friends at corrupt CNN reported moments ago:

The House Ways and Means Committee will release former President Donald Trump's tax returns 

The returns will be placed into the congressional record on Friday morning during a House pro forma session. That pro forma session will occur around 9 a.m. ET on Friday. There will also be a formal announcement Friday from the committee.
Source: thegatewaypundit.com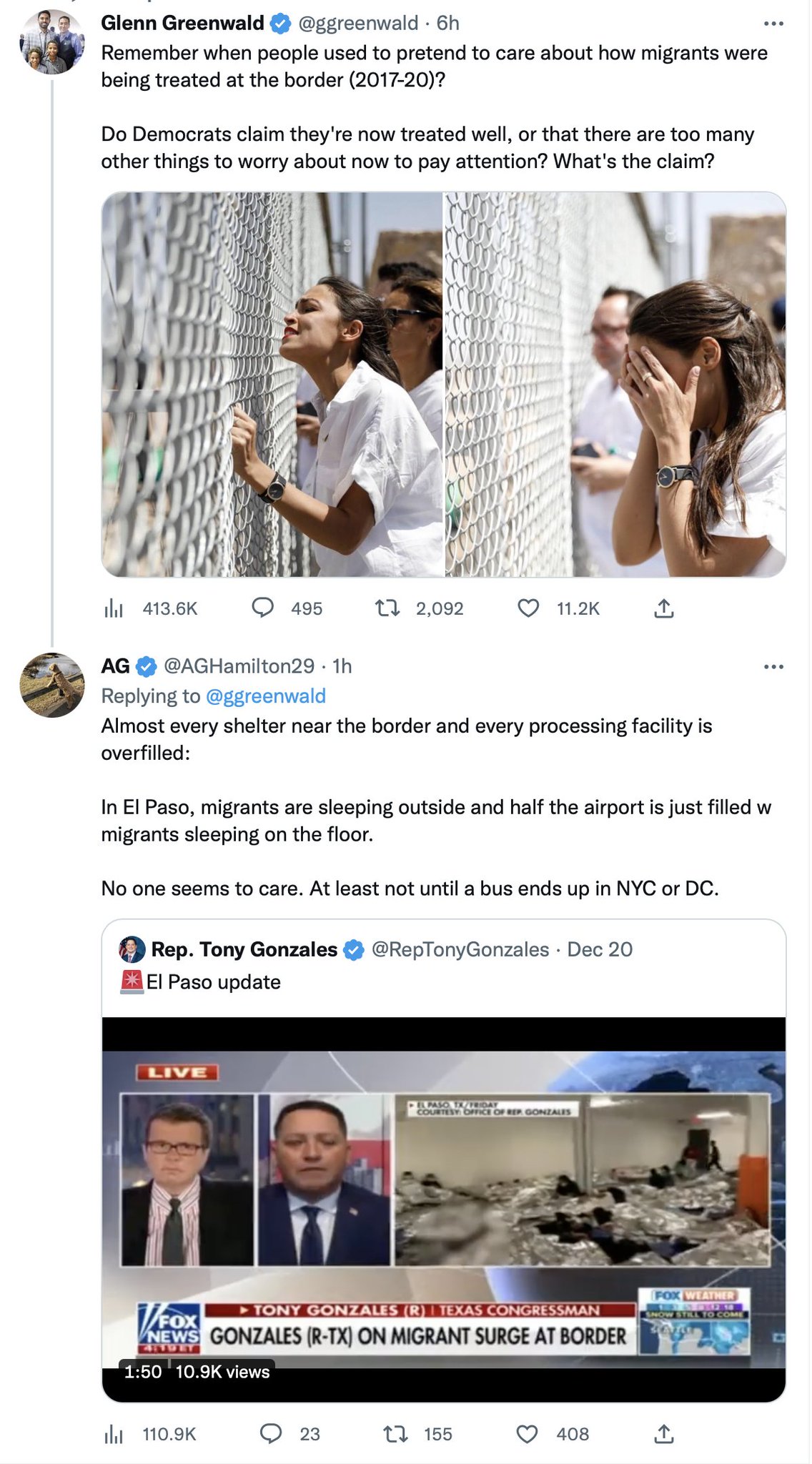 Texas has bused over 15,900 migrants to sanctuary cities.

⁃ Over 8,900 to DC
⁃ Over 4,900 to NYC
⁃ Over 1,500 to Chicago
⁃ Over 630 to Philadelphia

We're providing relief to local communities overwhelmed by President Biden's open border policies.

— Gov. Greg Abbott (@GovAbbott) December 27, 2022
Migrant crossings have plummeted on a stretch of Downtown El Paso where the Texas National Guard put up a barbwire fence.
First Sgt. Suzanne Ringle attributed the decline in migrant crossings to the visual deterrent of the barbwire and National Guard members at the border.
The guard began setting up the barrier last week at a gap in the border wall west of the Paso del Norte port of entry. In the space of eight days, the barbed wire has nearly reached a second port of entry and chain-link fence anchored by sandbags extends even farther. The result is that asylum seekers can no longer walk across ankle-deep water in the Rio Grande and turn themselves in to waiting Border Patrol agents in that area.
"The difference is vast," said 1st Sgt. Suzanne Ringle. "The 19th, the 20th and the 21st we had large groups of families and individuals who were wanting to come across. Now, it's almost a ghost town out there."
Migrant crossings "plummet" in El Paso as Texas National Guard expands barbwire fence.

We will continue to deploy the National Guard, razor wire, large container boxes and building the wall to do all we can to deter illegal immigration caused by Biden.
Source: thegatewaypundit.com
BREAKING: The Supreme Court keeps the Trump-era Title 42 border policy in effect for now. The court says it will hear argument in February over whether red states can intervene in the litigation over the policy. The vote is 5-4, with Neil Gorsuch joining the three liberals.

— SCOTUSblog (@SCOTUSblog) December 27, 2022
Supreme Court Blocks Biden Administration Effort to Lift Title 42 Alien Expulsions, One Month After Biden Administration Extended National COVID Emergency
 the Biden administration extended the national COVID-19 emergency through April of 2023.
On the other hand, the same Biden administration was saying there was no COVID-19 emergency as the foundation for their effort to remove Title 42.
The Supreme Court seemed to recognize the inherent contradiction and applied a non-pretending logic.  If the national health emergency exists, then Title 42 still applies.  It's really just a simple affirmation of Biden policy. 
Source: theconservativetreehouse.com
DHS Chief Mayorkas Calls for Amnesty, More Immigration as Title 42 Remains 
In response to the Supreme Court of the United States (SCOTUS) keeping Title 42 in place at the U.S.-Mexico border, Department of Homeland Security (DHS) Secretary Alejandro Mayorkas is calling on Congress to approve President Joe Biden's plan giving amnesty to illegal aliens while increasing foreign competition in the labor market.
Source: breitbart.com
The Department of Homeland Security recently warned of potential domestic violent extremist acts related to the anticipated lifting of a Trump-era border restriction, according to a memo obtained by CNN, just days before the termination of those limits was halted by the Supreme Court.
"So far, we have observed calls for attacks targeting primarily migrants and critical infrastructure, but our insight into DVE plotting is constrained by these individuals' use of online security measures to limit exposure to law enforcement," reads the memo, dated December 23.
Threats against the United States are increasingly unpredictable and complex amid a host of conspiracy theories, foreign interference and calls for violence.
Source: cnn.com
Trump ripped President Joe Biden for taking steps to make citizenship tests for migrants easier as the current president's administration implements a pilot program to change open-ended questions on the exam to multiple choice questions.
"I don't like making it easier," Trump  . "I think people should go through a process. I'm all for legal immigration, but what's happened in the last two years has probably never happened in any country in history. I think you have over 12 million people who will have come in in a very short period of time—not to mention the drugs and the human trafficking and all the other things that come with it. No, I don't think we should make citizenship easy. We should make citizenship responsible—you have to be responsible if you come in to be a citizen. I would disagree with it."
source: breitbart.com
Since taking office, Joe Biden has signed 105 executive orders.
Some GOP-controlled state legislatures have taken steps to look at the "constitutionality" of these executive orders.
Missouri State Rep Brian Seitz is sponsoring a bill that would require state lawmakers to scrutinize some presidential executive orders.
Similar bills have popped up in other states where Republicans control the state legislature.
Alabama, Utah, Nebraska, South Dakota, North Dakota, Oklahoma, Tennessee, Iowa, and South Carolina have all considered bills looking at the "constitutionality" of executive orders since Biden took office.
More GOP state lawmakers should introduce these bills!
Source: thegatewaypundit.com
---
Geopolitical/Police State
Why is corporate journalism rushing to defend the state instead of the people? https://t.co/uqR0MwiqCx

— Elon Musk (@elonmusk) December 27, 2022
The legacy media should worry about its reputation. We have only just begun.

— Elon Musk (@elonmusk) December 28, 2022
Agreed

— Elon Musk (@elonmusk) December 28, 2022
Nazis wanted Germans to support their dictatorship and ideologies. To Garner that support, they controlled communication through censorship and propaganda. Control of newspapers magazines, books, art, theater music, movies and radio were amongst these types of communication. pic.twitter.com/GVcJvMoslq

— ᗩᗰEᖇIᑕᗩᑎ ᑕOᗯᗷOY 🇺🇸 (@CowboyUSA7) December 27, 2022
Klaus Schwab :

"our education initiative… we have Cisco… and practically all the big names… we will revolutionize education…we will retrain the teachers… we will put a new curriculum in place"

… so that we can indoctrinate the children with our ideology at an early age… pic.twitter.com/PPSMIA1d5m

— Wall Street Silver (@WallStreetSilv) December 28, 2022
 
Prior to its upcoming conference in Davos next month, the World Economic Forum (WEF) appears to have joined the cancel campaign against Twitter, taking to recommending Chinese state-controlled social media apps to "follow along" with Davos Man into the future.

 Twitter is noticeably absent from the entities listed on the organization's "How to follow Davos 2023" social media pamphlet, and that appears to be no accident.

To stay up to speed with all that is happening within the invite-only doors of the ruling class confab, the WEF recommends following along through a handful of social media sites. They include the U.S.-based narrative-compliant Facebook, LinkedIn, Instagram, and YouTube, along with the Chinese social media apps TikTok WeChat, and Weibo. Twitter, which has freed itself from the grasp of the WEF-endorsed censorship-compliant social apps, is no longer included.
Source:  dossier.substack.com
The Supreme Court is scheduled next week to look at a case from Florida in which the state, 16 other states, and former President Donald Trump are urging the court to consider whether states have the power to regulate how social media companies moderate content on their platforms.
The case is in the public eye because it pits the right of individual Americans to freely express themselves online against the right of social media platforms to make editorial decisions about the content they host. Lawyers say both rights are protected by the First Amendment to the U.S. Constitution, so the Supreme Court needs to weigh in to resolve the conflict.
 g
---
War
BREAKING: Zelensky announces he is planning to join World Economic Forum in Davos, to sign new postwar loans with BlackRock
"
it was revealed that Ukrainian President Volodymyr Zelensky's government is prepping to participate in January's World Economic Forum (WEF) in Davos, and that the Ukrainian leader is in talks with BlackRock CEO Larry Fink regarding rebuilding efforts following the war with Russia.
 Zelensky said in an evening address to the nation, "Specialists of this company are already helping Ukraine to structure the fund for the reconstruction of our state." 
Source: postmillenial.com
---
Cyber Attacks
---
False Flags
"Our Administration is Working to Ensure Airlines Are Held Accountable" – Joe Biden Targets Airlines After Polar Vortex Causes Flight Cancellations
Thousands of passengers are scrambling to rearrange their travel plans this holiday season after Southwest Airlines canceled thousands of flights.
Southwest Airlines made the recent announcement to customers that alternate flights may not be available to them until after New Year's Eve.
One Southwest Pilot, Tom Bogart, revealed what he believes is behind the mass flight disruption.
"The question is, why are we having a staffing shortage?" he asked. "I believe it's because of the COVID vaccines — they're still requiring the vaccination for all new applicants and if the new applicants say they're not going to get vaccinated, their application is passed over."
On December 21, before the recent "bomb cyclone" pummeled the Great Plains states, Great Lakes region, and Northeast, Southwest Vice President for Ground Operations Chris Johnson admonished staff in Denver for the unusually high number of callouts.
However, more recent reports that new pilot applications are being turned down over Covid vaccination under the new CEO is exacerbating negative public relations at a time when customers are sick of excuses.
Source: beckernews.com
Climate change
Young people playing sports
Eating certain fruits
Videogames
Napping
Things that can never, ever be blamed for "dying suddenly" according to media:
mRNA vaccines with no long-term studies
— Tom Fitton (@TomFitton) December 28, 2022
— Elon Musk (@elonmusk) December 28, 2022
Fauci Was 'Untruthful' to Congress About Wuhan Lab Research, New Documents Appear To Show
"Gain-of-function" in this context is just another way of saying "bioweapon".

Some good nuggets in article. Important to note that Fauci authored 2012 paper arguing for gain-of-function research!

Obama wisely put this on pause, but Fauci restarted it.https://t.co/v18oaE3zkf

— Elon Musk (@elonmusk) December 28, 2022
I invite @CommunityNotes to correct or amend this thread

— Elon Musk (@elonmusk) December 28, 2022
The week after The Fauci Files drop, this entire country is going to undergo a massive wave of awakenings and anger like nothing every seen in the nation's history.
PARENTS ARE GOING TO REACT IN HORROR AT WHAT THEY DID TO THEIR OWN KIDS BECAUSE THEY TRUSTED THESE F**KING SNAKES.
People who's businesses died will realize it was for nothing.
See, they were ALL TOLD we were in this together, that they bore these sacrifices for the noble common good.
WHEN THEY REALIZE IT WAS ALL A LIE…
---
Q
Who is the Supreme court Leaker
It's been nearly 2 years since J6
Have they found Nancy Pelosi laptop
How about the pipe bomber 
Who is Ray Epps
How many CHS were there
How was the FBI involved
Why did NP say no to the NG
Who unlocked the magnetic doors.
Report: Brazil's Bolsonaro to skip successor's inauguration for Mar-a-Lago vacation instead
Brazil's outgoing authoritarian President Jair Bolsonaro will reportedly skip his successor's inauguration, and plans to spend New Year's Eve at former President Donald Trump's Mar-a-Lago resort in Florida, instead.
Source: yahoo.com
Maricopa County Judge Peter Thompson has denied the Defendants' Motions For Attorney Fees And Sanctions in Kari Lake's lawsuit against Katie Hobbs and Maricopa County.
Thompson dismissed Kari Lake's election lawsuit against Democrat Katie Hobbs in the stolen 2022 midterm election on Saturday, Christmas Eve.
The Gateway Pundit reported that Katie Hobbs and Maricopa County are seeking sanctions for Kari Lake and her attorneys and over $500,000 in attorneys' fees.
Source: thegatewaypundit.com
We have filed our appeal.

And we would VERY much like to talk about the issue of signature verification (or the complete and total lack thereof in Maricopa County) before the court.

— Kari Lake War Room (@KariLakeWarRoom) December 28, 2022
Kari Lake appeals her loss in election lawsuit, judge's order to pay rival $33K in fees
Lake is asking the Appeals Court to examine Thompson's dismissal of eight of her original 10 complaints, Thompson's Dec. 24 ruling rejecting the remaining two counts and Tuesday's decision on fees — essentially questioning every decision he made in her case.
The courts are likely to move quickly on this matter.
Source:  azcentral.com
For our Founders, America was just an Idea.

For us, America has been a Reality.

It is up to us to ensure that America does not become a Memory.

— Kari Lake (@KariLake) December 28, 2022
How do we know the plan is working
Couldn't be farther from the truth.
We wouldn't be conversing on this platform if the good guys weren't in charge.
We wouldn't know a single sliver about the Twitter Files if the good guys weren't in charge.
I would also not be alive if the good guys weren't in charge.
The fact that we are at the position we are at, confirms the good guys are in charge, and this is a carefully spaced out un-brainwashing seminar to wake the public up to this reality.
We already won.
We would still be locked down
We would be forced to vaccines and booster every year
We would be in war
Trump would have been taken out already
Q

 

!!Hs1Jq13jV6

 

ID: d073d4

 No.7643055