Perfect Storm Confirmed,Horowitz Concludes 4 FISA Warrants Illegal – Episode 1953
Podcast: Download (Duration: 38:02 — 40.3MB)
The patriots are pushing the plan forward, what we are watching is the destruction of the old [CB] system and the birth of a new economic system. This is all being done out in the open, keeping the [CB] off guard, making them think they have the upper hand. Axios reported that Trump wanted to use nukes to stop hurricanes, this is fake news but [HRC] trolled Trump. Trump retweets JW while at the G7. Joe D drops bombshells, the first, Utah has all of [HRC] emails, the second, IG Horowitz concludes 4 FISA warrants are illegal. Horowitz finished report, it will be turned over to Barr. RG tweets out a question about SR. Nerd of Heck researches [RBG], find interesting information.  Perfect Storm confirmed
Check Out The X22 Report Spotlight YouTube Channel X22Report Spotlight
Please check Newzsentinel.com for the latest news on the economic collapse. The Sentinel Alerts are updated throughout the day. If you haven't already, go to "The People" and join the community of people who are helping each through the economic collapse.
---
Current News – 08.26.2019
Watch The X22 Report On Video
---
Economy
What we are watching is the unraveling of the [CB] and globalist system, this is about resetting the world. To reset the system the elite need to believe there is a fight between China, they need to believe they have the upper hand and they will be able to blame this on trump for pushing tariffs and a trade war, what they don't know is that this has been planned and their are many players involved in resetting the world economically. As we know trump has been making trade deals with many nations, he has been meeting with many leaders at the G7, and he is pushing China hard, all of this is being done on purpose to undo everything the CB has done of the many years. 
Trump: President Xi Is A 'Brilliant Man' Who Doesn't Want To Lose '3 Million Jobs'
President Donald Trump praised Chinese President Xi Jinping  while answering questions at the G7 summit.
"It's a brilliant market," Trump said of the Chinese market. "The world market — a lot of markets are brilliant, and frankly, I think that China — I don't know, maybe they can, maybe they can't. I think they are very smart, and I think president XI is a great leader who happens to be a brilliant man, and he can't lose 3 million jobs in a very short period of time."
Trump started by telling reporters at the summit that he wants to "make a deal very badly" with China.
"The vice chairman of China came out that he wants to see a deal made. He wants it to be made under 'calm conditions,' using the word 'calm.' I agree with him on that. … They've lost 3 million jobs — soon will be much more than 3 million Jobs. The chain is breaking up like nobody has seen before, and once that happens, it's very hard to put it back together," the president said.
 Great respect for the fact that President Xi & his Representatives want "calm resolution." So impressed that they are willing to come out & state the facts so accurately. This is why he is a great leader & representing a great country. Talks are continuing!https://t.co/0sotrd1Mzh

— Donald J. Trump (@realDonaldTrump) August 26, 2019
Source: dailycaller.com
---
Political/Rights
The patriots have just signaled that they are ready to release the information, what we are watching now is the patriots letting the world know what to expect, that people did things that were illegal and they are now documented. We also have confirmation that the perfect storm is coming, we will talk about this a little later in this report. But first the fake news is at it again, axios claims the following
Trump Slams Report Claiming He Backed Use Of Nuclear Bombs To Battle Hurricanes
 "Imagine, for a moment, if a newspaper ran an outrageous story about Barack Obama with no named sources, and — in the 12th paragraph — inserted a quote from Obama saying the whole tale was made up."

Can't imagine it? That's because it never happened — not even in "The Twilight Zone."
But the mainstream media does it all the time with President Trump, and once it's out there, it get repeated as pure fact forever more.
Take the latest "scoop" from Axios,  . In the story — headlined "Scoop: Trump suggested nuking hurricanes to stop them from hitting U.S." — Trump is said to have wanted to use nuclear bombs "to stop hurricanes from hitting the United States, according to sources who have heard the president's private remarks and been briefed on a National Security Council memorandum that recorded those comments."
During one hurricane briefing at the White House, Trump said, "I got it. I got it. Why don't we nuke them?" according to one source who was there. "They start forming off the coast of Africa, as they're moving across the Atlantic, we drop a bomb inside the eye of the hurricane and it disrupts it. Why can't we do that?" the source added, paraphrasing the president's remarks.
Way down in the 12th paragraph, the site wrote:  

The story by Axios that President Trump wanted to blow up large hurricanes with nuclear weapons prior to reaching shore is ridiculous. I never said this. Just more FAKE NEWS!

— Donald J. Trump (@realDonaldTrump) August 26, 2019

In the article's final five paragraphs, the writers say "the notion that detonating a nuclear bomb over the eye of a hurricane could be used to counteract convection currents dates to the Eisenhower era, when it was floated by a government scientist."
They also note that detonating a nuclear bomb anywhere would be in violation of the terms of the Peaceful Nuclear Explosions Treaty between the U.S. and the former Soviet Union.
By 10 a.m. Monday, if you Googled "trump nuclear hurricane," you got 21,500,000 results.
Source: thegatewaypundit.com
Hillary Clinton Mocks President Trump over 'Fake News': 'We Should Not Nuke Hurricanes'
Hillary Clinton took to Twitter Monday to react to reports President Trump suggested nuking hurricanes in order to drive them away from the U.S. coast – "We should not nuke hurricanes," the failed presidential candidate wrote on Twitter:
Source: breitbart.com
Why interefere with an enemy while they are destroying themselves, everytime they publish fake news they are just hurting themselves. exposing how they are fake news. 
While at G7 Trump Retweets Judicial Watch Tweets Depicting Efforts to Combat Deep State DOJ and FBI
President  Trump is at the G-7 but he still found time to share tweets depicting the hard work Judicial Watch is taking to address corruption and crimes in the US government.
Here are some of the work JW is working on
JW announced that U.S. District Court Judge ordered the FBI to conduct a search w/in 60 days for records of communications w/former British spy and dossier author Christopher Steele post-dating Steele's service as an FBI confidential source/
READ: https://t.co/TIljis9V9U

— Judicial Watch 🔎 (@JudicialWatch) August 25, 2019
Judicial Watch uncovered 14 referrals of FBI employees to the OPR of which many were never prosecuted –
JW announced it received records of 14 referrals of FBI employees to the organization's Office of Professional Responsibility (OPR) for the unauthorized disclosure of sensitive or classified information. https://t.co/hqeQru5K6q

— Judicial Watch 🔎 (@JudicialWatch) August 25, 2019
Judicial Watch shows that the FBI cannot keep track of foreign nationals with shady backgrounds that the FBI brought into the US –
Dozens of foreign nationals with shady backgrounds have vanished from the FBI's radar after the agency brought them to the U.S. to help with investigations. The nation's premier intel-driven law enforcement agency can't keep track of its own informants. https://t.co/cWW4XwseOJ

— Judicial Watch 🔎 (@JudicialWatch) August 25, 2019
 Then we get the bombshell from Joe D, Dirty truth tweeted out the following
Source: thegatewaypundit.com
Joe DiGenova says The NSA has all of Hillary Clinton's emails and Peter Strzok's text messages at their huge facility in Utah. pic.twitter.com/bh7wcGZrOZ

— The "Dirty" Truth (@AKA_RealDirty) August 26, 2019
Take a listen
Joe DiGenove says that inspector general Horowitz has concluded that all 4 FISA warrant was illegal. pic.twitter.com/uV0RQJnYrk

— The "Dirty" Truth (@AKA_RealDirty) August 26, 2019
Take A Listen
So what is Joe D saying, he has confirmed that they have all emails and   Horowitz has found that all 4 FISA applications were illegally obtained.  Now I believe what Joe D is referring to is the original on carter page and then the renewals
And then we have the next boom, Brian cates tweeted out the following
🚨🚨🚨NEWS ALERT🚨🚨🚨@jsolomonReports says he has sources that confirm to him that DOJ IG Inspector General Michael E. Horowitz has completed his FISA abuse investigation & is expected to turn in his final report to AG William Barr sometime in the next week.

— Brian Cates (@drawandstrike) August 25, 2019
Prince Andrew has now said that he will co-operate with police over the JE case if they ask, or is he trying to make some type of deal to name, names. 
Psychologist sounds the alarm bell on @Google's capabilities to "shift a lot of votes, without people knowing and without leaving a paper trail."

"The Russian-placed ads or fake news stories does not shift many votes"

READ, RETWEET & COMMENThttps://t.co/tB8FmhwaGv

— Sara A. Carter (@SaraCarterDC) August 26, 2019
Then we have the FEC vice chair stepping down
The Republican vice chairman of the Federal Election Commission resigned  , leaving the election oversight agency without enough members to vote on enforcement actions. 
   Very interesting
Source: washingtonexaminer.com
Now lets head down to the border the feds release drone footage of the wall
WINNING: Feds Releases Drone Footage Of New 60-Mile Section Of 18-Foot High Border Wall
New barriers are going up all along the border. Workers are installing 30-foot steel fencing along a crossing known as the Lukeville Port of Entry. After that is complete, feds will construct 40 miles of barrier near the Organ Pipe Cactus National Monument and two other wildlife  areas.
 "
Source: thegatewaypundit.com
---
Geopolitical/Police State
Trump Says Politics Won't Affect Inviting Russia Back To G7: 'Whether I Win Or Not, I Have To Do The Right Thing'
Source: dailcaller.com
---
War
Trump Says He OK'd Zarif's Surprise G7 Trip Amid Reports He Was 'Blindsided' by Macron's 'Covert' Invite
US President Donald Trump has refuted reports that he was caught off-guard by Iranian Foreign Minister Mohammad Javad Zarif's "surprise" visit to the site of this year's Group of Seven summit – the French town of Biarritz.
Trump said that his French counterpart Emmanuel Macron discussed his willingness to invite Zarif and asked for his approval – and POTUS told him to go ahead with the plan.
  Trump added that he did not want to meet the Iranian foreign minister because "it was too soon".
"I knew he was coming in and I respected the fact that he was coming in. And we're looking to make Iran rich again, let them be rich, let them do well, if they want. I'm looking at a really good Iran, really strong, we're not looking for regime change. You've seen how that works over the last 20 years, that hasn't been too good", he told reporters.
Source: sputniknews.com
Trump willing to work with Iran on nuclear deal: 'I have very good feelings about it'
Source: foxnews.com
---
Q
Lets talk about Seth Rich, Rudy tweeted out something very interesting, now RG was responding to Matt couch's tweet
I was walking home on a hot July night in 2016..

I was Shot multiple times in torso.. I worked for the DNC..

I still had my..

Wallet

Cash

Credit Cards

Phones

Watch

Necklace

They called it a botched robbery and sue anyone who investigates it..

Who am I?

— Matt Couch 🎙 (@RealMattCouch) August 26, 2019
I'd like to know. https://t.co/fofqX2S6N7

— Rudy Giuliani (@RudyGiuliani) August 26, 2019
Now we know that RBG is in the news again and we need to go back to Q posts 2653
Q

 

!!mG7VJxZNCI

 

ID: 38db44

 No.4627556
Who are the doctors 'currently' treating [RBG]?
What other political [former/current] sr. political heads are they affiliated w/?
What 'off-market' drugs are being provided to [RBG] in order to sustain minimum daily function?
What is the real medical diagnosis of [RBG]?
Who is managing her care?
Who is 'really' managing her care?
The clock is ticking.
PANIC IN DC.
Q
Nerd from Heck did a little bit of research into what Q was talking about and I think Nerd figured it out. 
Levamisole ( it is a veterinary drug used to treat parasitic infestation in animals. It is available as a crystalline white powder, and in pastes, gels, tablets, feed premixes and topical and injectable solutions. In Canada, it was marketed by Janssen Pharmaceuticals under the trade name Ergamisol® to treat colon cancer in humans. A few cases of agranulocytosis (blood disorders), a common complication with repeated high doses of levamisole, have been reported in hospitalized patients with a history of cocaine abuse when adulterated with levamisole (CAL). L
Man Claims Cheap Dog Deworming Medicine Cured His Terminal Cancer
An Oklahoma man who was once diagnosed with small-cell lung cancer and told hat he only had three months live claims he is now tumor-free thanks to a $5 deworming drug usually meant for dogs.
Joe Tippens was diagnosed with small-cell lung cancer in 2016. Despite undergoing treatment for the disease, by January of 2017, the cancer had spread to other organs, including his stomach, neck, pancreas and even his bones. The cancer was everywhere and doctors advised him to go home and say his goodbyes because he only had three months to live. When small-cell cancer spreads as wide as it had in his case, the chances of survival are around one percent. Tippens thought he was going to die, and with nothing left to lose, he was willing to try anything in hopes of a miracle, even a dog dewormer called fenbendazole.
The desperate cancer sufferer stumbled upon the bizarre treatment while browsing a forum of his alma mater, Oklahoma State University. The post that caught his eye read "If you have cancer or know someone who does, give me a shout".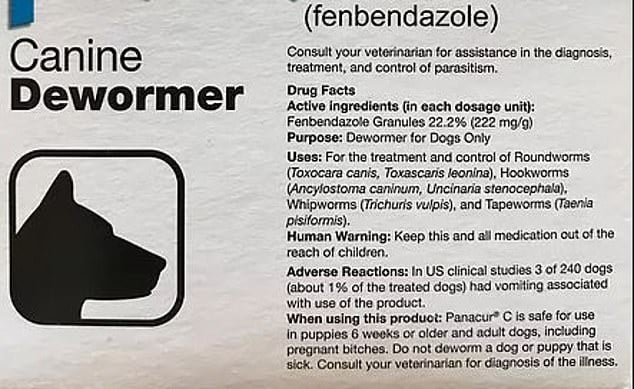 The vet told Joe that scientists had accidentally discovered that a dog de-worming drug seemed to attack cancer cells in mice. One of the scientists who conducted the research had been diagnosed with stage 4 brain cancer and had been giving the same grim prognosis as Joe, but she started popping dog deworming pills and within six weeks her cancer was gone.  
Joe Tippens story has caught the attention of the president of the Oklahoma Medical Research Foundation, Dr Stephen Prescott, who said he is working on case study report about the cancer-fighting properties of fenbendazole.
Source: odditycentral.com
Unexpected antitumorigenic effect of fenbendazole when combined with supplementary vitamins.
Diet containing the anthelminthic fenbendazole is used often to treat rodent pinworm infections because it is easy to use and has few reported adverse effects on research. However, during fenbendazole treatment at our institution, an established human lymphoma xenograft model in C.B-17/Icr-prkdcscid/Crl (SCID) mice failed to grow. Further investigation revealed that the fenbendazole had been incorporated into a sterilizable diet supplemented with additional vitamins to compensate for loss during autoclaving, but the diet had not been autoclaved. To assess the role of fenbendazole and supplementary vitamins on tumor suppression, 20 vendor-supplied 4-wk-old SCID mice were assigned to 4 treatment groups: standard diet, diet plus fenbendazole, diet plus vitamins, and diet plus both vitamins and fenbendazole. Diet treatment was initiated 2 wk before subcutaneous flank implantation with 3 x 107 lymphoma cells. Tumor size was measured by caliper at 4-d intervals until the largest tumors reached a calculated volume of 1500 mm3. Neither diet supplemented with vitamins alone nor fenbendazole alone caused altered tumor growth as compared with that of controls. However, the group supplemented with both vitamins and fenbendazole exhibited significant inhibition of tumor growth. The mechanism for this synergy is unknown and deserves further investigation. Fenbendazole should be used with caution during tumor studies because it may interact with other treatments and confound research results.
Now on Sunday we talked about the perfect storm, Melania
The name of the Hibiscus flower on Melania's dress is "Perfect Storm."