Red, Green, Stage Set, War By Other Means, Think Irregular Warfare – Ep. 2605
Watch The X22 Report On Video
The people now seeing the truth, [JS] is trying to gas light the people, but the people see right though it, they see the problems with the supply chains. [PB] rating are dropping like a rock on how is handling the supply chain issue. People see the truth and now they understand who is responsible. The [DS] lies are not making sense to the people, they keep moving the goal posts and shifting everything to explain what is happening. This is the awakening. We have now seen a red castle and green castle, stage set, Trump put out a message about war by other means which means irregular warfare. The information is coming out, it will bring down the [DS] players and they won't be able to stop it.
---
Economy
Procter & Gamble Co. said it will raise prices on a number of household staple goods as the cost for raw materials and freight has increased faster than it had anticipated.
The company, which makes a range of products including Tide and Charmin, said it would begin to charge more for oral care, beauty, and razors. Earlier this year, Procter & Gamble said it would charge more for toilet paper and diapers.
Source: theepochtimes.com
Opinion: Don't rant about short-staffed stores and supply chain woes. Try to lower expectations. https://t.co/3CLpV5HXbG

— The Washington Post (@washingtonpost) October 19, 2021
'People Are Hoarding': Food Shortages Are The Next Supply-Chain Crunch Brendan Case, Leslie Patton & Kim Chipman
In Denver, public-school children are facing shortages of milk. In Chicago, a local market is running short of canned goods and boxed items. But there's plenty of food. There just isn't always enough processing and transportation capacity to meet rising demand as the economy revs up. More than a year and a half after the coronavirus pandemic upended daily life, the supply of basic goods at U.S. grocery stores and restaurants is once again falling victim to intermittent shortages and delays.  Source: bloomberquint.com
37% Rate Buttigieg Favorably, Most Voters Think He Should 'Get Back to Work'#breakingpoll#SupplyChainCrisis@PeteButtigieghttps://t.co/DtK6aMAhvN pic.twitter.com/Lq2Q1hEame

— Rasmussen Reports (@Rasmussen_Poll) October 19, 2021
BREAKING: Gov. @RonDeSantisFL announces that Florida's ports are open and will step up to ease the backlog of ships in NY and California contributing to the supply chain crisis. pic.twitter.com/zbCOdCV5Vv
— Benny (@bennyjohnson) October 19, 2021
He and his neighbors blamed it on consolidation in the beef industry stretching back to the 1970s that resulted in four companies slaughtering over 80% of the nation's cattle, giving the processors more power to set prices while ranchers struggled to make a living. Federal data show that for every dollar spent on food, the share that went to ranchers and farmers dropped from 35 cents in the 1970s to 14 cents recently.
It led Kemp to launch an audacious plan: Raise more than $300 million from ranchers to build a plant themselves, putting their future in their own hands.
"We've been complaining about it for 30 years," Kemp said. "It's probably time somebody does something about it."
Crews will start work this fall building the Sustainable Beef plant on nearly 400 acres near North Platte, Nebraska, and other groups are making similar surprising moves in Iowa, Idaho and Wisconsin. The enterprises will test whether it's really possible to compete financially against an industry trend that has swept through American agriculture and that played a role in meat shortages during the coronavirus pandemic.
Source:  abc3340.com
Now We Are Being Warned That A "Recession" Could Be Coming During The "Dark Winter" That Is Ahead 
  the Atlanta Fed, which now sees the US on the verge of contraction.
In its latest GDPNow forecast  the Atlanta Fed slashed its estimate for real GDP growth in the third quarter of 2021 to just 0.5%, down from 1.2% on October 15, from 6% about two months ago, and down from 14% back in May.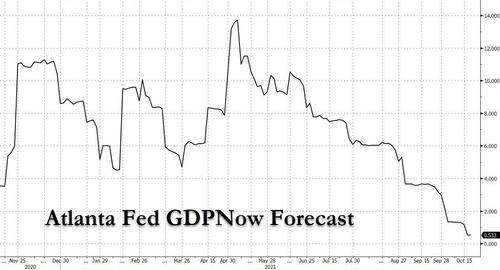 Remarkably, the GDPNow tracker is about to turn negative even as the average "blue chip" Wall Street baank has a Q3 GDP forecast of just below 4%.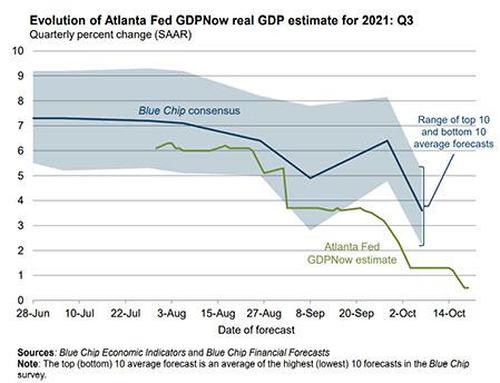 Source: zerohedge.com
A New York judge in September ordered President Trump to give a videotaped deposition in a lawsuit that was filed by protesters of 'Mexican origin' who claim they were physically attacked outside of Trump Tower in 2015.
The six Mexican protesters sued Donald Trump, the Trump Organization, Trump's campaign and his security crew.
Here is the video from the September 2015 Trump Tower rally.
The Mexican protesters were dressed as KKK members.
 
Source: thegatewaypundit.com
---
War
State Department watchdog to lead review into Afghanistan withdrawal
The State Department's acting Inspector General will lead a review of the Biden administration's handling of the withdrawal from Afghanistan, including the emergency evacuation of U.S. and Afghan nationals, 
Diana R. Shaw, the Department's watchdog, wrote in a notification dated October 18 to the leadership of key House and Senate committees that her office would initiate "several oversight projects related to the suspension of operations at U.S. Embassy Kabul, Afghanistan."
The review, according to Shaw's letter, will focus on four areas, including the Afghan Special Immigrant Visa Program; Afghans processed for refugee admission in the United States; the resettlement of Afghan refugees and visa recipients; and the embassy in Kabul's emergency action planning and execution, "including the evacuation of U.S. citizens and Afghan nationals."
Source: cbsnews.com
N. Korea test fires 'submarine-launched' ballistic missile into waters off Japan
North Korea fired a submarine-launched ballistic missile (SLBM) from off its east coast South Korea's military said, pulling Japan's new prime minister off the campaign trail and overshadowing the opening of a major arms fair in Seoul.
---
False Flags
Remember the baseline: In order to retain their Marxist ideological objectives, radical leftists must always pretend not to know things.  Part of the process of 'not knowing' is making up things that are exactly the opposite….
Chicago Mayor Lori Lightfoot held a press conference today as hundreds of police officers will likely be fired effective tomorrow for not taking the mandated COVID vaccine. At the beginning of the video segment below, in an effort to explain her position, Mayor Lightfoot claims that vaccinated people in Chicago cannot carry and/or transmit the COVID-19 virus.  WATCH (first two minutes):
The policy of the mayor is grounded in a claim that is totally and utterly refuted by all science.  Vaccinated people carry, transmit and shed the SARS-CoV-2 virus just like non-vaccinated people.  Actually, there is scientific evidence that vaccinated people who contract the virus (so called "breakthrough cases") factually end up with a much higher viral load, and shed the virus at a much higher rate than non-vaccinated persons.
Source: theconservativetreehouse.com
F.D.A. to Allow 'Mix and Match' Approach for Covid Booster Shots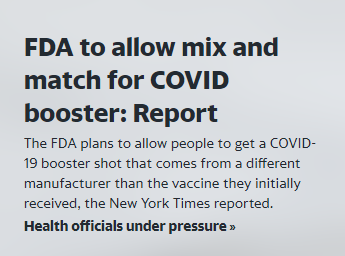 There have been no trials, and ZERO data on the effects of mixing and matching vaxxxines. NONE.

And they're going to do it anyway.

This is full on human experimentation. pic.twitter.com/20r0M2Bf4n

— Rosie's National Strike (@DarnelSugarfoo) October 19, 2021
OSHA Isn't Tracking COVID-19 Vaccine Side Effects Because It Doesn't Want To Undermine Biden's Shot Campaign
Southwest drops plan to put unvaccinated staff on unpaid leave starting in December
Enough is enough of the Democrat's tyrannical rules!!! It's time to DEMAND Biden stop dividing Americans with radical vaccine mandates. Americans are smart enough to make their own decisions.
Sign the petition here now!!! https://t.co/BVMaN61GQM

— Donald Trump Jr. (@DonaldJTrumpJr) October 19, 2021
Groundbreaking: Nebraska AG Says Doctors Can Legally Prescribe Ivermectin, HCQ for COVID, Calls Out FDA, CDC, Fauci, Media for 'Fueling Confusion and Misinformation'
At the request of the Nebraska Department of Health, on Oct. 15, Nebraska Attorney General Doug Peterson issued a legal opinion that Nebraska healthcare providers can legally prescribe ivermectin and hydroxychloroquine for the treatment of COVID, so long as they obtain informed consent from the patient.
 
Source:   childrenshealthdefense.org
A coalition of 17 state attorneys general is demanding that the U.S. Department of Justice immediately rescind a recent memo they say would "chill lawful dissent by parents voiced during local school board meetings."
  School boards in Alabama, Delaware, Florida, Georgia, Kentucky, Louisiana, Missouri, Montana, North Carolina, Pennsylvania, Tennessee, Texas, and Virginia, have released statements opposing the NSBA letter to the Biden administration or Garland's memo or both.