Corruption At The Highest Level, Panic, 4th Quarter Patriots We Fight Together – Ep. 2606
Watch The X22 Report On Video
Bankers are now jumping ship, the entire [CB] illusionary system is now falling apart. The [DS]/[CB] players are pushing the green new deal as they all fly to the climate summit. 60% are now blaming [JB] for the inflation, combine this with the supply chain issue and it's all falling on the puppet. [CB] says the quiet part out loud about crypto. The [DS] is now panicking, they do not know how to get Trump and the people are now waking up like crazy, the avalanche has started and it cannot be stopped. We are now entering the 4th quarter and Trump made a prediction, that the 4th quarter we were going to see things turn around. This is the beginning of the fight to take the country back, this doesn't mean violence its about pushing freedom and showing the [DS] that we will not comply that we will live free and the minority actions will not control the majority of this country.
---
Economy
The United Nations COP26 climate summit later this month will provide a platform for world leaders to lecture the public about how human carbon footprints are allegedly destroying the planet. They will speak after thousands of people boarded planes to join the event in Glasgow, Scotland.
Source: breitbart.com
Reporter: "Does the president still believe that Build Back Better will not add a dime to the national debt?"

Psaki: "Correct. It Won't."

Reporter: "Why should Americans believe that?"

Psaki: "Because it won't." pic.twitter.com/QB86LDjhPc

— Daily Caller (@DailyCaller) October 19, 2021
A Politico/Morning Consult poll released Tuesday shows that 40% of respondents said that the Biden administration's policies were "very responsible" for higher inflation, while 22% said that they were "somewhat responsible."
Source: dailycaller.com
A recent survey by The Society for Human Resource Management, as shared by The Hill, indicates that 9 out of 10 large employers are concerned about losing significant amounts of workers due to the federal mandate:
 
Source: theconservativetreehouse.com
Cryptocurrencies threaten the effectiveness of sanctions imposed by the US, the Treasury Department said.
Treasury said "malign actors" can use digital assets to hide cross-border transactions.
It also said the US government needs to modernize and adapt to the changing world of global finance.
Cryptocurrencies hold the potential to undermine sanctions the US imposes to advance its security and economic interests, the Treasury Department said in a report.
The US has more than 9,400 sanctions in place, but the country faces newer challenges in part from cybercriminals, the department said in a review released Monday. The government must adapt and modernize its operations to stay on top of changes in global financing, it said.
Source: businessinsider.com
---
Political/Rights
Source: motherjones.com

"It's Bullsh*t" – Manchin Dismisses Report Published by Far-Left 'Reporter' David Corn on Party Switch
U.S. Rep. Jeff Fortenberry Charged with Scheme to Deceive Federal Investigators Probing Illegal Campaign Contributions in 2016
 A federal grand jury today charged U.S. Representative Jeff Fortenberry, who represents Nebraska's 1st Congressional District, with concealing information and making false statements to federal authorities who were investigating illegal contributions made by a foreign national to the congressman's 2016 re-election campaign.
          Fortenberry, 60, of Lincoln, Nebraska, was named in an indictment that charges him with one count of scheming to falsify and conceal material facts and two counts of making false statements to federal investigators. Fortenberry has served in Congress since 2005.
          The indictment alleges that Fortenberry repeatedly lied to and misled authorities during a federal investigation into illegal contributions to Fortenberry's re-election campaign made by a foreign billionaire in early 2016. Gilbert Chagoury, a foreign national prohibited by federal law from contributing to any U.S. elections, arranged for $30,000 of his money to be contributed through other individuals (conduits) to Fortenberry's campaign during a fundraiser held in Los Angeles, according to the indictment.
          It is illegal for foreign nationals to make contributions to a federal campaign. It also is illegal for the true source of campaign contributions to be disguised by funneling the money through third-party conduits. And it is illegal for a federal candidate to knowingly receive foreign or conduit contributions.
source: justice.gov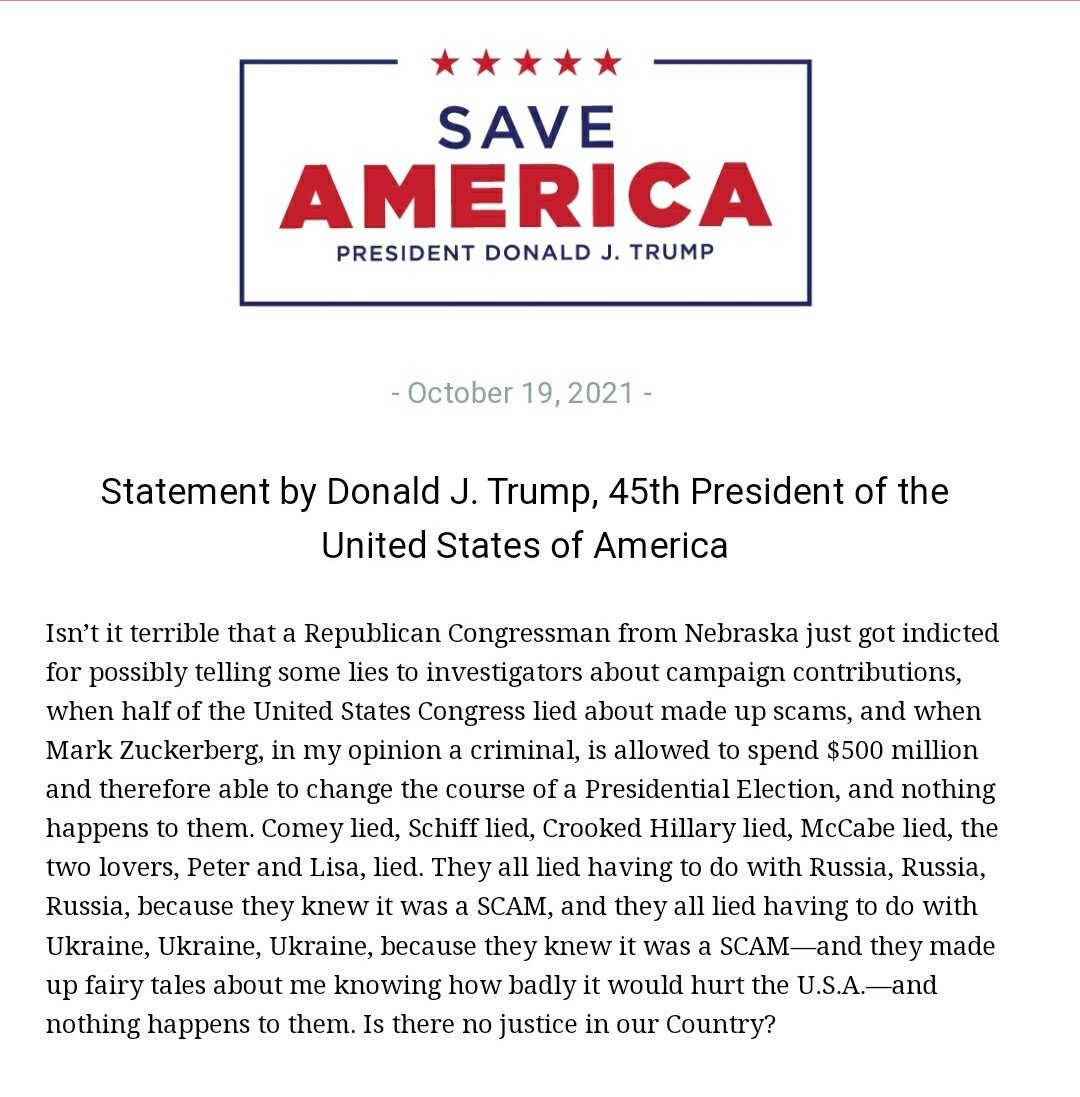 B

ritish ex-spy Christopher Steele says he isn't worried about being indicted in special counsel John Durham's criminal inquiry into the Russia investigation, even after the indictment of a Hillary Clinton campaign-linked lawyer
Source: washingtonexaminer.com
1) Last thread on current FBI motive to throw a bag over Deripaska.

Remember, Lisa Monaco is Deputy AG, and John Carlin is back in the DOJ-NSD position. Both of them participated in the illegal political surveillance operations against candidate Trump (that involved Deripaska) pic.twitter.com/r7LsOUns4F

— TheLastRefuge (@TheLastRefuge2) October 19, 2021
2) Byron York previously outlined documents showing the communication between Trump Dossier author Christopher Steele and DOJ official Bruce Ohr.https://t.co/zRBNe7LIWj

— TheLastRefuge (@TheLastRefuge2) October 19, 2021
3) Within the early 2016 discussions, Chris Steele appeared to be advocating to Bruce Ohr on behalf of Oleg Deripaska who was banned from travel into the U.S. by the State Department. pic.twitter.com/E4Qr5E7apI

— TheLastRefuge (@TheLastRefuge2) October 19, 2021
4) I strongly urge you to read the York article because I'm going to expand on the Deripaska angle from the context of the reader understanding the relationship.https://t.co/zRBNe7LIWj

— TheLastRefuge (@TheLastRefuge2) October 19, 2021
5) It is likely that Oleg's 2016 entry into the U.S. was facilitated as part of a quid-pro-quo; either agreed in advance, or, more likely, planned by the DOJ/FBI for later use in their 2016 Trump operation; as evidenced in the September 2016 FBI request.

— TheLastRefuge (@TheLastRefuge2) October 19, 2021
6) Regardless of the planning aspect, billionaire Deripaska is connected to Chris Steele, a source for Chris Steele, and likely even the employer of Chris Steele. WATCH:https://t.co/M2SwrUOumo

— TheLastRefuge (@TheLastRefuge2) October 19, 2021
7) The FBI used Oleg Deripaska (source), and Oleg Deripaska used the FBI (visa).

Here's where it gets interesting….

— TheLastRefuge (@TheLastRefuge2) October 19, 2021
8) In a May 2018 article John Solomon reported that Deripaska wanted to testify to congress in 2017 without any immunity request, but was rebuked. Who blocked his testimony?https://t.co/VRk6x3fVkR

— TheLastRefuge (@TheLastRefuge2) October 19, 2021
9) In 2017 Oleg Deripaska was represented in the U.S. by Adam Waldman. Mr. Waldman was also representing Christopher Steele, the author of the Dossier. pic.twitter.com/H4PJbtcpkz

— TheLastRefuge (@TheLastRefuge2) October 19, 2021
10) Waldman was the liaison Senator Mark Warner (Senate Intelligence Committee Vice-Chairman) was using to try and set up a secret meeting with Christopher Steele.https://t.co/XmJA0PlYUC pic.twitter.com/4Q5LZYjrGN

— TheLastRefuge (@TheLastRefuge2) October 19, 2021
11) As you can see from the text messages, the House Intel Committee wanted to interview Deripaska. However, based on their ongoing contact and relationship Deripaska's lawyer, Adam Waldman, asks Senate Intel Committee Vice-Chair Mark Warner for feedback.https://t.co/XmJA0PlYUC

— TheLastRefuge (@TheLastRefuge2) October 19, 2021
---
Geopolitical/Police State
---
War
---
False Flags
CDC Director Rochelle Walensky  said all school children should be forced to wear a face mask regardless of vaccination status.
"As we head into these winter months, we cannot be complacent," Walensky said. "We know from previous data that schools that have had masks in place were 3.5 times less likely to have school outbreaks requiring school closure. So right now we are going to continue to recommend masks in all schools for all people in those schools and we will look forward to scaling up pediatric vaccination during this period."
Source: thegatewaypundit.com
  New York City Mayor Bill de Blasio (D) announced a coronavirus vaccine mandate for all city employees, something he called on mayors across the country and CEOs in the private sector to impose on their employees.
De Blasio told MSNBC's "Morning Joe" that the "voluntary phase" was now over and "now, it's time for mandates." He argued that when people are forced into either getting the vaccine and being paid or not getting paid, the "vast majority" will get vaccinated.
Source: thegatewaypundit.com
PIX 11: Police Benevolent Association, union representing NYPD officers, says plans legal action against vaccine mandate

— Josh Caplan (@joshdcaplan) October 20, 2021
The Biden gang is now making plans to give children the vaccine 
There are no reasons children ages 5 – 11 should be vaccinated.  T
The White House on Wednesday unveiled its plans to roll out Covid-19 vaccines for children ages 5 to 11, pending US Food and Drug Administration authorization.
A group known as Sisyphus Complex Solution released the below report related to a meeting between drug companies and the FDA scheduled for next week to discuss mandating vaccines for children:
***URGENT – SUBMISSIONS OF STATEMENT FOR FDA MEETING TO DISCUSS EUA FOR 5 – 11 YEAR OLDS***

DEADLINE – OCTOBER 21st, 2021

***PLEASE FORWARD TO ALL OF YOUR KNOWN CONTACTS (NO RESTRICTIONS ON LOCATION)***

A meeting of the FDA Committee is to be held on Oct. 26th, 2020 to discuss Pfizer-BioNTech's Emergency Use Authorization (EUA) for administration of their COVID-19 mRNA vaccine to children 5 through 11 years of age.
Source: thegatewaypundit.com
The West Coast burger brand In-N-Out is pushing back against San Francisco's vaccine mandate 
The burger company's resistance to the vaccine mandate was laid out by the San Francisco Chronicle:
"Beloved California burger chain In-N-Out is firing back against San Francisco's vaccine mandate. The company blasted the city after the Department of Public Health temporarily shut down its Fisherman's Wharf location on Oct. 14. for not checking customers' vaccine cards. It's the only San Francisco restaurant that's been closed for violating the indoor vaccinate mandate, the health department said.
"We refuse to become the vaccination police for any government," In-N-Out's Chief Legal and Business Officer Arnie Wensinger said in a statement. "It is unreasonable, invasive, and unsafe to force our restaurant associates to segregate customers into those who may be served and those who may not, whether based on the documentation they carry, or any other reason."
Source: beckernews.com
As of the end-of-business on Monday, 127 people have been let go from employment due to the mandate. 53 civil servants and 74 commissioned officers (67 troopers, 6 sergeants, and 1 captain) have, for varying reasons and in varying ways, left the job.
Source: breaking911.com
There is a $102 million nationwide initiative in place to build a "pipeline of equity-focused K-12 school principals."
Instead of focusing on principals with strong educational goals, a group of organizations are seeking to fill the shortages in public school workers with people who will focus on social justice issues.
In the press release about joining the pipeline effort, National University's Sanford College of Education said that "with funding from Wallace Foundation, the five-year Equity-Centered Pipeline Initiative will support eight large and socio-economically diverse school districts across the country, including California's Fresno Unified School District."
So far, the money is also being poured into schools in Baltimore, Maryland; Columbus, Ohio; Washington, DC; Jefferson County, Kentucky; Portland, Oregon; San Antonio; and Winston-Salem, North Carolina. 
Source: thegatewaypundit.com
The far-left "Squad" of progressive lawmakers spent nearly $100,000 on private security in the third financial quarter — despite their incessant calls to "Defund the Police."
Reps. Ilhan Omar, Alexandria Ocasio-Cortez, Cori Bush and Ayanna Pressley collectively amassed a huge amount of private security bills.
"Ocasio-Cortez's campaign spent over $10,000 on private policing with Cest Bond Collective, Three Bridges NY LLC and Tullis World Wide Protection, eclipsing Rep. Ayanna Pressley's, D-Mass., personal security bill of almost $4,000 with Ware Security Consultants Inc., FEC records show," Fox News reports. "Both Ocasio-Cortez and Pressley are dwarfed in their security spending, though, by Reps. Ilhan Omar, D-Minn., and Cori Bush, D-Mo."
The report continued on to say that "Omar's FEC records revealed the defund law enforcement advocate has spent over $22,000 on private security with Aegis Logistics LLC and Lloyd Security Services while Bush took the cake by throwing down another $65,000 on private security."
Source: thegatewaypundit.com
---
Q
Trump "had asked for up to 10,000 National Guard troops to be available" to the speaker and Washington, D.C. Mayor Muriel Bowser," said the former president's chief of staff. "And, unfortunately, they did not take him up on that."
Mark Meadows, former chief of staff to President Trump, said that during the Jan. 6 Capitol riot, House Speaker Nancy Pelosi (D-Calif.) asked the Department of Defense what time Congress members could get their lunch.
Source: justthenews.com
White House has weighed tapping National Guard to address mounting supply chain backlog
White House officials have explored in recent weeks whether the National Guard could be deployed to help address the nation's mounting supply chain backlog, 
The idea appears unlikely to proceed as of now, the people said, but reflects the extent to which internal administration deliberations about America's overwhelmed supply chain have sparked outside-the-box proposals to leverage government resources to address the issue.
Source: msn.com
Central Intelligence Corporation

— jack⚡️ (@jack) October 20, 2021
2989
Q
!!mG7VJxZNCI
03/06/2019 23:58:23
 ID: 5de4f4
Archive Bread/Post Links: 5550190 / 5550547
Direct Link: 5550547
4939
Q
!!Hs1Jq13jV6
10/22/2020 18:01:25
 ID: a8c21e
Archive Bread/Post Links: 11106003 / 11220122
Direct Link: 11220122
4940
Q
!!Hs1Jq13jV6
10/22/2020 19:57:32
 ID: 4c8988
Archive Bread/Post Links: 11222938 / 11223312
Direct Link: 11223312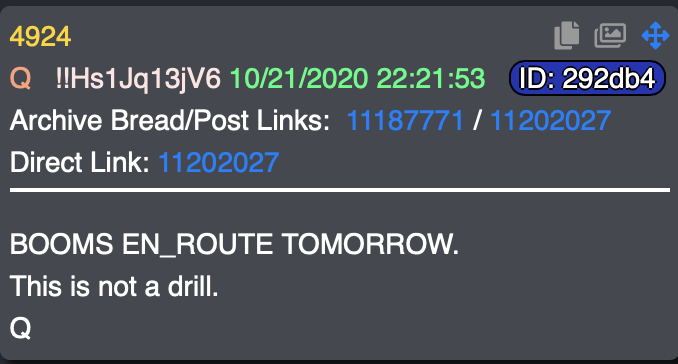 I
mage Name:
Screen_Shot_2020_10_22_at_6_48_37_PM.png
Filename:
a78c090741dd62b0752debaca912903284ea6775e39208474ba85d86c065154e.png