Scavino Message Received, Think George Washington And Durham, We Are Ready – Ep. 2660
Watch The X22 Report On Video
The Biden admin are losing the narrative, they are trying to tell the American people that the economy is doing just fine and all the issues are fixed, but this is an illusion they setup, the illusion is only temporary. The [CB] do not want other forms of currency, the truth is right in front of everyone, once you see it and cannot be unseen. The [DS] is now starting a war on the unvaccinated, their narrative is falling apart and the only thing left to do is use all available ammunition to push their agenda. The people know their playbook, its the same playbook they used in 2020. This push is failing and they know it. Scavino sends messages, the offensive begins in the New Year, it's time to take about the country, think GW and Durham, the people are ready, they are or have reached the precipices. Change is coming, justice is coming.
---
Economy
Press Secretary Jen Psaki told reporters on Wednesday that President Joe Biden's supply chain task force "saved Christmas":
Good news. We've saved Christmas. And that is because President Biden recognized this challenge early, acted as an honest broker to bring key stakeholders together, and focused on addressing practical problems across the global supply chain.
CLAIM: The Biden administration says it's solved the supply chain crisis by improving traffic at the key West Coast ports.
VERDICT: HALF TRUE.   the cargo crunch is almost bad as it has ever been.
Here are just a few key points of progress:
These statistics, while encouraging, leave out a major part of the story: the backlog of shipping at the ports has persisted.
The administration's proposed fee of $100 per day per container has succeeded in clearing space on the docks — so much so that the fee has never been imposed, and has instead been postponed repeatedly. However, cargo ships are still backed up in large numbers, waiting to offload at the Los Angeles and Long Beach ports.
The Seatrade Maritime News reported Tuesday:
 As of Friday 19 December some 95 containerships were queued to enter the two ports according to the Marine Exchange of Southern California. This number includes 23 containerships anchored or loitering within 40 miles of LA and LB, plus 72 container ships loitering outside the Safety and Air Quality Area (SAQA).
The Wall Street Journal reported last week that the backlog had reached a record of 101 container ships waiting to dock.
Source: breitbart.com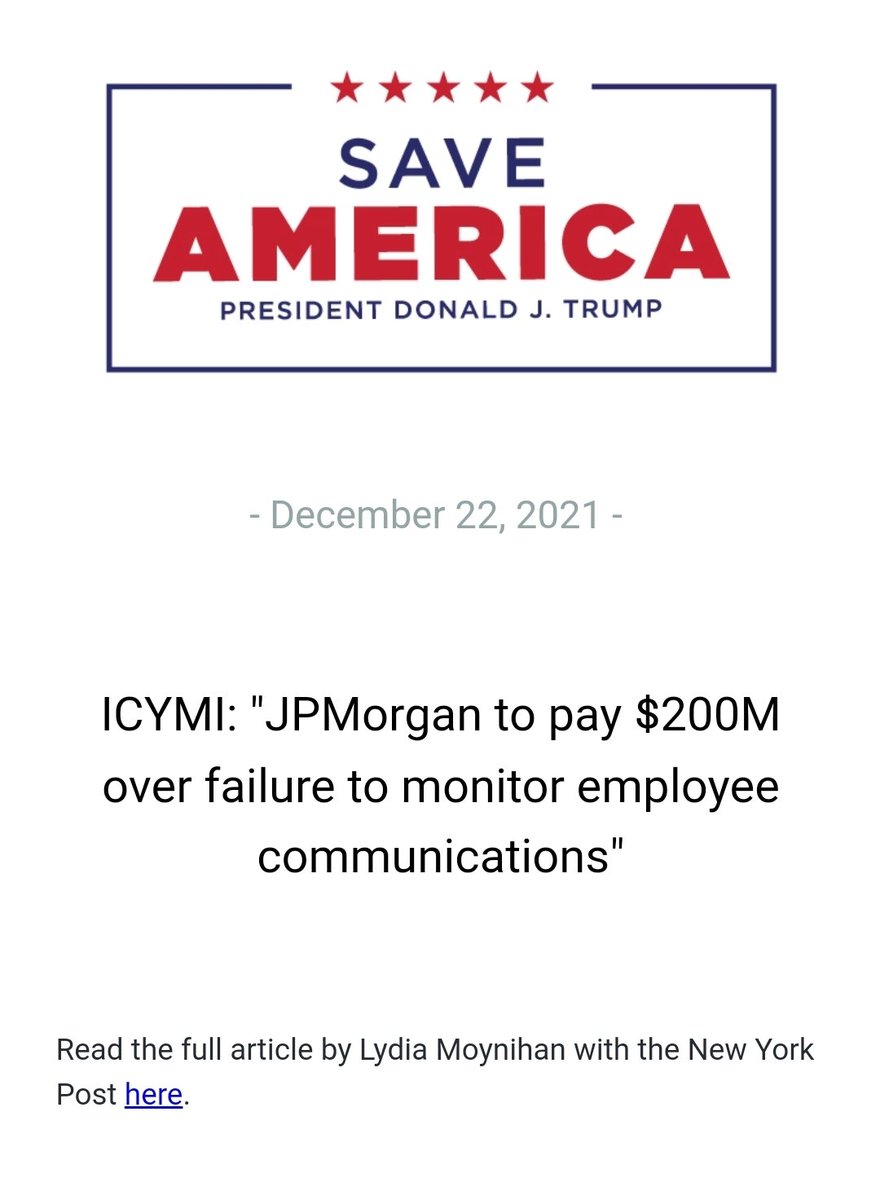 Turkey is cooked, and we all know it.
For those who keep a fairly accurate pulse of world events, you know that the fiat currency of Turkey – the lira – is collapsing.
As of this year the lira has lost approximately 40% of its value, and from all appearances, it shows no signs of stopping its downward spiral anytime soon.
Inflation is rapidly leading to hyperinflation within Turkey and the Turkish citizens have recognized this. People began attempting to step away from the lira and delving into cryptocurrency in an attempt to protect themselves.
And then the Turkish government made crypto illegal as a form of payment on April 30, 2021. This was done to prevent "irreparable damage." What's ironic about this is that the Turks said this was because cryptocurrencies were "neither subject to any regulation and supervision mechanisms nor a central regulatory authority." [source]
That's a fun train of logic from the people that are in the process of destroying their own currency.
Your country is being rocked by hyperinflation. Your fiat money is worthless. Forex is regulated to the point of being impossible. Crypto is banned. The price of food has shot up 27.1%.
What do you do?
You don't want to just watch your life savings be vaporized. You aren't going to watch your family starve.
And so, you may think it's a wise idea to put your money into something that will retain its value. This is the reason people invest in gold and silver after all, isn't it? 
And that's exactly what people in Turkey started to do.
Then the criminalization of Turkish preppers began.
Then, the ironically named Justice and Development Party (AKP) submitted a bill to the Turkish Parliament asking for fines of anywhere between what would be $7000 – $144,000 USD for those "hoarding….food and other goods".
 
Source: zerohedge.com
  
 
The key principle difference between USD and BTC is that the former is a depreciating currency based on a principle of inflation (i.e. increasing money supply) while the latter is an appreciating currency based on a principle of finite supply.  
Let's start by using Big Macs to illustrate the impact on consumers.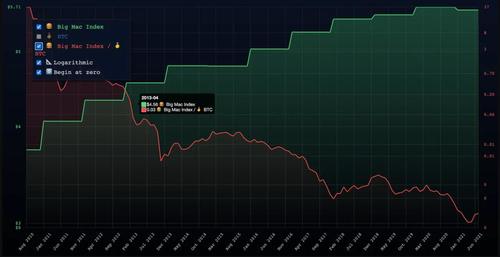 The above chart depicts the price of a Big Mac, over the past decade, in both USD (green line) and BTC (orange line).  What we see is that in 2010 a Big Mac cost $3.73 or 37 BTC.  Today a Big Mac costs $5.71 or .0001 BTC.  Let's assume we didn't buy the Big Macs 10 years ago and instead put $3.73 and 37 BTC in a drawer. Now let's assume we just found those currencies in the drawer and decided to go ahead and get us a Big Mac today.
The $3.73 would not get us even one Big Mac while the 37 BTC would get us 323,993 Big Macs today. The former is called inflation and the latter, deflation.
Lets look at the federal minimum wage over the last decade.
10 years ago minimum wage workers received $7.25/hr and today they receive $7.25/hr.  Let's look at that in terms of purchasing power using Big Macs. So in 2010 an hour of work (i.e. $7.25) would have purchased 1.94 Big Macs. Today that same hour of work (i.e. $7.25 minimum wage) would purchase us 1.27 Big Macs. The lesser amount is because the USD is a depreciating asset based on the principle of inflation.
Let's take a parallel economy where minimum wage workers are paid in an appreciating asset (i.e. BTC) but pegged to the USD equivalent minimum wage. That would mean in 2010 the minimum wage would have been 72.5 BTC (equivalent to $7.25 in 2010). Today, the minimum wage would be .000145 BTC (equivalent to $7.25 today). It means the purchasing power of an hour of work is the same today whether they're paid in USD or BTC.  That is, they could buy 1.94 Big Macs in 2010 and 1.27 Big Macs today regardless of which currency they are paid in.  So the inclination is to suggest that the worker is no better off being paid in BTC than USD.  But that inclination is dead wrong.  
 
Source: zerohedge.com
---
Political/Rights
Kim Potter, the Brooklyn Center police officer who fatally shot black motorist Daunte Wright during a traffic stop was arrested and charged with first-degree and second-degree manslaughter in April.
After 26 hours of deliberations, a Minneapolis jury found the former Minnesota police officer guilty on both charges.
Potter faces up to 15 years in prison.
NBC News reported:
Bodycam footage released in April of this year showed that Daunte Wright resisted arrest and fled the scene.
Police were in the process of cuffing Wright when he broke free and jumped in his car.
Officer Kim Potter screamed, "Taser! Taser! Taser!" before she discharged her weapon.
Source: thegatewaypundit.com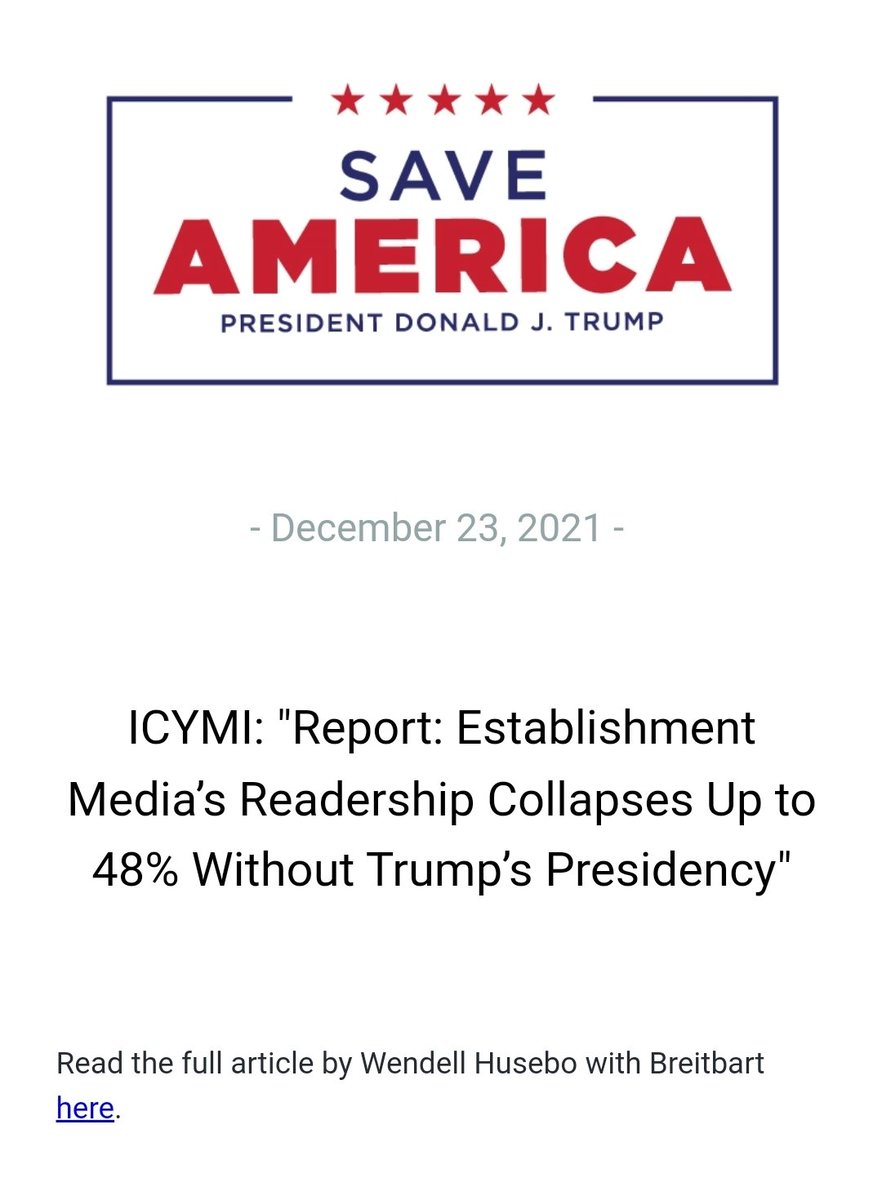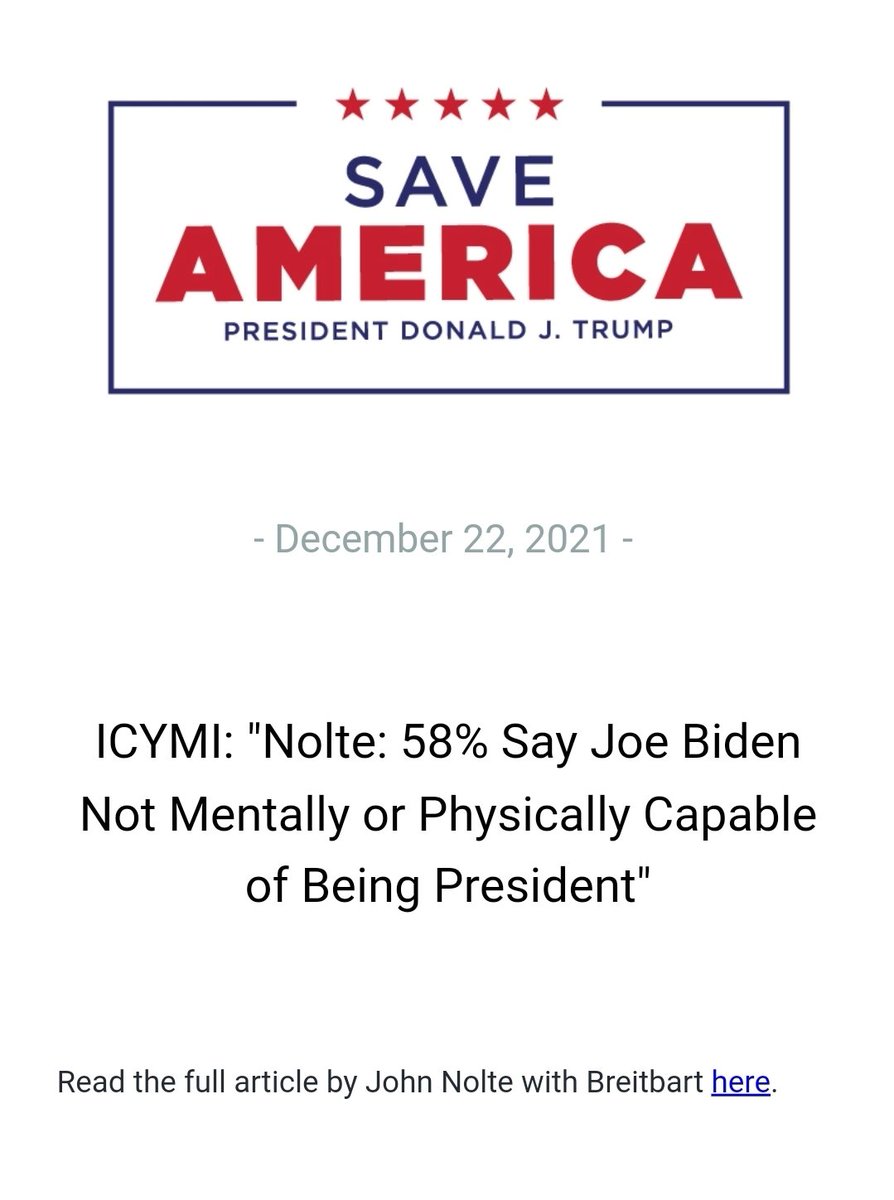 Ghislaine Maxwell will celebrate Christmas with her fate still hanging in the balance, as jurors have not yet reached a verdict in her trial and will resume deliberations next Monday.
Source: breitbart.com
---
Geopolitical/Police State
 Attorney Marc Elias was involved in the Steele dossier which was the garbage report created to slander candidate and then President Trump and tie him to Russia.  They knew it was all a lie.  Democrats, the FBI and US Intelligence agencies used the slanderous document to run a continuous coup against President Trump throughout his administration.
It was all a lie.
China now has complete control over Hong Kong and only certified candidates who are members of the communist party are able to run for office in the former democratic haven.
Marc Elias wants that same authority for the Democrat Party. Elias proposed new rules to only allow approved Republicans to run for office in America.
 
Source: thegatewaypundit.com
---
War
---
False Flags
Just when you thought this administration couldn't be any more cringe. pic.twitter.com/2Awz0gn2rH

— The First (@TheFirstonTV) December 23, 2021
Media Says No Shame In Breakthrough COVID After Guilting The Unvaxxed For Months
Media outlets are scrambling to reassure people who received the COVID-19 shot that there is no shame in testing positive for the virus after corporate media overlords guilted red states, Republicans, and the COVID-positive unvaccinated for months.
The Washington Post published an article on Thursday urging "self-compassion" for the vaccinated who are caught off guard by contracting COVID-19. Using anecdotes from people who "diligently" and "desperately" went the extra mile to keep away from the virus, the article laments how individuals who got the jab numerous times, masked up, and even stayed home feel like a failure because they fell ill.
Source: thefederalist.com
If you know the PCR test gives false positives & those who had the jab will test positive, how do you create and push fear to try to get the masses to take the jab and to keep the pandemic going?
1. Push the information that omicron is spreading 
2. Use the fake news to push the fear
3. Have the criminal cabal lockdown and move to vaccine passports and tell the unvaccinated you will not be able to participate in everyday life   
4. Those who got the jab run to the testing centers, cases rise, why because more people are getting tested and the tests are giving false positives
5. The fake news reports the case numbers to create more fear
6. Are people actually sick or dying from  omicron, NO, It is creating natural immunity
7. Are the hospitals overrun with sick and dying people, NO
8. If they were we would see makeshift hospitals, the hospital ships in the ports of NY and CA
9. Why is this happening? They don't want the pandemic to end, they need it for the election plus they want it for the longterm great reset, depopulation. Why now? The tests are changing at the end of Dec, the test will be separated into flu and covid, and if the unvaccinated do not get the jab only the vaccinated will show that they have covid. The [DS]/Big Pharma plan is about to fail, lets see if they say those who got the 3rd booster you don't need testing anymore, if this happens it is game over, because the fake tests/fake news/fake stats/ were the catalyst for the pandemic, let's see what happens
10. This playbook was used in 2020, they are trying it again, it will fail
Over the course of 2020-2021, Chicago hospitals were never overwhelmed & (for myriad reasons) steadily decreased bed capacity.

Now the Mayor is "crying wolf" again, as a pretext for implementing a vax passport system.#ManufacturedCrisis pic.twitter.com/wxIb8fCCMx

— Emma Woodhouse 😁 (@EWoodhouse7) December 22, 2021
Reminder about my reminder that Chicago EDs saw more visits during the 2017-18 flu season than they did in the 2020-21 Covid season. https://t.co/wOJkqCKoOO

— Emma Woodhouse 😁 (@EWoodhouse7) December 22, 2021
The number of COVID-positive patients in Chicago's hospitals is about 4% lower than last December's peak COVID census.

People who are NOT confirmed COVID-positive currently comprise ~80% of all patients. That level is comparable to July 2021. pic.twitter.com/XWaEAeWJEY

— Emma Woodhouse 😁 (@EWoodhouse7) December 22, 2021
To reiterate, the city's bed capacity has steadily declined over 2020 & 2021.

Why?

✔️Hospitals cut staff due to lower patient census
✔️Staff have quit in response to increased hours (cover for less staff), own kids shut out of school, & vax/test mandates pic.twitter.com/F7FeVPWHpP

— Emma Woodhouse 😁 (@EWoodhouse7) December 23, 2021
I don't have historical bed data, but most admits come through the ED.

City data dating back to Oct 2015 show a massive drop in visits with lockdown, which has still not recovered to pre-pandemic levels. pic.twitter.com/pknhTRHeFv

— Emma Woodhouse 😁 (@EWoodhouse7) December 23, 2021
2017-2018 was the busiest since 2015 for Chicago hospital emergency depts, peaking the second week of January 2017, with over 28K visits

I don't recall anyone asking for school system or restaurant shutdowns to "save the hospitals".

Do you? pic.twitter.com/yAF8gXEcmB

— Emma Woodhouse 😁 (@EWoodhouse7) December 23, 2021
Hey Fauci,

If masks and mandates work, why don't they work?

— Rep. Jim Jordan (@Jim_Jordan) December 23, 2021
Prof Douglas Farrow on useless masking for "C19 prevention" at McGill U: "Masking studies show no benefit in the situations in which I work at McGill. I refuse to set a bad example for my students by wearing one anyway" https://t.co/JoLHWzvr2r pic.twitter.com/jNgMccqYhv

— Andrew Bostom, MD, MS (@andrewbostom) December 23, 2021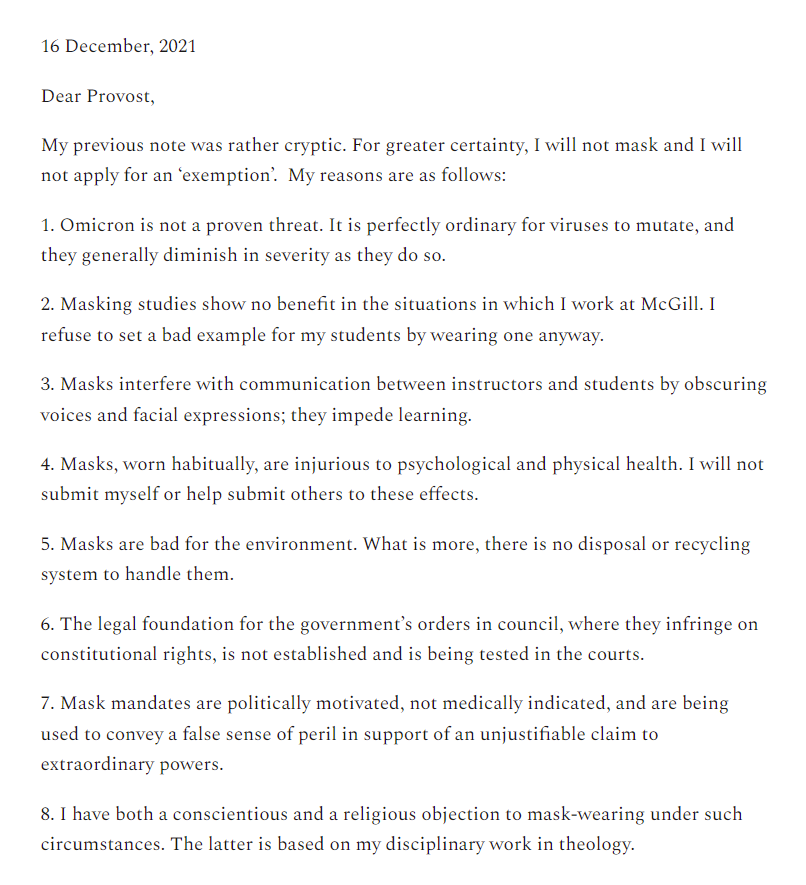 All the vaccinated people are testing positive, so cities are banning unvaccinated people from public life.

— Phil Kerpen (@kerpen) December 23, 2021
Responded
First rule of a collapsing cult — blame the dissenters. https://t.co/kbTXj2coLo

— Steve Deace (@SteveDeaceShow) December 23, 2021
The US Supreme Court Wednesday evening agreed to hear legal challenges to the Biden Regime's vaccine mandates.
Source: thegatewaypundit.com
WHO says vaccine booster programs will prolong Covid crisis: 'No country can boost its way out of the pandemic'
WHO officials criticized blanket Covid vaccine booster programs as poor countries struggle to obtain initial immunization shots.
The officials warned vaccine inequality could lead to the emergence of more mutant variants.
Source: cnbc.com
T

he National Institutes of Health has finally admitted to funding gain of function research on bat coronaviruses in it's Wuhan laboratory despite Dr. Fauci's denials to congress that no such research took place. 
The admission came in a letter addressed Kentucky congressman James Comer on Wednesday, in which NIH's principal deputy director Lawrence A. Tabak refers to a 'limited experiment' conducted to test if 'spike proteins from naturally occurring bat coronaviruses circulating in China were capable of binding to the human ACE2 receptor in a mouse model,' at the Wuhan lab. 
According to Tabak, the mice infected with the modified bat virus 'became sicker' than those infected with the unmodified bat virus.
  Joe Biden told ABC News' David Muir that as of right now, there are "200 million people fully vaccinated."  WATCH (1 min):
Counting illegal aliens, there are roughly 350 million Americans right now [Census Data].  If 200 million Americans are vaccinated (60%), that means there are approximately 150 million Americans NOT vaccinated (40%).
During his speech yesterday, Joe Biden said: "Thanks to the progress on vaccinations this fall, we've gone from nearly 90 million adults in July who had not even started their vaccination process to fewer than 40 million today." [LINK]
There's a big difference between 150 million unvaccinated and "fewer than 40 million" unvaccinated.  Can you reconcile the difference?
As now noted by Bloomberg:
[…] "CDC data show 240 million people with at least one shot, or about 72.5% of the population. But the agency says only 203 million are fully vaccinated, or 61.3%, an 11-percentage-point difference that is far larger than in other developed countries.
 
If the 200 million vaccinated number is accurate, then 150 million Americans are not vaccinated.
Source: theconservativetreehouse.com
  Dr. Vladimir Zelenko is warning that "tyrants" in government know that the end of Covid "is coming" and are now "going to go full totalitarian."
Source: worldtribune.com
It's not the federal government's job to "save my life".

It's their job to stay out of it.

— Lauren Boebert (@laurenboebert) December 21, 2021
Carjacked Pa. lawmaker championed replacing police with mental health professionals https://t.co/McLFqw2kp4

— The Washington Times (@WashTimes) December 23, 2021
The Pennsylvania Democratic lawmaker carjacked at gunpoint in Philadelphia on Wednesday is a chief proponent of federal legislation to replace police officers with mental health professionals.
Rep. Mary Gay Scanlon, who was unharmed but lost her vehicle in the robbery, is one of 125 Democrats backing the Mental Health Justice Act. The bill incentivizes police departments to hire mental health professionals as first responders to emergency incidents and crimes involving individuals with "behavioral" issues.
Responded
Well that policy aged well. https://t.co/5tCmFOPRdQ

— Donald Trump Jr. (@DonaldJTrumpJr) December 23, 2021
---
Q
Former Trump adviser and retired Lt. Gen. Michael Flynn lost a legal challenge against the House select committee investigating Jan. 6 to block their subpoena issued last month for his testimony and documents.
District Judge Mary Scriven dismissed without prejudice Flynn's request for a temporary restraining order (TRO) to block the subpoena, saying Flynn can refile the case provided certain conditions are met.
In her order (pdf) on Dec. 22., she wrote Flynn "failed to comply" with several procedural requirements."Flynn may refile his Motion if he believes that he can comply with the procedural requirements," Scriven wrote.