Scavino Sends Message, We Serve At The Pleasure Of The President, DJT, COGCON – Ep. 2822
Podcast: Download (Duration: 1:04:51 — 28.3MB)
Watch The X22 Report On Video
The Biden admin are ready to shutdown another oil field, this is all apart of the agenda.  Jobs were not created under Biden, its the manipulated statistics they are using. Small business optimism slumps. Inflation up and wages are down, they [CB] pushing CBDC and the patriots are pushing alternative currency. The [DS] is trapped in their own treasonous, seditious acts and they are being exposed to the public. The fake news is failing, the [DS] is failing. The midterms are approaching and the [DS] is left with Covid 2.o to alter elections, this will not work, the people are not going along with this. Their agenda is failing, the patriots are exposing the truth and the [DS] is trying to stop it. Scavino sends a message, get ready it's about to get interesting.
---
Economy
ConocoPhillips' Willow project in Alaska might end up shelved after the release of a highly anticipated environmental analysis of the project by the federal government.
In its analysis, the Bureau of Land Management outlined five alternative paths for the project, which Conoco acquired in the early 1990s. One of the alternatives involved setting up five drilling sites and constructing various infrastructure. Another alternative suggested fewer drill sites and less infrastructure, with a more limited impact on the environment.
The Bureau of Land Management approved Conoco's project for the development of the Willow prospect in 2020, during the Trump presidency.
"President Trump made his administration focus on American energy independence and the freedom it provides from day one of his term," Secretary of the Interior David Bernhardt said in the news release. "This decision will make a significant contribution to keeping oil flowing down the 800-mile Trans Alaska Pipeline decades into the future while delivering federal and state revenue as well as important impact assistance to the affected native communities."
"The project is an important job creator for families in Alaska, with more than 1,000 jobs expected during peak construction and more than 400 jobs during operations, creating more revenue for the State, and offering protections for important resource values such as caribou and subsistence activities," said the head of BLM Alaska, Chad Padgett
The project could deliver 160,000 bpd of crude, the BLM said at the time, with reserves estimated at between 400 and 750 million barrels. The lifetime of the project was estimated at up to 30 years in 2019.
Last year, however, an Alaska District Court judge vacated the BLM's approval of Conoco's project on the grounds that the BLM had overlooked the greenhouse gas emission footprint of foreign oil consumption in its environmental review of the project.
Source: zerohedge.com
 
Two different surveys make up the jobs report, leading to the potential overcounting of employment numbers, E.J. Antoni, a research fellow for regional economics at The Heritage Foundation, said
"The overall economic woes of the country seem like they stem entirely from the bad policies of this administration," Antoni said.
"The number of full-time employees is down 70,000 since March," Antoni noted. "We've lost several hundred full-time jobs a day for the last three months."
Increased demand for labor often means that full-time employees are replaced by part-time employees, who often work multiple jobs and fewer hours.
"Once you account for the potential double-counting from the establishment survey and multiple job holders going up so much, you're left with only a 59,000 job increase for the month of June," Antoni told the DCNF.
"For the last four reports, the household job numbers have actually gone down on net, and we've had two big declines that dragged the whole number down," Antoni stated.
Antoni further maintained that June's unemployment rate was artificially low at 3.6% due to the way it is calculated.
"If we were to have a labor force participation rate that was on par with the pre-pandemic trend, the unemployment rate would be up to about 5%, putting us in a very similar position to the late spring or early summer of 2008, with that recession," said Antoni.
Source: dailycaller.com
 US small-business owners slumped in June to the lowest level since early 2013 (down 3.6 to 89.5, well below 92.5 exp), but a net minus 61% of owners last month said they expect better business conditions over the coming six months, down 7 percentage points from May and the worst result in the survey's 48-year history.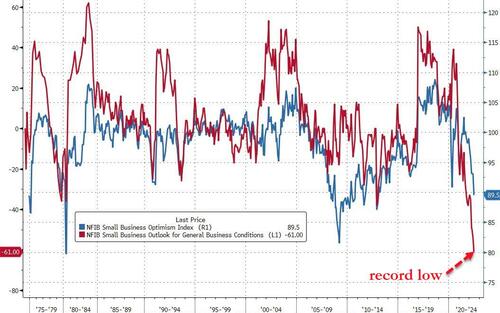 Source: zerohedge.com
With inflation at a 41-year high, gas at record prices, and the cost of food and housing reaching record levels, Americans are looking for alternative methods for staying afloat as their resources are dwindling. 
Federal Reserve Economic Data (FRED) said in May that Americans had just 5.4% of their paychecks left after paying basic living expenses, leaving very little for savings. This amount is known as the National Personal Savings rate. 
The drop in savings is primarily due to the record-setting inflation,   
Most Americans have to dip into savings to cover increased food, gas, and energy bills. But after more than a year of rising prices, stagnant wages, and shrinking savings accounts, Americans are looking at alternative methods to pay for basics.
 
According to Bloomberg, Swedish fintech company Klarna Bank has seen a mass of applications for staples such as food and gas. 
The finance company provides interest-free, small installment loans that allow people to make purchases when they are short on cash. Klarna makes money by charging retailers a small per-transaction fee.
"I noticed that I could buy essentials with it, and not have to pay everything up front. And it wouldn't affect my pocket as much," said Linda Cruz, 
The 37-year-old mother of four from Texas told Bloomberg she started using Klarna's interest-free loans for occasional, large purchases such as a new air conditioner last summer. However, she told the outlet that as prices began to rise for basic needs, she also started using it for groceries. 
Source: thegatewaypundit.com
Joe Biden is the pay cut president.

Year-over-year real wage growth – your paycheck accounting for inflation – has been negative EVERY SINGLE MONTH since Biden passed his $1.9T "stimulus."

By contrast, real wages were only negative one month during Trump's entire 4-year term. pic.twitter.com/2a1aR5yiU8

— Tommy Pigott (@TommyPigott) July 11, 2022
San Francisco children walk past open-air drug den on way home from school, shocking video shows: report https://t.co/dwGghLoRGh #FoxNews If a San Francisco person from 60 years ago arrived today – they would believe a collapse of civilisation had taken place.

— Paul Marks (@paulvmarks) July 10, 2022
Central Bank Digital Currency: Stability and Information
We study how introducing a central bank digital currency (CBDC) would affect the stability of the banking system. We present a model that captures a concern commonly raised in policy discussions: the option to hold CBDC can increase the incentive for depositors to run on weak banks. Our model highlights two countervailing effects. First, banks do less maturity transformation when depositors have access to CBDC, which leaves them less exposed to runs. Second, monitoring the flow of funds into CBDC allows policymakers to identify and resolve weak banks sooner, which also decreases depositors' incentive to run. Our results suggest that a well-designed CBDC may decrease rather than increase financial fragility.
 Source .financialresearch.gov
The fifth largest retail bank in Switzerland will allow its over two million customers to buy, sell and hold bitcoin by 2024.
PostFinance is not only a leading Swiss retail bank, but is also the banking arm of Switzerland's post office.
The bank already partners with Swissquote for cryptocurrency services, but looks to be creating an independent platform.
PostFinance, the fifth largest Swiss retail bank and the banking arm Switzerland's post office, will allow its 2.69 million customers to buy, sell and hold bitcoin and other cryptocurrencies beginning in 2024, according to a report from SwissInfo.
Source: bitcoinmagazine.com
---
Political/Rights
Wow! The Failing New York Times is really failing now: Down more than 40%, and heading lower. FAKE NEWS!
The Template:

-The Left makes up a lie.

-Big Media reports it.

-Big Tech amplifies it.

-And when you try to tell the truth, the Disinformation Board comes for you.

— Rep. Jim Jordan (@Jim_Jordan) July 11, 2022
"We are not tacos."

Amazing. https://t.co/9qOMcwBQ24

— Sean Davis (@seanmdav) July 12, 2022
🚨🚨O___O Joe Biden said he knew NOTHING about Hunter's business. But in this late 2018 exchange, it **LOOKS** as if: HUNTER BIDEN NEEDED HIS DAD'S PERMISSION TO WIRE MONEY to Owasco LLC (hunter's work).

**At VERY LEAST it SHOWS that Biden family accountant handled BOTH things. pic.twitter.com/MQKJP18AQ3

— Crab Man (@crabcrawler1) July 12, 2022
Owasco was the vehicle through which Ye Jianming (missing Chinese billionaire) funneled cash to Hunter. Owasco was also the vehicle through which Hunter funneled leftover Ye money to himself after Ye disappeared. Huge problem if Joe Biden's finances were commingled with Owasco. https://t.co/VpJEGZ02qA

— Hans Mahncke (@HansMahncke) July 12, 2022
Remember when the left and MSM went after a 12 yo Barron Trump, but can't muster up a single negative thing to say about a 50 yo son of the current president who's on video banging hookers and smoking crack?

— Whatevs (@j035ich5pach) July 11, 2022
Biden today: "None of what I'm talking about infringes on anyone's Second Amendment rights…I support the Second Amendment."

Biden, moments later: "Assault weapons need to be banned…I'm determined to ban these weapons again…" pic.twitter.com/Iqby1eHnMZ

— Townhall.com (@townhallcom) July 11, 2022
  Michael Moore proposed a new amendment to the U.S. Constitution on Sunday that would erase the Second Amendment, and reduce the rights of most Americans.
Moore proposed his own 28th Amendment to the Constitution. He said the new amendment would repeal and replace the Second Amendment that guarantees Americans the right of gun ownership. He laid out a detailed description of what that new amendment would entail on his website.
"The inalienable right of a free people to be kept safe from gun violence and the fear thereof must not be infringed and shall be protected by the Congress and the States. This Amendment thus repeals and replaces the Second Amendment," Section 1 of Moore's proposed amendment read.
Section 2 outlined the restrictions that would be imposed for the few situations in which guns could be owned. He noted a national registry and licensing program allowing guns to be used for hunting, target shooting, and most rarely for self-defense.  
The section also outlines an extensive background check, including a mental health check and interviews with partners and exes. It also includes a mandatory one-month waiting period.
Section 3 calls for a written test and a firearm safety course, something Moore says must be updated annually. 
Section 4 raised the minimum purchase age to 25.
Section 5 listed the firearms that would be banned under the proposed amendment.
All automatic and semi-automatic weapons 
Any weapon that can hold more than six bullets or rounds at a time 
All guns made of plastic or any homemade equipment and machinery or a 3D printer
Moore's proposed amendment calls for Congress to regulate the types and amounts of ammunition that would be legal.
According to Section 7, police would be allowed to continue to train and use firearms but would be subject to constant monitoring and stripped of their guns if they were thought to be racist.
The final section of Moore's ridiculous proposal says that anyone owning a banned gun would have 30 days to surrender the weapon after his amendment is ratified.
It is just another unhinged string of rhetoric from the democratic, far left, outspoken activist.
Source: thegatewaypundit.com
Violates 9th amendment, thus automatically void
"The enumeration in the Constitution, of certain rights, shall not be construed to deny or disparage others retained by the people."
And as far as I'm concerned, you cant vote away the original 10 amendments, the Bill of RIGHTS
---
Geopolitical/Police State
I don't hate the man, but it's time for Trump to hang up his hat & sail into the sunset.

Dems should also call off the attack – don't make it so that Trump's only way to survive is to regain the Presidency.

— Elon Musk (@elonmusk) July 12, 2022
---
War
---
False Flags
After all, given the fact the US has around 700 cases of Monkeypox (around 0.0002% of the population), that the entire world only 8000 "cases" (about 0.0001%), and that there have been just 3 reported deaths…well, you'd be forgiven for not realizing there was a fight at all, let alone that we were losing.
Yes, Moderna started working on a new mRNA monkeypox vaccine back in May…so by Covid rules they're probably nearly done by now.
Source:  truthbasedmedia.com
Biden's Health and Human Services Secretary Xavier Becerra on Monday told reporters at the White House that there is a "strong chance that we'll see a resurgence of the virus" this fall.
Just in time for the midterm elections.
Source: thegatewaypundit.com
Why vaccines and masks? https://t.co/z9IyTmJTD9

— Tom Fitton (@TomFitton) July 12, 2022
The Food and Drug Administration (FDA) and Centers for Disease Control and Prevention (CDC) expedited the authorization of a COVID-19 vaccine for kids, but in the past, kids' vaccines with fewer problems have been pulled from the market by regulators.
In 1999, the CDC pulled the RotaShield vaccine, which protected kids against Rotavirus, due to evidence that in rare cases it afflicted babies with intussusception. The rate of intussusception from the RotaShield vaccine was far lower than the rate of myocarditis is in COVID-19 vaccines for young boys.
After public reports of the rare but serious side effect, regulators conducted an investigation and in 2001 published findings showing that the RotaShield vaccine was causing one additional case of intussusception for every 4,670 to 9,474 babies vaccinated.
Incidences of myocarditis or pericarditis in boys aged 12-17 ranges from 22.0-35.9 per 100,000, according to the CDC, or one case out of every 2,785-4,545 vaccinations. Another study from the Netherlands Heart Journal found a myocarditis rate of one in every 6,635 vaccinations in males 16-19 years old.
While President Biden mulls declaring a "medical emergency" to promote broader access to abortions, his administration appears ready to extend the ongoing (now 30-month-old) "public health emergency" over COVID-19.
And none other than Anthony Fauci warned during a press conference this morning that "those who were infected with the Omicron variant BA1 do not have good protection against variants BA4 and BA5."
Source: zerohedge.com
Four weeks ago, Starbucks CEO Howard Schutz told the NY Times that the company was assessing increasing threats to public safety over it's "all inclusive" 2018 bathroom policy that encouraged homeless people and drug addicts to make copious use.
Now, the company is now shuttering 16 locations in major cities over incidents related to drug use and 'other disruptions' in its cafes, according to the Wall Street Journal.
The company on Monday announced that it would be permanently closing six stores each in Seattle and Los Angeles, as well as two in Portland, OR, and single locations in Philadelphia and Washington DC by the end of the month.
The move comes after workers reported incidents involving drug use by customers and members of the public – which, logically, comes after the company's 2018 virtue signaling campaign which eventually included the installation of needle deposit boxes at various locations after employees signed a petition demanding the company do more to protect them.
Source: thegatewaypundit.com
---
Q
I've found five clips from around 14:30 showing James Ehren Knowles in the Capitol building

The Gateway Pundit has named him as the "Confidential Human Source" who was spying on the Proud Boys for the FBI, as revealed in the leaked documents published today pic.twitter.com/LQxilh8sTT

— Stephen Horn (@stephenehorn) July 11, 2022
According to The Daily Mail the panel had planned to hold a Thursday hearing in prime time that would be its second televised evening event.
But that all changed when Steve Bannon announced over the weekend that he would testify live and in person before the committee.
Source: thegatewaypundit.com
Nichols sided with the Department of Justice, saying that the burden of evidence for the Merrick Garland-led agency is that they "need only to show that 'wilfully' in the contempt of Congress case that Bannon deliberately and intentionally failed to respond to Jan. 6 committee subpoena," according to the Guardian's Hugo Lowell. Bannon, in June, dared Garland to indict Trump.
Source:  thepostmillennial.com
Can anyone even imagine the Unselect Committee, which was formed solely for the purpose of bringing down my "numbers," or worse, relying on the Fake and made up stories, already largely debunked, of a female scam artist, Cassidy Hutchinson, who desperately wanted to go with the Trump Team to Florida long after January 6th, and went "crazy" when she was told no. They called her a "leaker" and worse, didn't want her!
Look at the people sitting on the Unselect Committee of Political Hacks and Thugs. Have you seen them before? Yes, they are essentially the same lunatics that drove the Country "crazy" with their lies and made up stories, like RUSSIA, RUSSIA, RUSSIA, and all of the others, who were caught in the act sooo many times, and now they're just going with this HOAX, which is as true as me trying to strangle a Secret Service Agent from behind in, she said, "the Beast (I wasn't even in the Beast)!
Isn't it INCREDIBLE that the people who Cheated, Rigged, and Stole the 2020 Presidential Election, for which there is massive and incontestable evidence and proof (and now even the Wisconsin Supreme Court just ruled that Ballot Boxes, which are impossible to control & easy to cheat with, are ILLEGAL!), are totally protected from harm (the FIX is in!), and the people that caught them cheating are being investigated. Someday soon this will change, or we won't have a Country anymore!
35
Anonymous
11/01/2017 22:56:38
 ID: pGukiFmX
4chan/pol: 147567928
The Shadow Government
Following a catastrophic national emergency, the President, or his successor can authorize the establishment of a temporary "shadow government" to maintain control of the essential functions of the Federal Government. President Bush activated the shadow government on September 11, 2001 shortly after the second attack on the World Trade Center.Every federal agency has designated key individuals to be part of an "Emergency Relocation Group". These ERGs are assigned to an alternate secure location on a rotating basis and are ready to take over the duty of supporting the National Essential Functions of this nation in an emergency.
COGCON Levels
The Continuity of Government Readiness Conditions (COGCON) system establishes executive branch readiness levels based on possible threats to the National Capital Region. The President alone determines and issues the COGCON Level.
COGCON 4:  Federal executive branch government employees at their normal work locations. Maintain alternate facility and conduct periodic continuity readiness exercises.
COGCON 3:  Federal agencies and departments Advance Relocation Teams "warm up" their alternate sites and capabilities, which include testing communications and IT systems. Ensure that alternate facilities are prepared to receive continuity staff. Track agency leaders and successors daily.
COGCON 2:  Deployment of 50-75% of Emergency Relocation Group continuity staff to alternate locations. Establish their ability to conduct operations and prepare to perform their organization's essential functions in the event of a catastrophic emergency.
COGCON 1:  Full deployment of designated leadership and continuity staffs to perform the organization's essential functions from alternate facilities either as a result of, or in preparation for, a catastrophic emergency.
Evacuating the President
The Presidents   ultimate destination would be onboard the E-4B National Airborne Operations Center (NAOB), a highly survivable militarized version of the Boeing 747-200 capable of being refueled in flight.
After several days in the air, the President could choose to go to one of the Presidential Emergency Facilities at Mount Weather, Site R, the underground bunker at Camp David, the bunker at Offutt Air Force Base, the new bunker under the Denver International Airport, or other still-classified locations.
Secret C-20C "Senex" Aircraft
Three Air Force C-20C aircraft (85-0049, 85-0050, and 86-0403) based at Andrews AFB are operated by the Presidential Airlift Group (PAG) of the 89th Airlift Wing. The C-20C aircraft are a secret part of the COG program and are designed to move senior executives (Senex) quickly in the event of a national emergency.
The three C-20C aircraft are equipped with a comprehensive hardened communication system installed by E-Systems and designed to enable operations in a post-nuclear environment. Whenever the President travels away from Washington, a C-20C is positioned discretely at an adjacent airfield in case the President has to suddenly depart and Air Force One has been disabled.
Source: whitehouse.gov1.info
4164
Q
!!Hs1Jq13jV6
05/09/2020 02:22:53
 ID: e8fbb4
8kun/qresearch: 9089955
4311
Q
!!Hs1Jq13jV6
05/24/2020 14:23:14
 ID: c3afb1
8kun/qresearch: 9299205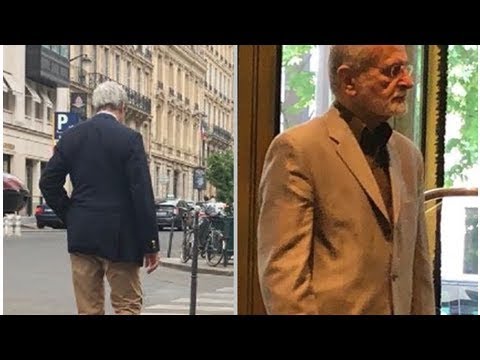 Image Name:
hqdefault.jpg
Filename:
dc755991ef0b679f9a1fd2abb260c8932abb253dde39f119a0094b458126f1c4.jpg
RIP Shinzo Abe🙏🇺🇸🇯🇵 pic.twitter.com/jqfmQu0i3h

— Dan Scavino Jr.🇺🇸🦅 (@DanScavino) July 12, 2022
We serve at the pleasure of the President. DJT