Senate Was The Key, Patriots Turn, It's All About To Be Exposed – Episode 2071
Podcast: Download (Duration: 46:48 — 47.8MB)
The global economy is breaking down, the [CB] are exposed and the world is going to watch how a [CB] driving economy implodes. The [CB] are not managing the economies for the people they are managing it for themselves, to enrich themselves and to enslave a people. Trump has just signed the phase 1 trade deal with China, this is just the beginning. The [DS] has now pushed their agenda forward in regards to the fake impeachment, the patriots have the [DS] /Ds exactly where they want them, the Senate was the key, it is now the patriots turn. SP has now rescinded Flynn's guilty plea, everything is about to change, she wants 30 day continuance which brings us to Feb 27. Trump during his rally mention [LL], the tarmac, he did this on purpose, it all about to be exposed.
Check Out The X22 Report Spotlight YouTube Channel X22Report Spotlight
Please check Newzsentinel.com for the latest news on the economic collapse. The Sentinel Alerts are updated throughout the day.
---
Current News – 01.15.2020
Watch The X22 Report On Video
---
Economy
Germany's economic growth   slowed last year to its weakest level in nearly six years as trade tensions escalated, exports plunged, and a steep downturn in the automotive industry led Europe's largest economy onto the brink of a recession,  Official government statics show that GDP growth rate in the last three months of 2019 was 0.6%, the lowest since 2013's 0.4% expansion
A synchronized global downturn had plunged Germany into an economic decline since late 2017 when growth printed a high of 2.5% on the year. Then by 2018, growth plunged to 1.5%, and a year later, to 0.6% in 2019.
Source: zerohedge.com
Based on what we know so far, this is the core of the agreement: The US has agreed to halve 15% tariffs on $120 billion in Chinese imports and an indefinite delay on further tariff hikes. In return, China has promised to make structural reforms, and buy an additional $200 billion over 2017 levels in goods and services over the next two years.
 the deal leaves in place the bulk of tariffs imposed by Trump on $360 billion of Chinese imports – nearly all of the Chinese made products flowing into the country –  w
The trade deal with Beijing is essentially an informal agreement, not a treaty or an official trade pact (like USMCA), which means Trump doesn't need Congress's approval to sign off. At 86 pages, it's pretty thin for a trade agreement. There's something else about the deal that's unique:   Trump's team has negotiated   a classified annex that details the $200 billion Chinese buying spree.
That includes some $32 billion in additional purchases of American farm exports and $50 billion in natural gas and crude oil,  . The administration insists the different nature of the deal is by design and that it won't need the approval of Congress. "

This is not a free trade agreement," it told supporters in a memo last month. "Its purpose is to rectify unfair trade practices."
Source: zerohedge.com
Trump Signs Historic Trade Agreement with China – Here Is the List of Top Advantages from US-China Trade Deal
The USMCA will create 176,000 new American jobs, including 76,000 jobs in the auto industry, and boost the U.S. economy by $68 billion.
The USMCA trade deal would increase U.S. agricultural exports by $2.2 billion and increase access to new markers in Canada and Mexico.
U.S. manufacturing workers would receive the largest percentage gains in wages, new jobs, and exports.
After years of Washington ignoring the well-being of blue-collar Americans, President Trump is putting them first.
Wages have grown near or stronger than 3% for the past 22 months, and low-income workers are seeing the biggest wage gains.
Before this Trump-led wage growth streak, wage gains had not exceeded 3% in more than a decade.
The historic job market and record-low unemployment rate is finally benefiting less-educated and less-skilled Americans "who've missed out on other, weaker recoveries."
 Source: thegatewaypundit.com
Take a listen to what Trump says about the trade deal
As Phase One continues to unfold, it looks like Trump might have a chance to level the playing field yet.
Source: thefederalist.com
---
Political/Rights
The line has been drawn, the [DS] and the Patriots are ready to face off in the Senate. The Senate was always the key, the patriots pushed the [DS] and the Dems into this, the Patriots wanted this forum to show the world who and what the [DS] and the Dems are really about, this is just the beginning, the patriots are controlling the situation. Flynn's attorney Sidney Powell made an interesting move, she has now recinded the quilty plea, Flynn free in [30], we will be talking about all of this but first lets talk about Avenatti
  Michael Avenatti was arrested   while attending a California State bar disciplinary hearing for another legal matter.
Avenatti's arrest came outside of the California disciplinary hearing related to allegations that the attorney scammed a client out of almost $840,000.
Source: dailycaller.com
The Fake Impeachment is a go, NP has now announced her handlers, She tweeted out the following
Today, I have the privilege of naming the Managers of the impeachment trial of the President. #DefendOurDemocracy pic.twitter.com/Y2613Ni3pC

— Nancy Pelosi (@SpeakerPelosi) January 15, 2020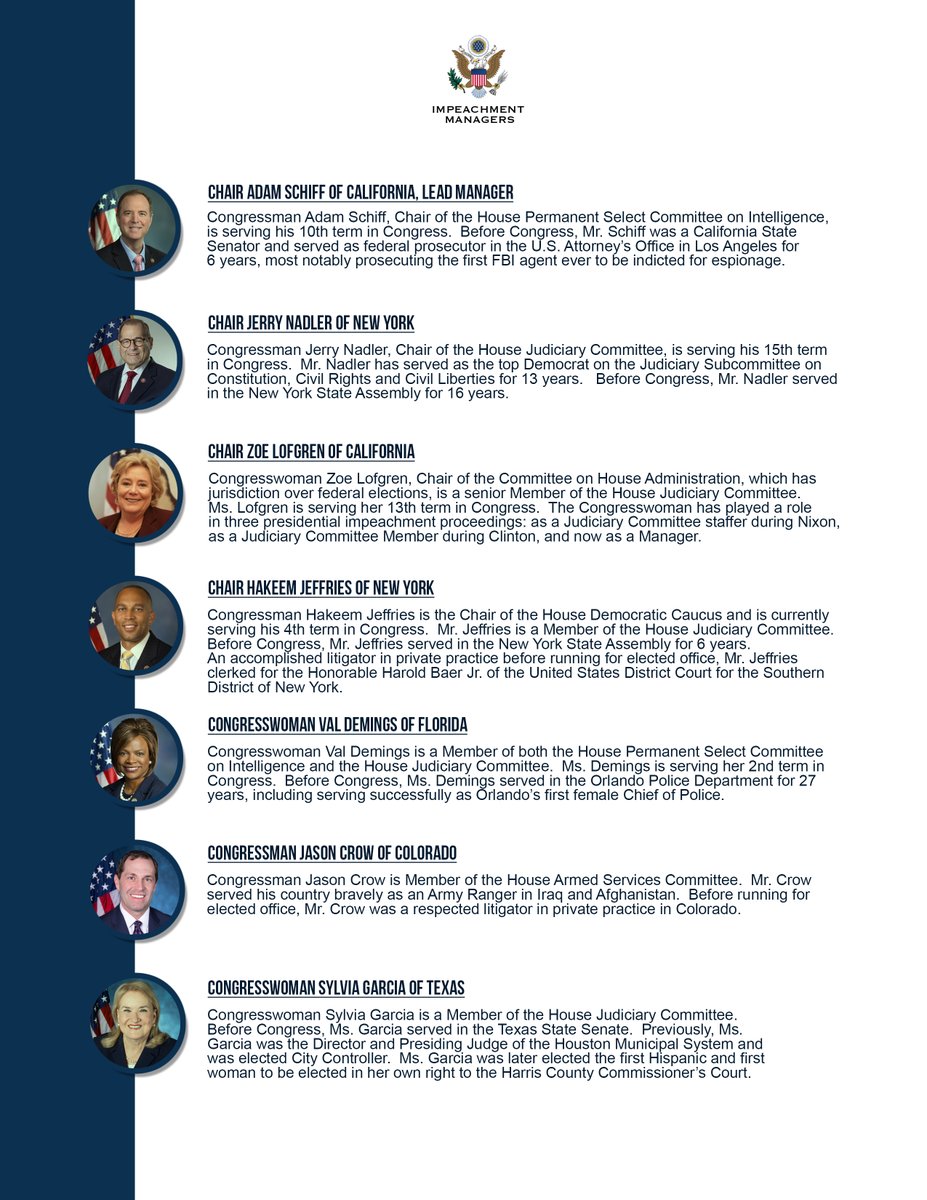 "The only thing Speaker Pelosi has achieved with this sham, illegitimate impeachment process, is to prove she is focused on politics instead of the American people. The Speaker lied when she claimed this was urgent and vital to national security because when the articles passed, she held them for an entire month in an egregious effort to garner political support. She failed and the naming of these managers does not change a single thing. President Trump has done nothing wrong,"
"He looks forward to having the due process rights in the Senate that Speaker Pelosi and House Democrats denied to him, and expects to be fully exonerated.
Source: dailycaller.com
BREAKING: Impeachment managers Schiff & Nadler went well beyond the language of the charges in the Articles @ this morn's presser by alleging President Trump tried to "cheat" in 2020 & "rig the election," and that he "broke the law" & committed "crimes" by suspending foreign aid

— Paul Sperry (@paulsperry_) January 15, 2020
Plus NP just like Adam Schiff, she changed what Trump said to Zelensky, Trump didn't say do me a favor he said do us a favor,
TAKE Listen to NP on how she lied to the people
The [DS] and the Dems did not get what they needed from the SC, so now they decided to whip up other evidence if you want to call it that, now we know that RG has been talking to Lev Parnas and we know that these individuals were arrested, and now there is
 trove of documents from Lev Parnas,  
The dozens of pages of texts and other records, provided to congressional investigators by the Soviet-born Floridian and naturalized United States citizen, were released by the Democrat-led House Intelligence Committee
Parnas is currently in jail, along with  , Igor Fruman, for his alleged role in an illicit scheme to funnel foreign funds to U.S. politicians.
The new texts reveal 2019 efforts by Giuliani and Parnas to remove the then-U.S. ambassador to Ukraine, Marie Yovanovitch, from her post in Kyiv. The ousted diplomat testified during House impeachment hearings last year that she was removed from her perch after a successful smear campaign by Giuliani and other Trump allies.
A set of texts between Parnas and Trump donor and GOP congressional candidate Robert Hyde seem to suggest Hyde knew people who were willing and able to surveil Yovanovitch inside Ukraine.
"They know she's a political puppet. They will let me know when she's on the move," Hyde told Parnas. "Guess you can do anything in Ukraine with money."
"LOL," Parnas texted back.
A photograph of alleged meeting notes taken by Parnas on stationary from the Ritz Carlton in Vienna detail Giuliani's plan to "get [Zelensky] to announce that the Biden case will be investigated."
Source: washingtonexaminer.com
We need to remember that all of these people have been under survelliance, phones have been monitored, lets go back to post
House Scheme Unfolds – Adam Schiff Transmits "New Evidence" to Nadler…
Yesterday the New York Times narrative about Russians hacking Burisma now makes sense.  Today the Lawfare team (Mary McCord et al) within Adam Schiff's impeachment crew send additional files of evidence (pdf below) to be included in the impeachment articles constructed by HJC Chairman Jerry Nadler.
It is all coordinated. The "new evidence" relates to information turned over by Lev Parnas, an SDNY indicted former associate of Trump's personal attorney Rudy Giuliani.  The Lawfare purpose is to bolster their premise that President Trump was trying to force Ukraine President Volodymyr Zelensky to investigate Joe Biden's corrupt activity around the Ukrainian company Burisma.
The Lawfare crew behind Schiff waited until the last minute to push the new "evidence" because they didn't want republicans to deconstruct it during the impeachment evidence gathering phase. Aditionally, the Lawfare crew anticipate a Trump impeachment defense surrounding actual evidence of the Biden corruption, which makes the Trump request to Zelensky valid.
So the proactive democrat strategy was/is to use the New York Times presentation of Russia hacking Burisma to negate the provenance of the evidence against the Bidens.  In essence, to cast doubt upon any documents that would show Joe and Hunter Biden participating in an actual influence and money-laundering scheme.

The SDNY created legal leverage upon Lev Parnas using the familiar strategy of charging "FARA violations", as noted in the background of the House explanation.
The purpose was/is to extract anything from Parnas that could be twisted or construed to show evidence that Rudy Giuliani was working on behalf of President Trump to pressure Ukraine into investigating Burisma, Joe Biden and Hunter Biden.
To counter any evidence that would highlight the truth that Hunter and Joe Biden were indeed participating in a pay-to-play influence and money laundering scheme for personal financial benefit, the same democrat operatives created a 2020 Russian 'hacking claim' using former Crowdstrike employee Blake Darché and his colleague Oren Falkowitz.
The 2016 Lawfare group is now 2020's Just Security;

the 2016 CrowdStrike group is now 2020's Area-1 Security;

and the 2016 Russia DNC hack is now the 2020 Russia Burisma hack… 

It's the same players, the same story, the same approach.
Source: theconservativetreehouse.com
The [DS] plan failed before it they can introduce the evidence in front of the Senate. The Patriots already know what was planned, they been monitoring all of them. Remember Mueller, how he was ready to indict everyone, Brennan was telling us that indictments are coming down soon he is saving Trump for last, countered. Remember the whistleblower who had the goods on Trump call with Zelensky, Trump countered by releasing the call, why are the patriots doing this, why are they allowing this to happen to show the people, to let the people understand how low they would stoop to protect themselves, remember the tweet from Trump
— Donald J. Trump (@realDonaldTrump) November 27, 2019
If you remember the fight in the movie, Rocky allowed Drago to through all the punches, Rocky just sat back and took each punch, by defending his body. Drago started to tire, he couldn't throw any more punches, and on this day Nov 27, 1985, Rocky knocked Drago out in the 15th round. 
Trump is a counter puncher, he doesn't hit first, but when he fights  back the punch is ten times harder, this tell us that Trump and the patriots are about to hit the DS very hard,  
Trump tweeted out the following
Cryin' Chuck Schumer just said, "The American people want a fair trial in the Senate." True, but why didn't Nervous Nancy and Corrupt politician Adam "Shifty" Schiff give us a fair trial in the House. It was the most lopsided & unfair basement hearing in the history of Congress!

— Donald J. Trump (@realDonaldTrump) January 14, 2020
The White House has its team to defend Trump, or are they ready to produce other evidence against the [DS] and Dems
White House Confirms Impeachment Defense Team: Pat Cipollone, Jay Sekulow, Michael Purpura and Patrick Philbin…
 the White House confirmed the impeachment defense team led by White House Counsel Pat Cipollone.   Joining Cipollone is President Trump's personal attorney Jay Sekulow and White House Deputy Attorneys Michael Purpura and Patrick Philbin.
Additionally, constitutional lawyer Alan Dershowitz may also work in an advisory capacity with the four member legal team.
These guys are going to destroy the manager and others
Source: theconservativetreehouse.com
The Texas Republican on Tuesday pitched the idea of "witness reciprocity" to GOP leadership in the chamber on Tuesday after Senate Democrats announced last month they wish to subpoena Bolton, acting White House chief of staff Mick Mulvaney, and other top aides to the president.
His proposed strategy would mean that if Democrats call their witnesses, Republicans could call their own as well, such as former Vice President Joe Biden, his son Hunter Biden, House Intelligence Committee Chairman Adam Schiff, and the whistleblower at the center of the impeachment process.
"We'll be dealing with the witness issue at the appropriate time into the trial. And I think it's certainly appropriate to point out that both sides would want to call witnesses if they wanted to hear from them," Senate Majority Leader Mitch McConnell said about Cruz's idea 
Source: washingtonexaminer.com
The SENATE WAS THE KEY
And now we have Sidney Powell make her move, timing is incredible
New Evidence In Michael Flynn Case Shows Government Prosecutors Pushed Him To Lie
  Michael Flynn's attorney, Sidney Powell, filed a Motion to Withdraw his Guilty Plea, arguing the government breached its obligations under the plea agreement the retired general had entered with the special counsel's office in late 2017. Prosecutors had promised in that plea agreement to "file a departure motion pursuant to Section 5K1.1 of the Sentencing Guidelines" if Flynn provided substantial assistance to the government.
The government kept that pledge—until it didn't.
On December 4, 2018, prosecutors working for the special counsel's office filed a Memorandum in Aid of Sentencing, stating that the government has moved for a downward departure pursuant to Section 5K1.1, to reflect Flynn's "substantial assistance to the government."
Section 5K1.1 authorizes a judge to depart from the sentencing guideline—a set of standards used to assess an appropriate sentencing range for a defendant—if the government files a motion "stating that the defendant has provided substantial assistance in the investigation or prosecution of another person who has committed an offense . . ." A court cannot depart from the guidelines under Section 5K1.1, unless the prosecution files such a motion. They kept the promise until a week ago
 in its Supplemental Memorandum of Sentencing, prosecutors reneged on their promise. After acknowledging in the opening paragraph of its memorandum that "it filed a motion for a downward departure pursuant to Section 5K1.1," for substantial assistance, government attorneys asserted they were "no longer moving for a departure under U.S.S.G.§ 5K1.1 for providing substantial assistance to the government."
That's a problem, because prosecutors already admitted that Flynn had provided substantial assistance to the government "in obtaining th[e] charging document" for the prosecution of Flynn's former business partner, and the plea agreement requires the government to file a 5K1.1 motion if Flynn provided substantial assistance. Further, there is nothing in the plea agreement that purports to provide the government with the power to withdraw a 5K1.1 motion for substantial assistance.
In short, the government breached the plea agreement. 
This is good news.  Withdrawing the plea will now force the government to prove its case.
Source: thefedaralist.com
HUGE! Devin Nunes: We Were Told in Early 2017 by Highest Levels of DOJ that General Flynn Didn't Lie to the FBI (VIDEO)
Rep. Devin Nunes (R-CA) said that Republican lawmakers were told way back in 2017 that General Flynn was innocent and DID NOT LIE to FBI investigators. This is important because Sidney Powell has now recinded the guilty please and there is evidence to show that he did not lie. 
Source: thegatewaypundit.com
What are the odds:

Trump tweet says, 'Former National Security Adviser'

The time stamp of Trump's tweet is 10:18 (22:18)

Q drop #2218 is a picture of General Flynn

General Flynn was Trump's, 'Former National Security Adviser'

Q says, "In the end all will be right." pic.twitter.com/7l6UupVoxJ

— Cowboyw2b (@ToddWal47945939) January 15, 2020
Lets take a look at
MR. FLYNN'S MOTION TO WITHDRAW PLEA OF GUILTY
AND UNOPPOSED MOTION FOR CONTINUANCE
Michael T. Flynn ("Mr. Flynn") hereby moves to withdraw his plea because of the government's bad faith, vindictiveness, and breach of the plea agreement. See ECF No. 150. Mr. Flynn also requests a continuance of the sentencing date set for January 28, 2020, for thirty days or until February 27, 2020, or such other subsequent day that is convenient to the Court and counsel, and a corresponding extension of time to file any supplemental sentencing memorandum (from January 22, 2020, to February 21, 2020). The continuance is requested to allow time for the government to respond to the most recent aspects of this Motion and for Mr. Flynn to provide the additional briefing he needs to protect the record and his constitutional rights in light of significant developments in the last thirty days.
30 days, this matches with the watches that Q posted, one watch was the 19 and the other is the 27 and we know that
Q has said that Flynn free in 30 exactly 30, the question is will the declass happen on the 19th, because this
show that Flynn was setup, all this happening the same time the impeachment trial is happening, coincidence.
We all know that the Patriots are putting together a perfect storm, this includes spying, treason, crimes against humanity and something very interesting happened with Prince Andrew, we know that he stepped out of the public spotlight after he tried to explain interactions with Epstein and others and now
UK cops block bid to trace Prince Andrew's location on night he's accused of sex with teen
British police have blocked a legal bid to trace Prince Andrew's bodyguards' movements on the night he allegedly first had sex with a Jeffrey Epstein accuser.
the Mirror Online submitted a Freedom of Information Act request hoping that his royal protection officers' movements would help prove his whereabouts that day.
But London's Met police rejected the request, citing national security concerns
"Revealing locations from 19 years ago cannot possibly reveal personal data, either directly or indirectly, 
Source: nypost.com
---
War
BREAKING: Entire Russian Government Resigns After Putin State Of Nation Address
The entire Russian government is resigning in a surprise move shortly after President Vladimir Putin delivered his annual state of the nation address, Russian Prime Minister Dmitry Medvedev announced.
Putin accepted the resignations, thanked them for their service and asked the ministers to remain in office until a new government can be formed.
Medvedev said the resignations are "in accordance with Article 117 of the Russian Constitution, which states that the government can offer its resignation to the president, who, in turn, can either accept or reject it," RT. com reported.
During his speech, Putin said he intended to create the position of deputy secretary of Russia's security council, which would be offered to Medvedev.

Medvedev's move to the new role will mean Russia will get a new prime minister whenever a new government is formed.
Putin's plan would allow the State Duma – the lower house of the nation's legislature – will be granted the power to appoint the prime minister and the rest of the cabinet. Fyodor Lukyanov, editor-in-chief of the "Russia in Global Affairs" magazine, told RT that the change will be a step towards the "diversification of power" at times when the country is being "increasingly governed in a 'manual control' mode and fully fixated on the president."
Source: thegatewaypundit.com
---
Q
Source:9news.com
Trump said something very interesting in at the  Milwaukee Rally
And I do believe this is the first time Trump talked publicly about LL being bribed with a seat on the SC by BC
POTUS at tonight's rally talking about the tarmac meeting: "They (Clinton) may have made her (Lynch) an offer…where you're going to the Supreme Court."

We've known for a while! pic.twitter.com/hRfDeOb6dI

— Lisa Mei Crowley (@LisaMei62) January 15, 2020