Snow White Offline, NG Deployment, [DS] Panicking, Devolution – Ep. 2626
Watch The X22 Report On Video
The vaccine mandate is failing, people rather leave their job or get fired. The economy will worsen with the mandates. The [CB] understands this and this is part of their agenda. The [CB] is now pushing to shutdown the pipeline into Michigan during the winter, this would be a disaster. Buttigieg threatens Americans, the supply chain issue would disappear if people got vaccinated. The [DS] is panicking the unselect committee is now trying to find the plan of the patriots called devolution. At every turn they are being blocked, now they have indicted SB and they will most likely go after the others that were subpoenaed.  They are trying to mess up the next move on the chess board. This tactic will not work, this shows how desperate they are. Reporters are beginning to ask about [JB] physical. tick tock .
---
Economy
 2.8 million, more vacant jobs than unemployed workers confirming that the US labor market remains painfully cracked.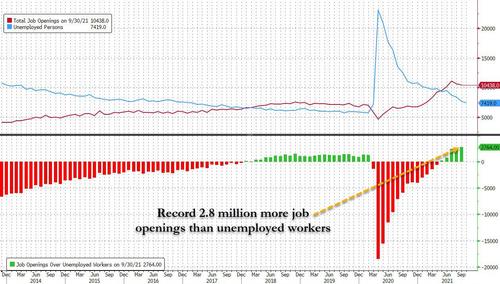 Source: thezerohedge.com
Consumer optimism buckled under the weight of escalating inflation
The Index of Consumer Sentiment fell to 66.8 from 71.7 at the end of October, the lowest read in over a decade. Economists had expected a slight improvement in the index.
"Consumer sentiment fell in early November to its lowest level in a decade due to an escalating inflation rate and the growing belief among consumers that no effective policies have yet been developed to reduce the damage from surging inflation," said Richard Curtin, the
Source: breitbart.com
"Inflation is taxation without legislation." Milton Friedman

— Tom Fitton (@TomFitton) November 12, 2021
Milton Friedman was an American economist and statistician who received the 1976 Nobel Memorial Prize in Economic Sciences for his research on consumption analysis, monetary history and theory and the complexity of stabilization policy.
Earlier this week, Buttigieg stressed that the "only way" to solve the supply chain issues the nation has been experiencing was "to end the pandemic."
The transportation secretary doubled down on that remark, telling CBS's "Mornings" that was why the White House has been pushing its vaccination campaign.
Source: breitbart.com
Biden Considering Cutting off Heat for Michigan
President Joe Biden's Administration is looking to terminate Enbridge Inc.'s Line 5 pipeline from Canada to Michigan.
 environmentalists  are pushing to shut down pipeline #5 that supplies a large portion of Michigan homes the energy to stay warm. Line 5 supplies 65% of the propane demand of the upper portion of the state and 55% of Michigan's statewide propane needs. Overall, line 5 transports up to 540,000 barrels per day (bpd) of light crude oil, light synthetic crude, and natural gas liquids (NGLs), which are refined into propane.
  environmentalists want fossil fuels terminated now, despite the fact that renewables will never be able to power everything as is.
Source: armstrongeconomics.com
---
Political/Rights
  internet trolls crying racism in response to Kyle Rittenhouse trial Judge Bruce Schroeder's reference to "Asian food" on Thursday as the court went into recess.
"Let's hope for one o'clock, I don't know, the uh, hope the Asian food isn't coming — it isn't on one of those boats in Long Beach Harbor," he said.
80
Anonymous
11/05/2017 00:44:18
 ID: v3eCc2tY
4chan Thread/Post: 148016618 / 148019575
Direct Link: 148019575
If Paul Sperry is right, and Ohr is in the batter's box, I would assume he's going to be charged with a minor crime like lying to investigators. Orh flipped 3 years ago to save his wife Nellie, who played a key role in concocting the Steele dossier.
---
Geopolitical/Police State
A federal court on Nov. 11 ordered the Department of Justice (DOJ) to stop extracting and reviewing data from phones belonging to Project Veritas founder James O'Keefe.
The order from Judge Analisa Torres of the U.S. District Court of the Southern District of New York says that by Nov. 12, the DOJ "shall confirm via email that it has paused its extraction and review of the contents of Petitioner O'Keefe's phones."
It comes after O'Keefe filed a motion Nov. 10 for appointment of a special master—a designation often used for people doing purely investigative work.
Torres furthermore ordered the DOJ to provide the court with a response to O'Keefe's motion by Nov. 16, and for O'Keefe to provide the court with its reply, if any, by Nov. 19.
Source: theepochtimes.com
---
War
"Iran-backed Houthi rebels breached the compound in Sanaa, Yemen, that houses the closed U.S. Embassy, and detained several Yemeni employees."

A "majority" have since been released, a spokesperson for the State Department said on Thursday pic.twitter.com/ajKBAAdsQ2

— Graphenes (@Graphenes1) November 12, 2021
---
False Flags
  Latvia's parliament voted on Friday to ban lawmakers who refuse COVID-19 vaccine from voting on legislature and participating in discussions.
Latvia, which has one of the lowest vaccination rates in European Union, was the first in the bloc to reimpose a lockdown this autumn as a surge in COVID-19 cases threatens to overwhelm its health system. read more
Source: reuters.com
California Governor Gavin Newsom   extended the Covid state of emergency until March 31, 2022.
This is Newsom's 3rd emergency extension which will take the state past the two year mark under his emergency Covid order.
"Winter is coming. Winter is here," Newsom said. "And as we are to be reminded and should be reminded, last year we had a challenging winter, particularly down here in Southern California. We started to see around this time last year case rates, positivity rates, hospitalization rates, ICU numbers start to increase. We're starting to see that now all across the globe. We've seen those trends, not dissimilar to last year."
Source: thegatewaypundit.com
The state of Florida is mulling several options to resist Covid-19 vaccine mandates from the Biden administration and employers, including a potential withdrawal from oversight of the federal Occupational Safety and Health Administration (OSHA), the agency enforcing a presidential mandate that businesses with at least 100 employees force them to take the vaccine or submit to weekly COVID-19 tests.
Source: zerohedge.com
A New York attorney filed a FOIA request in September asking for "documents reflecting any documented case of an individual who (1) never received a Covid-19 vaccine; (2) was infected with Covid-19 once, recovered, and then later became infected again; and (3) transmitted SARS CoV-2 to another person when reinfected."
The CDC admitted it has no record of an unvaccinated person spreading Covid after recovering from Covid 
The CDC responded: "A search of our records failed to reveal any documents pertaining to your request. The CDC Emergency Operation Center (EOC) conveyed that this information is not collected."
A study examining T cell responses in Covid-19 convalescent individuals published earlier this year revealed natural immunity provides better protection against the China virus than vaccination.
Source: thegatewaypundit.com
US policy should be fact based.

If you had a confirmed case of Covid then you are naturally immunized.

So many politicians, corporations and woke media companies aren't following the science.

Everything woke turns to $h1t. https://t.co/FsRkUdeisV

— Richard Grenell (@RichardGrenell) November 12, 2021
So it we discovered is the opposite, the unvaccinated werent getting the vaccinated sick, they received covid via the drug which they call a vaccine.  
Lawyers smell blood in the water.
So why does covid exist, because they are spreading it using the vaccines, they are creating the pandemic
Pfizer was caught manipulating the data, who are the criminals, how do you get the medical profession to go along with you, kickbacks