Spooks Are Spooked, Paper Trails Exist, Biggest Scandal In US History, Buckle Up – Ep. 2854
Podcast: Download (Duration: 1:05:46 — 28.8MB)
Watch The X22 Report On Video
Europe is in trouble, their policies to push their people into the great reset and the green new deal is backfiring, winter is coming. People with EV are not happy. The decentralized blockchain is a threat to the [CB], they will try anything to keep people away from it. The [DS] is now trapped in their own panic. They moved in to get Trump and now the people see the FBI as the SS. This will not help in the end, Trump has set the narrative to declassify it all and once this happens the people will see why the FBI went ahead with the raid. The other agenda is to get the base angry so they riot, this will not work, the people know the truth. The biggest scandal in US history is about to break, the spooks are spooked, this all leads the [DS] players, buckle up.
---
Economy
German year-ahead power, a benchmark for Europe, is on a nine-day rising streak. The contract rose 6.1% to a record 570 euros ($573) per megawatt-hour, with French futures jumping as much as 2.8% to 720 euros. Europe year-ahead coal futures hit a record $311.50 a ton, while carbon-emission permits traded at all-time highs.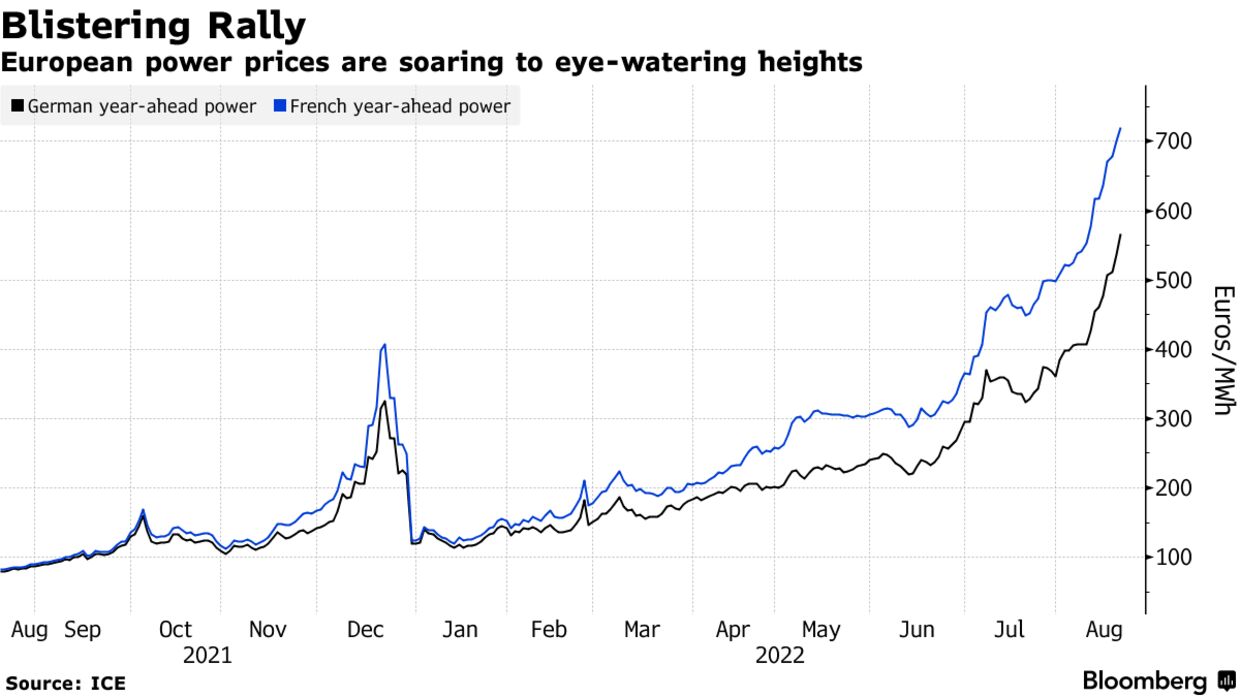 Source: bloomberg.com
Electric vehicle owners are becoming increasingly frustrated about the state of public EV charging, with drivers complaining of broken chargers, janky software, and smashed screens.
  JD Power surveyed 11,554 electric vehicle and plug-in hybrid vehicle owners from January through June 2022 as part of its second annual Electric Vehicle Experience Public Charging Study.
The firm measured customer satisfaction with EV charging on a 1,000-point scale. The survey found that satisfaction with charging at a public Level 2 charger is worse than it was last year. In 2022, satisfaction in Level 2 charging dropped to 633 from 643 in 2021, while satisfaction with the faster DC (direct current) chargers remains flat at 674.
 Not only is the availability of public charging still an obstacle, but EV owners continue to be faced with charging station equipment that is inoperable."
Source: breitbart.com
Fact check: Saying this doesn't make it true. Increased capacity for audits makes it more likely any taxpayer can be audited. https://t.co/HhzNRP23fn

— Tom Fitton (@TomFitton) August 19, 2022
---
Political/Rights
Alec Baldwin was using a prop gun on the set of "Rust" in New Mexico in October, when he allegedly accidentally fired the weapon and killed the film's cinematographer Halyna Hutchins and wounded its director Joel Souza.
Now, the Hollywood actor is denying that he ever pointed the gun at anyone and fired it, and he has now blaming Trump supporters for the entire incident. Watch
Now, Baldwin is even claiming that Trump supporters are behind the fatal shooting, in an accusation worthy of Jussie Smollett.
"Alec Baldwin says Donald Trump incited his January 6th mob to murder him … by falsely claiming the actor intentionally fired the shot that killed the cinematographer on the 'Rust' set," TMZ reported.
"Here was Trump who instructed people to commit acts of violence and he was pointing the finger at me and saying I was responsible for the death," he added.
He also said the stress from the incident has "taken years off my life," and added,
Source: beckernews.com
How many years off Halyna Hutchins' life did Alec Baldwin take off when he shot and killed her? https://t.co/9bxCyeRsuS

— Sean Davis (@seanmdav) August 19, 2022
It's getting so bad at the U.S. border with Mexico that even CBS 'This Morning' is sounding the alarms over "illegal immigration" that is causing a border crisis to spin out-of-control 
"
One of the remarkable things about CBS News' report is that the State of Texas' busing of illegal migrants to the State of New York may be fueling the media's sudden interest in the border crisis.
Bill Melugun of Fox News has shared even more shocking video from the border than what CBS 'This Morning' aired.
Source: beckernews.com
Amazing. Biden's DOJ has scraped a 2020 data report which showed that illegal aliens represented 94% of the foreign convicts in Bureau of Prisons/US Marshals Service custody. Why should taxpayers know less about who they're paying for? pic.twitter.com/es16lr7Z4G

— John 👽 (@JxhnBxnder) August 18, 2022
So…walls work, huh?

Biden heads back to Delaware beach house, where he's building $500K taxpayer-funded security fence https://t.co/raEmJ2nYKF #FoxNews

— Christina Pushaw 🐊 🇺🇸 (@ChristinaPushaw) August 19, 2022
Correct me if I'm wrong, but the Justice Department has not made a statement like this about the dozens of *actual attacks* on pro-life crisis pregnancy centers over the past couple months https://t.co/Df7g3l3KLs pic.twitter.com/oR6vT6NtJG

— Chuck Ross (@ChuckRossDC) August 18, 2022
I look forward to the DOJ's statement condemning this. Just kidding, you know they'd never do that. https://t.co/7EynsBqF5X

— Donald Trump Jr. (@DonaldJTrumpJr) August 18, 2022
---
---
War
---
False Flags
During a portion of an interview with CBS News   CDC Director Dr. Rochelle Walensky responded to criticisms of the agency's monkeypox response by saying CDC officials "still have not seen all the immunization data that we need to be able to see in order to mobilize vaccinations" and this is "similar to some of the challenges that we had with COVID-19," where officials didn't have all the data they needed.
Source: breitbart.com
For weeks infectious disease experts told the public monkeypox is largely transmitted by skin-to-skin contact.
However, health experts now believe monkeypox is spread through anal and oral sex between men.
NBC reported:
 experts have come to believe that sex between men itself — both anal as well as oral intercourse — is likely the main driver of global monkeypox transmission. The skin contact that comes with sex, these experts say, is probably much less of a risk factor.

 In addition to the cases in children reported in Maine and Florida, two cases have been confirmed in California, as well another two in Indiana, and a case in a non-U.S. resident reported in Washington, D.C.
Source: thegatewaypundit.com
The National Institutes of Health (NIH) deleted COVID-19 gene sequences that may have proven valuable to detecting earlier the probability the SARS-CoV-2 virus originated at the Wuhan lab, as was discovered in June 2021.
Now, U.S. district court judge Leonie Brinkema is ordering the NIH to turn over the missing data related to a probe by the group Empower Oversight. The NIH had earlier submitted a motion for summary judgment, which was denied.
"In Empower Oversight's Freedom of Information Act (FOIA) lawsuit against the National Institutes of Health (NIH) in the Eastern District of Virginia, Empower Oversight has filed its opposition to NIH's motion for summary judgment. In its motion, the NIH sought to evade accountability for violations of its legal obligations to disclose documents under FOIA," the group stated in July. "According to Empower Oversight's filing, NIH improperly withheld information gathered in response to questions from Senators Chuck Grassley (R-Iowa), Marsha Blackburn (R-Tenn.) and Roger Marshall (R-Kan.). Last year, the Senators asked about the agency's decision to delete coronavirus genetic sequence information from an NIH database at the request of Chinese researchers. NIH has already admitted in the lawsuit that it failed to meet deadlines required by FOIA in responding to Empower Oversight's request."
"The NIH has flouted deadlines and ignored its legal obligations to be transparent with Congress and the public," said Jason Foster, Founder and President of Empower Oversight. "The agency gathered answers to the Senators' specific factual question but did not transmit them, and then it blacked-out entire paragraphs rather than disclose the information pursuant to our FOIA request,."
Source: beckernews.com
Source: stevekirsch.substack.com
---
Q
The U.S. Supreme Court has tentatively blocked a Georgia election integrity law on the grounds that it is purportedly 'racially discriminatory.' The SCOTUS justices' order, however, left open the possibility that a lower court could restore it ahead of the November vote.
"
Source: beckernews.com
While the Democratic Party has become the part of election fraud deniers (but only since 2020), Florida Gov. Ron DeSantis made an announcement on Thursday his election crimes and security division has already made twenty arrests. Watch:
 election fraud is not a figment of the political right's imagination:

In May 2016, CBS2 Los Angeles identified 265 dead voters in southern California. Many cast ballots "year after year."
 The Heritage Foundation's non-exhaustive survey confirms, since 2000, at least 742 criminal vote-fraud convictions.
North Carolina announced in April 2014 that 13,416 dead voters were registered, and 81 of them recently had voted. Among 35,750 North Carolinians also registered in other states, 765 voted in November 2012, both inside and outside the Tarheel State.
 South Carolina's attorney general concluded in January 2012 that 953 people "were deceased at the time of their participation in recent elections."
 The Public Interest Legal Foundation recently discovered that Virginia removed 5,556 non-citizens from its voter rolls between 2011 and last May. Among these non-Americans, 1,852 had cast a total of 7,474 illegal ballots across multiple elections.

Florida's election crimes and security division is a first-in-the-nation attempt at seriously and consistently ensuring there is criminal prosecution for attempting to defraud voters in elections.  Florida holds its primary Aug. 23, when Democrats will begin a long-shot campaign to deny DeSantis a second term.

Source: beckernews.com
964  
Q
!xowAT4Z3VQ
03/28/2018 00:03:07
 ID:
8chan/greatawakening: 462
A document made public on Aug. 18 for the first time shows that an FBI agent authored the request for a search warrant for former President Donald Trump's resort in Florida.
The document, an application for a warrant (pdf), was made by an FBI special agent.
The document also shows that an agent, possibly the same one, authored the affidavit, or a sworn statement that outlined to the U.S. District Court for the Southern District of Florida why it should grant the application.
The identity of the agent who signed the application and the name of the agent who signed the affidavit are redacted.
Source: theepochtimes.com
We have two tiny data points as to who within the FBI authored the Trump warrant application. The little lines on the signature and the approximate length of the name. That's not much.

Is the name being withheld for privacy or to cover up that person's role in other scandals? pic.twitter.com/BDFzg1B5qA

— Hans Mahncke (@HansMahncke) August 18, 2022
A federal judge onordered the Justice Department to unseal only a portion of the probable cause affidavit to raid President Trump's home.
The judge is allowing the Justice Department to decide what should be redacted!
A redacted version of the affidavit was ordered to be turned over by next Thursday — a week from today.
Via Paul Sperry:
1. Where is the May subpoena for Mar-a-Lago records, and where is the June inventory receipt the FBI would have given Trump lawyers Corcoran & Bobb, who VOLUNTARILY handed over docs from Trump's storage to investigators?

Let's see those docs, along with the affidavit

2. And where is the June subpoena and inventory receipt the FBI would have furnished Trump's lawyers who VOLUNTARILY handed over surveillance footage to investigators?

Advertisement – story continues below

Let's see those docs too

If these documents or references to them are missing from the affidavit for the August search warrant, then the FBI omitted exculpatory evidence of prior Trump cooperation from the court, which would be a fraud on the court similar to the fraud on the FISA court the FBI committed in the Crossfire Hurricane case
Source: thegatewaypundit.com