Strategic, Pre-Planned, Think National Security Strategy, Counterinsurgency – Ep. 2590
Watch The X22 Report On Video
The government will now stay open until Dec. The debt limit was not raised and gap bill was put into place to fund the government. The [CB] tax proposal is the same scam we have seen, the mega wealthy, corps will use the same loop holes. The [CB] fake infrastructure bill includes tax on the number of miles you drive. The people are waking up and asking questions about the banking system. The patriots have strategically pre-planned everything we are seeing. This is about taking back the country and exposing the [DS] system, and the only to expose it to the people is for the people to see it. As we the people see the [DS] plan the people are waking up, they are engaged, this is part of Trump National Security Strategy, the counterinsurgency which will be used to destroy the [DS]. Buckle up we told it was going to be rough, but the best is yet to come.
---
Economy
Source: theeconomist.com
Congress is one step closer to preventing a government shutdown after a short-term funding bill sailed through the Senate 
The continuing resolution funds the federal government through Dec. 3, giving lawmakers two months to agree on a broader funding package for the next fiscal year. It passed 65-35 and now heads to the House,
The bill omitted a provision to lift the debt ceiling 
Like the earlier legislation, the Senate-passed bill allocates approximately $29 billion for hurricane relief efforts and $6 billion to help resettle Afghan refugees. While it does not include $1 billion to help replenish Israel's Iron Dome missile defense system, a standalone bill providing those funds is on its way to becoming law after it flew through the House with over 400 votes last week.
Source: dailycaller.com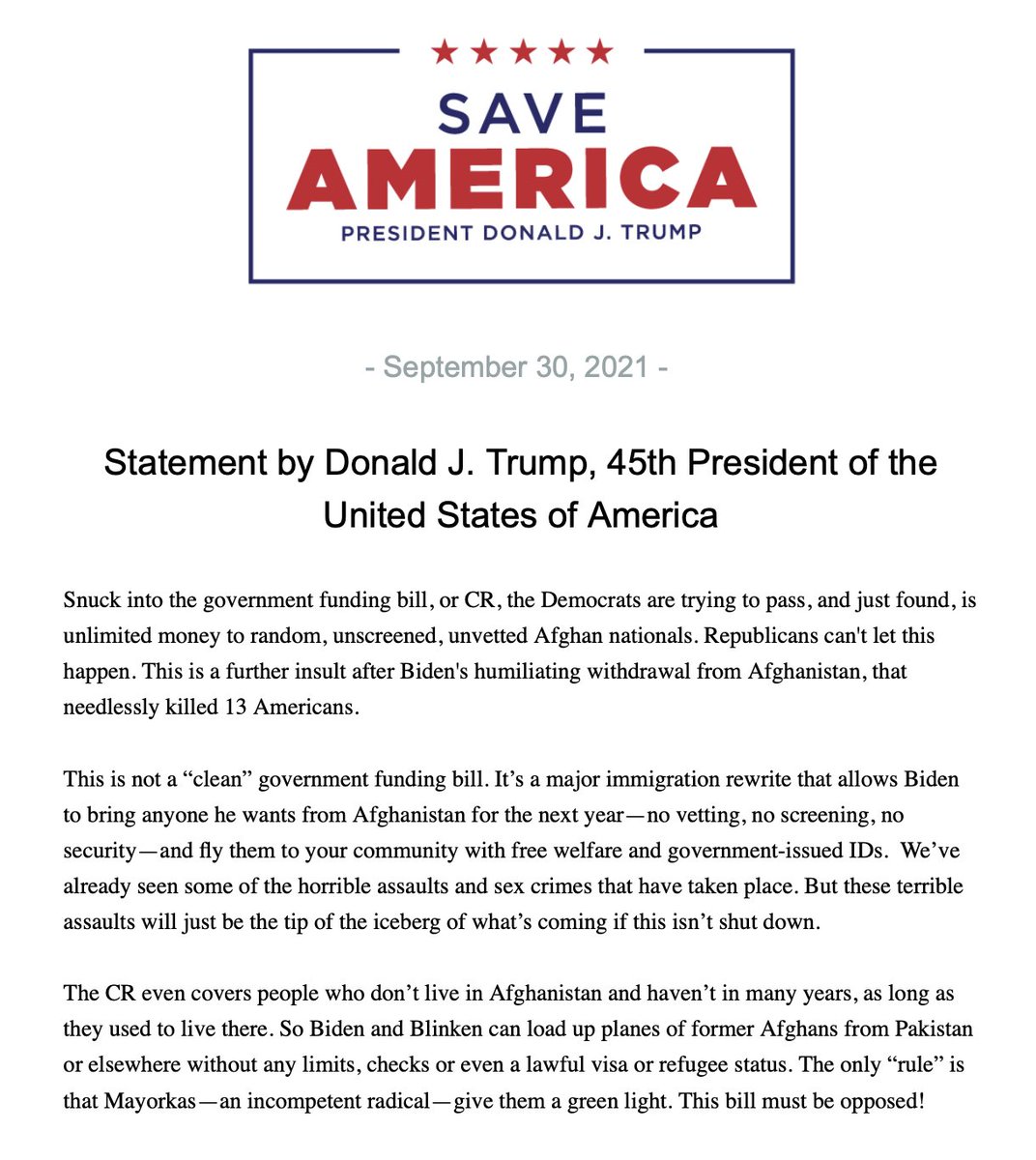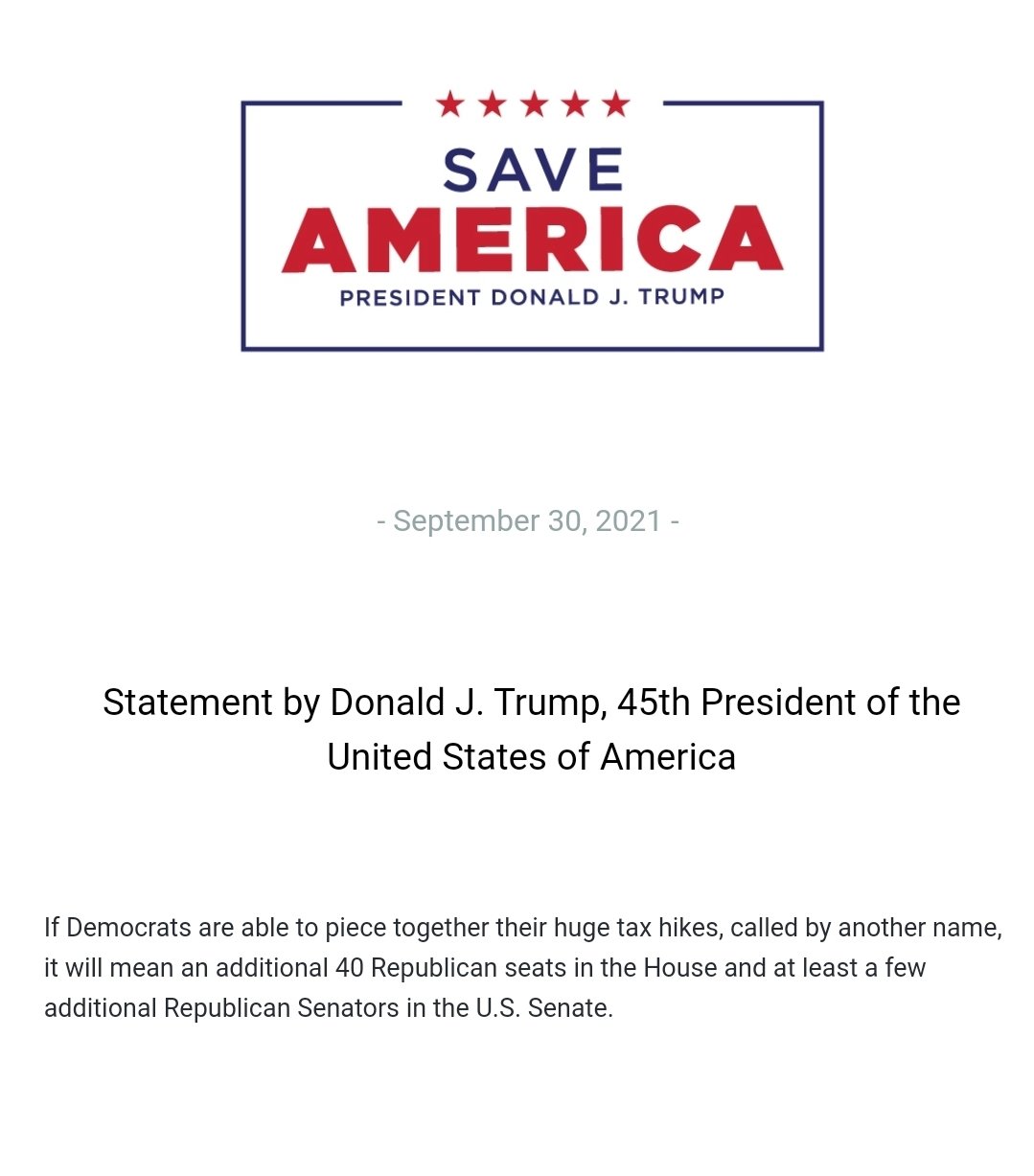 Federal Reserve Chair Jerome Powell says inflation is likely to remain high in the coming months, spelling more bad news for President Biden.

   Now Dollar Tree has to increase their items to above $1.00.
Source: thegatewaypundit.com
---
Political/Rights
President Joe Biden made a surprise trip to attend the Congressional baseball game on Wednesday night, even as his $1.5 trillion infrastructure bill hangs in balance.
Republicans could be heard audibly booing in the stadium while Democrats cheered as the president arrived at Nationals Stadium.  The annual game played by members of Congress is traditionally attended by staff of both parties.
Source: breitbart.com
President Joe Biden's job approval rating in Texas took a steep downturn by a net 24 points, according to a Quinnipiac University poll released Tuesday.
 Texas voters, found that 32 percent approve of Biden's job handling, while 61 percent disapprove.  Biden's border policies have only 52 percent
Source: breitbart.com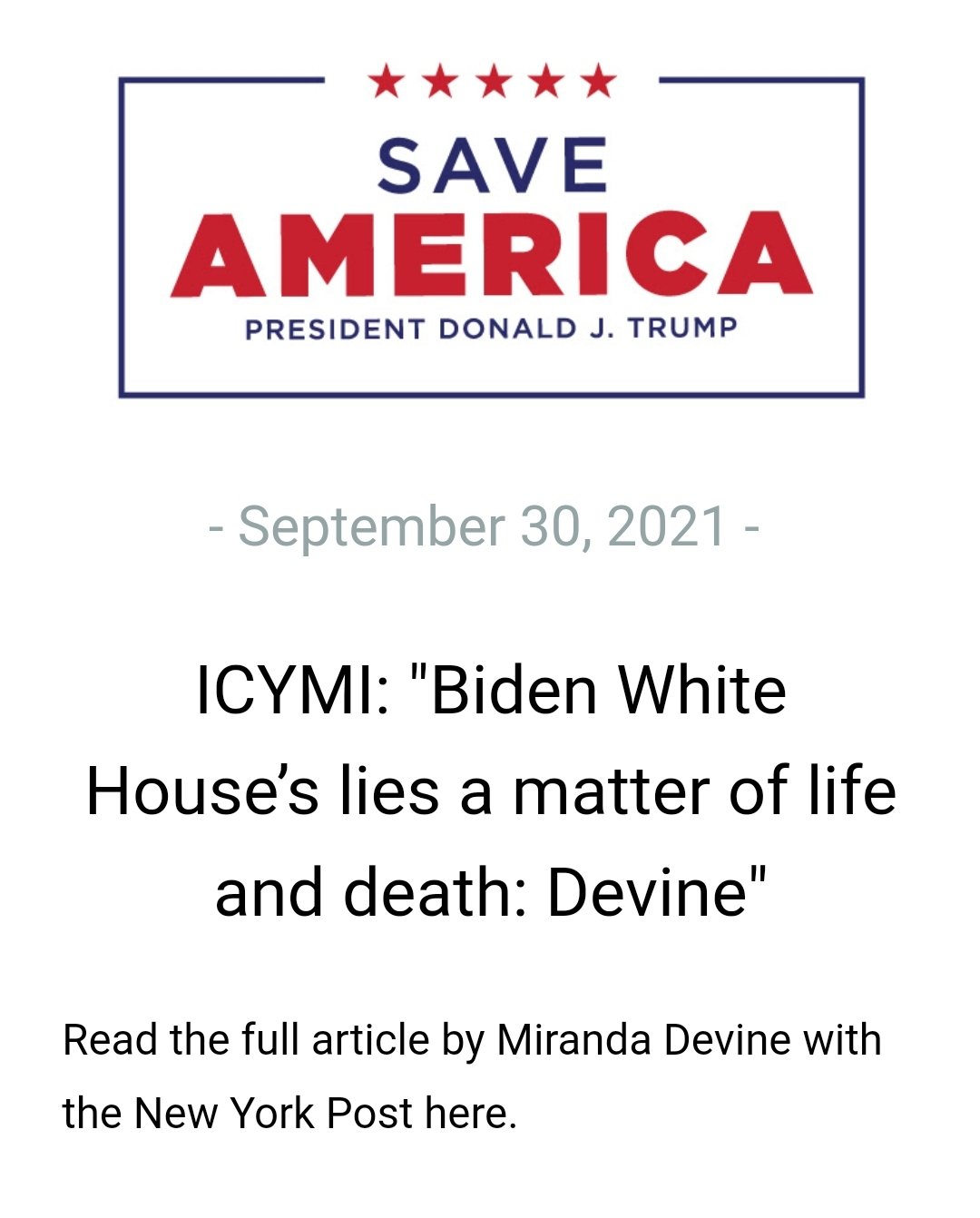 Lie 2: Border Patrol agents on horseback "whipped" Haitian migrants.
Lie 3: We will not leave Afghanistan until every American is evacuated.
Lie 4: The drone attack on Aug. 29 in Kabul was a "righteous strike" on ISIS-K terrorists.
Wrong. Ten innocent civilians, including seven children, were killed.
 Lie 5: Hunter Biden's laptop is "Russian disinformation."
Lie 6: The cost of the Democrats' $3.5 trillion social welfare bill is "zero" dollars.
Biden said this on Friday, when talking about slaying imaginary "trillionaires" with a mystery-box bill no one has a clue about. "It is a zero price tag on the debt … It's going to be zero, zero," he said.
The math doesn't need elaborating. $3.5 trillion is not zero.
With so many lies, is it any wonder that Biden's approval level has plummeted from 61 percent in January to 37 percent in September among independent voters, according to a Gallup poll.
Gaslighting only goes so far. This is a lesson many a politician has learned the hard way. Underestimate the intelligence of the electorate at your peril.
Source: nypost.com
Panamanian Foreign Minister Erika Mouynes said Panama warned the Biden administration months in advance about a surge of Haitian migrants headed toward the southern border.
Mouynes also said   that another wave of migrants from Haiti, this one numbering as many as 60,000, is currently headed toward the United States.
Source: dailycaller.com
This is unreal. DHS is focused on terminating the Remain in Mexico program AGAIN – after the courts told them to restart the program and despite its effectiveness. It's like they are trying to fail. https://t.co/fwnUfsE7hq

— Chad Wolf (@ChadFWolf) September 30, 2021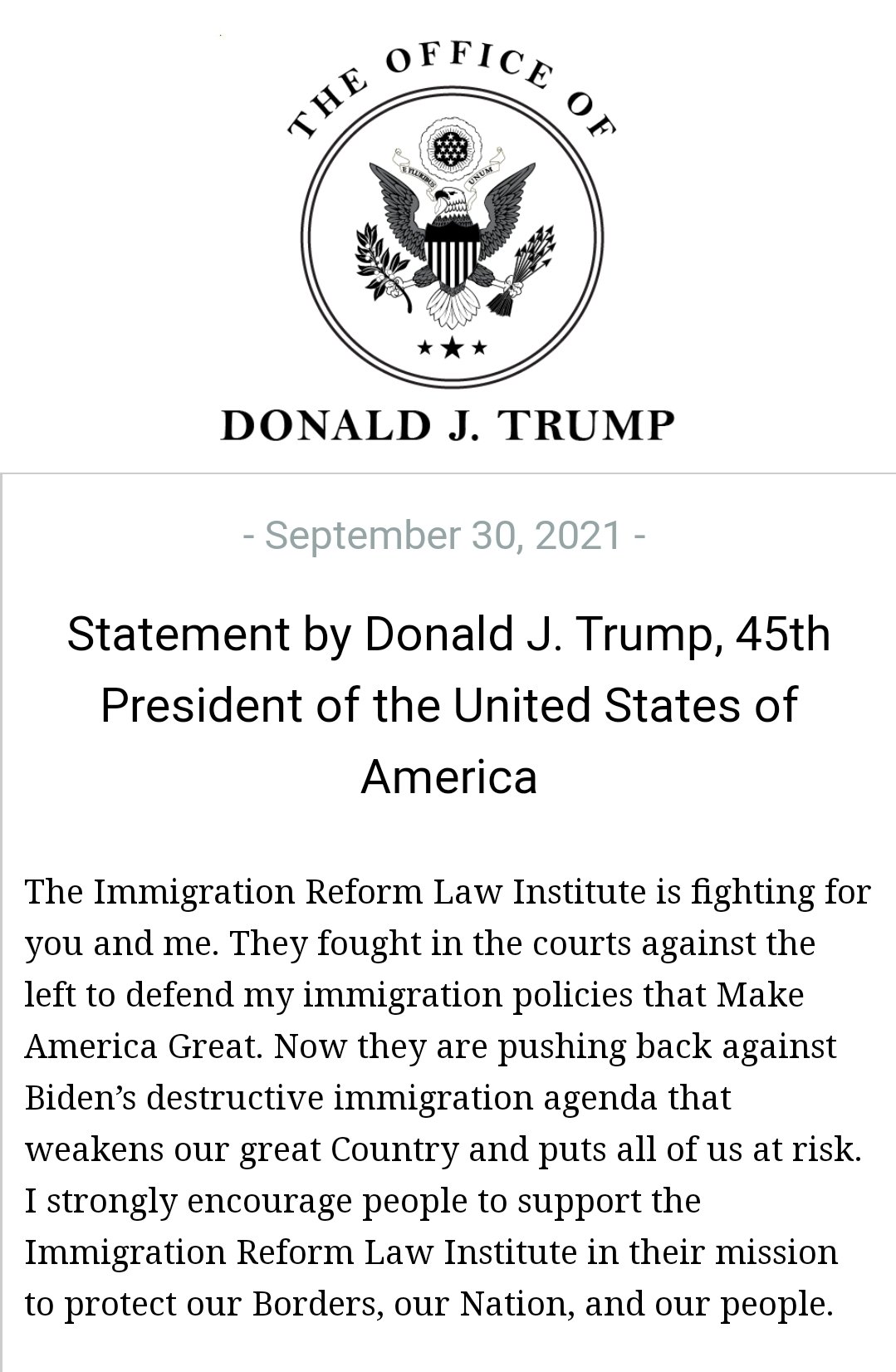 ---
Geopolitical/Police State
Red Flag won't be in this bill when it becomes law.

I give you my word.

It was a scriveners error on amendments approved in a batch. All sides know that it's a "poison pill" that will, if not corrected, bring down an otherwise great bill.

Big mistake, no doubt, but easy to fix

— Matt Gaetz (@mattgaetz) September 29, 2021
The CDC used a "public health threat" to strip you of your freedoms with COVID and it worked like a charm so now they're gonna try doing it again with your gun rights. The Dems in power are tyrannical dictators who want to rule over every part of your life. Will you let them? https://t.co/PnX3LyeY9A

— Robby Starbuck (@robbystarbuck) September 30, 2021
---
War
Turner, also a member of the House Intelligence Committee, said to Milley:
Now, you claim that you had information, and it's all over that China was worried about an imminent attack. You did not tell the president, the vice president, the White House chief of staff, the national security adviser, the secretary of defense, the secretary of state, the director of national intelligence, either of the relevant committees in the House, including the big eight, which you know include Intel.

You didn't tell the Intelligence Committee. You didn't tell the Armed Services Committee. You report that after you took it upon yourself to have this phone conversation, that you told them of the conversation heard not that China believed that we were going to imminently attack them, which by the way, has never been true in my lifetime.

…

But you chose instead to handle it yourself with a phone call. So, General Milley, you offered all of the concerning intelligence, and I'm going to request that you provide it to us. I would like you to provide us the relevant intelligence information that you based your belief that China was going to — the belief that there was an imminent attack.
Source: breitbart.com
As John Ratcliffe noted in his rebuke of General Mark Milley's justification, if the claim of legitimate intelligence was true, someone would have briefed President Trump about it.  No-one from the office of the Director of National Intelligence, or the DoD, or the National Security Council ever saw any evidence that anything like what Milley is claiming actually existed.
The false intelligence that underpins the Milley phone call with China could be the thread that exposes the hidden Fourth Branch of government.  If congressional representatives and honest independent media are willing to pull it and not let go.
Source: theconservativetreehouse.com
---
False Flags
You would think that the same people who are for masking your kids and segregating society by vaccine status would be for Illegal Immigrants receiving a COVID test before being released… WRONG!
Representative Mariannette Miller-Meeks (R-Iowa) introduced legislation   that would have required migrants to have a negative COVID-19 test before being released from Customs and Border Protection detention. House Democrats voted against the legislation.
Source: thegatewaypundit.com
Today, I offered my REACT Act on the House floor, which would require DHS to give a COVID test to everyone crossing our border illegally.

The majority chose to block this commonsense bill that would ensure the health and safety of border patrol and border communities. #IA02 pic.twitter.com/Qwbc2ZjH04

— Rep. Mariannette Miller-Meeks, M.D. (@RepMMM) September 29, 2021
 
The University of Bath is handing out armbands to freshman students to signal whether they have been double-vaccinated. The unvaccinated freshman have to wear a different colored armband.
Zero Hedge reported:
Source: thegatewaypundit.com
Earlier this week the media was happy to show Joe Biden receiving his booster shot.  
what the media did not tell you was that the entire thing was a production.  Biden wasn't in the White House and the media didn't tell you that.  Wayne Dupree reported:
I saw this photo and I thought, "Oh come on, this isn't real…"

How can this be real, right?

It has to be fake – why on earth would Joe Biden get a booster shot on the "set" of a fake "White House?"
Dupree was referring to a tweet.
The illusion of freedom. pic.twitter.com/OmUUESnBXf

— BLUEPRINT 🇺🇸 (@BLUEPRINT_Q) September 30, 2021
It was all a fake and the fake news knew it!
Source: thegatewaypundit.com
The Centers for Disease Control and Prevention announced   that they strongly recommend pregnant women get a COVID-19 vaccination.
The Centers for Disease Control and Prevention (CDC) recommended "urgent action" Wednesday for "people who are pregnant, recently pregnant … who are trying to become pregnant now, or who might become pregnant in the future" as 125,000 COVID-19 cases reported among pregnant women have resulted in 22,000 hospitalizations and 161 deaths.
Source: dailycaller.com
According to Dr. Fauci, booster shots add crucial temporary protection against the virus and will become a standard regimen in the future. "It is likely, for a real complete regimen, that you would need at least a third dose," Fauci said.
Source: thepostmillennial.com
If fauci along with the CDC is changing the definition of vaccines and they are now including boosters in the definition and Fauci is now pushing this, this tells that you are going to see breakthrough cases, deaths in a few weeks to push this agenda. They will need a covid crisis (new variant) to push the booster agenda. wait for it. 
But some right-thinking Aussies are having none of it and are pushing back. Thousands are taking to the streets despite strong-arm measures to prevent the citizens of Australia from assembling peacefully.
T
Source: thegatewaypundit.com
First they tried scaring you into taking the shot Then they tried bribing you Then they tried guilting you Then they tried shaming you Then they tried to force you to take the shot Now, if you don't take the shot, they're firing you …All because they 'care'
How's everyone enjoying Big Pharma running the U.S. federal government today?

— Emerald Robinson ✝️ (@EmeraldRobinson) September 30, 2021
---
Q
Today, DOJ Inspector General Michael Horowitz issued a damning new report on the FBI's "Execution of its Woods Procedures for Applications Filed with the Foreign Intelligence Surveillance Court Relating to US Persons." And it's damning for the FBI.
 "Unlike the use of other intrusive investigative techniques (such as wiretaps under Title III and traditional criminal search warrants) that are granted in ex parte hearings but can potentially be subject to later court challenge, FISA orders generally have not been subject to scrutiny through subsequent adversarial proceedings."
Because this is an ex parte hearing, the DOJ/FBI have heightened duties of candor. According to the FISA Court's local rules, the government is to disclose all material facts and correct any misstatements of material facts:
This latest audit by IG Horowitz focused on the FBI's compliance with the Woods procedures. For background, he provides this easy summary on how the process works:
IG Horowitz's latest audit reviewed 29 sampled FISA applications. He found "that the FBI was not meeting the expectations of its own protocols." As he reported in March 2020:
"We identified numerous instances of non-compliance with the Woods Procedures in the 25 Woods Files that were made available to us to review; and we reported that the FBI was unable to produce the original version of the remaining 4 Woods Files we requested."
More damning are the latest discoveries after an audit of more FISA applications. These include:
"over 400 instances of non-compliance with the Woods Procedures in connection with those 29 FISA applications"

"over 7,000 FISA applications authorized between January 2015 and March 2020, there were at least 179 instances in which the Woods File required by FBI policy was missing in whole or in part"
The more material errors (aside from losing their own files) included:
Source:  technofog.substack.com
 What does  Horowitz's  report reveals:    the FBI got the FISC to approve a spy warrant  on the basis of fraud, .   
2273
Q
!!mG7VJxZNCI
09/23/2018 12:36:42
 ID:
Archive Bread/Post Links: 62 / 293
Direct Link: 293
---
2253
Q
!!mG7VJxZNCI
09/21/2018 14:46:48
ID:
Archive Bread/Post Links: 62 / 281
Direct Link: 281
---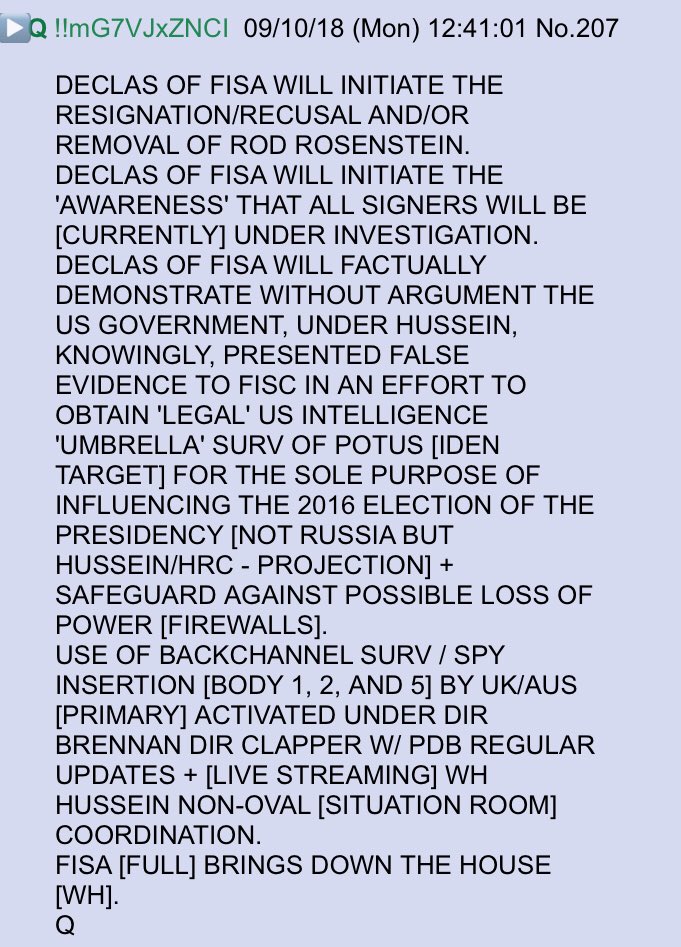 Filename:
e05b5ab766f308088eaf1e3ceb701e2f7e999ed667fc2437ddedd899c46405b0.jpg
Image Name:
e05b5ab766f308088eaf1e3ceb701e2f7e999ed667fc2437ddedd899c46405b0.jpg
Q

 

!!mG7VJxZNCI

 

ID: e32d7f

 No.6967368

https://www.youtube.com/watch?v=G2qIXXafxCQ
Listen very carefully (again).
Note past (2) years.
Note next (6) years.
You were told what was going to happen.
You were told what battles we face.
Strategic.
Pre_planned.
Patriots in control.
Q
This is a cross
road
s in the history of our civilization that will determine whether or not we, the people, reclaim control over our government."