Scavino's Message Sent & Received, The Fight To Take Back The Country Has Begun, Trust – Ep. 2591
Watch The X22 Report On Video
The [CB] / [DS] are following their agenda, as they continue down the path the people can see very clearly it is not in their best interest and they are destroying the economy. Since the vaccine passport in NYC , business is down 40%-60%. Trump says if the pass the the D's plan we will be moving into socialism. Texas poised to be the next crypto powerhouse. The [DS] is panicking, comms everywhere, messages are being sent and received by the patriots. The patriot are ready and October is going to be chaotic. The AZ  audit is moving forward, Durham is moving forward, the [DS] is in trouble and they are prepared to fight back. We have reached a cross roads and the people must decide, freedom or tyranny. Trump is ready to fight, are the people ready to fight, think devolution, counterinsurgency.
---
Economy
New York City restaurateurs are complaining that their business has been slashed severely by the COVID-19 vaccine mandate, which requires people 12 and older to show vaccination proof for indoor dining, indoor fitness, and indoor entertainment.
Pre-pandemic, O'Donoghue's Pub and Restaurant was a successful business that has been open for 10 years in Times Square, Manhattan. Fergal Burke, the owner of O'Donoghue's noticed that his business has seen "a massive drop," since the vaccine mandate came into effect.
"We don't have the money here to survive without the help of our landlord, [who] has been very supportive and has been giving us breaks on the rent, but without our landlord, we would not be in business," Burke told The Epoch Times. He said that he needed to hire another person to be at the door checking for vaccination proof, which increased his expenses.
Comparing the clientele from pre-mandate to when it kicked in about two weeks ago, "Our business is definitely down 50, I'm going to say 60 percent," Burke said with a somewhat downhearted tone. "There's just not people coming into the restaurant, they have the fear of being asked for vaccines."
Restauranteur Stratis Morfogen, a managing partner at Brooklyn Chop House, thinks that the government needs to start considering bailouts to help the restaurant industry again.
"Business is down probably 50 percent because people are not comfortable with being forced to take a vaccine," Morfogen told The Epoch Times.
"All of a sudden, we dropped 40 percent from week to week, since the mandate started.
Source: zerohedge.com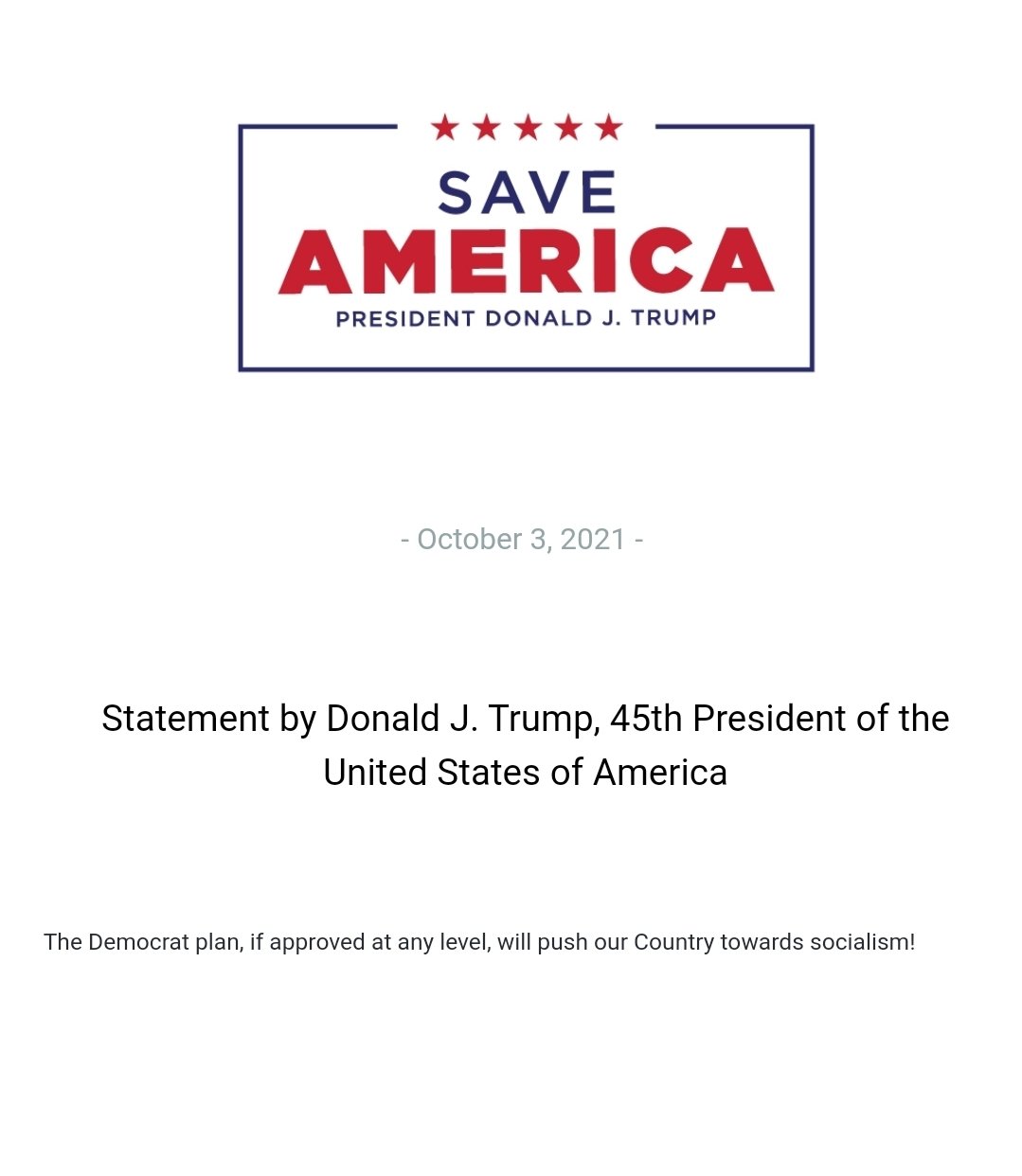 Workers Who Maintain Supply Chains Warn of Worldwide 'System Collapse' 
Several industry groups have warned world leaders of a worldwide supply-chain "system collapse" due to pandemic restrictions, coming as
The International Chamber of Shipping, a coalition of truck drivers, seafarers, and airline workers, has warned in a letter to heads of state attending the United Nations General Assembly that governments need to restore freedom of movement to transportation workers amid persistent COVID-19 restrictions and quarantines.
If nothing ifaid, is dealing with "port delays, container shortages, COVID disruptions, shortages on various components, raw materials and ingredients, labor cost pressures" along with "trucks and driver shortages," Fox News reported.
Texas Poised To Be A World Leader In Bitcoin And Blockchain 
Texas has seen the upside of China's decision to cancel bitcoin mining, in what set off the 'Great Mining Migration' to Austin, Texas. The Texas Blockchain Council has grown to 70 members and is led by Lee Brachter, the President of the organization. And next Friday, he will be hosting the Texas Blockchain Summit – an event that could prove to be the largest state-level blockchain one-day summit ever.
It's not lost what Bitcoin might do for Texas – already a top ten economy in the world With Senator Ted Cruz (R-TX), Senator John Cornyn (R-TX) and Senator Cynthia Lummis (R-WY) speaking at the event, could make the first Texas Blockchain Summit a benchmark for the amount of interest in how Texas could benefit from the growth of digital currencies and blockchain technology.
Texas Governor Greg Abbott has met with the Texas Blockchain Council twice already. Recently Abbott commented on Twitter that, "Texas will be the crypto leader. Cryptocurrency is now coming to Texas grocery stores." Abbott was referring to the decision by H-E-B to put cryptocurrency kiosks in some Texas grocery stores.
Governor Abbott also appointed four new experts to the work group on blockchain matters. that includes a combination of professors from academic universities and Texas state officials. Texas has not slowed down in its ambitions either, as the Texas Blockchain Council, led by Lee Brachter, has rolled out the idea of a constitutional amendment that would allow the use of bitcoin to pay property taxes in Texas.
---
Political/Rights
 The Canadian fashion designer Peter Nygard has consented to extradition to the US, where he faces sex trafficking and racketeering charges, lawyers for the prosecution and defence said at a hearing on Friday.
US authorities accuse Nygard, 80, of using his businesses to lure women and girls in the US, Canada and the Bahamas since 1995 to sexually gratify himself and his associates – accusations he denies.
The crown prosecutor Scott Farlinger told a Winnipeg courtroom that Nygard had agreed to extradition, which his lawyer, Brian Greenspan, confirmed.
Extradition allowed Nygard to mount his defence at trial in the US, Greenspan said, noting his client "has always unequivocally maintained his innocence of any wrongdoing".
Source: theguardian.com
The Queen is reportedly footing the bill for Prince Andrew's legal battle against American Virginia Roberts Giuffre
THE Queen is privately paying for Prince Andrew's legal fight against sexual assault allegations, it has emerged.
The Telegraph reported that it understands the Queen is funding the Duke's defence against Virginia Roberts Giuffre, who accuses him of sexually assaulting her when she was a teenager.
Prince Andrew has until October 29 to respond to the lawsuit and the next hearing is scheduled for November 3.
Source: national.scot
---
False Flags
The Merriam-Webster dictionary has seemingly expanded the traditional definition of "anti-vaxxer," describing it as, in part, someone who "opposes laws that mandate vaccination."
As of the publication of this post, Merriam-Webster's definition of "anti-vaxxer" reads, "a person who opposes vaccination or laws that mandate vaccination."
Under that definition, many people who are pro-vaccine — and even vaccinated themselves — could be considered an "anti-vaxxer" if they disagree with President Biden's attempts to force businesses to implement coronavirus vaccine requirements.
 Merriam-Webster's apparent definition, that would seem to make all 24 attorneys general anti-vaxxers.This is hardly the first time Merriam-Webster has embraced politically expedient definitions bowing to the far-left. Last year, it appeared to update its definition of "female" to include "having a gender identity that is opposite of male." It also updated the definition of "racism" to include "the systemic oppression" of certain groups of people
Source: breitbart.com
 when you follow the money, everything officials are doing (as well as what they are not doing) makes perfect sense.The same government that has the power to use COVID to shut down our lives and our breathing also has the power to determine to which pharmaceutical company it will send billions of taxpayer dollars, a decision that is governed 100% by money and politics, not by sound medicine. We already understand why the vaccine companies have been funding a war against cheap, effective therapeutics such as hydroxychloroquine and ivermectin, but many have wondered why Merck would oppose a drug that the company itself has made for many years.

On Feb. 4, Merck came out with a shocking statement warning against the use of ivermectin to treat COVID. The statement claimed there was "no scientific basis for a potential therapeutic effect against COVID-19 from pre-clinical studies" and that there was "a concerning lack of safety data in the majority of studies."

This was quite a bizarre assertion given that 59 studies, including 30 randomized controlled trials, have shown the drug to be extremely effective at all stages of the virus.  

Well, now we have an answer. On June 9, Merck announced that it had entered into a procurement agreement. Merck will receive approximately $1.2 billion to supply approximately 1.7 million courses of molnupiravir to the United States government. Molnupiravir is a new drug Merck is currently evaluating in a Phase 3 clinical trials to serve as the wonder drug to treat COVID. The estimated cost of the drug per treatment is $700!

So now we can understand why the company would swap out its own drug that has already been proven safe and effective for something new and experimental. Without the government sending a penny to Merck, I can buy a lifesaving dose of ivermectin for just $26 through GoodRX.

What is particularly disturbing is that it appears that molnupiravir contains some of the same molecular qualities as ivermectin, which makes you wonder if Merck knows that ivermectin is effective and just sought a more expensive drug that could be marketed as exclusive and new for COVID, thereby justifying another budget blowout by Washington policymakers.

Source: theblaze.com
D'oh: Twitter Fact Checkers Just Revealed Their Whole Entire Backside as Shameless Shills For Big Pharma
Fact checkers at Twitter and elsewhere furiously took to their keyboards yesterday in defense of America's Big Pharma Covid profiteers. This time, the fact checkers circled the wagons around Pfizer, which is developing an expensive drug that serves a suspiciously similar function to the cheap, time-tested, generic drug ivermectin. This time, Twitter's approved fact checkers trafficked in deception, misinformation, and carefully worded lies, as they so often do, in order to "debunk" an article from ZeroHedge.
Pfizer is not developing a version of ivermectin to treat COVID-19, according to fact-checkers and medical professionals

A new oral drug being produced by Pfizer is not a repackaged version of the antibacterial medication often used to prevent parasites in animals, according to PolitiFact, Snopes and Full Fact. While the drugs share similar functions and effects, this does not mean they are identical or interchangeable, according to fact-checkers. Pfizer's new oral drug "is not similar to that of an animal medicine and is not the same mechanism," according to a statement from the company.
Further on down the page, Twitter deigned to tell us "What We Need to Know." Thanks, Twitter!
What you need to know

– Pfizer told Snopes that the new drug is "designed to block the activity of the main protease enzyme that the coronavirus needs to replicate"

– Dr. Stephen Griffin, a virologist at Leeds Institute of Medical Research, told Full Fact that the two drugs "are extremely structurally different"

– Health agencies around the globe have declined to authorize ivermectin for the treatment of COVID-19, and studies on its potential use have been inconclusive, according to FactCheck.org
So, Twitter and our highly trusted "Fact Checkers" tell us that the two drugs are totally different, because they have a different chemical structure, 
 The ZeroHedge article in question never stated that ivermectin and the new Pfizer drug had a similar chemical structure. Rather, ZeroHedge argued that ivermectin and the new Pfizer drug share at least one function, or mechanism of action.  
 

Coincidentally (or not), Pfizer's drug shares at least one mechanism of action as Ivermectin – an anti-parasitic used in humans for decades, which functions as a protease inhibitor against Covid-19, which researchers speculate "could be the biophysical basis behind its antiviral efficiency."

Lo and behold, Pfizer's new drug – which some have jokingly dubbed "Pfizermectin," is described by the pharmaceutical giant as a "potent protease inhibitor."
In other words, the Twitter Fact checkers dishonestly failed to acknowledge the central point of the article from ZeroHedge.
Source: revolver.com
School board group asks Biden to use the Patriot Act against parents over opposition to COVID measures, CRT
A group that represents school boards is asking the Biden administration to review threats and violence against education administrators and schools to determine if they violate the Patriot Act and hate crime laws amid clashes between angry parents and educators over COVID-19 policies and critical race theory being taught in classrooms.
In a Wednesday letter to Biden, the National School Boards Association asked that the federal government examine whether actions can be taken to stop the vitriol and violence using the Gun-Free School Zones Act and the Patriot Act, the controversial statute enacted after the Sept. 11, 2001 attacks.
Source: foxnews.com
.@POTUS says this is a pandemic of the unvaxxed.

Data from England show 63% of Delta deaths in last 7.5 months were fully vaxxed.

Why won't @CDCgov share US data with the American people?

What is the justification of mandates and refusal to recognize natural immunity? pic.twitter.com/p3hA1eTiWZ

— Senator Ron Johnson (@SenRonJohnson) October 1, 2021
Grande manifestation à Trieste en Italie contre le pass sanitaire qui deviendra obligatoire à partir du 15 octobre pour pouvoir travailler. Les dockers menacent de bloquer le port et les syndicats italiens ont appelé à la grève générale dans tout le pays pour lundi 11 octobre. pic.twitter.com/KNCtL9se4I

— Anonyme Citoyen (@AnonymeCitoyen) October 1, 2021
---
Q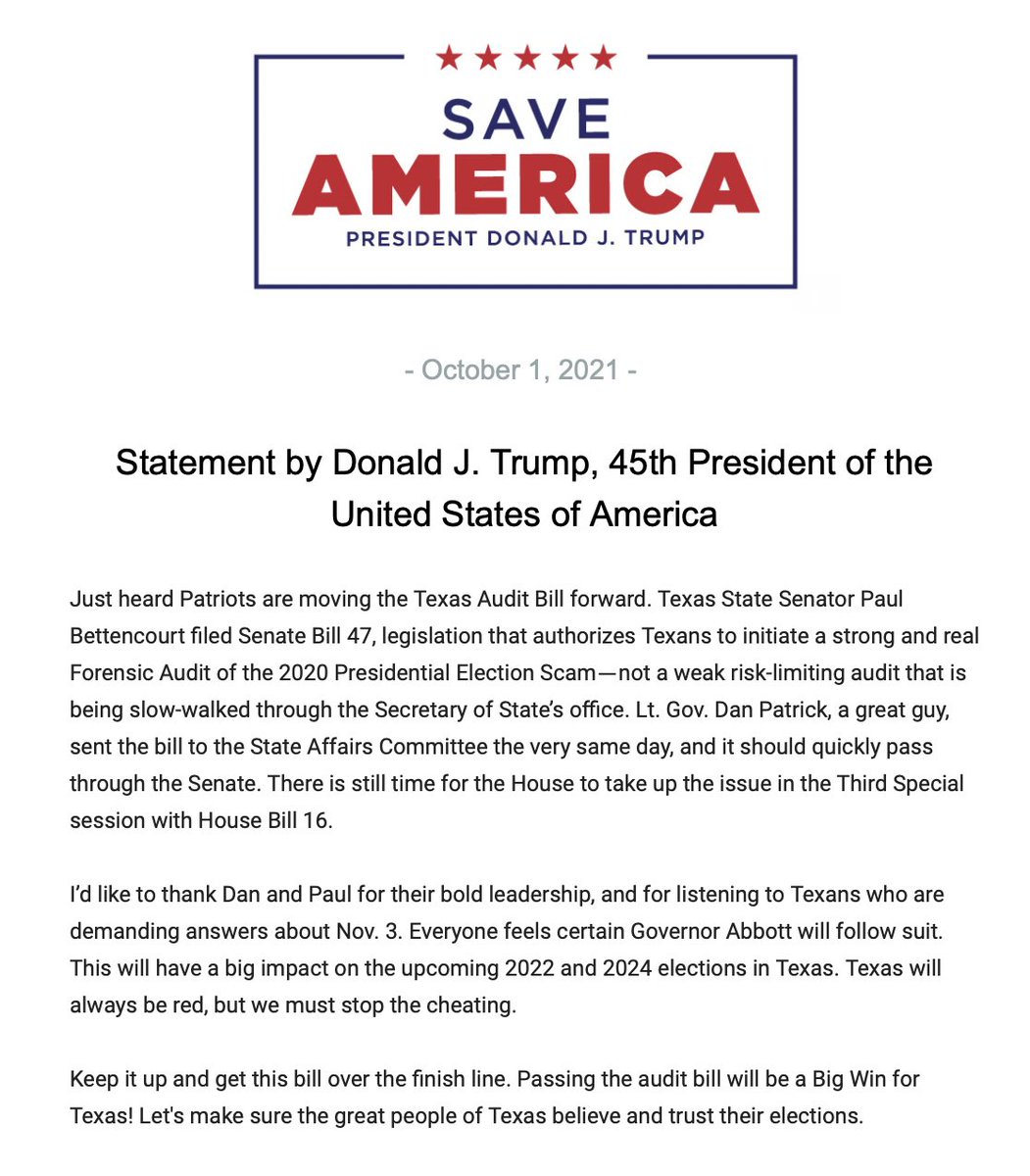 Kash Patel told Maria: "Now the FISA abuse process, now that declassification is complete. And your viewers can read it, that the FBI knew the evidence was fraudulent, they knew the credibility problems with Christopher Steele and they knew the DNC through Fusion GPS and Perkins Coie were piping in tens of millions of dollars into the machine so they could get a FISA warrant into President Trump. I think they knew right away which is why I think the individuals at the FBI need to be held accountable… John Durham is only in his second year of the most political scandal in US history. So I think in the next 6 months look out for indictments against the folks like Fusion GPS and Glenn Simpson for helping to perpetuate this fraud. And look out for bigger fish like Andy McCabe who is the biggest fraudster next to James Comey. I think you're going to see these indictments come out on these individuals at the top. It's just going to take a few more months…
Source: thegatewaypundit.com
1481
Q
!CbboFOtcZs
06/12/2018 22:08:43
 ID: 793722
Archive Bread/Post Links: 1721871 / 1722473
Direct Link: 1722473
 Kash Patel confirmed that he had declassified documents that have not yet been released to the public.  Why Not?
Barr made Durham the special counsel, Trump authorized Barr to declassify, Does Durham have the docs, most likely yes. What evidence is Durham presenting to the GJ, the declassified docs.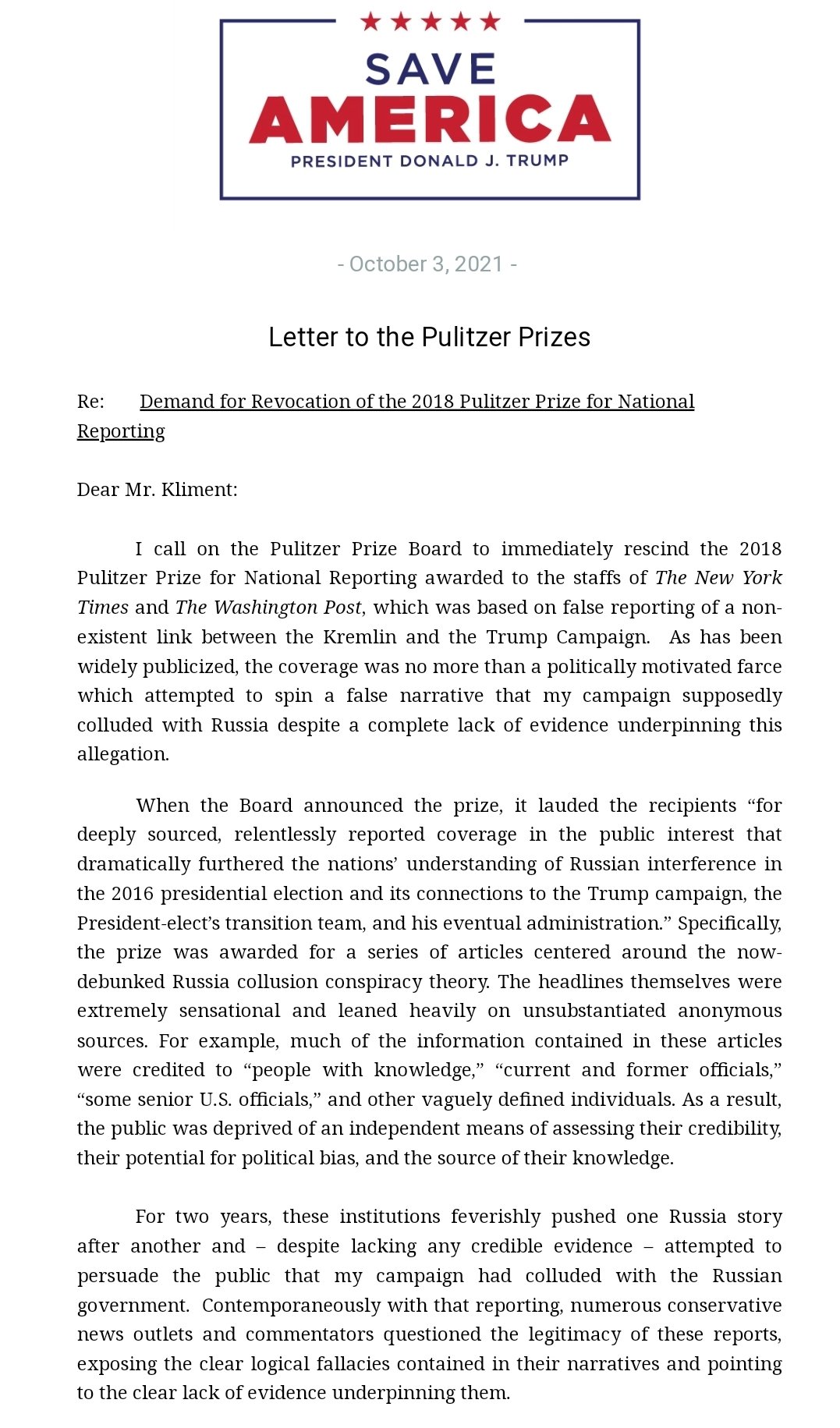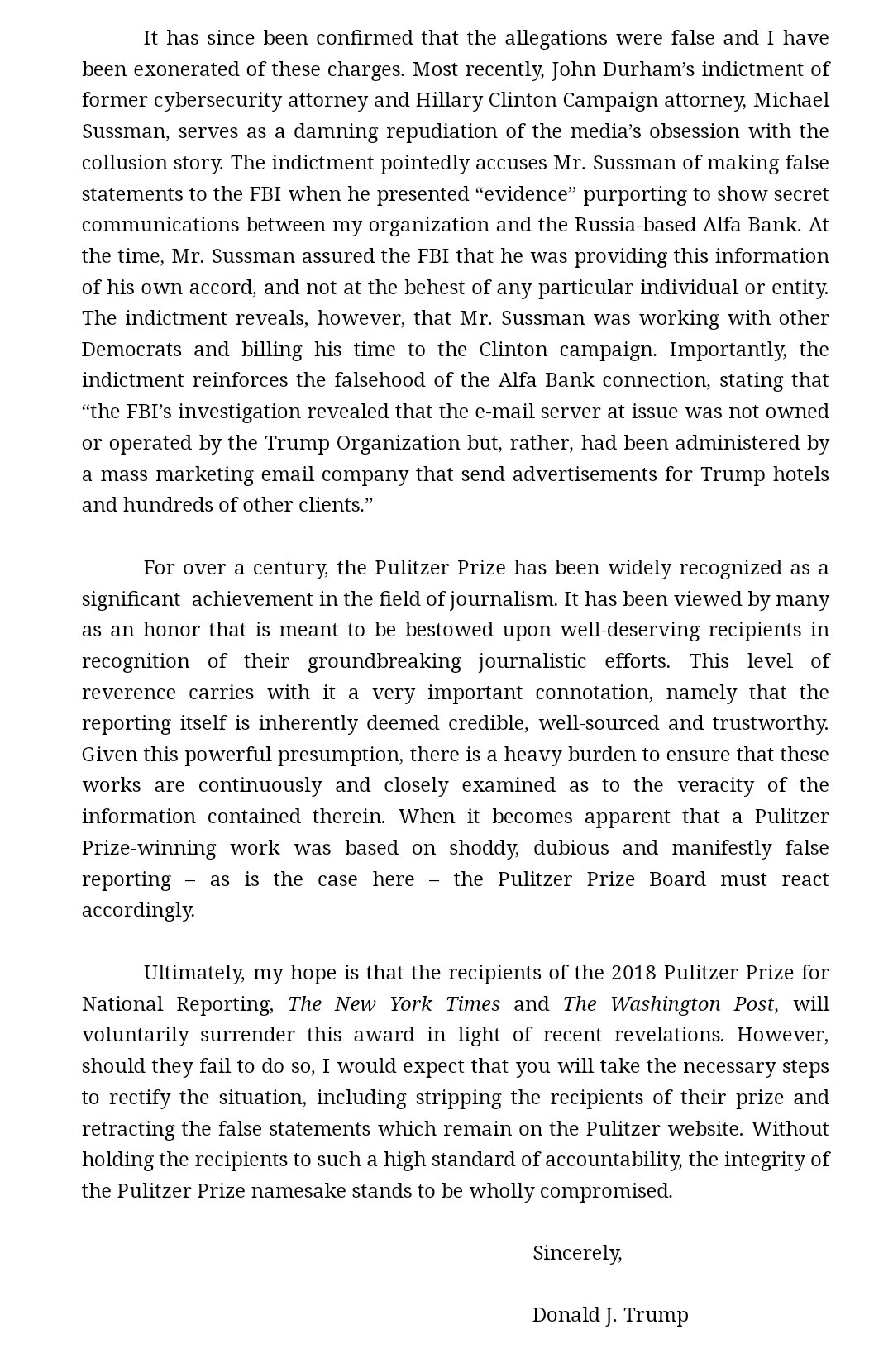 The battle against big tech continues.
President Donald Trump asked a federal judge to have his Twitter account restored.
The suit not only states he was improperly suspended but also that Twitter was improperly censoring his tweets.
Former President Trump has asked a federal judge in Florida to force Twitter to restore his account, arguing the company improperly suspended him after receiving pressure from members of Congress.

Twitter "exercises a degree of power and control over political discourse in this country that is immeasurable, historically unprecedented, and profoundly dangerous to open democratic debate," the Friday filing read, Bloomberg reported.

…
The filing also claims that Twitter improperly censored his content while he was on the platform by branding his tweets with tags like "misleading information" and other partisan labels.
The filing also argues that Twitter had selectively enforced its policies, noting that the Taliban appeared on the platform in August.
"Over the weeks that followed, Twitter allowed the Taliban to tweet regularly about their military conquests and victories across Afghanistan. The Taliban's Twitter account is active to this day," the filing states.
Source: thegatewaypundit.com
Still, Thomas took the opportunity to write a short concurring opinion, which explained why the government should regulate social media companies like so-called "common carriers," a designation often bestowed on utilities like telephone networks. This line of thinking would restrict social media companies from taking down content from their sites, ensuring that everyone could have equal access to the platforms.
"If the analogy between common carriers and digital platforms is correct, then an answer may arise for dissatisfied platform users who would appreciate not being blocked: laws that restrict the platform's right to exclude," Thomas said in his opinion.
Source: .cnet.com 

2793
Q
!!mG7VJxZNCI
02/18/2019 15:50:20
 ID: f40549
Archive Bread/Post Links: 5247736 / 5247821
Direct Link: 5247821
Trump president bald eagle, biden do do bird
— Dan Scavino🇺🇸🦅 (@DanScavino) October 1, 2021
Patriots.jpg
SCI[F]
Military Intelligence.
What is 'State Secrets' and how upheld in the SC?
What must be completed to engage MI over other (3) letter agencies?
What must occur to allow for civilian trials?
Why is this relevant?
What was Flynn's background?
Why is this relevant?
Why did Adm R (NSA) meet Trump privately w/o auth?
Does POTUS know where the bodies are buried?
Does POTUS have the goods on most bad actors?
Was TRUMP asked to run for President?
Why?
By Who?
Was HRC next in line?
Was the election suppose to be rigged?
Did good people prevent the rigging?
Why did POTUS form a panel to investigate?
Has POTUS *ever* made a statement that did not become proven as true/fact?
What is POTUS in control of?
What is the one organization left that isn't corrupt?
Why does the military play such a vital role?
Why is POTUS surrounded by highly respected generals?
Who guards former Presidents?
Why is that relevant?
Who guards HRC?
Why is ANTIFA allowed to operate?
Why hasn't the MB been classified as a terrorist org?
What happens if Soros funded operations get violent and engage in domestic terrorism?
What happens if mayors/ police comms/chiefs do not enforce the law?
What authority does POTUS have specifically over the Marines?
Why is this important?
What is Mueller's background? Military?
Was Trump asked to run for President w/ assurances made to prevent tampering?
How is POTUS always 5-steps ahead?
Who is helping POTUS?
— Dan Scavino🇺🇸🦅 (@DanScavino) October 3, 2021
TAKE A LISTEN
MSM.
CIA counter-ops.
Will all fall down.
Q