The Clock Is Ticking Down, Zero-Day Is Approaching, Time To Take Back The Country – Ep. 2503
The [CB] was put in a tough spot by the patriots, Trump reversed almost everything they needed to do and when the [CB] tries to reverse course this is very easy to spot, especially when you are destroying jobs. The promise of student loan forgiveness seems to be fading away. Trump allows the people to see the club.  The patriots are preparing to show the world the truth, the [DS] cheating in the election and lied about almost everything that happened during the pandemic, riots etc. Zero-Day is approaching and the [DS] is preparing to counter this with a [FF]. Patriots are on the ready, countermeasures are in place, think new social media platform, people aware now, people logically thinking.
Watch The X22 Report On Video
---
Economy
In January 2021, the Biden Administration's COVID-19 Emergency Relief program continued the pause on the payments for low-income individuals.
President Biden campaigned on immediately canceling student loan debt, but it appears that he is backing out of that promise.
Source: breaking911.com
Trump famously frustrated the European Union (E.U.) and other countries in 2018 by enacting a 25 percent tariff on steel and ten percent tariff on aluminum imports.
The tariffs have led to positive developments for the aluminum industry according to the left-leaning Economic Policy Institute, citing a 37.6 percent increase in primary aluminum smelting.
The steel industry in the United States has also cited the positive effects of Trump's tariffs on the industry.
President Joe Biden grew defensive  after reporters questioned why he allowed former President Donald Trump's tariffs on aluminum and steel to remain in place.
"When you're having these conversations with European allies who are very concerned about these sanctions, how do you justify that?" one reporter asked Biden.
Biden spoke about the tariffs during a press conference on Sunday, after a reporter challenged the president's repeated assertion that "America is back" to cooperate with Europe.
"A hundred and twenty days," Biden replied. "Give me a break. Need time."
Biden is expected to meet with E.U.leaders on Monday.
Source: breitbart.com
Statement by Donald J. Trump, 45th President of the United States of America
So much USA money has been given away to the "Club," as President Macron of France likes to call it, and to NATO, despite the fact that those countries have taken economic advantage of the United States for many years—until I came along. Not fair to America, or the American taxpayer!
Gold slips as investors fear U.S. Fed taper hints
Gold prices slipped as much as 1.7% on Monday, as some investors feared the U.S. Federal Reserve may outline a path for scaling back its expansive monetary policy at a two-day meeting this week.
Source: cnbc.com
---
Political/Rights
The Justice Department's top national security official resigned after it was revealed Trump's DOJ investigated House Dems and subpoenaed communication records.
AP reported:
John Demers will leave his position by the end of next week,  

A second person familiar with the matter said Demers had planned for weeks to leave the department by the end of June. He was sworn in a few weeks after the subpoena for the Democrats' records. He is one of the few Trump appointees who has remained in the Biden administration.
Source: thegatewaypundit.com
My headline is what happened, the New York Times headline is massive spin: "Apple Is Said to Have Turned Over Data on Trump's White House Counsel in 2018".Notice what the New York Times is doing here.  Everything about their article is written to hide, obfuscate and ignore the reality of what their article actually is revealing. Look closely:Weissmann and Mueller used the Special Counsel and FBI to conduct surveillance on the White House legal counsel, and his family, while President Donald Trump was in office.   Think about that for a moment.  Think about it carefully.
Imagine if Donald Trump allies in the DOJ and FBI were conducting surveillance on Joe Biden's White House legal counsel?  The media would go absolutely bonkers… rightfully so; yet, that is exactly what happened when Trump was in office.  The intelligence apparatus was weaponized to conduct political surveillance of President Trump, through the White House legal counsel, while he was in office.
THIS IS A MASSIVE issue.  Yet the media are downplaying what took place because, well, the stunning abuse of DOJ power is in alignment with their political objectives.
Source: theconservativetreehouse.com
---
War
---
Cyber Attacks
---
False Flags
 The former head of Myanmar's COVID-19 immunisation programme has been arrested and faces charges of high treason for colluding with opponents of the military authorities, state media reported on Monday.
  Both the World Health Organization and Peter Daszak, who acted as an investigator for WHO, outright denied that the WIV had live bats in its research facility.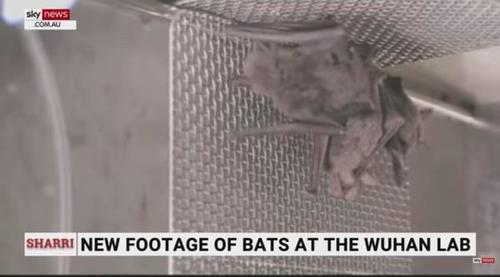 Australian journalist Sheri Markson has come into possession of stunning video from China uncovered by an underground research group that calls itself "Drastic" that shows live bats at the WIV and much, much more.  The newly uncovered video was produced by the Chinese Academy of Sciences in May 2017 commemorating the opening of WIV.
I have embedded Ms. Markson's 16-minute video report for Sky News on the video discovery below, but for now, consider her tweet showing Daszak's lie:
Source: zerohedge.com
A remarkable sequence from Joe Biden this week on investigating COVID-19 origins. He cancels an independent probe last week… and now this week announces he wants a G7 investigation led by the WHO, who blatantly covered for China's lies and cost millions of lives. Outrageous.

— Mark Meadows (@MarkMeadows) June 14, 2021
---
Q
Senator Ron Johnson: We counted up to 309 individuals entering that door. Five police officers met them. There was no violence that we could tell. That is how about 38% of the 800 people entered the Capitol.
 
On Thursday Ron Johnson sent a letter to Attorney General Merrick Garland on the ongoing investigation of the hundreds of Americans rounded up by the FBI and DOJ.
Source: thegatewaypundit.com
Flashback: DC Mayor Honored At DNC For Riot Response. New Reports Reveal She, Not Trump, Teargassed Protesters
For more than a year, D.C. Mayor Muriel Bowser allowed President Donald Trump to take the blame for what her police forces had done.
When peaceful protesters were teargassed across from the White House, our next speaker stood up, stood strong and turned that place into the Black Lives Matter Plaza in their honor. Please welcome Mayor Muriel Bowser," Longoria said.

Amazingly, new reports confirm it was Bowser — not Trump — who teargassed the protesters a few blocks away from the White House on the evening in question, that the protests had repeatedly devolved into violence and arson, and that the clearing was done for major security concerns and not a photo opportunity. For more than a year, Bowser allowed Trump to take the blame for what her police forces had done.
Source: thefederalist.com
Democrat Rep. Alexandria Ocasio-Cortez (NY) said the quiet part out loud  while she was discussing the House's sweeping elections reform bill, H.R.1.
The Democrat-controlled House in March passed H.R. 1, a massive elections reform bill making it easier for Democrats to steal elections.
The House Democrats previously introduced the "For the People Act of 2021" which will ensure Democrats can count ballots for days and days after an election until they have enough votes to win.
 
"We cannot rely solely on a wish of winning elections," AOC said to CNN's Dana Bash.
VIDEO:
Source: thegatewaypundit.com
Earlier this month, Shaye Moss was subpoenaed in Georgia for her activities in the 2020 election in Fulton County.
 Ruby Freeman was caught on tape running the same stack of suspect ballots through the machines multiple times:
Shae' mother Ruby Freeman was also subpoenaed and served papers to testify.
A judge  agreed to postpone the depositions of election workers in Fulton County, Georgia.
Martin Walsh at Conservative Brief reported:
A judge has agreed to postpone depositions of election workers in Fulton County, Georgia.

The election workers were set to give depositions after a lawsuit was filed alleging that thousands of fraudulent ballots might have been cast there.

The plaintiffs said they consented to allow the depositions to be rescheduled until after a judge holds a hearing on a motion to dismiss the case, according to a filing submitted to Fulton County Superior Court.

This agreement, the petitioners said, made a prior filing by the defense moot after attorneys for Fulton County officials asked the court to grant a protective order to postpone the depositions…

…Lawyers for the Fulton County, Georgia Board of Registration and Elections filed a last-minute motion to the court to dismiss the election fraud case brought by Garland Favorito and others before the forensic audit is launched.
Source: thegatewaypundit.com
SOS Benson is panicking and lying to you when she says she has conducted 250+ audits.

Her ballot "audit" consisted of looking at 4-7 ballots per selected cherry-picked townships.

Ex. she asked Hope Twp to review 4 out of 2,000 ballots.

The real #MichiganAudit is coming.

— Matthew S. DePerno, Esq. (@mdeperno) June 13, 2021
, a Fulton County election official told The Georgia Star News that "a few forms are missing" and that "some procedural paperwork may have been misplaced."
A Star News analysis of drop box ballot transfer forms for absentee ballots deposited in drop boxes provided by Fulton County in response to an Open Records Request showed that 385 transfer forms out of an estimated 1,565 transfer forms Fulton County said should have been provided are missing – a number that is significantly greater than "a few" by any objective standard.
This is the first time that any election official at either the state or county level from a key battleground state has made an admission of significant error in election procedures for the November 3, 2020 election.
The admission of missing chain of custody documents by a Fulton County official is important for several reasons that cut to the very core of public confidence in the outcome of the 2020 presidential election. (read more)

Chain of Custody forms for nearly 25% of ballots from Fulton County Georgia drop boxes are not accounted for That constitutes over 18,000 ballots with missing, legally-required documentation Audit everything.
Source: theconservativetreehouse.com
More and more, States are not only realizing the Constitutional power they hold over the Federal Government. They are using it.
Almost like it's according to some plan.
Statement by Donald J. Trump, 45th President of the United States of America
Why is State Senator Jake Corman of Pennsylvania fighting so hard that there not be a Forensic Audit of the 2020 Presidential Election Scam? Corman is fighting as though he were a Radical Left Democrat, saying that a Forensic Audit of Pennsylvania not take place. Why is Senator David Argall playing the same game? Are they stupid, corrupt, or naive? What is going on? Other State Senators want this Forensic Audit to take place—immediately. I feel certain that if Corman continues along this path of resistance, with its lack of transparency, he will be primaried and lose by big numbers. What went on in Philadelphia and other areas of the State must be properly and legally exposed. If it is not, just like with open Borders, we won't have a Country anymore!
Alien contact could 'end life on Earth,' scientists warn
Alien contact could ultimately "end life on Earth" and we shouldn't seek to communicate with them as it risks "endangering mankind", according to experts.
Their fears come after it was revealed NASA is now actively investigating UFOs and as a bombshell US intelligence report is poised to NOT rule out the existence of alien life.
Source: nypost.com
On Wednesday, August 11th, at approximately 2:20 p.m. ET, in coordination with @FCC, we will conduct a nationwide test of the Emergency Alert System and Wireless Emergency Alerts. 📲 📺📻

Learn more from our news release: https://t.co/3zxlGXKwRt#IPAWS #EAS pic.twitter.com/u5EtC7FTC5

— FEMA (@fema) June 14, 2021 11:21 AM  
What Happens if the Election Audits Go Trump's Way? 
What will the military, the Supreme Court, and the people eventually do?  How will the military, the Supreme Court, and the masses react to the outcome?  How will the military move, how will the Supreme Court rule, and eventually do the masses rise up and take to the streets…if it becomes clear that the presidential election of 2020 was compromised, was stolen, or at the very least had way too many abnormalities and illegalities and thus the wrong person is possibly sitting in the White House?  What happens if it becomes clear that President Trump was re-elected and the Progressives actually stole the election?  What happens if we find out that the election was manipulated?  What happens if?
  There were three Supreme Court members who actually wanted to hear the cases of presidential election fraud.  They wanted to see the facts, but it takes four Court members to agree to hear a case.  The two key members of the Supreme Court would be Brett Kavanaugh and Amy Coney Barrett.  It is probable that Barrett and Kavanaugh feel guilty and impotent because of their weak refusal to be actual Supreme Court members and hear tough, politically charged cases.  The two of them might have actually changed their minds and toughened up and will agree to hear new challenges of the 2020 presidential election — that is, if, if, if the four states of Arizona, Georgia, Pennsylvania, and Wisconsin flip their Electoral College votes to Trump, and thus Trump has exceeded the 270 hurdle.  O
Source: americanthinker.com
2793
Q
!!mG7VJxZNCI
02/18/2019 15:50:20
 ID: f40549
Archive Bread/Post Links: 5247736 / 5247821
Direct Link: 5247821
---