FISA Works Both Ways, Track All Suicides, Think Tarmac, [FF] Alert – Ep. 2502
The large financial institutions are preparing for the  collapse of the fiat system, they are buying as many hard assets as possible. Federal Judge strikes down the [DS] anti white farmer debt relief program. Macron let's [JB] we will need the US to send money, [JB] agrees. Alternative currency coming. The [DS] is panicking, there have investigations since 2017 and there has been no leaks, remember FISA works both ways. There is only one chance at this and it has to be done right. The reporter that broke the tarmac meeting of [BC] and [LR] committed suicide [wetwork]. The [DS] is preparing to counter the audit from the election, they will do everything and anything to stop the information from reaching the people. Think what they did during the election, they created an entire pandemic to cheat in the election, what will they do when the truth comes out, [FF] alert.
Watch The X22 Report On Video
---
Economy
Thread.

Blackrock is buying every single family house they can find, paying 20-50% above asking price and outbidding normal home buyers. Why are corporations, pension funds and property investment groups buying…https://t.co/uTagTOQQgI

— CulturalHusbandry (@APhilosophae) June 9, 2021
In March Joe Biden signed a gargantuan $1.9 trillion 'Covid' stimulus package that had nothing to do with Covid – the Democrats buried the racist, anti-white farmer relief program in the massive spending bill.The racist program was only available to producers who are Black, American Indian or Alaskan native, Hispanic or Latino, and Asian American or Pacific Islander.
A federal judge in Wisconsin halted Joe Biden's anti-white farmer debt relief program.
Judge William Griesbach of Wisconsin's Eastern District, a George W. Bush appointee, issued the temporary stay this week in response to a lawsuit filed by the Wisconsin Institute for Law and Liberty.
Source: thegatewaypundit.com
Joe Biden sat down with French President Emmanuel Macron on Saturday at the G7 summit in Cornwall, England.
Emmanuel Macron clearly had the upper hand in the conversation and demanded cooperation from the United States.
In a sign of weakness, Joe Biden nodded in agreement as Macron told him the US's role in world.
"What we need is cooperation. I think it's great to have a US President who is part of the club and you are willing to cooperate and I think what you demonstrated is that leadership is partnership," Macron said as Biden nodded in agreement.
Source: thegatewaypundit.com
When Joe Biden says "the United States is back" to other countries, he actually means "the piggy bank is open".

I am tired of being the world's police and the world's cash source.

— Lauren Boebert (@laurenboebert) June 10, 2021
Biden is making America the world's ATM again.

— Lauren Boebert (@laurenboebert) June 13, 2021
G7 Moving to Destroy Economy & Democracy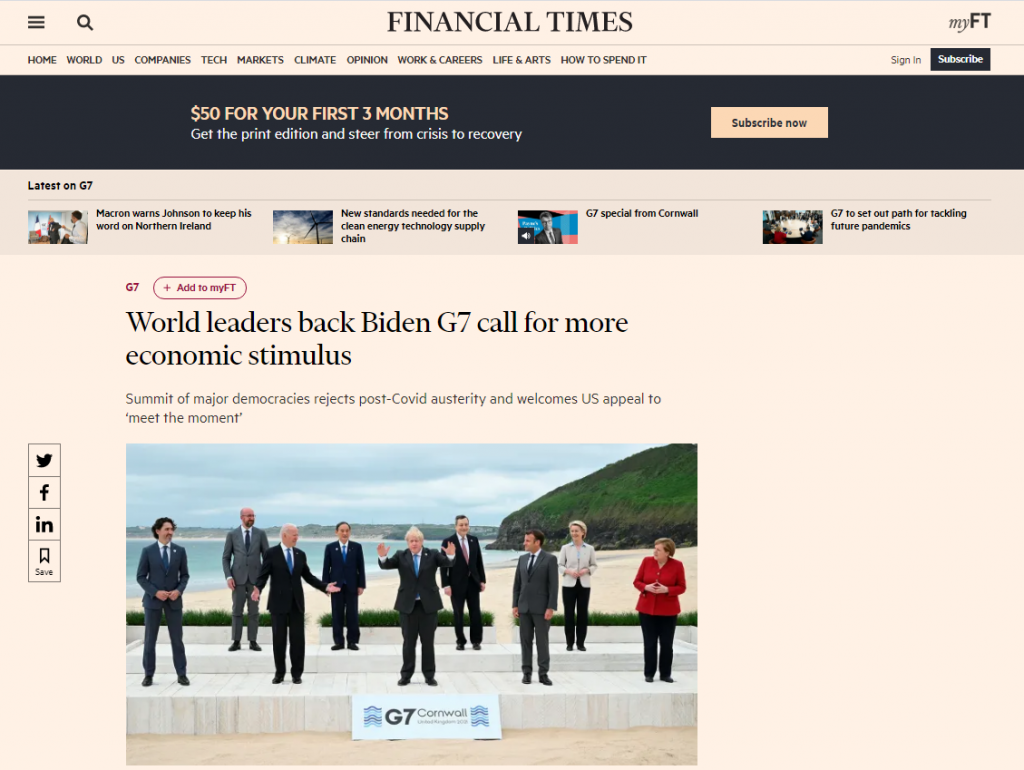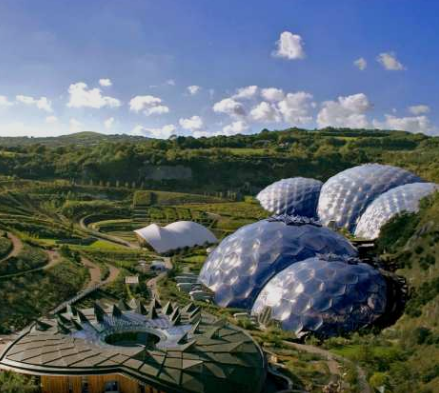 On Friday evening, the G7 leaders and partners traveled to the Eden Project, a futuristic environmental park, to meet Queen Elizabeth and other members of the royal family. The Eden Project is a futuristic view of a Green planet that is billing as connecting us with each other and the living world and this is the future they envision. It is located in Cornwall, UK, which is WHY this G7 meeting was staged at this location. There are massive Biomes housing the largest rainforest in captivity.
The G7 thus concluded that they will commit to higher spending to "help" the developing world from a crisis they themselves have orchestrated. Of course, the G7 has also committed to funding for climate change.
Source: armstrongeconomics.com
 
We see El Salvador as the first country in the world to make Bitcoin legal tender.
In my mind this has not only sounded the starting gun on de-dollarization in earnest, it goes beyond that.  
Today, pretty well everybody is aware of Bitcoin. They may have positive or negative opinions on it, but most people are figuring out that it's here to stay and there is a spectrum of sentiment around that ranging from enthusiasm to denial.  
The new 60/40 portfolio will mean Bitcoin/Ethereum
We're headed into a world where Bitcoin and Ethereum will fulfil the roles that bonds and equities did traditionally.
The basic thesis of my Crypto Capitalist Letter is that Bitcoin will be on the receiving end of an impending mother-of-all wealth-transfers.  
But Bitcoin's inflow will come largely from the more than ten times larger bond market.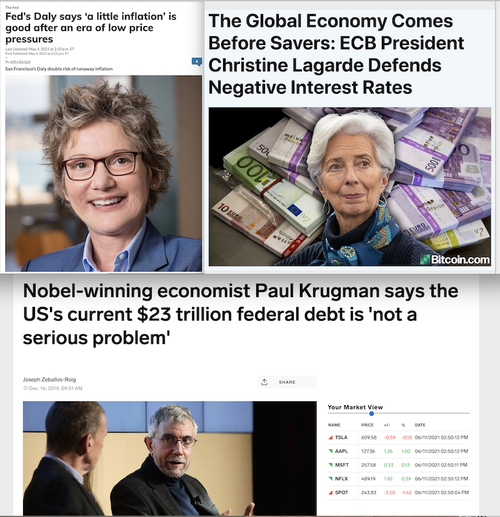 Most institutions won't be making this transformation. The majority of them will gravitate toward the Central Bank Digital Currencies (CBDCs), which as we say in The Crypto Capitalist Manifesto, CBDCs will be specifically constructed to preclude savings, make capital formation impossible and will be a honeypot of dependancy for the masses who allow their economic lives to be bounded by them.
But many of those institutional clients, the ones that see The Great Bifurcation coming, will make this shift, and they'll bring their capital with them.
"I'm not excited about institutions in DeFi at all, I think they are just not the right users for this. This is about giving individuals financial tools that they've never had before such that they don't have to go to an institution that rips them off"
— Spencer Noon
 
One of the reasons people are skeptical of crypto and fool themselves into thinking it's some kind of passing fad ("ponzi" or the negligently uninformed "tulips") is because this is happening so fast. In realtime 
Bitcoin is going to eat the bond market and capture the flight from fiat currencies. It will become that digital gold or bond equivalent in a crypto portfolio.
Ethereum is going to demolish the financial institutions and probably be the front line against CBDCs, functionally.
 
*  *  *
source: zerohedge.com
---
Political/Rights
The Daily Mail tracked down 81-year-old Clotilde's home to a quiet community just outside the picturesque coastal city of Arecibo, located 40 miles west from capital San Juan, on the island's north coast.
Blue tarps were seen atop Clotilde's house which appears to still sustain damages since the passing of Hurricane Maria and Hurricane Irma in 2017.
The relative, who asked to remain unnamed, added: "We are private people. We don't talk about our family." She refused to point the finger of blame at Trump for thousands of Hurricane Maria victims being unable to receive money to repair shattered homes. "It's a problem here in Puerto Rico with the administration and the distribution of help. It is not a problem with Washington. We had the assistance and it didn't get to the people," the aunt explained.
"In this area people need a lot of help. Many people have needed it for the past four years and haven't had anything," she added.
Source: postmillenial.com
Brian Cates July 29, 2018
Although some people try to sell a narrative that Trump and his top people have no plan for dealing with the leakers and saboteurs—and that if they do, they've been tricked or outmaneuvered by the "deep state"—there is plenty of evidence to the contrary.
Attorney General Jeff Sessions called a press conference last year on Aug. 4 to announce the formation of a special FBI unit that would be tasked solely with hunting down leakers of classified information.
Since this new unit is a counterintelligence unit, its activities are shrouded in secrecy. Still, Sessions has pulled the curtain back at several points in the past year to allow a peek, such as when he announced there were 27 ongoing investigations into unauthorized leaks by November 2017.

How to Roll Up a Leaking Network

Many people assume that the moment a leaker is identified, that person is yanked out of his or her job. That isn't how it's done in the real counterintelligence world. The only way you roll up an entire leaking network is to identify the members one at a time but leave them in place, then feed them canary traps full of leak markers to help identify other members of the network.
Source: theepochtimes.com
Q

 

!!mG7VJxZNCI

 

ID: 306030

 No.5127652

Q

 

!!mG7VJxZNCI

 

ID: 306030

 No.5127462


https://twitter.com/RepAdamSchiff/status/1095051195658522625

Let's actually use 'FACTS':

Step One: Hype an invented threat of POTUS working w/ the RUSSIANS (disinformation campaign).

Step Two: Send FBI/DOJ/CONGRESS/SENATE/C_A/NSA/INTEL/FVEY/etc… to address and investigate the IMAGINARY THREAT.

Step Three: Justify the 'SPECIAL COUNSEL' and MILLIONS OF TAXPAYER DOLLARS SPENT as necessary to protect the public and our election process against an imaginary, made-up, non-existent threat (which really is) designed to protect the illegal activities of many elected officials.

Step Four: Open 'new' Fake & False investigations as CHAIRMAN of the House Intel Comm to retain disinformation campaign designed to keep liberal/D Americans onboard to regain POWER & PREVENT prosecution – Executive Time!

Q
>>5127462
Life Lesson – [AS]
The next time you 'leak' classified information, don't have your phone (or allow phones of the 'unknown' go-between 'students') present.
FISA works both ways.
Q
4952
Q
!!Hs1Jq13jV6
11/13/2020 00:20:55
 ID: 518aba
Archive Bread/Post Links: 11620776 / 11621106
Direct Link: 11621106
Durham.
Q
---
Geopolitical/Police State
Germany threatens Telegram app with fines, demands access for law enforcement – media
The German Justice Ministry is reportedly demanding the messaging app Telegram open itself to law enforcement and pay a multi-million euro fine. The news comes after an elite police unit was disbanded over extremist group chats.
Every month, more than 500 million security-conscious smartphone owners use Telegram. The app encrypts all chats and calls, and Russian-born founder Pavel Durov has not embraced the censorship or collaboration with law enforcement that his Silicon Valley competitors Facebook/WhatsApp's Mark Zuckerberg and Twitter's Jack Dorsey have.
Source: rt.com
Terrifying: YouTube Bans Sen. Ron Johnson For Discussing Treatment Of COVID-19 https://t.co/kcJHl8qFvi

— Mollie (@MZHemingway) June 11, 2021
Soon they won't matter. Help is on the way. 👀 https://t.co/C75ZiDcyHN

— Jason Miller (@JasonMillerinDC) June 12, 2021
---
War
At least one good thing has emerged from the G7 summit: we now know that President Joe Biden, Prime Minister Boris Johnson, President Bieber of Canada and the various other world leaders who've been sunning themselves in Cornwall are ocean-going, copper-bottomed hypocrites.
Note how their personal rules on mask-wearing, "social distancing" [an egregious oxymoron], quarantining and so on differ quite markedly from the ones they've been imposing on us ordinary folk these last 18 months.
Source: breitbart.com
Statement by Donald J. Trump, 45th President of the United States of America
"…I think it's great to have a US President part of the club and very willing to cooperate," said French President Emmanuel Macron.
This was a quote by the President of France. He and many other Leaders before him, in France and throughout Europe, were ripping off the United States like never before. We were treated very unfairly with horrible trade deals, and paying for a large portion of their defense. They were taking advantage of the United States and therefore, of course, they like Biden because now they will be allowed to return to their old ways of ripping off our Country. If I were a leader of these countries, I too would like Biden far better than President Trump. They will now get very rich off the United States just like they have in the past until a change is made. I am for AMERICA FIRST!
Bennett-Lapid government wins Knesset majority; Netanyahu is out after 12 years
Yamina leader becomes prime minister * Vote is 60-59, as Ra'am MK abstains * Yesh Atid's Mickey Levy elected Knesset speaker
---
Cyber Attacks
---
False Flags
WPR: Wisconsin Supreme Court rules that local health departments do not have the authority to close schools due to emergencies like the coronavirus pandemic.

— The Bias News (@thebias_news) June 13, 2021
BREAKING: FL Court of Appeals, on a 2-1 decision, just issued an order declaring that mask mandates, both past and future, are unconstitutional.

— Tim Swain (@SwainForSenate) June 12, 2021
🚨Judge Tanenbaum: "Even in a pandemic, the Constitution cannot be put away and forgotten."

This is huge! The case now goes back to the lower court. Follow me! I'll keep you updated on this case! pic.twitter.com/l7Xkr2WW6f

— Tim Swain (@SwainForSenate) June 12, 2021

Read More⬇️ https://t.co/p1xqmrCC8w

— Tim Swain (@SwainForSenate) June 12, 2021
At least 3 studies now show the vaccine provides no improvement in health outcomes for those who've already recovered from COVID:

Pfizer's trial
Moderna's trial
Cleveland Clinic study

Why is the @CDCgov and Dr Fauci pushing this vaccine on those for whom there is no benefit?

— Thomas Massie (@RepThomasMassie) June 12, 2021
TAKE A LISTEN
Sky News Australia: The Wuhan Institute of Virology kept live bats in cages, new footage from inside the facility reveals, disproving denials from World Health Organization investigators.

— The Bias News (@thebias_news) June 13, 2021
BLM co-founder Patrisse Cullors erects fencing and electric gate around her new $1.4M home: report
Black Lives Matter co-founder Patrisse Cullors has reportedly put up a fence and electric gate around her $1.4 million home in Los Angeles. 
Cullors, 37, closed on the 2,380 square-foot, three-bedroom, three-bath home in March.
Cullors stepped down from her role as executive director of the group's central foundation last month amid questions about her finances, though she denied those attacks had any role in her leaving.
Source: foxnews.com
---
Q
It was a trap…..https://t.co/nwNVIrfX9y pic.twitter.com/dGpluaq00g

— CiceroConsultancy (@CiceroConsulta1) June 12, 2021
Source: thegatewaypundit.com
AZ senator responded to Merrick 
You will not touch Arizona ballots or machines unless you want to spend time in an Arizona prison. Maybe you should focus on stopping terrorism. The Justice Department is one of the most corrupt institutions in the USA.https://t.co/Jl2pKNpfJR

— Wendy Rogers (@WendyRogersAZ) June 11, 2021
The Biden Administration has a real problem: nobody hires 100 lawyers to hide an election victory.

Nobody has the DOJ interfere in a state ordered audit because they won fair and square.

— Emerald Robinson ✝️ (@EmeraldRobinson) June 12, 2021

Responded
1) Any interference with the state authorized election review is a violation of federal law. 18 USC 595. https://t.co/BBYaxu59Xe

— Paul Gosar (@DrPaulGosar) June 12, 2021
2) "Whoever, being a person employed in any administrative position by the United States, or by any department or agency thereof, or by the District of Columbia or any agency or instrumentality thereof, or by any State, Territory, or Possession of the United States,

— Paul Gosar (@DrPaulGosar) June 12, 2021
3) or any political subdivision, municipality, or agency thereof, or agency of such political subdivision or municipality (including any corporation owned or controlled by any State, Territory, or Possession of the United States or by any such political subdivision, municipality,

— Paul Gosar (@DrPaulGosar) June 12, 2021
4) or agency), in connection with any activity which is financed in whole in part by loans or grants made by the United States, or any department or agency thereof, uses his official authority for the purpose of interfering with, or affecting,

— Paul Gosar (@DrPaulGosar) June 12, 2021
5) the nomination or the election of any candidate for the office of President, Vice President, Presidential elector, Member of the Senate, Member of the House of Representatives, shall be fined under this title or imprisoned not
more than one year, or both."

— Paul Gosar (@DrPaulGosar) June 12, 2021
What Garland is ACTUALLY doing: confirming to the world that the Biden Administration cannot survive an audit by Arizona officials.
Two Pennsylvania lawmakers are pushing for a voter identification constitutional amendment in Pennsylvania.
Two Pennsylvania lawmakers declared Friday that state residents should decide the stringency of the state's voter identification law through a constitutional amendment.

The push comes after Democratic Gov. Tom Wolf said he'd never support strengthening existing voter I.D. law – one of the top priorities for Republicans in their election reform proposal unveiled Thursday.
The current law in Pennsylvania only requires voter identification for first-time voters at a voting location.
This proposal would change that.
It would require voters to show identification every time they vote.
Source: thegatewaypundit.com
June 10, 2021: Something big may be about to happen on the sun. "We call it the Termination Event," says Scott McIntosh, a solar physicist at the National Center for Atmospheric Research (NCAR), "and it's very, very close to happening."If you've never heard of the Termination Event, you're not alone.  Many researchers have never heard of it either. It's a relatively new idea in solar physics championed by McIntosh and colleague Bob Leamon of the University of Maryland – Baltimore County. According to the two scientists, vast bands of magnetism are drifting across the surface of the sun. When oppositely-charged bands collide at the equator, they annihilate (or "terminate"). There's no explosion; this is magnetism, not anti-matter. Nevertheless, the Termination Event is a big deal. It can kickstart the next solar cycle into a higher gear.
"If the Terminator Event happens soon, as we expect, new Solar Cycle 25 could have a magnitude that rivals the top few since record-keeping began," says McIntosh.
This is, to say the least, controversial. Most solar physicists believe that Solar Cycle 25 will be weak, akin to the anemic Solar Cycle 24 which barely peaked back in 2012-2013. Orthodox models of the sun's inner magnetic dynamo favor a weak cycle and do not even include the concept of "terminators."
"What can I say?" laughs McIntosh. "We're heretics!"
The researchers outlined their reasoning in a December 2020 paper in the research journal Solar Physics. Looking back over 270 years of sunspot data, they found that Terminator Events divide one solar cycle from the next, happening approximately every 11 years. Emphasis on approximately. The interval between terminators ranges from 10 to 15 years, and this is key to predicting the solar cycle.
Q

 

!CbboFOtcZs

 

ID: c78f8c

 No.1694930

FF weather alert (WW).
Stay vigilant and maintain situational awareness.
Q
— Dan Scavino🇺🇸🦅 (@DanScavino) June 13, 2021