The Cure Is Spreading WW, We're Not Gonna Take It Anymore, 1776 – Ep. 2525
The [CB] is now losing control, the people are seeing the prices increase. The fake news needs to report on it because they people are seeing it first hand. The [CB] is now losing control of the narrative, they will become desperate and push their agenda, prepare for a [FF].  The Patriots are in total control. The cure is spreading WW and nothing can stop this. The fake news and the Biden admin are trying to explain what is happening in Cuba but people know they are lying, it's not about covid or the vaccine, it's about oppression. Trump lawsuit against big tech is going to change everything, he waited for the corrupt politicians to commit the crime with big tech and once the crime was completed they sprung the trap so everyone could see. The gov in Cuba is preparing a communication blackout, expect the same in the US when the information about election fraud, treason, sedition and crimes against humanity starts to roll out.
Watch The X22 Report On Video
---
Economy
While central banks, tenured economists and the financial media are doing everything in their propaganda power to convince Americans that the current phase of hyperinflation is merely transitory 
According to the latest, June, installment of this closely watched survey, consumer inflation expectations for one year ahead, jumped by the most on record, surging by 0.8% in one month, from 4.0% in May to an all-time high for this series of 4.8% in June.
Source: zerohedge.com
  the following prices have increased since President Joe Biden has taken office:
Gasoline, 56.2%
Fuel oil, 50.8%
Used cars and trucks, 29.7%
Airline fare, 24.1%
Motor vehicle insurance, 16.9%
Natural gas (piped), 13.5%
Transportation services, 11.2%
Tobacco and smoking products, 7.3%
Apparel, 5.6%
Electricity, 4.2%
Physicians' services, 4.2%
Food away from home, 4.0%
New vehicles, 3.3%
Fruits and vegetables, 2.9%
Motor vehicle maintenance and repair, 2.8%
Hospital services, 2.6%
Food, 2.2%
Shelter, 2.2%
Rent of primary residence, 1.8%
Alcoholic beverages, 1.6%
Medical care services, 1.5%
Food at home, 0.7%
Cereals and bakery products, 0.6%
Meats, poultry, fish, and eggs, 0.1%
Dairy and related products, 0.1%
Source: breitbart.com
---
Political/Rights
---
Geopolitical/Police State
---
War
Haitian police detain alleged mastermind behind president's assassination
Christian Emmanuel Sanon was in contact with US-based Venezuelan security companies, Jovenel Moise, head of the Haitian National Police Leon Charles told
Haitian police detained the alleged mastermind behind the assassination of the President of the Republic,
"The first person the bandits called was Emmanuel Sanon," he said.
"Christian Emmanuel Sanon, who is now in custody, was in contact with US-based Venezuelan security companies," he added.
The police chief noted that the detainee was a Haitian citizen and called him one of the "masterminds behind the murder.
  Martial law has been declared in the republic for 15 days. Later, 18 Colombian citizens and two US citizens of Haitian origin were detained on suspicion of attacking the residence of the head of state.
---
False Flags
JUST IN – Biden allied groups, including the DNC, plan to engage fact-checkers and work with SMS carriers to "dispel misinformation" about vaccines that is sent over social media and text messages (Politico)

— Disclose.tv 🚨 (@disclosetv) July 12, 2021
Now the Biden regime and its Democrat allies are going to monitor private communications to "dispel misinformation about vaccines that is sent over social media and text messages."The Biden regime is now calling on SMS carriers to "fact-check" text messages in an effort to stop 'misinformation' about the Covid-19 vaccine.
---
Q
The Department of Justice (DOJ) has withdrawn its claim that a Capitol riot suspect was found to be in possession of a "fully constructed" LEGO set depicting the U.S. Capitol; the LEGO set was still contained in a box, the DOJ said Friday.
However, in a new filing, the DOJ said:
In the original detention memoranda, the undersigned stated that law enforcement found a "fully constructed U.S. Capitol Lego set." Please note that after a review of the photographs from the search, there appears to have been a miscommunication and that statement appears to be inaccurate. The Lego set was in a box and not fully constructed at the time of the search, as pictured below.
Source: breitbart.com
REMINDER: the same government that thinks rural Americans can't photocopy their ID wanted them to have a vaccine passport smartphone app to be able to go to the store.
.
Source: theconservativetreehouse.com
 
Havana- Thousands of Cubans came out to protest the broken healthcare system and demanded freedom from the Communist dictatorship on Sunday.
This is the biggest protest in Cuba in decades.
Source: thegatewaypundit.com
The New York Times described chants of "freedom!" at thousands-strong peaceful protests in Cuba on Sunday as one of several "anti-government slogans" popular among the congregated. The Times also erroneously reported the protests were about "food and medicine shortages."
source: breitbart.com
Remember, the Cubans are not walking around with the Chinese, Russian or Iranian flag as they march for their freedoms.

They're marching with Old Glory.

Our flag symbolizes freedom all around the world & I will fight to ensure that it ALWAYS stays that way.

— Lauren Boebert (@laurenboebert) July 12, 2021
Biden official whitewashes Cuban fight for freedom by claiming protests are about rising COVID cases
Acting Assistant Secretary for US Department of State, Julie Chung, said, "Peaceful protests are growing in #Cuba as the Cuban people exercise their right to peaceful assembly to express concern about rising COVID cases/deaths & medicine shortages."
As thousands of Cubans took to the streets across the island country on Sunday to march against Cuba's communist dictatorship, the Biden administration whitewashed their fight for freedom by claiming the protests are about rising cases of coronavirus,  
While thousands of Cubans were taking to the streets on Sunday to demand an end to the 62-year-old communist regime and the hashtag #SOSCuba was trending, Twitter falsely described the hashtag as "People are helping to spread awareness on the impact of COVID-19 in Cuba as cases hit an all-time high in the country."
"People are helping to spread awareness on the impact of COVID-19 in Cuba as cases hit an all-time high in the country," Twitter said of the #SOSCuba hashtag.
Source: breitbart.com
Psaki is asked a question about Cuba. 
"So when these protestors are yelling freedom, they're yelling freedom from rising Covid cases?" 
This is the proper framing for Cuba stories. Cubans are not protesting COVID cases or "food shortages" — the latter has been happening for decades. They are demanding an end to six decades of communist tyranny.
The Cuban government is relying upon Chinese-made technology to block internet access during the nation's largest ant-communism protest in decades.
regime is "block internet & cell phone service soon to prevent videos about what is happening to get out to the world."
Source:  dailywire.com
Department of Commerce Announces the Addition of Huawei Technologies Co. Ltd. to the Entity List https://t.co/m89LRXAata

— U.S. Commerce Dept. (@CommerceGov) May 16, 2019
On May 15th, US President Donald Trump signed an executive order barring US firms from using telecom gear from sources the administration deems national security threats.
"I further find that the unrestricted acquisition or use in the United States of information and communications technology or services designed, developed, manufactured, or supplied by persons owned by, controlled by, or subject to the jurisdiction or direction of foreign adversaries augments the ability of foreign adversaries to create and exploit vulnerabilities in information and communications technology or services, with potentially catastrophic effects, and thereby constitutes an unusual and extraordinary threat to the national security, foreign policy, and economy of the United States.  This threat exists both in the case of individual acquisitions or uses of such technology or services, and when acquisitions or uses of such technologies are considered as a class."
The Chinese telecom giant also can't implement its 5G system in the US.
"This action by the Commerce Department's Bureau of Industry and Security, with the support of the President of the United States, places Huawei, a Chinese owned company that is the largest telecommunications equipment producer in the world, on the Entity List. This will prevent American technology from being used by foreign owned entities in ways that potentially undermine U.S. national security or foreign policy interests," said Secretary of Commerce Wilbur Ross. "President Trump has directed the Commerce Department to be vigilant in its protection of national security activities. Since the beginning of the Administration, the Department has added 190 persons or organizations to the Entity List, as well as instituted five investigations of the effect of imports on national security under Section 232 of the Trade Act of 1962."

Also, on May 15th, Donald Trump declared a national emergency to "Secure the Information and Communications Technology Critical Infrastructure Supply Chain."

"President Trump is acting once again to protect U.S. national security. This Executive Order addresses the threat posed by foreign adversaries to the nation's information and communications technology and services supply chain," said Secretary of Commerce Wilbur Ross. "Under President Trump's leadership, Americans will be able to trust that our data and infrastructure are secure."
Cuban President Miguel Díaz-Canel, the face of the Castro communist regime, announced an "order of combat"   against peaceful pro-democracy protesters, urging communist civilians to assault them.
Thousands of Cubans nationwide, in at least 20 municipalities including Havana and Santiago de Cuba, flooded the streets of the country on Sunday in peaceful protests demanding an end to the 62-year-old communist regime. With chants of "freedom!" and some wearing or waving American flags, the protesters attracted outsized police violence.
Videos taken by civilians and posted to social media show protesters facing live gunshots, receiving gang beatings at the hands of state security officers, and fleeing from tear gas and rubber bullets. In remarks on national television, Díaz-Canel encouraged violence against the protesters not just on the part of the police, but on the part of Cuban civilians who sympathize with the regime.
Source: breitbart.com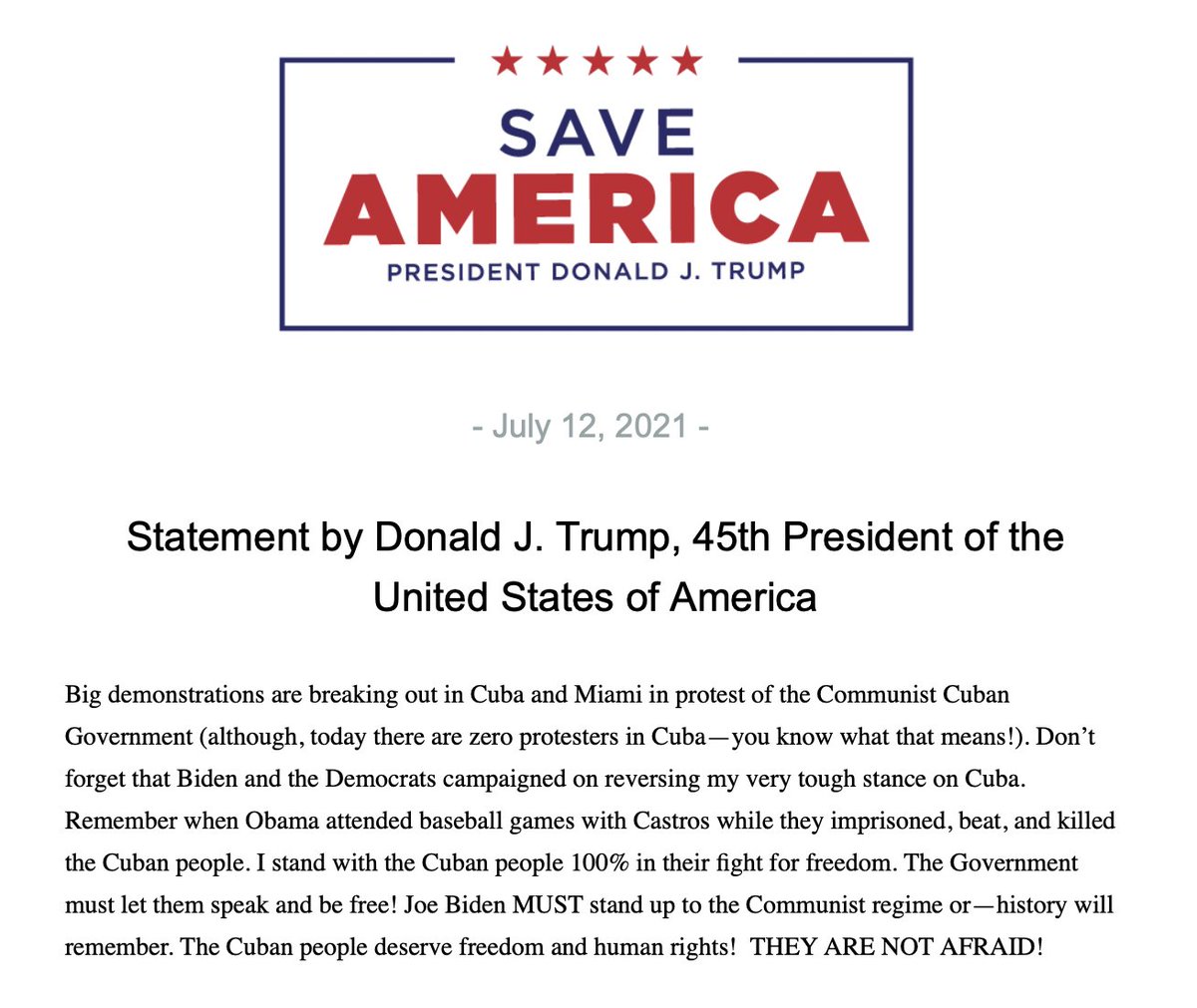 Mary W. Maxwell, Trump's Lawsuit against Twitter Is a Masterpiece. It Will Save Us!
Here is the gist of the case, in Nine Points:
Point #1.  As everybody knows, Twitter chopped off the communication between (then) President Donald J Trump and his 88.9 million Twitter followers.

Point #2.  They did it by way of Section 230 of the Communications Decency Act, 1996,  that protects from liability the social media companies that may censor someone unconstitutionally.

Point #3   (e.g., Twitter and Facebook) were furnished with this trick, in Section 230, IN ORDER TO MAKE POLITICAL CENSORSHIP HAPPEN. 

Point #4. Members of Congress (including Adam Schiff  bullied Jack Dorsey to do the de-platforming, against his better judgement.  They threatened him with all sorts of loss of business and personal embarrassment – as is their wont.

Point #5. "Legislators" made known their desire to prevent publication of "COVID-19 "misinformation," including the lack of safety and efficacy of hydroxychloroquine and the use of face masks," and "Questioning the integrity and results of the 2020 Presidential election." 
CDC is mentioned in the suit, as to its control over Americans' communication
The CDC (I retch) was no innocent bystander. At Paragraph 77,  
"Point #6: The CDC has publicly stated that it works with "social media partners," including Twitter, to "curb the spread of vaccine misinformation." In a document dated October 11, 2019, the CDC expressly stated that it was "engaging . . . partners" to "contain the spread of [vaccine] misinformation" and specifically states that the CDC would "work with social media companies" to that end."
"Point #7. By banning Plaintiff, Defendants have made it more difficult to communicate directly with the American public. Our national discourse is becoming immeasurably more altered and one-sided on race, medicine, the election process, the economy, immigration, etc."
"Point #8. In censoring the specific speech at issue in this lawsuit and in deplatforming Plaintiff, Defendants were acting in concert with federal officials, including officials at the CDC and on the Biden transition team.  As such, Defendants' censorship activities amount to state action." 
Paragraph 78:
"Point #9.  Dorsey and Twitter acted to censor other medical opinions that did not uphold that narrative of Dr. Fauci and the CDC, which took on both a political and medical nature, given the interconnection between government policy and pending and science."
Trump is not the only plaintiff.  Also in the case are the American Conservative Union, a single litigant named Linda Cuadros, and what is called the Putative Class, a potential huge number of people (maybe some from Australia? I know at least one dual US-Oz citizen) whose accounts were suppressed for not meeting community standards.
Source:
1776
Q
!CbboFOtcZs
07/31/2018 19:06:03
 ID: 6a01ed
Archive Bread/Post Links: 2377155 / 2377444
Direct Link: 2377444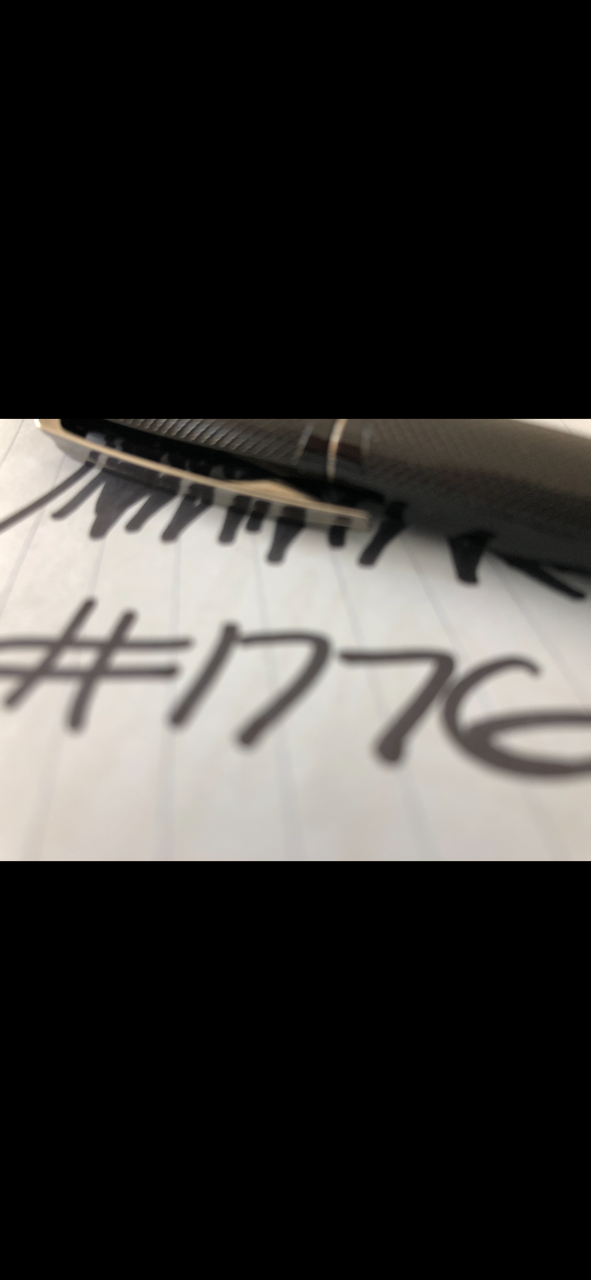 Filename:
5e5f331a5d2a626e3a47f59ef9dc23eb833183384a4085eaa99217eb5b0b0ad4.png
59
Anonymous
11/02/2017 17:04:05
 ID: KC17sSpZ
4chan Thread/Post: 147647514 / 147664082
Direct Link: 147664082