The Curtain Is Being Pulled Back, It's Time To Wake Up, Game Theory – Ep. 2754
Watch The X22 Report On Video
The puppet masters/[CB] cannot control the narrative, the people are seeing right through it. Inflation is out of control and this will expose and destroy the [DS]. The more they push the more they are exposed. The curtain is being pulled back, it's time to wake up. A deeply entrenched enemy who controls the vast majority of communications is only defeated by……….waking the people up and showing them the truth. It's time to take the bull horn back. The indictments are ready, everything is being primed and ready to go, facts and truth are going to be fired at the [DS]/fake new/puppet masters and they will not be able to control it. 
---
Economy
Last year, White House press secretary Jen Psaki stated that Biden's inflation would only be "temporary" and "transitory."
"Obviously, our analysis is going to be done by our economic experts. They continue to convey that they believe the impact will be temporary, transitory," Psaki said in May.
Biden's inflation has not eased. Instead, inflation has only become worse and will continue to soar in 2022, Barrons reported. Inflation has become so bad that Goldman Sachs estimated the Federal Reserve has a 35 percent chance of triggering a recession as a result of tightening monetary policy to cool inflation.
Source: breitbart.com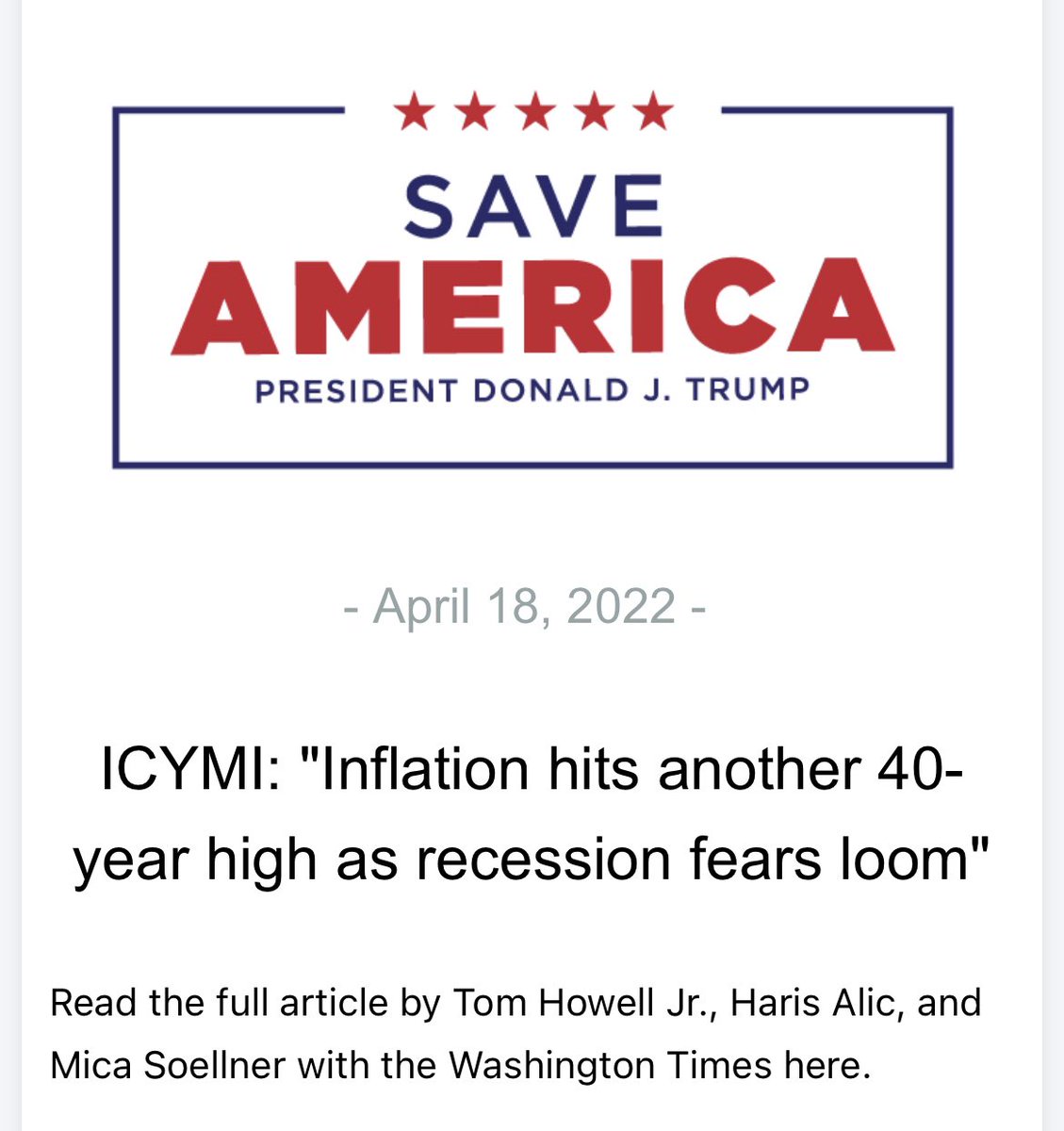 "The timing of this action by Union Pacific could not come at a worse time for farmers," said Tony Will, president and chief executive officer, CF Industries Holdings, Inc. "Not only will fertilizer be delayed by these shipping restrictions, but additional fertilizer needed to complete spring applications may be unable to reach farmers at all. By placing this arbitrary restriction on just a handful of shippers, Union Pacific is jeopardizing farmers' harvests and increasing the cost of food for consumers."
 
Things get increasingly curious when you look at who owns majority stakes in CF Industries (manufacturer), and who owns Union Pacific (distribution):
The top two shareholders of CF Industries are Vanguard and Blackrock:
(SOURCE)
Source: theconservativetreehouse.com
---
Political/Rights
Stacey Abrams has increased her net worth by 3,000% in a couple of years.  How did this happen?
The Daily Caller reports that Abrams increased her net worth by millions in the past few years.
Democratic Georgia gubernatorial candidate Stacey Abrams has become a millionaire.

Abrams is worth $3.17 million, according to the state disclosures she filed in March, The Associated Press reported Tuesday. When she first ran for the Georgia governorship in 2018, Abrams was dealing with a "hefty bill from the IRS" and was worth only $109,000, the outlet noted.

The "hefty" tax bill from the IRS was $54,000, with a further $410,000 in liabilities, according to Fox News. She owed $96,000 in student loan debt and $83,000 in credit card debt, AP reported.
The Daily Caller reports that Abrams received $5-6 million in speeches and book deals.  (This is one way Democrats launder money to their politicians.)
Source: thegatewaypundit.com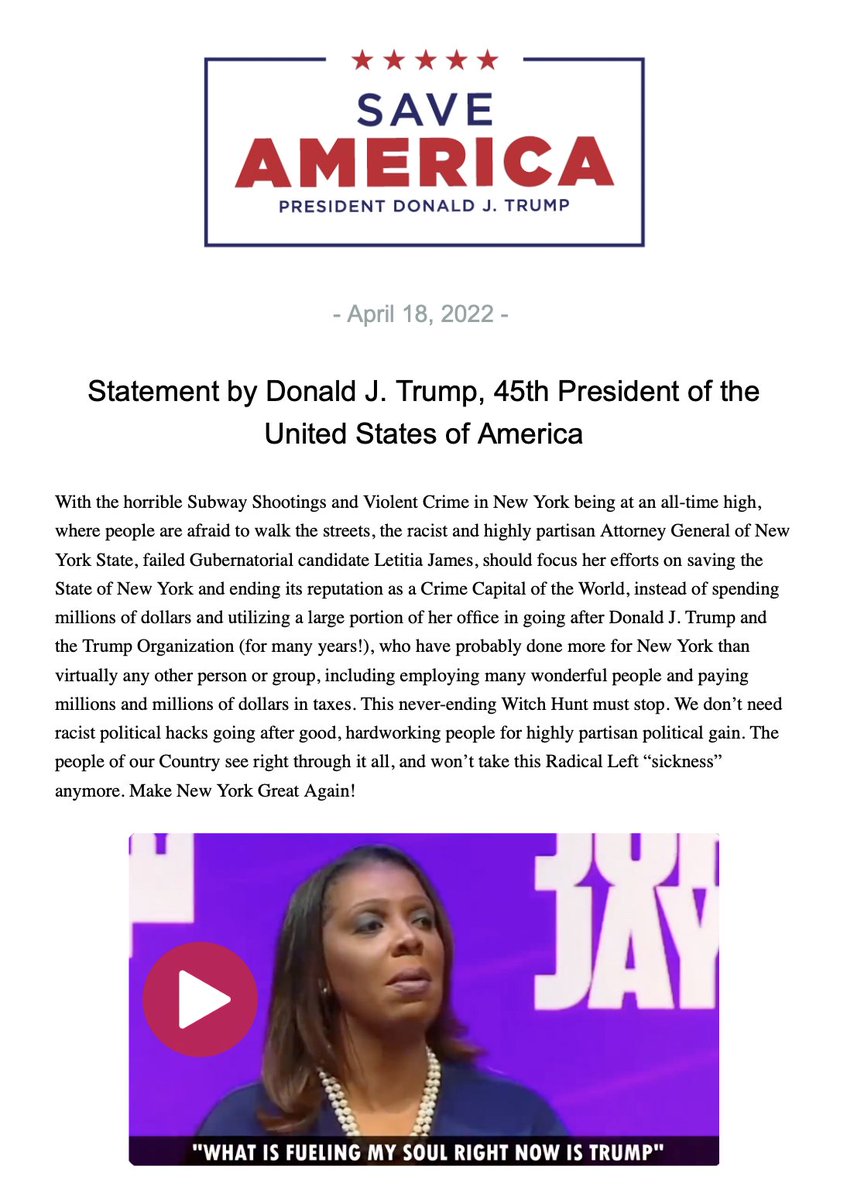 Five associates of Hillary Clinton and her presidential campaign are invoking their Fifth Amendment rights and refusing to cooperate with Special Counsel John H. Durham, according a filing in federal court revealed later Friday in Washington, DC.
In the filing, Durham noted that while one witness, identified as "Researcher-2," was granted immunity from prosecution in exchange for testimony, "at least five other witnesses who conducted work relating to the Russian Bank-1 allegations invoked (or indicated their intent to invoke) their right against self-incrimination."
Legal scholar Jonathan Turley noted in a commentary on the filing:
[Durham] is now moving to give immunity to a key witness while revealing that the claims made by the Clinton campaign were viewed by the CIA as "not technically plausible" and "user created." He also revealed that at least five of the former Clinton campaign contractors/researchers have invoked the Fifth Amendment and refused to cooperate in fear that they might incriminate themselves in criminal conduct.
Source: breitbart.com
5 Former CIA Directors lied to get Biden elected

Biden cited their letter during debate.

Biden: "There are 50 former national intelligence folks who said that what he's accusing me of is a Russian plan…5 former heads of the CIA…say what he's saying is a bunch of garbage…" https://t.co/1qN3JoluBi

— Jeff Carlson (@themarketswork) April 17, 2022
#Durham "Agency-2 concluded in early 2017 that the Russian Bank-1 data and Russian Phone Provider-1 data was not "technically plausible," did not
"withstand technical scrutiny," "contained gaps," "conflicted with [itself]," and was "user created and not machine/tool generated…. pic.twitter.com/wZvjC1MUGB

— Catherine Herridge (@CBS_Herridge) April 18, 2022
---
Geopolitical/Police State
Jack Dorsey rips Twitter board
The platform's co-founder has criticized the company's 'poison pill' strategy to stave off a takeover by Elon Musk
Twitter co-founder and outgoing board member Jack Dorsey blasted the social media platform's board of directors on Saturday, over its tactics in trying to prevent a takeover by Elon Musk.
"Good boards don't create good companies, but a bad board will kill a company every time," one user said.
"Big facts," Dorsey replied.
"If [sic] look into the history of [the] Twitter board, it's intriguing as I was a witness on its early beginnings, mired in plots and coups, and particularly amongst Twitter's founding members. I wish if [sic] it could be made into a Hollywood thriller one day," another person tweeted, to which Dorsey said, "It's consistently been the dysfunction of the company."
"Are you allowed to say this?" another user asked.
"No," Dorsey replied.
Source: rt.com
The only way Twitter, with 217 million users, could exist as a viable platform is if they had access to tech systems of incredible scale and performance, and those systems were essentially free or very cheap.  The only entity that could possibly provide that level of capacity and scale is the United States Government – combined with a bottomless bank account.  A public-private partnership.
  Elon Musk is poised to expose the well-kept secret that most social media platforms are operating on U.S. government tech infrastructure and indirect subsidy.  Let that sink in.
The U.S. technology system, the assembled massive system of connected databases and server networks, is the operating infrastructure that offsets the cost of Twitter to run their own servers and database.  The backbone of Twitter is the United States government.
Source: theconservativetreehouse.com
Board salary will be $0 if my bid succeeds, so that's ~$3M/year saved right there

— Elon Musk (@elonmusk) April 18, 2022
---
War
Zelensky Calls on Biden to Visit Ukraine
North Korea tested a new tactical guided weapon,  
Pyongyang has tested a total of 13 weapons in 2021 in a challenge to the weak Biden Regime.
Associated Press reported:
Source: thegatewaypundit.com
---
Cyber Attacks
---
False Flags
Second Global COVID Summit Announced: Main Goal Will Be to Vaccinate Everyone on Planet, Everywhere 
The Biden White House announced its participation in a second global COVID summit on May 12, 2022.
The goal of this new summit aiming to "bring solutions to vaccinate the world for everyone, everywhere." 
Source: thegatewaypundit.com
Big Pharma, WEF, [DS] are desperate, they are now going to push this on the people but the people are not going to play along, those who decided not to get the death jab will not, those who got it but learned that its dangerous they will not take boosters, its over
Is this the beginning of the end of biomedical tyranny in the US?
As Forbes reports, a federal judge in Florida threw out the federal government's mask mandate for airports, airplanes and other public transportation Monday, ruling the Centers for Disease Control and Prevention exceeded its authority by imposing the mask requirement days after the agency extended it another two weeks.
U.S. District Judge Kathryn Kimball Mizelle, who was appointed by former President Donald Trump, issued a ruling that declared the mask mandate unlawful and blocked it by vacating the order and sending it back to the CDC "for further proceedings."
And before the blue-checks erupt in uproar at this 'dangerous' act by a clearly biased Trump judge, there is nothing stopping you from continuing to wear you three masks…this ruling just means the rest of us are not mandated to do just to protect your feelings.
Just this morning, Delta CEO Ed Bastian told WaPo that:
"I think lifting the mask mandate will be one step towards reestablishing and normal behavioral patterns on board the aircraft as well as in the airports."
Source: zerohedge.com
The anti-mandate Health Freedom Defense Fund had sued the CDC and federal officials in July over the mask requirement, asking the court to declare the order unlawful and set it aside under the Administrative Procedure Act.
Mizelle ruled the CDC did not have authority to impose the mask mandate under the Public Health Services Act of 1944, claiming that the law only lets the CDC impose measures related to "inspection, fumigation, disinfection, sanitation, pest extermination [and] destruction" to curb disease transmission and mask-wearing doesn't fall under any of those.
  the mask mandate was struck down because the CDC did not go through the proper procedures mandated by the Administrative Procedures Act.
Florida School Chief Rejects Math Textbooks Over 'Attempts to Indoctrinate Students'
Florida's Department of Education has rejected dozens of K–12 mathematics textbooks after officials said they include "indoctrinating concepts," such as critical race theory (CRT).
According to Florida Education Commissioner Richard Corcoran, his department reviewed 132 submitted textbooks and found that 54 of them, or 41 percent, didn't meet Florida's K–12 curriculum standards or contained prohibited topics.
"Reasons for rejecting textbooks included references to Critical Race Theory (CRT), inclusions of Common Core, and the unsolicited addition of Social Emotional Learning (SEL) in mathematics," the department said in an April 15 statement. "The highest number of books rejected were for grade levels K–5, where an alarming 71 percent were not appropriately aligned with Florida standards or included prohibited topics and unsolicited strategies."
Specifically, 28 rejected textbooks "incorporate prohibited topics or unsolicited strategies" including CRT, 12 don't properly align with Florida standards, and 14 were rejected for both reasons.
Source: theepochtimes.com
Some critics wondered how an arithmetic textbook could ever run afoul of such standards.
For example, Florida State Representative Carlos Smith (D) tweeted, "

#DeSantis

 is hysterically pulling math books outta FL schools claiming they 'indoctrinate' kids with CRT. 

 This isn't just crazy right-wing pandering — next they'll spend MILLIONS of tax dollars forcing schools to buy math books from GOP campaign donors."
Pushaw answered those critics by tweeting, "This is math homework from a public school district in Missouri. How does this help kids learn algebra, exactly? No wonder China is winning…"
---
Q
1201
Q
!xowAT4Z3VQ
04/20/2018 13:48:56
 ID: 5a1150
8chan/qresearch: 1116344
Anonymous
04/20/2018 13:47:20
ID:e193d6
8chan/qresearch: 1116307
>>1116248
4024
Q
!!Hs1Jq13jV6
04/30/2020 18:59:59
 ID: da9947
8kun/qresearch: 8978612