The Dominos Are Beginning To Fall, All Roads Lead To [HRC], Everything Is In Motion – Ep. 2612
Watch The X22 Report On Video
Iran was hit by a cyberattack and it hit the gas stations. Interesting timing. The [CB]/Ds decided to remove the 600 IRS surveillance from the bill, which means they will try to slip it in somewhere else, they will not give up. Trump is now pointing out the Ds economy and the Rs economy. The patriots are on the hunt, the dominos are falling. Each indictment that comes out will all lead back to the treasons people that spied on Trump, but in the end it will lead back to one person, Trump has told when he was campaigning what he was going to do, arrest HRC. The clock is ticking down and everything is motion.
---
Economy
Iran has announced that the country's energy infrastructure was hit by a massive cyberattack   which left state subsidized gas stations across the country out of commission, resulting in very long lines of cars observed waiting to fill up in many towns and cities.
The timing is interesting given it happened near the two year anniversary mark of deadly nationwide protests following serious gas shortages and price hikes in the fall of 2019. The 'activist' nature of the hack is further revealed in that Iranian media is reporting that a message showed up in national computer systems that were hacked that addressed Ayatollah Ali Khamenei with the words, "where is the gas?"
Source: zerohedge.com
Score one for freedom and privacy (for now) as Democratic lawmakers have scrapped their plans for a dragnet-style IRS surveillance across Americans' bank accounts.
The original proposal would have required financial institutions to report on any account (be it a checking account, savings account, stock portfolio, etc.) which handled more than $600 in inflows and outflows in a given year, practically implicating every bank account holder.
Bowing to pressure from banks and taxpayers, Democrats have attempted to quell concerns by raising the threshold. Unfortunately, even the raised threshold was still laughably low to accomplish Democrats' stated purpose of cracking down on wealthy tax cheats.
But, now, that is all gone.. thanks, reportedly, to Senator Manchin (again), as AP reports, Manchin said he told Biden the idea was "screwed up" and that the president concurred.
Source: zerohedge.com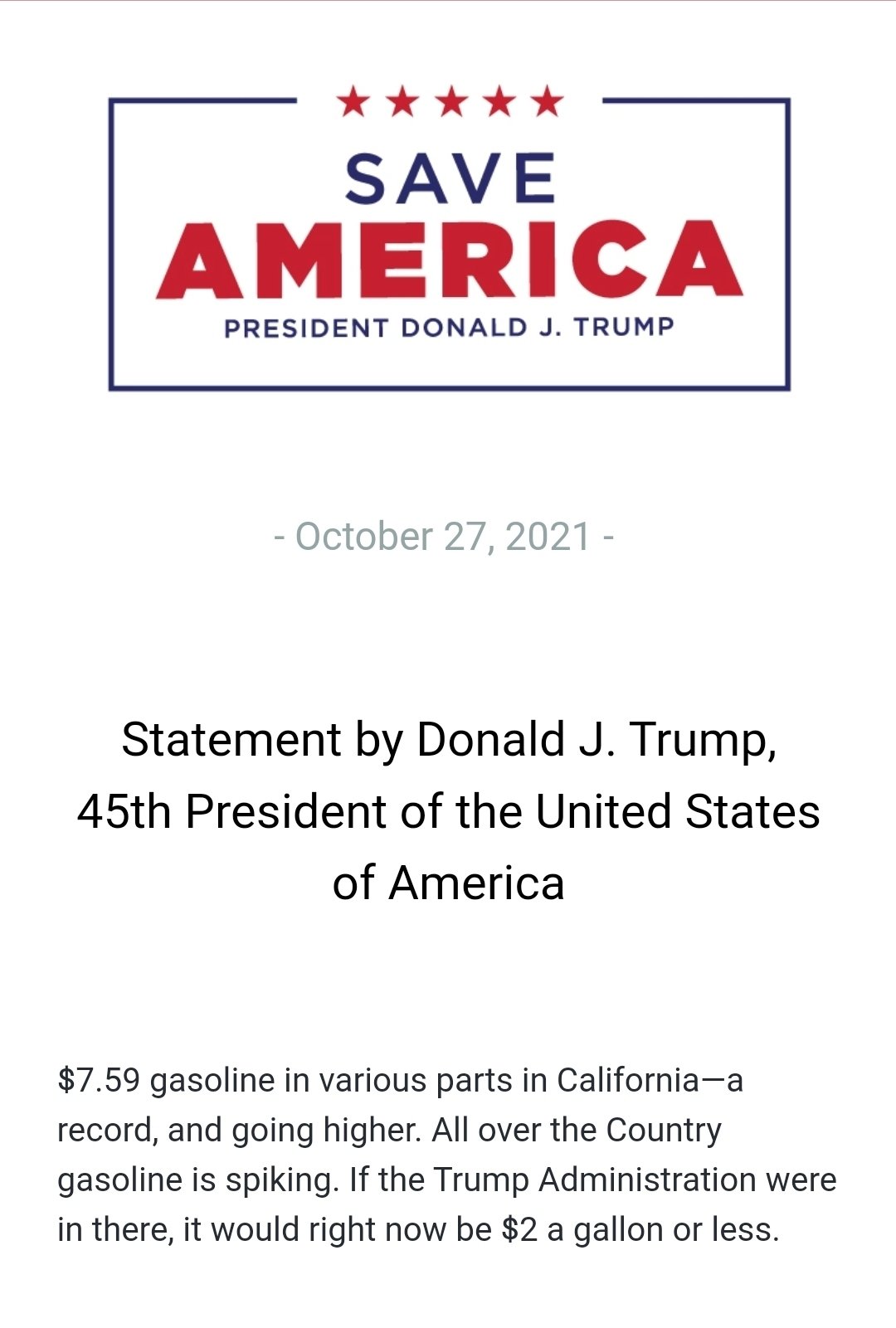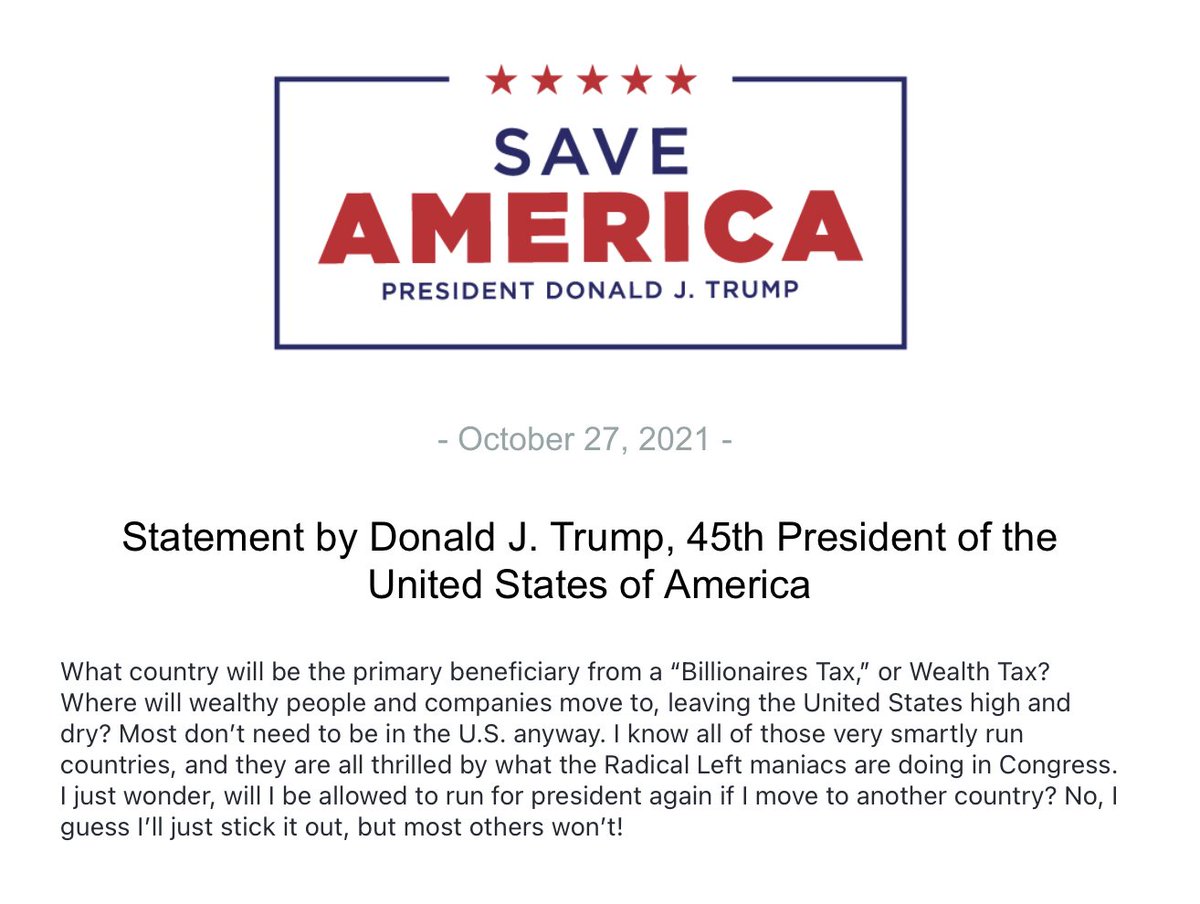 ---
Political/Rights
Sixty-one percent of registered voters say America has "seriously gotten off on the wrong track," a Politico/Morning Consult poll revealed Wednesday.
"Now, generally speaking, would you say that things in the country are going in the right direction, or have they pretty seriously gotten off on the wrong track?" the poll asked respondents.
While 39 percent say the country is headed in the "right direction," 61 percent say the country is going down the "wrong track."
Source: breitbart.com
 Today vast majority of American voters believe chanting "F**k Joe Biden" and "Let's Go Brandon!" are both appropriate.
11 months after he reportedly won 81 million votes!
It never happened.
Breitbart.com reported:
Via The Trafalgar Group.

Source: thegatwaypundit.com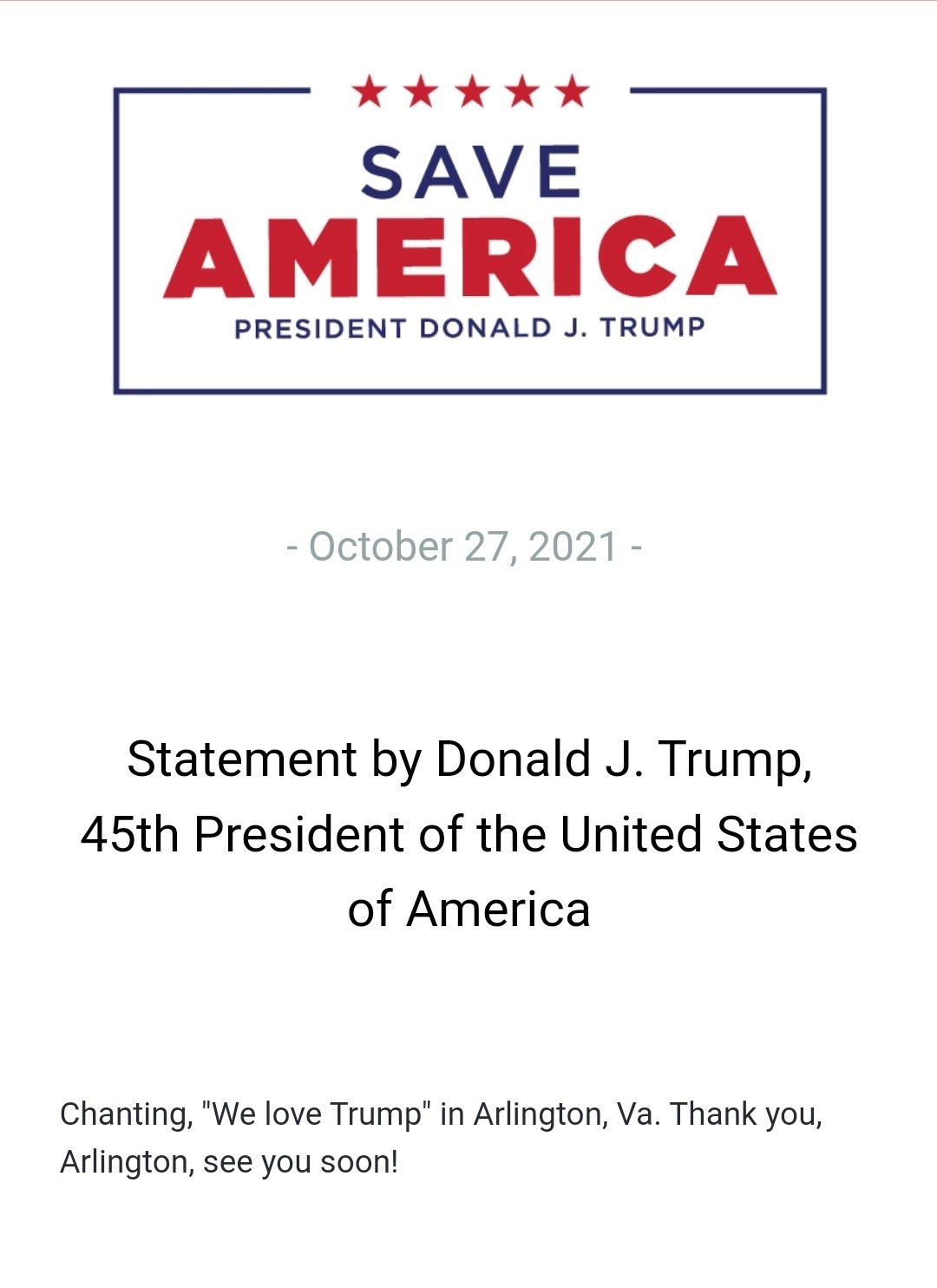 A former camera guy for ABC, NBC and CNN has been arrested for threatening to kill Rep. Matt Gaetz and any future children that he has.
Eugene "Gene" Huelsman, 58, was arrested in Los Angeles on an indictment returned by a federal grand jury in Pensacola, Florida.
"Tell [M.G.] to watch his back, tell him to watch his children," Huelsman told Gaetz's office on Jan. 9, according to the two-page indictment shielding the lawmaker's name as "M.G." that was obtained by Law & Crime. "I'm coming for him, he's gonna fucking die… I'm gonna fucking kill him… Watch your back, I'm coming for you. I'm gonna put a bullet in you and I'm gonna put a bullet in one of your fucking kids too."
Source: thegatewaypundit.com
Former Clinton Operative Charged With Securities Fraud
Steve Bachar, who specializes in 'socially responsible' investing, also accused of stealing funds earmarked for life-saving PPE at height of COVID-19 pandemic Authorities in Denver have ordered the arrest of Steve Bachar, a longtime Clinton operative and "socially responsible" investor who has been charged with felony theft and securities fraud. The former co-chair of the Clinton Global Initiative is also under investigation for unrelated allegations that he mishandled millions of dollars allocated for personal protective equipment at the height of the COVID-19 pandemic.
Bachar is accused of stealing as much as $1 million and lying to an investor "in connection with the offer, sale or purchase of a security," according to the criminal complaint filed by the Denver district attorney's office. The crimes are alleged to have occurred between October 2017 and August 2018.
Bachar, who served as White House advance lead and in the Treasury Department under former president Bill Clinton before joining the Clinton Global Initiative, also served on the national finance committee for Hillary Clinton's failed presidential campaign in 2016 and as an adviser to former governor John Hickenlooper (D., Colo.). His private sector career as a corporate attorney and cofounder of Empowerment Capital Management was focused on "socially responsible investing."
 Source: freebeacon.com
The Clinton campaign lied, and the American people deserve the truth. Release the full Durham investigation upon completion, AG Garland. pic.twitter.com/XGamDFXmZb

— Sen. Marsha Blackburn (@MarshaBlackburn) October 27, 2021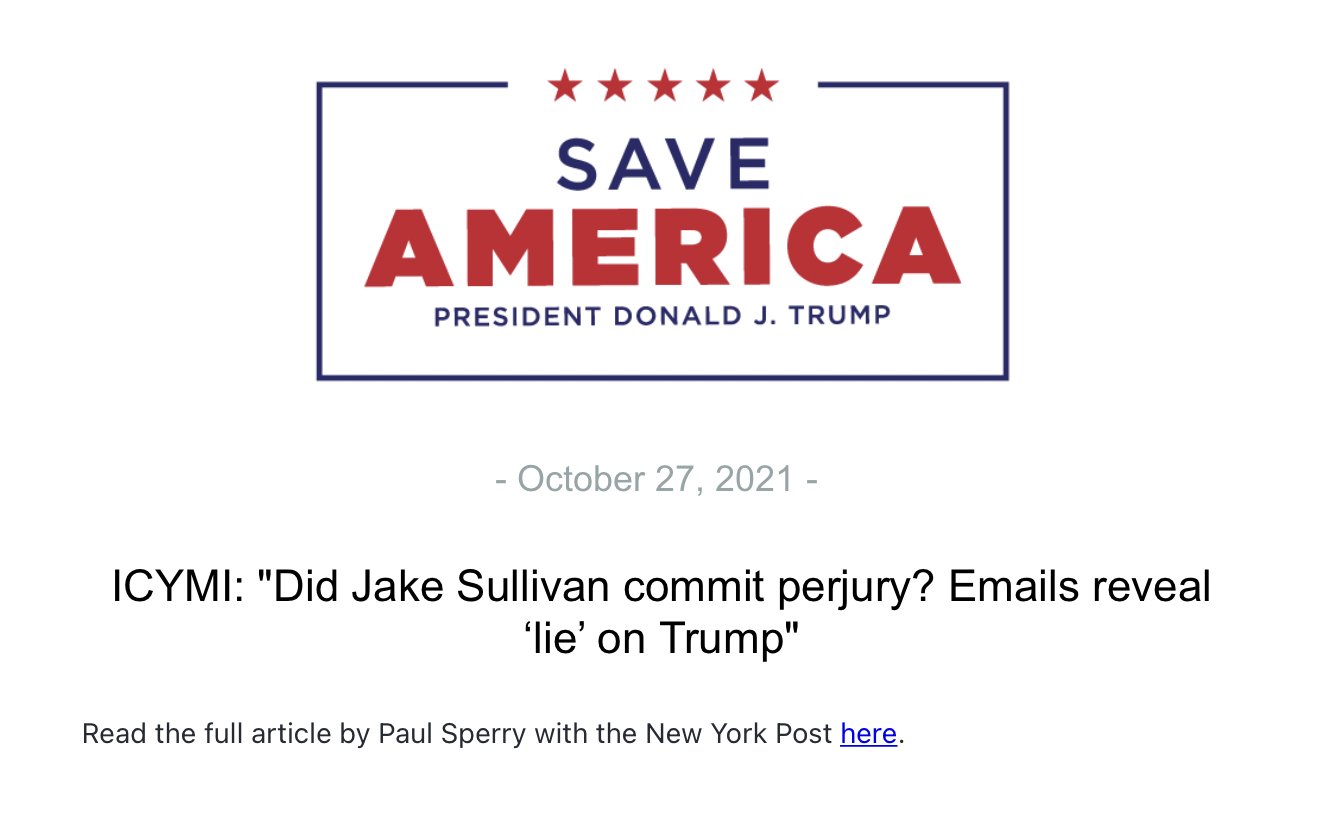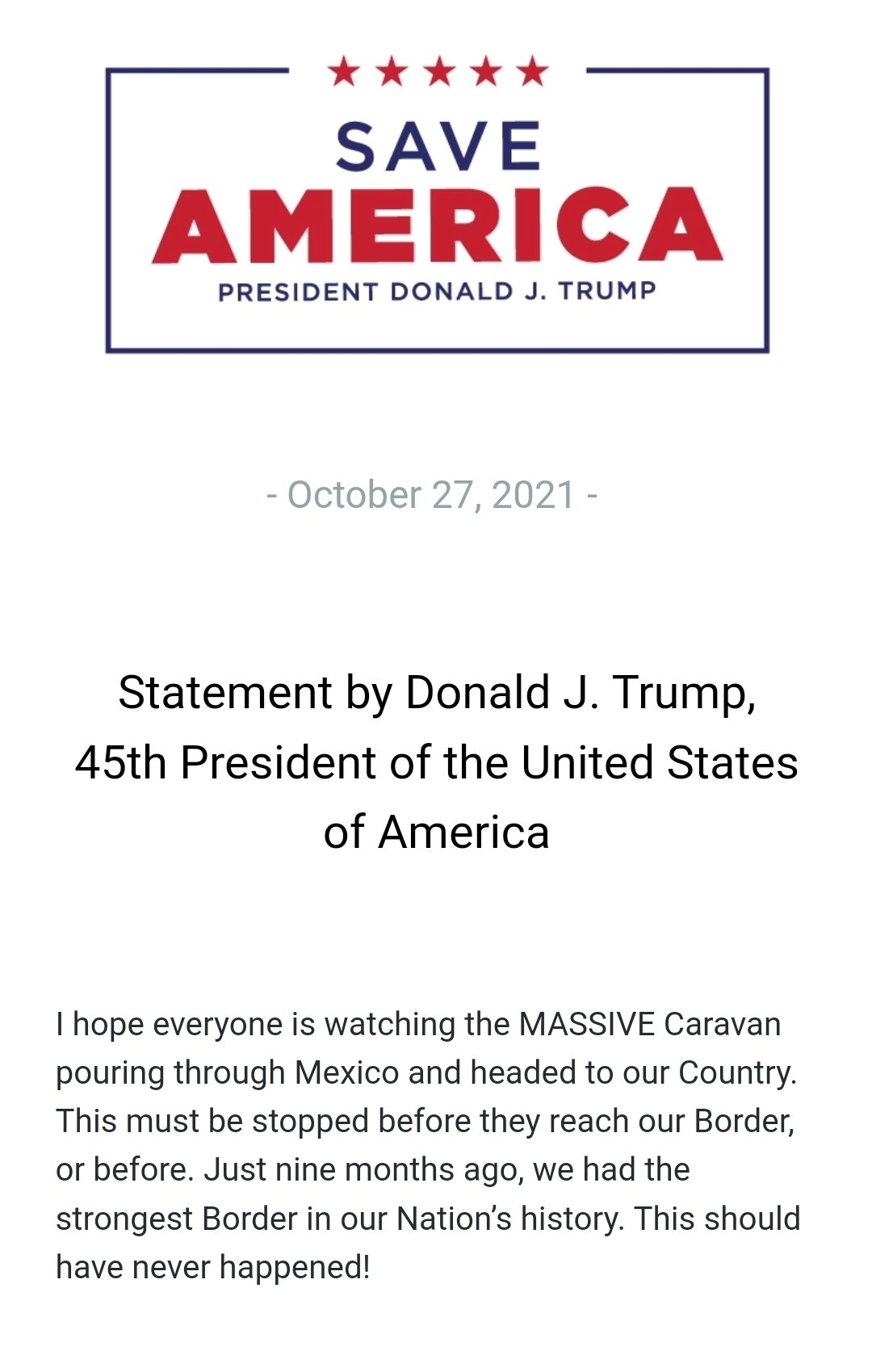 ---
Geopolitical/Police State
The U.K.'s spy agencies have agreed a deal with Amazon to host classified information on its cloud-based service so they can crunch data using the tech giant's artificial-intelligence tools, according to reports.
Source: barrons.com
Federal judge in Florida says Trump Twitter case must be heard in California
A federal judge in Florida  said   Trump's legal effort to have his Twitter account restored must be heard in California.
Miami-based U.S. District Judge Robert Scola Jr. ruled that Trump agreed to be bound by Twitter's terms of service in 2009 when he created his @realdonaldtrump handle while he was a private citizen. Those terms include a so-called forum selection clause requiring that suits against the San Francisco-based company be brought to federal court in Northern California.
Source: thehill.com
Sen. Bill Hagerty (R-TN) said  that his sponsored legislation, the FREE Speech Act, would end Facebook's political censorship of Breitbart News and other media outlets by repealing Section 230 of the Communications Decency Act and regulating Big Tech companies as "common carriers."
Source: breitbart.com
How do you push legislation that just sits in congress, you let the enemy do what they do best, create and event that all can see, which then turns into a crisis and people want to know how this can be stopped so it never happens again.
2793
Q
!!mG7VJxZNCI
02/18/2019 15:50:20
 ID: f40549
Archive Bread/Post Links: 5247736 / 5247821
Direct Link: 5247821
Host of Trump social media platform expecting more than 75M users
The internet infrastructure company that will host former President Trump's new social media platform says it expects the network to have more than 75 million users.
RightForge, which is known for hosting conservative sites, will host Trump's "Truth Social" network, Axios first reported, with company CEO Martín Avila telling the news outlet on Monday that it has been "laying the groundwork" for Truth Social to have more than 75 million users.
"That's why there will be servers everywhere," Avila said.
Source: thehill.com
---
False Flags
A Brazilian Senate investigative committee approved the report of its findings and called for President Jair Bolsonaro to be indicted for nine crimes related to his handling of the COVID-19 pandemic https://t.co/PTONJg9P5t pic.twitter.com/WA1Jj9weqM

— Reuters (@Reuters) October 27, 2021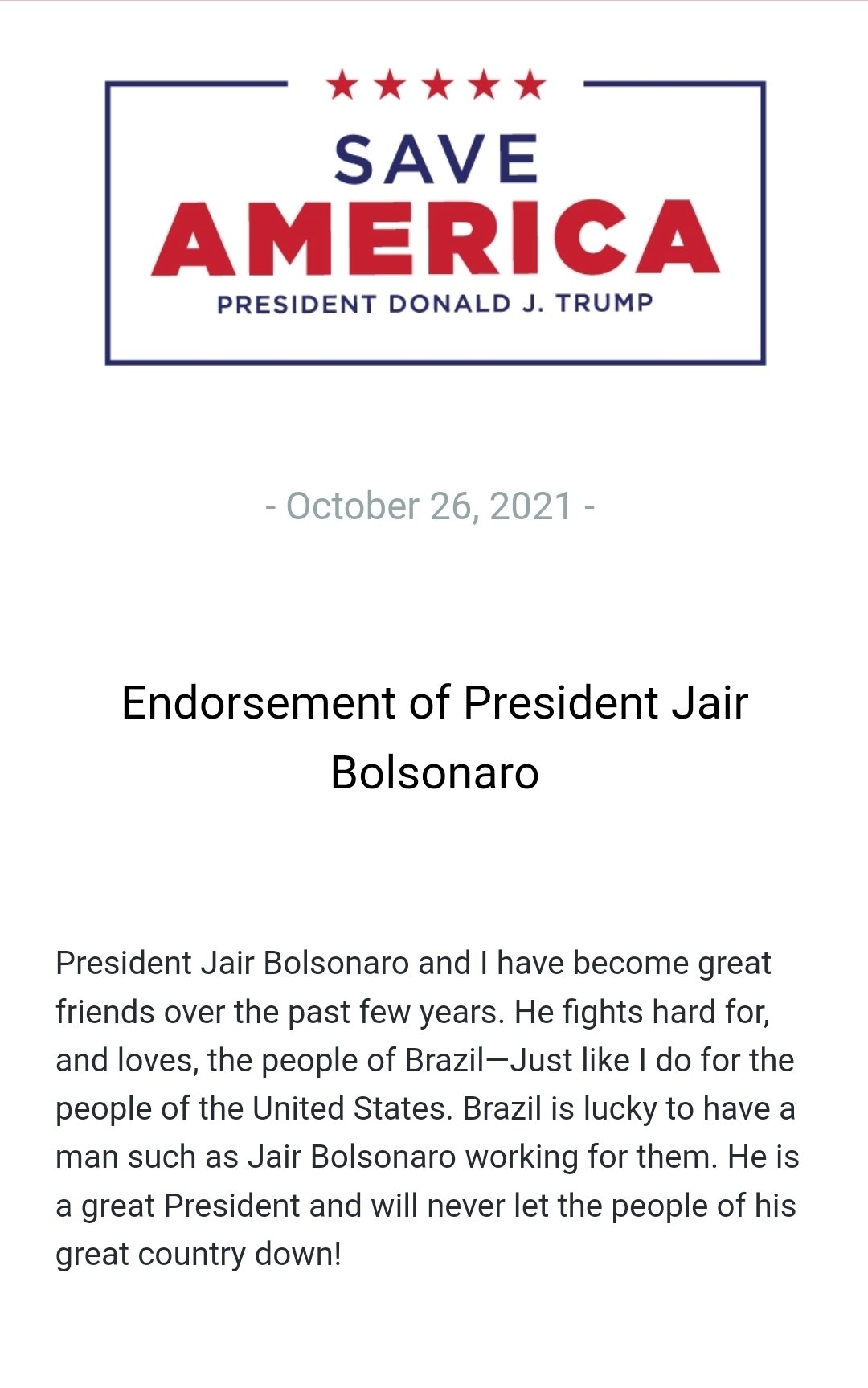 Government data revealed that in September, 70% of COVID-19 deaths both in Sweden and the UK  were "fully vaccinated" individuals.
Swedish Public Health Agency reported that  70% of Covid 19 deaths involved "fully vaccinated" individuals between Sept. 1 and Sept. 24, according to Swedish newspaper Svenska Dagbladet. The country recorded about 130 fatal Covid cases during that period.
Source: thegatewaypundit.com
The FDA's panel of independent vaccine advisors on Tuesday voted 17-0 to recommend Pfizer's Covid vaccine for children ages 5 to 11.
An advisory panel with the CDC is expected to approve the vaccine after a formal approval from the FDA.
Following the formal approval from the FDA and a stamp of approval from the CDC, the agency's director, Rochelle Walensky will give a final approval.
Children could start getting their vaccines as early as next week.
VIDEO:
TAKE A LISTEN
Source: thegatewaypundit.com
This is Pfizer *admitting* it is seeking an EUA for 5-12 year olds to get injected with an *experimental* vaccine.

Parents' children are not caged puppies in some Pfizer experiment. Lawmakers must get involved. Put a stop to this right now.🔻 pic.twitter.com/MXWJw2KP2k

— Kyle Becker (@kylenabecker) October 27, 2021

The Centers for Disease Control and Prevention updated its guidelines this week and told immunocompromised people to line up for another booster!
Moderately and severely immunocompromised people aged ≥18 years who completed an mRNA COVID-19 vaccine primary series and received an additional mRNA vaccine dose may receive a single COVID-19 booster dose (Pfizer-BioNTech, Moderna, or Janssen) at least 6 months after completing their third mRNA vaccine dose. 
This doesn't end at four Covid jabs.
Source: thegatewaypundit.com
Loudoun County Public Schools (LCPS) is forcing parents to sign a form similar to a non-disclosure agreement in order to view their Critical Race Theory based curriculum.
Parents are only permitted to view the curriculum in person — and cannot broadcast, download, photograph, or record any portion of it.
Source: thegatewaypundit.com
Sen. Tom Cotton told Attorney General Merrick Garland in a Senate Judiciary Committee oversight hearing on Wednesday that he should "resign in disgrace" after using a letter from the National School Boards Association to justify authorizing the Department of Justice to take action against frustrated parents.
"This is shameful. This testimony, your directive, your performance is shameful," the Arkansas Republican said at the end of his questioning. "Thank God you are not on the Supreme Court. You should resign in disgrace, Judge."
Source: thefederalist.com
TAKE A LISTEN
---
Q
More shocking news on Runbeck printing company which supplied ballots to both Arizona and Georgia.
 
We know that Runbeck shipped thousands of ballots to the same guy in Georgia who was behind the calls of a water main break in Atlanta and who was behind the removal of the whistleblower from working in Georgia elections.  (If there was a Republican Party in Georgia who cared about the integrity of their elections, this guy would be gone.)
We also know Brian Runbeck works for the company with his name.  Although not listed as a member of the Executive Team, Brian Runbeck, identifies himself as the Client Services Manager/Project Manager and Production Coordinator at Runbeck Election Services.  He manages the production of election ballots and related official election material.  He claims he handles high pressure deadlines and high volume production.
Mr. Runbeck also made 50 separate donations to Act Blue, Biden for President and the Democratic Senatorial Campaign Committee between August 15 and October 30, 2020.
We also know that ballots in Georgia were different for Democrat and Republican areas.  This was done by the printer.
NOTE that the BAR CODE is missing from these ballots. This is important because as IT specialist Javon Pulitzer noted in testimony earlier this week, the Fulton County ballots in the general election for GOP precincts included a barcode while the ballots in Democrat districts did not include the barcode.  (Again, if there was a Republican Party in Georgia who cared, this would be investigated and criminals put in jail.)
Today Kevin Moncla reports at Uncoverdc more on Runbeck printing.
According to Moncla, Fulton County, Georgia ordered and received over 1 million ballots from Runbeck in the last 10 or so days before the election.  The ballots received were absentee ballots based on the size of the ballots ordered and related invoices.
With just 10 days until the November 3rd election, there was literally no way to sort, prepare, fold, stuff and mail out the ballots before the election. Especially considering there were no envelopes ordered. This fact alone removes any possibility that they intended to mail the ballots.
Source: thegatewaypundit.com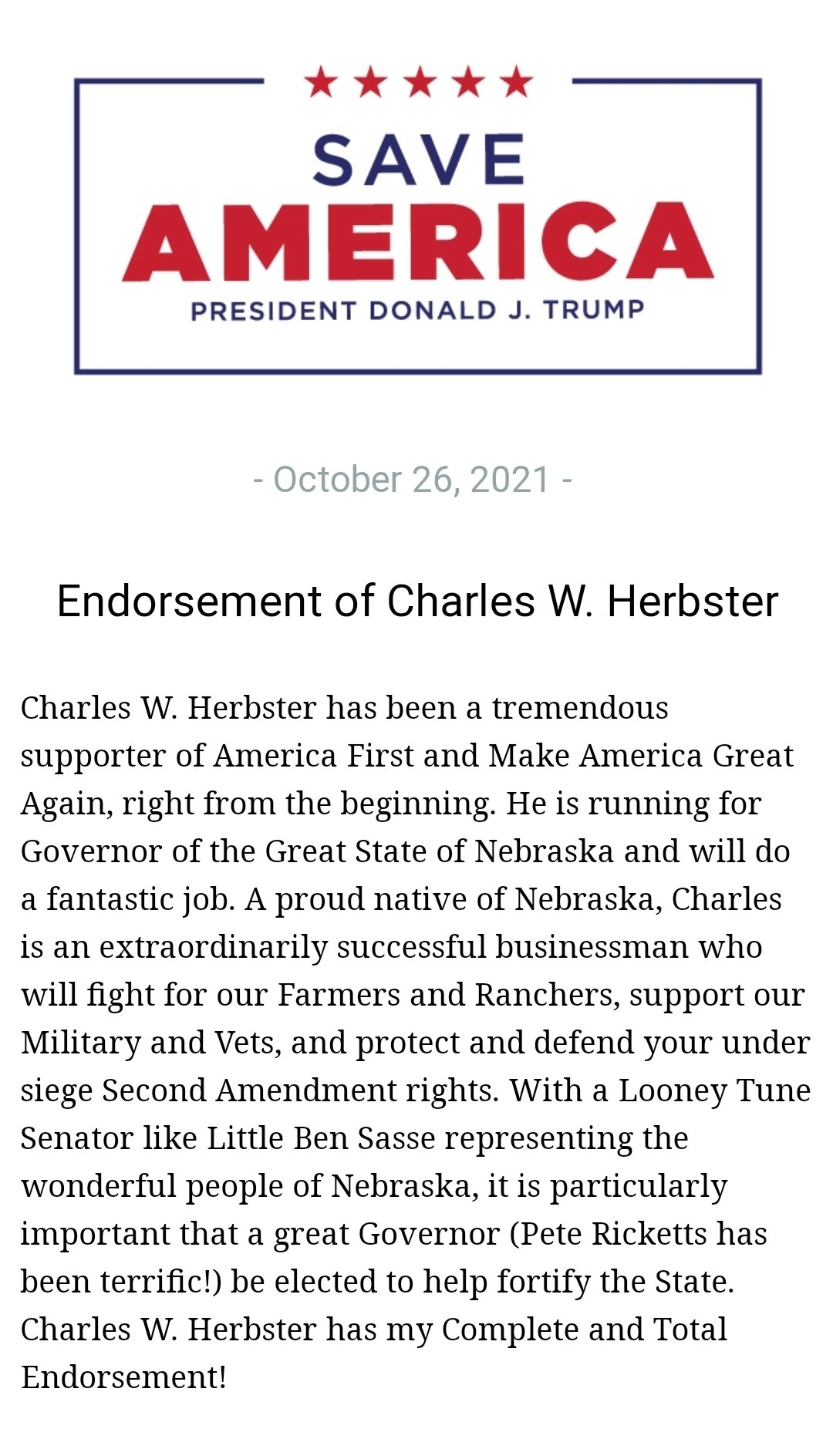 Cybercriminals claim to have hacked the NRA
A ransomware group that experts say is based in Russia has posted what it claims are 13 National Rifle Association files to the dark web.
A notorious Russian cybercriminal group has posted what appear to be National Rifle Association files to the dark web.
The group, known as Grief, posted 13 files to its website Wednesday and claimed to have hacked the NRA. It is threatening to release more of the files if not paid, though it did not publicly state how much.
Source: nbc.com