The [DS] Has Been Outmaneuvered, They Are Only Now Figuring It Out – Ep. 2668
Watch The X22 Report On Video
The policies that the [JB/[CB] put into place has now destroyed the job market. More people are quitting because of mandates and other factors. Wages are not keeping up with inflation. It has begun, China has moved forward with the digital yuan. Melania sends a message about Bitcoin. The [DS] agenda is now coming to an end. The people are no longer believing the pandemic hoax, it is falling apart rapidly. The patriots have outmaneuvered the [DS] and they are only now figuring it out. The pieces are now being put into place. The show is about to start and the [DS] is panicking. [NP] is already signaling that she is now retiring. The entire corrupt system is about to come down around them.
---
Economy
This is Joe Biden's America.
A record 4.5 million Americans quit their jobs in November according to the Bureau of Labor Statistics.
The quits increased in the hospitality industry, transportation and healthcare thanks to Joe Biden's vaccine mandates.
"The number of quits increased in November to a series high 4.5 million (+370,000). The quits rate increased to 3.0 percent, matching the series high in September. Quits increased in several industries with the largest increases in accommodation and food services (+159,000); health care and social assistance (+52,000); and transportation, warehousing, and utilities (+33,000). The number of quits increased in the Northeast, South, and Midwest regions." – the Bureau of Labor Statistics stated on Tuesday.
Biden strained the healthcare industry by imposing an unconstitutional vaccine mandate for all healthcare workers.
Source: thegatewaypundit.com
"Only 17% of workers say their pay has kept pace with inflation."https://t.co/zoDCsnwU6G

— Mark Bednar (@MarkBednar) January 4, 2022
It is widely reported that Bitcoin's market cap exceeds USD$1 Trillion. Today marks the 13th anniversary of the Bitcoin Genesis Block. Happy Anniversary, #SatoshiNakamoto #MelaniaNFT pic.twitter.com/aZqNJFcZmd

— MELANIA TRUMP (@MELANIATRUMP) January 3, 2022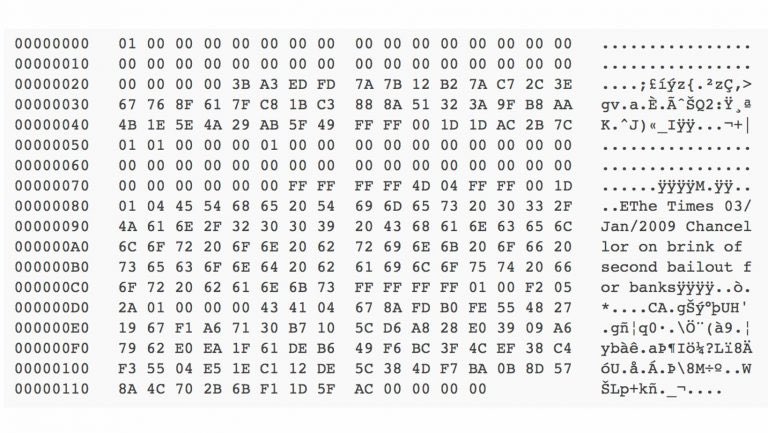 ---
Political/Rights
Judge signals perjury trial against Ghislaine Maxwell will likely go forward
Manhattan federal Judge Alison Nathan, who presided over Maxwell's trial, asked in an order Monday for the defense and prosecutors to submit a proposed schedule for a perjury case against the convicted sex predator. 
Maxwell faces two counts for allegedly lying under oath in a sworn deposition she gave in 2016 in a defamation case brought against her by Jeffrey Epstein accuser Virginia Roberts Giuffre in the Southern District of New York. 
Source: nypost.com
Judge approves Ghislaine Maxwell's request for Covid-19 booster as she awaits sentencing in 'hell hole' prison
Ghislaine Maxwell, who is facing 65 years in jail after being convicted of sex trafficking last week, requested a Covid-19 booster 
On Wednesday, Maxwell's lawyer Bobbi Sternheim asked Judge Alison Nathan if it was possible for Maxwell to get her booster shot to protect her from Covid-19
Judge Nathan said it was 'available' at the Metropolitan Detention Center in Brooklyn, where Maxwell is being held as she awaits sentencing 
The parties are also ordered to submit a joint letter by January 10, 2022, proposing a schedule for sentencing
Source: dailymail.co.uk
---
Geopolitical/Police State
---
War

---
Cyber Attacks
---
False Flags
 "Fifteen thousand people lost their lives in nursing homes.
.Source: thepostmillenial.com
New York City has issued its latest guidance for the distribution of monoclonal antibodies (and other COVID-19 therapeutics) for the treatment of COVID-19. And it looks to your color, not your condition.
For the uninitiated, monoclonal antibodies are recommended by the National Institutes of Health (NIH), and have been authorized by the FDA, for the treatment of COVID-19. According to the latest New York City guidelines, monoclonal antibodies are authorized as COVID-19 treatment "for people who have a medical condition or other factors that increase their risk for severe illness."
"Other factors" that increase the risk for serious illness. What could those be?
New York City has the answer:
"Consider race and ethnicity when assessing individual risk, as longstanding systemic health and social inequities may contribute to an increased risk of getting sick and dying from COVID-19."
The distribution of potentially life-saving medications based on the color of a patient's skin – or, at a minimum, treatments that prevent a COVID-19 patient from life-threatening complications – has already started. According to the New York Post, "one Staten Island doctor said he filled two prescriptions for Paxlovid this week and was asked by the pharmacist to disclose the race of his patients before the treatment was authorized."
This gets us to the issue of the broader legality of "health equity". While the above paragraphs describe mere "guidance" from New York City health agencies, the administration of treatments and drugs based on race can violate Title VI of the Civil Rights Act of 1964. As the Department of Justice explains:
"Title VI, 42 U.S.C. § 2000d et seq., was enacted as part of the landmark Civil Rights Act of 1964. It prohibits discrimination on the basis of race, color, and national origin in programs and activities receiving federal financial assistance."
Source: technofog.substack.com
A majority of COVID-19 hospitalizations during the South African Omicron variant wave weren't actually for the virus, a new study has found.
Sixty-three percent of patients hospitalized with COVID-19 in South Africa during the surge had "incidental" COVID-19 diagnoses, meaning they were admitted to the hospital for a separate reason and tested positive for the virus once there. Virtually every metric for hospitalized patients improved when compared to previous waves, from ICU admittance rate to death rate to average length of stay.
In the U.S., some number of COVID-19 hospitalizations are incidental as well, although data isn't available to show the exact proportion. Some doctors have observed an uptick in incidental COVID-19 hospitalizations during the Omicron wave due to the strain's reduced severity when compared to Delta and Alpha.
Dr. Anthony Fauci said last week that many of the children hospitalized for COVID-19 are there for reasons like broken legs or appendicitis, and they just happen to test positive for the virus upon arrival.
Source: dailycaller.com
They fired hospital employees for not being vaccinated and were completely shocked and surprised that there weren't enough employees able to work because the vaccinated ones caught COVID, so they decided to let the infected ones work after day five, because "science?"
 Gov. Ron DeSantis (R) said that the federal government hasn't given Florida the monoclonal antibody treatments it needs and governors can't get supplies on their own due to the federal government taking control of the supply and the lack of monoclonal antibody treatments "is absolutely leading to people dying."
Source: breitbart.com
People who are overweight or obese are at a much higher risk of much more severe disease and even death from Covid-19 — and one new study suggests that losing weight can reduce that risk. https://t.co/fu40ixz0Fh

— CNN (@CNN) January 3, 2022
On December 29, the head of the CDC, Rochelle Walensky, announced, in a White House press briefing, that the PCR test can register positive (meaning the person is "infected") long AFTER infection is over.
Here's Walensky's money quote:
"…people can remain PCR positive for up to 12 weeks after infection and long after they are transmissible and infectious."
That means MILLIONS of FALSE positive test results have been logged as REAL, in the past two years.
Source:  nomorefakenews.com
Federal Judge Bars Navy From Punishing Unvaxxed SEALs Seeking Religious Exemptions
A U.S. federal judge issued a temporary injunction on Monday to block the Navy from punishing a group of 35 SEALs who requested religious exemptions from President Joe Biden's COVID-19 vaccine mandate for U.S. service members.
U.S. District Judge Reed O'Connor ruled that the SEALs and other Naval Special Warfare personnel, represented by the First Liberty Institute, who objected to the COVID-19 jab on the grounds that it would be an "affront to their Creator," had every right to ask the Department of Defense for an exemption. In exchange, O'Connor ruled that the DOD could not administratively separate or dismiss them for their vaccination status.
"The Navy service members in this case seek to vindicate the very freedoms they have sacrificed so much to protect," O'Connor wrote. "The COVID-19 pandemic provides the government no license to abrogate those freedoms. There is no COVID-19 exception to the First Amendment. There is no military exclusion from our Constitution."
Source: thefederalist.com
---
Q
Senate Majority Leader Chuck Schumer is using the J6 'threat to our democracy' narrative in an effort to gain support for legislation that will permit the federal takeover of elections.  In a letter today, Schumer sets a deadline date of January 17 for a change in the Senate rules to remove the filibuster.
Schumer writes this letter without actually having the needed number of votes to change the rules, but he's attempting to create pressure on fellow Democrats.   Full propaganda letter below, but here's the part that matters:
Source: theconservativetreehouse.com
"Doomsday for democracy" – Democrat Chuck Schumer in 2005 on eliminating the filibuster

— Nathan Brand (@NathanBrandWA) January 3, 2022
TAKE A LISTEN 
House Republican leaders are targeting House Speaker Nancy Pelosi (D-CA) over the January 6 riot, saying she refuses to respond to their questions about security at the U.S. Capitol and that her select committee is in fact a "cover-up" for the speaker's missteps surrounding the riot.
Four Republicans, led by GOP Conference chair Rep. Elise Stefanik (R-NY), held a press call Monday to deliver the party's messaging on the riot, which Pelosi is currently probing through her Democrat-led select committee.
Source: breitbart.com
Source: thefederalist.com
FBI Trained for January 6 Days Before Capitol Riot, Deployed Secret Commandos with 'Shoot-to-Kill' Orders
The prevailing narrative about the Capitol Riot that occurred on January 6, 2021 is that it was a spontaneous event that the authorities did not see coming and could not have adequately prepared for.
The Federal Bureau of Investigation, we have since learned since this surreal event, had infiltrated these groups and were monitoring events on the ground. Text messages from January 6 have been revealed in court showing that members of the far-right groups at the riots were not doing so according to the 'orders' of Donald Trump — although some disparate MAGA moms believed that to be the case.
It gets even worse. A year later, on January 3, 2022, it has been revealed that the FBI had been training for a contingency such as the Capitol Riots days ahead of the event. Newsweek reported on this in an exclusive:
The contingency units meeting on January 3 included the FBI's Hostage Rescue Team, the FBI's national "Render Safe" team, an FBI SWAT team from the Baltimore Field Office, Special Response Teams from the Bureau of Alcohol, Tobacco, Firearms and Explosives (ATF), and the U.S. Marshals Service Special Operations Group.
These tactical assets were 'pre-deployed' and were prepared to deploy deadly force to stop threats to the Congress:
Source: beckernews.com
 OATH KEEPERS PRESIDENT STUART RHODES, BLACK LIVES MATTER/ANTIFA ACTIVIST JOHN SULLIVAN, JANUARY 6TH CAPITOL "FEDSURRECTION" CHEERLEADER RAY EPPS, AND THOMAS DISABLED FORMER FBI WORKER TURNED OATH KEEPER,  HAVE ALL BEEN SUBPOENAED BY KELLY MEGGS' DEFENSE ATTORNEY JON MOSELEY. MEGGS IS AN IMPRISONED OATH KEEPER ACCUSED OF CONSPIRING TO STORM THE CAPITOL.
Julie Kelly of American Greatness tweeted images of the subpoenas:
Interesting filing today in Oath Keepers case. Defense wants to subpoena Ray Epps, Stewart Rhodes, and Officer Harry Dunn, who several Oath Keepers say they helped protect from violent protesters. Trial in April: pic.twitter.com/xbG4y90uEF

— Julie Kelly 🇺🇸 (@julie_kelly2) January 3, 2022
ACCORDING TO MEGG'S ATTORNEY, THE NAMES OF AT LEAST THREE MEN THAT MULTIPLE NON-TRADITIONAL MEDIA OUTLETS HAVE SUGGESTED ARE FEDERAL AGENTS OR INFORMANTS WILL PROVE HIS CLIENT'S INNOCENCE AND SHOW THAT THE J6 COMMISSION IS POLITICALLY MOTIVATED.
Source: thegatewaypundit.com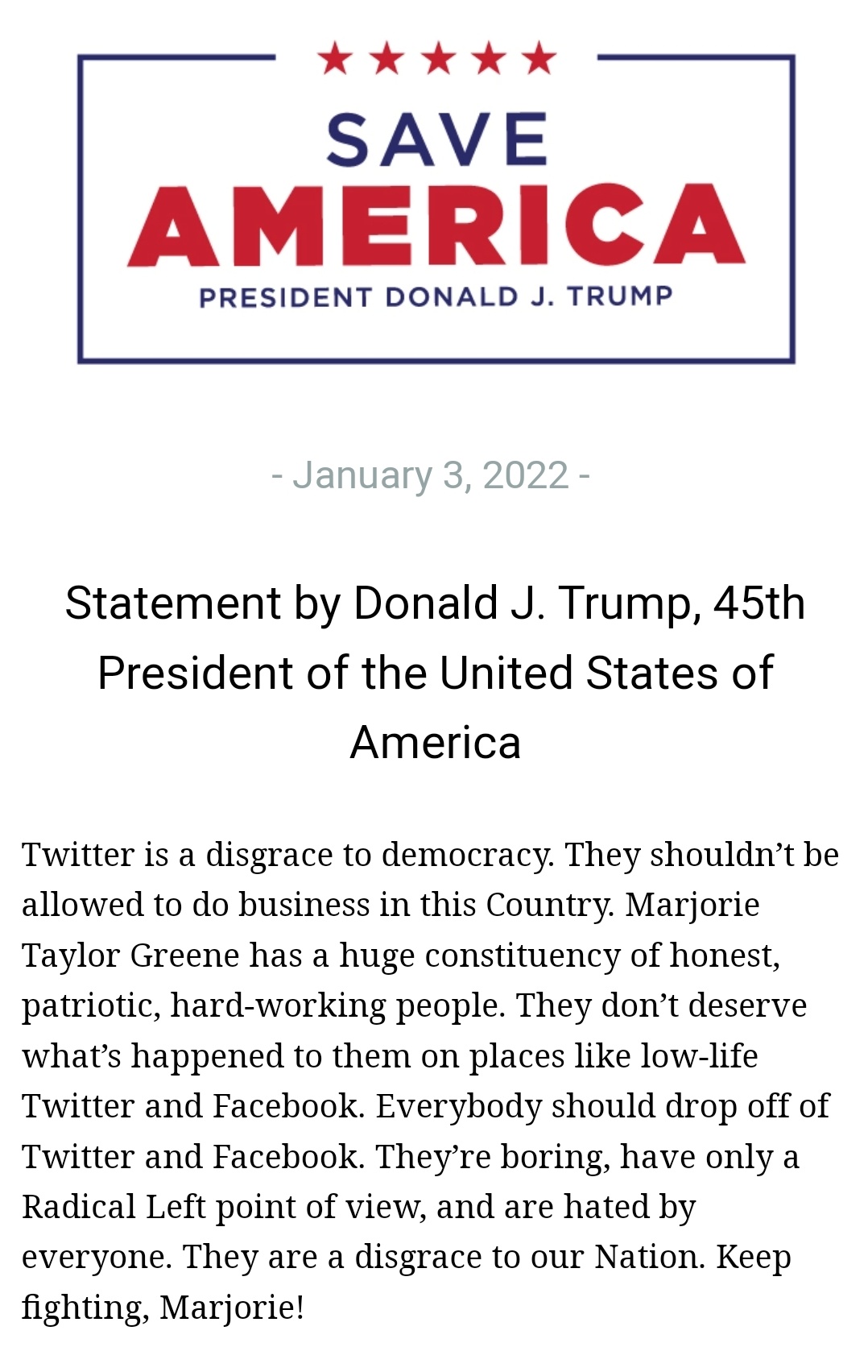 Trump sends the message, its time
Sign of End-Stage 4 Trump Derangement Syndrome: Pelosi Now Expected to 'Step Down Next Year'
Now, reports suggest Pelosi will finally "step down next year," at the end of the 117th United States Congress.
As reported by Daily Mail, Pelosi is expected to step down in January 2023 after nearly two decades in Democratic leadership, with Rep. Hakeem Jeffries the odds-on favorite to lead House Democrats.
The news comes as a bit of a surprise, given that Pelosi as late as mid-December vowed to run for reelection, despite a previous pledge to step down, next year, raising the musical question: what the hell is going on here?
Source: redstate.com
So when is Biden giving his State of the Union Address?, When is getting his cognitive test
2649
Q
!!mG7VJxZNCI
01/05/2019 19:50:25
 ID: 6d1065
Archive Bread/Post Links: 4616779 / 4617146
Direct Link: 4617146
Image Name:
DuJ04KmWwAAOkF1.jpg
Filename:
99c25f86c4ba374640a998623f286f6ef94b93ac483ec4784166e3dc35c0a536.jpg