The Groundwork Has Been Laid, Pieces Are In Place, Think Mirror – Ep. 2669
Watch The X22 Report On Video
As the economy implodes the [CB] has no place to hide, the people will experience what real inflation is like.As time goes no this will spread and get worse and people will seek an alternative. This is already happening and it will spread across the globe. The [DS] is panicking, they are fighting for their lives. They know they lost but they are pushing everything they have at the patriots in the hopes that the patriots will make a bad move. Trump is putting all the pieces in place the groundwork has been laid. Everything the [DS] has done to Trump is actually what they have done, think mirror, payback is coming. Trump is about to gain incredible amount of leverage, controlling the flow of information is key. Tick Tock.
---
Economy
Airbnb CEO Brian Chesky revealed that the top feature users are requesting in 2022 is crypto as payment.
Over the weekend, Chesky tweeted: "If Airbnb could launch anything in 2022, what would it be?"
Two days later, he posted the list of the the top six suggestions out of nearly 4,000 received.
The first on his list, he said, was crypto payments. This was followed by clear pricing displays, guest loyalty program, updated cleaning fees, more long-term stays and discounts, and better customer service.
Source:  markets.businessinsider.com
---
Political/Rights
FOX 2: Rep. Brenda Lawrence (D-MI) announces she won't seek reelection to Congress

— Election Wizard (@ElectionWiz) January 5, 2022
Mexico's Army (SEDENA) is losing approximately 30 percent of weapons purchased from the U.S., a report from Mexican journalist Carlos Loret De Mola revealed. The report comes as Mexico's federal government litigates against firearm manufacturers in a U.S. court, blaming them for the raging cartel violence.
Those missing weapons are showing up in crime scenes. Mexico's military has also allegedly misplaced weapons bought from Germany, Australia, Italy, Romania, Spain, and Belgium.
Source: breitbart.com
So it was with one of this president's earliest embarrassments, "Operation Fast and Furious," designed to help the Bureau of Alcohol, Tobacco, Firearms, and Explosives (ATF) dismantle drug cartels operating inside the United States and disrupt drug-trafficking routes. Instead, it put into the hands of criminals south of the border some 2,000 weapons, which have been used to kill hundreds of Mexicans and at least one American, U.S. Border Patrol agent Brian Terry.
---
Geopolitical/Police State
Bloomberg Media CEO, NYT columnist to form new media venture
The CEO of Bloomberg News and New York Times media columnist Ben Smith are leaving their positions to start a new media venture.
In a tweet announcing he was stepping down from Bloomberg, Justin Smith said he has "decided to pursue a personal dream, and a market opportunity, to launch a new kind of global news media company that serves unbiased journalism to a truly global audience."
Source: thehill.com
Gov. Brian Kemp (R) is announcing  his plans to pass constitutional carry legislation in Georgia by this spring, telling Breitbart News in an interview ahead of his announcement that "the timing is right now to get it done."
Kemp is joining several gun rights groups and members of the Georgia Assembly at Adventure Outdoors gun store in Smyrna on Wednesday morning to voice his intentions to sign a constitutional carry bill this legislative session, which begins next week and goes through the end of March.
Source: breitbart.com
---
War
---
False Flags
Germany will no longer allow the double vaccinated into restaurants starting next week. Only the triple vaccinated will be allowed inside.
EuroWeekly reported:
New restrictions have been announced today (January 4) which will affect double vaccinated and those who have recovered from Covid, who will now need to provide a daily negative test in order to enter many establishments in Hamburg, Germany.

 
Source: thegatewaypundit.com
All 17 mayors of Metro Manila, also referred to as the National Capital Region in the Philippines—a region that encompasses a population of over 13 million—have unanimously approved temporary enhanced restrictions that bars unvaccinated people from leaving their homes for most purposes the government does not deem necessary.
Following the decision, Philippine President Rodrigo Duterte issued a statement on Wednesday to reiterate the message, saying that people who refuse to get vaccinated against COVID-19 should stay home or risk being arrested and jailed, reported Philippine News Agency (PNA), the official news agency of the Philippine government.
 .
Manhattan's newly elected DA, Alvin Bragg, has ordered prosecutors to stop seeking prison sentences for most offenses, and to downgrade felony charges in cases which include armed robberies and drug dealing, according to the New York Post.
Source: zerohedge.com
---
Q
Jen Psaki: Biden's Jan. 6 speech will nail Trump over his 'singular responsibility' for 'chaos and carnage'
FLASHBACK
Buckle up, everyone.

In just a few months, the entire narrative of January 6 will collapse amid the release of secret surveillance video, FBI interviews/documents, and the feds most bogus charge, obstruction of an official proceeding.

You heard it here first 🇺🇸

— Julie Kelly 🇺🇸 (@julie_kelly2) December 1, 2021
Did Wray's FBI assets identify themselves with orange (get it?) neon caps and electrical tape?

These folks are missing from FBI most wanted list and @SeditionHunters target list. None, from what I can tell, have been arrested or charged.https://t.co/OAuYBnujXn

— Julie Kelly 🇺🇸 (@julie_kelly2) January 4, 2022
Not just embarrassing and cowardly and an act of obvious groveling, a total lie.

Cruz is mimicking Wray and Biden and Garland. He just gave Garland's prosecutors more ammo in charging and sentencing motions.

Senate GOP is beyond worthless https://t.co/deT0J0YGtr

— Julie Kelly 🇺🇸 (@julie_kelly2) January 5, 2022
People always reveal who/what they really are. Some take longer than others to do it. We see you Ted. We *really* see you, now.  Through fresh eyes.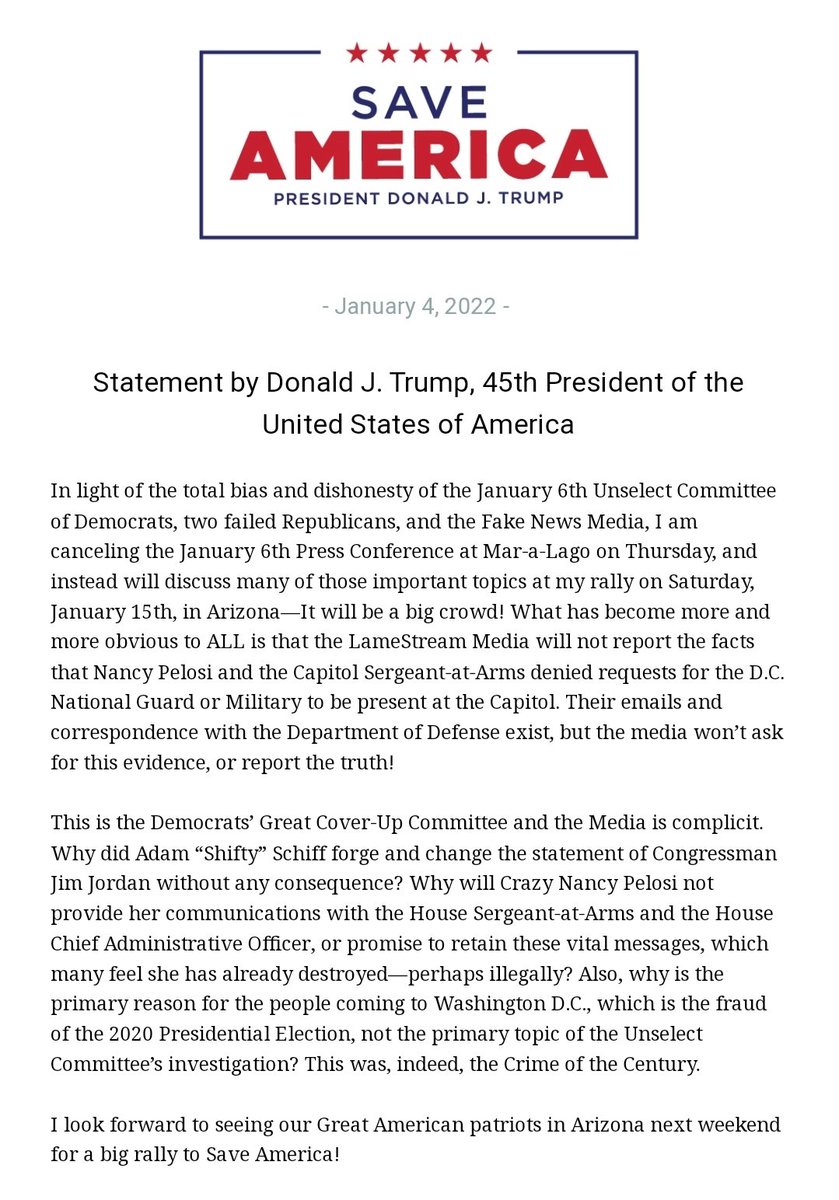 I wonder if Trump wants the DS to go all in on J6, he knows the truth, he caught them all and the J6 is falling apart.
Lets look at his statement
 1. He is drawing attention to Nancy Pelosi, she is coverup vital information between herself and the DOD, he is also stating that she deleted her emails. Remember nothing is every deleted.
2. He is letting her and the [DS] know that he caught them all and the knows what they did and what they covered up. Is he suggesting that those deleted emails will be produced and if they are produced the J6 [FF] would be revealed.
3. We are in an information war, timing is everything, when do you produce the information, when you have control of the bullhorn, will his new platform allow this to happen?  
Voter Approval of FBI Declines 
Fewer voters now trust the Federal Bureau of Investigation, and many believe the agency is acting as President Joe Biden's "personal Gestapo."
 .
Source: rasmussenreports.com
The effort, spearheaded by Russia hoaxer Marc Elias,
Source: breitbart.com
Now think about what Trump said in his statement about the emails.
A year has past and   now-infamous call between President Trump and his advisers with Georgia election regulators is still generating attention, with even a local prosecutor and the Jan. 6 commission in Congress inquiring whether the call violated any laws.
But the man on the receiving end of the call — Georgia Secretary of State Brad Raffensperger — says looking back he views the call as "just a conversation" in which he conveyed to the 45th president that allegations about election irregularities in Georgia simply were not supported by the facts.
Source: justthenews.com
HUGE! Georgia Ballot Trafficking Whistleblower Admits to Making $45,000 for Stuffing Ballot Boxes — Just One of 242 Traffickers — HUNDREDS OF THOUSANDS of Ballots! (VIDEO)
THIS IS A BREAKING UPDATE—
The Georgia ballot trafficking whistleblower reportedly admitted to making $45,000 for stuffing Georgia ballot boxes from 2 to 5 AM in the morning. He was just one of 242 alleged ballot traffickers identified by the True the Vote investigation. There is a possibility of HUNDREDS OF THOUSANDS of ballots that were stufffed into the ballot boxes in Georgia!
  You can't ballot harvest in Georgia. What turned this around is that a whistleblower in Georgia came forward. On the tapes they identified 240 of the same people going around the state stuffing ballot drop boxes between 2 and 5 AM… where they were emptying backpacks out and they were dropping 50, 100 ballots into a dropbox. This is totally illegal… Here's the bottom line, right? The one whistleblower that came forward beause allegedly his mom said, hey what you're doing is wrong and you need to be honest about it. Own up to it. He said that he was paid $10 per ballot… And he made $45,000 between November 3rd and the runoff. Two elections he made $45,000!… Now do the math.
He said this was the average payout. There were 240 people of the same ones over and over in the same car involved in it. You start doing the math here. 45,000 time 240 people… You've got $11 million dollars distributed illegally. Then you take 4500 ballots by 240 people. You're talking about a million ballots!
Via The War Room:
Source: thegatewaypundit.com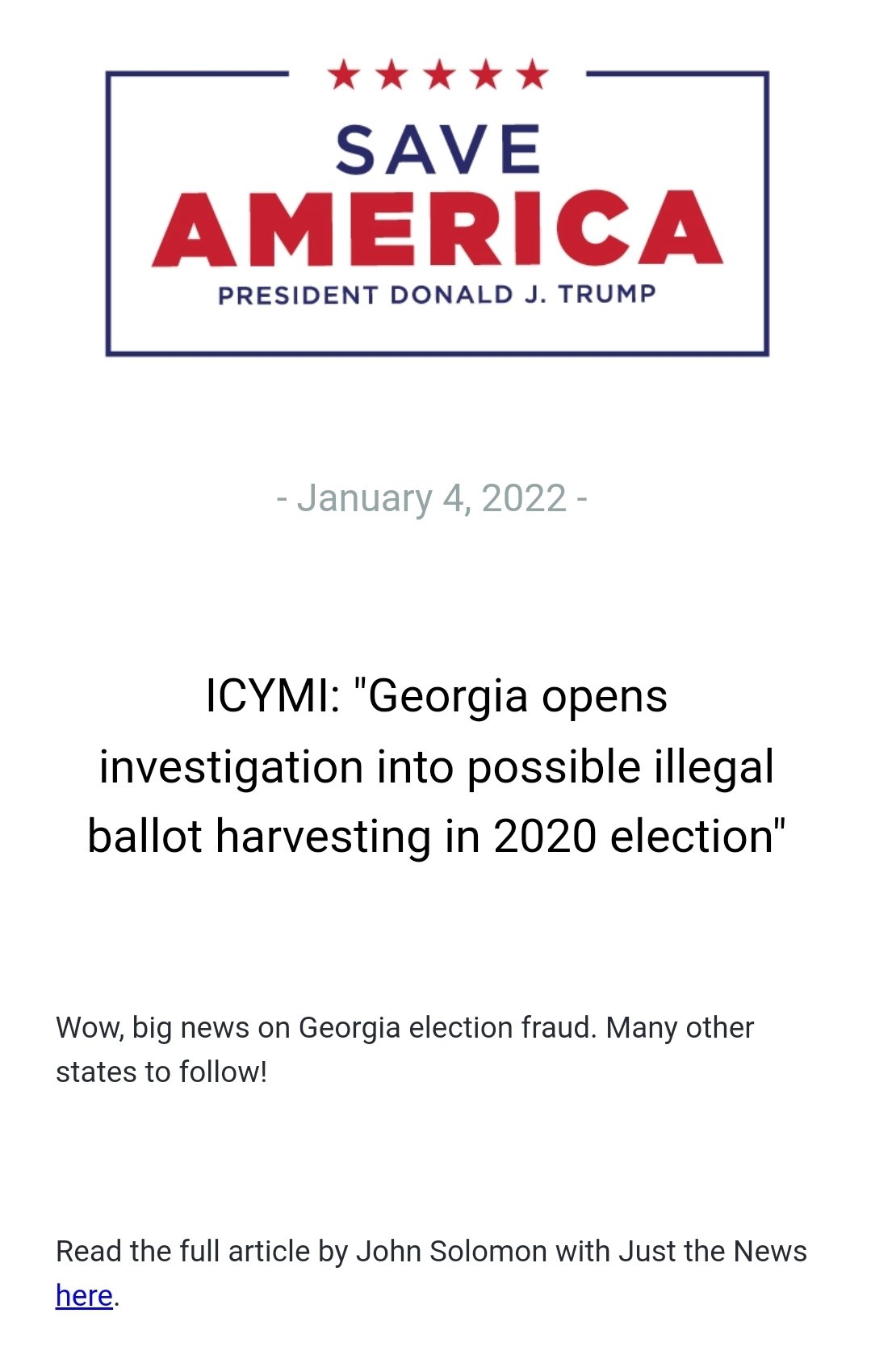 2658
Q
!!mG7VJxZNCI
01/06/2019 18:57:01
 ID: 54fc2d
Archive Bread/Post Links: 4633684 / 4633937
Direct Link: 4633937