The [DS] Just Blinked, News Is About To Unlock, Power Returning To The People – Ep. 2818
Podcast: Download (Duration: 1:03:02 — 27.7MB)
Watch The X22 Report On Video
Protests are spreading across the globe, the people are brought to the precipice and the push back has begun. [JB]/[CB] lies are exposed, Putin is not responsible of what is happening, it is the [CB]/[JB] who created this to bring the population into the GR. The people are now calling all of them out. The [DS] is losing on all fronts, their entire system is being exposed and destroyed at the same time. Slowly but surely the entire system is being dismantled. The [DS] is struggling to regain the narrative but the white hats continue to bring them down the path of no return. Power is returning to the people are the people are learning how powerful they really are. The [DS] just blinked, news is about to unlock and the they are about to receive more pain.
---
Economy
Farmers' protests in the Netherlands have reached the royal palace at Dam Square in Amsterdam. 16-year old Jouke, who was shot at by a police officer on Tuesday, was released without charges.
Opposition leader Geert Wilders released a bombshell letter showing the globalist Dutch government wants to use expropriated agricultural land for asylum centers.
 Source: thegatewaypundit.com
Dutch Fishermen joined farmers protests and blocked several ports. pic.twitter.com/jaADoEAPNB

— Real Mac Report (@RealMacReport) July 4, 2022
Polish farmers also rise up in Warsaw: "That's enough! We won't let ourselves be robbed!" They accuse the political class of destabilizing production by raising interest rates, which does not stop inflation: "We workers cannot pay for the crisis created by the politicians!" pic.twitter.com/waEUoO5zrs

— RadioGenova (@RadioGenova) July 7, 2022
Joe Biden traveled to Cleveland Ohio to deliver remarks on his American Rescue Plan at Max Hayes High School.
Biden attacked Trump, blamed Vladimir Putin for high gas prices and soaring food costs – while simultaneously claiming the Republicans are blocking his efforts to lower prices.
"We all remember what the economy was like when I was elected, a country in a pandemic with no real plans how to get out of it. Millions of people out of their jobs… The previous administration lost more jobs on his watch than any administration since Herbert Hoover," Biden said attacking Trump with lies.
Source: thegatewaypundit.com
Fact check: Biden is a liar. https://t.co/H7iBFfNc6C pic.twitter.com/GXEZHp9yRJ

— Ryan Saavedra (@RealSaavedra) July 6, 2022
With a growing number of people realizing that the Biden administration has drained more oil from the US strategic petroleum reserve, which is meant to be used during real emergencies not fake, made up ones such as Democrats facing a catastrophic failure at the midterm elections…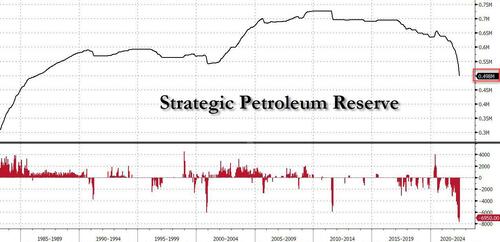 … more people are starting to ask the next big question: where is this furious liquidation of US black gold going?
Courtesy of Reuters we know: more than 5 million barrels of oil that were part of the historic U.S. SPR release were exported to Europe and Asia last month, including top US geopolitical nemesis in the global arena, China, even as U.S. gasoline and diesel prices hit record highs.
 China, which is now directly benefiting at the expense of US consumers as a result of Biden's escalating panic to undo the consequences of his catastrophic green policies by selling the most valuable US assets directly to Beijing!
But what is even more scary is the following exchange, in which the White House simply had no response when asked if the US is selling its emergency reserve oil to China.
Source: zerohedge.com
You voted 4 times to cancel the Keystone Pipeline and against domestic drilling. Quit blaming others — you created this problem. https://t.co/ASfOlXIj21

— Herschel Walker (@HerschelWalker) July 6, 2022
---
Political/Rights
UK Prime Minister Boris Johnson announced his resignation in a speech Thursday after enduring a slate of ministerial scandals and recent high-profile resignations among the British parliament, the BBC reported.
Sixteen members of Johnson's cabinet resigned Monday and Tuesday, including Senior Health Secretary Sajid Javid and chancellor Rishi Sunak, in a move many thought would spell Johnson's demise. The departures came in response to Johnson's alleged complicity in covering up sexual misconduct among Chris Pincher, the Conservative deputy chief who resigned on June 30, according to the Associated Press.
Source: dailycaller.com
 A federal judge Wednesday sentenced Jerry Harris, a former star of the Netflix documentary series "Cheer," to 12 years in prison for coercing teenage boys to send him obscene photos and videos of themselves and soliciting sex from minors at cheerleading competitions.
Source: apnews.com
New York state has hit Democratic New York Rep. Alexandria Ocasio-Cortez with fines for dodging tax warrants filed against her former business five years ago.
The state filed a tax warrant against Brook Avenue Press — a children-oriented publishing house Ocasio-Cortez founded in 2012 — on July 6, 2017, to collect $1,618 in unpaid corporate taxes, the Washington Examiner reported. The tax warrant has increased 52% to cost $2,461 due to the representative not paying the taxes.
The state filed the tax warrant nearly two months after she launched her campaign for the U.S. House of Representatives against former Democratic New York Rep. Joe Crowley, the Examiner reported. A representative for the Bronx County Clerk's Office told the outlet that the warrant remains open.
Source: dailycaller.com
America First Legal (AFL),  , launched a cascade of litigation last week suing 11 federal agencies over their refusal to disclose records compelled under the Freedom of Information Act (FOIA).
In July last year, the group filed requests across federal agencies to disclose the names, titles, positions, resumes, salaries, ethics pledges, waivers, and agreements of political appointees under President Joe Biden in the new administration.
AFL has filed 11 lawsuits against 11 agencies including the Departments of Commerce, Labor, Education, Energy, Health and Human Services, the Interior, State, Transportation, the Treasury, and Veterans Affairs.
Over Biden's 18 months in office, the president has made no shortage of controversial appointments to critical roles within the federal government, including an ecoterrorist to lead the Bureau of Land Management and a Broadway wannabe to lead the proposed U.S. Ministry of Truth officially branded as the "Disinformation Governance Board."
Source: thefederalist.com
Hunter Biden filmed himself taking 'drugs' & drinking White Claw during detox after his dad Joe gave him $75k handout
HUNTER Biden filmed himself smoking drugs and drinking hard seltzer in a float tank while on a detox – paid for after a $75k handout from his dad Joe.
 shows the president's deeply troubled son taking a hit from what appears to be a crack pipe at a health spa in Newburyport, Massachusetts, in January 2019.
Hunter, 52, can at first be seen floating around and touching himself sexually while trippy ambient music plays in the background.
He then leaves the tank briefly and comes back with the drugs and a can of what appears to be a Black Cherry-flavored White Claw.
At the end of the disturbing video, Hunter stares hauntingly into the camera with the sensory deprivation tank's fluorescent green light reflected on his drug-ravaged face.
He was being guided by the now-disgraced celebrity psychiatrist, Keith Ablow, 60, as he tried to break free from his addiction to crack cocaine.
But text messages and other evidence show that rather than face up to his demons, Hunter continued to get high.
The materials were found on a bombshell iPhone backup on Hunter's infamous "laptop from hell," which the New York Post first began reporting on three weeks before the 2020 presidential election.
Source: the-sun.com
Wapo, NY Time, New Yorker, Atlantic
Can't leave this gem out pic.twitter.com/XqsvFYfvcp

— Stephen L. Miller (@redsteeze) July 7, 2022
Sen. James Comer says he's confident 99.9% of Americans don't ever get ONE Suspicious Activity Report (SAR).
Hunter Biden (and the Big Guy) have over 150 which is probably more than anyone in American history.
SAR are usually reserved for terrorist activities or foreign money laundering.
Joe Biden quietly changed the rules so the Treasury is now blocking Congress from viewing Hunter Biden's shady business dealings
The Biden Crime Family are a national security threat.
  a Suspicious Activity Report (SAR) or Suspicious Transaction Report (STR) is a report made by a financial institution about suspicious or potentially suspicious activity. The criteria to decide when a report must be made varies from country to country, but generally is any financial transaction that does not make sense to the financial institution; is unusual for that particular client; or appears to be done only for the purpose of hiding or obfuscating another, separate transaction.
U.S. Marshals targeted ten cities in partnership with state and local officials
The U.S. Marshals Service announced the arrests of 1,500 fugitives, including sex offenders, violent criminals, and self-identified gang members, in a 30-day operation across 10 cities.
The Department of Justice said in a press release Wednesday that Operation North Star was a "high-impact fugitive apprehension initiative aimed at combating violent crime in 10 cities with a significant number of homicides and shootings."
Law enforcement arrested fugitives in Baltimore, Chicago, Houston, Indianapolis, Los Angeles, Memphis, New Orleans, New York City, Philadelphia, and Washington, D.C., all Democrat-run cities.
The DOJ said that many of those arrested were "wanted for the most serious, violent, and harmful offenses, including homicide, sexual assault, robbery, or aggravated assault." This includes 230 who were wanted for homicide and 131 who were wanted for sexual assault.
"
Notable arrests from the operation include three suspects in a mass shooting last month in Philadelphia.
Source: justthenews.com
Gov. Abbott Authorizes Texas National Guard To Apprehend Illegal Immigrants And Return Them To Border
---
Geopolitical/Police State
EXCLUSIVE: July Fourth gunman Robert Crimo videoed himself building his tiny home in the backyard of his parents' house and painting armed soldier on their wall
In a series of videos posted online, Highland Park shooter Robert Crimo posted a video showing him building his home beside his parent's home
While in another, Crimo is shown painting a man with a rifle with a smiley face emoji over his face on a wall in his parents backyard
Robert 'Bobby' Crimo III, 21, begins this video by asking viewers: 'What's up communists?'

During an interaction with live commenters, Crimo says: 'Death to America.' After describing to the viewers what his home might eventually look like, saying that it will include a window and a bench, Crimo concludes his video by saying: 'Goodbye Mr. FBI agent.
Source: dailymail.co.uk
Police arrested two men and seized multiple guns, ammo
Police in Richmond, Virginia, say a plot to attack the city's July 4 celebration was thwarted by a concerned resident.
The resident altered authorities after having having overheard a conversation between the two would-be attackers, Richmond Police Chief Gerald Smith said.
Both of the suspect allegedly were in the country illegally. They each have been charged with being a non-citizen in possession of a firearm, with more charges possibly to follow. The men also are being held without bail in jail.
SUPREME COURT: THE GOVERNMENT CANNOT REQUIRE THAT CITIZENS PROVE THE NEED FOR SELF-PROTECTION IN ORDER TO CARRY A GUN OUTSIDE THEIR HOME
By a 6-3 decision in N.Y. State Rifle & Pistol Assn. v. Bruen, the U.S. Supreme Court struck down a New York law which allowed government officials to pick and choose which class of citizens were deemed worthy of self-protection.
Affirming that the Second Amendment "right to bear arms in public for self-defense is not a second-class right," the Court ruled that individuals do not have to demonstrate some special need to the government for approval before exercising any other constitutional rights. In an amicus brief, The Rutherford Institute argued that the fundamental rights enshrined in the Constitution must be available to all law-abiding citizens and not parceled out at the whim of government bureaucrats.
Source: blacklistednews.com
---
War
---
Cyber Attacks
---
False Flags
Plans for more taxpayer-funded experiments on dogs commissioned by Anthony Fauci's division of the NIH have recently been canceled, which is pretty damning for the fact-checkers who attempted to cover for Fauci by downplaying similar experiments brought into the spotlight last summer.
In addition to Snopes, FactCheck.org, and PolitiFact all parroting the same statement from Fauci's National Institute of Allergy and Infectious Diseases — "Animals used in federally-funded research are protected by laws, regulations, and policies to ensure the smallest possible number of subjects and the greatest commitment to their welfare" — the fact-checkers also tried to distance Fauci from the experiments. While he is the director of the NIAID, they said, he didn't personally fund these experiments, which reportedly included feeding experimental drugs to puppies, injecting dogs with cocaine, and cutting out their vocal cords so they couldn't bark during the abuse.
But after pushback, five more beagle experiments have been canceled, as confirmed in a letter Fauci reportedly sent late last month, indicating that the media fact-checkers' "nothing to see here" attitude was all an obstruction. Though the "fact-checking" media attempted to distance a flailing Fauci — whose credibility had been completely shattered by his abysmal Covid response — from the unethical experiments on dogs, the reality is that as leader of the NIAID, Fauci is ultimately responsible for funding decisions.
Fauci responded in a letter on June 22 saying that "after consultation with the U.S. Food and Drug Administration, the company [commissioned to conduct the tests] elected to proceed using two rodent models only," adding, "No experiments utilizing the canine model are being conducted under this contract."
"I want to assure you that NIH and NIAID take the welfare of animals in research very seriously," Fauci claimed in the letter. Can we get a fact-check on that?
Source: thefederalist.com
---
Q
(2/3) The videos show the explosion and a car leaving the scene shortly after the explosion.  No one was injured. pic.twitter.com/8YNmEML9fW

— GA Bureau of Investigation (@GBI_GA) July 6, 2022
(3/3) For safety reasons, the structure has been completely demolished.
On January 11, 2022 Senator Ted Cruz confronted FBI National Security Branch Executive Assistant Director Jill Sanborn over the law enforcement agency's involvement on January 6th in a tense exchange during Tuesday's Senate Hearings.
Cruz asked the FBI director several straightforward questions like 'how many FBI agents or informants actively participated in Jan 6th? And is notorious 1/6 catalyst 'Ray Epps a fed?'
But Cruz was unable to get any real answers from Sanborn during her sworn testimony; the only thing she was able to respond with to the majority of his questions was 'I can't answer that.'
Following the testimony, a concerned citizen, "FoiaFan", FOIA requested the FBI with information on Ray Epps later that day.
On January 11 "FoiaFan" tweeted out the request for documentation on Ray Epps.
The FBI denied the request because it was concerned for Ray Epps's privacy. This is the same group that sent 20 armed agents and military vehicles to arrest hundreds of Americans across the country for walking into the US Capitol on January 6.
FoiaFan responded to the FBI's denial to their FOIA request with a list of questions.
Specifically, the FOIAFan requested:
1.) Documents and information concerning whether and why Ray Epps was removed from the FBI's most wanted list for the Jan. 6 DC riot.
2.) Documents and communications identifying Mr. Epps's attorneys, if any
3.) Communications with the House January 6th Committee concerning Mr. Epps
"Foiafan" argued that millions of Americans believe Epps to be a fed or agent provocateur.
Via Julie Kelly.
The Biden DOJ then again denied the request on their files on Ray Epps. The lawless regime does not want to hand over any information on Epps that they are holding due to his right to privacy.
Source: thegatewaypundit.com
BOTH of my phone calls to Georgia were PERFECT. I had an absolute right to make them &, in fact, the story on the one call was given a retraction, or apology, by the Washington Post because they were given terribly false information about it, & when they heard the actual call, they realized that their story was wrong. Thank you to the W.P. I, as does anyone else (just look at the Democrats!), have the absolute right to challenge the results of an Election.This one, CORRUPT, RIGGED, & STOLEN!
I did NOTHING wrong in Georgia, but others did. They CHEATED in the 2020 Presidential Election, and those are the ones that should be investigated (and prosecuted)! Letter to follow.
Judicial Watch has filed a lawsuit against New York election officials, accusing them of failing to remove ineligible voters from the state's voter rolls.
The watchdog group filed the lawsuit on Wednesday after they claimed that New York election officials have violated the National Voter Registration Act (NVRA) by removing just 22 individuals from New York City's voter rolls in the last six years.
"Dirty voting rolls can mean dirty elections, and New York City's rolls are some of the dirtiest in the country," Judicial Watch President Tom Fitton said in a statement.
As the lawsuit notes, despite having more than 5.5 million registered voters on New York City's voter rolls, election officials made only one NVRA removal from the voter rolls from November 2016 to November 2020.
Judicial Watch compiled the data in their lawsuit:
Judicial Watch is asking the district court to declare that New York election officials have violated terms of the NVRA and require them to reasonably maintain their voter rolls in compliance with federal law.
Source: breitbart.com
iPhone Lockdown Mode could benefit those of us who will never use it
Apple had big security news yesterday, announcing that iOS 16 will introduce a new iPhone Lockdown Mode designed to protect users from even the most sophisticated cyber attacks like those carried out by…
BREAKING: Schiff files amendment to NDAA that would conceal any info collected by the U.S. military for use in congressional investigations or court proceedings.

Massive attempted coverup of enormous proportions and preemptive power grab to prevent GOP oversight next year: pic.twitter.com/Htz60R5OXC

— Julie Kelly 🇺🇸 (@julie_kelly2) July 7, 2022
the military's role in the events of January 6 including the use of assets before and on that day as well as the use of intelligence services such as NCIS, which we know were part of the investigatory process.

WHAT ARE THEY TRYING TO HIDE?

— Julie Kelly 🇺🇸 (@julie_kelly2) July 7, 2022