The [DS] Knew This Day Would Come, Do You See It Now, The Year Of The Boomerang – Ep. 2829
Podcast: Download (Duration: 1:17:51 — 33.8MB)
Watch The X22 Report On Video
Europe is in trouble, they never thought it was going to go down this way, the people are rising up. The Green Agenda is falling apart, the plan has been accelerated and the [CB]/[WEF] was not prepared. The people are not with them no matter what they try. The patriots have all the leverage, the [DS] knew that this day was coming and they knew that they were going to have to deploy every asset possible. This is the year of the boomerang. This is not about a 4 year election, this is about throwing off a tyrannical government that is not working for the people. This is being done without bloodshed, without a civil war. Trump and the patriots are chipping away at their system and exposing it at the same time.
---
Economy
European Commission President Ursula von der Leyen says "Russia is blackmailing us"

"To make it through the winter in case of full disruption of Russian gas […] we have to reduce our consumption"

She proposes: A) 15% cut in demand, and B) that all EU countries share gas flows

— Javier Blas (@JavierBlas) July 20, 2022
 Translation 15% cut for the EU citizens, so this winter it will be very cold, burn what you have or chop trees down. we don't care
 Europe still on edge over the risk of an extended Nord Stream shutdown in 24 hours, moments ago Russian President Vladimir Putin eased tensions when he said that Russia would fulfill its commitments to supply natural gas to Europe, but he warned that flows via the Nord Stream pipeline could be curbed soon if sanctions prevent additional maintenance on its components.
Translation: as we predicted, Putin will resume NS1 flows, but at levels at or below the pre-repair "new normal" of 40%.
Source: zerohedge.com
9.4%: UK Inflation Surges to 40-Year High… Food up 9.8%, Fuel 42.3%
 
Pending sales in California plunged by 40.6% in June from a year ago, according to the California Association of Realtors (C.A.R.). Listings that went pending in June are expected to turn into closed sales in July, or at least many of them, and given the 40% plunge in pending sales in June, closed sales in July are going to be interesting. The discussion below is about closed sales in June.
Closed sales of single-family houses in California plunged by 8.4% in June from May and by 20.9% from a year ago. Closed sales of condos plunged by 27.0% from a year ago. Beyond the three lockdown months of 2020, June sales were the lowest since 2008.
All of the five regions had double-digit year-over-year sales declines – and in three of them, sales plunged by over 25%: Southern California, San Francisco Bay Area, and Inland Empire.
| | | |
| --- | --- | --- |
| Sales in June, % Change fr. year ago | Houses % YoY | Condos % YoY |
| California Sales | -20.9% | -27.0% |
|   | | |
| Southern California counties | -27.1% | -24.8% |
| Los Angeles | -20.6% | -18.1% |
| Orange | -36.1% | -28.9% |
| Riverside | -27.4% | -24.5% |
| San Bernardino | -27.5% | -3.3% |
| San Diego | -30.5% | -32.0% |
| Ventura | -22.6% | -3.4% |
|   | | |
| San Francisco Bay Area counties | -26.8% | -33.4% |
| San Francisco | -21.3% | -32.7% |
| San Mateo (Silicon Valley) | -31.3% | -33.1% |
| Santa Clara (Silicon Valley) | -31.4% | -37.9% |
| Alameda | -21.0% | -21.8% |
| Contra Costa | -31.0% | -38.5% |
Unsold inventory is suddenly coming out of the woodwork.
Active listing spiked by 64% year-over-year, to the highest since late 2019, and this occurred even as sales plunged:
San Francisco Bay Area: +61%
Southern California: +65%
Central Valley: 79%
Source: wolfstreet.com
E
Rep. Massie tells Pete Buttigieg that if the average household plugged in electric cars, it would take 4x more electricity to charge the cars as would be used on air conditioning. pic.twitter.com/Bd4lSo5BKX

— The Post Millennial (@TPostMillennial) July 19, 2022
Source: theconservativetreehouse.com
---
Political/Rights
Merriam-Webster also changed the definition of the word girl pic.twitter.com/5wkPcD9yJA

— Libs of TikTok (@libsoftiktok) July 19, 2022
The Capitol Police announced 34 arrests, including 16 members of Congress. 
The critical thing to note about this farcical display of phony civil disobedience, aided-and-abetted by play-acting Feds, is that it was all staged. How does one know? Because Ilhan Omar's communications/strategy adviser Jeremy Slevin, also arrested with the Democrats, gave the game away prior to the arrests.
"Members of Congress, including Ilhan Omar 

will be participating in a civil disobedience at the Supreme Court, potentially including arrests, shortly. 1 PM ET/12 PM CT," Slevin wrote.
The crucial thing about the "arrests" is that there are no mugshots. No actual handcuffs were used. The Capitol Police thus appear to be complicit in aiding in a Democrat propaganda campaign. These are the same Capitol Police who played a central role in the January 6 security debacle, particularly with its willingness to open doors to protesters and merely observe while the Capitol building was overrun.
The radical Democrats are now so brazen that they not only stage arrests for optics reasons, they brag about it openly before they do it. It's next-level propaganda to tell the audience ahead of time that it is all just one great big show.
Source: beckernews.com
In January 2020, Democrat mouthpiece and twit Alexandria Ocasio Cortez (D-NY) demanded that Senator Josh Hawley resign immediately for raising a fist to supporters during protests on January 6 against the stolen election.
Hey Sen @HawleyMO, I hate to break it to you, but this is, in fact, you.

You raised your fist in solidarity with white supremacists who attacked our Capitol.

While you may politically regret what you've revealed about yourself, you still have no place in public office.

Resign. https://t.co/Cduo5W35ds pic.twitter.com/Owx4C8iAHY

— Alexandria Ocasio-Cortez (@AOC) January 15, 2021
Then on Tuesday, during her fake handcuffed arrest outside of the Supreme Court, Alexandria Cortez raised a fist in solidarity with abortion activists.
AOC was not alone with her offensive gesture.
The entire Squad was pictured with raised fists outside of the Supreme Court.
Resign Now!
Source: thegatewaypundit.com
House Democrats  demanded legislation to add four seats to the Supreme Court in hopes of moving the judicial body away from its current conservative slant.
The lawmakers made their push at a press conference hosted by the Take Back the Court Action Fund on Monday.
The measure is unlikely to become law as Democrats will likely be unable to clear the filibuster's 60-vote threshold in the Senate in the face of stiff Republican opposition.
Democrats and the deep state tried to bring down President Donald Trump for colluding with a foreign regime against the interests of the United States.
Now we all know it wasn't Trump, it was Joe Biden and the Biden Crime Family all along.
On December 14, 2018 at 10:41 AM Hunter Biden sent this text message to his brother's widow Hallie Biden who he was now dating:
Kanekoa reported on this explosive text message today on Substack – You can join here.
Kanekoa writes:
This single text message found on Hunter's laptop raises many important national security concerns for the United States.

Why was Hunter Biden helping Vladimir Putin sell oil & gas to China?

Why was Hunter Biden working with 'the chief of intelligence of the people's republic of China'?

Why was Hunter Biden's business partner with 'the richest man in the world' who was building China's Belt and Road Initiative?

Did China arrest CIA operatives in retaliation for the DOJ arresting Hunter's business partner?

Founded in 2002, CEFC China Energy Company Limited (CEFC China) was the largest private oil and gas company in China when Hunter Biden began doing business with them in 2017.

As Hunter explained to his business partner Tony Bobulinski in text messages, he spoke with the Chairman of CEFC China Ye Jianming on a "regular basis" because they had "a standing once a week call as I am also his personal counsel (we signed an attorney client engagement letter) in the U.S."

Hunter also said he was advising CEFC's Chairman "on a number of his personal issues (staff visas and some more sensitive things)."
Source: thegatewaypundit.com
Department used last-minute privacy concerns to halt release, then ignored direct order from president to make memos public.
In the final hours of the Trump presidency, the U.S. Justice Department raised privacy concerns to thwart the release of hundreds of pages of documents that Donald Trump had declassified to expose FBI abuses during the Russia collusion probe, and the agency then defied a subsequent order to release the materials after redactions were made, according to interviews and documents.
The documents that Trump declassified never saw the light of day, even though they were lawfully declassified by Trump and the DOJ was instructed by the president though Meadows to expeditiously release them after redacting private information as necessary.
Source: justthenews.com
Who has the declassified documents, who presented these docs to the GJ, will he go public with all of this, of course, timing is everything.
9 million new illegal aliens will be in America by the end of Biden's first term.

No sane country would allow this to happen.

— Charlie Kirk (@charliekirk11) July 20, 2022
---
Geopolitical/Police State
Jose Alba is a bodega worker who was at the cashier's desk of a New York City bodega (a small grocery store that typically sells the sort of food you'd find in a gas station convenience store) when he was viciously attacked by a man who circled around the back of the cashier's desk.The security camera footage made it look clear cut: Alba, when he stabbed the attacker to death, was clearly acting in self-defense. The man had attacked him from behind, instigating the violence and clearly putting Alba in fear of his life, leaving him with no room to retreat because he was cornered behind the cashier's desk.
Well, in any red state it would have been treated as a clear case of self-defense because that's what it was. But, unfortunately for Alba, it took place in New York City, where the government goes soft on criminals but casts a wary eye at those law-abiding citizens that want to defend themselves from the predations of thugs.
And so the DA's office brought second-degree murder charges against Alba for what was obviously a case of self-defense, trying to lock him up despite not locking up the criminals that prowl the streets of the formerly great city!
Well, fortunately, the case was clear cut enough and the public outcry against the murder charges loud enough that DA Bragg's office dropped the murder charge, as his office told Fox News, saying:
 
Source: trendingpolitics.com
Legal gun carry is banned and/or restricted in almost every location where mass shooters choose to strike. Now ask yourself why they choose those locations. https://t.co/N9HkqyLvLT

— NevilleTheCat (@FearTheFloof) July 20, 2022
---
War
Check out this live broadcast from RT going over the escalating allegations pertaining to the DNC biolabs in Ukraine!
Now, according to Russian MIL, the labs are connected to NUCLEAR weapons!
Biolabs story slowly creeping into Russia State sponsored media, here in the US!
Remember why the Biden admin banned RT? This is why.
It's happening folks. Whether you choose to believe it or not. ITS FUGGIN HABBENING!!!
Biden's National Security Council Spokesman, John Kirby, claims that an Iran deal will end up lowering the price of gas in the US. 
Source: thegatewaypundit.com
We're staring down a war with the Russians, yet:

1) The Army is cutting the size of its force
2) 250K+ troops face discharge (vaxx mandate)
3) 60K National guard troops are suspended (mandate)
4) Weapons stores are being depleted (Ukraine)

What is going on?

— Rosie's No Refund Policy (@DarnelSugarfoo) July 20, 2022
---
Cyber Attacks
---
False Flags
 the San Diego Unified School District (SDUSD) officially reinstated its mask mandate for all students and staff members, effective immediately. The restrictions will apply to all summer school facilities and remain in place through the end of summer, at a minimum.
In a letter sent to students, parents, and staff on Friday, SDUSD explained that the changes come in response to a renewed rise in Covid cases across the country.
 
From the SDUSD:
Source: thegatewaypundit.com
Forced masking is BACK in California.

Leftist states cannot help themselves — they are philosophically addicted to mandates & restrictions.

In Florida, we know what freedom looks like, & this isn't it. We will never allow the Left to seize power & impose mandates on Floridians. pic.twitter.com/a9sSsDHU8X

— Ron DeSantis (@RonDeSantisFL) July 19, 2022
2/ Given that health authorities now agree the shots do not stop infection and have effectiveness against Omicron lasting months at most, the risk-benefit profile is absurd. Any other therapeutic would already have been pulled from the market or had its use severely restricted…

— Alex Berenson (@AlexBerenson) July 20, 2022
4/ Please don't compare these to the flu shot. At this point they are even LESS effective and far more dangerous. And as they have not a prayer of inducing herd immunity their risks and benefits should be managed individually, ie by prescription.

— Alex Berenson (@AlexBerenson) July 20, 2022
---
Q
BREAKING REPORT: Biden-Appointed US Attorney Who Dropped Charges on Colbert's Crew is Also Prosecutor Investigating January 6…

— Chuck Callesto (@ChuckCallesto) July 19, 2022
It was a 'bombshell' revelation that fizzled as quickly as it had blown up in the mainstream media: Former President Donald Trump had allegedly attempted to hijack 'the Beast' and commandeer it for a one-man rescue operation to assist his unarmed cadres at the Capitol building to somehow overturn the 2020 election.
But nearly as soon as the claim came out of the mouth of the January 6 committee's 'star witness' Cassidy Hutchinson in late June, Secret Service agents began lining up with offers to testify that her narrative was completely bogus and without merit.
Now, there is a 'convenient' wrinkle in the story: The Secret Service texts that would prove that Hutchinson's story was entirely fictional have disappeared.
"
Source: beckernews.com
This should be a massive scandal: "Secret Service agents, many of whom protect the president, vice president and other senior government leaders, were instructed to upload any old text messages involving government business to an internal agency drive before the reset…

— Julie Kelly 🇺🇸 (@julie_kelly2) July 19, 2022
This isn't a coverup of debunked story that Hutchinson gave about an altercation with Trump. This is a coverup of comms btw Secret Service and other agencies and officials (Harris?) about what went down on January 6. We will see how outraged J6 committee and propagandists get

— Julie Kelly 🇺🇸 (@julie_kelly2) July 19, 2022
I want the Secret Service tapes far more than the Unselect Committee of political Hacks and Thugs in that ridiculous and libelous story of me supposedly choking a big and strong Secret Service Agent around the neck while in the Beast (wrong car!) would be shown to be, as the Secret Service has already confirmed, Fake (and Fraudulent!). Likewise, there was no throwing of food, and I did not want to be surrounded by strangers "with guns" during my "Peacefully & Patriotically" speech. Fake News!
In January Fulton County Georgia District Attorney Fani Willis requested a special grand jury in her investigation into  Trump 
Fani Willis based her investigation on President Trump's call with Georgia officials that was later doctored and leaked to the fake news outlet Washington Post.  The WaPo published a completely fraudulent text of the call.  These phony charges have already been debunked
Again — Willis and her handlers are investigating a now-infamous call between former President Trump and Sec. of State Brad Raffensperger, in which Trump pressured the Georgia SOS to uncover what he insisted was fraud that would overturn Georgia's election results. 
Source: thegatewaypundit.com
My two Georgia phone calls were PERFECT. In fact, the Washington Post apologized for its incorrect mischaracterization of one of the calls after hearing it on tape. The other call was made with many lawyers and

others knowingly

on the line. It was a Constitutionally permitted challenge to what I consider to be a corrupt election. It is the election itself that should be under investigation, not those seeking the truth!
Just over 14 percent of the money that Democrat gubernatorial candidate Stacey Abrams has received has come from inside the state, a report released Thursday from Axios found.
Source: breitbart.com
Congratulations to Dan Cox. NBC Fake News just called the race, but in this case the reporting wasn't Fake (for a change!).
  
Washington State Democrats are furious after Republican activists announced they are organizing surveillance teams to record ballot drop boxes in the state.
For years since Washington state, like its neighbor Oregon, started their mail-in ballot schemes NO REPUBLICAN has won statewide office for some reason.
Better yet — Democrats in the state passed legislation that allows people to drop off legal mail-in ballots for other voters with no restrictions. And you wonder why Democrats keep winning?
But now Democrats are very worried that their ballot traffickers will be caught on camera like in the battleground states in 2020.
 Democrats are using the old stale line that this is "voter intimidation".
Always remember: To Democrats – securing elections = voter intimidation.
[PANIC IN DC]
If you witness members of ANTIFA or any other people or organizations stationed at 'key' voter locations making threats or attempting to use scare tactics [voter intimidation] please contact local authorities immediately and report the incident(s).
Internal comms suggest preparations are being made and organized to conduct a 29+ location push [battleground locations].
See Something
Say Something
Uniformed and Non-Uniformed personnel will be stationed across the country in an effort to safeguard the public.
If you witness anything out of the ordinary with regards to staff, officials, machinery & equipment failures and/or malfunctions, unusual 'grouping' [buses dropping off people w/ guide and/or instructor], voter prevention [blocking], or other suspicious activity please contact local authorities immediately and report the incident(s).
See Something
Say Something
[take a picture and/or video only when safe to do so]
Q
Source: thegatewaypundit.com
So what's Speaker Robin Vos doing on the Great Wisconsin Supreme Court Ruling declaring hundreds of thousands of Drop Box votes to be illegal? This is not a time for him to hide, but a time to act! I don't know his opponent in the upcoming Primary, but feel certain he will do well if Speaker Vos doesn't move with gusto. Robin, don't let the voters of Wisconsin down!
Is it starting to make sense now as to why the Left began the propaganda campaign via the Russia Narrative back around 2014-2015? Why they label everything they don't like as "Russian Disinformation"?
The Deep State knew this day would come. They knew Putin knew about their malevolent activities in Ukraine. Russia witnessed the US use their power to take over Ukraine via Colour Revolution in 2014, and cause mass unrest and civil war that continues to this day. The Deep State knew that if an outsider like Trump got into office, that the allegations from Russia would eventually come to light, and their crimes against humanity would be exposed.
And now that I look back, Trump seems to have a stellar relationship with all the Leaders of the BRICS nations. Who have now all come out in support of Russia and their accusations against SPECIFICALLY against the US DNC/Liberal Globalists and their biological malfeasance in Ukraine.
Let's take a look shall we.
Trump and Putin with the iconic passing of the football.  Putin knows where the bodies are buried.
Trump and Xi at the iconic Forbidden City, with which outsiders are not allowed. Xi made an exception for Trump and Melania. Trump may attack China in the media, but he and Xi are very friendly. Keep in mind other countries have Deep State infiltration as well. China's actions don't necessarily represent Xi, just as much as the US' actions in Ukraine don't represent Trump.
Trump and Bin Salman, the Saudi Crown, and the iconic sword dance, only reserved for after "military victories". Trump has a stellar relationship with Bin Salman and they have completely reversed the US relations with Saudi Arabia. A
Trump and Brazilian President Bolsanoro, who is incredibly red-pilled, anti-globalist, and he LOVES himself some Trump. You don't see world leaders greeting Biden like this. That's real happiness.
Trump and Indian Prime Minister Modi. With which Trump has a phenomenal relationship as well. Lots of warm embrace and true diplomacy between the two. Their friendship is well documented and widely adored. You ever seen anyone hug Biden or Obama like that?
Do we think it's a coincidence that Trump is buddy buddy with the BRICS leaders,
Source:  bioclandestine.substack.com
Putin predicts 'revolutionary' changes
Only "truly sovereign" states will succeed after "enormous" geopolitical transformations, the Russian leader claimed
A new epoch of world history is approaching and only "truly sovereign" states will be able to succeed in the changed environment, Russian President Vladimir Putin said on Wednesday.
Speaking at a business forum, Putin claimed that "truly revolutionary," "enormous" changes would lead to the creation of a new, "harmonious, fairer and more community-focused and safe" world order. In this new epoch, "only truly sovereign states can ensure high growth dynamics," he said.
By the term 'sovereignty' the Russian president means "freedom of national development, and thus of each person individually," as well as "technological, cultural, intellectual, educational viability of the state" and a "responsible, active and nationally minded, nationally oriented civil society." 
Such a state, the president said, will serve as an example for others when it comes to "the standards and quality of people's life, the protection of traditional values and high humanistic ideals." 
This kind of world is in sharp contrast to the Western-dominated unipolar world order, which, in Putin's opinion, is "becoming a brake on the development of our civilization."
He accused the West of being "racist and neo-colonial," saying that its ideology "is becoming increasingly more like totalitarianism."
The president argued that despite attempts by Western elites to preserve the existing world order, the changes are "irreversible."
Putin has been discussing the end of the "unipolar" world for a long time. In his famous 2007 Munich Security Conference speech, the Russian president said that "the unipolar world that had been proposed after the Cold War did not take place." He explained that a world of "one master, one sovereign" is destructive not only for everyone within the system but also for the sovereign itself. He accused the US of neglecting the "basic principles of international law" and stressed that "unilateral and frequently illegitimate actions" had never solved any problems.
In May, Russian Foreign Minister Sergey Lavrov expressed hope that his country's military offensive in Ukraine, when completed, would force the Western nations "to stop promoting the so-called unipolar world under the dominance of the United States and its allies."
The idea of a new "multipolar" world has been discussed in the West, too, most recently by German Chancellor Olaf Scholz.
However, following Moscow's offensive in Ukraine, the West declared its intention to "isolate" Russia and imposed tough sanctions on it. Russia views these actions as another manifestation of Western attempts to "contain" it and maintain the existing world order.
Source: rt.com
Q

 

!CbboFOtcZs

 

ID: a4b4d3

 No.2265275

You are witnessing/watching the systematic destruction of the OLD GUARD.
POWER WILL RETURN TO THE PEOPLE.
Q
Q

 

!CbboFOtcZs

 

ID: 1dc9cb

 No.2282104

Q

 

!CbboFOtcZs

 

ID: 1dc9cb

 No.2282049


— That whenever any Form of Government becomes destructive of these ends, it is the Right of the People to alter or to abolish it, and to institute new Government, laying its foundation on such principles and organizing its powers in such form, as to them shall seem most likely to effect their Safety and Happiness. Prudence, indeed, will dictate that Governments long established should not be changed for light and transient causes; and accordingly all experience hath shewn that mankind are more disposed to suffer, while evils are sufferable than to right themselves by abolishing the forms to which they are accustomed. But when a long train of abuses and usurpations, pursuing invariably the same Object evinces a design to reduce them under absolute Despotism, it is their right, it is their duty, to throw off such Government, and to provide new Guards for their future security. —
Q
Di5V9BRW4AE1Wz9.jpg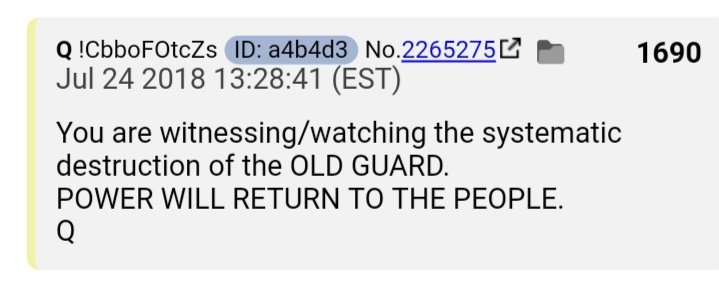 >>2282049
Q

 

!!mG7VJxZNCI

 

ID: 6b697b

 No.7136147