The [DS] Lost Narrative & Power, Patriots Ready To Move The Next Chess Piece – Ep. 2784
Watch The X22 Report On Video
The economy is heading right into a recession, optics are perfect, the puppet masters will take the fall. While the economy is falling apart, something else is on the horizon, it's a ticking time bomb, the subsidies for Obamacare end and if congress doesn't do something people will need to pay double or triple for health insurance. Oil companies are not helping power bitcoin mining. The [DS] is trapped by their lies, Durham has them exactly where he wants them, the evidence has been produced, the lies have been revealed. Let's see what happens. The patriots are ready to move the next chess piece, the [DS] has lost the narrative  and power and they are panicking, the [FF] are not going the way thought they were going to go, the people are not with them. [DS] ready to use the rest of their ammo to stop what is coming.
---
Economy
After new- and existing-home sales tumbled, it should have been no surprise that pending home sales dropped in April. The 3.9% MoM decline was almost double the 2.1% drop expected and is the 6th straight monthly decline in sales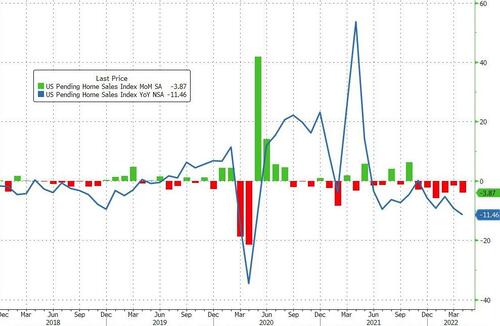 Source: Bloomberg
Pending home sales are now down 11.5% YoY – the biggest YoY drop outside of the great financial crisis (ex COVID lockdowns and the homeowner tax credit anomalies in 2010).
"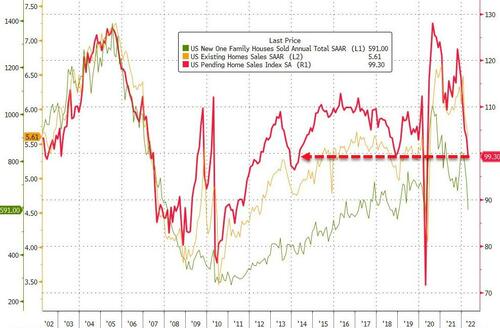 Contract signings fell in all regions but the Midwest.
None of this should be a surprise since soaring mortgage rates along with ever-increasing home prices has sent affordability crashing to 20 year lows…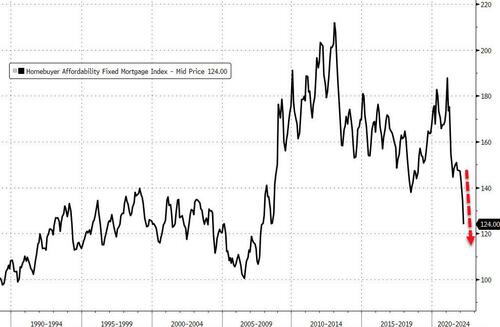 Source: zerohedge.com
 After the Atlanta Fed reported yesterday that it had cut its Q2 GDP nowcast to 1.8% from 2.4%, meaning that we are just 1.8% away from a full-blown technical recession after last month we learned that Q1 GDP unexpectedly tumbled deep in the red…
  the US economy slowed even more than expected, with Q1 GDP contracting -1.5%, up from the -1.4% initially reported, and missing estimates of a modest bounce to -1.3%.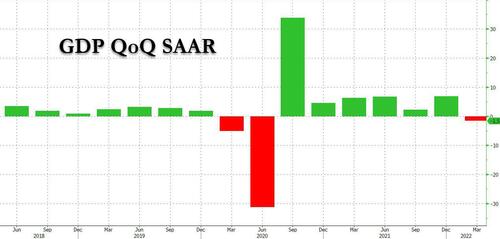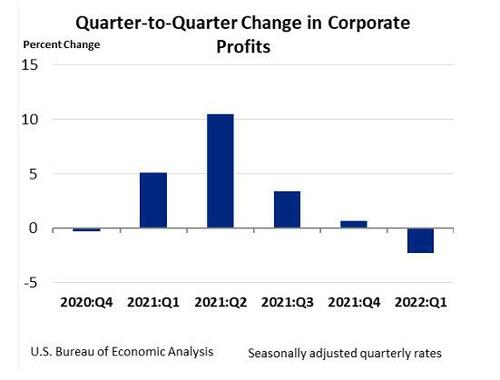 Bottom line: the contraction in Q1 – which nobody expected – was even worse, and now that Q2 indicators are suddenly slumping,
Source: zerohedge.com
Congressional Democrats have yet another thing to worry about going into this year's midterm elections.
  Obamacare, is set to expire unless Democrats can revive a reconciliation bill that extends the financial assistance past the end of the year. And that means striking a deal with Sen. Joe Manchin (D-WV).
If they can't, roughly 13 million Americans will be hit with steep price hikes amid crippling inflation, in what Insider describes as a "time-bomb."
Voters are set to receive notices about premium increases in late October, as they head to the ballot box for the November midterms. Others would find out during the ACA open enrollment period, which begins on November 1.
"If Congress lets the ACA premium help in the American Rescue Plan expire at the end of this year, middle-class people buying their own insurance would be hit hardest," tweeted Larry Levitt, vice president for health policy at the Kaiser Family Foundation.
A middle-class couple of 50 year-olds making $75,000 got no premium help under the ACA because they made too much to qualify.

Under the American Rescue Plan, they're getting an average premium subsidy of $8,304 per year, paying $6,375 themselves.https://t.co/AKNfHlXwIi pic.twitter.com/J4vKLW97WN

— Larry Levitt (@larry_levitt) May 20, 2022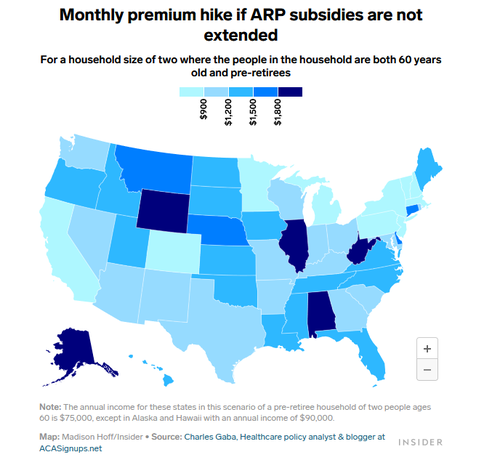 Americans who make just enough to lose access to government help would feel the brunt of the increases. "If you're in that situation, you'd see all financial aid removed and your net cost would increase pretty dramatically," said Gaba.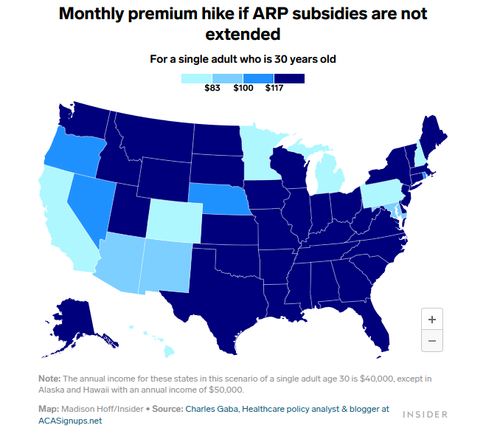 Those who make under 150% of the federal poverty level – $19,320 for singles and $39,750 for a family of four – would also end up paying more if the ACA assistance lapses.
Source: zerohedge.com
In 2021, ExxonMobil reported annual revenue of more than $285 billion with global daily production during the same period reaching more than two million barrels per day of oil and gas. This titan of the oil industry is also reportedly working with a bitcoin mining company in North Dakota to turn otherwise wasted gas into energy for mining operations.
Exxon is far from the only oil company dealing with miners.
Source: bitcoinmagazine.com
---
Political/Rights
Kevin Spacey faces sex assault charges in the UK: Actor, 62, is accused of attacking three men in London and Gloucestershire between 2005 and 2013 when he was artistic director at the Old Vic
Spacey, 62, is accused of a series of sex attacks on three men in eight years
First alleged victim claims he was sexually assaulted twice in March 2005
Second man has told prosecutors he was sexually assaulted and then forced to engage in a sex act against his will in 2008
Third man said he was sexually assaulted in April 2013 in Gloucestershire
No court date has been set. The CPS could not confirm if Spacey, who has homes in Britain and the US, will need to be extradited to the UK. 
Source: dailymail.co.uk
Rodney Joffe was a confidential FBI source who worked on Russia-related matters.  This was confirmed  in evidence supplied in the case against Michael Sussmann. 
 (Durham) ended their arguments in their case against Hillary attorney Michael Sussmann and the defense took over.  There were some shocking news that the defense brought up almost immediately about Rodney Joffe.
The New York Post reported in September 2021 on Joffe who was then identified in the Sussmann case:
Joffe, who's not accused of any wrongdoing, "retained Sussman as his lawyer" in February 2015 in connection with an unspecified "matter involving an agency of the US government," according to the indictment.

 

Sussman's indictment is part of special counsel John Durham's probe of the FBI investigation into claims that Trump's campaign colluded with Russian officials.

Joffe's LinkedIn profile says he retired earlier this month as senior vice president and security chief technology officer at Neustar Inc., a Reston, Va.-based company that provides various internet-related services and products to more than 8,000 commercial and government clients around the world.
Techno Fog reported that a witness yesterday reported that IT specialist Rodney Joffe worked for the FBI as a source and he worked on Russia-related matters in the past as well.
Today we saw some important testimony in the Michael Sussmann case. First, Rodney Joffe, an FBI confidential human source, went around his FBI handler to relay dubious Alfa Bank information to a friend at the FBI. Second, there were indications that Joffe previously worked on Russia cyber security matters.
Neustar, the company that Rodney Joffe worked for, paid out 3+ million dollars to Perkins Coie, the lawfirm that Michael Sussmann worked at and headed up all the Clinton campaign disinformation campaign, be it the Steele Dossier or the Alfa Bank nonsence.  And Joffe was the lead guy at Neustar pushing the Alfa Bank material. So now that's a multimillion dollar plan of action that's been shown in court today.
Patel  discussed how Sussman billed the Clinton campaign for the thumb drives he used to pass information on to the FBI.  Then they discussed in another Truth post the following where Patel shares:
Today the most significant development for me, Rodney Joffe it's been disclosed was an actual source of the FBI for years.  That means he was on the books, had a contractual relationship with the FBI and was getting paid by the FBI.  He was the Christopher Steele of the Alfa Bank narrative.  

More importantly, it was shown that Rodney Joffe was fired as a source from the FBI, just like Christopher Steele.  And it was shown that Rodney Joffe had a cutout in this FBI Agent's Grosso's testimony.  This is unbelievable.  It violates every rule of source handling I've ever encountered when I was a federal prosecutor, and a federal public defender, and there's so much more to untangle in this web.
Source: thegatewaypundit.com
 Sussmann's evidence indicates that the FBI knew the information coming from Sussmann was garbage and they ran with it anyway.  The FBI knew the information was coming from Hillary Clinton's campaign.  They were all in on it. 
Source: thegatewaypundit.com
Donald Trump must testify under oath in New York Attorney General Letitia James' witch hunt probe into the former president's business practices.
In February, state Judge Arthur Engoron ruled that former President Trump and his two children, Ivanka and Don Jr., must testify in New York Attorney General Letitia James' investigation into Trump's business practices.
President Trump's lawyers appealed the ruling.
A state appeals court on Thursday upheld Manhattan Judge Engoron's February ruling.
President Trump could still appeal this ruling to New York's Court of Appeals.
Source: thegatewaypundit.com
---
Geopolitical/Police State
Facebook's first big 'angel' investor, billionaire Peter Thiel, is 'stepping down from Meta's board effective immediately' to pursue Trump agenda
Thiel is leaving the board after 17 years  
Thiel became Facebook's first outside investor in August 2004 with $500,000
He donated $1.5 million in support of Trump in 2016 and spoke at the RNC 
source: dailymail.co.uk
(Of Twitter)

— Elon Musk (@elonmusk) May 26, 2022
I'm a fan of Jack btw. Wish he would stay on the board, but I understand that he needs to move on.

— Elon Musk (@elonmusk) May 26, 2022
Texas Authorities Release Statement on Law Enforcement Response to Mass Shooting in Uvalde – Police Arrived 4 Minutes After Shooting Began (VIDEO)
The teenage madman who slaughtered 19 kids and two teachers in a Texas school spent more than 40 minutes inside as witnesses desperately urged police to charge into the building, it was ­revealed Wednesday.
"There was at least 40 lawmen armed to the teeth but didn't do a darn thing [until] it was far too late," Cazares, the father of 10-year-old
Source: nypost.com
 Same thing happened in Columbine and Parkland.
President Joe Biden suggested Thursday that Americans were purchasing guns like AR-15s for the sake of killing people.
"What in God's name do you need an assault weapon for except to kill someone?" he asked during his speech reacting to the school shooting in Texas.
The president repeated his talking point that owners of "assault" weapons like an AR-15 did not need them for hunting unless the deer were wearing "Kevlar" body armor.
"It's just sick," Biden concluded.
Source: breitbart.com
President Joe Biden   claims the Second Amendment allows for limitations on firearm ownership.
"While they clearly will not prevent every tragedy, we know certain ones will have significant impact and have no negative impact on the Second Amendment. The Second Amendment is not absolute. When it was passed you couldn't own a cannon, you couldn't own certain kinds of weapons. There's always been limitations. T
Source: dailycaller.com
REVEALED: Uvalde school district was part of AI program that rooted out potential mass killers and monitored social media for threats and potential shooters
Texas school officials had been monitoring students' social media prior to the deadly shooting in Uvalde Tuesday – but failed to pick up on posts from gunman
 
Uvalde School District officials say they had been monitoring its students' social media pages using an advanced AI-based service called Social Sentinel
The software is designed to find signs of potential harm in digital conversations
Source: dailymail.co.uk
Despite their best attempts, America has become MORE Pro-2A over the last 20 years. This is a rarely mentioned victory conservatives should appreciate and study.

— Charlie Kirk (@charliekirk11) May 25, 2022
The majority of voters support arming teachers and school staff with concealed firearms, a Politico/Morning Consult poll found Thursday.
Fifty-four percent either strongly or somewhat support the arming of teachers and staff to respond to a school shooting. Just 35 percent either somewhat or strongly oppose the measure:
Strongly support 31 percent
Somewhat support 23 percent
Somewhat oppose 15 percent
Strongly oppose 20 percent
Source: breitbart.com
Although events in the U.S. tend to get the lion's share of media exposure, mass shootings are clearly a worldwide issue.

The US makes up about 1.15% of the world's mass shootings while having almost 5% of the world's population. pic.twitter.com/ZveoRG8InU

— Andrew Follett (@AndrewCFollett) May 25, 2022
4 times as many per capita died in mass shootings in FRANCE as in the US. 21 times in Norway.

In addition to those fairly nice nations, Finland, Germany, Israel, Italy, Spain, and Switzerland have higher mass shooting death rates. pic.twitter.com/pfFck8vW6m

— Andrew Follett (@AndrewCFollett) May 25, 2022
According to this 2018 study (surveying data over an 18 year period), the US is 64th in the world in terms of mass shooting rates per capita (which sounds far worse than it is…because all the countries in gray below didn't report data.) https://t.co/VHcQAgkl3n

— Andrew Follett (@AndrewCFollett) May 25, 2022
2: The highest gun-ownership state with the loosest gun laws in the nation is Wyoming, where 59.7% of households have a gun (really!)

Wyoming gun laws are arguably the LEAST restrictive in the United States.https://t.co/bCTb9o0CX8

— Andrew Follett (@AndrewCFollett) May 25, 2022
The highest murder rate of any jurisdiction in the US is Washington, DC, which has a murder rate of 21.8 per 100,000… more than twenty times that of most European countries!

— Andrew Follett (@AndrewCFollett) May 25, 2022
I'd say that data suggests that the factors making DC have such high gun violence rates are part of the story of why America as a whole is so deadly, but these cannot include high gun ownership or a lack of gun regulation…by definition.

— Andrew Follett (@AndrewCFollett) May 25, 2022
The factors making DC so deadly are part of the story of why America as a whole is so deadly, but these cannot include high gun ownership.

Facts don't care about your feelings.

— Andrew Follett (@AndrewCFollett) May 25, 2022
The same thing is true of ALL the cities with REALLY BAD gun homicide rates.

In 2019:

St Louis, 64.54 murders per 100k, last GOP Mayor left in 1949

Its the 9th most violent city in the world. pic.twitter.com/LIJhKVsyI7

— Andrew Follett (@AndrewCFollett) May 25, 2022
Thomas Jefferson,   In commenting upon how the Constitution should properly be read, he said:
"On every question of construction let us carry ourselves back to the time when the Constitution was adopted, recollect the spirit manifested in the debates, and instead of trying what meaning can be squeezed out of the text, or invented against it, conform to the probable one which was passed."
Yet despite this clear evidence, gun control and prohibition proponents attempt to squeeze out of the text of the Second Amendment the meaning that only a "collective" ― not an individual ― right is guaranteed by the amendment. They argue that the words of the amendment allegedly apply only to the group in our society that is "well regulated" and "keeps and bears arms," the National Guard. But they are wrong.
David I. Caplan, who has examined this issue in depth, provides this analysis:
"In colonial times the term 'well regulated' meant 'well functioning' ― for this was the meaning of those words at that time, as demonstrated by the following passage from the original 1789 charter of the University of North Carolina: 'Whereas in all well regulated governments it is the indispensable duty of every Legislatures to consult the happiness of a rising generation…' Moreover the Oxford English Dictionary defines 'regulated' among other things as 'properly disciplined;' and it defines 'discipline' among other things as 'a trained condition.'"
Privately kept firearms and training with them apart from formal militia mustering thus was encompassed by the Second Amendment, in order to enable able-bodied citizens to be trained by being familiar in advance with the functioning of firearms. In that way, when organized the militia would be able to function well when the need arose to muster and be deployed for sudden military emergencies.
Therefore, even if the opening words of the Amendment, "A well regulated militia…" somehow would be interpreted as strictly limiting "the right of the people to keep…arms"; nevertheless, a properly functioning militia fundamentally presupposes that the individual citizen be allowed to keep, practice, and train himself in the use of firearms.
The National Guard cannot possibly be interpreted as the whole constitutional militia encompassed by the Second Amendment; if for no other reason, the fact that guardsmen are prohibited by law from keeping their own military arms. Instead, these firearms are owned and annually inventoried by the Federal government, and are kept in armories under lock and key.
---
War
Ousted Pakistani Prime Minister Imran Khan and his huge protest convoy have entered the Punjab on their way to the capital city, Islamabad.
Imran Khan supporters describe the current government a Biden administration "imported regime."
The protest convoy goes on for miles.
Source: thegatewaypundit.com
The  Washington DS Used the bought-and-paid-for Pakistan Military to Overthrow the Imran Khan Government and Now Have Rebellion on their Hands
---
Cyber Attacks
---
False Flags
 
Around 520 military service members filed a suit on Monday against the government.  Their primary argument is that the vaccine mandate is illegal because there is no approved vaccine available in the US. This means that approximately 55% ( amount vaccinated since the August 23, 2021 mandate from the Secretary of Defense (SecDef) ) of the military have been vaccinated illegally and under duress.
See the court filing below.
This case comes after last week's ruling where a Navy Officer was found innocent of wrongdoing when he didn't take the COVID vaccine.  The Officer in the case, LT Bill Moseley, claimed he had the duty to not take the vaccine since the one administered by the military was not approved by the FDA.
 Source: thegatewaypundit.com
Were fears about asymptomatic Covid spread overblown? Infected people without symptoms are TWO-THIRDS less likely to pass virus on, study finds
Scientists analysed data from over 28,000 Covid infections from 42 countries
Cases were from towards the start of the pandemic in April 2020 up to July 2021
They found asymptomatic people were less-likely to spread the virus to others
 
  global study spanning 42 countries, including the UK and US, found they were only responsible for as little as 14 per cent of cases.
Source: dailymail.co.uk
---
Q
The banana republic of Pennsylvania officially ordered a recount in the GOP Senate Primary race in the state.
Dr. Mehmut Oz leads by less than 1,000 votes over Dave McCormick. They are still counting votes 8 days after the primary election.
They still don't have all of the votes counted. Are they still coming in?
Source: thegatewaypundit.com
The GOP primary numbers are funny because the votes were rigged
Let's begin with a basic truth that most of the corporate media continually ignore or obscure: President Trump's endorsement is the single most powerful force in the universe of American politics. There's never been anything quite like it. Trump-endorsed candidates overwhelmingly prevailed in the latest GOP primaries by a margin of 24-4. In fact, President Trump is running the table on the GOP establishment in the 2022 races. His record stands at 92-7 at the moment.
Trump's endorsement basically won the race for JD Vance in Ohio, and for Ted Budd in North Carolina. In Pennsylvania, his endorsement did the same thing for Doug Mastriano in the governor's race. This has happened again and again in 2022. Remember, Trump's record is 92-7.
That's what makes the primary results in Georgia last night so curious and so suspect.
Georgia is the only state where President Trump's endorsements did not count.
Sure, Georgia is an open primary state — Democrats are allowed to vote in the GOP primaries there — but that's not the real story. Look at the RCP polling average: Brian Kemp was getting 52% of the votes and his main challenger, David Perdue, was getting 38% of the votes just before the race.
On Primary Day in Georgia, Kemp gets 74% and Perdue gets 22%. Nobody in any election in America gets 74% of the votes. Ever. It doesn't happen.
Obvious fraud.
---
Brian Kemp's funny numbers are not the only funny numbers in the Georgia primaries either. In the race for insurance commissioner, Trump-endorsed candidate Patrick Witt lost to a nobody named John King — and John King got 70% of the votes!
Now take a look at Patrick Witt's numbers county by county: he got the same percentage of votes in 122 out of 159 counties in Georgia.
Let me repeat: the same percentage. Patrick Witt gets the same percentage in deep blue counties as he gets in deep red counties. Uniform numbers.
A month ago, the University of Georgia conducted a poll of Georgia's Republican voters found very different results that directly contradict these funny numbers. In fact, the University of Georgia was predicting that Trump-endorsed candidates were going to win almost everything — which is happening in every other state in the country right now.
Source:  emeralddb3.substack.com
Wonder if the left will be pissed when they find out we are using geospatial intelligence gathering techniques (like we did in Mules) to identify the unique devices of the thugs and haters outside the homes of the Supreme Court Justices?
Donald J. Trump@realDonaldTrump
Kellyanne Conway never told me that she thought we lost the election. If she had I wouldn't have dealt with her any longer – she would have been wrong – could go back to her crazy husband. Writing books can make people say some very strange things. I wonder why? Got 12 million more votes than we did the first time, the most votes, by far, of any sitting President. The election was RIGGED. They used Covid to cheat and steal, and the evidence is massive and indisputable. See "2000 Mules