The [DS] Woke The Sleeping Giant, Evil Is Embedded Globally, US Is The First Domino – Ep. 2714
Watch The X22 Report On Video
The [CB] is using the crisis in Ukraine to push the great reset/green new deal, this will backfire, especially when the event comes to an end. The World Bank is panicking, the moves the [CB] is making will push countries into real money and away from fiat. Structure change coming. The [DS]/fake news is pushing everything they have, but there is no war in Ukraine, Putin is removing the [DS] players. Globalism, marxism, communism is coming to an end. The [DS] woke the sleeping giant.  Evil is not just here in the US, it is embedded globally. The [DS] players are panicking, they know if Ukraine falls their funding dries up and its the end for them. The US is the first domino to fall, the storm is coming.
---
Economy
Sending Putin $36 million a day

The US imported 487,000 b/d of Russian petroleum products in the first 11 months of 2021 vs. product imports of roughly 2.4 million b/d. – EIA

"US reliance on Russian oil hits record high despite souring ties" – S&P Platts

(2)

— Lawrence McDonald (@Convertbond) February 26, 2022
Canada banning all imports of crude oil from Russia
SWIFT (Society for Worldwide Interbank Financial Telecommunication) is the global financial system that allows immediate and secure transfers of money across borders. It is the web that verifies all financial transactions. It links 11,000 banks and institutions in more than 200 countries, with 40 million messages a day. Using SWIFT ensures that transactions happen in seconds in a secure way. Around 1% of those messages involve Russian payments, according to the BBC.
As part of the West sanctions against Russia, its banks have been banned from the SWIFT system. Additionally, the United States and the European Union have announced restrictions on the Russian central bank that block access to more than $600 billion in reserves. The Bank of Russia reports that only 22% of its international reserves are US Dollars, while gold accounts for 23%.
What does this mean? On the one hand, the move aims to block all options of the central bank to defend its currency from plummeting even more against the US dollar or the euro. In recent years, the Russian central bank has been reducing its exposure to US treasuries and shifting from US dollar reserves to euro and yuan, as well as gold. Access to those reserves is more difficult now, and in the case of euro and yen, probably close to impossible.
 
However, Russian banks may bypass the SWIFT system and use other alternatives, mainly though a parallel system in China, called CIPS (Cross-Border Interbank Payments System), which facilitates transactions in yuan. According to CIPS, at  
Banning Russian banks from SWIFT may cripple many Latin American and Middle East economies that have deep financial connections with Russia, but there is a risk for the United States that the CIPS alternative, which is marginal at best today, grows rapidly.
The United States and Europe cannot fully ban SWIFT due to the importance of Russian oil, gas, metals, and wheat exports, and this may create numerous challenges that significantly limit the so-called "nuclear option". The Russian central bank's large gold reserves are also a differentiating factor compared to other economies.
 
Source: zerohedge.com
US imposes sanctions on Russian central bank
The Treasury Department  banned transactions with the Central Bank of Russia and the Russian foreign investment fund, imposing strict financial sanctions on a Russian economy already in free fall.
Source: thehill.com
 Russia's central bank  said it would resume buying gold on the domestic market from Feb. 28, as it undertakes measures to try and ensure financial stability during Western sanctions against Moscow for its invasion of Ukraine.
Earlier, Russian President Vladimir Putin ordered his military command to put nuclear-armed forces on high alert as fighting in Ukraine continued.
Source: theepochtimes.com
World's biggest crypto exchange refuses to block Russian accounts
Cryptocurrency exchange Binance refused to 'freeze' accounts of Russian users,
"We are not going to unilaterally freeze millions of innocent users' accounts," a spokesperson for Binance told CNBC on Monday.
"Crypto is meant to provide greater financial freedom for people across the globe. To unilaterally decide to ban people's access to their crypto would fly in the face of the reason why crypto exists," he added.
The platform's representative noted, however, that Binance will "take action against those that have had sanctions levied against them while minimizing impact to innocent users."
Separately, Jesse Powell, CEO of another major crypto platform, Kraken, said on Twitter that his company "cannot freeze the accounts of our Russian clients without a legal requirement to do so."
Source: rt.com
Source: theepochtimes.com
---
Political/Rights
Smollett was found guilty on 5 charges of disorderly conduct – one count for each time he lied to police following the hoax 'attack.'
Smollett was found not guilty on a 6th count of lying to a detective.
Smollet's defense lawyers on Friday asked a judge to toss out the conviction or grant him a new trial, arguing Smollet's constitutional rights were violated during the jury selection process. Smollett is set to be sentenced in two weeks and faces up to 20 years in prison.
The New York Post reported:
Source: thegatewaypundit.com
Richard Blum, the husband of Democratic California Sen. Dianne Feinstein, died Sunday at age 86 after a years-long battle with cancer, the senator announced.
Source: dailycaller.com
Feinstein talks with FBI about her husband's stock trades
Her husband, Richard Blum, is an investment banker who reportedly sold his shares in a biotech company in January before the coronavirus crisis sent the stock market into a tailspin. The transaction was reported in Feinstein's routine Senate financial disclosure forms, and her spokesman said at the time the senator has no involvement in her husband's stock trades.
The issue has come to the forefront in recent weeks as other senators have come under scrutiny for their stock trades, prompting allegations of insider trading. The 2012 STOCK Act prohibits lawmakers and aides from buying and selling stocks based on information obtained through their official duties.
 Sen. Dianne Feinstein has turned over documents to the FBI and answered questions from law-enforcement officials about her husband's controversial stock trades, a spokesman for the California Democrat said on Thursday.
Feinstein, a former chair of the Senate Intelligence Committee, spoke with the agency "voluntarily" and "provided additional documents to show she had no involvement in her husband's transactions," the spokesman added.
Feinstein has denied any wrongdoing in connection with the transactions.
Good morning from @speakerpelosi's House pic.twitter.com/WGlpnPEU6P

— Jim Banks (@RepJimBanks) February 28, 2022
Last week, the Biden Administration requested the assistance of State National Guards to deploy to Washington D.C. I have rejected this request — there will be no @FLGuard sent to D.C. for Biden's State of the Union.

— Ron DeSantis (@GovRonDeSantis) February 28, 2022
The AP pointed to polling and data to back up its diagnosis:
Only 29% of Americans think the nation is on the right track, according to the February poll from The Associated Press-NORC Center for Public Affairs Research.
In December's AP-NORC poll, most said economic conditions are poor and inflation has hit them on food and gas.
Most Americans are vaccinated against COVID-19, but debates over masks and mandates have torn apart communities and families.
Consumer prices over the past 12 months jumped 7.5%, the highest since 1982, as many pay raises were swallowed up.
Measures of happiness have hit a bottom, with fewer Americans saying they are very happy in the 2021 General Social Survey than ever before in five decades of asking them.
Source: breitbart.com
---
War
North Korea   fired what is believed to be a medium-range ballistic missile eastward toward the sea, according to Yonhap News Agency.
Reuters reported:
South Korea's Joint Chiefs of Staff reported that North Korea had fired a suspected ballistic missile toward the sea off its east coast from a location near Sunan, where Pyongyang's international airport is located. The airport has been the site of missile tests, including a pair of short-range ballistic missiles fired on Jan. 16.

The missile fired on Sunday flew to a maximum altitude of around 620 km (390 miles) and to a range of about 300 km (190 miles), the Joint Chiefs of Staff said.
 Source: thegatewaypundit.com
Brave Ukrainians are now on the frontline and risking their lives in an onslaught that reminds me of the siege of Budapest in 1944 and the siege of Sarajevo in 1993.

— George Soros (@georgesoros) February 26, 2022
Putin's actions are a direct attack on the sovereignty of all States that were once in the Soviet Union, and beyond. Russia is in clear violation of the United Nations charter and should be held accountable.

— George Soros (@georgesoros) February 26, 2022
Source: breibart.com
How much of the additional $6.4 billion Biden wants to send to Ukraine will make it back to Hunter Biden and the Clinton Foundation ? https://t.co/SpgVSz6sUn

— Thomas Massie (@RepThomasMassie) February 26, 2022
"I'm sure it's fair. I'm sure it's possible," Zelensky said in the video.
Source: dailycaller.com
Zelenskyy asks for immediate NATO membership, which is Ukraine asking for the U.S. to enter the fight. 
Despite bombing seven countries back to the Stone Age himself, Obama blasts Putin for invading one
The U.S. government website Ready.gov updated its Cold War-era nuclear fallout guidance to include the virtually useless masks and to be sure to social distance.
Get inside the nearest building to avoid radiation. Brick or concrete are best.

Remove contaminated clothing and wipe off or wash unprotected skin if you were outside after the fallout arrived. Hand sanitizer does not protect against fall out. Avoid touching your eyes, nose, and mouth, if possible. Do not use disinfectant wipes on your skin.

Go to the basement or middle of the building. Stay away from the outer walls and roof. Try to maintain a distance of at least six feet between yourself and people who are not part of your household. If possible, wear a mask if you're sheltering with people who are not a part of your household. Children under two years old, people who have trouble breathing, and those who are unable to remove masks on their own should not wear them.
That way, you look silly and you don't get to hug other people goodbye. Brilliant work, as always, government.
There was plenty of mockery to go around on social media.
"Here we are. 2022," Amanda House tweeted. "Wear masks during Nuclear War."
"Socially distance…in the event of nuclear fallout? I'm sorry, what?" KDbell replied.
"It is the best time to get vaccinated if you haven't already done so," one user remarked. "They'll mark your death [due to] Covid and not nuclear radiation."
"Mf worried about covid in a nuclear war," another snarked.
"No mean tweets though, and mostly peaceful nuclear fallout," one person said sarcastically.
The Biden presidency has definitely taken quite the turn when it is updating nuclear fallout guidance to include wearing masks and social distancing. This administration can't end soon enough.
Source: beckernews.com
I'm concerned about Russian disinformation spreading online, so today I wrote to the CEOs of major tech companies to ask them to restrict the spread of Russian propaganda.

— Mark Warner (@MarkWarner) February 25, 2022
Glad to see action from tech companies to reign in Russian propaganda and disinformation after my letter to their CEOs yesterday. These are important first steps, but I'll keep pushing for more.

— Mark Warner (@MarkWarner) February 26, 2022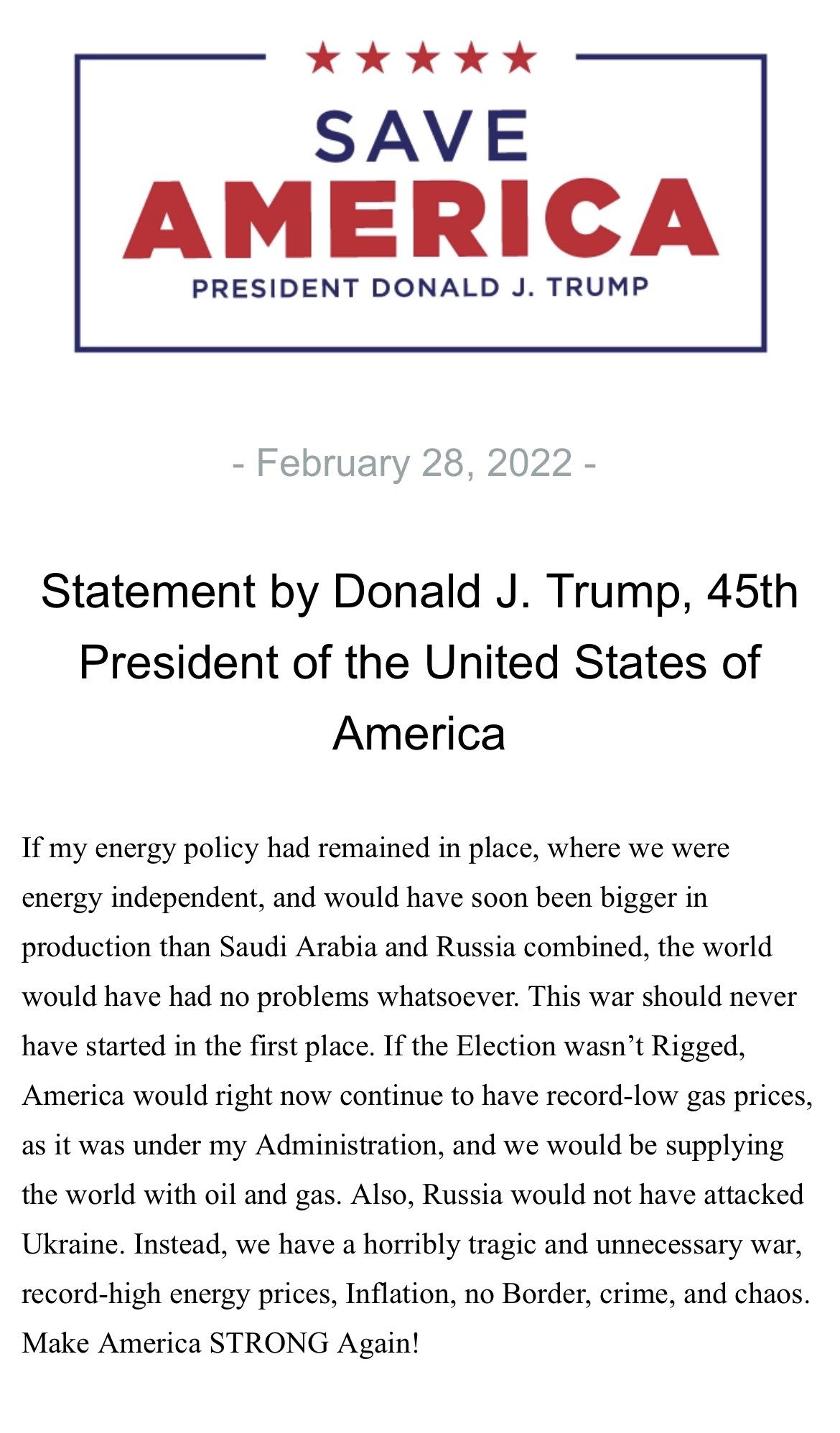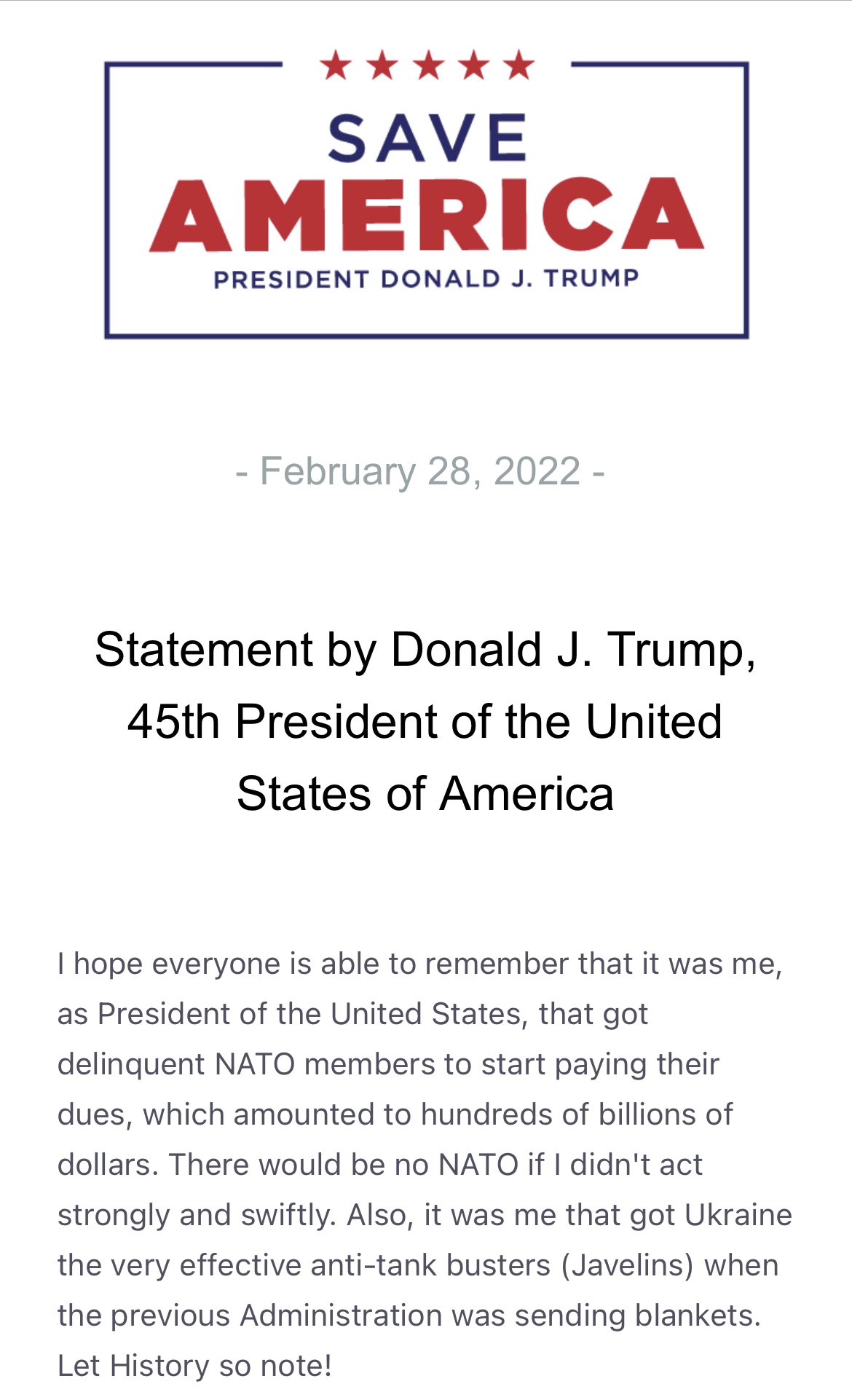 -Seizing evidence and neutralizing US DoD funded bio-weapons labs in Ukraine
-Rattling NATO member countries so badly they are considering actually paying their 2% fees
-Destroying the slush-fund money-laundering racket of Biden, Romney, Pelosi, Hillary et al that is Ukraine
-Exposing a ton of false propaganda Fake News media videos recycled from practically a decade ago
-Dismantling piece by piece the NWO dream of Poppy Bush
And this will all be inextricably linked to exposing election corruption in the US and the other countries
And we haven't even gotten to Durham
We're not even two months into 2022 and, just as I said, it's going to be the greatest year yet for MAGA and the deplorables
---
Cyber Attacks
---
False Flags
 a High Court ruled that her vaccine mandate represented a "gross violation of human rights" for New Zealanders.
The landmark case means that the police and NZDF cannot be fired for refusing to take the experimental vaccine. This case will be used to overthrow all of Ardern's illegal mandates in New Zealand.
Justice Francis Cooke ruled that ordering frontline police officers and Defence staff to be vaccinated or face losing their job was not a "reasonably justified" breach of the Bill of Rights.
Nzherald.co.nz reports: The lawyer for the police and Defence staff at the centre of the claim is now calling for the suspended workers to return to their jobs immediately, saying many have given decades of service to their community and are still committed to their jobs.
Source: newspunch.com
"Given the decline in our rates, our hospitalizations, strong vaccination rates and the CDC guidance, we, friends, the day has come," Democrat Hochul said. "Today we are going to be announcing that we'll be lifting the statewide mask requirement in schools, and that'll be effective this Wednesday, March 2."
"My position is to empower the local governments to make the decisions for their entire county. But I've always said that if there are entities within and we're going to whether it's a city, a school district and school if they choose to be more restrictive. We will not prohibit that whatsoever," she said. 
Hochul's statewide mask mandate will be lifted one day after Joe Biden's State of the Union Address.
Source: thegatewaypundit.com
"New York City's numbers continue to go down day after day, so, as long as COVID indicators show a low level of risk and we see no surprises this week, on Monday, March 7 we will also lift Key2NYC requirements," Adams announced. "This will give business owners the time to adapt and will allow us to ensure we are making the best public health decisions for the people of New York."
Source: thegatewaypundit.com
The Centers for Disease Control and Prevention recently changed its mask guidelines, which has prompted blue state governors around the United States to lift their mask restrictions.
While the CDC justified the decision based on "low transmission levels" throughout most of the country, the truth is that the masks never were shown to have made a statistically significant difference on stopping the spread. Indeed, mask mandate states continuously had higher case rates than free states, while mask mandate schools consistently had higher case rates than mask optional schools.
On February 24th, a memo from IMPACT Research began circulating one day prior to the CDC guidelines change t
Impact Research describes its clients and its mission:
Impact has helped elect Democratic candidates at all levels – from the White House and Congress to state houses and city halls. We seek to be an active part of a campaign's strategic team, involved in message development, voter targeting, and real-time crisis management. We see ourselves as the "watchdog" of a campaign's message, ensuring the campaign maintains the discipline necessary to target the correct message to the right voters. Beyond delivering accurate numbers, we're hands-on, always accessible, and will be involved every step of the way to help our clients win.
If you read IR's memo to Democrat clients, it is unmistakeable in its tone that it's time for Democrats to do a full retreat on Covid restrictions.
"After two years that necessitated lockdowns, travel bans, school closures, mask mandates, and nearly a million deaths, nearly every American finally has the tools to protect themselves from this virus," the memo reads.
"It's time for Democrats to take credit for ending the COVID crisis phase of the COVID war, point to important victories like vaccine distribution and providing economic stability to Americans, and fully enter the rebuilding phase that comes after any war," the memo continues.

Advertisements

"Below we lay out some strategic thoughts for Democrats positioning themselves onCOVID-19 after nearly two years of the pandemic":
"Declare the crisis phase of COVID over and push for feeling and acting more normal.
 pact Research memo can be read below:
 
Source: beckernews.com
---
Q
In lawsuits filed by Reps. Eric Swalwell (D-Calif.) and Bennie Thompson (D-Miss.) to hold Donald Trump and allies liable for damages stemming from Jan. 6, a judge has dismissed the cases against two defendants — Trump attorney Rudy Giuliani and former first son Donald Trump Jr. — while allowing most parts of the cases against the former president to proceed.
Motions to dismiss by Giuliani and Trump Jr. were granted by Mehta, but the motions of former President Trump, Tarrio and the Oath Keepers were denied.
Source: justthenews.com
"How do you introduce evidence legally? "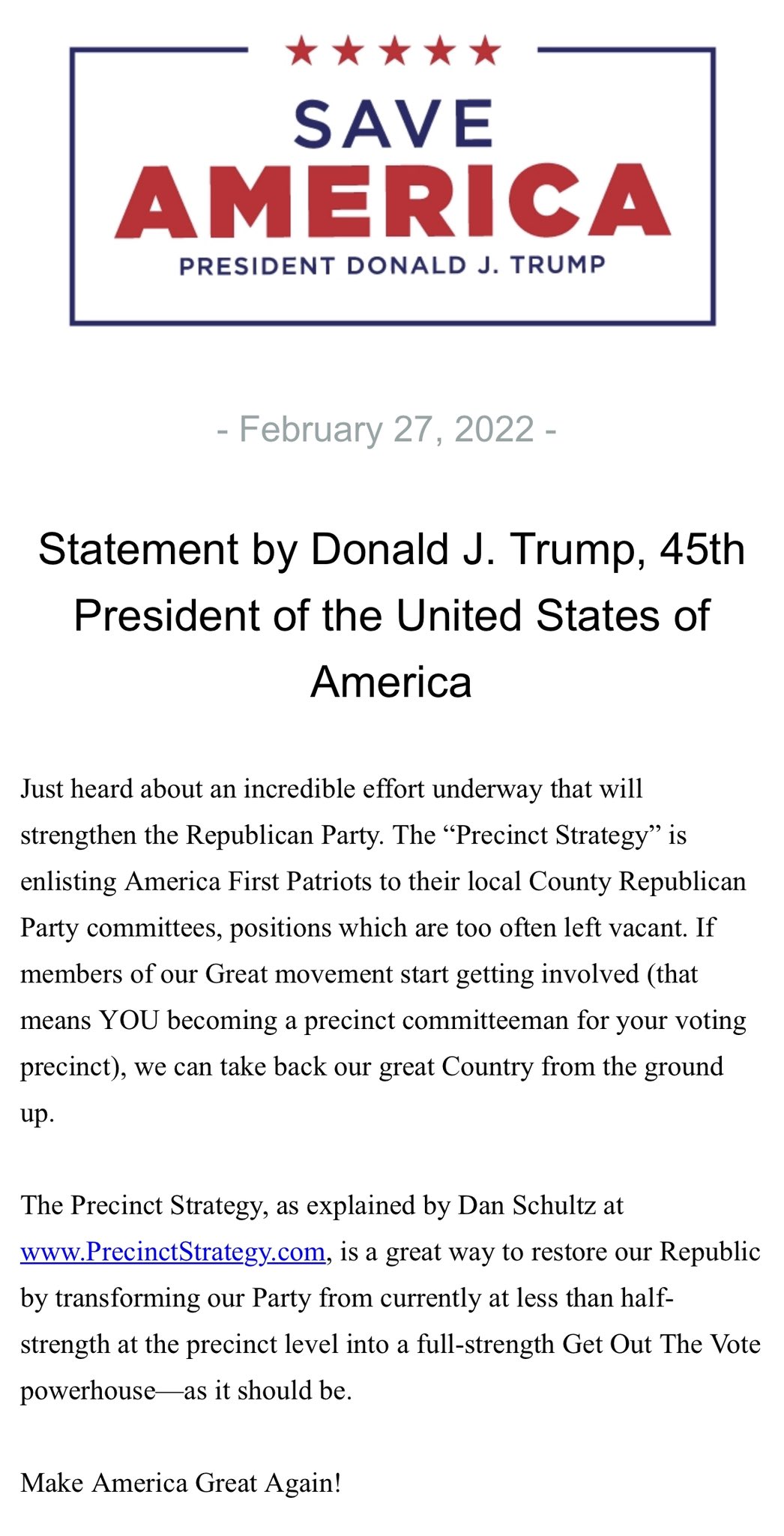 — Dan Scavino Jr.🇺🇸🦅 (@DanScavino) February 27, 2022
Follow the money, it's the key.
What is Pelosi's net worth by way of one example. Why coincidentally is her memory apparently going?
Cover for possible future indictment to plead what?
What if John M never had surgery and that was a cover for a future out if needed against prosecution?
Why did Soros transfer his bulk public funds to a NP? Note this doesn't include massive slush funds that are pulled by several high ups.
Why did Soros' son have several meetings with Canadian PM and how is that related to Clinton's?
Can you rely on being able to board a plane and fly away?
Why is MS13 a priority _ nobody got this.
Could people pay such gangs to kill opponents and why / how to insulate against exposure?
The truth is mind blowing and cannot fully be exposed.
Also many are thinking from one point of view, US only, this evil is embedded globally. US is the first domino.
Have faith.