The Initial Wave Will Be Fast & Meaningful,Signal Sent To [DS] & You'll See The Tide Turn – Ep. 2679
Watch The X22 Report On Video
During the pandemic, the wealthier got wealthier, if the [CB] succeeded in shutting down the global economy these individuals would have made 10x more. The [CB] is moving forward with their Great Reset. The people are seeing the true nature of the economy. The [CB] is using the same playbook they used in 2009, 2019. The [DS] narrative is falling apart. The pandemic is coming to an end, world leaders are now admitting this and the [DS] is now backtracking trying to cover their tracks, this is failing, everything they did had nothing to do with science, especially Fauci's recommendations. Everything is now prepped, the patriots will begin the offensive, the initial wave will fast and meaningful, the [DS] will receive the message and the the people will begin to see the tide turn.
---
Economy
Feeling pretty Soviet at my local grocery store. pic.twitter.com/22a6AgIFWz

— Mollie (@MZHemingway) January 17, 2022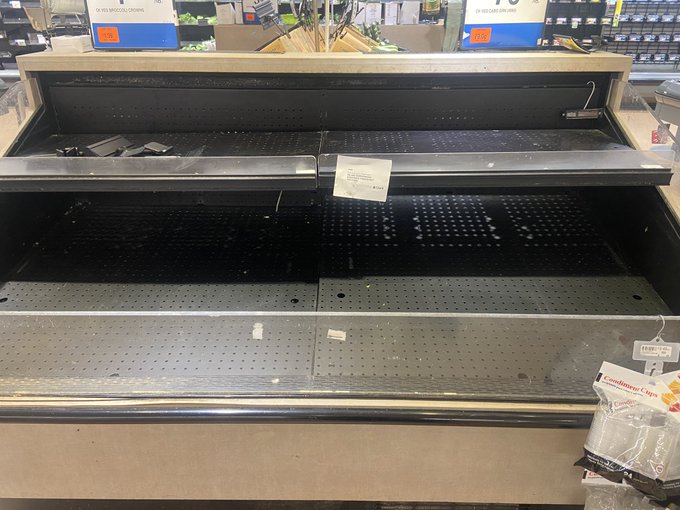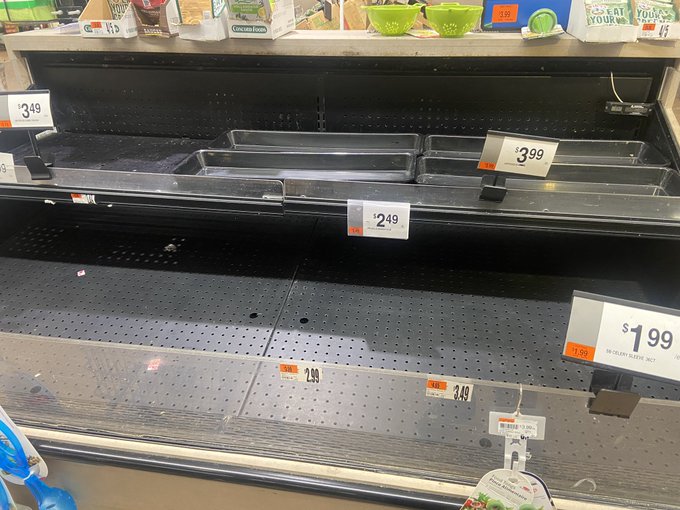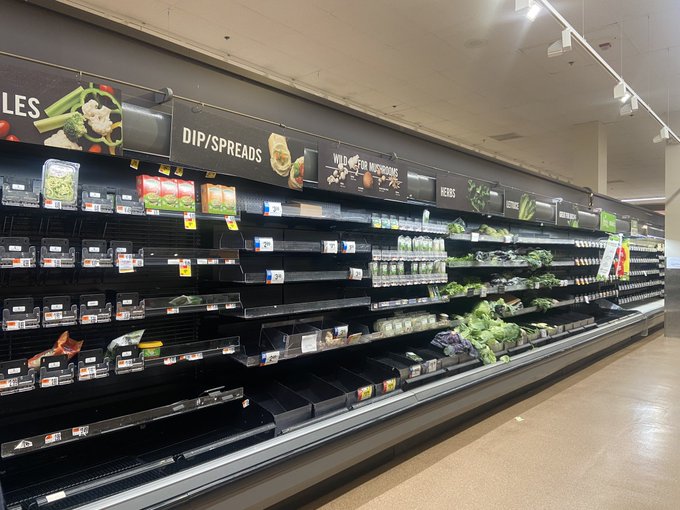 My wife asked me to go grab some things at the grocery store. This is the Stop & Shop in Tenafly, NJ. #BareShelvesBiden pic.twitter.com/8nM18vuLGt

— Jason D. Meister 🇺🇸 (@jason_meister) January 17, 2022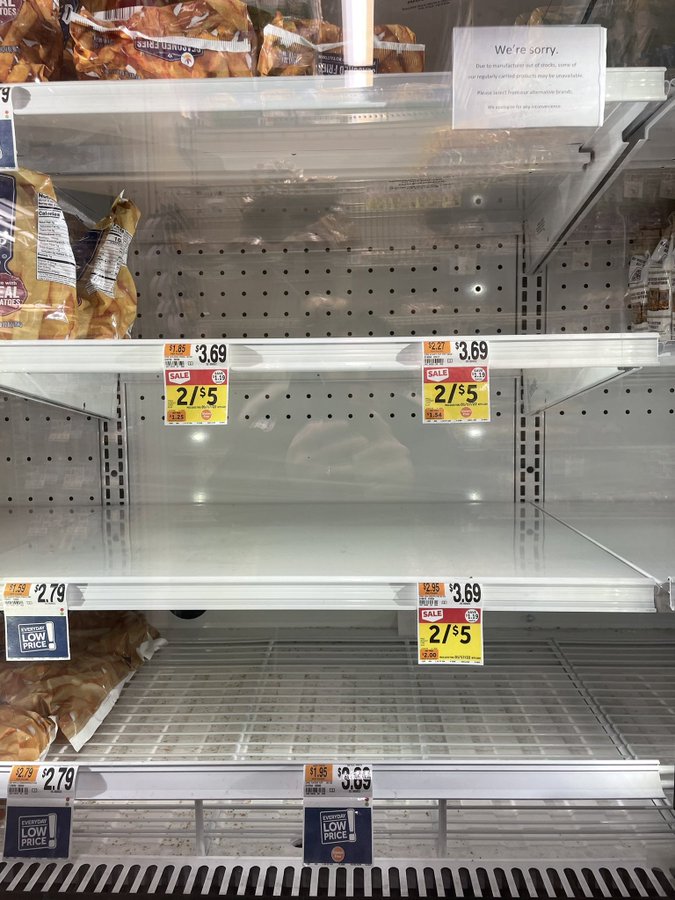 The cross border vaccine mandate for truckers in/out of Canada is now in effect.  The U.S. vaccine mandate takes effect on January 22nd.
It will take a few days to see the consequences, but there will be consequences.
Keep in mind, any impact is taking place in a supply chain system that is already tenuous and unstable at best.  A small disruption that may have been minimally significant against a fully operational supply chain, is more likely to be a much bigger disruption in a supply chain that is already under a severe amount of demand side stress.  Somewhere in the range of 16,000 to 38,000 daily loads are likely to be impacted.
CANADA –  
Mike Millian, president of the Private Motor Truck Council of Canada, told CTV News Channel on Saturday that there were as many 23,000 vacancies at the end of the third quarter of 2021, with his group's own studies showing that roughly 20 per cent of Canadian truck drivers operating across the border are unvaccinated.
[…] "If we remove a fifth of that workforce, we're going to see shortages on shelves and we're going to see inflation of prices, because the cost to bring this stuff here is going to go up."  (read more)
Source: theconservativetreehouse.com
The People's Bank of China announced that it is lowering the interest rate on one-year loans it makes to banks by 10 basis points to 2.85 percent.
While most major economies are suffering from a greater than expected surge in inflation and supply constraints, China has been stricken with a greater than expected economic slowdown. Official government statistics showed growth slowing to a four percent pace in the final quarter of 2021.
Source: breitbart.com
Donald J. Trump
Donald J. Trump
@realdonaldtrump
I like New York Fed President John Williams first statement much better than his second. His first statement is 100% correct in that the Fed "raised" far too fast &amp, too early. Also must stop with the crazy quantitative tightening. We are in a World competition, &amp, winning big,…

Jul 19th 2019 – 9:38:21 AM EST

·

Twitter for iPhone

·

View on Twitter
@realdonaldtrump
Our Federal Reserve cannot "mentally" keep up with the competition – other countries. At the G-7 in France, all of the other Leaders were giddy about how low their Interest Costs have gone. Germany is actually "getting paid" to borrow money – ZERO INTEREST PLUS! No Clue Fed!

Aug 28th 2019 – 10:36:41 AM EST

·

Twitter for iPhone

·

View on Twitter
---
Political/Rights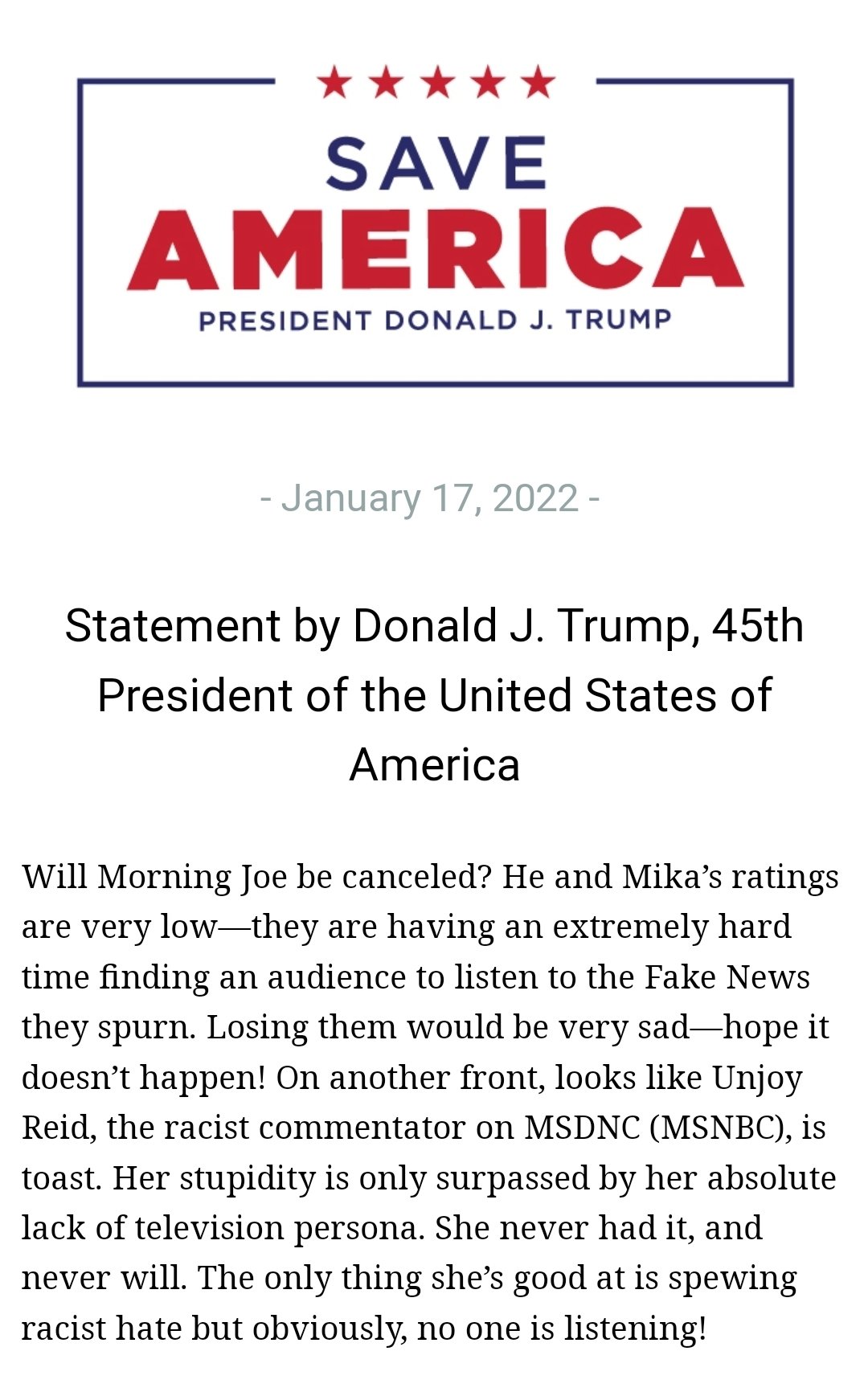 742
Q
!UW.yye1fxo
02/12/2018 10:01:46
 ID: c32c4f
Archive Bread/Post Links: 349535 / 350084
Direct Link: 350084
The brother of Malik Faisal Akram, the UK citizen who was shot and killed after an 11-hour hostage standoff at a synagogue in Texas, has claimed that his brother had a previous criminal record.
Gulbar Akram, the brother of terrorist Malik Faisal Akram, who took four hostages at the Congregation Beth Israel synagogue in Colleyville, Texas on Saturday, has revealed that his brother had a criminal record in comments to UK media, raising questions about how he was allowed into the United States.
Source: breitbart.com
The brother  , says his brother suffered from "mental health issues."
Source: breitbart.com
Newest FBI statement on Colleyville just in – per Fox's @JakeBGibson: "This is a terrorism-related matter, in which the Jewish community was targeted, and is being investigated by the Joint Terrorism Task Force."

— Shannon Bream (@ShannonBream) January 17, 2022
responded
FBI engages in desperate damage control. https://t.co/E3m7LWsloS

— Tom Fitton (@TomFitton) January 17, 2022
BREAKING: FBI Changes Tune On Synagogue Hostage Situation: 'The Jewish Community Was Targeted' https://t.co/rlSDIV8ZH4

— Ryan Saavedra (@RealSaavedra) January 17, 2022
Hard-hitting investigative journalist and former NYPD detective John Connolly passed away on Saturday at 78.
Source: nypost.com
Jeffrey Epstein accuser Virginia Giuffre is fighting for the release of the eight names, cited in a 2015 lawsuit against Maxwell.
Convicted sex trafficker Ghislaine Maxwell is no longer objecting to the release of the names of eight John Does referenced in a 2015 lawsuit against her from a Jeffrey Epstein accuser.Virginia Giuffre, who said Maxwell, 60, and Epstein forced her to have sex with Prince Andrew, sued Maxwell for defamation in 2015; the lawsuit was settled in 2017, but eight names mentioned in it remain sealed.In a letter to federal Judge Loretta Preska dated Jan. 12, Giuffre's lawyer Sigrid McCawley said the objections raised by the John Does amount to "generalized aversion to embarrassment and negativity that may come from being associated with Epstein and Maxwell" and is not enough to keep the information sealed. Source: vice.com
What's happening with Big Media producers and pedophilia? It is like an infectious disease.
A retired BBC producer, Victor Melleney, got busted with 832 images of child pornography kept on different devices, and he stated he had no idea how the photos got there.
Police saw the images at Melleney's West London home back in December 2018, together with illegal stun guns.
Source:  thetruedefender.com
---
Geopolitical/Police State
Fiber-optic cable, which carries 95% of the world's international internet traffic, links up pretty much all of the world's data centers 
Where those fiber-optic connections link up countries across the oceans, they consist almost entirely of cables running underwater—some 1.3 million kilometers (or more than 800,000 miles) of bundled glass threads that make up the actual, physical international internet. And until recently, the overwhelming majority of the undersea fiber-optic cable being installed was controlled and used by telecommunications companies and governments. Today, that's no longer the case.
In less than a decade, four tech giants— Microsoft

,

 Google parent Alphabet, Meta (formerly Facebook ) and Amazon —have become by far the dominant users of undersea-cable capacity. Before 2012, the share of the world's undersea fiber-optic capacity being used by those companies was less than 10%. Today, that figure is about 66%.
And these four are just getting started, say analysts, submarine cable engineers and the companies themselves. In the next three years, they are on track to become primary financiers and owners of the web of undersea internet cables connecting the richest and most bandwidth-hungry countries on the shores of both the Atlantic and the Pacific, according to subsea cable analysis firm TeleGeography.
source: wsj.com
2617
Q
!!mG7VJxZNCI
12/12/2018 18:56:52
 ID: 089200
Archive Bread/Post Links: 4280570 / 4280831
Direct Link: 4280831
Anonymous
12/12/2018 18:55:13
ID:46f367
Archive Bread/Post Links: 4280570 / 4280746
Direct Link: 4280746
>>4280189
---
War
"Without getting into too much detail, we do have information that indicates that Russia is already working actively to create a pretext for a potential invasion, for a move on Ukraine," Pentagon Spokesperson John Kirby told the press on Friday.
"In fact, we have information that they've pre-positioned a group of operatives, to conduct what we call a false flag operation, an operation designed to look like an attack on them or their people, or Russian speaking people in Ukraine, as an excuse to go in."
The US government has substantiated these incendiary claims with the usual amount of evidence, by which I of course mean jack dick nothingballs.   Snopes has a whole article explaining that false flags are kooky nonsense without any mention of the fact that this is a known tactic we've seen intelligence operatives discussing in declassified documents, l Source: zerohedge.com
---
False Flags
Another day, another story about a soccer player being sidelined due to sudden-onset heart-related illness.
Continuing a disturbing trend of professional soccer players being pulled from games, Canadian star Alphonso Davies, who plays for Bayern Munich, is showing signs of an "inflammation of the heart muscle," according to CP24.
He is only 21 years old.
Source: zerohedge.com
The State of Minnesota is now offering $200 gift cards to families, per child to get their 5-11 year-olds vaccinated with the experimental COVID vaccines.
Children have a 99.995% chance of surviving COVID-19. In the UK there is only a 2-in-a-million chance the disease will be fatal in children.
They have a greater chance of drowning.
Source: thegatewaypundit.com
INBOX: Hawaii announces that it will soon require all visitors to have a COVID booster shot if they want to enter the state.

— Election Wizard 🇺🇸 (@ElectionWiz) January 17, 2022
NOW – "We have 'disinformation' that is entirely destructive to a comprehensive public health endeavor," says Dr. Fauci at Klaus Schwab's WEF virtual summit. pic.twitter.com/EBjAPdmZwa

— Disclose.tv (@disclosetv) January 17, 2022
CDC Finally Admits Cloth Masks Were Always Political Theater
 Remember CDC quietly admitted o  that the thin cloth masks the agency and its corporate media allies spent the last two years cheering actually "provide the least protection" against COVID-19. It was "the first time the C.D.C. has explicitly addressed" the relative ineffectiveness of cloth masks,  
The agency's concession comes on the heels of admissions from people like CNN's Leana Wen that "cloth masks are not appropriate for this pandemic."
Source: thefederalist.com
Over 50 Democratic lawmakers would like to send three N95 masks to every American. Perhaps this would have been a nice "welcome to the pandemic" package in March 2020 when no one knew what was unfolding. The bill would cost $5 billion between manufacturing and distribution.
Source: armstrongeconomics.com
Cruise ships are no longer required to abide by a series of COVID-19 safety restrictions issued in 2021 by the Centers for Disease Control and Prevention (CDC) that expired on Jan. 15, allowing cruise lines discretion in applying such protocols.
The CDC has announced the expiration of its Temporary Extension and Modification of Framework for Conditional Sailing Order (CSO), a set of mandatory rules for foreign-flagged cruise ships operating in U.S. waters, including strict protocols on COVID-19 vaccination and testing, as well as mask-wearing.
Source: theepochtimes.com
The Centers for Disease Control and Prevention (CDC) has been victimized by "imperfect science," the New York Times complained
While the establishment media throughout the pandemic have urged Americans to "trust the science" because it is the "only method we have of understanding the world," the Times acknowledged that science is imperfect.
The revelation about the fallibility of science was a reason for the Times to scapegoat President Biden's failing coronavirus response. In an article titled, "The C.D.C.'s New Challenge? Grappling With Imperfect Science," the publication warned readers that federal government mandates, recommended by health experts, cannot keep pace with the CDC's science.
Source: breitbart.com
CBS conducted a poll of the collapsed support for Joe Biden [DATA HERE] and then outlined their findings earlier today.  However, keeping up with their need to ignore things, they skip over how the vaccination mandate is opposed within their responses.
Source: theconservativetreehouse.com
Ajudge in the 46th Circuit Court of Otsego County ruled that the Michigan Department of Health and Human Services (MDHHS) restrictions on indoor dining were unconstitutional.
Judge Colin Hunter wrote in a decision Thursday that the emergency "Gathering and Face Masks Order" issued by then-MDHHS Director Robert Gordon in November 2020 was "clearly an unconstitutional delegation of power from the Legislative to the Executive Branch."
Iron Pig Smokehouse never complied with the November 2020 COVID order, and always allowed indoor dining, for which the restaurant was issued a citation and a $5,000 fine on Dec. 1, 2020. The restaurant's owners, Moore Murphy Hospitality, challenged the citation.
Judge Hunter wrote that "this Court must invoke its judicial review authority as a co-equal branch of government to undo that improper delegation" of authority from the legislative branch to the executive branch. He concluded that the order "is hereby severed from Michigan's Public Health Code."
The MDHHS could attempt to appeal the decision to a higher court and the smokehouse even joked about the possibility. "Tyrants will tyrant. They HAVE to appeal. There's absolutely no way they can't let the #meanbbqman win. #riskitforbrisket," the Iron Pig wrote.
Source: justthenews.com
1. Cloth and surgical masks don't work, time for N95 masks
It has been the prevailing wisdom for nearly two years: Forcing people to wear face coverings for up to 8 hours a day must certainly slow the spread. Right?
The tide has begun to turn on this assessment, however. The Wall Street Journal recently published a study that shows Covid transmission is only insignificantly impaired by masks worn by the general public.
Dr. Scott Gottlieb, a Pfizer board member and former FDA Chief, finally admitted that cloth masks don't work.
2. Now, let's force schoolchildren to wear N95 masks
Except N95 masks aren't meant to be worn by the general public for hours a day. Even if we lived in an alternate reality where children were at significant risk from Covid (they're not — especially from Omicron), the CDC Director Rochelle Walensky last January admitted as such.
Walensky explained why the general public should not wear N95 masks for extended periods of time.
"They're very hard to breathe in when you wear them properly," Walensky said. "They're very hard to tolerate when you wear them for long periods of time."
Doctors and nurses have since been turning to social media to show Americans that N95 masks are not appropriate for the general public, particularly for children.
4. Hospitalizations of sick children are now through the roof
Blue state governors pounced on the news of a highly contagious omicron variant spreading throughout the country to justify a continuation of their failed Covid response policies. The media dutifully reported there was a surge of child hospitalizations.
It wasn't just ill-informed suburban mothers who fell for the alarming "news" — a sitting Supreme Court Justice even fueled the hysteria with wildly inaccurate misstatements.
"We have over 100,000 children, which we've never had before, in serious condition, and many on ventilators," Sotomayor claimed.
5. Natural immunity is not as good as vaccinated immunity
It is one of the worst-kept secrets of the entire pandemic: Those individuals who are exposed to Covid-19 develop natural immunity from prior infections.
The media's blackout of the known scientific phenomenon is designed with only one aim in mind: Pressure people who don't need the mRNA shots to get them anyway.
Independent medical researchers have found that this type of redundancy is completely unnecessary, however. Indeed, why get exposed to potential adverse reactions from an mRNA shot when one already has natural protection?
"[S]tudy findings reveal that individuals with previous SARS-CoV-2 infection do not get additional benefits from vaccination, indicating that COVID-19 vaccines should be prioritized to individuals without prior infection," a Cleveland Clinic study found in 2021.
But what about the Omicron variant? Even three Moderna or Pfizer-BioNTech shots do not stop infection or slow transmission of the mutated virus. Prior infection from the "generally mild" variant, on the other hand, is believed to confer immunity to other variants, such as Delta.
A recent study on natural immunity published in the European Journal of Immunology showed that prior infection from Omicron was both durable and long-lasting.
6. Masks keep travelers safe on airline flights
Some of the most powerful indicators that the Covid narratives are crumbling is when major companies or their CEOs announce that they reject their premises.
A pair of airline CEOS testified to Congress in December that they did not believe the mask mandates for passengers on flights were necessary.
7. Federal government has the right to mandate employers to force people to get vaccines
The Supreme Court this week blocked the Biden administration from enforcing it vaccine-or-testing mandate for large employers. It dealt a fatal blow to the White House's unlawful vaccine mandate.
OSHA's employer mandate would have required workers to get vaccinated for Covid-19 or to wear masks and be tested weekly. The White House  pivoted to dismiss the Supreme Court ruling as the end of the vaccine mandate and continued to urge major companies to further the administration's corporatist policies.
8. Vaccines stop the spread of Covid-19
Another one of the glaringly false claims that Justice Sotomayor made during the Supreme Court hearing of the Biden employer mandate case is that the "vaccines" stop the spread of Covid-19 — and particularly, the Delta and Omicron variants.
Many are refuting this false claim by pointing to statements by CDC Director Rochelle Walensky that the vaccines can no longer "prevent transmission" (in fact, they cannot, as Becker News reported earlier). But it it is even worse than that. Higher vaccination rates correlate with higher transmission rates, according to a Harvard-led study.
10. Booster shots will stop another Covid wave
13. Public health officials issue guidance based on the "science"
Yet another 'aha' moment since December is when public health officials indicated that they may change Omicron quarantine guidance due to political pushback.
 14. The vaccines are 100% safe and effective for everyone
This "100% safe and effective" mantra was sold to millions of Americans during the rollout of the mRNA shots in January 2021. Since then, however, there has been obfuscation about potential side effects, as those forces behind the relentless drive for universal vaccination don't recognize assessment of individual risks.
One of the most stark illustrations of this is the FDA refused to immediately turn over the hundreds of thousands of pages of Pfizer-BioNTech vaccine clinical trials data. Indeed, it asked for a whopping 55 years, and after "discovering" more documents, then petitioned a judge in a court case for 75 years. The judge, however, has ordered the FDA to turn over the documents at a rate that is over a hundred times what it had requested.
In the initial FDA document dumps, it became clear from even the redacted data that the vaccination risks were higher than what was being officially reported.
  Source: beckernews.com
WINNING: @SloanRachmuth and her network of parent activists have shut down a North Carolina state program that would have forced disabled preschoolers to "deconstruct their whiteness" and atone for "systemic racism." The parent movement is delivering results. pic.twitter.com/ipqpnlGiii

— Christopher F. Rufo ⚔️ (@realchrisrufo) January 16, 2022
---
Q
Earlier this week Georgia Secretary of State Brad Raffensperger announced that he will investigate himself after credible allegations came forward recently related to 2020 elections fraud in the state. .Just the News reported:
Since 1960, federal civil rights law has required state and local election officials to "retain and preserve" records relating to elections involving federal officeholders for 22 months after ballots are cast.

But some of Georgia's largest counties tell Just the News that they no longer possess evidence that could be helpful to probing the harvesting allegations: video camera surveillance footage that monitored the drop boxes installed around Georgia to help voters cast ballots during the pandemic.

Election officials in several counties say the reason they discarded the footage is that the emergency rules issued by the State Elections Board said they only needed to keep the footage for 30 days after the election.

"We took direction from the Secretary of State and State Election Board, assuming they were not implementing a Rule contrary to law," said the Cobb County elections office, which acknowledged it deleted its video footage from 2020. "Drop boxes were established under an emergency order from the Governor."
Source: sott.net
— Dan Scavino Jr.🇺🇸🦅 (@DanScavino) January 17, 2022
Q

 

!xowAT4Z3VQ

 

ID: db01ff

 No.914461

Think Navy Ship crashes.
Bigger than you know.
We ARE active.
Q
— Dan Scavino Jr.🇺🇸🦅 (@DanScavino) January 17, 2022
TAKE A LISTEN 
Q 

!UW.yye1fxo

 

ID: 567809

 No.325300

Thank you Dopey.
King to pawn.
Eyes on.
Q
Maybe one day but it cannot go slow. The initial wave will be fast and meaningful. It will send a signal to others immediately and you'll see the tide turn (not even the MSM can hide and rest assured some will be jailed as deep cover agents).