The Patriots Are Working To End, Evil, Expect A Lot More, Panic, Not As It Appears – Ep. 2730
Watch The X22 Report On Video
The [CB] has fallen in the 70s trap. They are now using the same playbook, they are telling people not to use their cars, they are talking about lower the speed limit. Banks are now accumulating gold, why now, is something about to happen. The [DS] is being called out, the hid the [HB] story from the public and now the people see the truth, it was a lie. The walls are closing in on them. The [DS] has already lost the Ukraine war, the control belongs to Putin, next up Taiwan and Iran. The patriots are in the processing of removing evil, expect a lot more, nothing is as it appears, enjoy the show.
---
Economy
$75,000 increase for Senators' personnel and office expense accounts.

Sorry about all that inflation, peasants. Just deal with it. pic.twitter.com/G51cx1VeX7

— Oilfield Rando (@Oilfield_Rando) March 19, 2022
Brits told work from home three days a week and ban cars on Sundays to beat Putin energy crisis 
The measures could cut demand for oil could by 2.7 million barrels per day within the next four months
Brits have been told they should cut speed limits and introduce car-free Sundays to fend off the biggest oil shock seen in decades.
The IEA urged governments globally to reduce their speed limit on motorways by 10km per hour and consider banning cars in their major cities on Sundays.
They argued economies of developed countries comply with the measures, it could cut demand for oil by 2.7 million barrels per day within the next four months.
Speed limits could be slashed on British motorways Ben Birchall
Source:  gbnews.uk
Source: thegatewaypundit.com
➡️ Stop voting for Democrats pic.twitter.com/olQzHNWZsU

— Donald Trump Jr. (@DonaldJTrumpJr) March 20, 2022
A report in the AP shows the BRICS (Brazil, Russia, India, China and South Africa) trade alliance seems to remain strong despite western sanctions.  India admitted to purchasing 3 million barrels of Russian oil at a 20% discount rate this week.
There's no mention of how the purchase will be transacted, what currency they would use; however, the top-line story of India refusing to follow western trade sanctions reflects the BRICS alliance is delivering economic results.
 
Source: theconservativetreehouse.com
Banks are in the process of restocking gold at a pace not seen in years.
Gold
In a recent article, I speculated that the big players might be prepared to let the price of gold run. Part of this will mean increased delivery volume in April after a very strong March. The Comex vaults have been steadily depleted over the last several months, however, 1.6M ounces of gold just showed up since March 1 as shown below. This is the largest inflow since October 2020 and we are only halfway through March!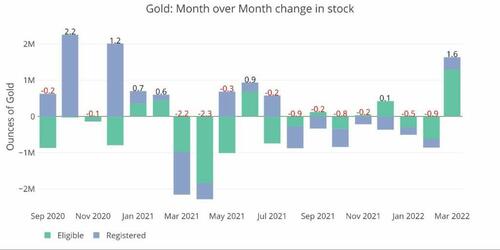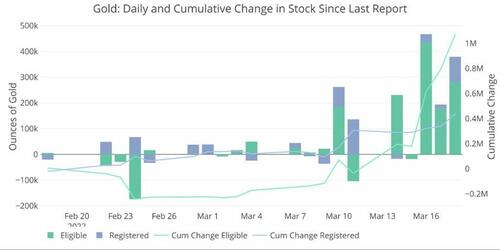 Gold
Almost every vault is now adding to inventory which is a complete reversal from last month

JP Morgan and Manfra are leading the way with increases of 7.1% and 15.2% over the last month respectively
JP Morgan now has positive flows over the last year. Again, the net gain of JP Morgan inventory over the last year has been added in the last week
Why is every vault adding metal all of a sudden? Why is JP Morgan aggressively restocking its inventory? What are the banks preparing for?
Source: zerohedge.com
---
Political/Rights
Source: thegatewaypundit.com
Judge Jackson has yet to address her alarming record on child porn offenders. But rather than ask her questions, the Washington Post is regurgitating White House talking points. Their "fact check" questions & my answers below. Now go ask the person nominated for the Supreme Court pic.twitter.com/jNLt6CArIT

— Josh Hawley (@HawleyMO) March 18, 2022
The President of the United States has a crack smoking son who was laundering him cash from Ukraine while VP. And the FBI knew about it before the election. Now America is sending the same country billions.

How is this real?

— thebradfordfile (@thebradfordfile) March 19, 2022
---
Geopolitical/Police State
---
War
"The screws are being fully tightened," said one human rights NGO active in the country. "Essentially, we are witnessing military censorship"
Source: breitbart.com
Sovereign 'Democracy' Ukraine: Zelenskyy Suspends 11 Opposition Parties Becoming Head Of A One-Party State
Ukrainian President Volodymyr Zelenskyy asked for peace talks with Russia to be "meaningful, fair and without delay" to stop the invasion of his country.
"I want everyone to hear me now, especially in Moscow. The time has come for a meeting, it is time to talk," Zelenskyy said  
Source: politico.com
Ukraine's Zelensky Threatens 'World War 3' Could Break Out If Putin Peace Talks Fail
The White House feed was cut after President Biden ignored reporters confronting him with questions about his phone call with Chinese president Xi Jinping on Friday. Watch:
"Mr. President — [crosstalk]" a reporter shouted out.
"What was your message to President Xi, Mr. President?"

 

Biden ignored the question. The White House feed then gets cut.
The White House nonetheless released a readout of Biden's call with Xi Jinping.

 

The President reiterated that U.S. policy on Taiwan has not changed, and emphasized that the United States continues to oppose any unilateral changes to the status quo. The two leaders tasked their teams to follow up on today's conversation in the critical period ahead.
The White House has not made it clear how the United States intends to punish China for aiding Russia in its invasion of Ukraine, nor did it provide details on reprisals should it move on Taiwan.
Source: beckernews.com
---
Cyber Attacks
---
False Flags
Liberty Overwatch
Petition for a Grand Jury Investigation Into the CDC and FDA for 'Willful Misconduct' Is Accepted by 9th Circuit Court | Just the News and CHD
Oregon State Senators Kim Thatcher and Dennis Linthicum jointly filed a formal petition for a federal grand jury investigation into both the Centers for Disease Control and Prevention (CDC)  and U.S. Food and Drug Administration (FDA) on August 16th, Children's Health Defense reported last September.  
On War Room today, Dr. Naomi Wolf announced that the 9th Circuit Court has accepted the Oregon lawmakers petition to formally investigate the agencies for willful misconduct. The complaint alleges the CDC and FDA fraudulently inflated COVID fatalities and infection rates and suppressed life-saving therapeutics. 
The CDC adopted a "double-standard exclusively for COVID-19 data collection" that inflated cases and deaths starting early in the pandemic, violating multiple federal laws and distorting mitigation policies, Senators Thatcher and Linthicum told U.S. Attorney Scott Asphaug in their Synopsis of Evidence.
Linthicum said the "incessant case counts" for COVID jumped out at him early, explaining that his service on the legislative health committee led him to recognize "confusion, or inaccuracies, or kind of manipulation" of statistics on influenza-like illnesses versus COVID, according to Just the News. 
"It didn't take long to actually see that the data was being scrubbed or sculpted to fit a narrative," he said.
The CDC's National Vital Statistics System told mortality data compilers to emphasize COVID-19 as the "cause" of death in a March 2020 alert, departing from a 2003 federal manual on recording infectious disease as a "contributing factor to death" in the presence of preexisting conditions, the petition letter said. 
Regarding COVID diagnosis via RT-PCR tests, the CDC and FDA recommended a high cycle threshold (40) that is widely known to produce false positives by finding insignificant viral loads, Thatcher and Linthicum told Asphaug.
Public health experts raised the same concerns more than a year ago with The New York Times, recommending cycle thresholds of 35 or lower. The newspaper discovered viral loads were too small to be infectious in up to 90% of "positives" in Massachusetts, New York and Nevada.
Vaccinated people, by contrast, are tested using a cycle threshold of 28, removing false positives and making it "virtually impossible for the public to trust the data they are being presented and the public health policies based upon this data," the senators wrote.
The lawmakers' petition also accuses the FDA of withholding "safe and effective evidence-based treatments" just as the Tuskegee study withheld penicillin from black men with syphilis.
They name vitamin D and ivermectin, which have "extensive clinical histories of safety following the administration of billions of doses." Doctors who prescribe these for COVID may face loss of license, fines and imprisonment, Thatcher and Linthicum said.
"Federal agencies like the CDC have committed atrocities in the name of 'public health,' resulting in extensive collateral damage that transformed society in ways that we are still grappling to understand," Senator Thatcher in an official statement. 
"The CDC's unlawful and questionable changes to death certificates related to COVID, the use of false-positive PCR tests and their callous indifference to individual rights — or science, for that matter — led to fraudulent data that was used to justify sweeping policy changes, not only in Oregon but across the country," Thatcher continued. 
"Grand jury petitions are a way for any elected officials or individual to help drive forward an investigation into the widespread willful misconduct surrounding the response to COVID-19," explained attorney Leah Wilson, Co-Founder of Stand for Health Freedom, the holistic medicine and legal nonprofit behind the petition effort. 
Background🗞 Just the News, CHD
Read more📑 Synopsis of Evidence, Grand Jury Petition Letter
Watch 📺 War Room
---
Q
 Republican state Senator Patti Anne Lodge blocked legislation banning ballot drop boxes in Idaho.
Ballot drop boxes are banned in several states.  They are an open invitation to voter fraud. There is even a movie coming out in two months on the massive ballot trafficking scandal in battleground state in the 2020 presidential election.
Senator Lodge will not even allow a vote on the legislation.
 
Lodge is retiring this year.
Why would she do this?
Source: thegatewaypundit.com
 
We previously reported on the shocking photograph of Maricopa County Recorder Stephen Richer hanging out in somebody's backyard with Arizona Attorney General Mark Brnovich.
This gathering took place at Teneo affiliate and Arizona State University law Professor Ilan Wurman's home.
According to the Teneo webpage,
Teneo is a nonpartisan, nonprofit organization that educates, connects and equips a network of outstanding leaders working to develop practical solutions to pressing global issues. Through events and retreats with top business leaders and leading policy experts, Teneo provides opportunities for members to learn about and discuss both key issues facing our country and world as well as five pillar ideas: (1) limited, constitutional government; (2) individual liberty and free enterprise; (3) robust civic society; (4) a strong national defense; and (5) belief in a transcendent order, whether founded in tradition, philosophy, or theology.

Teneo takes no positions on legislation or candidates.
Source: thegatewaypundit.com
Which brings me back to the disturbance in the force with which I began. Why do you suppose that the New York Times has decided, finally, at this late date, to acknowledge that the story that the New York Post broke about Hunter's laptop was true? The Times, like the rest of the fake news establishment, like virtually all of social media, buried the story, screaming loudly that of course it wasn't true, of course it was Russian disinformation, mediated somehow by that consummate Putin puppet, Donald Trump. Fifty-one "intelligence experts," remember, signed an open letter denouncing the story and pronouncing anathema upon Donald Trump. Presented with evidence that they were wrong, every one of that disgusting crew—John Brennan, James Clapper, and the rest of the anti-Trump deep state coven—refused to apologize.
  I suspect that Joe Biden is being prepped for ejection. 
Source:  amgreatness.com
— Dan Scavino Jr.🇺🇸🦅 (@DanScavino) March 20, 2022
Do you trust the MSM?
Do you trust Facebook?
Do you trust Google?
Do you trust Youtube?
Do you trust Twitter?
Narrative.
Censorship.
Do not blindly believe.
FAKE.
They want you DIVIDED.
TOGETHER, YOU ARE STRONG.
APART, YOU ARE WEAK.
ORGANIZE.
CHALLENGE.
FIGHT.
DO YOU THINK ANTIFA WAS GROWN ORGANICALLY?
Purpose?
Watch the news this week.
Q
— Dan Scavino Jr.🇺🇸🦅 (@DanScavino) March 20, 2022
Q

 

!UW.yye1fxo

 

ID: b452a9

 No.612870

Anonymous

 

ID: ba47e4

 No.612799


>>612417

(((Planned Parenthood)))
>>612799
Review Congressional investigation.
Re_read drops PP.
We are working to END.
EVIL.
Not as it appears.
Q