The Public Is Vital, Release Of Info Is Vital, Outrage, Justice, It's Happening – Ep. 2880
Podcast: Download (Duration: 1:07:51 — 30.0MB)
Watch The X22 Report On Video
As the Fed pushes its agenda the economy is collapse has been accelerated. The people are seeing that the Fed is not helping the situation but causing the problem that we are seeing in the economy. Gov Desantis is now reducing taxes to help the people get through a difficult time. Trump and the patriots have brought the [DS] to exactly where they want them. The public must know the truth, they must see the real crimes, the people will get angry as this builds, there will be outrage and the people will demand justice. This is all playing out right now. The people are watching the treasonous criminals coverup their own crimes as the their crimes are being exposed at the same time. Soon the people will not be able to take it anymore and they will push for justice. Up until now the criminal syndicate has been putting on a show of justice, this is about to change. Justice is coming.
---
Economy
  existing home sales 'only' fell 0.4% MoM in August (from a revised 5.7% MoM drop in July), but that is still 7 consecutive drops. This left existing home sales down 19.87% YoY…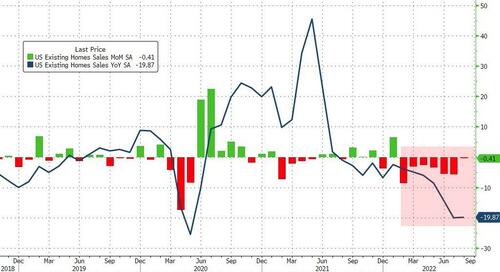 Source: Bloomberg
That is the longest streak of MoM sales declines since Oct 2007.
Source: zerohedge.com
The Atlanta Fed predicted the GDP will have NEGATIVE growth for the third straight quarter this year.
The recession is real. Depression is increasingly likely.  
Source: thegatewaypundit.com
Florida Gov. Ron DeSantis (R) unveiled a 2023 legislative proposal designed to provide further relief to Florida families as they deal with the burden of President Joe Biden's economy. The proposal includes tax relief in several areas — from certain household items to baby necessities and more.
This proposal, if approved by the legislature, would provide $1.1 billion in tax relief for Florida families. It includes a permanent tax  exemption on necessities for babies and toddlers — from diapers to clothing — which alone would save Floridians $132.5 million, according to the governor's office.
The proposal also includes permanent tax exemptions for cribs, strollers, and medical equipment.
Further, the governor proposes a year-long tax exemption period for household items under $25, using laundry detergent and trash bags as an example. That move alone, according to the governor's office, would save Floridians an additional 

$112.3 million. 

"So if you buy $500 worth of stuff, every single thing that's under $25 is tax-free," DeSantis explained during Tuesday's press conference.
"We're doing $200 million in gas tax holiday, so that will reduce the fuel tax on October 1st by about 25 cents a gallon," DeSantis said at the time.
Source: breitbart.com
JUST IN – U.S. Federal Reserve hikes benchmark interest rate by 75 basis points for third straight time this year.
Something gonna break soon…
---
Political/Rights
And more importantly than the woke homophobia is the fact that more and more companies are coming out in full support of the sexualization, indoctrination, and medicalization of minors.

They will soon regret this unprecedented decision. Stay tuned.

— Gays Against Gr██mers (@againstgrmrs) September 20, 2022
New York Attorney General Letitia James   announced a new lawsuit against former President Donald Trump and his family.
AG James has been investigating whether the Trump Organization inflated values of some of its properties.
"Today, I filed a lawsuit against Donald Trump for engaging in years of financial fraud to enrich himself, his family, and the Trump Organization." Letitia James said.
"There aren't two sets of laws for people in this nation: former presidents must be held to the same standards as everyday Americans." she added.
Letitia James said her office is seeking to:
Make Trump pay $250 million.
Ban the Trumps from running NY businesses for good.
Ban Trump and Trump Org from buying commercial real estate in NY for 5 yrs.
We're making a criminal referral to the US Department of Justice
Source: thegatewaypundit.com
Where's the N.Y.'s Bar investigation of this conduct, which is not befitting a prosecutor of any kind, let alone a state AG?

It's not advocacy by a private lawyer or advocacy defending an office or institution of government. It's just weaponized partiality against political foes https://t.co/iFb1DMTlqM

— Jeff Clark (@JeffClarkUS) September 21, 2022
Another Witch Hunt by a racist Attorney General, Letitia James, who failed in her run for Governor, getting almost zero support from the public, and now is doing poorly against Law & Order A.G. candidate, highly respected Michael Henry. I never thought this case would be brought – until I saw her really bad poll numbers. She is a fraud who campaigned on a "get Trump" platform, despite the fact that the city is one of the crime and murder disasters of the world under her watch!
Attorney General Letitia "Peekaboo" James, a total crime fighting disaster in New York, is spending all of her time fighting for very powerful and well represented banks and insurance companies, who were fully paid, made a lot of money, and never had a complaint about me, instead of fighting murder and violent crime, which is killing New York State. She is a failed A.G. whose lack of talent in the fight against crime is causing record numbers of people and companies to flee New York. Bye, bye!
Letitia James doesn't care about the law. She's a Dem activist, who only cares about politics.

Here's the most recent poll in her reelection race. So she's now desperately trying to fire up her leftwing base with this BS. This is ALL politics, nothing more.

Disgraceful!!! pic.twitter.com/OY7we3YqjK

— Donald Trump Jr. (@DonaldJTrumpJr) September 21, 2022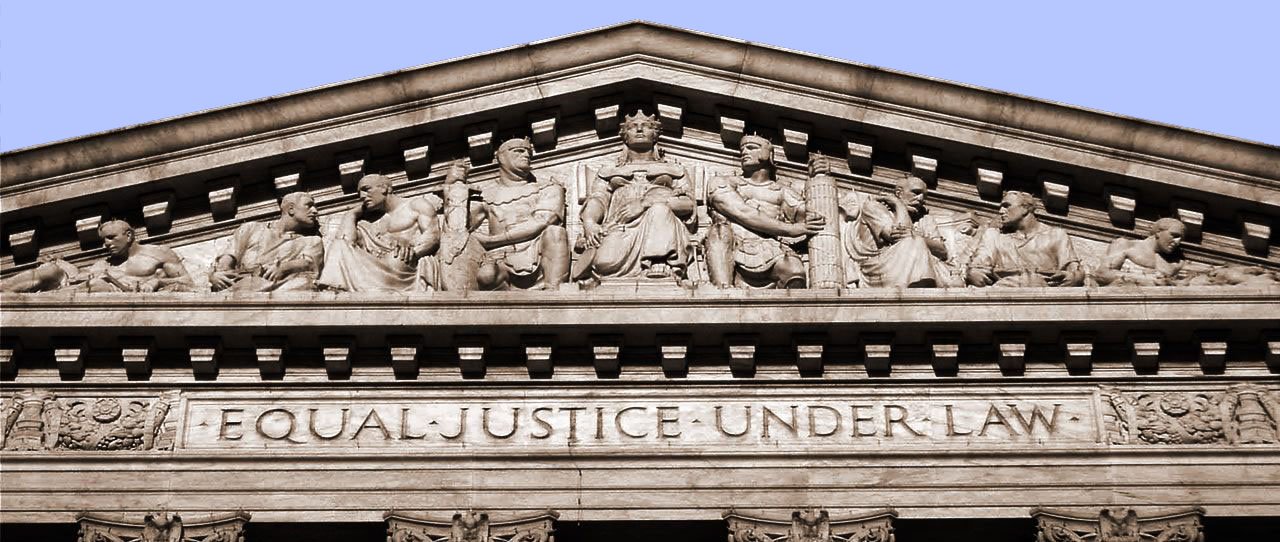 Q

 

!!Hs1Jq13jV6

 

ID: c6f403

 No.9682825

White House officials told Politico that they are "increasingly frustrated" with Fox News' @BillFOXLA for…

*checks notes*

… reporting on the crisis at the border that their administration caused pic.twitter.com/SsH3lEq00w

— Greg Price (@greg_price11) September 20, 2022
A network of groups supporting immigrants, Alianza Americas, filed the suit with three unnamed migrants that were relocated, and claimed that the action "also constituted intentional and negligent infliction of emotional distress, false imprisonment and fraud," according to The Hill.The suit claims that migrants "are pursuing the proper channels for lawful immigration status in the United States," and "experienced cruelty akin to what they fled in their home country" during the events that led up to them being sent to Martha's Vineyard.
Source: thepostmillenial.com
FL Gov. DeSantis' office responds to the class action lawsuit that was filed in Massachusetts: "The immigrants were homeless, hungry, and abandoned – and these activists didn't care about them then."

Office also provided the consent form for flight to MA: pic.twitter.com/r4ZpX3kHbz

— Julio Rosas (@Julio_Rosas11) September 20, 2022
Remember, just two years ago we had the strongest and best Southern Border in U.S. history. They weren't coming up and through because they knew that it was going to be very hard to come in, and stay in. That's the best Border policy of them all, by far. I built the Wall, and then added more. Remain in Mexico, we said. It all worked!!!
---
Geopolitical/Police State
  a group of twenty-four state attorneys general sent a letter to American Express Company CEO Stephen J. Squeri, Mastercard Inc. CEO Michael Miebach, and Visa Inc. CEO Alfred F. Kelly Jr. strongly objecting to the companies' plans to implement the ISO Merchant Category Code.
"The creation of a Merchant Category Code for sales at U.S. gun stores will not only not accomplish its intended goal, but is rife for misuse and abuse," Attorney General Schmitt announced. "Missourians value their Second Amendment rights and oppose any attempts to create a de-facto gun registry. I'm proud to stand up for those rights and will oppose this decision by the major credit card companies at every turn."
The letter stated, "The new code will not protect public safety. Categorizing the constitutionally protected right to purchase firearms unfairly singles out law-abiding merchants and consumers alike. First, efforts to track and monitor sales at gun stores would only result in vague and misleading information. This categorization would not recognize the difference, for example, between the purchase of a gun safe and a firearm. Nor would it capture firearm purchases made at department stores, resulting in arbitrarily disparate treatment of "gun store" merchants and consumers."
"More importantly, purposefully tracking this information can only result in its misuse, either unintentional or deliberate. Creating and tracking this data only matters if your institutions are considering using that information to take further, harmful action—like infringing upon consumer privacy, inhibiting constitutionally protected purchases by selectively restricting the use of your payment systems, or otherwise withholding your financial services from targeted "disfavored" merchants."
More from KTTN:
The letter contends that this system will unfairly target law-abiding merchants and consumers without aiding public safety, as the coding system does not distinguish between the purchase of a gun safe and a firearm, for example. Therefore, the information gathered would do little to fulfill the goal of staving off future gun violence by hopefully "catching illicit activity."

Even more importantly, the letter asserts that "purposefully tracking this information can only result in its misuse, either unintentional or deliberate," and that "creating a 'list of gun buyers' creates the obvious risk that law-abiding consumers' information will be leaked, discovered, hacked, or otherwise obtained and misused by those who oppose Americans exercising their Second Amendment rights."

The letter closes by stating that "Americans are tired of seeing corporate leverage used to advance political goals that cannot muster basic democratic goals," and the promise that the 24 attorneys general "will marshal the full scope" of their "lawful authority to protect their citizen and consumers from unlawful attempts to undermine their constitutional rights."

In addition to Missouri, Alabama, Alaska, Arkansas, Arizona, Florida, Georgia, Indiana, Kentucky, Louisiana, Mississippi, Montana, Nebraska, Ohio, South Carolina, Tennessee, Texas, Utah, Wyoming, West Virginia, Oklahoma, Kansas, New Hampshire, and Virginia signed on to the letter.
Source: thegatewaypundit.com
German Domestic Intelligence Is Running 100s Of Fake Right-Wing Extremist Social Media Accounts; Report
Hundreds of the radical Nazis and right-wing extremists online are actually German domestic intelligence agents, and many of them may even responsible for "inciting hatred" and even violence.  Germany's Federal Office for the Protection of the Constitution (BfV) argues that these accounts are needed to gather information, but critics say that they may also be promoting and actively encouraging radicalism, according to a report from German newspaper Süddeutshce Zeitung.
---
War
It is a foregone conclusion that Lugansk, Donetsk, Zaporozhye, and Kherson regions of the former Novorossiya will be re-assimilated into the Russian motherland.
Odessa will follow at some point in the not-so-distant future.
And the empire's refusal to acknowledge the legitimacy of these developments will prove utterly irrelevant.
Western media and puppet politicians can scream "Russian aggression" and "sham election" all they want, but the unadorned fact is that these regions are overwhelmingly ethnic Russians whose collective desire is to be reunited with what they view as a powerful and ascendant Russia.
source: theburningplatform.com
President Putin of Russia is now threatening the use of Nuclear Weapons, saying "It is not a bluff." The Ukrainian conflict should never have happened, and would not have happened if I were President. But as I have made very clear for quite some time, this could now end up being World War III.
---
Cyber Attacks
---
False Flags
  Canada likely will drop the vaccine requirement for people who enter the country by the end of September, according to multiple reports Tuesday, a move that impacts unvaccinated professional athletes who travel there for games.
To enter the country, the Canadian government currently requires a person to have received a second COVID-19 vaccine dose — or one dose of the Johnson & Johnson vaccine — at least 14 days before entry. But the government likely will be dropping the requirement, pending a final sign-off from Prime Minister Justin Trudeau.
Source: espn.com
"Today, a federal judge in Louisiana ruled that the federal government cannot require Head Start program teachers, staff and volunteers be vaccinated against COVID-19, nor can they require that adults and students wear masks."

— Corey A. DeAngelis (@DeAngelisCorey) September 21, 2022
U.S. District Court Judge Terry A. Doughty: "The public has a liberty interest in not being required to take a vaccine or be fired from their jobs. The public interest must be taken into account before allowing Agency Defendants to mandate vaccines."

— Corey A. DeAngelis (@DeAngelisCorey) September 21, 2022
---
Q
On Sunday evening, 18-year-old Cayler Ellingson was struck and killed by a vehicle driven by 41-year-old Shannon Brandt in a politically motivated murder in North Dakota.
The teen was attending a street dance in McHenry, North Dakota.
Brandt called 911 after fleeing the accident, telling the dispatcher that Ellingson was part of a "Republican extremist group."
According to an affidavit, Ellingson called his mom and said he was being chased by Brandt and needed help.
Brandt confessed to killing 18-year-old Ellingson because of his politics.
Cayler Ellingson
The murder of Cayler Ellingson came two weeks after Joe Biden's demonic speech in Philadelphia where he declared war against Republicans, conservative, patriots and Trump voters.
Shannon Brandt was released on $50,000 bond on Tuesday.
Brandt was charged with vehicular homicide and leaving the scene of a deadly accident.
Source: thegatewaypundit.com
1822  
Q
!A6yxsPKia.
08/06/2018 19:31:41
 ID:
8chan/patriotsfight: 121
Q 

!UW.yye1fxo

 

ID: ec346b

 No.339775

OPERATION: MOCKINGBIRD

 

Anonymous

 

ID: ba6ded

 No.339583


u9x7lr0oymf01[1].jpg

NK is a CIA Blacksite
OP:MKBRD is a CIA Media controlWho in the media right now is GLORIFYING NK to spite the Trump Admin?Time to take the offensive. Lets start taking names of all journalists that propagate NK. Lets not let them hide behind their banners anymore.Let's play HUNT THE SPOOK
>>339583
Ask yourself, why is NK participating in the O-games this year?
Ask yourself, why is the 'sister' w/ Pence?
Ask yourself, if controlled, how might you protect yourself and look for a way out?
Ask yourself, what is a distraction?
Ask yourself, why did Korea come together as a country v N&S?
Ask yourself, what occurred in Asia (ref pics) just prior to the O-games?
Ask yourself, what does FREED mean?
Ask yourself, do we want a WAR?
Ask yourself, who is trying to start a WAR?
Ask yourself, if a missile was launched by rogue actors, what would be the purpose?
Ask yourself, what would/should immediately start a WAR?
Ask yourself, would the PUBLIC understand the following statement: "Rogue actors (Clowns/US former heads of State) initiated a missile launch in order to 'force' the US into a WAR/conflict against X?"
Be the autists we know you are.
Those who cannot understand that we cannot simply start arresting w/o first ensuring the safety & well-being of the population, shifting the narrative, removing those in DC through resignation to ensure success, defeating ISIS/MS13 to prevent fail-safes, freezing assets to remove network-to-network abilities, kill off COC to prevent top-down comms/org, etc etc. should not be participating in discussions.
Q
666  
Q
!UW.yye1fxo
02/05/2018 12:16:50
 ID: 472124
8chan/qresearch: 275544
34  
Anonymous
11/01/2017 22:56:16
 ID: pGukiFmX
4chan/pol: 147567888