This Is The Tip Of The Iceberg, The Call For Election Decertification Is Getting Louder – Ep. 2615
Watch The X22 Report On Video
The economic crisis is hitting other countries first, they are seeing power outages and other problems. Trump says gas could go over ten dollars a gallon, inflation nation. Trump points out that [JB] wants to pay non citizens $450,000. People around the world who are experiencing inflation are starting to realize what real money is. The patriots are in control, the CDC put out a paper that says the vaccines are better than natural immunity, this was not peer reviewed and it is now debunked. The [DS] is now panicking, the call to decertify the election is growing. Fraud is being produced, prosecutions are coming down the pike and this is only the tip of the iceberg. The [DS] is continuing to silence voices. This is panic, they are afraid of those who speak the truth.
---
Economy
1.7 million Britons at risk as major UK energy provider on brink of financial collapse
ENERGY supplier Bulb could collapse as early as next week as talks with potential rescuers continue.
It is believed the Government is accelerating plans for the collapse of the country's seventh-biggest energy supplier, which has an estimated 1.7 million household customers. Ministers and officials, as well as Ofgem, have warned the company could collapse as early as next week.

If the company does collapse, around 1,000 people would be out of work.

 customers found their energy bills rising by nearly 80 percent.
 Former President Donald Trump was very critical of the inflationary trend under the Biden administration  
During the interview that aired on Saturday evening, Trump said he could get average prices down significantly but predicted prices could head north of $10 a gallon.
 
TRUMP:   when you talk about inflation, the biggest factor in my opinion is no energy. The trucks, the factories, everything, the deliveries, the planes, everything — it is so energy-based that the energy now is so expensive to get. We don't have enough oil.
Source: breitbart.com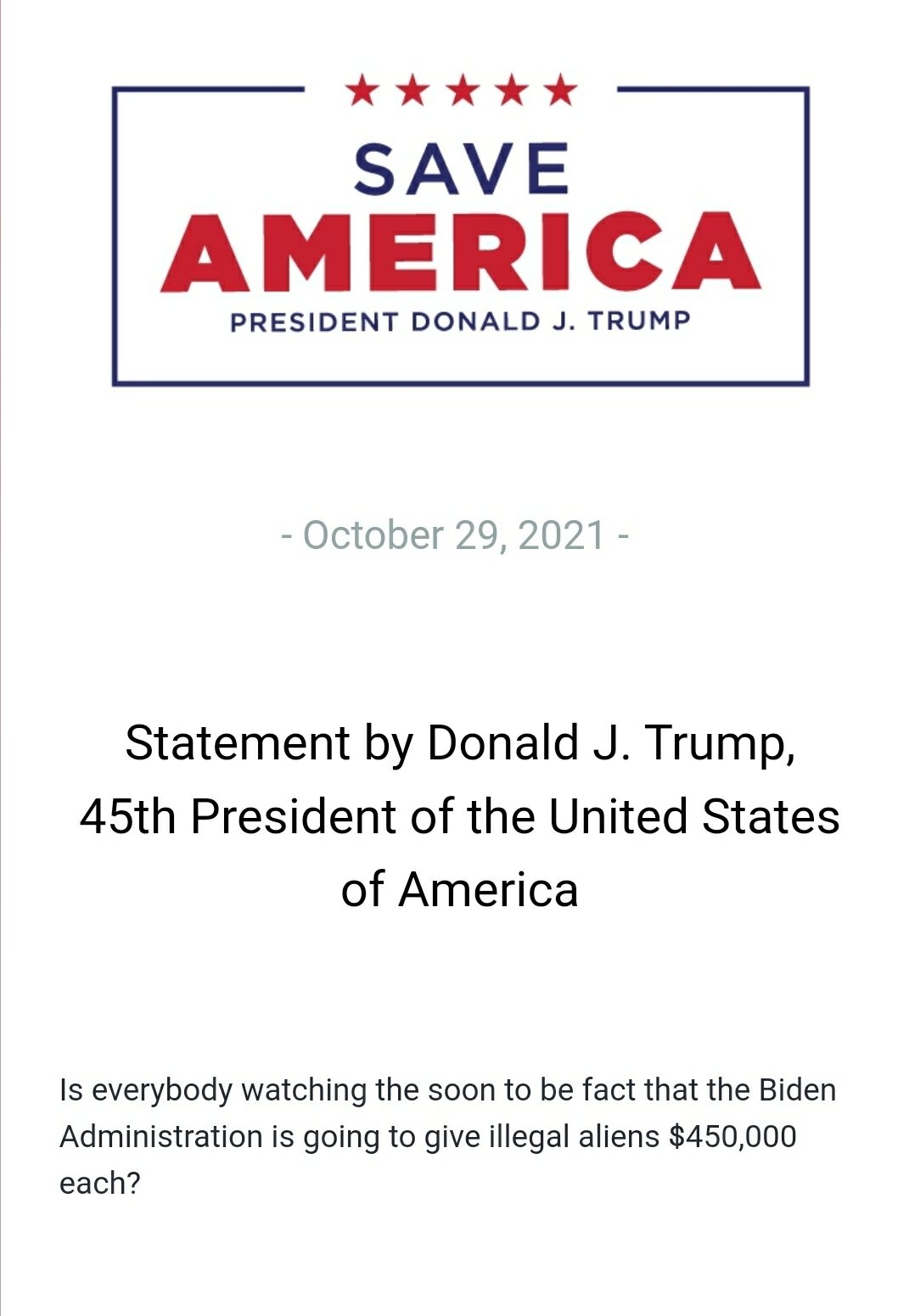 The Venezuelan government recently lopped off six zeros from its hyperinflating currency, the bolivar. The highest denomination currency note of 1 million bolivars, worth less than $0.25, was replaced by a one-bolivar note. At the same time, a 100-bolivar note, worth about $25.00, was introduced as the new highest denomination of the bolivar. The currency conversion was designed  to spare the government the embarrassment of having to issue a 100-million bolivar note to enable people to purchases everyday items without having to carry around bundles of notes, given that the price of a loaf of bread had risen to 7 million old bolivars. Of course, the arbitrary scaling down of the denomination of the currency will not slow inflation, because the new currency notes can be printed just as cheaply as the old. The bolivar has already lost 73 percent of its value in 2021 alone and the IMF estimates the annual inflation rate will reach 5,500 percent by the end of 2021.
 . As a result, gold flakes, which are peeled off raw nuggets with hand tools, have become the currency of choice in the region with prices for commodities and services quoted in grams of gold. Half a gold gram buys you a one-night stay in a local hotel, while a meal for two at a Chinese restaurant and a haircut will cost you a quarter of a gram and an eighth of a gram, respectively.
The gold flakes are carried in people's pockets—usually wrapped in the nearly worthless bolivar notes. While some shops are equipped with scales to weigh the gold flakes, most sellers and their customers have become so familiar with the flakes that they evaluate them by sight.  
Source: zerohedge.com
---
Political/Rights
Meanwhile in Australia, protesters chant "Let's Go Brandon" as they march towards the Parliament of Victoria.

— Election Wizard (@ElectionWiz) October 31, 2021
— Dan Scavino🇺🇸🦅 (@DanScavino) October 31, 2021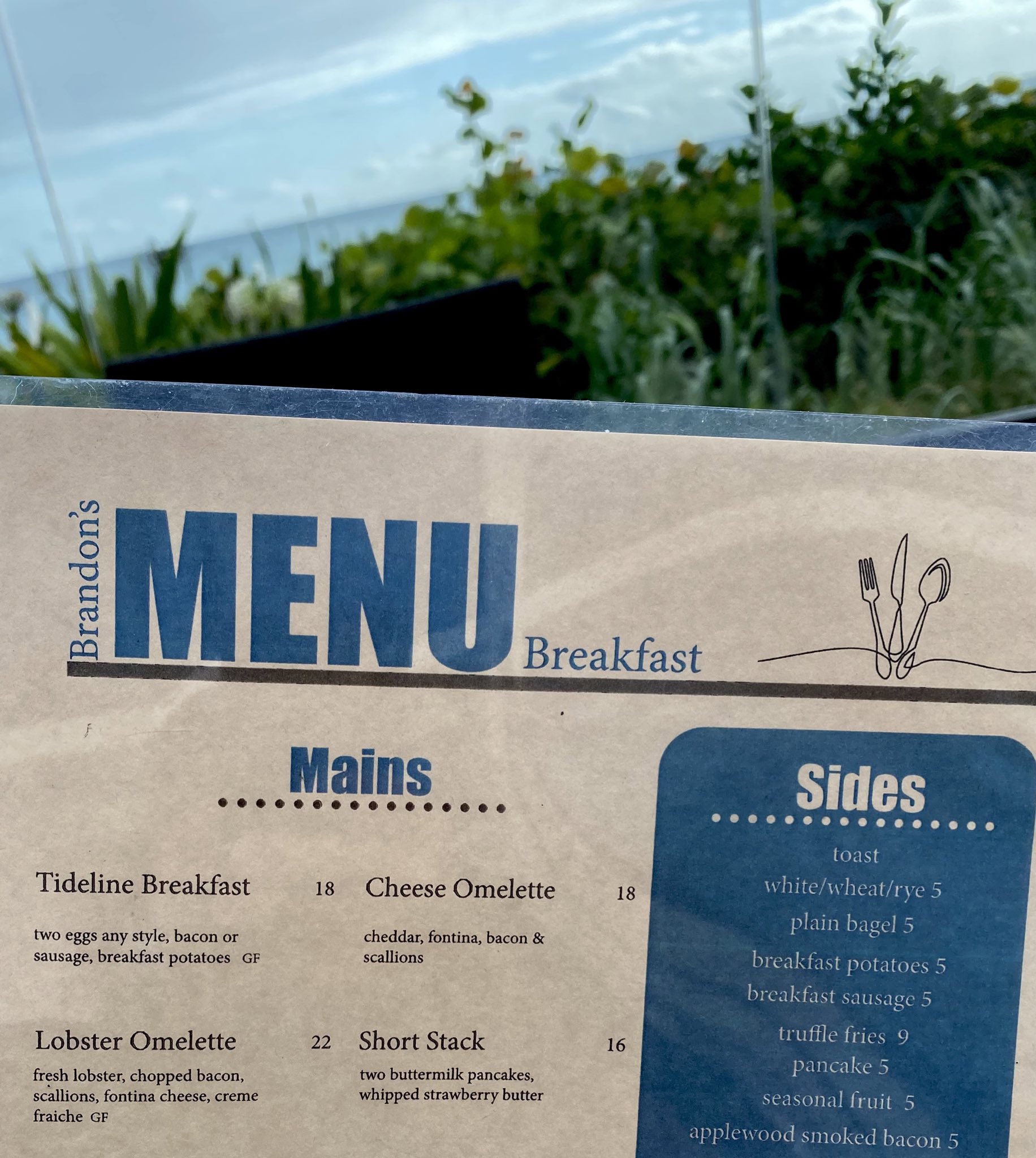 Q

 

!xowAT4Z3VQ

 

ID: 03213a

 No.922685

Q

 

!xowAT4Z3VQ

 

ID: 03213a

 No.922596


>>922559
The important point is who Hussein is aiming the gun at.
Red, White, and Blue.
Spray.
Q
>>922596
Connect via past religious leaders (re: Hussein).
We have everything.
They know we do.
RISK.
Q
America's crisis at the border is now a crisis in New York public schools.
The Biden Administration is flooding New York City and Long Island communities with thousands of unaccompanied immigrant minors captured crossing the Mexico-US border, often arriving here, as The Post recently reported, via clandestine flights in the middle of the night.
Data from the US Department of Health of and Human Services confirms that the New York area is a hotspot for shipping children rounded up illegally crossing the border without guardians.
Four counties alone, Suffolk, Queens, Nassau and Brooklyn, took in nearly 5,000 unaccompanied children in just 11 months, from Oct. 1, 
Source: nypost.com
---
Geopolitical/Police State
Just as the private jets of the global elites swarm to Davos, Switzerland, every year for the World Economic Forum, so too are they descending on Glasgow for this week's COP26 climate conference.
 reports some 400 private jets are due to disgorge their cargo of world leaders and business executives for the event. In doing so, they will dump thousands of tons of CO2 into the atmosphere.
An estimated 30,000 delegates will fly in to the conference from almost every country in the world, with 192 parties signed up to the Paris Agreement.
Source: breitbart.com
---
War
SIGAR Pressured by the State Department to Redact Afghanistan Reports
Since 2008, SIGAR has documented the huge amounts of waste in the US's Afghanistan war
The Special Inspector General for Afghanistan Reconstruction (SIGAR) said  that after Kabul fell to the Taliban, he was pressured by the State Department to redact information from SIGAR reports. Since 2008, SIGAR has documented the corruption and waste involved in Washington's failed nation-building project in Afghanistan.
SIGAR chief John Sopko told the annual Military Reporters & Editors Association Conference that the State Department asked him to "temporarily suspend access" to all "audit, inspection, and financial audit … reports" from the SIGAR website. The Department claimed it wanted the information removed to protect Afghan allies of the US, but Sopko said he never got an explanation of how reports that have been on the internet for years could put anyone in danger.
Source: news.antiwar.com
---
False Flags
Just six months ago, the official position was that the origins of COVID were not just known, but were proven with so much certainty that no debate or questioning of it could be permitted and had to be banned from the internet, which it was.

Now we have this: https://t.co/BXYR6CgbUq

— Glenn Greenwald (@ggreenwald) October 30, 2021
U.S. spy agencies say origins of COVID-19 may never be known https://t.co/J9QVx5Xzh5 pic.twitter.com/HhRK2PRiPH

— Reuters (@Reuters) October 30, 2021
The National Institutes of Health has quietly scrubbed its affiliation with a horrific beagle research study that has drawn tremendous fire from all segments of the media.
"Publisher's Note: The US National Institutes of Health and the Wellcome Trust did not provide any funding for this research and any such claim was made in error," the journal PLOS reported on the study on Tuesday.
Source: beckernews.com
But the vaccine mandate is all about the public health, right?
New York – The FDNY shut down 26 firehouses across the Big Apple as of 7:30 a.m. Saturday because of staff shortages caused by the vaccination mandate, The Post has learned.
 
Source: theconservativetreehouse.com
Klaus Schwab: "…as long as not everybody is vaccinated, nobody will be safe."

— Election Wizard (@ElectionWiz) October 31, 2021
CDC study: Vaccination offers better protection than previous COVID-19 infection
THREAD

What do "road kill" and a CDC sponsored COVID paper have in common? By the third day, they're so picked apart they're unrecognizable.

This @CDCDirector is shameless for fabricating junk science with findings that stand in stark contrast to every credible academic study. https://t.co/8LP5V1s1EF

— Thomas Massie (@RepThomasMassie) October 30, 2021
CDC uses this paper to make the absurd, never before claimed, and already unproven assertion, that the vaccine is 5x more effective than natural immunity at preventing people from testing positive for COVID.

Testing! Not symptoms, death, or hospitalization… testing! pic.twitter.com/w31jCrZfK3

— Thomas Massie (@RepThomasMassie) October 30, 2021
Let's start with one obvious flaw which the authors recognize but gloss over.

Most of the few cases they characterize as "re-infections" are probably LONG-COVID.

They made no effort to verify recovery or that the infections were genetically unique. They just waited 90 days! pic.twitter.com/GVxu5lOwYF

— Thomas Massie (@RepThomasMassie) October 30, 2021
The irony of this study is when they went looking for people hospitalized with COVID-like symptoms they found over 6,000 who were vaccinated and only 1,000 who were unvaccinated and had a prior COVID infection.

I thought they told us 99% of hospitalizations were unvaccinated? pic.twitter.com/poS1RSUZXV

— Thomas Massie (@RepThomasMassie) October 30, 2021
This 6 page paper has over 50 authors. That's an average of 9 authors per page. Half a dozen of them disclose conflicts of interest with Pharma. But is working for CDC categorized as a conflict of interest? @CDCgov was given $1 billion from Congress to promote the vaccines. pic.twitter.com/mMuhf5EXO8

— Thomas Massie (@RepThomasMassie) October 30, 2021
In their data, why does the number-of-vaccinated-people-hospitalized correlate negatively with time-since-vaccine?

Could initial hospitalizations be due to vaccine adverse effects or due to a temporarily weakened immune system from the vaccine? (Or possibly just selection bias) pic.twitter.com/sAwDAGQcEr

— Thomas Massie (@RepThomasMassie) October 30, 2021
.@RWalensky's mischaracterization of the paper conceals what CDC's original tortured summary exposes:

The study is junk because it only considers those with prior infection who ended up in the hospital, not the ones who didn't.

Natural immunity helps prevent hospitalization! pic.twitter.com/3YuZfPQGAE

— Thomas Massie (@RepThomasMassie) October 30, 2021
CDC MMWR scam "research" https://t.co/rIT2bW4Llx
purporting to show "superiority" of C19 vax-induced immunity v. natch immunity=PRUNED data that ignore vaccine waning, as authors concede. MMWR is a non-peer reviewed house organ of CDC which exists, openly, to promote CDC policy pic.twitter.com/SaMnjPyPMa

— Andrew Bostom, MD, MS (@andrewbostom) October 30, 2021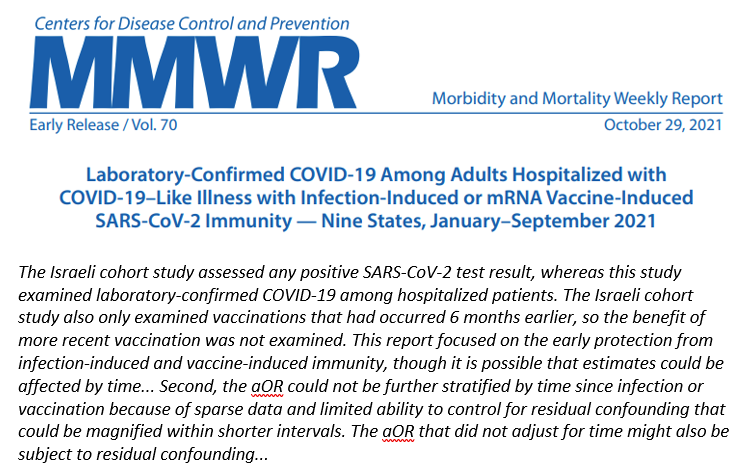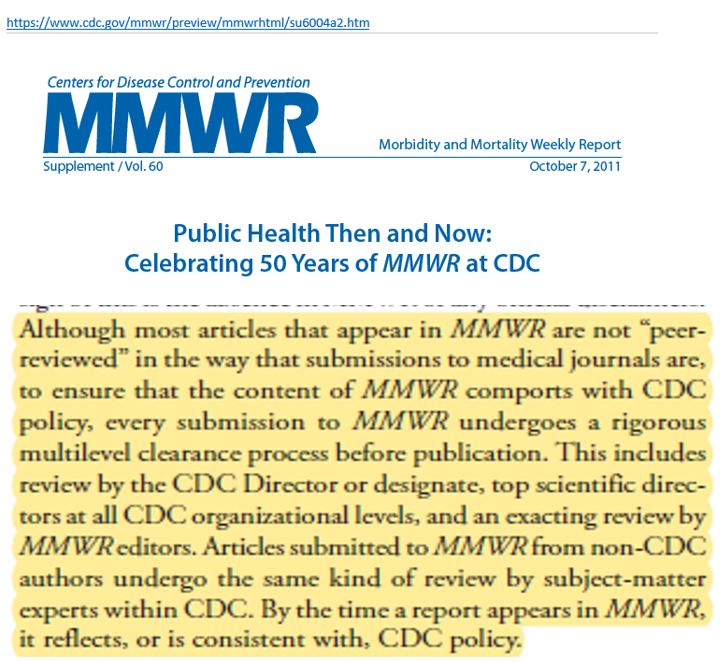 Iowa Governor Kim Reynolds (R) signed the "vaccine mandate exemption bill" into law on Friday that allows constituents to seek medical and religious exemptions from COVID-19 vaccine mandates.  The law also guarantees unemployment benefits for those who are fired for refusing to get the vaccine.
Reynolds also stated that she is joining a lawsuit challenging the Biden administration's unconstitutional vaccine mandate for federal contractors.
Iowa joins Alaska, Arkansas, Missouri, Montana, Nebraska, New Hampshire, North Dakota, South Dakota, Texas, West Virginia, and Wyoming to push back against the vaccine mandate to all employees.
"
Source: thegatewaypundit.com
South Dakota Gov. Kristi Noem signed an executive order this week to "protect" state employees against President Joe Biden's COVID-19 vaccine mandate by allowing them to easily obtain medical and religious exemptions.
Source: zerohedge.com
Robert F. Kennedy makes a desperate plea to the world to resist the tyranny being implemented in the name of Covid warning we are now in Nazi territory.
I don't know why people (mostly on the left) that is going along with this don't see what's happeningpic.twitter.com/HGuduuHSkG

— Melissa Tate (@TheRightMelissa) October 30, 2021
TAKE A LISTEN
When the government knows everything about you, this is tyranny
When you know everything about the government this is democracy
---
Q
Police in Northern Virginia are increasing their presence around shopping malls and high-volume roads and transit areas in response to a purported threat from ISIS.
A law enforcement source told CBS News the recent threat against a mall in Northern Virginia this Halloween weekend originated from ISIS. It is the basis for a law enforcement-sensitive alert that was issued.
Out of an abundance of caution, Fairfax County's police chief said his department is ready to respond if the threat materializes.
Chief Kevin Davis said he learned of the threat through regional intelligence partners in the last 24 hours.
Source:  wtop.com
 State Representative Timothy Ramthun (R-Campbellsport) released the following statement regarding the Legislative Audit Bureau report and Racine County Sheriff Press Conference:
"I have continued to pursue truth and integrity of our 2020 general election. Recent
developments have made it abundantly clear that the legislature should not have certified
Wisconsin's 10 electoral ballots on December 14, 2020.
"The release of the bi-partisan Legislative Audit Bureau report identified 44,272 voters did not reflect proper voter identification and also revealed the mass increase of indefinitely confined voters from 4,505 in 2019 to 169,901 in 2020. Tainted or fraudulent, these alone should be enough to question the legitimacy of the 2020 election results.
"Additionally, after review of today's press release from the Racine County Sheriff's
Department, it was confirmed on March 12, 2020, the Wisconsin Election Commission
knowingly and willfully directed all 72 county clerks to violate state statutes 6.84 and 6.875
regarding absentee voting in certain residential care facilities and retirement homes. This
unlawful direction clearly broke state statute 12.13(2)(b)(7) which refers to intentionally
violating election laws. When combined with the Legislative Audit Bureau report, these actions verify that our election process was fraudulent.
"Therefore, I call upon the Wisconsin Legislature to recognize its duty under Article 2 Section 1 Clause 2 of the United States Constitution, as well as the guidance provided from ss6.84(1), to decertify Wisconsin's November 2020 election results by reclaiming its ten electoral ballots.
Source:  washingtoncountyinsider.com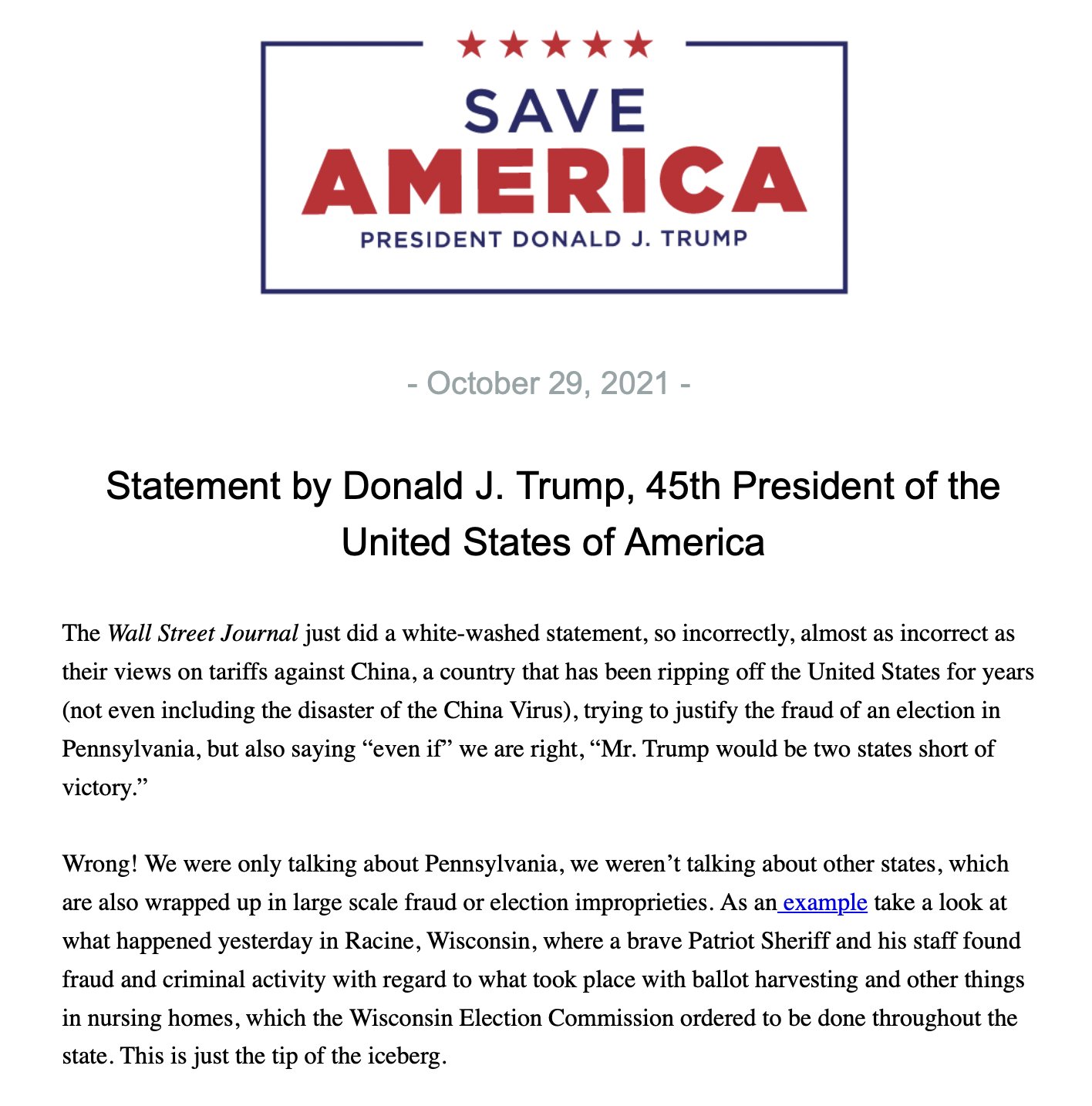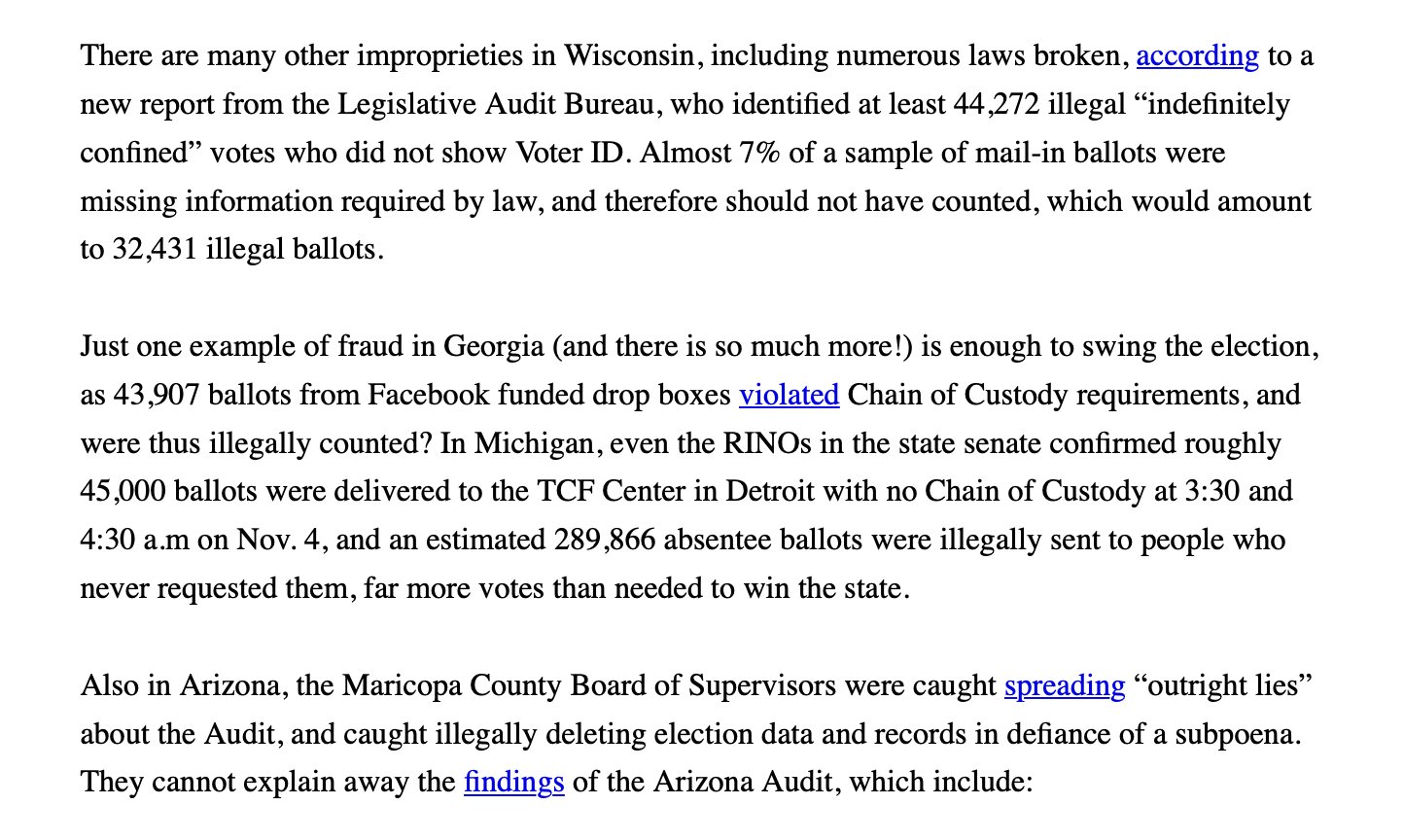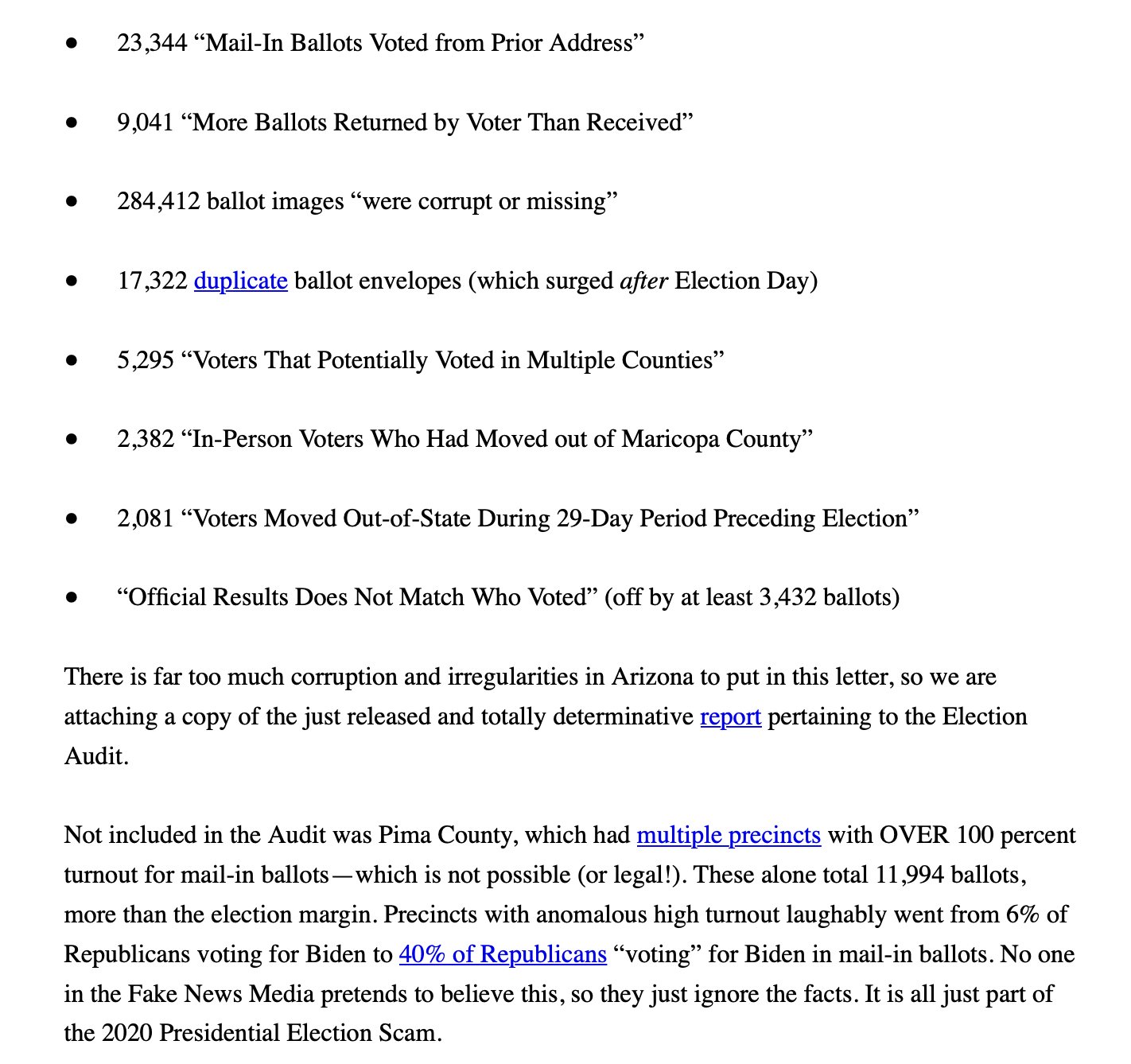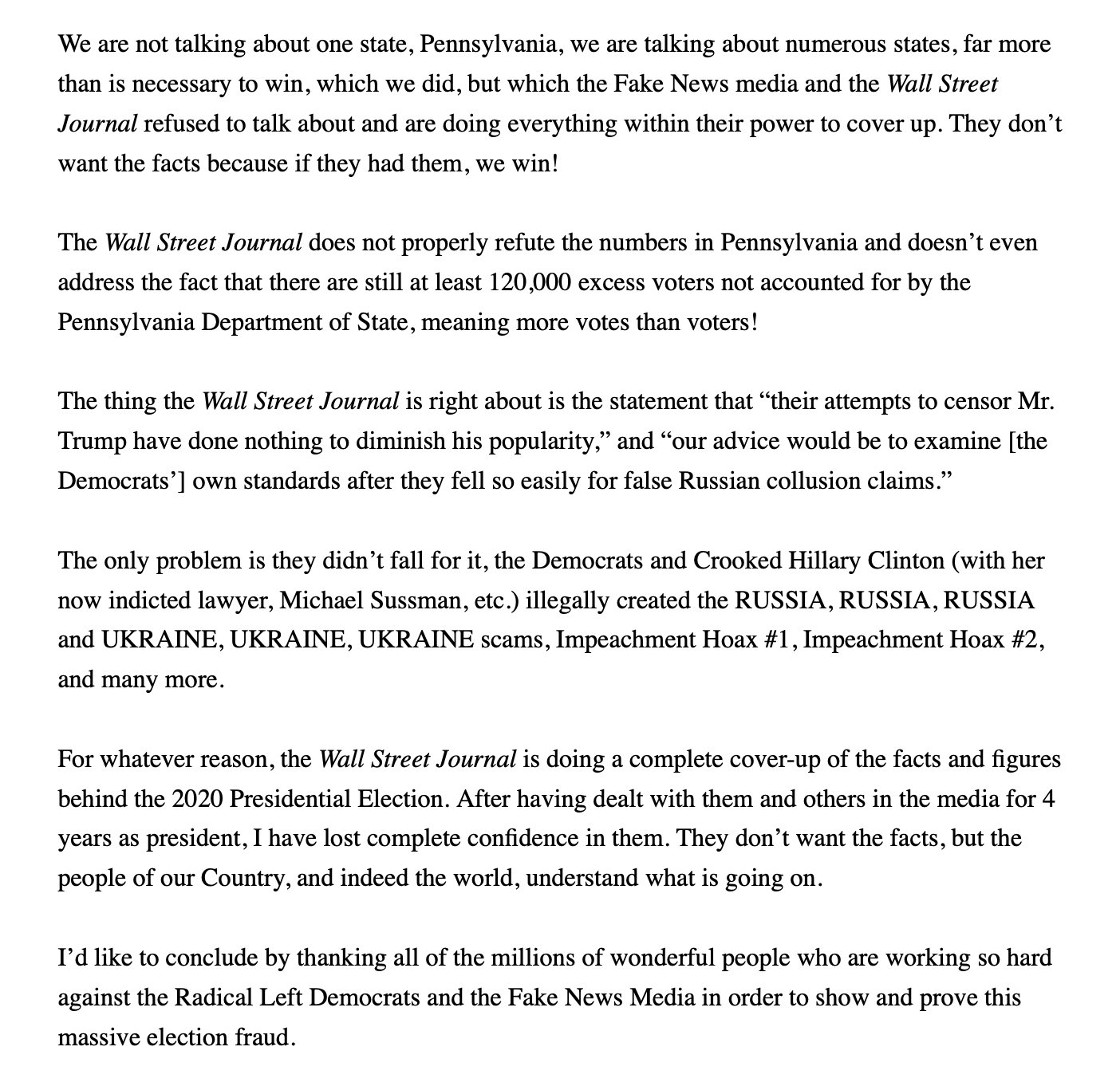 HAPPENING NOW—#ChopOn #ForTheA pic.twitter.com/z5cooNSZKa

— Dan Scavino🇺🇸🦅 (@DanScavino) October 31, 2021
World series doing the chop
Huma
Husband in jail.
HRC, Muslim Brotherhood, or child?
What would you do? Kiss your child goodbye and leave without a mother or father for Clinton?
Where is Huma today?
Was she with HRC on her book tour?
RE: Military Intelligence / State Secrets
No FBI
POTUS installed his people within each top spot at each 3 letter agency except 1 (good reason there as Adm R kick started this and scrubbed all POTUS nominations to verify oath).
Do you think they aren't in control of those respective agencies?
What is most valuable?
Information
AG Sessions on leakers.
Fire or prosecute?
Reorg is underway and happening.
Coincidence Senate Republicans pushing for Fed Judge confirmations last week?
Why are Senate Republicans dropping out? Not by choice and were offered a choice (rest assured they will vote pro Trump).