Trump Confirms He Is Exposing The [DS] System, Patriots Have The Ball The Entire Time – Ep. 3139
Podcast: Download (Duration: 1:31:53 — 39.9MB)
Watch The X22 Report On Video
The Biden admin is showing the people how he is wasting money and the green new deal is one gigantic hoax. The people are waking up and they are realizing the Inflation Reduction Act doesn't reduce inflation, just another lie. The people voted for a [CB] destroyer, it has begun. The Fed signals that they are ready to bring down the economy. The patriots are now putting on a show of all shows. The [DS] players have been stripped of their roles and the people can see their true agenda. They can see how they don't follow the rule of law, how they don't care about the constitution. They see the two tiered justice system. Trump confirms that he is exposing it all, he is showing the corruption and is showing what the [DS] system really is. Patriots have had the ball the entire time.
---
Economy
The Biden administration announced  that it will spend up to $1.2 billion to fund two direct air capture (DAC) carbon removal projects, according to the Department of Energy (DOE), a technology which some reports have suggested may be an ineffective tool to counter climate change.
These projects in Louisiana and Texas will essentially be large vacuums that suck up carbon dioxide from the air, separate it with chemical processing and then condense the carbon dioxide for burial underground or for use in industrial products like cement, according to a DOE press release. Energy Secretary Jennifer Granholm has promoted this particular form of carbon capture and sequestration (CCS) technology, but DAC emits more carbon dioxide than it captures while relying on toxic chemicals, according to a January report from Food and Water Watch, a climate-focused nonprofit group that advocates for green policies.
Source: dailycaller.com
This is the darkest secrets behind the Green New Deal. The only person I've heard talking about it is @cvpayne. pic.twitter.com/h51oNrrjCw

— The Dirty Truth (Josh) (@AKA_RealDirty) August 13, 2023
Economists say that the $740 billion legislation, which was passed one year ago on Wednesday, does not deserve credit for bringing down inflation, and President Joe Biden has also come out to say that the legislation was not meant to address record-high inflation, according to the AP.  
"We can say with pretty strong confidence that it was mostly other factors that have brought inflation down,'' Alex Arnon, economic and budget analyst for the University of Pennsylvania's Penn Wharton Budget Model, told the AP. "The IRA has just not been a significant factor.''
Before the bill was signed in August 2022, the Congressional Budget Office (CBO) said that the legislation would have a negligible effect on inflation, according to a letter by the CBO to Republican South Carolina Sen. Lindsey Graham.
"I can't think of any mechanism by which it would have brought down inflation to date," Jason Furman, Harvard University economist, told the AP.
  
Source: dailycaller.com
US inflation means families are spending $709 more per month than two years ago
When student loan payments resume, 56% of borrowers say they'll have to choose between their debt and buying groceries
Federal student loan payments are coming back, and they're going to wreak havoc on borrowers' budgets.
Interest accurals resume on Sept. 1 and payments will be due in October for the first time in over three years.
But over half of borrowers (56%) say they will be forced to choose between making their loan payment or covering necessities, like rent and groceries, when the pandemic forbearance ends, according to a new survey from Credit Karma.
T
Unsurprisingly, 68% of borrowers with household incomes under $50,000 say they'll have to choose between keeping up with their loan payments and buying necessities, Credit Karma finds.
But a large portion of high earners also expect to struggle — 45% of borrowers with household incomes of $100,000 or more say they'll be forced to make those hard choices.
Other debts may be part of the issue. More than 50% of borrowers say they're struggling to pay auto loans, mortgages, credit card balances or other bills, according to Credit Karma.
One option that could especially help lower-income borrowers is to apply for an income-driven repayment plan. Under the new Saving on a Valuable Education IDR plan, families of three or more who earn $50,000 or less may qualify for a $0 monthly payment, for instance.
Still, only 34% of borrowers say they'll apply for an IDR plan to lower their monthly payments, according to Credit Karma. 
  45% of borrowers expect their loans to go delinquent when the forbearance ends, the survey found.
Source: cnbc.com
30 year mortgage rates are inching above 8% in many states.

Mortgage refi market is in a coma. Banks are laying off many of the people in their mortgage divisions. Housing market is freezing up.

Everything is fine 🔥🔥🔥 pic.twitter.com/c5WZ9kl78V

— Wall Street Silver (@WallStreetSilv) August 14, 2023
US factory activity contracted in July for a ninth-straight month, per Bloomberg. pic.twitter.com/GZbJBCcwfR

— unusual_whales (@unusual_whales) August 14, 2023
Interest paid on public debt saw an increase of 34% in first 10 months of 2023.
 
It's now getting close to surpassing defense spending. pic.twitter.com/T775MeztBX

— Genevieve Roch-Decter, CFA (@GRDecter) August 11, 2023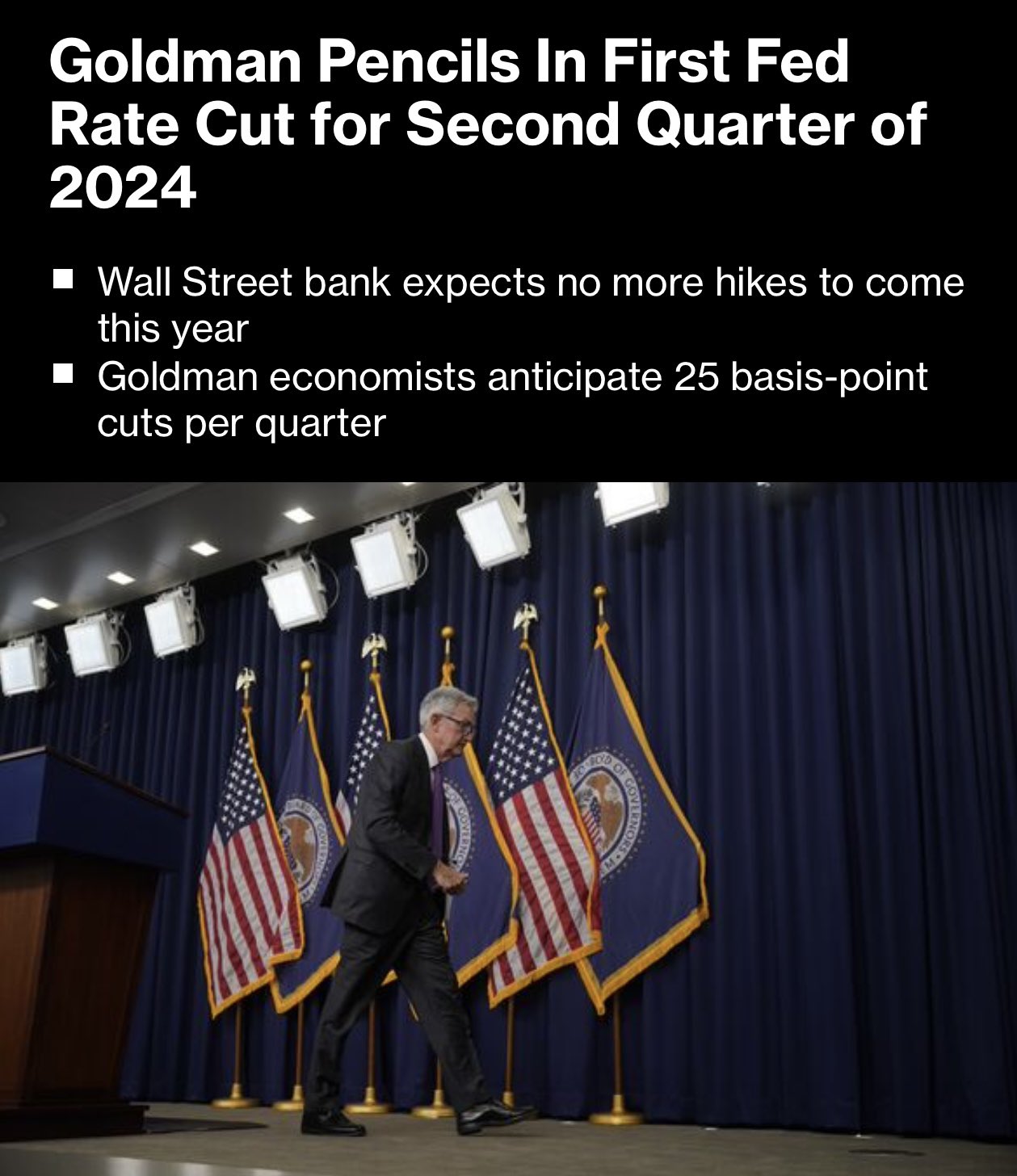 JUST IN – Michael Burry puts $1.6 billion BIG SHORT on stock market.

— Disclose.tv (@disclosetv) August 14, 2023
The $1.6B market value on the 13F (below) refers to the notional value which indicates how much money is controlled by the position. Michael Burry did not pay $1.6B for the puts.

— Genevieve Roch-Decter, CFA (@GRDecter) August 14, 2023
BREAKING: Pro-#Bitcoin candidate WINS Argentina's Presidential primary election pic.twitter.com/YmT4ZM7KN0

— Bitcoin Magazine (@BitcoinMagazine) August 14, 2023
---
Political/Rights
NEW — A video posted on August 8 at 6:43 am by a Lahaina resident shows a downed power line and flames.

Maui residents are suing power companies that "inexcusably kept their power lines energized during forecasted high fire danger conditions."https://t.co/I9DG5MIvW1 pic.twitter.com/F0P7kTOJgp

— KanekoaTheGreat (@KanekoaTheGreat) August 14, 2023
As our own country faces the deadliest US wildfire in over 100 years with nearly 100 dead, over 1,000 Americans still missing, and 2,200 structures lying in smoldering ruins…Biden sends another $200 million in weapons to UKRAINE.

You literally cannot make this stuff up. pic.twitter.com/nb7Ka9CmF4

— Charlie Kirk (@charliekirk11) August 14, 2023
Where is Biden? Where is DHS? Where is FEMA? https://t.co/b4q3wpzsFf

— Stephen Miller (@StephenM) August 13, 2023
Dear Hawaiians remember that in November of 2024. pic.twitter.com/zU7D5Bv7gE

— I Meme Therefore I Am 🇺🇸 (@ImMeme0) August 13, 2023
Disgraced former crypto tycoon Sam Bankman-Fried will be confined in a notoriously rough jail in Brooklyn, New York, until his trial, Reuters reported.
Bankman-Fried will be held at the Metropolitan Detention Center until his scheduled trial in  
Source: dailycaller.com
A retired FBI agent testified that Joe Biden's 2020 presidential transition team was tipped off to the Bureau's plan to interview Hunter Biden, according to a transcript released Monday.
The former FBI agent, whose name is redacted in the transcript, worked for the Bureau from 2002-22 and testified to House Oversight in July about the IRS whistleblower revelations surrounding the Hunter Biden investigation. He confirmed the Joe Biden transition team and Secret Service headquarters were tipped off to investigators' plans to interview Hunter Biden in December 2020, resulting in the Hunter Biden interview getting shut down.
🚨🚨🚨

IRS whistleblower Gary Shapley's testimony that Secret Service headquarters and the Biden transition team were tipped off is 𝙘𝙤𝙣𝙛𝙞𝙧𝙢𝙚𝙙 by a former FBI agent.

I have released the transcript.👇 https://t.co/NOnOMfS0kt

— Rep. James Comer (@RepJamesComer) August 14, 2023
NEW🚨 The House Oversight Committee is investigating Joe Biden's phone and bank records to uncover how he benefited from the foreign funds flowing into Hunter Biden's network of more than twenty shell accounts.

Hunter paid his father's phone bills, house repairs, and monthly… pic.twitter.com/GddgtOoInH

— KanekoaTheGreat (@KanekoaTheGreat) August 14, 2023
 expenses and told his daughter that he "paid for everything for this entire family for 30 years… But don't worry unlike Pop I won't make you give me half your salary," according to emails and texts on the First Son's laptop.
The entire Biden family business model was selling access to the highest levels of the US government to foreign nationals without registering under the Foreign Agent Registration Act in violation of federal law.
The Bidens funneled the money through business partners and shell companies because they obtained it illegally as unregistered foreign agents representing interests in Russia, China, and Ukraine.
Evidence supporting these claims includes bank records, wire transfer statements, suspicious activity reports, witness testimony, and data from Hunter Biden's laptop, which the FBI verified as authentic in 2019.
The laptop contains the last decade of Hunter Biden's life, including hundreds of thousands of emails, text messages, audio recordings, and photographs. Six banks, including JP Morgan, Bank of America, and Wells Fargo, submitted over 170 suspicious activity reports to the Treasury Department regarding the Biden family, alleging their involvement in money laundering, human trafficking, and tax fraud.
Any ordinary American family would face life in prison. However, the Bidens live in the White House, where they weaponize the same Justice Department that just got caught offering Hunter Biden a sweetheart deal against their chief political rival.
The "difficult scenario" the Delaware U.S. Attorney faces now as special counsel in the Hunter Biden investigation, is that he's the same prosecutor who oversaw the plea deal—furthering the trust deficit in Hill Republicans, @cbs_herridge reports. https://t.co/KWSeW419KB

— Catherine Herridge (@CBS_Herridge) August 13, 2023
Attorney General Merrick Garland continues to be unpopular with voters, who don't see him doing a better job than most of his predecessors.

More At Rasmussen Reports: https://t.co/7qFpGdQPcz pic.twitter.com/OZPlTosX8w

— Rasmussen Reports (@Rasmussen_Poll) August 13, 2023
It looks like they are setting this up so the investigation is put on hold and they begin the transition to remove Biden from the presidential race.
The Biden administration is refusing to sign off on using Brooklyn's Floyd Bennett Field to house migrants, leaving Gov. Kathy Hochul red-faced after she made a personal pitch to the feds Sunday.
New York's top Democratic official made sure she was on the morning call with such Biden bigs as Deputy Secretary of the Interior Tommy Beaudreau — and her office even prepared an announcement on the deal to send out pronto afterward, sources familiar with the situation told The Post.
The embattled gov hoped to be able to finally crow about a deal with the feds to use the desperately needed space at the 1,000-acre former military airfield to help ease the crush of migrants flooding into the Big Apple, sources said.
But the Democratic White House administration stunned Hochul by rebuffing her, saying there are still "operational and legal" issues at play over housing asylum-seekers at the site, sources said.
Source: nypost.com
Staten Island NY. A massive crowd gathere after NYC State, it will house migrants at a nursing home .
I spoke with residents, city and state officials, and activists and asked them if they had a message for President Joe Biden. Check out what they had to say!
🎥 by… pic.twitter.com/Wty5oHu0mJ

— Viral News NYC (@ViralNewsNYC) August 12, 2023
TAKE A LISTEN
---
Geopolitical/Police State
In withdrawing from the JCPOA, the United States sent a strong message to the Mullahs in Tehran and their allies in Beijing and Moscow that the United States of America was putting its national security — and that of its strong allies — ahead of fallacious hopes that Tehran would choose a reasonable path.
It sent a message that the United States would no longer sit on the sidelines as Tehran sent billions of dollars every year to their terrorist proxies around the world who have the blood of Americans, Israelis, and many others on its hands.
In withdrawing from the JCPOA, the United States sent a strong message to the Mullahs in Tehran and their allies in Beijing and Moscow that the United States of America was putting its national security — and that of its strong allies — ahead of fallacious hopes that Tehran would choose a reasonable path.It sent a message that the United States would no longer sit on the sidelines as Tehran sent billions of dollars every year to their terrorist proxies around the world who have the blood of Americans, Israelis, and many others on its hands.
---
War
Niger's junta to prosecute ousted president for 'high treason'
The military junta behind the coup in Niger said on Sunday that it intended to put former president Mohamed Bazoum on trial for treason.
The new government plans to "prosecute the deposed president and his local and foreign accomplices before the competent national and international bodies for high treason and undermining the internal and external security of Niger," said Colonel-Major Amadou Abdramane.
Source: i24news.tv  
Mar 20, 2019 2:11:41 PM EDT
The attempted 'COUP'
[

TREASON

]
opens the 'public' door to more serious……
The PILL must be easy to swallow.
The 'LEAD-IN'.
The PUBLIC must be prepared for what is about to come.
"THE CLINTON FOUNDATION" +++++++++++++++++++++++++
Q
---
False Flags
Police are searching for around 30 suspects after wild video shows a mob-style looting robbery at a Topanga mall in Canoga Park, Los Angeles.
The incident took place Saturday at around 4:15 PM at the Nordstrom store inside the Westfield Topanga Mall, according to police.
Video shows a huge group of criminals destroying display cases, taking merchandise and sprinting out the door.
A security guard for the store was sprayed with either bear spray or Mace pepper spray, according to police. Between 20-30 suspects were a part of the heist, and then fled the scene in multiple vehicles including a Lexus, BMW and Honda, said police. 
Source: dailycaller.com
A drag event in Dallas failed to raise enough funds and was forced to cancel after already postponing the event a month.
The "Dallas Pride Street Party" intended to be "a last hurrah" before Senate Bill 12 in Texas took effect, The Dallas Express reported Monday. The law prohibits sexually explicit shows in front of minors, punishable by up to one year in jail and a $4,000 fine. Texas Lieutenant Gov. Dan Patrick said the law would protect children from being, "sexualized by drag shows."
"Unfortunately, Dallas Pride must announce the August 26 Street Party has been cancelled," the Dallas Pride website notes. "The bottom line is the funding just did not come together. These kinds of events are very expensive to produce here in Dallas. As a 501c3 we have a fiduciary duty to spend our funding wisely, and since we were not able to obtain enough sponsorship for the event we were forced to cancel it."
---
Q
The FBI summarily executed this 74 year old man to terrorize the nation. It's back firing. People aren't afraid, they're disgusted. While some of the left are celebrating it. Congratulations, GWOT veterans who work FBI swat. You're hired goons for people who hate you. 🫡 https://t.co/edFUS2eLer

— Cernovich (@Cernovich) August 13, 2023
A Democratic congressman, perhaps the first of many, is now calling on President Joe Biden to step down for the good of the Democratic party.
Rep. Dean Phillips (D-MN) suggested on NBC's Meet the Press with Chuck Todd that President Joe Biden should consider stepping down, noting the public's desire for change and highlighting his significant drop in approval ratings.
Rep. Dean Phillips: "Joe Biden right now is down SEVEN POINTS in the four swing states that will decide the next election." 👀 pic.twitter.com/QtKpW9ZeIH

— Trump War Room (@TrumpWarRoom) August 13, 2023
Source: beckernews.com
Democratic voters overwhelmingly approve the indictment of former President Donald Trump on charges related to the January 6, 2021, Capitol riot.

More At Rasmussen Reports: https://t.co/ArbADSV2n0 pic.twitter.com/cgBCxNUMft

— Rasmussen Reports (@Rasmussen_Poll) August 13, 2023
NEW: The year after Tanya Sue Chutkan gave Obama $4,300 and worked phones and organized fundraisers for his 2012 campaign, Obama appointed her US District judge, where she now presides over the Trump case. (Official images of her FEC records have been altered to remove addresses)

— Paul Sperry (@paulsperry_) August 14, 2023
U.S. District Judge Tanya S. Chutkan, who is overseeing the Trump J6 trial being prosecuted by the Biden Justice Department, previously worked at a law firm that represented Fusion GPS, the company that helped orchestrate the Russia collusion hoax targeting former President Donald Trump.
During Chutkan's stint with Boies Schiller Flexner, the Democrat-friendly law firm also reportedly represented Clinton Cabal foot soldier Huma Abedin, the former wife of disgraced Democrat Anthony Weiner.
The stunning revelations came in the wake of reports that the Obama-appointed judge worked at the same Boies Schiller Flexner law firm with President Joe Biden's embattled son, Hunter. The same law firm that employed Chutkan also reportedly represented Burisma.
Chutkan was forced to recuse herself from the bench when she was overseeing Fusion GPS's attempt to block former congressman Devin Nunes and Kash Patel from outing the source of payments that funded the infamous Steele dossier.
"Fusion GPS, the DNC, and the Hillary Clinton campaign paid Christopher Steele millions of dollars and they laundered it through the FBI and the FISA court to unlawfully surveil Donald Trump. That's big-time stuff," Patel, who served in the Trump administration, noted during an interview with America First's Sebastian Gorka.
After months of litigation before Chutkan, when it became apparent that Nunes and Patel would be successful, "she recused -on her own- from that case. Why?" Patel asked rhetorically.
"We found out her law firm, Boies Schiller, represented Fusion GPS," Patel answered. "The very client that was in front of her in federal court was one of her former clients. That is rule #1 for disqualification."
Source: zerohedge.com
Q

 

!xowAT4Z3VQ

 

ID: f49c4b

 No.1131254

>>1131191

Who does Haberman follow?
>>1131247
Think public & private Twitter accounts.
They all have them.
These people are stupid.
We have it all.
Q
Q

 

!xowAT4Z3VQ

 

ID: f49c4b

 No.1131266

Q

 

!xowAT4Z3VQ

 

ID: f49c4b

 No.1131254


>>1131247
Think public & private Twitter accounts.
They all have them.
These people are stupid.
We have it all.
Q
>>1131254
Think private email addresses.
Hussein.
HRC.
LL.
……….
They think they are clever.
Q
The importance made of "the call" in the Georgia indictment will be one of the greatest "tells" as to what Willis has in terms of evidence. If it is critical to the prosecution, it will look like a political stunt out of the Bragg-school of prosecution. https://t.co/Zz2zFms9WT

— Jonathan Turley (@JonathanTurley) August 14, 2023
It may not have been a command, but rather the expression of Trump's desire to document what he appears to have believed was his actual victory in the state, which he appeared to be winning on Election Night before Joe Biden triumphed in the mail-in vote.
As George Washington University Law School professor noted Monday, Trump's remark has been widely misreported, and his critics have barely bothered to notice that Trump might have meant something other than what they have insisted he meant:
Thus far, the focus has been on the controversial call that Trump had with Georgia officials — a call widely cited as indisputable evidence of an effort at voting fraud. Yet, the call was similar to a settlement discussion, as state officials and the Trump team hashed out their differences and a Trump demand for a statewide recount. Trump had lost the state by less than 12,000 votes. That might be what he meant when he stated, "I just want to find 11,780 votes, which is one more than we have because we won the state."
And you are going to find that they are — which is totally illegal, it is more illegal for you than it is for them because, you know what they did and you're not reporting it. That's a criminal, that's a criminal offense. And you can't let that happen. That's a big risk to you and to Ryan, your lawyer. And that's a big risk. But they are shredding ballots, in my opinion, based on what I've heard. And they are removing machinery and they're moving it as fast as they can, both of which are criminal finds. And you can't let it happen and you are letting it happen. You know, I mean, I'm notifying you that you're letting it happen. So look. All I want to do is this. I just want to find 11,780 votes, which is one more than we have because we won the state.

And flipping the state is a great testament to our country because, cause you know, this is — it's a testament that they can admit to a mistake or whatever you want to call it. If it was a mistake, I don't know. A lot of people think it wasn't a mistake. It was much more criminal than that. But it's a big problem in Georgia and it's not a problem that's going away. I mean, you know, it's not a problem that's going away.
Source: breitbart.com
 .
Cameras will be allowed in the courtroom if Trump is indicted in Fulton County, Georgia.
Trump's arraignment will likely be broadcast on live television.
Fulton County District Attorney Fani Willis is about to destroy the Trump campaign – and since Trump is the Republican Party's de facto leader, Willis will effectively obliterate the GOP by hitting Trump with racketeering and conspiracy charges.
The corrupt Georgia Democrat prosecutor is going to charge Trump along with MULTIPLE defendants with her indictments this week.
According to the latest leak to CNN, Fani Willis will seek more than a dozen indictments against Trump and people in his orbit.
NBC News reported:
Source: thegatewaypundit.com
The walls are closing in this time!! 😆 🤣

Have you guys figured out yet that in the process of trying to convict Trump of illegally trying to overturn the 2020 election… they are going to end up allowing Trump to prove his case which will in turn overturn the 2020 election.… pic.twitter.com/7RPFygzFaX

— Joe Rambo (@BrainStorm_Joe) August 14, 2023
 Vincent Kennedy.. I mean McMahon couldn't write a WWE match this climactic.
Sep 16, 2020 1:16:59 PM EDT
Add it all up.
1. Virus
2.
RIOT
s
[organized _ANTIFA]
3. Fires The 'Why':
Make no mistake, they will not concede on Election Night.
Make no mistake, they will contest this legally in battleground states.
Make no mistake, they will project doubt in the election results
Make no mistake, they will organize massive

RIOT

s and attempt Anarchy-99 design
Playbook known.
Q
Coming soon? https://t.co/TSseDoo96W pic.twitter.com/DtsQIX4KE9

— Lisa Mei (@TheNotoriousLMC) August 14, 2023
Communication blackout
Trump is showing you the world that you could not see before, it was hidden and protected, the [DS] system is against you, the [DS] system does not follow the rule of law, does not follow the constitution. As more and more people see and understand the [DS] system, that system weakens, it cannot function in the light. Trump not only needs the people who are awake to see the system, he is going to show it to those who are still sleeping, the non believers, the Dems. He has placed himself front and center, he is the draw, the fake news wants to broadcast his indictments, those who watch the fake news want to see Trump destroyed, he is about to slap them awake, its going to be painful, they will resist, they will fight, but logic will take over in the end.  Once the people know, Trump and the people will be able to destroy the [DS] system.
Q

 

!!mG7VJxZNCI

 

ID: 939e10

 No.2599937

>>2599779
Important takeaway.
We've had the ball the entire time.
Think offense.
Why did POTUS move his entire operation out of TT the DAY AFTER the ADM ROGERS [SCIF] MEETING?
The WORLD is WATCHING.
The WORLD is HERE.
EYES ON.
Q