Fraud Vitiates Everything, Panic, Wait For The Signal, The Heat Is Building – Ep. 2511
[JB] is trying to explain why private businesses can't find workers, he doesn't want to admit that by paying people to stay home will stop people from working. Private business does not have a printing press like the government so they cannot just pay them more. People are seeing the problem, it is the [CB] fiat system. 83% of the people are nervous about inflation. El Salvador takes the next step. The [DS] is getting ready to make their move, they are putting the pieces in place for a [FF]. If they cannot stop the voter laws from being changed in GA, they will move to an event. Why are the panicking, fraud vitiates everything. August is approaching and the heat is building, Scavino points to the red line, will it be crossed, wait for the signal, the patriots are luring the [DS] players in.
Watch The X22 Report On Video
---
Economy
Joe Biden said the quiet part out loud v while taking questions from reporters after he delivered remarks on the infrastructure deal.
Small businesses are having trouble finding workers because Joe Biden and the Democrats are paying people more money to stay home and do nothing.
Biden has denied that unemployment benefits have caused a workforce shortage.
But on Thursday Joe's dementia kicked in and he accidentally said the quiet part out loud – in a creepy whisper.
 
Paying people to stay home is causing small businesses to suffer AND it is putting pressure on them to pay people more money.
Instead of forcing a minimum wage increase, Joe Biden told small businesses to compete with the federal government and "pay them more."
Source: thegatewaypundit.com
Inflation is the foremost economic concern for Americans, topping taxes, unemployment, and interest rates,
"How concerned are you about each of the following? Inflation and higher prices, unemployment across the country, the federal deficit, or interest rates," Fox News asked respondents .
Eighty-three percent were extremely or very concerned about inflation, with 77 percent concerned about taxes and 74 percent worried about unemployment. 69 percent said the federal deficit was their top concern, along with 65 percent marking interest rates.
The poll also asked which financial hardship is most difficult to afford among grocery prices, gas prices, health care costs, or housing costs.
Seventy percent said grocery prices, 68 percent said gas prices, 57 said health care costs, and 45 percent said housing costs.
Source: breitbart.com
President @nayibbukele in a live address says El Salvador is working with major cell phone operators to provide a national wallet option.

Each citizen will be given $30 in #Bitcoin.

— Bitcoin Magazine (@BitcoinMagazine) June 25, 2021
Here's a first look at the country's #Bitcoin wallet design.

"Chivo" means "go" in Spanish and is slang for "cool" in El Salvador pic.twitter.com/znjmILYzOA

— Bitcoin Magazine (@BitcoinMagazine) June 25, 2021
The country is launching the wallet and bitcoin bonus for two reasons:

"First, to promote the use of bitcoin in the economy," Bukele said. "Second, so that people have an incentive to use the application…"@namcios covered the story in more detail:https://t.co/jPc4JrTshR

— Bitcoin Magazine (@BitcoinMagazine) June 25, 2021
---
Political/Rights
Even Biden and Harris can't kill this country in 4 years. Are you not paying attention? 2/3rds of the country is directly telling DC to get lost. Hysterical pronouncements that America will be a wasteland in 3 more years under Democrat control is nonsense. This is a GREAT country. Even these two idiots can destroy it in 4 years.
VP Harris has arrived. Not the welcome I think she was expecting. "Que-Mala! we don't want you here!" were some of the chants by this Hispanic/Latino organized group. pic.twitter.com/ZbG8UFozj7

— Informed with Anthony (@InformedAnthony) June 25, 2021
---
Geopolitical/Police State
Speaking from the East Room of the White House   Joe Biden re-introduced his extreme gun control agenda, advocating for a ban on modern sporting rifles and reminding lawful gun owners that the federal government has nuclear weapons.
"Those who say the blood of Patriots, you know, and all the stuff about how we're gonna have to move against the government," Biden said. "If you think you need to have weapons to take on the government, you need F-15s and maybe some nuclear weapons."
Source: townhall.com
---
False Flags
Senate Democrats  blocked Sen. Rick Scott's (R-FL) and Sen. Mike Lee's (R-UT) effort to end the federal mask mandate requiring masks to be worn on public transportation, with Scott concluding Democrats only care about following "their political science."
"The government has no right to tell them what to do," Scott said of the Centers for Disease Control and Prevention (CDC) on the floor Wednesday, asking why the government agency continues to single out airlines and public transportation.
"Now, the science is clear that broad mask mandates aren't necessary. Unfortunately, the CDC has decided to buck the science when it comes to travel and it is still requiring face masks on public transportation," he said.
Source: breitbart.com
 Dr. Senator Rand Paul (R-KY) once again called for Dr. Anthony Fauci, director of the U.S. National Institute of Allergy and Infectious Diseases (NIAID), to be fired from the Biden administration's coronavirus task force.
Buckhead, a portion of Atlanta, Georgia, is looking to break free from the rest of a city in rapid decline.
As a result of her rank incompetence, Buckhead, a wealthier section of Atlanta with about 100,000 residents, has decided to control its own destiny. There are two bills in the state legislature to affect the split, and the group has raised the required amount of money to move forward.  Buckhead is petitioning to become wholly independent and establish and enlarge their own police force under different leadership.
Source: pjmedia.com
---
Q
Attorney General Merrick Garland and the US Justice Department announced Friday they were suing the state of Georgia over a voting law passed in March.
Attorney General Merrick Garland said at a press conference, "Our complaint alleges that recent changes to Georgia's election laws were enacted with the purpose of denying or abridging the right of Black Georgians to vote on account of their race or color, in violation of Section 2 of the Voting Rights Act." 
Actually, 69% of black voters support voter ID. That's 2 out of 3 black voters!
Voter ID is required throughout the world.
Source: thegatewaypundit.com
After a failed attempt by the  Biden administration   to intimidate the Arizona State Senate into stopping their Maricopa County election audit, they now turn their attention to Georgia to block state voter laws.
States set their own voting laws.  So why are they making this move now, we will talk about that in just a sec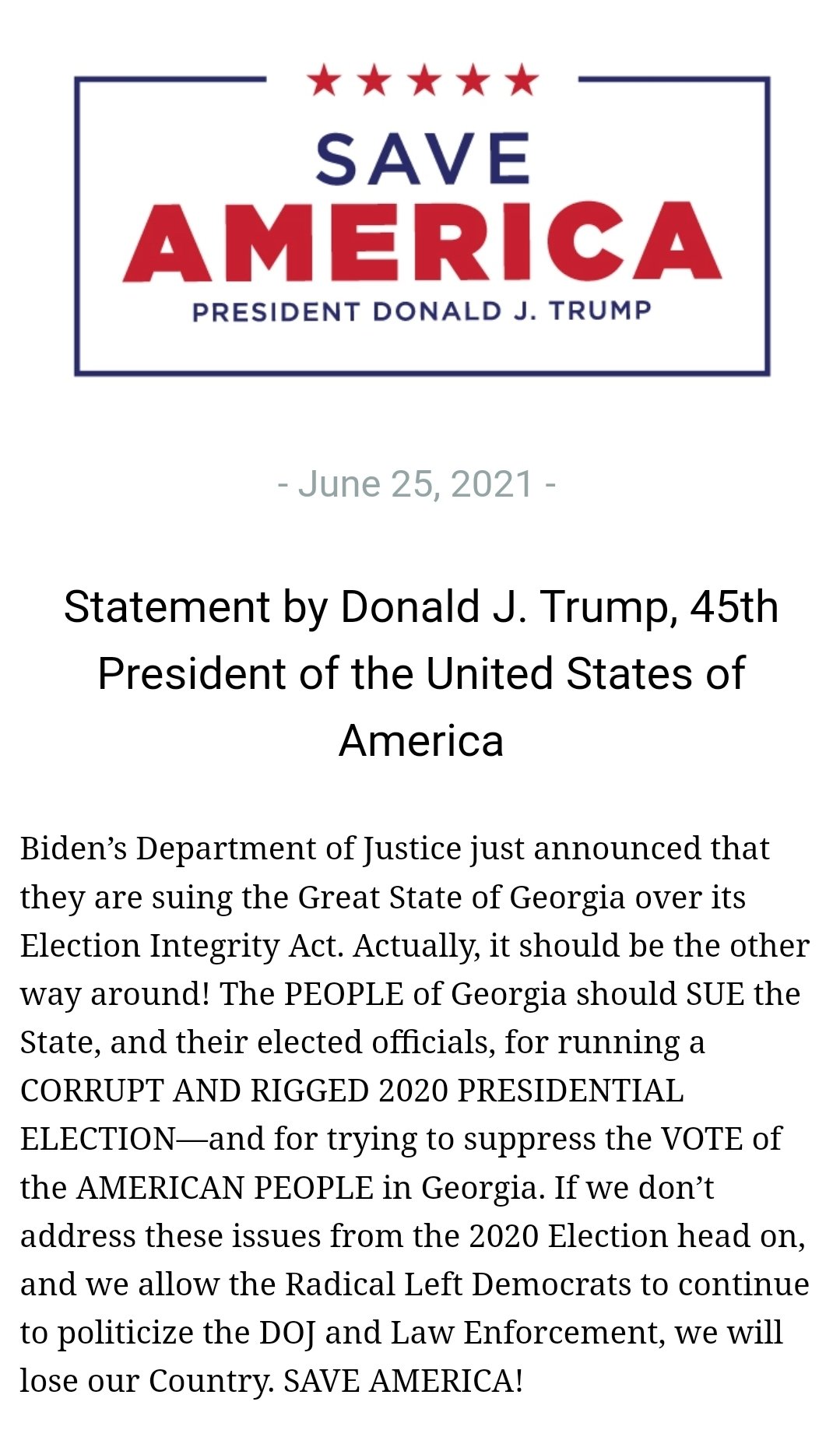 Judge rules in favor GA voters…again. Here's the statement from Plaintiff pic.twitter.com/NJu7aEH9h4

— Christina Bobb (@christina_bobb) June 24, 2021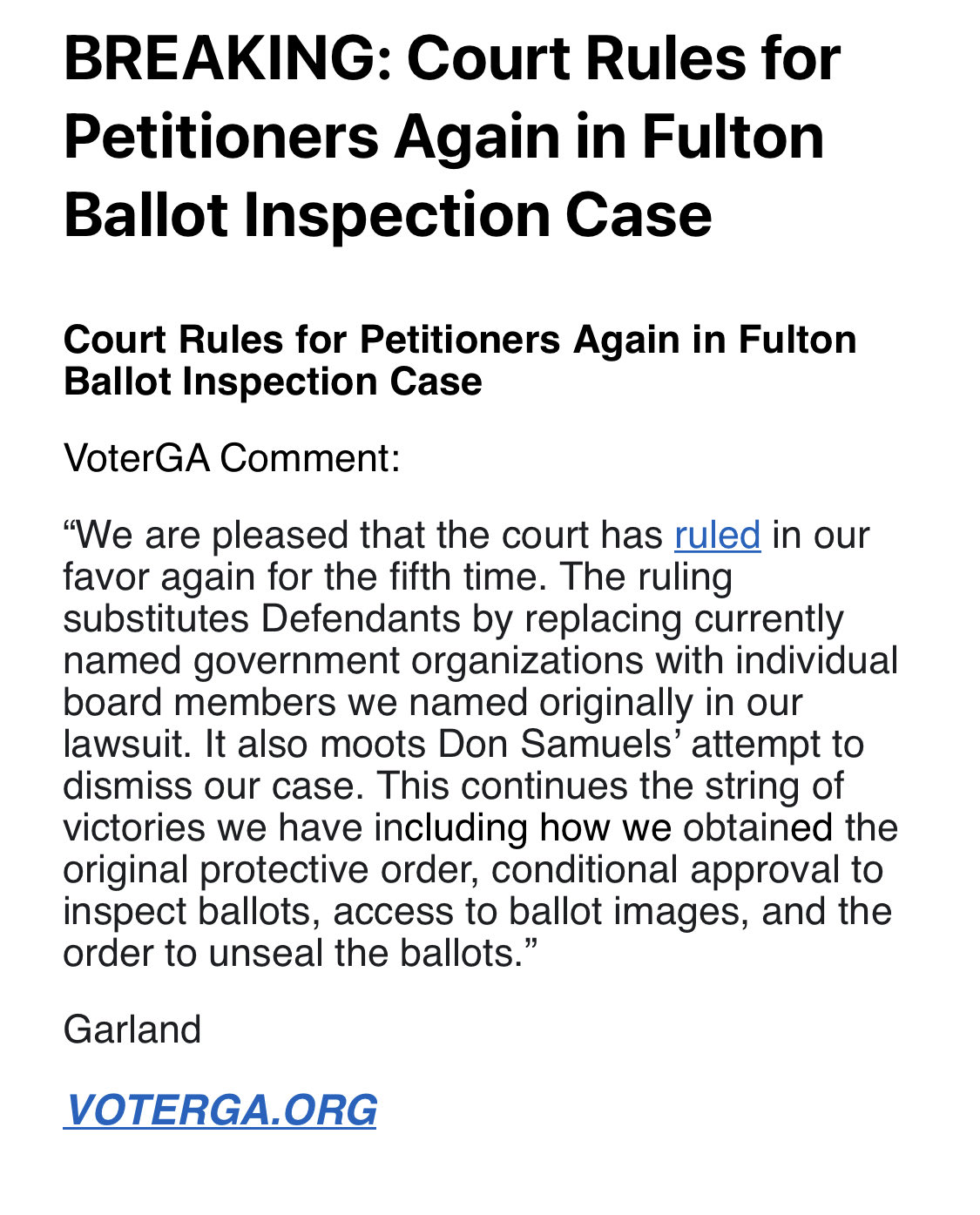 Biden declares Florida building collapse a national emergency, authorizes FEMA & other federal agencies to join response efforts
President Joe Biden has issued a state of emergency following a catastrophic building collapse near Miami, Florida that is feared to have killed dozens of people. Emergency workers are scrambling to find survivors.
The order, which went into effect on Thursday, will allow the Department of Homeland Security, Federal Emergency Management Agency (FEMA), and other federal agencies to provide assistance to state and local authorities currently sifting through the rubble.
Source: rt.com
Georgia is very important to the corrupt agents within federal institutions.  The leftist activists have worked methodically to use Georgia as a key battleground in their efforts to continue manipulating election outcomes.
The DOJ is worried, very worried, that as people wake up to the scale of election fraud perpetrated upon this nation more states will begin enacting laws that will block voter fraud.
Voter ID is not proving who you are; voter ID is proving you are lawfully eligible to vote. There is a big difference.
 So whats the real agenda
  Georgia also cuts the central states (led by Texas) off from the east (led by Florida).
If Georgia falls SC will follow; the GOP here has no spine. Similar for NC,  
  They're going for the heart  and destroying a connected federation of southern states in the process.
 Is this going to work, no,they are trying to stop it , why
many more states are currently enacting  election reforms  
Pay attention to this next part:
[…] Deputy Attorney General Lisa O. Monaco also issued a memo to United States Attorneys and FBI Field Offices today on investigating and prosecuting threats to election officials. To assist with this important effort the department will also establish an intra-Departmental task force to address the rising threats. (read more)
 What have we seen,  Big Tech and Corporate Media have been instructed to push the "domestic extremist" narrative; and any truth-tellers are considered subversive, ie. against the interests of the U.S. government.  The January 6th DC protest is being used as evidence for that narrative.
  Something is about to happen.  Approximately 100 million American voters are considered dissidents now.
Source: theconservativetreehouse.com
Statement of Attorney General Merrick B. Garland on the Investigation into the January 6th Attack on the Capitol
U.S. Attorney General Merrick B. Garland's statement on the investigation into the January 6th Attack on the Capitol:
"The Department of Justice reached several benchmarks in our investigation into the January 6th attack on the U.S. Capitol.
"We have now crossed the threshold of 500 arrests, including the 100th arrest of a defendant on charges of assaulting a federal law enforcement officer. This morning, we arrested our first defendant on charges that include assaulting a member of the news media.
"I could not be more proud of the extraordinary effort by investigators and prosecutors to hold accountable those who engaged in criminal acts that day. Particular credit goes to those serving as prosecutors and agents in Washington, D.C., as well as those in FBI field offices and U.S. Attorney's Offices across the country, and with the Department's National Security Division.
"Our efforts to bring criminal charges are not possible without the continued assistance of the American public. To date, we have received their more than 200,000 digital tips.
"I assure the American people that the Department of Justice will continue to follow the facts in this case and charge what the evidence supports to hold all January 6th perpetrators accountable."
***
The FBI continues to request the public's assistance in identifying individuals sought in connection to the January 6th attack, and I encourage all of our citizens to visit  https://www.fbi.gov/wanted/capitol-violence to view images and video of the crimes committed that day. Anyone with information to share can call 1-800-CALL-FBI (800-225-5324) or visit tips.fbi.gov.
The charges contained in any criminal complaint or indictment are merely allegations. A defendant is presumed innocent unless and until proven guilty beyond a reasonable doubt in a court of law.
The National Guard Just Simulated A Cyberattack That Brought Down Utilities Nationwide
This year's Cyber Yankee exercises simulated the increasingly likely scenario of cyberattacks crippling huge sections of the nation's infrastructure.
National Guardsmen just completed a two-week training exercise which saw them respond to a simulated cyberattack that took out critical utilities across the United States. The exercises have become an annual event, but this year took on even more significance after coming on the heels of several major ransomware and cyber attacks that crippled large parts of American infrastructure in recent months.
Exercise leaders said that the teams conducting mock attacks offered the National Guard an opportunity to have a better idea what to expect in the event of actual cyber attacks and ransomware operations. If you know how your enemies conduct attacks, you can be better prepared to defend against them.
Source:  thedrive.com
So let me get this straight. Within 24 hours of Mike Lindell, Sidney Powell and Rudy Giuliani appearance in court to address Dominion Voting Systems law-suits:
– Giuliani gets his law license yanked
– A building in the same neighborhood where members of Trump family reside completely "collapses"
– John McAfee commits "suicide"
– Biden threatens F-15 airstrikes armed with Nukes against Americans who want "to take on the government"
Remember when Trump said the following
"…The 25th amendment is of zero risk to me, but will come back to haunt Joe Biden and the Biden administration. As the expression goes, be careful what you wish for," Trump said
25th Amendment
The 25th Amendment, proposed by Congress and ratified by the states in the aftermath of the assassination of President John F. Kennedy, provides the procedures for replacing the president or vice president in the event of death, removal, resignation, or incapacitation.
Section 1.
In case of the removal of the President from office or of his death or resignation, the Vice President shall become President.
: deprived of capacity or natural power : made incapable of or unfit for normal functioning
TNGC — BEDMINSTER💎⛳️🏌️‍♂️ pic.twitter.com/BBVHEi1qrC

— Dan Scavino🇺🇸🦅 (@DanScavino) June 25, 2021