When Does Big Pharma Make Money, Curing Or Containing, Justice Is Coming – Ep. 2696
Podcast: Download (13.0MB)
Watch The X22 Report On Video
The entire economic system is breaking down, fuel prices are on the rise, Tyson just hiked their prices and Goldman Sachs is now reporting that they never seen anything like this, shortages everywhere. Trump warned us back in 2020. The people will be brought the precipice and demand change. The [DS] and Big Pharma have lost the pandemic narrative, the people are waking up and they are now realizing they have been lied to. The entire push is going to boomerang on the establishment, show the people the cure or collapse, they chose collapse. Justice is coming and the [DS] will be front and center on trial.
---
Economy
 Tyson Foods announced that it is raising prices even more as it grapples with a tight labor market and smaller livestock herds. According to the report, beef prices jumped by 32% in the quarter, with chicken up ~20% and pork 13%.
Source: zerohedge.com
 Goldman's head commodity strategist and one of the closest-followed analysts on Wall Street, said he's never seen commodity markets pricing in the shortages they are right now.
"I've been doing this 30 years and I've never seen markets like this,"   "This is a molecule crisis. We're out of everything, I don't care if it's oil, gas, coal, copper, aluminum, you name it we're out of it."
Source: zerohedge.com
Remember what Trump said jack in July 2020 
 TAKE A LISTEN
A report released last Thursday provided the initial findings of research conducted as a collaboration between the Boston Fed and the Massachusetts Institute of Technology (MIT). Dubbed 'Project Hamilton', the report describes a theoretical high-performance and resilient transaction processor for a CBDC that was developed using open-source research software called 'OpenCBDC'.
According to the Fed's Report, a core processing engine for a hypothetical general purpose CBDC was created that produced one code base capable of handling 1.7 million transactions per second. According to the Fed, the vast majority of transactions reached settlement finality in under two seconds.
source: forbes.com
Tesla's Bitcoin stash grows to $2 billion
Elon Musk's company invested $1.5 billion in crypto last year
Tesla has reported that the fair market value of its Bitcoin holdings as of December 31 was $1.99 billion. The figure was revealed on Monday in Tesla's annual filing with the US Securities and Exchange Commission.
Source: rt.com
---
Political/Rights
3841
Q
!!Hs1Jq13jV6
02/07/2020 12:14:20
 ID: 82fedb
Archive Bread/Post Links: 8061432 / 8061906
Direct Link: 8061906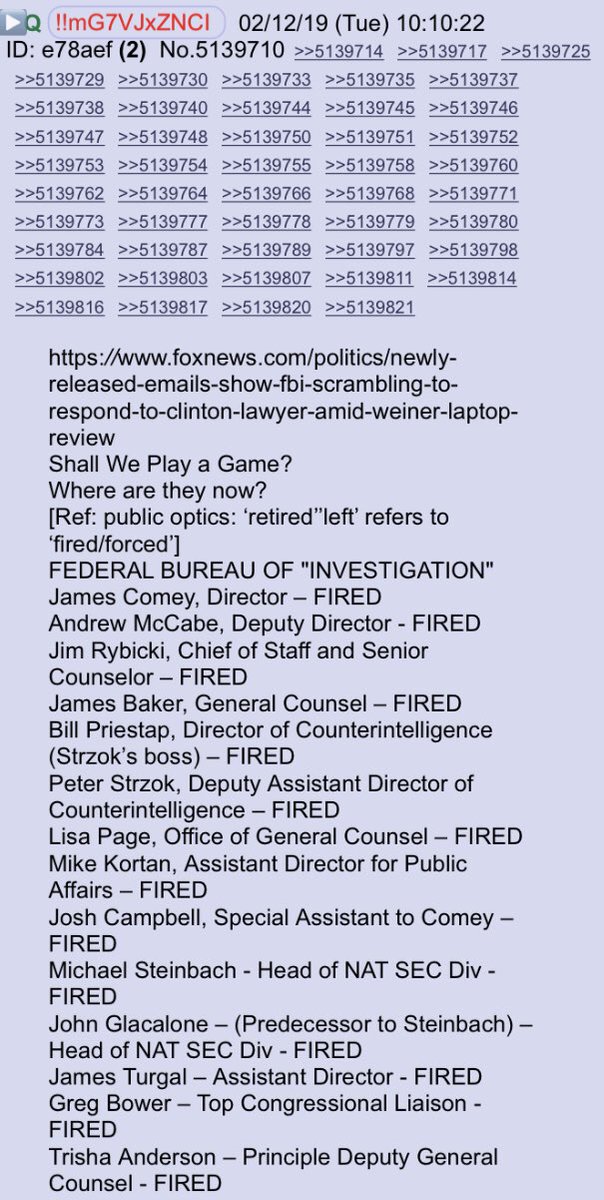 Image Name:
DzNz3avVsAEkayI.jpg
Filename:
fcca4899ce921646b69d34f5d122cc72988665c8d14c2c071b0969ec80556f24.jpg
The National Archives raided Mar-a-Lago last month and retrieved Trump White House record boxes, according to the Washington Post.
It turns out all they found in the boxes were gifts, mementos and letters to Trump from world leaders.
This is totally normal.
Every recent presidential administration has had some Presidential Records Act violations, but the media has to sensationalize this story because it involves Trump.
The Washington Post reported:
President Donald Trump improperly removed multiple boxes from the White House that were retrieved by the National Archives and Records Administration last month from his Mar-a-Lago residence because they contained documents and other items that should have been turned over to the agency, according to three people familiar with the visit.
Source: thegatewaypundit.com
One of the best ways to tell that somebody doesn't actually believe in global warming is when they keep buying pricy beachfront real estate https://t.co/megGYfxkmD

— Theophilus Chilton (@Theo_Chilton) February 6, 2022
---
Geopolitical/Police State
Hey @joerogan, we are ready to fight alongside you. See the note from our CEO @chrispavlovski… pic.twitter.com/G7ahfNNjtP

— Rumble (@rumblevideo) February 7, 2022
The city's Democrat mayor, Sam Liccardo insists the new ordinance, allowing law enforcement officials to seize firearms from those who refuse to pay the fees, will ultimately reduce crime and establish "a new kind of framework for gun safety,  Slate reports.
  "
  the Second Amendment states, "A well regulated Militia, being necessary to the security of a free State, the right of the people to keep and bear Arms, shall not be infringed," the San Jose lawmaker contends the burdensome new liability insurance is constitutional:
San Jose's crazy law violates, inter alia:
* First Amendment
* Second Amendment
* Fifth Amendment: Void for vagueness
* CA Constitution: local taxes require voter approval
* CA state law (field pre-emption)
* San Jose City Charter (use of funds)

We also seek declaratory relief.

— Harmeet K. Dhillon (@pnjaban) January 27, 2022
Source: thegatewaypundit.com
---
False Flags
A maskless Stacey Abrams was photographed with masked children during her visit to Glennwood Elementary School in Georgia last week.
  she's the only one not wearing a mask.
Abrams responded to critics' "false political attack" with a word salad.
The best part about Stacey Abrams' response was admitting children can't hear through a mask.
So Covid stops spreading when a person poses for a photo?
Source: thegatewaypundit.com
Last month Minneapolis and St. Paul joined other major Democrat-run cities and required proof of vaccination in order to enter restaurants, bars, theaters and other venues.
Both mayors used their emergency powers to impose the vaccine passport system in their cities.
Just two weeks into the vaccine passport system and the restaurant business is WAY down.
One restaurant owner said business is booming just outside of the Twin Cities where people are free to dine and drink without 'showing their papers.'
"Unfortunately when the vaccine-or-test mandate went into effect we saw a 30% drop in our Minneapolis locations overnight," Luke Derheim, Craft and Crew Hospitality co-owner, told KTSP.
The assistant general manager of Bunny's Bar and Grill told KTSP business is down 30-40% because of the vaccine mandates.
Source: thegatewaypundit.com
Twitter has locked the account of the MLB coaches and players protesting the vax mandate. I wonder if @MLB ad money played a role in this decision? 🤨🧐 pic.twitter.com/UKZ7Wr7hX0

— Robby Starbuck (@robbystarbuck) February 7, 2022
EXCLUSIVE: University of Pennsylvania, Which Funds Biden's Think Tank And Hosts https://t.co/ipkHyi8RVB, Has A Contract With BioNTech (from 2018) And Gets Paid For COVID Vaccine Sales And FDA Approvals! Biden got paid by UPenn. I HAVE DOCUMENTS!!! 🚨🚨🚨https://t.co/VcNkniQJpy

— Patrick Howley (@HowleyReporter) February 6, 2022
 several freedom protesters were injured by a vehicle that appeared to intentionally ram into a truck and run over at least one protester in Winnepeg.
The masked man who ran over the Winnipeg Freedom Convoy protesters is an Antifa activist.
Dave Zegarac was arrested and taken into custody an hour after the attack following a brief struggle with police.
According to Rebel News David Zegarac is a far left Antifa activist.
Source: thegatewaypundit.com
Breaking: The suspect who allegedly rammed #FreedomConvoy protesters & tried escaping in Winnipeg has been identified as an #Antifa member. I investigated David Zegarac. He's a leader in the antifa punk scene & was accused of grooming & raping a young girl.https://t.co/gcPPvlkCVy

— Andy Ngô 🏳️‍🌈 (@MrAndyNgo) February 7, 2022
Ottawa Mayor Jim Watson described the presence of children playing in bouncy castles at the Freedom Convoy demonstration as "disturbing"
Watson is 60, unmarried, and without children.
He stated, "It's disturbing when you see the protest turning into what looks like some kind of a fun carnival, where they've got bouncy castles and hot tubs and saunas, a complete insult to the people who are putting up with this nonsense for the last seven days, and it shows great deal of insensitivity."
Source: breitbart.com
BREAKING: The temporary 10-day injunction makes it illegal for truckers parked on city streets in downtown Ottawa to constantly honk their horns.

MORE: https://t.co/LHQA288VdB pic.twitter.com/XfVaxxue2i

— Rebel News (@RebelNewsOnline) February 7, 2022
The governing Canadian officials (both political parties) can no longer keep Prime Minister Justin Trudeau in hiding; they have exhausted all possible political justifications including a manufactured "security threat", and a COVID-19 "diagnosis" that required quarantine.
Prime Minister Justin Trudeau is going to have to come back to work in Ottawa.
As a direct result, to protect the political viability of their King, the pretorian guard must remove the pesky freedom protest groups.  Everything takes on an additional sense of urgency, after all, "the Canadian democracy is at stake."
To handle this dynamic, the City of Ottawa officials have just declared a "state of emergency," and with additional authorization therein, the Ottawa Police Department have announced they will now arrest anyone who attempts to support the public freedom protest.
In order to save their illusion of democracy, the Canadian ruling class must first destroy it… By official decree:
IMPORTANT: Anyone attempting to bring material supports (gas, etc.) to the demonstrators could be subject to arrest. Enforcement is underway. #ottawa #ottnews pic.twitter.com/tp4e5d2xe1

— Ottawa Police (@OttawaPolice) February 6, 2022
Source: thegatewaypundit.com
 the police and the SWAT team "came in and raided the 302 Coventry base camp in Ottawa." 
There were reports earlier that the police were disrupting energy shipments to the truckers.
The following video also appears to document the police disrupting fuel supplies.
Source: beckernews.com
Source: beckernews.com
Corporal Bulford Resigns From His Position of Personal Security for Justin Trudeau

"I have drawn my line in the sand. No more silence and compliance from me." pic.twitter.com/KiESy1ZtNo

— The Vigilant Fox 🦊 (@VigilantFox) February 6, 2022
Schwab has publicly bragged that he has "penetrated" cabinets around the world to force his economic philosophies upon the people circumventing any right of the people to vote.
This is what they are doing right now before our eyes. Schwab has infiltrated governments to force his Marxist agenda upon the world. He has his people in place to totally control Europe. Just look at the countries he has dominated and you will see the worst oppression under the pretense of caring for the welfare of the people because of COVID which is not even a threat anymore than the Flu.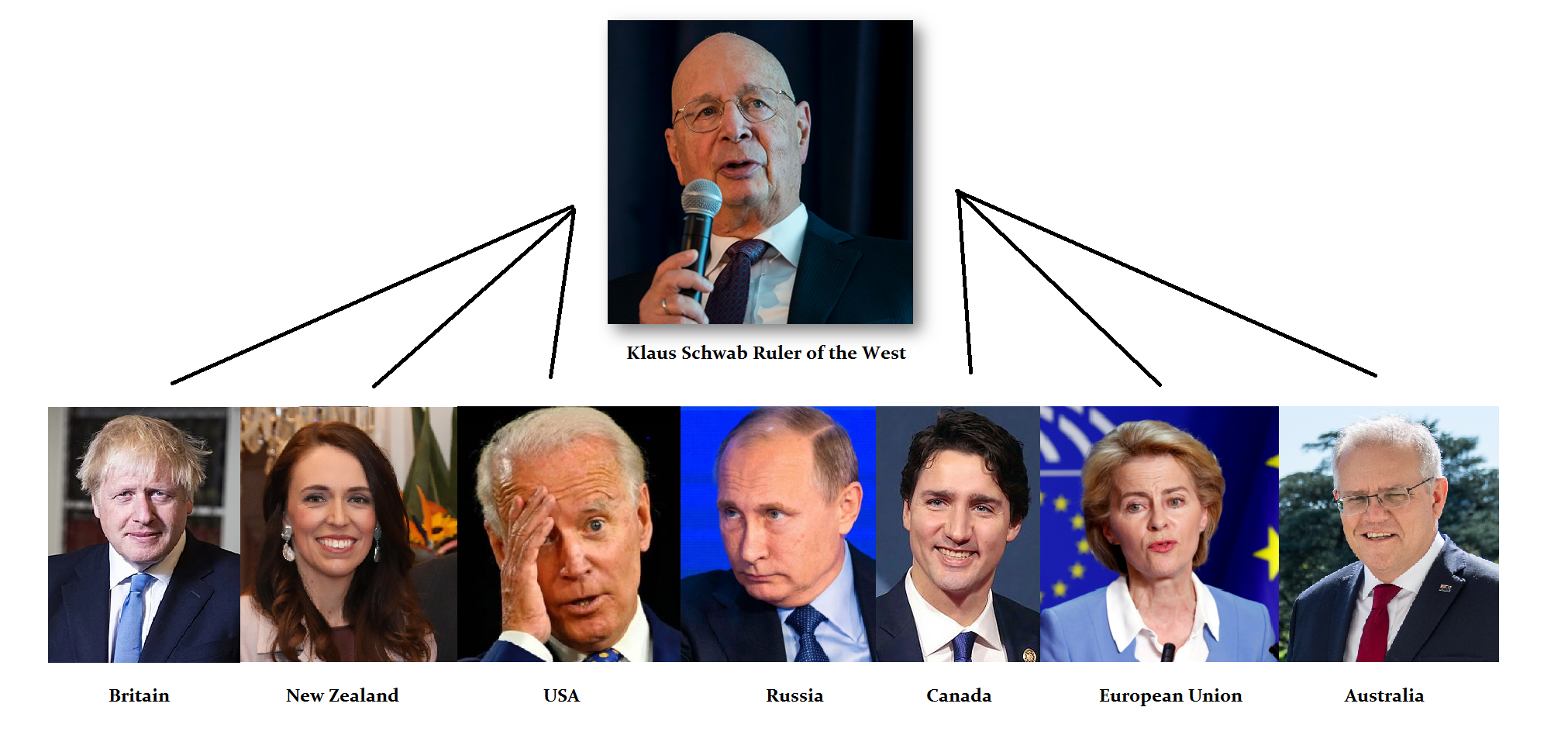 Schwab is using this strategy to infiltrate all world governments.
Source: armstrongeconomics.com
3911
Q
!!Hs1Jq13jV6
04/08/2020 12:36:02
 ID: d6f0e1
Archive Bread/Post Links: 8722105 / 8722788
Direct Link: 8722788
Earlier this morning… https://t.co/sIbnszcdlO

— Emma Woodhouse 😁 (@EWoodhouse7) February 7, 2022
Source:  msn.com
16 States File New Lawsuit Challenging Vaccine Mandates for U.S. Healthcare Workers
Attorneys general from 16 states, led by Louisiana, filed a new legal challenge to COVID-19 vaccine mandates for U.S. healthcare workers claiming the mandates are illegal and obsolete, as the vaccines don't work against Omicron, the dominant variant in the U.S.
Attorneys general from 16 states, led by Louisiana, filed a new legal challenge to COVID-19 vaccine mandates for U.S. healthcare workers.The amended lawsuit was filed Feb. 4 in the U.S. District Court for the Western District of Louisiana against the U.S. Department of Health and Human Services (HHS), HHS Secretary Xavier Becerra, the Centers for Medicare and Medicaid Services (CMS) and Chiquita Brooks-Lasure, administrator of CMS.The suit seeks to block the mandate for healthcare workers in the 25 states that previously challenged it and where it is set to take effect beginning this month.The revised lawsuit puts forth a series of new arguments, including that the CMS mandate was designed in response to the Delta variant and is therefore now obsolete.Alabama, Arizona, Georgia, Idaho, Indiana, Kentucky, Mississippi, Montana, Ohio, Oklahoma, South Carolina, Tennessee, Utah, Virginia and West Virginia joined Louisiana in the lawsuit.
Source childrenshealthdefense.org
He's 100% right and I'm glad he got there, but it's pretty amazing listening to that audience clap when you know they were definitely the ones screaming for mask mandates like Profesional Karens not that long ago. https://t.co/9Mz3peBAcA

— Donald Trump Jr. (@DonaldJTrumpJr) February 7, 2022
693
Q
!UW.yye1fxo
02/07/2018 21:59:30
 ID: ee33a6
Archive Bread/Post Links: 299646 / 300345
Direct Link: 300345
694
Q
!UW.yye1fxo
02/07/2018 22:06:12
 ID: ee33a6
Archive Bread/Post Links: 299646 / 300473
Direct Link: 300473
— Tom Cotton (@TomCottonAR) February 7, 2022
---
Q
BREAKING: House Republicans, conducting their own January 6th investigation, plan to accuse the Capitol security apparatus of "negligence at the highest levels," says Indiana Representative Jim Banks (Axios).

— THE BIAS (@thebias_news) February 6, 2022
3838
Q
!!Hs1Jq13jV6
02/07/2020 00:04:23
 ID: 12fc95
Archive Bread/Post Links: 8056796 / 8057450
Direct Link: 8057450